This content represents the writer's opinions and research and is not intended to be taken as financial advice. The information presented is general in nature and may not meet the specific needs of any individual or entity. It is not intended to be relied upon as a professional or financial decision-making tool.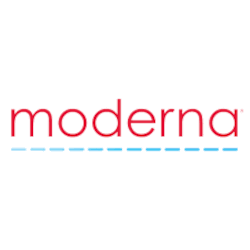 Moderna's stock was one of those that enjoyed impressive growth during 2020 when the COVID crisis first hit. During the next year, it more than doubled, most likely to the fact that the crisis was far from behind us.
This year has been a bit harsh to the stock so far. Its price is down approximately 20% YTD and the year is not over yet.
Investors are naturally going to wonder where the stock could be going during the next year. Especially now that we start to move away from the crisis in some ways. Can the trend continue even in the absence of a crisis like the one the virus created?
Analysts certainly don't think so. And in this article, we are going to show you how they think it will move during the next 12 months.
We will also examine the stock's past trading since 2020 to gain more insight into what could be driving it…
Business Overview of Moderna (MRNA)
Moderna (MRNA) was founded in 2010 and is headquartered in Cambridge, Massachusetts. Previously known as Moderna Therapeutics, Inc., the company changed its name to Moderna Inc. in August 2018.
The company develops messenger RNA therapeutics and vaccines for infectious diseases, cardiovascular diseases, rare diseases, immuno-oncology, and auto-immune diseases in the United States, Europe, and worldwide.
Among its respiratory vaccines are COVID-19, Endemic HCoV, respiratory syncytial virus, influenza, and hMPV+PIV3.
Additionally, it has six latent vaccines: cytomegalovirus, human immunodeficiency virus, Epstein-Barr virus, varicella-zoster virus, herpes simplex virus, and Zika virus.
Among the company's products are cell surface and systemic secreted therapeutics, KRAS and checkpoint vaccines, personalized cancer vaccines, intratumoral immuno-oncology products, and systemic intracellular, localized regenerative, and inhaled pulmonary treatments.
In addition to AstraZeneca PLC and Merck & Co.,Moderna has strategic alliances with Carisma Therapeutics, Inc. Vertex Pharmaceuticals (Europe) Limited, a collaboration and license agreement with Chiesi Farmaceutici S.P.A, Metagenomi, Inc., Vertex Pharmaceuticals Incorporated, the Bill & Melinda Gates Foundation, the Biomedical Advanced Research and Development Authority, the Defense Advanced Research Projects Agency, and the Institute for Life Changing Medicines.
Moderna (MRNA) Stock Forecast 2023
Source: CNN Business
In their 12-month price forecasts, 14 analysts covering Moderna have a median target price of 200, with a high estimate of 506 and a low estimate of 102. From the last price of 193.54, the median estimate represents a +3.34% increase.
EPS Forecast
Source: TipRanks
According to consensus estimates, MRNA will earn $5.00 next quarter, ranging from $3.13 to $7.05. According to the previous quarter's earnings report, MRNA earned $2.53 per share. During the past 12 months, MRNA beat its EPS estimate 75% of the time, whereas its industry beat EPS estimates 52.64% of the time. During the last calendar year, MRNA outperformed its peers.
Revenue Forecast
Source: TipRanks
MRNA's sales forecast for the next quarter is $4.86B, ranging from $3.60B to $5.58B. In the previous quarter, sales amounted to $3.31 billion. Since the beginning of the year, MRNA has beat its sales estimates 75% of the time, while the industry as a whole has beat sales estimates 42.89% of the time. MRNA outperformed its industry in the last calendar year.
Moderna (MRNA) Stock 2022
2022 is truly an interesting year for the stock. As you can see from the graph above, Moderna is down 23.8% YTD.
There is a possibility that the market is simply correcting the price the farther we move away from the pandemic.
Sharp price swings seem to still follow COVID news…
Mar. 14 – 22 (+33.83%)

A renewed fear of COVID spreading has likely benefited the company. On Sunday, Shenzhen, a key city in southern China, was placed under lockdown because of the virus.

China-made vaccines are mainly used in the country, but should COVID cases increase in other parts of the world in coming weeks, additional booster doses may be required.

Mar. 25 (-7.17%)

SVB Leerink, which has an underperform rating on Moderna, lowered its price target from $81 to $80.

According to Leerink, further development of mRNA-1010 would be a "poor use of resources."

May 04 (+9.02%)

Due to better-than-expected COVID-19 vaccine sales, Moderna's sales for Q1 were higher than expected.

The company's total revenue for the quarter was $6.1B, up from $1.9B in 2021, mainly because of higher product sales. The company's COVID-19 vaccine, Spikevax, made $5.9 billion in sales, ahead of the consensus estimate of $5.1 billion.

Additionally, grant revenue dropped by 35% YoY to $126M versus $43.6M in the consensus estimate.
Dec. 13 – 14 (+17.82%)

Merck and Moderna announced that their mRNA cancer vaccine mRNA-4157/V940 met the primary goal of their phase 2b study in some patients with melanoma.
Moderna (MRNA) Stock 2021
It's easy to see that in 2021 Moderna was in the spotlight. We were more or less at the heart of the virus crisis and the market placed much faith in stocks like this to create shareholder value.
Let's take a look at some key events that were followed by sharp price swings to gain more insight…
Jun. 29 (+6.6%)

Moderna announced that India had approved its COVID-19 vaccine for use in emergency situations.

As COVID-19 Delta is becoming a globally dominant variant of the disease, its regulatory approval in India comes at a critical time.

Jul. 16 (+16.12%)

In the wake of the S&P 500's announcement on July 21 that Moderna would be included in S&P 500 Index, Moderna's shares have reached their highest level since its IPO in 2018.

Aug. 03 (+9.31%)

Moderna's respiratory syncytial virus ("RSV") candidate, mRNA-1345, was granted Fast Track status by the FDA.

Vaccine trials are being conducted in children, older adults, and younger adults in phase 1. Adults 60 and older who are at high risk of RSV are eligible for the Fast Track designation.

Aug. 09 (+16.4%)

A decision was being considered by the FDA as to whether to introduce COVID-19 booster shots on that day.

Aug. 11 (-20.46%)

There were a small number of people who developed three additional conditions after receiving the COVID-19 shot supplied by the company.

Nov. 04 (-18.53%)

Compared with Street forecasts, the company's Q3 2021 financials disappointed. In addition, Moderna has lowered its sales forecast for the full year.

Sales of its COVID-19 vaccine accounted for 208M doses in Q3 of 2021, compared to 199M and 102M doses in Q2 and Q1 of 2021. The company generated $5.0B in revenue in the quarter driven by $4.8B in product sales.

Dec. 06 (-12%)

Concerns were raised last month over the newly detected Omicron variant. It is noteworthy, however, that today's slump coincides with favorable early results on the impact of the variant.

According to a South African Medical Research Council report published on Sunday, oxygen was not required by most hospitalized COVID-19 patients in Gauteng Province, where the strain was first identified.
Moderna (MRNA) Stock 2020
You will notice from the graph above that the company's shares have climbed to impressive levels.
That year, it is very likely that the outbreak of COVID-19 was the main factor for the market to shift its attention to stocks like MRNA.
Let us take a look at some of the biggest price swings that correlated with events…
Jan. 22 (+6.55%)

An outbreak of Coronavirus had been reported in China (SARS 2.0). Since the company is developing vaccines for CMV, RSV, hMPV/PIV3, Zika and influenza H7N9, investors could have viewed it as highly possible that it may play a role in developing a Coronavirus vaccine.

Apr. 02 (+10.48%)

In an interview with CNBC, Moderna Chairman Noubar Afeyan stated that the Phase 2 studies on the COVID-19 vaccine candidate would begin in the spring or early summer.

Jul. 13 (+19.85%)

The news broke that Moderna Inc will be joining the Nasdaq-100 index, which is set to take place on July 20th.

Sep. 15 (+12.71%)

According to Moderna CEO Stephane Bancel during the Morgan Stanley Healthcare Conference the previous day, 23,497 people had enrolled in its 30K-subject Phase 3 study by Friday, September 11.
Conclusion
As you can see, analysts are not overly confident about the stock. Their median price target suggests an insignificant upside.
However, this contradicts the forecast earnings per share and revenue growth. For this reason, investors should make their own minds regarding what side of the predicted trading range will materialize with Moderna.
Looking at the past few years of trading activity is a good way to gain more insight into how the market responds to news when it comes to this stock.
In 2020, the outbreak of the virus was the most likely catalyst for Moderna's appreciation. It makes sense that speculators would turn their attention to the companies best suited to develop a vaccine.
In 2021, the trend continued with the variant creating the implication that companies like Moderna would have to develop more vaccines.\
This year, as the crisis seems to have subsided in a way, it's as if the market has been "correcting" some of the stock's price.
For this reason, investors would want to tread carefully should there is a further correction.
FAQ
What is the prediction for Moderna stock?
According to 14 analysts covering Moderna, the median target price for the stock is 200, with a high estimate of 506 and a low estimate of 102. Compared to the last price of 193.54, the median estimate represents an increase of +3.34%.
Does Moderna pay a dividend?
No, Moderna pays no dividend and as is usual with companies in this industry, it is unlikely it will ever start. If you want some passive income while owning this stock, you could be selling out of the money puts with the appropriate strike price to yield the return you're looking for.
Who are the major stockholders in Moderna?
Moderna's top shareholders include Stéphane Bancel, Noubar B. Afeyan, Robert S. Langer, Flagship Pioneering Inc., and Baillie Gifford & Company.
Risk Disclaimer
WeInvests is a financial portal-based research agency. We do our utmost best to offer reliable and unbiased information about crypto, finance, trading and stocks. However, we do not offer financial advice and users should always carry out their own research.
Read More