This content represents the writer's opinions and research and is not intended to be taken as financial advice. The information presented is general in nature and may not meet the specific needs of any individual or entity. It is not intended to be relied upon as a professional or financial decision-making tool.
The crypto space is an ever changing environment, and even if it might seem overwhelming, this is also the reason why people can constantly find new opportunities to forge their financial destinies.
Staking is, for sure, one of the methods used to earn streams of passive income: it leverages Proof–of-stake (PoS) consensus mechanism to allow people to earn crypto rewards by decentralising a crypto network.
But when it comes to DigiByte, we need to consider a different approach: it is still possible to earn passive income with DigiByte (DGB), but the process is more complex than the one used for PoS networks.
In this article, we will talk about how to stake DigiByte and why it's different.
Pros
DigiByte gives you many alternatives to earn passive income with DGB,
This cryptocurrency is based on a three-layer blockchain that makes the network particularly fast and secure,
Cons
Staking DigiByte is more complicated than staking classical PoS cryptos,
Even if DigiByte has been around for quite many years, it's not among the most popular crypto project,
Unpredictable market changes could negatively affect your staking rewards.
What is DigiByte Staking?
When it comes to staking, it consists of a method to earn passive income just for holding crypto assets.
This happens because the network rewards participants that makes the network more secure and decentralised just by holding the crypto of the network. Imagine that it is like distributing assets across a large number of accounts, thus avoiding single points of failures: this is why stakers are rewarded in PoS protocols.
But, as we mentioned, DigiByte is different. Actually, this blockchain doesn't work according to a proof-of-stake mechanism, but according proof-of-work (PoW): in these cases, the blockchain doesn't add new blocks thanks to validators – who are also stakers, but network participants that want to add new blocks need to solve complex and costly computational puzzles to find the right solution.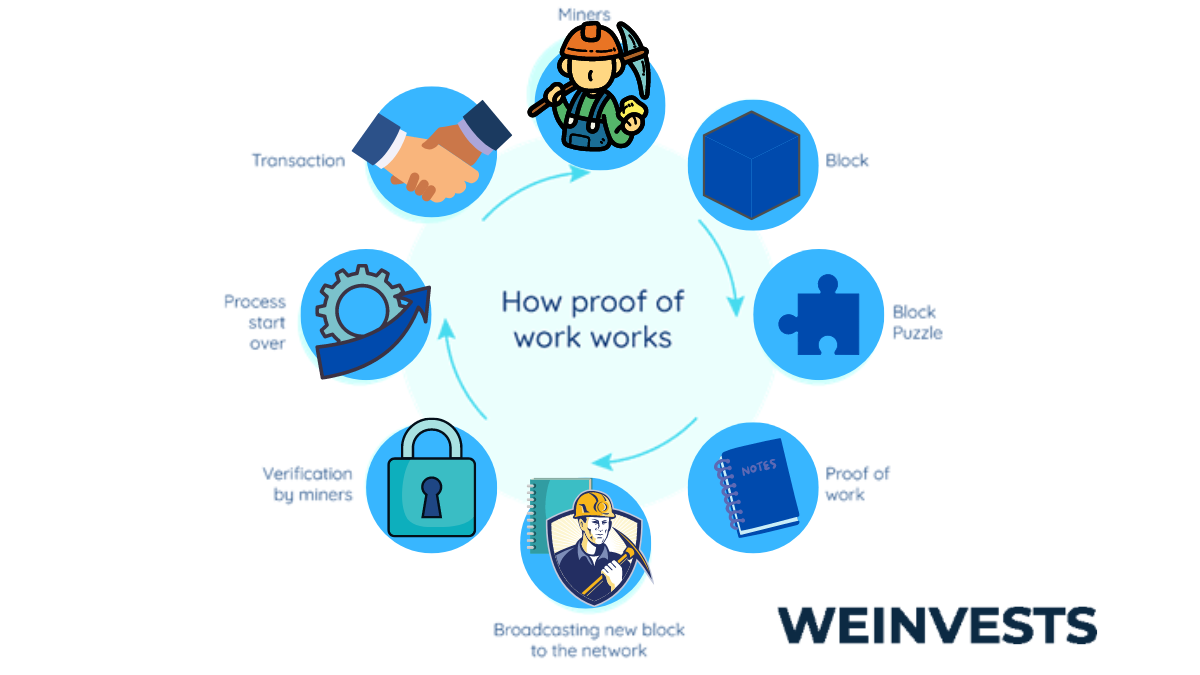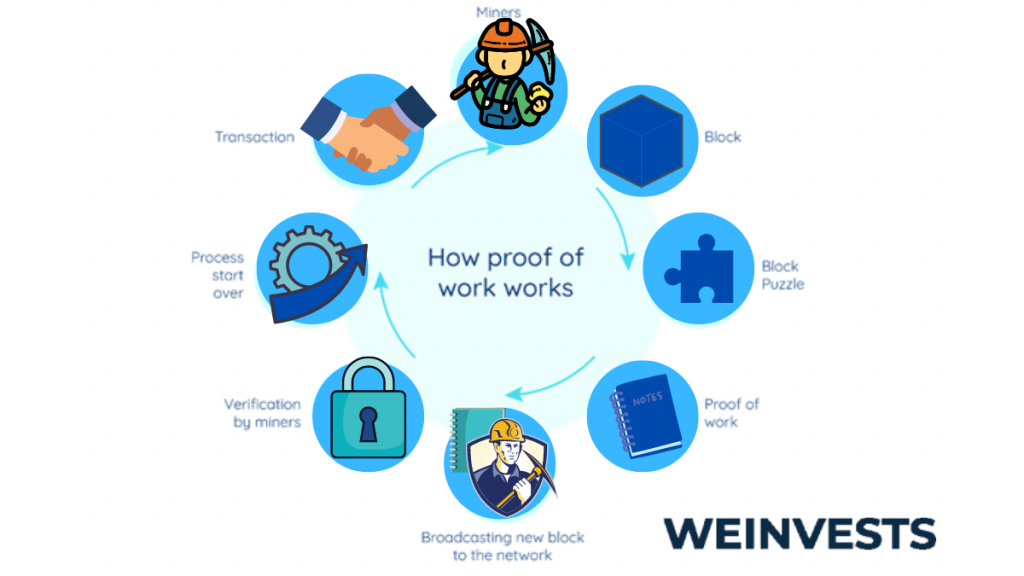 So, in these cases, the responsibility of keeping the network alive is on miners: by definition, they can't also be stakers, since staking doesn't apply.
So, how does DigiByte staking work? The network leverages cross-chain technology to allow DGB to work also in the decentralised digital space and allow users to earn staking rewards.
How to stake DigiByte?
Staking Digibyte (DGB) on Binance using Simple Earn is a straightforward process. Follow these step-by-step instructions to stake your DGB tokens and start earning rewards:
Step 1: Sign Up and Verify your Account
If you want to stake Digibyte (DGB), the first thing you must do is create an account on Binance.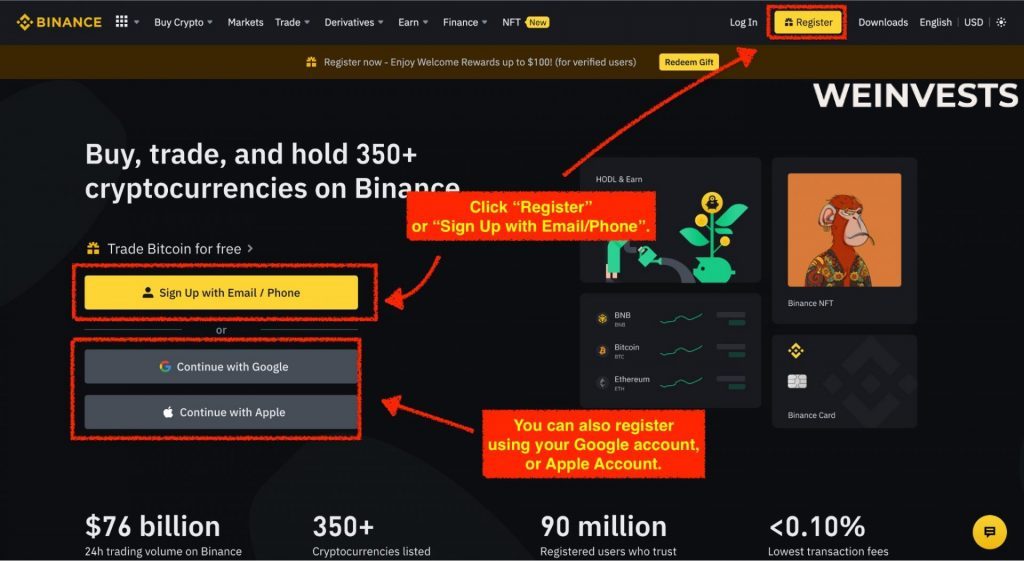 Then go through the verification steps to provide Binance with proof of identity.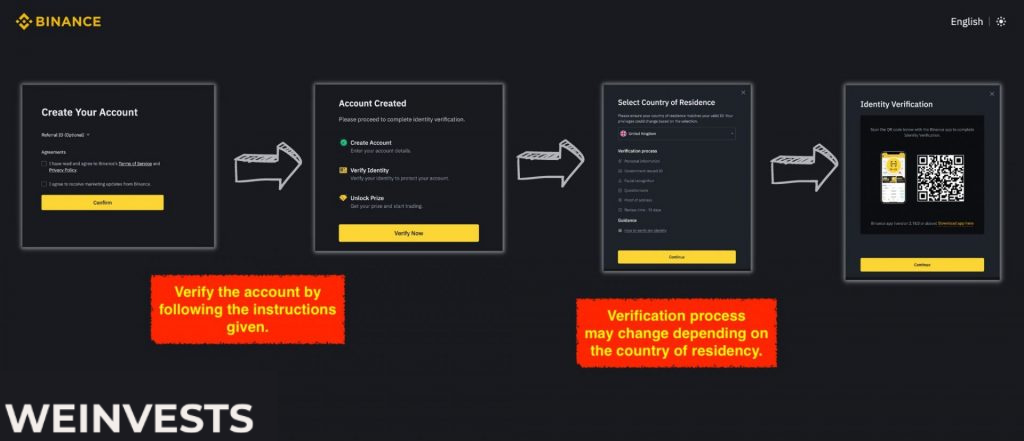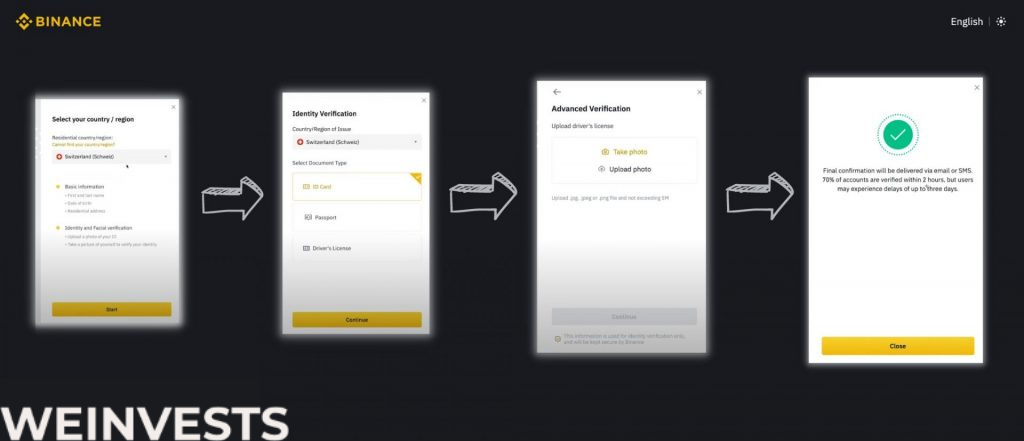 Step 2: Fund your Account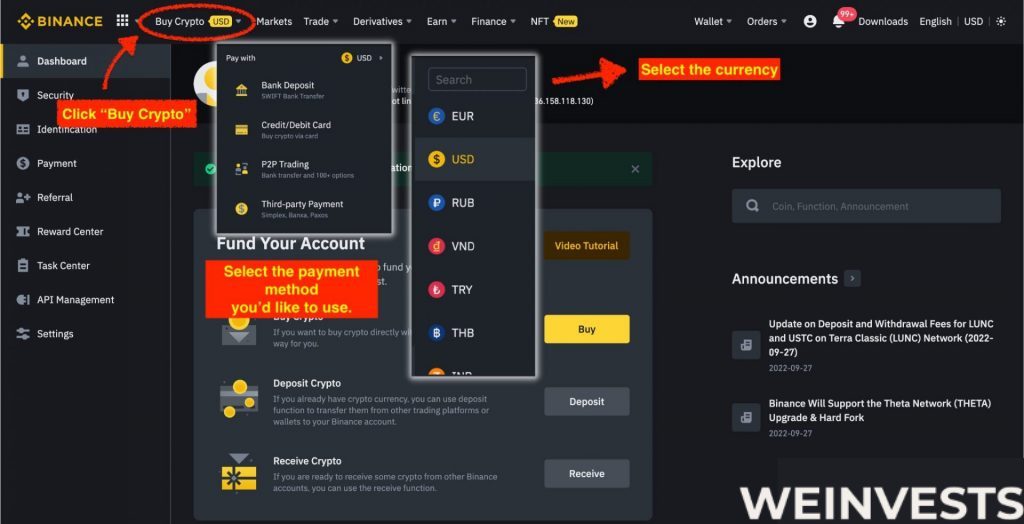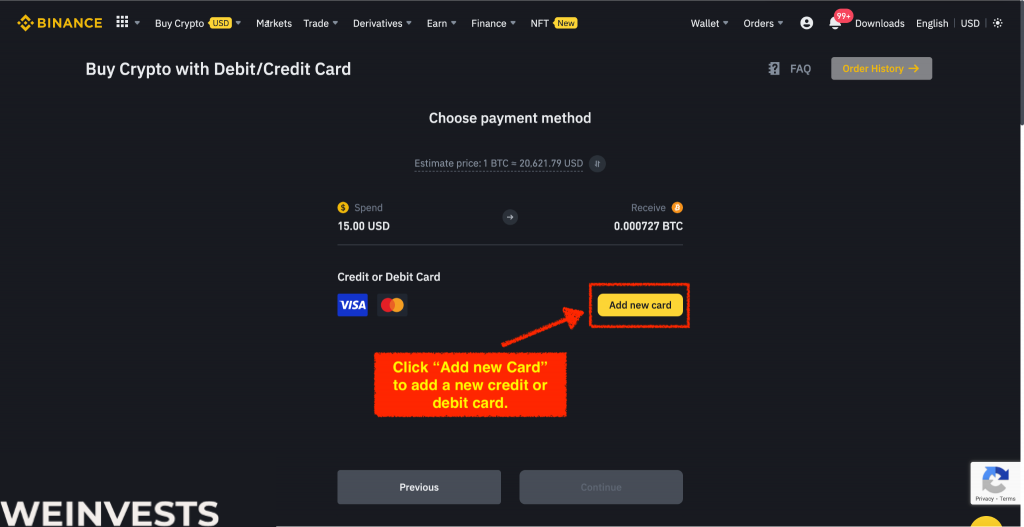 Once you have DGB in your account, hover over the "Earn" tab in the navigation bar and click on "Binance Earn." Scroll down the page and click on "Simple Earn."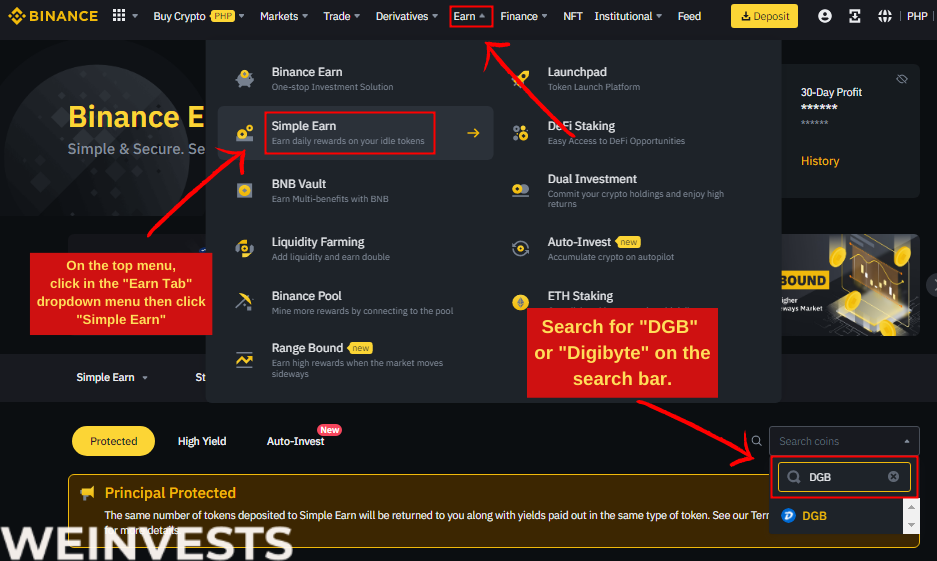 In the Simple Earn section, look for DGB or use the search bar to find it.
Step 4: Analyze the Staking Parameters and Stake
Enter the amount of DGB you wish to stake and choose the staking duration. Make sure to read and understand the terms and conditions before proceeding.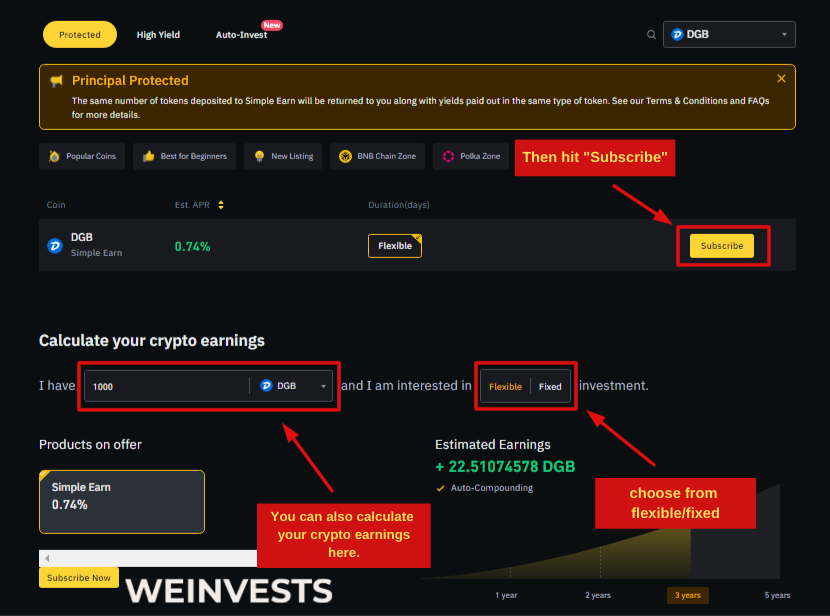 If you want to earn rewards with your Digibyte (DGB) on Binance.com, you can go to the "Products on Offer" section and then click "Simple Earn".

"Simple Earn" lets you deposit your DGB in flexible or locked products and earn daily rewards. You can subscribe or redeem at any time, so you can maintain your assets' flexibility and liquidity. The rewards are sourced from Binance's own funds and are based on market conditions.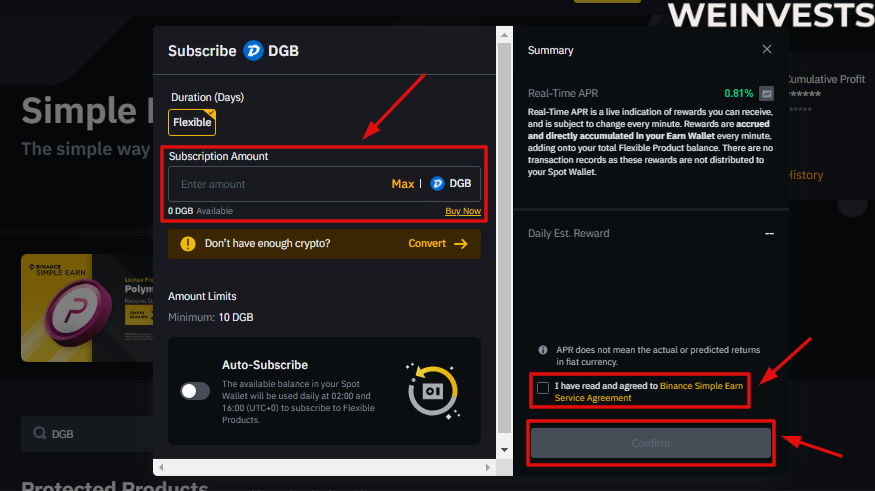 DigiByte Staking Tax
When it comes to the subject of taxation, digital currencies such as DigiByte aren't exempt from the complexity.
All over the world, regulations regarding the taxation of cryptocurrency are still ambiguous, which can be seen if one looks more closely at the matter.
There are some countries which have yet to set up a definite system, while others are very strict.
The UK is positioned in the middle, but their tax system generally follows the majority of other nations. Despite this, cryptocurrency traders and investors have many worries about tax on digital assets. It is essential to understand that blockchain-based tokens are not much disparate from other financial holdings. In reality, the UK's taxation of cryptocurrency is largely based on the same rules used for other kinds of assets.
When it comes to crypto assets, taxes generally function the same way as when you make money from stocks.
But there is a significant difference: if you choose to take out any profits, you must convert them to pounds sterling, noting the exchange rate at the time of withdrawal. If you decide to keep them, you won't be subject to taxation.
When looking at DigiByte staking rewards, if the gains are less than £12,300, stakers won't have to pay taxes. If they exceed this amount, they will have to pay 10% in the basic tax rate band, or 20% in all other cases.
If the crypto earnings are seen as a part of one's income, the income tax will be applicable, and the rate can reach up to 45%, depending on the tax bracket.
It is always in one's best interest to consult a tax professional when it comes to crypto asset taxes, since the crypto landscape changes quickly and the relevant regulations can change quickly too.
Why do people like Staking DigiByte?
We can list many reasons why people like staking DigiByte.
As we said, this process is not intuitive, especially if we compare DGB to crypto assets that work on PoS blockchains. To find an intuitive alternative, you need to find exchanges that offer savings products based on DigiByte to earn passive income.
Nevertheless, decentralised methods are still worth your time if you consider the advantages of DigiByte:
Even if it was born from a Bitcoin fork, DigiByte (DGB) has more use cases, can be used in the decentralised crypto space, and supports smart contracts;
DGB has a finite supply – 21 billion DGB – that protects the value of the crypto asset over time;
Especially thanks to the platforms that cooperate with DigiByte allow users to benefit from DigiByte in an environment that is fully compatible with Ethereum.
Conclusion
DigiByte is a very interesting crypto project. Even if it's not the most popular networks among crypto users, it uses features that make it unique:
It was launched in 2014, after a development started in 2013 – only four years after the launch of Bitcoin;
It was born from a Bitcoin fork, and it shares the consensus mechanism used by the first cryptocurrency by market capitalisation (BTC), but it was designed to improve Bitcoin;
DigiByte makes mining less expensive, focuses on higher levels of decentralisation, supports smart contracts;
It offers you many alternatives to earn passive income;
The supply of DGB is finite.
Users might find it hard, at first, to understand how to stake DigiByte, but the activity is worth your attention. Time and goals proved the reliability of the project, and it designed its economic system to protect the value of its cryptocurrency (DGB) over time, as well as unique features to secure the network.
In this article, we provided you with all the information you need to know to earn passive income from DigiByte. It involves methods that might require more advanced technical skills, but there are also more simple alternatives to earn crypto rewards just for holding DGB.
Despite all this info, always remember to do your own research before investing in any crypto project.
DigiByte Staking FAQ's
Is DigiByte a Proof-of-stake (PoS) blockchain?
No. DigiByte works according to a proof-of-work (PoW) consensus mechanism. This algorithm requires network participants that want to earn by adding new blocks to the blockchain, to solve complex puzzles that require computational power and energy consumption.
So, is it possible to stake DigiByte?
Despite the consensus mechanism used by the network, you can still use different methods to earn passive income using DGB.
Mining is, for sure, the most natural way. But you can also use methods that are more similar to staking – in the sense that you can earn passive income by holding DGB.
Some of these methods involve the savings products offered by some centralised exchanges. Moreover, you can use decentralised alternatives by profiting by the use of different networks that allow you to turn DGB into renDGB and hold them to earn passive income.
What are the advantages of staking DGB?
DGB involves many elements that can protect the value of the cryptocurrency over time. It has many use cases and supports smart contracts. DGB is based on a network that was born in 2014 – so, the network has considerable experience in the crypto space. The network uses five different security algorithms to protect the network. The supply of DGB is finite – set at 21 billion DGB.
Are the rewards for staking DigiByte taxed in the UK?
Yes. But you need to consider that they will be taxed only if you withdraw your gains. The tax rate on your crypto gains can even reach 45% according to your tax band.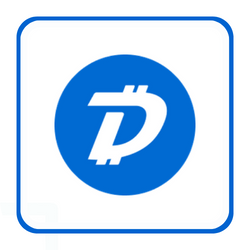 How to Buy (DGB) DigiByte
In the crypto market today, there are several blockchain and crypto projects that focus on finance, payments, tokenization,…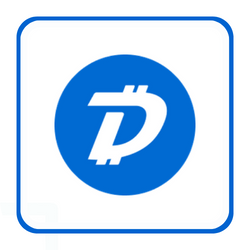 DigiByte (DGB) Price Prediction 2023, 2024, 2025 – 2030
DigiByte price analysis and predictions for 2023, 2024, 2025, and 2030 and beyond. Starting with a brief overview then moving onto the historical price performance with a simplified explanation of the major causes of price movements. Finishing with the consistent price fundamentals for a deeper understanding of what investors should look for when considering the changing environment over time. Lastly, some frequently asked questions based on what people tend to ask Google more often.
Risk Disclaimer
WeInvests is a financial portal-based research agency. We do our utmost best to offer reliable and unbiased information about crypto, finance, trading and stocks. However, we do not offer financial advice and users should always carry out their own research.
Read More