This content represents the writer's opinions and research and is not intended to be taken as financial advice. The information presented is general in nature and may not meet the specific needs of any individual or entity. It is not intended to be relied upon as a professional or financial decision-making tool.
With so many altcoins flooding the crypto market, it can be hard to keep track of each coin available or even care about them. However, VeChain is a unique type of coin that you might want to keep an eye out for.
VeChain uses a dual-coin structure coupled with a unique staking process called Proof-of-Authority, that creates a more practical solution for the usability of blockchain networks. But how exactly does it work?
In this article, you'll find the main details surrounding the VeChain staking process, including how to do it, its pros and cons, and the answers to some commonly asked questions about VeCain.
Pros & Cons of Staking VeChain
VeChain offers a few unique features and advantages over some of its competitors in the crypto space, these include:
Pros
Dual-coin structure offers additional stability and rewards
Easier to scale and requires less resources
Supporting the network and increasing security
The transaction cost isn't tied to VET's price
Cons
Staking may tie up your funds for a long time
Pulling back causes you to lose your rewards
If the staking project fails, you lose your tokens
What is VeChain Staking?
Similar to other cryptocurrency staking methods, with VeChain staking users can lock their coins in the network, similar to storing them in a bank account, in exchange for rewards, which contributes to the security and growth of VeChain. For their efforts, they receive VTHO tokens, which they can use to pay for VeChain transactions.
The VeChain platform has two different native tokens, VET and VTHO. The former is the speculative token, while the latter is just used to cover the transaction costs in the platform.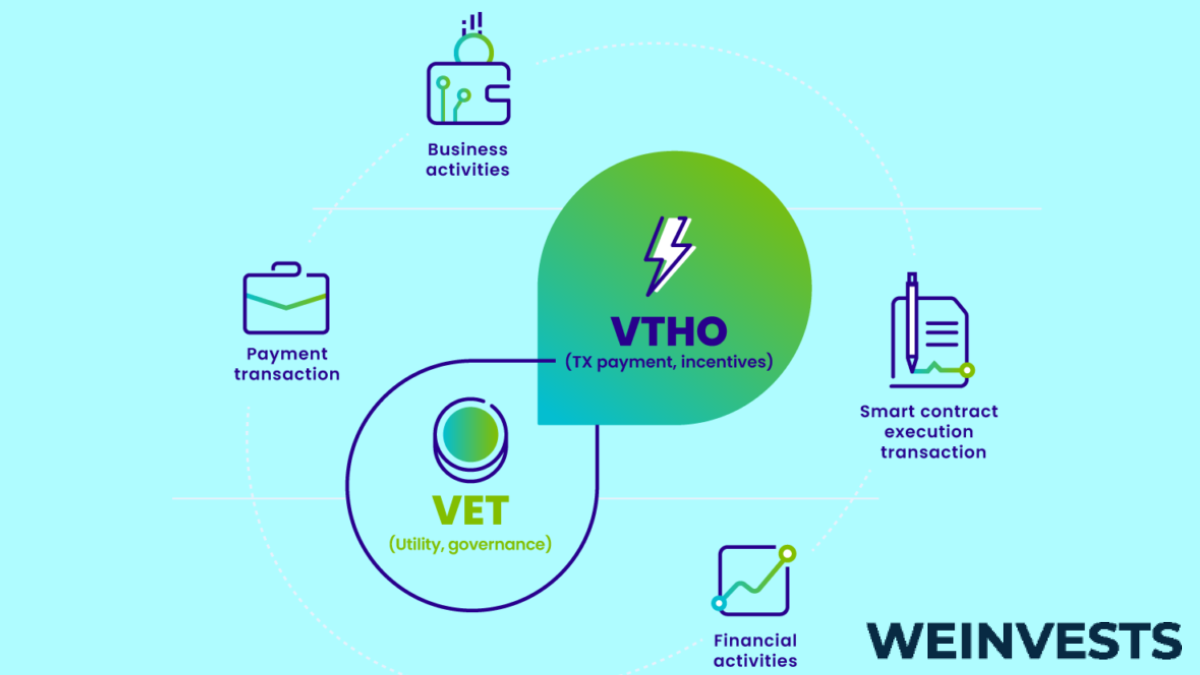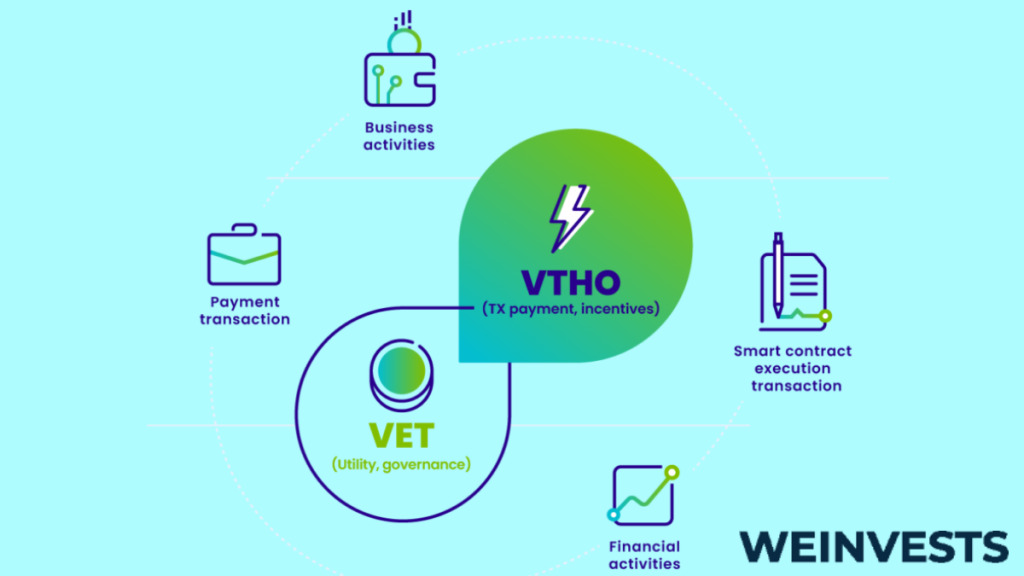 A user can earn VTHO by staking VET based on a few different factors, such as how much VET they have staked, and for how long.
Staking in Vechain requires creating a delegate account on the VeChainThor blockchain. Please refer to the official VeChain website for instructions on how to accomplish this task. When you join as a delegate, you'll be able to stake VTHO tokens according to your preference. The more VTHO, the better.
However, you should know that in order to receive staking rewards, you can't withdraw your tokens from the wallet while staking. Any rewards you earn will be forfeited if you remove your tokens from the wallet.
Staking VET through a wallet
Like a bank account, cryptocurrency wallets store your cryptocurrency, but the first thing you'll need is a VeChain wallet that supports staking.
Users can download and start using several free and secure cryptocurrency wallets right away.
There are two official VeChain wallets, Sync and VeChainThor. Sync is for desktop users, while VeChainThor is available for Android and iOS users.
First, create a VeChain wallet from within the app (iOS instructions/Android instructions).
Once the wallet is created, copy the VET address.
Send VET from a source to your wallet (it could be from a crypto exchange or another wallet)
Then you are done! You are now earning VTHO tokens by holding VET in your VeChainThor wallet.
VeChainThor's mobile wallet generates VTHO every 10 seconds. Each VET that you own has a maximum earning limit of 0.000432 VTHO per day.
In the case of other cryptocurrencies, you can participate in mining "pools" to increase your chance of winning rewards.
Since VeChain's staking rewards aren't dependent on computing power, it's not possible to pool VET with others in order to earn more VTHO.
For VeChain node rewards, however, it might be better to create a staking pool with others, given how much VET you need to run a node by yourself.
You could also run a VET masternode, but that requires a lot of tokens from the start. The larger your holdings, the higher the possible rewards. There are four tiers of holdings. These are:
Strength (minimum 1 million VET)
Thunder (minimum 5 million VET)
Mjolnir (minimum 15 million VET)
Authority node (minimum 25 million VET)
How to Stake VeChain (VET)?
Staking VeChain (VET) using Simple Earn on Binance is an easy process that allows you to earn passive income by holding VET tokens in your Binance account. Here's a step-by-step guide on how to stake VET on Binance:
There's two options when it comes to VET staking, doing so directly through a software wallet (such as Exodus or VeChain's own Sync and VeChainThor wallets), or using a platform such as Binance. The former options would give you more security, while the latter provides you with more convenience.
Let's take a look at how to do either:
Step 1: Sign Up and Verify your Account
Create a Binance account: If you don't already have a Binance account, visit https://www.binance.com and sign up for a new account. Complete the registration process, including email and phone verification.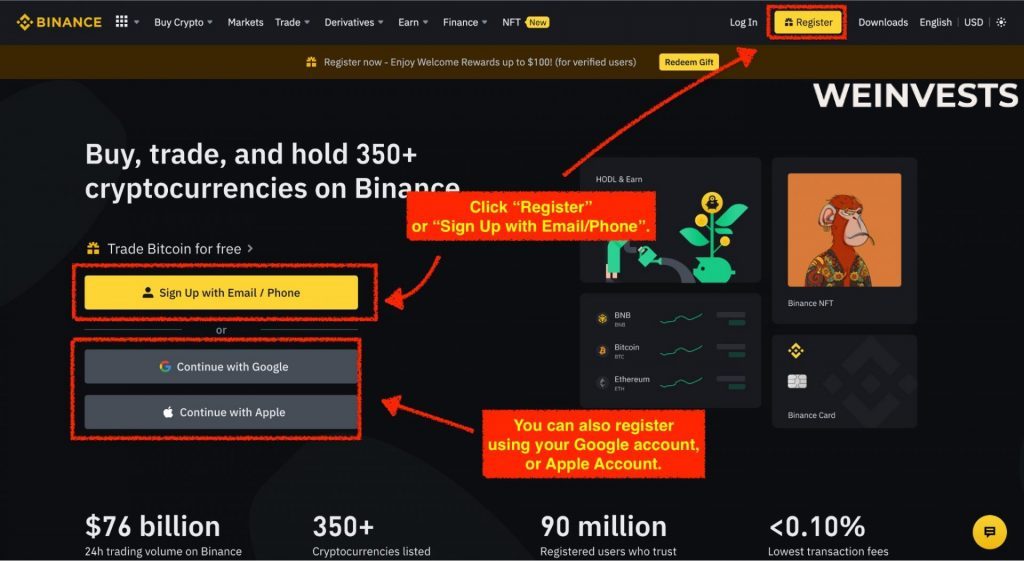 Complete KYC verification: For security purposes and to increase your account limits, complete the Know Your Customer (KYC) verification process. This usually requires uploading a government-issued ID and a selfie.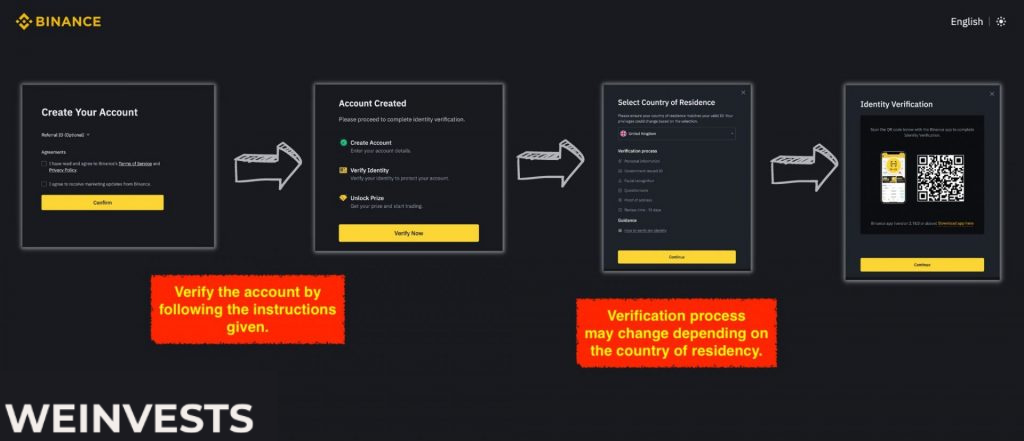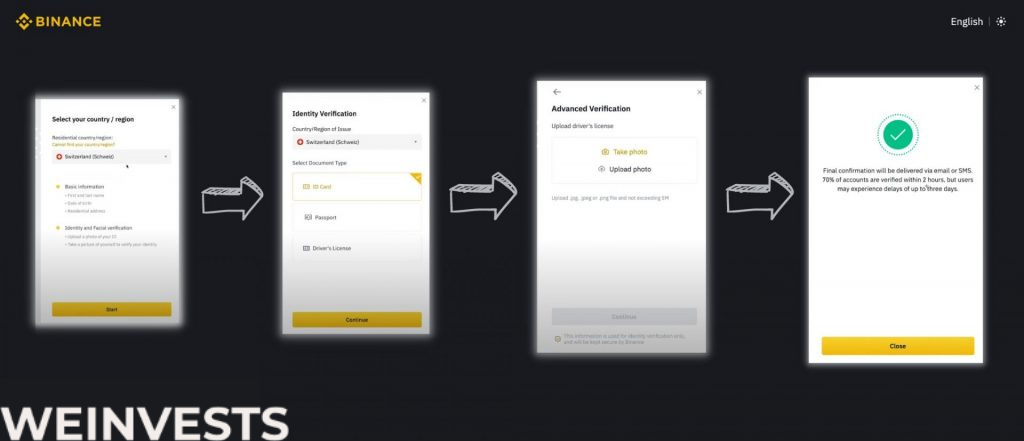 Step 2: Fund your Account
Deposit or buy VET: If you already have VET tokens in another wallet, you can transfer them to your Binance account. If you don't have any VET tokens, you can buy them on Binance using your preferred currency or other cryptocurrencies.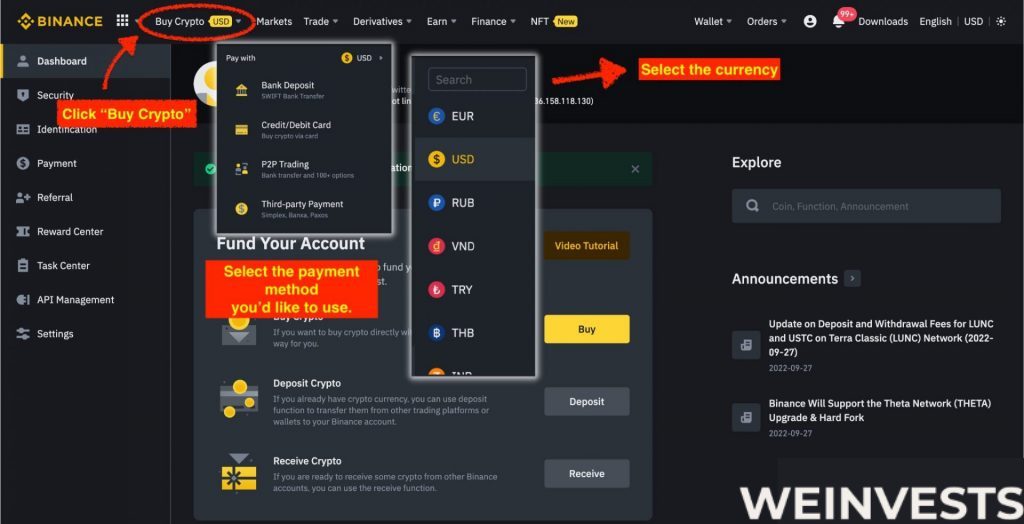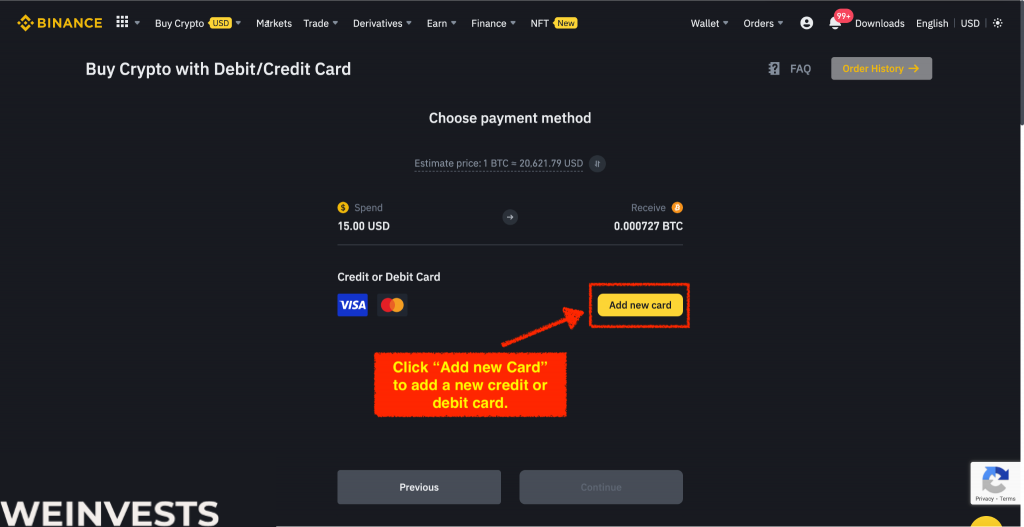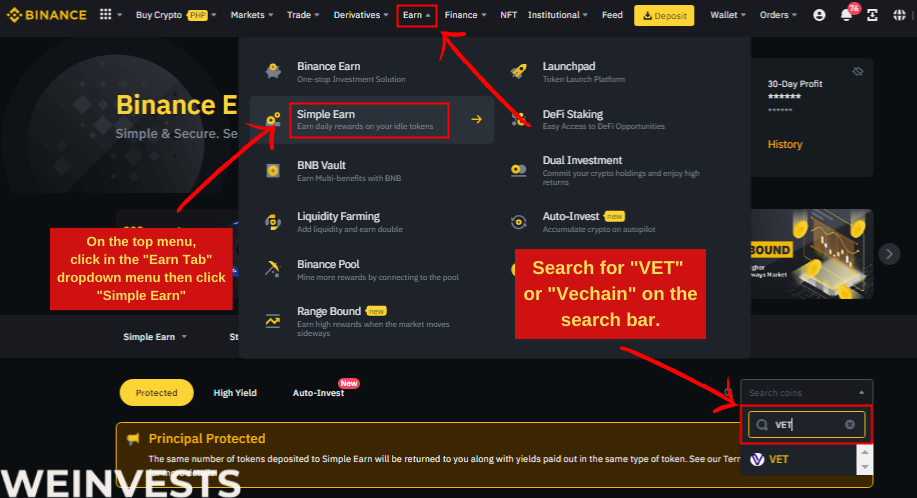 Go to the drop-down menu labeled 'Earn.' Here, you will have multiple options. Click on 'Binance Earn' and then search for 'VET'.
Step 4: Analyze the Staking Parameters and Stake
Here, you can analyze Vechain using the 'Calculate your crypto earnings' feature. You can input the amount you want to invest and see the projected earnings for 1 year, 2 years, 3 years, or 5 years. Simply click on the desired number of years to invest in 'VET'.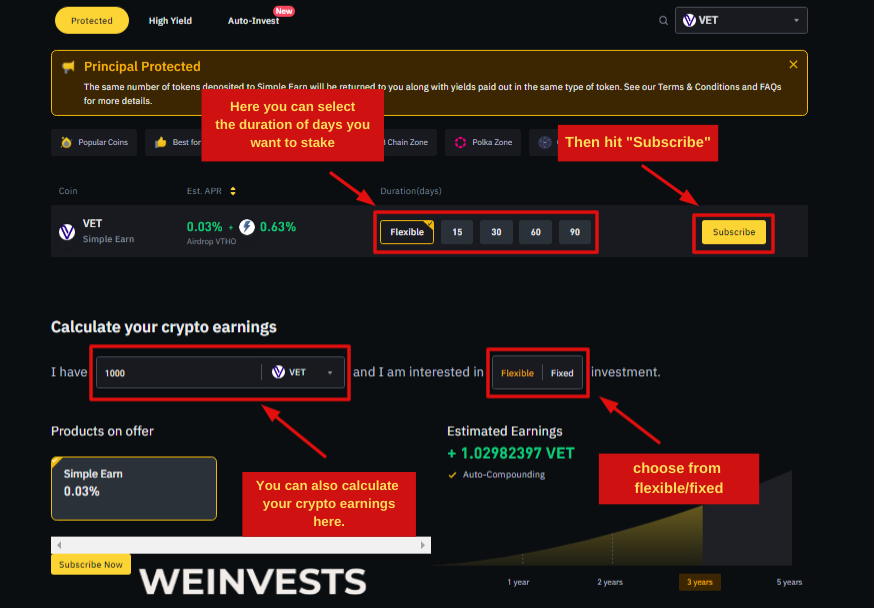 If you want to earn rewards with your Vechain (VET) on Binance.com, you can go to the "Products on Offer" section under "Earn"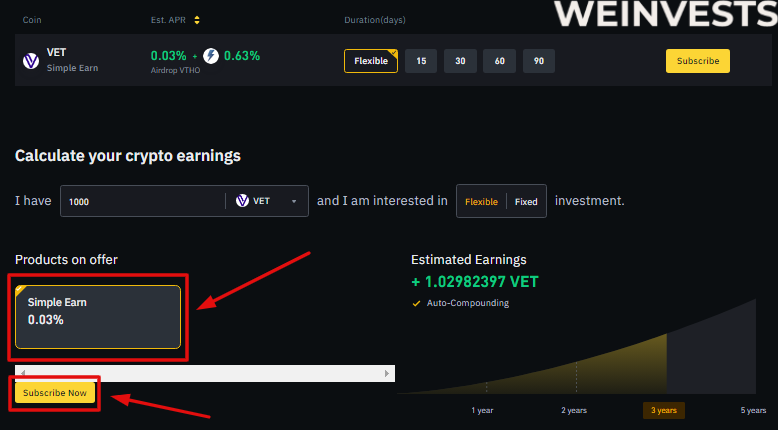 "Simple Earn" lets you deposit your VET in flexible or locked products and earn daily rewards. You can subscribe or redeem at any time, so you can maintain your assets' flexibility and liquidity. The rewards are sourced from Binance's own funds and are based on the market conditions.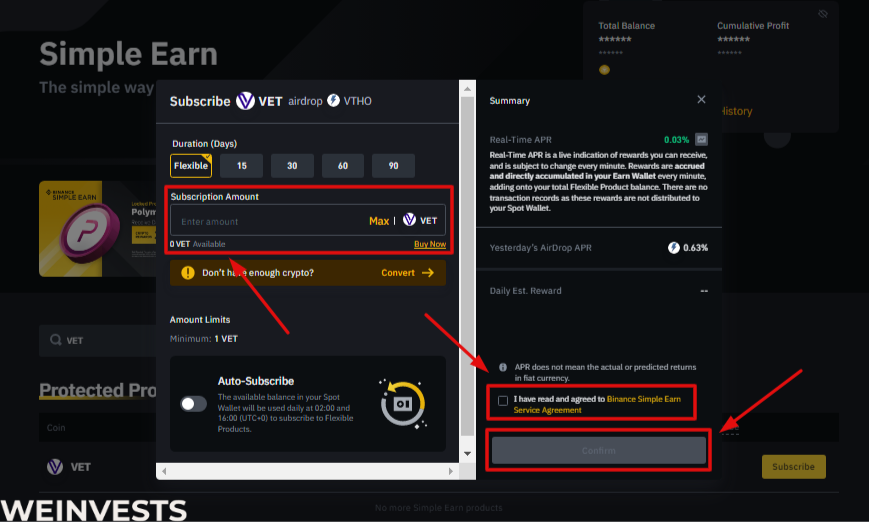 You can check the different rewards rates and durations for VET and select the one that suits your needs and preferences. You can find the details of each product on the Binance Earn page.
VeChain Staking Tax
In terms of crypto taxes, the IRS is inconsistent – particularly when it comes to crypto staking. Staking rewards, like mining rewards, may be subject to income tax even though they refuse to see crypto as a fiat currency. In addition, you'd need to pay Capital Gains Tax if you later sell, trade, or spend your staking rewards.
Tax rates on short-term capital gains and crypto income range from 0% to 37%, while they are 0% to 20% for long-term capital gains. Cryptocurrency taxes in the USA vary based on how much you earn, the type of transaction and how long you hold the asset.
Although the IRS has issued guidance on crypto mining tax – it has not issued any guidance on crypto staking tax. A guideline on crypto mining tax in Notice 2014-21 is the closest investor can get to understanding how staking is taxed.
Currently, staking rewards are not mentioned at all in the guidance. IRS guidance, however, clearly states that mining rewards are taxable at fair market value on the day you receive them. Furthermore, when you sell, trade, or spend your mining rewards, you will have to pay Capital Gains Tax.
Thus, VeChain remains in this limbo space as far as staking is concerned until the IRS outlines more defined rules. At the moment, there is no clear answer, but generally, staking rewards are taxed based on the fair market value of the coins upon receipt.
Why Do People Like Staking VeChain?
VeChain has some features that make it particularly compelling for potential investors. For instance, its two-token system differentiates VeChain from most other offerings in the crypto market. Because the cost of transactions isn't paid in the same coin used for the derivative product, users can make transactions for free if they hold VET (the derivative token) long enough by generating VTHO (the transaction token).
Furthermore, VeChain doesn't work on Proof of Stake or Proof of Work, it uses Proof of Authority instead. This system allows it to be highly scalable, offer more effective privacy protection, and provide better usability for business.
Conclusion
At first glance, staking VeChain isn't all that different from other altcoins available these days. The main advantage of staking is getting a passive return on the coins you already have, and in the case of VeChain you can receive double the returns in the form of VET and VTHO to cover transaction costs or just have new coins.
Additionally, staking helps support the VeChain network and increase its security and stability, which is a nice added plus if you are already invested in the project.
The choice between using a software wallet, such as VeChain's own Sync, or recurring to an exchange, such as Binance, will boil down to whether you want additional security or more interest on your staking.
VeChain Staking FAQ's
Who owns VeChain?
VeChain was founded by Sunny Lu, the former chief information officer of Louis Vuitton in China, back in 2015. It originally was a subsidiary of Bitse, one of the largest blockchain companies operating in China, which gave it access to a substantial customer base to compete with more established companies.
Are VeChain and Vethor the same?
No, they are not. VeChain (VET) and VeThor (VTHO) are both managed by, and belong to, the Vecthain platform, but the two coins have very different purposes.
The VeChain ecosystem uses both tokens together to empower its economic infrastructure, but there is usually only one token for each blockchain.
VTHO is required to perform transactions, while VET is used to store and transfer value.
VET is the primary coin on VeChain, and is used as the currency for the business activities done on the platform. VTHO, on the other hand, is used to pay for transactions in the network. It covers the cost of executing smart contracts on the platform.
The idea is that the combined two-token system helps separate the cost of using the blockchain from market speculation.
What big companies use VeChain?
VeChain boasts an impressive list of partnerships and strategic partners. The full list includes:
Strategic partners:
● BitOcean
● DNV GL
● National Research Consulting Center (NRCC)
● PriceWaterhouse Cooper (PwC)
● Yida China Holdings Limited
Partnerships:
● Anhui Tea Industry Association
● ASI Group
● Baijie Teng IoT Technology Corporation
● BIOS Middle East
● BMW Group
● Bright Food
● BYD
● China National Level partnership
● China Unicom
● Cointelegraph Consulting
● DB Schenker
● Direct Imported Goods (D.I.G)
● ENN Energy Holdings Limited
● Fanghuwang
● Fashion for Good
● Fuji MARUMO Tea
● Groupe Renault
● H&M
● Haier
● iTaotaoke
● Kuehne & Nagel
● LogSafer
● LVMH
● Norway in a Box
● NTT Docomo
● People's Insurance Company of China (PICC)
● PlatformXChain
● Reebonz Holding Limited
● Republic of Cyprus National Level partnership
● Sarah Regensburger
● SBTG Surplus & Co
● Shanghai eGrid Consulting Co. LTD
● Shanghai Gas
● Walmart China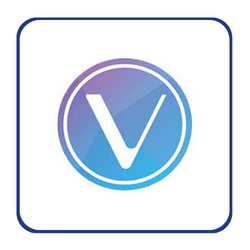 How to Buy (VET) VeChain
The VeChain network was established in 2016 with the goal of increasing enterprise adoption. VeChain's ToolChain platform offers…
Risk Disclaimer
WeInvests is a financial portal-based research agency. We do our utmost best to offer reliable and unbiased information about crypto, finance, trading and stocks. However, we do not offer financial advice and users should always carry out their own research.
Read More