This content represents the writer's opinions and research and is not intended to be taken as financial advice. The information presented is general in nature and may not meet the specific needs of any individual or entity. It is not intended to be relied upon as a professional or financial decision-making tool.
VeChain or VET project started out from a private and dedicated blockchain logistics system and now works as a multi-functional public blockchain network. VeChain is the direct result of an innovative team that understood the need and demand of the market and paved the way for a universal platform suitable for businesses.
As of now, VeChain provides various solutions that allow conventional industry players to integrate advanced blockchain solutions. One of the perks of the VeChain platform is the flexibility that makes it easier to track a specific factory product to the end-user.
In 2023, beverage and clothing bands continued investing in the VeChain platform to reap blockchain-based benefits and expand their business operations in the future direction. Now, let's touch on the basic overview, benefits, historical price performance, and forecasted price prediction of VeChain (VET).
After hitting a two-year low of $0.01796, the price of Vechain has started to reverse down. However, it is still possible for the cryptocurrency to test the lower levels. During the previous few sessions, the price went sideways. This indicates that the bulls are not ready to lose the battle.
VET Basic Overview
Launched in 2015, VeChain works as a blockchain-based project. The initial market perception of VeChain was that it thrives on blockchain technology and product tracking that users can integrate onto their devices in the form of chips, RFID trackers, or QR codes. This mechanism to integrate product data into smart chips rendered more data reliability than ever.
The objective of VeChain is to optimize supply chain processes, improve product safety, authentication, and verification, and offer protection against counterfeiting. The truth is that the initial success of VeChain in logistics raised the standards. Ultimately, VeChain managed to establish a market presence as a premier blockchain service provider for a wide range of businesses in different industries.
Currently, the goal of VeChain is to create a robust, reliable, and transparent distributed ecosystem that works in favor of companies and ensures a flawless flow of information across companies. In a short time, the VeChain project has become famous for its progressive collaboration initiatives with renowned corporations like Microsoft, Wal-Mart, Shanghai Gas, H&M, and BMW Group.
How VeChain Stands Out in the Crypto Market?
Blockchain technology is the foundational building block that fuels VeChain. Through blockchain technology, VeChain wants to revolutionize enterprise-scale operations and influence market changes. And contrary to preconceived market perception, the blockchain technology of VeChain extends beyond use cases of the cryptocurrency.
Instead, VeChain operates as a platform that continues to push old school boundaries through blockchain efficiency that uses an advanced platform. With VeChain, industries can access and use a more efficient and reliable alternative rather than stick to traditional solutions.
Any business that wants to expand its digital footprint in banking, healthcare, or another sector will find VeChain valuable. In banking, VeChain can help managers understand transactional behavior as well as the financial capacity of an individual or firm to decide whether or not it should grant a service or loan.
When it comes to DLT and IoT technologies, VeChain continues to be at the forefront and wants to drive positive change in the industry. VeChain, at its core, stands out because it wants to help businesses integrate effective IoT and DLT solutions.
An average user may not realize it but it is hard to separate blockchain technology and IoT. After all, both technologies ensure synchronized efforts and pave the way for efficient and cost-effective data tracking tools. You can expect VeChain to become more popular and offer expertise in IoT and blockchain technology and provide integrated perks.
With more strategic partnerships, VeChain now enjoys a robust position in the market. But VeChain is not just involved with logistics and supply chain partners. In fact, it now forms strategic partnerships with diverse industries to offer proactive and tech-driven solutions.
VeChain Background
In the early stages, VeChain became functional as an anti-counterfeiting and supply chain management system fueled by IoT and blockchain technologies. By the end of 2017, rebranding efforts started and VeChain supported decentralized applications.
VeChain Foundation is a registered non-profit firm in Singapore and manages the entire project. Since 2017, the development team has had impressive legal support to create a comprehensive roadmap and move the project in a progressive direction.
Right from the start, VeChain Foundation wanted to build uniform partnerships with major industry players across the world. Before the launch of its blockchain technology came into the picture, the VeChain project already had enormous success in the supply chain sector. In fact, VeChain was deemed as a highly efficient blockchain-based solution by the Chinese Government.
But since China has banned ICO, VeChain hasn't had the chance to offer an initial coin offering. As the legal loops become more uncertain in China, VeChain managed to refund Chinese participants during the early ICO stages to meet the legal requirement.
VeChain (VET): Statistical Overview
| | |
| --- | --- |
| VeChain Ticker Symbol | VET |
| Current market price | $0.03985 |
| Current market cap | $3,479,316,418 |
| Price Change in the last 7 days | $ 0.040724 |
| Price Change in the last 24 hours | -16.98% |
| Total trading volume | $456,945,051 |
| Circulating Supply | 86,712,634,466 |
| ROI on VeChain (VET) | -176.82% |
| All time lowest price | $0.2782 |
| All-time highest price | $0.001678 |
VeChain (VET): Historical Analysis
After price decline in August and September, however, the rebound turned out to be temporary. Soon after the extended recession, the price of VET started to hit the bottom at $0.003. But even after closing at $0.004, 2020 became a growth-centric year for VeChain.
But in February 2020 onwards, VET again hit a new low of $0.0016. Fortunately, in June 2020, VET managed to push the resistance and hit the highest price of $0.022. By late October 2020, the price of the VET had started to recover and ultimately closed at $0.0220 at the end of 2020.

The price of Vechain started in 2023 at $0.0843. It has since decreased by -78% and is currently trading at $0.0183. In 2023, the forecasted price of Vechain is at around $0.0187. During the first half of the year, it will drop to around $0.0185, and in the second half, it will increase by $0.0012. It will close the year at around $0.0197.
VeChain (VET): Technical Analysis
At the start of the bear market, VeChain managed to show some impressive results throughout 2021. In the last two years, the price rebound of VET has been incredible. The fact of the matter is that the timeframe has (almost) always put VeChain in the wrong position.
Even after the price hike of 140% in 2021, VET hit a 700% lower market price. But investors started to maintain a good position once VeChain started to stabilize in the Q3 and Q4 of 2021. If the VeChain price breaks through the resistance, investors should be able to trade it at $0.20. Our price prediction and technical analysis hint at a five-year growth of VeChain. By Q4 2025, it may reach the $0.47 threshold.
VET Price Prediction 2023
According to our price prediction model combined with technical market analysis, you can expect the VET price to be around $0.16 by the end of 2023. The maximum forecasted price of VET may reach $0.19. And if market capitalization and market growth continued, you can expect VET to cross the threshold of $0.19 mark.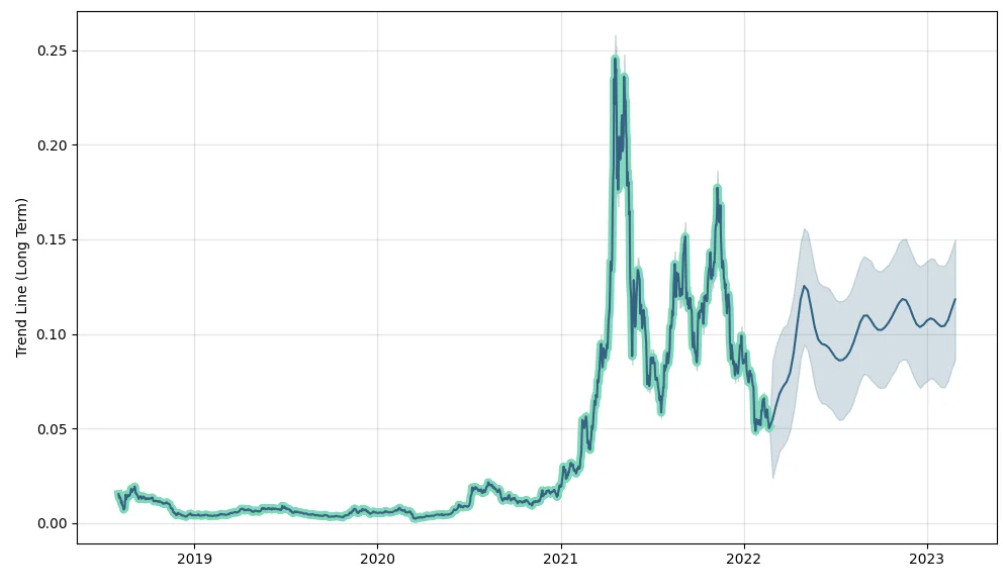 VET Price Prediction 2024
By 2023, the forecasted price prediction of VeChain is expected to be positive throughout 2024. On average, you can expect the VET price to settle at around $0.2 in 2024. When it comes to the minimum price prediction of VeChain, the value may come down to $0.19. But as long as the current market price of the VET holds up, you can expect to see more long-term benefits for investors.
VET Price Prediction 2025
Although the long-term price prediction mode of VeChain is not 100% accurate, the forecasted prices hint at a major surge. Our technical analysis suggests that the VeChain price may hit $0.21 by the end of 2025. The same year will also bring more opportunities and possibilities for the VeChain network. Throughout 2025, you can expect to see consistent price growth of VET in an upward trajectory in Q4 2025.
On average, you may expect VET to hit the $0.27 mark by the end of 2025. When it comes to long-term price prediction, the minimum and maximum forecasted value of VET may range from $0.24 to $0.29 by the end of 2025. After that, VeChain would likely witness a stable price for the next 4-5 years.
VET Price Prediction 2026-2030
Like 2023, 2024, and 2025, 2026 and following years show an optimistic price increase of VeChain. With high expectations attached to the VeChain project, the market capitalization and mainstream adoption of the blockchain network of VET seem inevitable in the foreseeable future. As mentioned earlier, the forecasted price prediction for VET "after" 2025 would likely stabilize at $0.29 from 2026 to 2030.
If the market conditions remain stable, you can see VET gain more momentum and $0.32. According to our price prediction model of VeChain, the long-term performance of VET looks optimistic. By the end of 2030, you can expect the digital asset to hit $2.41.
VeChain (VET) Price Prediction: Final Thoughts
The practical use case of VeChain as a blockchain solution is ideal for ensure flawless supply chain management. It is no wonder VeChain continues to garner the attention of more partners from numerous industries.
Healthcare facilities can utilize VeChain in order to track medicines. It is the best way to cut out counterfeiting efforts from the black market that trades medicines.
The value proposition of VeChain revolves around its track record and "how" it uses information technology to break traditional barriers. The digital asset continues to maintain strong market perception and that makes it a solid choice to invest and hold onto it to address real-world issues.
VeChain (VET) Price Prediction: FAQs
Will VeChain be able to hit the $1 mark?
According to our price prediction model and technical analysis, VeChain would, in fact, reach $1. It would represent a bump of 14,000% in the price increase. On the other hand, some market experts believe that the market price of the VeChain may take some more time to kick off.
What is the overall future price prediction of VeChain (VET)?
So far, the VeChain team has had an impressive success rate. With more partnerships and major industry players interested, it is only a matter of time before VeChain integrated more tech advancements.
One of the major benefits of using VeChain is that it allows users to make the most out of blockchain technology without making any compromises. As a supply chain solution, industry players can use VeChain to roll out specific blockchain improvements. At the same time, industry players can develop the required microchips and sensors to perform complex tasks.
What does the future outlook of VeChain look like?
As per the current market analysis and price prediction model, the future perks of VeChain outweigh its pitfalls. There is more than one significant reason for investors to bet on VeChain. Fundamentally, VeChain serves as a viable and future-proof investment as it moves past the supply chain solution.
At its core, VeChain incorporates high transparency and traceability aspects for the supply chain sector. But VeChain project now has started to expand into decentralized applications and directly competes with Ethereum.
Will VeChain be able to reach the $10 mark?
Current technical and price analysis suggest that the Vet may hit $75. But VeChain will have to first reach $10 and retain its upward growth to cross the threshold of $70. Furthermore, to reach these forecasted price standards, the market valuation of VeChain will have to increase by up to 140,000%.
On the surface, this price prediction and technical analysis may seem far-fetched but it all depends on "how" the crypto market evolves in the coming years. In an unlikely scenario, it would take many decades for VeChain to hit the $75 mark. Still, there is a good chance VeChain may witness a gradual price increase in the coming years.
What is the growth potential of the VeChain project?
With each passing year, it looks like the growth potential of the VeChain project. The progressive approach of VeChain continues to attract more people and partnerships. Besides, traditional businesses no longer have to be bootstrapped to legacy solutions.
As tech advancements grow, the VeChain project aims to attract more partnerships and firms. The VeChain project plans to make straightforward adjustments and roll out broad initiatives to make the digital asset more scalable and robust in the market.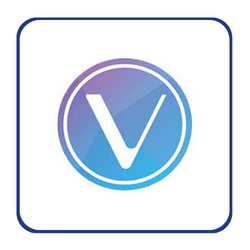 How to Buy (VET) VeChain
The VeChain network was established in 2016 with the goal of increasing enterprise adoption. VeChain's ToolChain platform offers…
How to Stake VeChain
This article talks about staking the VET token belonging to the VeChain supply chain blockchain. We go over the pros and cons that come with staking VET, including its dual-coin structure and lock-up terms, as well as how VeChain staking works, what it is, and the actual process to follow. We explain
how to stake
VeChain either through a software wallet or via a crypto exchange, and why people like to stake VET in the first place. Finally, we answer a few commonly asked questions about VeChain, including its list of partnerships, who the founder is, and the difference between its two coins (VET and VTHO).
Risk Disclaimer
WeInvests is a financial portal-based research agency. We do our utmost best to offer reliable and unbiased information about crypto, finance, trading and stocks. However, we do not offer financial advice and users should always carry out their own research.
Read More