This content represents the writer's opinions and research and is not intended to be taken as financial advice. The information presented is general in nature and may not meet the specific needs of any individual or entity. It is not intended to be relied upon as a professional or financial decision-making tool.
Polygon is a framework for creating and integrating Ethereum-compatible blockchain networks. It offers developers the tools they need to quickly implement a self-contained platform and user-friendly decentralized applications (DApps) ensuring the stability of the Ethereum blockchain via smart contracts. In simple terms, Polygon signs itself as a layer-2 network, which means it functions as an add-on layer to Ethereum.
MATIC Tokenomics
The MATIC coin serves two primary purposes: gas fees and staking. A gas cost must be paid with MATIC tokens whenever a transaction is made on any of the numerous DApps in the Polygon ecosystem.
MATIC tokens must be staked by anyone who wants to be a validator or delegator. Additionally, according to the company, the token will be the only token used throughout the whole Polygon ecosystem.
This means that MATIC will be the standard token for any solution offered by Polygon. The specifics about how this will proceed have not yet been made public. How the tokens are distributed, and how they can be used, greatly impacts price.
The entire Polygon ecosystem is powered by the ERC-20 MATIC token. It is employed to cover governance costs as well as gas fees and staking, with a maximum supply of 10 billion, according to Coin Market Cap. As of July 2022, there are currently around 8 billion MATIC tokens in circulation. The residual 2 billion tokens are scheduled to be released over the next four years.
MATIC managed to hold its initial trade offering on the cryptocurrency exchange Binance in April 2019, by using the Binance launch pad. Through this launch pad, Polygon was able to sell 19% of its tokens for $.00263 per MATIC.
Furthermore, Polygon held two additional funding rounds shortly after IEO. The first was a seed round in which they sold 2.09% of all MATIC tokens for $.00079 per MATIC. The second was a token sale for early supporters, in which 1.71% of MATIC tokens reached a selling price of $.00233 per MATIC.
The MATIC token prices soared after a huge increase in the rate of its adoption by both users and developers. This increase was the result of the rebranding to Polygon in early 2021 and the additional features created for ecosystem developers and consumers.
In particular, Polygon introduced a blockchain bridge feature that allows developers to create DApps on one platform whilst maintaining the benefits of another. Polygon processes transactions on side chains. Batching the transactions off the main chain makes Ethereum much faster. As a result, Polygon can handle up to 65,000 transactions per second, whereas Ethereum normally can process only about 17 transactions per second.
This means users pay only a few cents instead of Ethereum's average transaction fee of around $15.
Where to Buy MATIC?
The MATIC token can be purchased by advanced cryptocurrency users through decentralized exchanges such as Uniswap using Wrapped Ethereum. It can also be bought with dollars or other fiat money on exchanges such as:
Some cryptocurrency exchanges provide trading pairings, enabling users to buy and sell MATIC with the popular stable coin Tether (USDT) through trading and purchases.
A few exchanges provide the MATIC and USDT pairing:
How to Buy MATIC on eToro
Selecting a broker or cryptocurrency exchange is the first step in purchasing cryptocurrency. While the normal trading interfaces of these organizations may be intimidating for novices, especially those without experience trading stocks, this provider offers user-friendly, simple buying alternatives.
Also, it is important to note that – From 6:00AM ET on Wednesday July 12th, 2023, US customers will no longer be able to open new positions in Polygon (MATIC) on eToro. US Based eToro customers can continue to hold and sell existing positions in Polygon (MATIC).
Step 1: Open an Account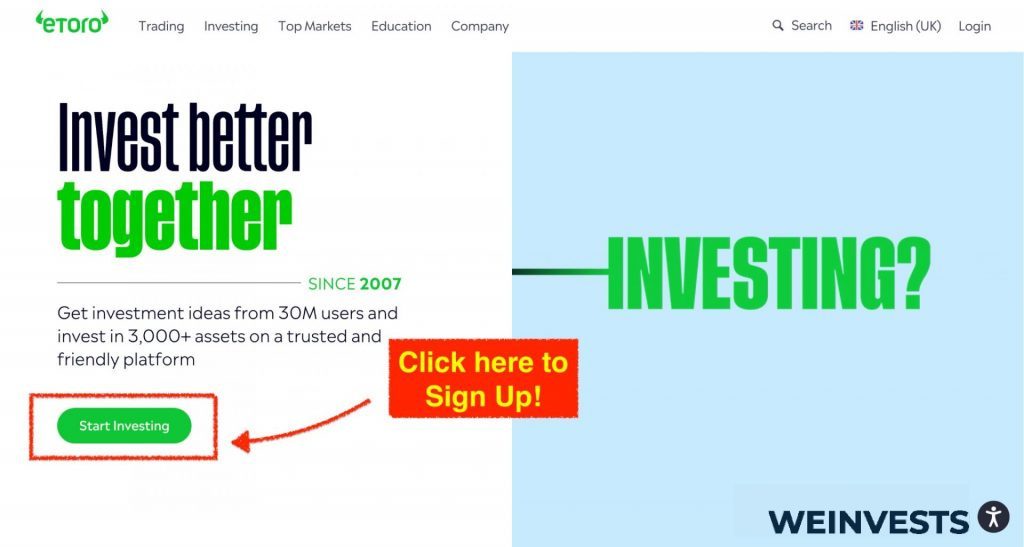 You can use either the website or the mobile app to create an eToro account. Signing up is easy. You only need to provide an email, username, and password to start with.
Verify your email address by clicking on the link or by entering the code provided in the email you were sent.
Step 2: Upload ID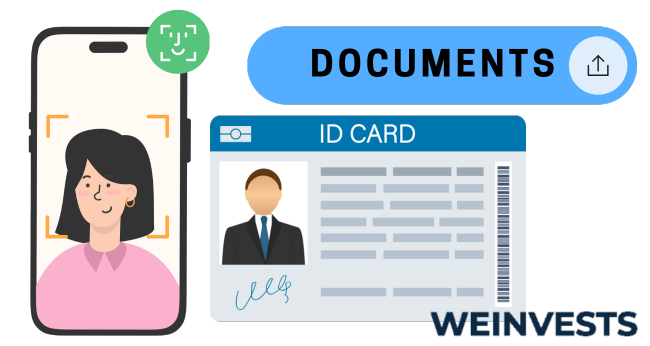 Begin by providing your passport or ID card details: full name, date of birth, and address. The app will then request that you upload a scanned or photographed image of your document, front and back.
Step 3: Make a Deposit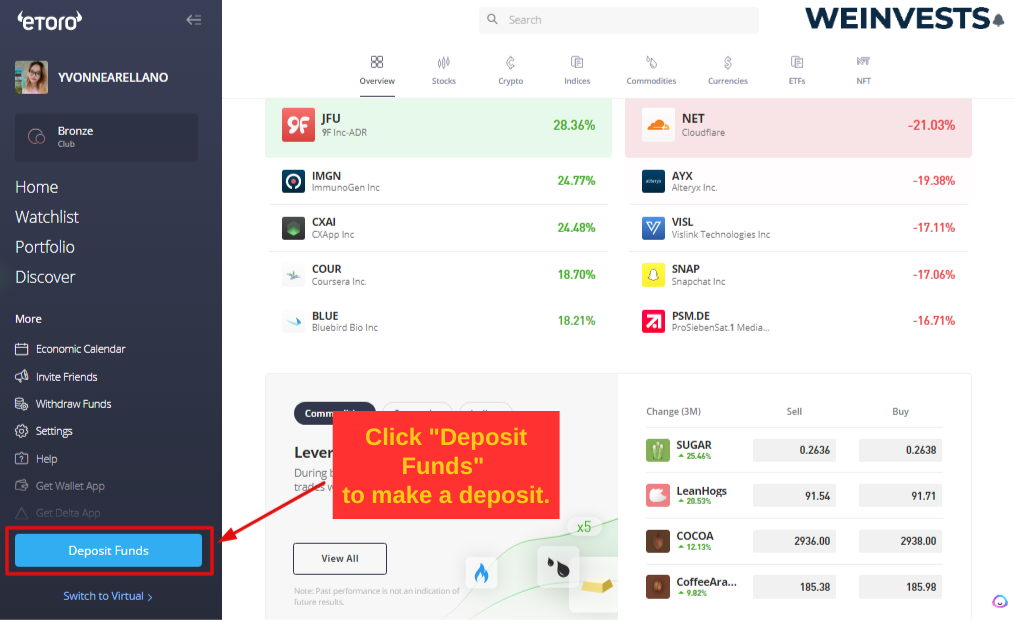 Go to the "Add Funds" button and choose your payment options. Debit/credit cards, bank transfers, and e-wallets like PayPal and Skrill are all acceptable forms of payment.
Step 4: Search for MATIC
how to search for MATIC on the eToro platform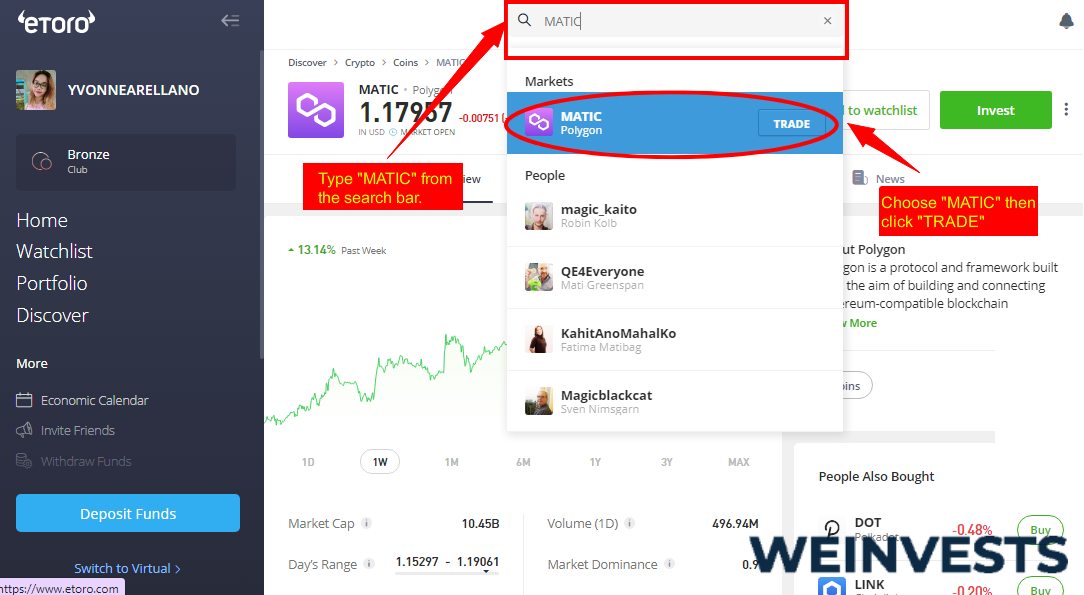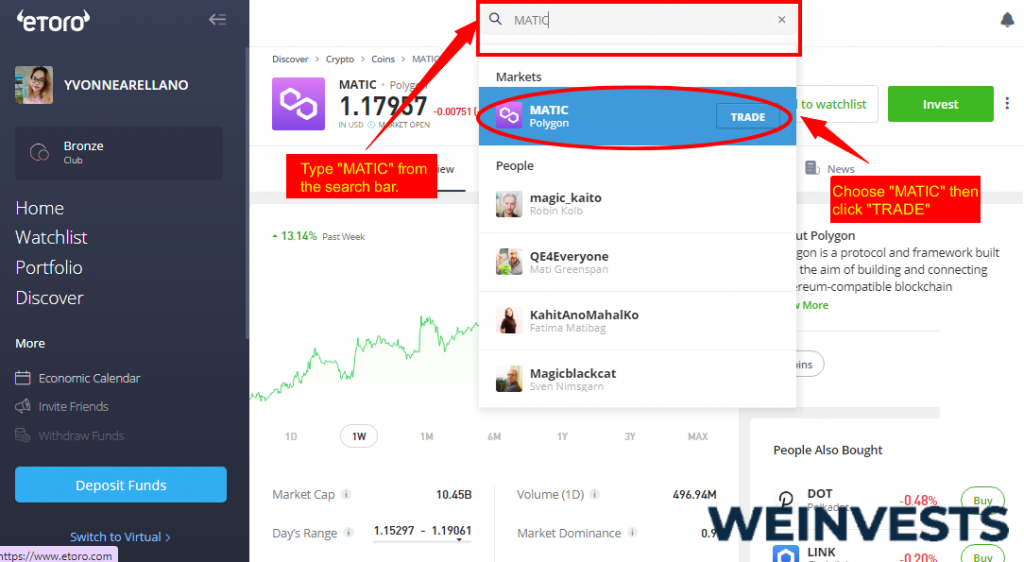 Searching for MATIC is the final step in our guide on how to purchase Polygon cryptocurrency with eToro.
Step 5: Buy MATIC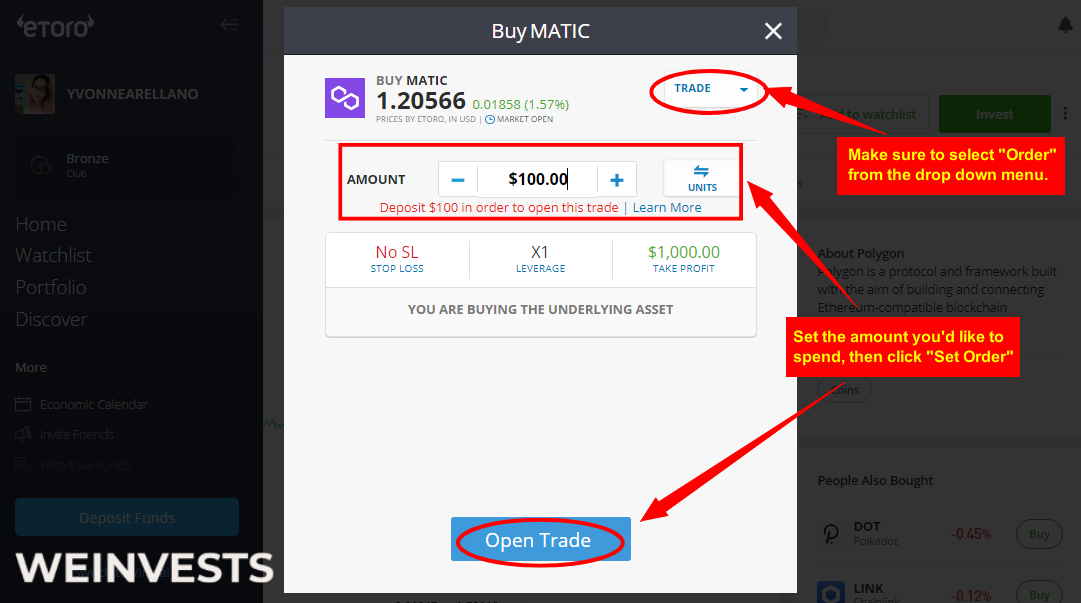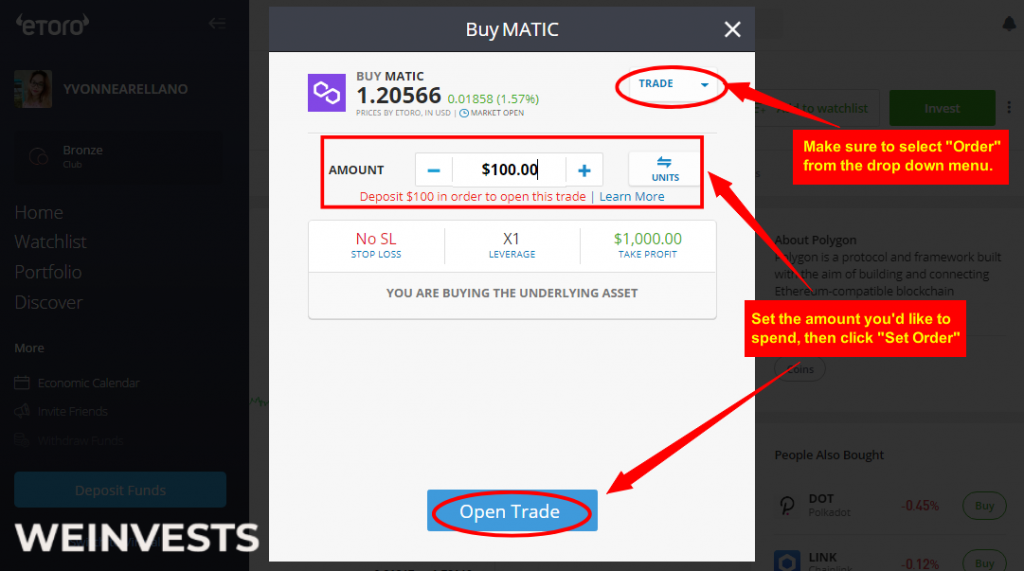 Click "Trade" once you've located it in the drop-down menu. After that, complete a purchase form to get it added to your wallet!
How to buy MATIC with PayPal?
Sign in to PayPal and choose Cryptocurrency. You should see a cryptocurrency option in the top right corner of the dashboard, next to 'Send'.
Select 'MATIC'.
Choose 'Buy.'
Enter how much you want to buy by entering the amount of money you want to spend on MATIC or by selecting a pre-set amount from the dropdown list.
Choose a Payment Method. You probably already have your bank card linked to your PayPal account, but if you don't want to use your card you can choose another method.
Click the 'Buy' button. After you complete your purchase, you will be taken to a confirmation screen, and your coins should be reflected in your PayPal account dashboard.
How to buy MATIC with a Credit Card?
Open a cryptocurrency account. To secure your account, enter an email address, a username, and a strong password.
Verify your account.
Add funds to your account. Add a payment method.
Choose the asset you want to buy and your preferred fiat currency.
Select "Buy with Card" and enter your credit card information.
Click the "Buy" option under the "Exchange" menu.
Safe Storage
You are in charge of keeping your MATIC investment secure to avoid theft, hacking, or fraud. There are numerous storage choices available:
A USB or flash drive device resembles a hardware wallet. The private and personal keys needed to access your cryptocurrency are kept on a physical device. Moreover, these wallets offer "cold storage," which is more secure because they are not linked to a network or the internet.
To access your MATIC with a paper wallet, you can either write down the keys or use an app to acquire a printed QR code. However, paper wallets are dangerous because you won't be able to access your cryptocurrency if you lose the paper key.
These wallets are Apps you may upload to your computer or other devices to store your cryptocurrency (as opposed to hardware wallets, which are tangible devices that can be unplugged from the internet). Despite being less secure than physical wallets, they are nonetheless convenient for buying and selling other cryptocurrencies.
Platforms like Coinbase and Binance will store some of your holdings. But given potential security risks, using an exchange for your MATIC may not be a wise long-term strategy.
Alternate Ways to Buy MATIC
There are a number of ways to buy MATIC and other cryptocurrencies. The most popular include ATMs, P2P exchanges and Brokerages. The majority of cryptocurrency traders will trade via an online cryptocurrency broker or exchange. Below alternative ways to buy your crypto are briefly explained.
ATMs
The ATMs for cryptocurrencies are comparable to conventional ATMs. To convert fiat money into cryptocurrencies like Bitcoin or Ether, consumers must pay a charge. Crypto ATMs can be a comfortable way for consumers to invest in cryptocurrencies because of how similar they are to standard ATMs.
According to Coin ATM Radar, there have been a lot of cryptocurrency ATMs popping up all over the place lately. Globally, there are now around 37,000 crypto ATMs in operation, a 160% increase from the 14,000 ATMs that were operational at the start of last year.
However we do not recommend this option, in the UK for example, they are illegal.
P2P exchanges
A peer-to-peer (P2P) exchange is an exchange where you can directly exchange Crypto with another person with no third party required to facilitate the operation. Although every crypto operation you make is from one individual to another, you rarely get to choose with whom you trade.
Furthermore, if you use a centralized exchange, such as Coinbase, you are required to complete strict verification "Know Your Customer" processes in order to trade on the platform.
One of the main benefits of using a peer-to-peer exchange is that there isn't a weak point like there is for a centralized exchange. This means that no funds are stored on the exchange. Additionally, you don't use an automated engine to execute your transactions, so you can pick the best rate. Also, you can more easily safeguard your privacy.
Mainstream Brokerages
If you use hardware wallets for cryptocurrencies, you can buy and sell them anonymously. However, in this case, you are trading your cryptocurrency assets outside of a regulated, secure environment.
If you lose access to a cryptocurrency wallet, the content vanishes. In the event of fraud, there is no simple way to reverse a private sale. A cryptocurrency broker, with fully regulated mobile and desktop trading platforms, is a better option. A broker enables you to buy and sell all well-known cryptocurrencies safely and securely. Always consider trading cryptocurrencies with reputable, well-regulated brokers who have a large customer base. Examples of mainstream brokerages include:
eToro: As one of the best cryptocurrency brokers, eToro provides a variety of coins, including MATIC, Dash, Bitcoin, and Ethereum. You can emulate and learn from a sizable community of seasoned traders on eToro.
XTB: This is another company with a solid reputation among traders that offers a variety of virtual currencies including Bitcoin, Ethereum, and Litecoin. One of the top 5 cryptocurrency brokers on the market, XTB is renowned for providing excellent client service.
IC Markets: This mainstream brokerage provides cryptocurrency with good leverage for the most well-known coins like Litecoin, Ethereum, and Bitcoin.
How to invest in MATIC?
It is essential, and easy, to regularly monitor the price changes of the selected asset on the various websites Binance, CoinMarketCap etc. As was mentioned earlier, changes in supply and demand are what cause the MATIC token's value to change.
Additionally, as you may already know, there is a high volatility in relation to crypto assets. This might have a negative connotation for new entrants, discouraging them from testing the market.
There are, however, a number of methods by which you can take advantage of these price swings when learning how to trade MATIC. One thing to keep in mind is that the price of MATIC quoted on various cryptocurrency exchanges will vary.
For example, the price of MATIC may be $1.027 on one broker's website but $1.025 on another.
Conclusion
Financial asset trading has been practised for a very long time. But compared to stocks, foreign exchange or commodities, cryptocurrencies like Polygon (MATIC) are a newcomer to the market. However, the foundations of trading remain the same.
If you are a beginner, you will need to learn a few fundamental concepts that you will find useful as you start to trade Polygon. Begin by creating a trading strategy that suits your financial objectives and your tolerance to risk. Do your research, think carefully and choose a regulated broker to trade through.
Don't forget, you can access commission-free transactions and a high level of security brought on by rigorous regulation by using a platform like eToro.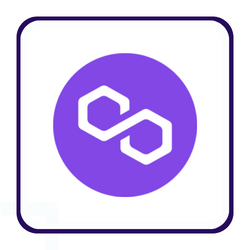 How to stake Matic
MATIC is the native token of the Polygon Network and is a Layer-2 scaling solution. Staking is one of the main benefits of the MATIC token.Polygon staking refers to locking your tokens on the Polygon blockchain for a defined period to make it more secure and to validate transactions.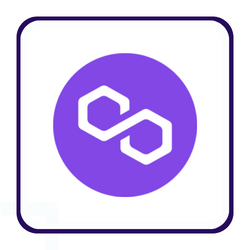 Polygon (MATIC) Price Prediction 2023, 2024, 2025 – 2030
While some experts hold out hope that the MATIC cryptocurrency would outperform its competitors, others keep their cards close to their chest. With a current
market capitalization
of $5,140,492,951 and a price of $0.6461, the MATIC token is ranked 17th among the world's top cryptocurrencies. Over the last 12 months, the MATIC price has fluctuated between a minimum of $0.30 and a maximum of $2.92. The criteria that determine where the price will end up include all-time highs, new all-time highs, and the predictors' opinions.
Risk Disclaimer
WeInvests is a financial portal-based research agency. We do our utmost best to offer reliable and unbiased information about crypto, finance, trading and stocks. However, we do not offer financial advice and users should always carry out their own research.
Read More