This content represents the writer's opinions and research and is not intended to be taken as financial advice. The information presented is general in nature and may not meet the specific needs of any individual or entity. It is not intended to be relied upon as a professional or financial decision-making tool.
Cryptocurrencies are the future of safe and instant transactions, but people are still getting the hang of them. The reason for that is that, even though crypto came into our lives years ago, there's always something new to learn about it and new cryptocurrencies going into the market. Sometimes mistakenly called xro (where to buy xro).
Unlike regular currencies, all cryptos are different from each other and offer different benefits to their users. However, the process you must go through to buy Bitcoin, SOL, or any other cryptocurrency is almost always the same. XRP is not the exception to that.
The way in which XRP works confuses traders and investors due to the complexity of what the crypto is itself. Nonetheless, as it happens with other digital assets, everything gets easier when you study and learn how to buy and sell the currency. If you are looking forward to learning how to buy XRP, this is your page.
Here at WeInvests, we have all the information related to cryptocurrencies, digital assets, and investments you need. You can dive into our website if you want to know more things about XRP and the market in general, so don't hesitate to do it.
What Is XRP?
The first thing to know if you want to buy crypto is what that asset is itself. Ripple, or XRP, represents more than a cryptocurrency since it's also a real-time gross settlement system (RTGS). This payment protocol also forms a currency exchange and remittance network.
We know it can be overwhelming to read all those terms in a single paragraph, so here is a brief explanation of everything Ripple is:
RTGS
Real-time gross settlement systems are, in a nutshell, funds transfer systems that send funds from a financial entity to another. These systems allow instant transactions of money and securities to happen, and the same goes with crypto.
Banks worldwide use these systems to support and promote individual transactions, and they are usually managed by the central bank of the country. RTGS transactions are mostly irrevocable, which also applies when transactions are made with cryptocurrencies.
Currency Exchange
Currency exchanges or crypto trading services are licensed businesses that let investors and traders buy, sell, or trade one crypto for another. Thanks to that, people can use their fiat money to get cryptocurrencies. Crypto wallets are usually linked to crypto exchanges, so people receive the funds directly in their wallets.
Remittance Network
Remittance networks represent and make what currency exchanges and RTGS are. These networks are made by a series of providers that form a whole platform. The providers in those platforms allow users to transfer money to others individuals regardless of where they are.
Cryptocurrency
As you may know, cryptocurrencies are digital assets with a value that people can buy, sell, and trade on a digital basis. Since crypto only exists on digital platforms, you can't physically have it. Therefore, people use digital wallets to store them and crypto exchanges to get them.
XRP is a cryptocurrency, which means traders and investors can use it as they would use any other cryptocurrency. This crypto is one of the largest and most desired assets in the world, and investors have bright-looking predictions for its future. The reason for that is its value and how you can use its open-source payment protocol.
Since the Ripple platform promotes fast and inexpensive digital transactions, it's expected that the use of this crypto is going to increase the global liquidity of funds. The reason for that is that the platform makes transferring money all around the world -including XRP- simpler.
However, that doesn't mean you can only buy and sell XRP from the Ripple platform. Like other cryptos, such as Bitcoin and SOL, you can get XRP from several online markets, so there's no need to worry about that. This crypto is also compatible with all crypto wallets and crypto exchanges.
How to buy XRP on eToro
There are several reasons why you could be interested in buying Ripple, but one of the most common reasons among traders is the high complexity of the coin.
However, to make this process much easier for you, we created the following handy guide on how to buy XRP with eToro.
Step 1: Open an Account
This step may seem a bit obvious, but you must first open an account to buy with this platform. Follow this link to go to eToro website.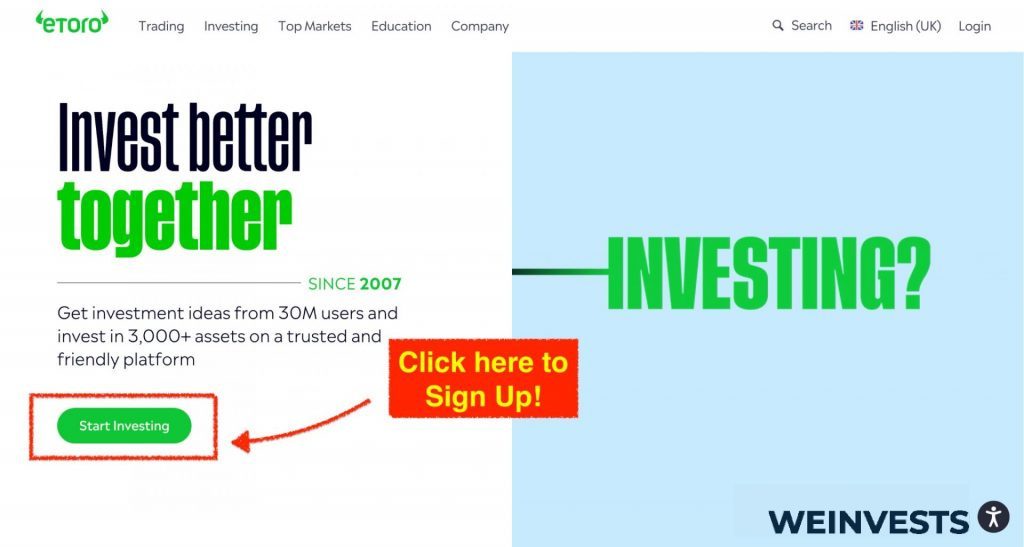 It will require you to fill in only the basic information, which only takes a couple of minutes.
You should check out eToro's terms, conditions, and policies before proceeding to the next step. Additionally, rereading your information to make sure it doesn't have any errors is also a good idea.
Step 2: Upload ID
After registering, you can't start trading before verifying your account. eToro takes the safety of its users very seriously, which is why anyone who joins this platform must go through the KYC process and submit two documents.
Utility bill
Driver's license or a valid passport
Bank account statement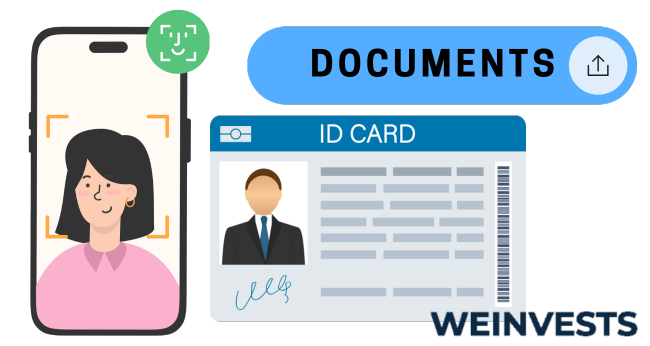 Step 3: Make a Deposit
The next step before buying XRP is to fund your account, as you're going to need money to execute those transactions. Luckily, eToro features several deposit methods, making it a lot easier for traders to transfer money into their accounts. Moreover, it doesn't charge any hidden or conversion fees, and all transactions are secured with SSL technology, so you don't have to worry about your account being hacked.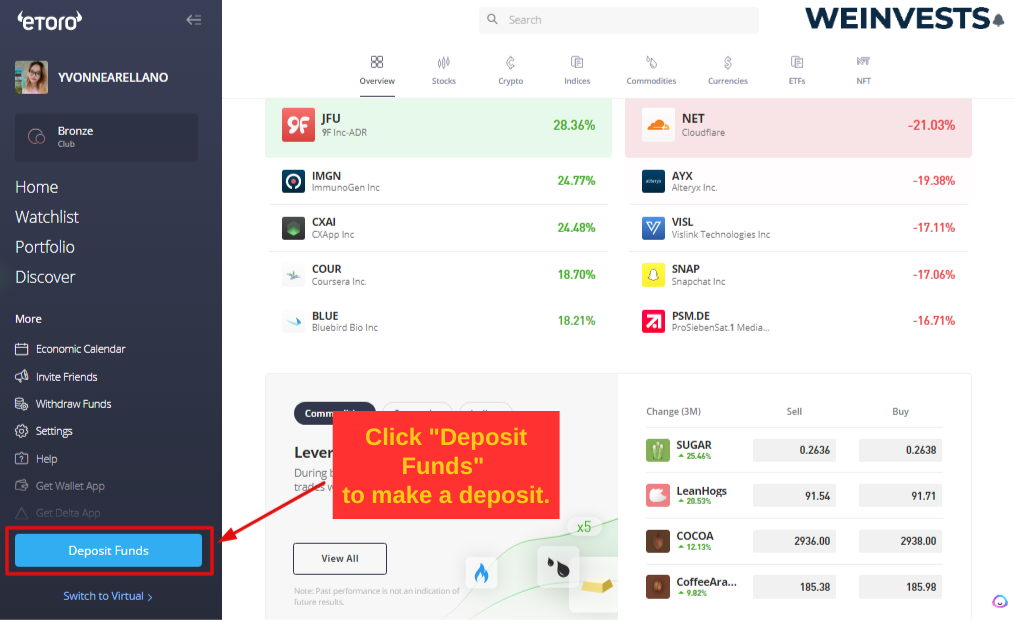 In order to fund your account, all you have to do is go to the deposit section and type in the following information:
Step 4: Search for XRP
Now you can go to eToros' discover area, which is meant to display all the available cryptocurrencies in popularity order. This screen is also going to show you the real-time behavior of each currency, so you can better evaluate how each asset is performing.
However, you need to find XRP, which tends to be one of the most popular assets, but if you can't find it, you can always use the search bar and type in "XRP."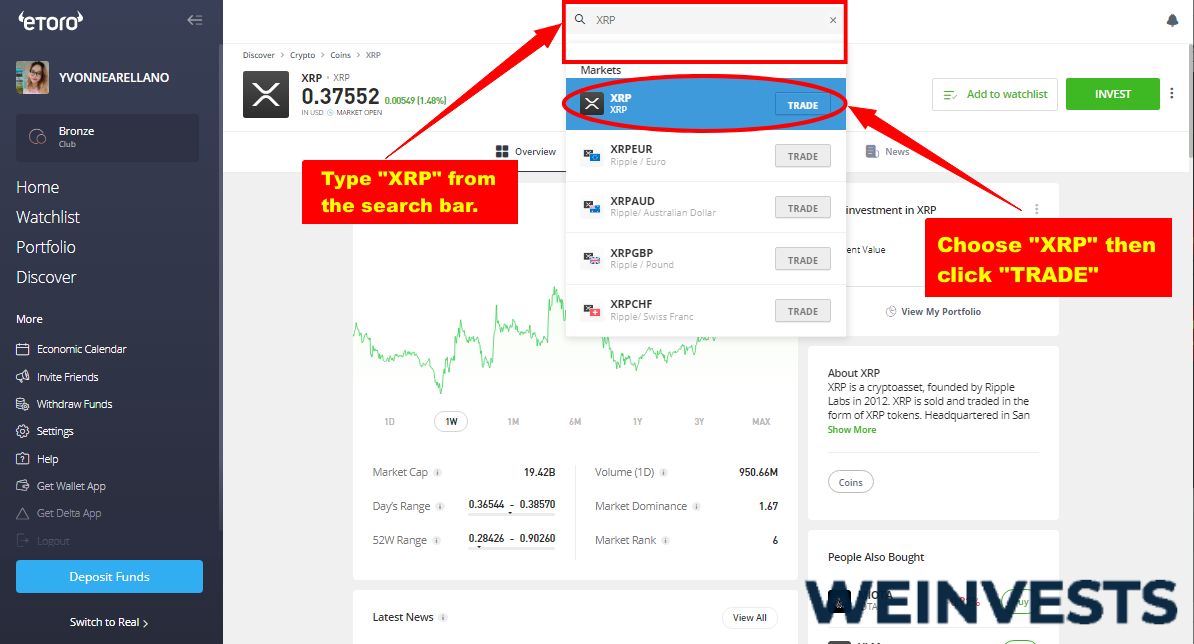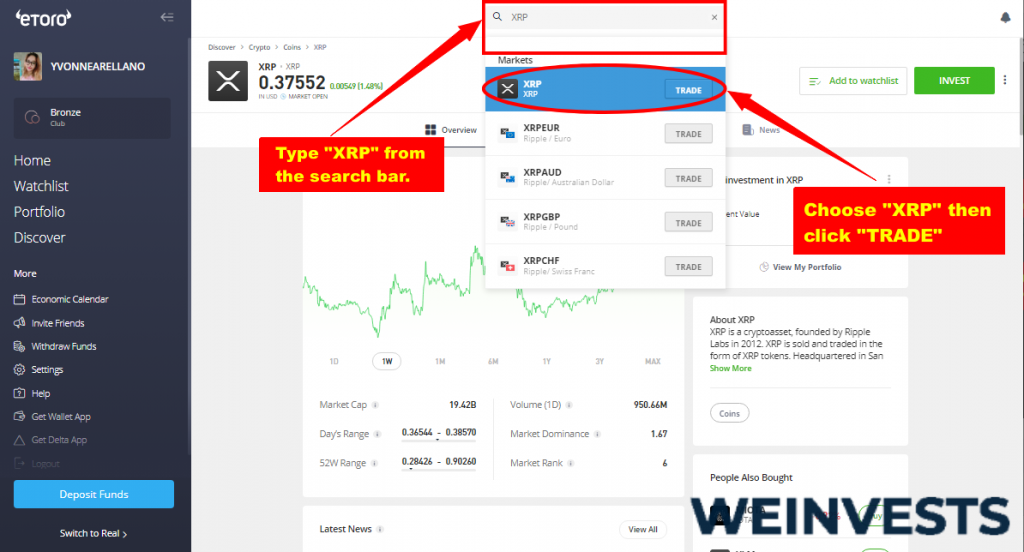 Step 5: Buy XRP
Once you find XRP, all that's left to do is choose how much of it you're going to purchase. Please, be mindful of your purchases, as this has to be part of a bigger strategy to help you earn profit.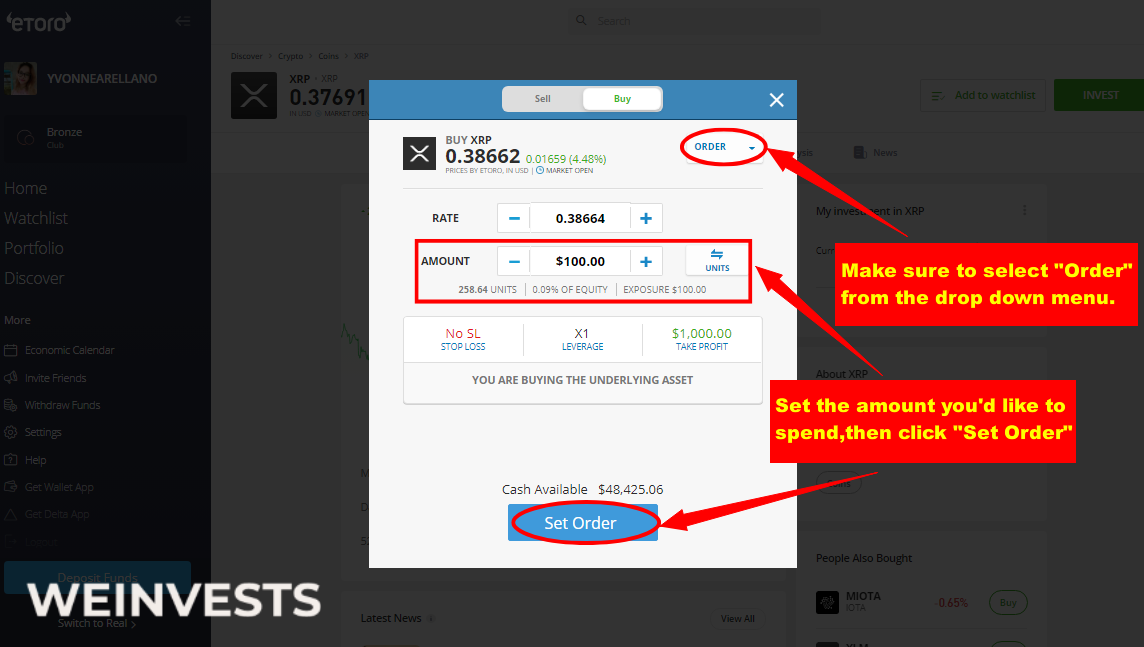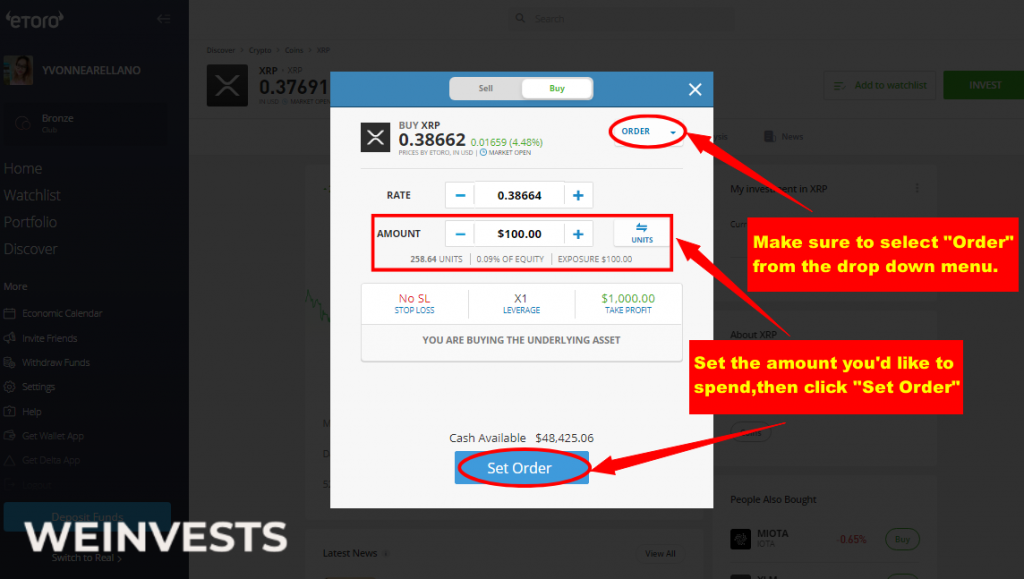 However, XRP is a very popular cryptocurrency, and that doesn't seem to be changing anytime soon.
Conclusion
Ripple and XRP are complex things to understand when you first hear of them, but things get simpler once you start reading about them. Buying XRP -or any other cryptocurrency- is not as difficult as many people think since you only need to follow the steps given in this article.
Cryptocurrencies, trading, and investing in digital assets, in general, get more popular each day, so this is probably the best moment for investors and traders to learn about the matter. Our page has a lot of information about XRP, Bitcoin, and digital assets, so you can find all the information you want here.
Ripple (XRP) Price Prediction 2023, 2024
One of the things investors and traders consider the most before making any operation or transaction is the predictions for the crypto that they want to invest in. The same happens with XRP, and many people wonder if investing in this crypto is going to be a good idea in 2023. Those doubts increased due to the legal restrictions this crypto has in the U.S. However, XRP still has a bright-looking future in most predictions, so if you want to invest in this cryptocurrency, this is the best moment to do it.
How to Stake XRP
Did you know it is actually possible to
stake
XRP? Many crypto investors don't. That's because Ripple does not use a decentralized node network of "miners" to validate new transactions and update its records. As a result, XRP does not require a peer-to-peer (P2P) consensus mechanism like proof-of-stake (PoS) to operate. But you can still stake it, by using a yield earning program by a popular and trustworthy crypto exchange or crypto yield service.
Risk Disclaimer
WeInvests is a financial portal-based research agency. We do our utmost best to offer reliable and unbiased information about crypto, finance, trading and stocks. However, we do not offer financial advice and users should always carry out their own research.
Read More