This content represents the writer's opinions and research and is not intended to be taken as financial advice. The information presented is general in nature and may not meet the specific needs of any individual or entity. It is not intended to be relied upon as a professional or financial decision-making tool.
In this article, we look at Tezos – also known as the Ethereum killer. We examine its tokenomics, the best platforms to buy, how to invest in Tezos, how to use a credit card to purchase it, and more. We also give a conservative price prediction for the token.
The Tezos platform features a secure, energy efficient, and fully-upgradeable, and secure efficient decentralized network. The token is promoted as an environmentally friendly blockchain backed by the revered proof of stake consensus mechanism, eliminating the need for mining. It also reduces the amount of electricity it consumes.
The Tezos team created this crypto tech to compete with Ethereum. Although the developers have laid the foundation to achieve this, it's still believed that the crypto still has several milestones to attain before it becomes a worthy competitor. Currently, the token has already created a niche in the NFT marketplace as the best for making clean NFTs.
Tezos Tokenomics
Tezos (XTZ) has a lot of similarities with dApp platforms like NEO, Ethereum, icon, QTUM, Waves, ICON, and Waves. However, it has one significant difference – the blockchain is a "self-fixing" cryptographic ledger. This means that it can increase its capacity based on the needs of its users without needing period forks.
In the Tezos network, stakeholders manage the protocol. Developers of this platform aim to create an actual virtual community blockchain. On this network, all participants can have equal opportunities to share in its wealth.
Tezos may be one of the new kids on the block, but the peer-to-peer network has several exciting innovations. The platform has designed a computational algorithm to check and prove the code's accuracy that manages all transactions.
The blockchain has three primary layers – consensus, network, and transactions. At the time of writing this article, there are 743,862,304 Tezos in circulation, with 80 percent of the supply going to investors. In addition, 20 percent was split between the Dynamic Ledger Solutions and Tezos Foundation.
Where to Buy Tezos?
There are various crypto trading platforms that sell Tezos, and we'll examine a few. Some notable examples include Binance, eToro, Coinbase, MEXC Global, Bitmart, Bitbns, and Bitget. When choosing a trading platform, users must conduct due diligence to ensure the platform does now have security vulnerabilities. Remember that the platform will request for sensitive data like a government-approved identification card, email address, and even the user's home address in some instances.
Generally, the popular platforms investors buy Tezos from are brokerage firms or traditional crypto exchanges. However, each platform has a unique offering, and potential investors have to know if they meet their storage and trading needs.
How to buy Tezos on eToro
While many exchanges sell Tezos, the eToro brokerage continues to out among the pack. The platform has been around for a while and it has one of the best security systems in place. In addition, eToro has low trading fees and tools like CopyTrader to help new investors.
Step 1: Open an Account
New users have to open an account before they can buy Tezos from eToro. After that, the platform will request some ID like a driving license, passport, or government-recognized ID card.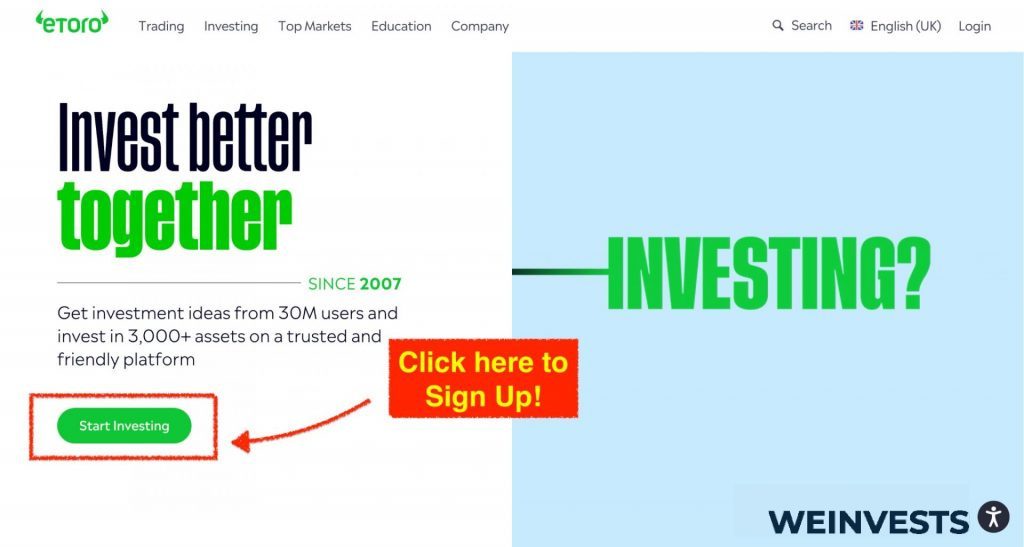 Step 2: Upload ID
After completing the first step, you have to upload your identification documents to comply with the KYC and AML regulations. eToro will verify the documents and open your account to trade on the stock market. Here are the documents that you need to submit for verification:
Utility bill
Driver's license or a valid passport
Bank account statement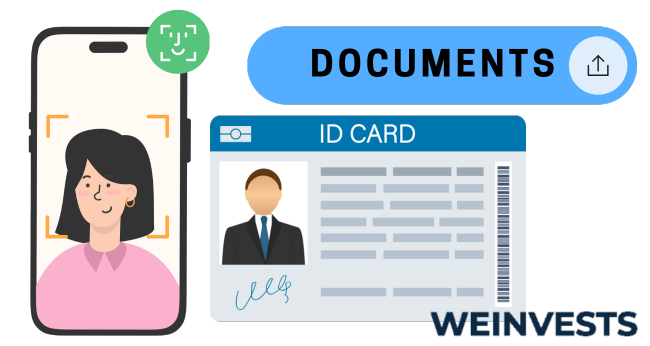 Step 3: Make a Deposit
After completing the mandatory verification, the customer can deposit funds into the account to buy crypto. Keep in mind that eToro has a minimum deposit of $10 and they charge 1 percent commission on all transactions.
To fund your account, just go to "Deposit" option and choose the specific features of how you want to invest your money, for example, the amount and payment method.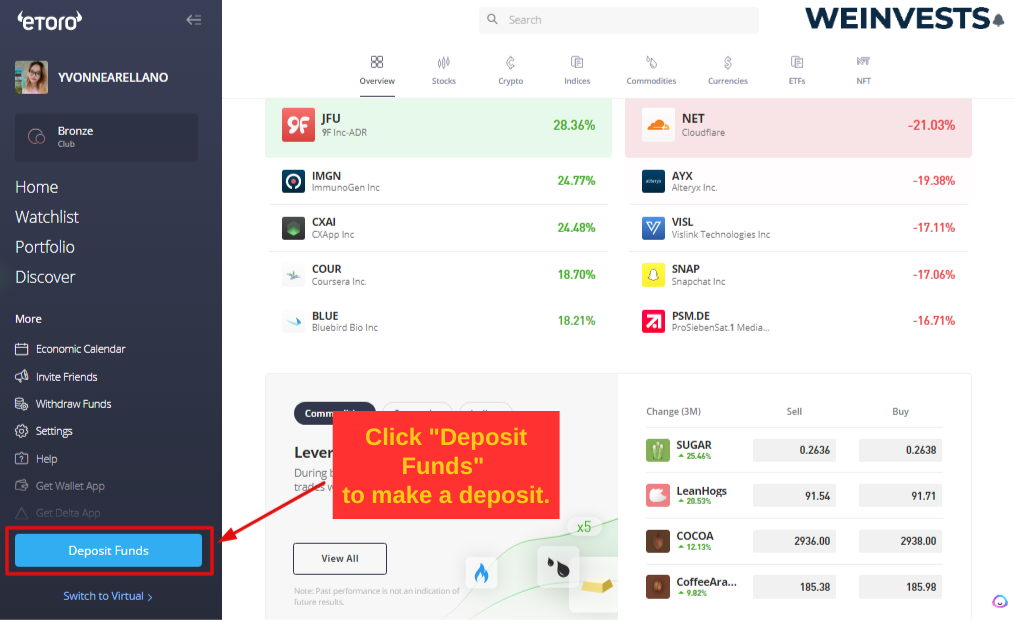 Step 4: Search for XTZ
how to search for XTZ on the eToro platform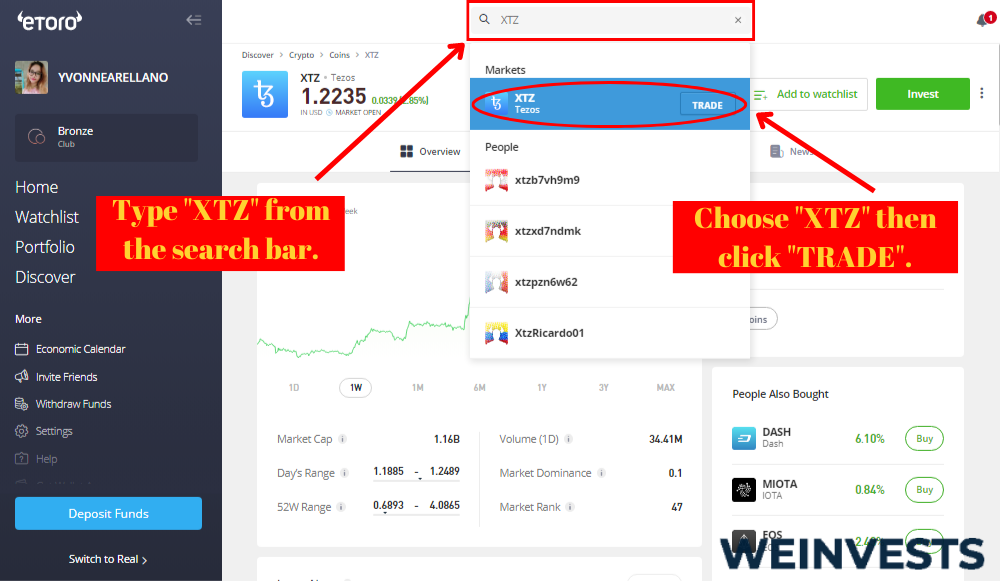 Step 5: Buy XTZ
once the account has been funded, search for XTZ and tap Trade.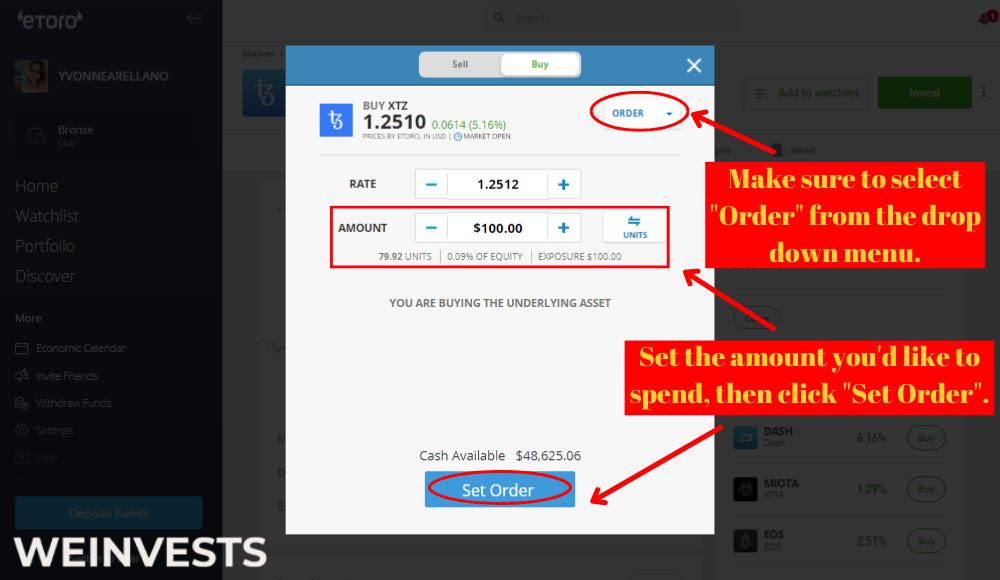 How to buy Tezos with PayPal?
For users that prefer using trusted payment platforms like Paypal, eToro has several merchants integrated into it, and Paypal is one of them. However, remember that this service is only accessible to people residing in countries that support PayPal.
By using PayPal, prospective customers can fund their accounts in any of these four currencies – USD, GBP, AUD, and EUR. In addition, there are charges users, and mandatory verification checks should be aware of before they can link their Paypal account to eToro.
How to buy Tezos with Credit Card?
The eToro platform makes investing in crypto as easy as possible, as they also allow users to buy Tezos with their credit card. Remember that most leading crypto exchanges also accept this payment method but it's essential to consider the platform's security before linking a credit card to it. As luck would have it, buying Tezos on eToro using a credit card is fast, secure, and straightforward.
The platform allows users to buy Tezos anonymously without verification to the tune of $2,000. Anything above that will require some sort of verification to avoid going against AML laws.
Here's how to buy Tezos with a credit card
Login to the eToro account.
Navigate to the deposit funds page.
Choose credit card as the method of payment
Link the card to eToro – this may require some more verification to ensure there's no hack.
Fund the eToro account.
Search for XTZ and buy the number of crypto desired.
Safe Storage
For new investors and even seasoned traders, a big challenge they face is the right storage option for their assets. Since different users have different needs and preferences, one has to know the right wallet that suits them.
Here are some wallet options to consider;
There are two kinds of safe storage options. They're hot wallets, which use an internet connection to transact crypto, and cold wallets, which function offline primarily.
There are also custodial wallets and non-custodial wallets. Custodial wallets require users to protect their private keys, while the reverse is the case with non-custodial wallets. Here, they entrust that wallet's security to an external body like a crypto exchange.
Alternate Places to Buy Tezos
There are alternative places to buy Tezos besides the cryptocurrency exchanges that many are familiar with like crypto ATMs, brokerages, and P2P exchanges.
Let's look into them in detail;
Tezos ATMs
Unlike crypto exchanges, crypto ATMs transact in digital currencies of all kinds. These ATMs allow users to transfer their assets from one wallet to the other easily. This way of trading in crypto is growing so fast that about 79 countries have adopted it and more are building infrastructure to accommodate it. Crypto ATMs offer several services with the same ease as traditional ATMs. Here, users can exchange their crypto for fiat, use fiat to buy crypto, or transfer crypto from one wallet to the other.
However, users have to confirm if it's legal in their jurisdiction or not before using this method. In the UK, for example, it's illegal to use crypto ATMs, and doing so will lead to fines. This is the major reason why we don't recommend it, but as luck would have it, there are several other alternatives to consider.
P2P Exchanges
P2P crypto exchanges allow users to privately exchange crypto with other verified peers on the platform. Peer to Peer exchanges, as they're sometimes called, eliminate the need for intermediaries or third parties. What makes this method so attractive is that there are zero charges associated with it.
The crypto is secured via an escrow until both parties meet a pre-agreed condition to keep both parties safe from fraud. Another reason people like P2P exchanges is that transactions can be conducted within minutes, and there's a level of anonymity associated with it thanks to the absence of third parties.
Mainstream Brokerages
For several years, while the world watched as crypto adoption increased. Traditional brokerages watched on the sidelines before joining the fray some years back. The moment this happened, it opened the door for institutional investors to enter the industry as mainstream brokerages started offering crypto investment vehicles to new users.
Now experienced stock traders can partake in crypto without having to leave the comfort of their trusted brokerages. These brokerages take it a step further than other crypto exchanges as they offer services they don't. They offer Futures, crypto ETPs and ETFs, and some even offer crypto staking.
How to invest in Tezos?
Primarily, there are several ways to invest in XTZ tokens. Investors can trade in Tezos CFD, engage in regular trading, or go for the regular "buy, hold and sell for profit" strategy.
Buy and Hold
This is the easiest and most popular investment strategy. It requires little to no investment expertise and can be done by anyone. To do this, investors simply buy Tezos and HODL (hold on for dear life) until it increases in price before selling.
Tezos (XTZ) CFD Trading
On the other hand, investors can also day trade their Tezos holding. Day trading refers to buying and selling Tezos tokens multiple times throughout the day and raking off minute profits through arbitrage.
No doubt, day trading gives sizeable profits, However, sound knowledge and extensive experience is needed in order not to incur huge losses.
Since CFD contracts are mostly margin traded, users have a high chance of maximizing returns when they apply leverages. Note that leverage is a two-sided sword that not only amplifies profits and losses too.
This is where eToro gives users an edge. The platform offers investors a unique tool called CopyTrader. This software allows inexperienced day traders to copy the trading strategies of expert traders right in their own accounts.
Tezos Price Prediction
According to CoinMarketCap, Tezos is trading $0.801512 USD. The #46 ranked token has a circulating volume of 919,057,564 XTZ. Coincodex shows a Fear & Greed index of 27, which is an indication of extreme fear, so the price prediction for Tezos (XTZ) is bearish. This means that investors should exercise caution while trading Tezos.
Wallet Investor had a similar negative outlook and estimated that the average value of XTZ may fall to $0.1064 by 2023. DigitalCoinPrice, on the other hand, shows a more positive trend. Their prediction reveals the average price of Tezos may go up to $2.35–$3.41 by 2024 and $14.29 in 2030.
As with all crypto forecasts, analysts have differing opinions of how an asset may turn out. Bearing this in mind, investors need to always remember that the digital currency market is quite volatile. So they need to take previous price performance into account before making a decision. Moreover, a number of unforeseen factors can sway the market in different directions.
Conclusion
The Tezos team succeeded in creating a green blockchain that consumes as little energy as possible. In addition, the platform was designed with mechanisms to guarantee active community participation and governance, a critical element of Web3.
Every user can actively participate in the network as they can evaluate, propose, or approve amendments to the blockchain. This continually makes the Tezos system an exciting collaborative innovation that keeps it on the cutting edge of technology. In return, these features are expected to give a positive upturn in value for users of this novel and green token.
However, as an investment option, the current market sentiment for crypto remains bearish. In addition, most technical indicators predict the price may fall further if the bearish trend continues. Furthermore, since the token has no maximum cap on its supply, it is clearly inflationary. Therefore, it is crucial for potential investors to thoroughly evaluate the market before making long-term investments in it.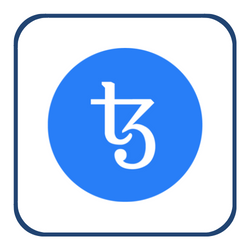 Tezos (XTZ) Price Prediction 2023, 2024 2025 – 2030
Tezos has faced a beating from the general bearish crypto market in 2022. It has struggled to maintain any bull run since hitting its all-year high of $5.041, on January 5, 2022. However, is that the last we will see of this crypto, and how will it fare in the coming months and years?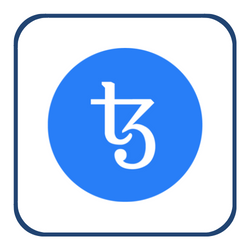 Staking Tezos (XTZ)
It is important to have some information about a cryptocurrency before getting involved with it in any way. Tezos is a self-upgrading blockchain that has made a name for itself in the crypto space, attracting a large number of investors. This article contains vital information on
how to stake
Tezos, the pros and cons of staking Tezos, and lots more. It is ideal for those who want to stake Tezos but are unsure of how to proceed.
Risk Disclaimer
WeInvests is a financial portal-based research agency. We do our utmost best to offer reliable and unbiased information about crypto, finance, trading and stocks. However, we do not offer financial advice and users should always carry out their own research.
Read More