This content represents the writer's opinions and research and is not intended to be taken as financial advice. The information presented is general in nature and may not meet the specific needs of any individual or entity. It is not intended to be relied upon as a professional or financial decision-making tool.
Tezos has faced a beating from the general bearish crypto market in 2022. It has struggled to maintain any bull run since hitting its all-year high of $5.041, on January 5, 2022. However, is that the last we will see of this crypto, and how will it fare in the coming months and years?
Before concluding on XTZ, we must make short- and long-term predictions. That will influence your decision about whether to cut your losses or buckle up for the long term. We have calculated a score by combining multiple analytics to inform your decision.
You will learn about what the future holds for Tezos. Although there is no certainty, it will help you size up your decision to hold the coin for the long term. Let's jump right in.
Tezos (XTZ) Overview
Despite a four-year delay, Tezos came into the crypto scene with an edge over Bitcoin and Ethereum. The coin had a rocky start for the next three years before exploding in 2021. Nevertheless, what is XTZ all about?
Tezos is a blockchain network that does two things:
Launching decentralized applications (DApps) and,
Executing smart contract
You might quickly identify other cryptos that do the same thing. However, Tezos has a unique edge over them, as seen. The blockchain uses a unique system that gives users access to the program code.
XTZ is the native token of the Tezos blockchain. Holders can participate in voting for the system's modernization. Hence, it is truly one of the most decentralized blockchains in the industry.
While other blockchains allow this functionality, the hard fork remains a significant issue. Tezos eliminates this challenge by allowing the system to evolve without hard folk.
For those who wish to know, "hard folk" forces previous transactions and blocks to become valid after radical changes. By eliminating this problem, Tezos positions itself to be scalable in the future. It can embrace advances in blockchain technology while holders exercise their voting rights.
The Tezos blockchain uses a baking mechanism instead of the more popular staking approach. Users who want to be part of the governing structure must stake 8,000 XTZ. Then, they can participate in the four-step procedure to effect changes in the blockchain's code.
This cryptocurrency continues to eliminate critical barriers in blockchain technology. Open participation, provision for a long-term upgrade, and intelligent contact security are some of its key features. Now that we have the overview out of the way, let's jump into the price predictions.
Tezos Price Prediction 2022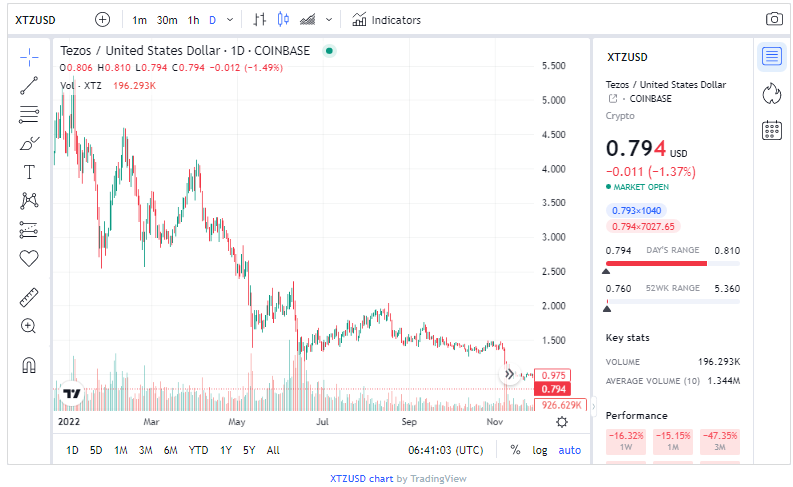 Source: https://coinmarketcap.com/currencies/tezos/
HTZ hits its all-year high on January 5, 2022, at $5.0041. That figure came after an impressive run in 2021. However, cryptocurrency has shown a bleak picture for the rest of the year.
Tezos has witnessed a plunge in its value for most of 2022. With just a few days left, it begs for the chance to regain some value. You'd probably agree that turning bullish will be a difficult task.
Longforecast points to a further decline in XTZ's value. It predicts the coin will end the year at $0.73, a loss of about $0.1 in less than 15 days. Those who wish to cash in may go right ahead and sell their coins.
Despite having several scandals in its early days, Tezos has maintained a relatively clean image since 2012. While that may surprise you, the blockchain is not immune to the general crypto market. A loss of interest in the larger spectrum will affect it.
You would agree that the last couple of months have been stormy for the crypto industry. The only positive thing to come out of it is the much-touted Ethereum merge. Shortly afterward, we witnessed the collapse of the second-largest crypto exchange, FTX.
With a general decline in enthusiasm and investments, Tezos needed to gain more traction to go bullish. We don't expect the XTZ token to hit any surprises in the last days of 2022. Hence, closing the year at $.073 looks pretty likely.
Asides from FTZ's collapse, governments worldwide are tightening the noose on cryptos. This means that buyers may no longer have the freedom they are accustomed to—all of this and more places XTZ in a bearish trend.
Tezos Price Prediction 2023
2023 is drawing near, and we all want to know how the crypto industry will fare. For many, the year should mark a return to the bullish path. That will enable them to recoup their losses starting in 2022.
Still, it pays to study some trends before deciding what to do. It is no longer news that the crypto industry will come under tighter regulation. Governments are pushing for greater control over the blockchain industry.
Even major players have done little to restore public confidence. Binance recently came under fire after its purportedly failed crypto audit. That has not given Tezos any footing to lift off in 2023.
However, the blockchain industry will do what it knows best: adapt. We should witness some large-scale advancements in technology to advance decentralization. Guess which coin is positioned to benefit from these advancements.
Provided the crypto industry stays clean, XTZ may climb to $1.170 in January 2023. It has a decent chance of surviving any changes in the blockchain with its built-in evolution. Hence, users will opt to store the coin for the year.
Of course, the price will eventually increase as demand increases. Still, Tezos might need more to maintain a bull run in 2023. It faces stiff competition from utility coins that popped up in the latter part of 2022.
One advantage Tezos will hold over other cryptos is its adaptability and upgradeability. Hard Folk is a big deal in the crypto market because it validates previously invalid transactions and blocks. With the ability to remove this problem, XTZ may end 2023 at a higher value than it is as of this writing.
Tezos Price Prediction 2024
The crypto industry remains the most fluid that we have seen. Even stable coins are taking the brunt of speculations, scandals, government regulations, etc. 2024 might be one year from now, but predicting the price of XTZ is challenging.
XTZ's biggest strength is its scalability. That means it can accommodate any changes that come to the crypto industry. Nevertheless, its most prominent flex in 2024 may come from its fast transmission speed.
Lima, the 12th Tezos protocol update, goes live in 2022. That will put the finishing touches on an innovative layer 2 scaling solution, Smart Rollups. This is where things get interesting.
With Smart Rollups, Tezos should achieve a speed of 1 million transactions per second. Achieving that will open the door for 2024 and further increase it. However, the testing will begin in 2023.
Picking from the critical things set to occur in 2023, Tez (XTZ) should maintain its price spectrum from 2023 onward. That means the price might still hover around $1.14 at the start of the year. While we cannot say what will happen then, the price might not significantly increase or decline.
2023 will be a stable year for Tez (XTZ) with no significant bull runs. If it continues expanding and upgrading, it will become a haven for investors who want stability. That will set the pace and get things ready for 2025.
The team has already diversified into NFTs with Manchester United's digital collectibles debut. Despite the fall in overall trade value, NFTs remain essential to crypto's future. Keying into it can secure Tez's future as well.
Maintaining stability in 2024 at about $1.14 will be crucial in 2025. With that in mind, let us jump into what 2025 has in store for the coin.
Tezos Price Prediction 2025
At this point, nothing stops XTZ from starting the year above $2. It could clinch an average of $3.11 if it grows and expands. Still, that does not mean the coin will be free from bearish influences.
2025 will be a startling year for Tezos as it continues to stay bullish, albeit slowly. There might be no significant price jumps, but it should end the year at a reasonable price. That means staying above the $3 mark.
Only a few sources share this sentiment. TradingBeast does not see XTZ going anywhere near $2 in 2025. On the contrary, it expects to continue at $1.16 before climbing steadily.
XTZ's steady growth might reach $1.489 by the end of the year. That will be a 67% growth in 2025. Nevertheless, the crypto could perform better than that.
Provided the developers stick to the coin's ideals, going bullish in 2025 will not be a problem. It might reach $3 and bring massive returns to investors. In addition, we are eager to know about the roadmap for the year.
Tezos will continue to improve with the crypto industry.
Long term forecast 2030
Cryptocurrencies did not have a field day in 2022, but all of that is about to change. By 2030, the industry should achieve stability and focus on growth. Scandals will be fewer as more people understand the mechanisms behind them.
The relatively calm ambiance will allow Tezos to grow. Of course, you will find it suitable for holding your crypto assets.
Tezos might become a truly global currency because of its capabilities. First, it is not held back by any technological limitations. Users can continue voting on new changes to make the crypto adaptable.
New technological advances will be ideal for the Tezos ecosystem. With these advantages, XTZ might reach above $10 in 2030.
While we attempt to predict XTZ's price, the crypto market remains highly volatile. As we saw in 2022, a single speculation or scandal could cause coins to crash. Still, we hope to see more excellent stability by 2030.
If there is one blockchain equipped to resist drastic changes and evolution, it is Tezos. It will thrive in a time when decentralized applications will become more mainstream. Web 2.0 will ultimately give way to Web 3.0.
If these things happen in 2030, Tezos will benefit the most. Notwithstanding, you must continually study trends, news, and patterns.
Tezos Price Analysis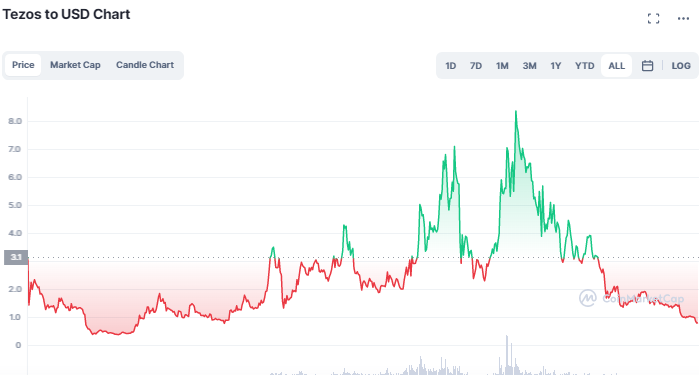 XTZ began 2023 at a solid price point. It reached $5.0041, a 40% drop from its all-time high of $8.3535. However, it had little to do with challenging the crypto-winter that ensued in the coming months.
Tez's price continued to plunge with no visible bull run in sight. It quickly became apparent that it was going to end poorly. As of December 18, 2022, the coin costs $0.8446.
The blockchain has introduced several advancements over the past year. We have had Transaction Optimistic Rollups, LIMA, Tenderbake, etc. Notwithstanding, it continues to give in to the bearish crypto market.
XTZ managed to stay above $1 in early December but subsequently gave in to a bear run. Despite the price decline, it has enough traction to go bullish if the crypto market swings in that direction.
Tezos Prediction Conclusion
The crypto winter has hit a lot of coins. Even with the shift to utility cryptos, the price decline will continue until the end of 2022. Tezos has had its fair share of the bearish trend.
Although it is set to end the year below $1, it has several advantages for the coming years. Let us track back to the beginning of the blockchain. Tezos eliminates "hard folk," a scalability problem that plagues Bitcoin and Ethereum.
This distinct advantage will help it adapt rapidly and accommodate technological advancements. Hence, it can beat the price decline and become bullish in the coming years. The stability we were accustomed to may return sooner than expected.
FAQs
Will the XTZ price increase in 2023?
XTZ looks set to see a price increase in 2023. The blockchain has made remarkable improvements, like LIMA, Transaction Optimistic Rollups, TenderBlake, etc. Hence, the coin might recover and pull above $1 in 2023.
What is the best investment strategy for Tezos?
Our price predictions have shown that there will be few short-term gains. The biggest price jumps may come many years later, closer to 2025. As a result, XTZ might be better suited as a long-term investment.
What is the Tezos LIMA upgrade?
The LIMA is a 12th protocol upgrade that could increase the blockchain's transaction speed. Once completed, Tezos will reach 1 million transactions per second.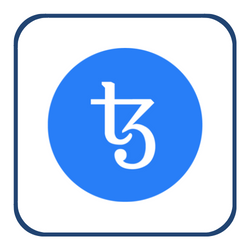 How to Buy Tezos (XTZ)
In this article, we look at Tezos – also known as the Ethereum killer. We examine its tokenomics,…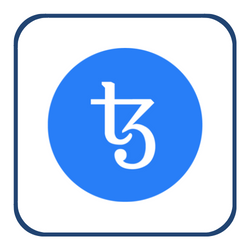 Staking Tezos (XTZ)
It is important to have some information about a cryptocurrency before getting involved with it in any way. Tezos is a self-upgrading blockchain that has made a name for itself in the crypto space, attracting a large number of investors. This article contains vital information on
how to stake
Tezos, the pros and cons of staking Tezos, and lots more. It is ideal for those who want to stake Tezos but are unsure of how to proceed.
Risk Disclaimer
WeInvests is a financial portal-based research agency. We do our utmost best to offer reliable and unbiased information about crypto, finance, trading and stocks. However, we do not offer financial advice and users should always carry out their own research.
Read More