This content represents the writer's opinions and research and is not intended to be taken as financial advice. The information presented is general in nature and may not meet the specific needs of any individual or entity. It is not intended to be relied upon as a professional or financial decision-making tool.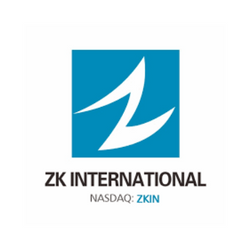 China-based ZK International builds and supplies stainless steel and carbon steel products for water and gas pipe systems, which are multi-billion dollar industries. Its mission is to provide the steel products that deliver high-quality, environmentally friendly and safe drinking water to China as well as the broader Asian and European markets.
ZK International also boasts intellectual property, with a number of different portfolio assets, include:
28 patents
21 trademarks
Two Technical Achievement Awards
10 National and Industry Standard Awards.
Among the high-profile projects that ZK International has been involved include the Beijing National Airport and the 2008 Beijing Olympics.
The company also has exposure to the celebrity community. Through its portfolio company MaximBet, a sports-betting platform, ZK Internatonal is linked to superstar sensation Nicki Minaj. The famous rapper partnered with MaximBet in 2023 as an investor, global ambassador, and advisor to the company.
ZK International also participates in the budding non-fungible token (NFT) market on the blockchain. It does this through portfolio company xSigma Collectibles, in which it has a majority stake. xSigma's NFT marketplace was launched in 2021, before the crypto market downturn. xSigma is also behind a decentralized finance (DeFi) platform for exchanging stablecoins.
ZKIN stock has some major institutions that are shareholders, as of January 2023. These include:
Millennium Management
Group One Trading
Susquehanna International Group
Renaissance Technologies
IPG Investment Advisors
UBS Group
Morgan Stanley
ZK International's stock trades on the Nasdaq under the symbol ZKIN. The stock price was hovering below $1 as of mid-December 2022, which is below the Nasdaq's minimum threshold for securities. As a result, the company was issued a warning by the exchange about failing to stay in compliance. ZK International was given until April 2023 for its stock price to recover above the $1 level, until which time the stock will continue to trade on the exchange.
ZK International (ZKIN) Stock Forecast 2023
At year-end 2022, ZK International's stock was trading near its 52-week low of $0.54. The high-end of that range is $1.78. The stock has incentive to bolster its stock price if it wants to continue trading on the Nasdaq. There are also forces outside of its control, such as the latest wave of COVID-19 in China, where the company is based, and the strict policy reaction by the government.
Therefore it would not be surprising to see the company take steps to help its case, such as implementing a share buyback program or signing another high-profile deal to bring attention to the stock. Whether or not it can reattain the $1.78 level remains to be seen, but it has done it once before.
At the very least, investors can expect that the company will do whatever it can to buoy the stock back above $1 in 2023 so they don't lose exchange status.
ZK International (ZKIN) Stock 2022
Aug. 9, 2022 was a big day for ZKIN stock. On this day, shares rose from $1.18 to as high as $1.27 on Aug. 10. It was the trading volume on Aug. 9 that really told a story, wtih 19.6 million shares changing hands. This was much higher than usual. For example, on Aug. 8, trading volume in the stock was 10,400 shares. ZK International announced a new contract win on Aug. 9, resulting in a $75 million project for high-quality drinking water in Shenzhen.
On Oct. 19, ZK International announced that it received a warning from Nasdaq about its low share price of below $1 per share. ZK International has until April 23 for its stock price to recover back above $1 if it wants to stay on the Nasdaq. The stock price fell from $0.66 to $0.61 in response.
ZKIN Stock 2021
On June 8-9, 2021, ZKIN stock rallied from $4.97 to as high as $5.64. One of the company's subsidiaries, xSigma DEX, surpassed $1 billion in volume in the decentralized finance (DeFi) market on the blockchain.
On Nov. 22, 2021, ZK International portfolio company xSigma launched an NFT marketplace called MaximNFT. In response, ZKIN stock rose from $2.42 to as high as $2.56 on Nov. 22.
ZKIN Stock 2020
ZKIN stock rose from $2.44 on Dec. 28, 2020 to $2.50 on Dec. 29, 2020. The company announced on Dec. 28 that its xSigma subsidiary had completed smart contract development on its DeFi platform. The development coincided with a rally in the bitcoin price to $26,700 at the time.
The stock also rallied on Dec. 10-11 on news that the company had formed a joint venture with Tuopeng Industrial to bid on a hydropower project in China. The stock rose from $2.21 to $2.33 in response.
ZKIN Stock 2019
The ZKIN stock price shot up from $1.18 on Oct. 8, 2019 to as high as $1.40 on Oct. 11. ZK International subsidiary Zhejiang Zhengkang Industrial Co secured a bid to supply nearly $6 million worth of stainless steel pipes to a pipe upgrade project in Shenzhen.
On Sept. 17, 2019, ZK International announced record revenue of $31.5 million, up close to 20% for H1 2019. The stock rose from $1.72 to as high as $1.99 on the same trading day.
ZKIN Stock 2018
On Oct. 9, 2018, ZK International won a bid to provide $3 million in stainless steel piping to major China water company, Zhuhai Water Environment Holding Group. The stock price increased from $3.09 to $3.19 in the same trading day.
ZKIN Stock 2017
Between Sept. 1-6, 2017, ZKIN stock soared from $8.45 to $10.27. The rally was in response to ZKIN's trading launch on the Nasdaq market site. All told, the stock rose 69% in its Nasdaq debut.
Conclusion
ZK International has proven that it can secure some major pipeline projects in China, even when there is competitive bidding. This generally has a positive effect on the stock price, and should give investors some confidence that the company should continue to secure new business in the future.

In 2023, ZK International reported record revenue of almost $43 million for the first half of the year, which it attributed to strong market demand for its products — stainless steel coil and nickel material.

Shareholders might also be reassured by the type of institutional investors that hold ZKIN stock in their portfolios, including the likes of UBS Group and Morgan Stanley, among others. While this is not a guarantee that the stock price will rise, it is a vote of confidence in management that they are doing something right.

There are also risks. China is a challenging regulatory environment to operate in to begin with. However, there were several additional headwinds in 2023, not least of which involved China's stringent COVID-19 related restrictions after the pandemic resurfaced. All of this seems to have weighed on ZKIN's share price.

ZK International's stock price currently hovers below the $1 threshold, placing it in jeopardy of losing its Nasdaq trading status. As a result, it would not be surprising to see management use some strategy in an attempt to bolster the share price in 2023.

While ZK International is a play on stainless steel piping for the water and gas industry, that's not all it is. The company is almost a mini-Berkshire Hathaway in that it also has a portfolio of holdings.
Among them, it has xSigma, which gives it exposure to some of the hottest market segments in the blockchain, including DeFi and NFTs. ZK International also has exposure to the sports-betting market where its portfolio company is expanding in the United States. This makes the stock a bit more interesting given the potential for these markets while the regulatory risks in both niches remain.
FAQ
Is ZKIN a good stock to own in 2023?
It depends on your risk/reward profile. Heading into 2023, ZKIN stock is trading near its 52-week low. However, management must get the share price back above $1 to stay on the Nasdaq, which could result in activities such as insider buying, for example. If your stomach can handle it, there could potentially be upside in ZKIN in 2023, which would make it a good investment.
Question ID (Optional)
Who does ZK International compete with?
Sakuu, Hengshen Carbon Fiber, and Space Transportation are all possible competitors to ZK International's core business.
Will ZK International's revenue keep growing?
The company's management predicts that revenue will continue to increase in the second half of its fiscal year 2023.
Risk Disclaimer
WeInvests is a financial portal-based research agency. We do our utmost best to offer reliable and unbiased information about crypto, finance, trading and stocks. However, we do not offer financial advice and users should always carry out their own research.
Read More