Around the time of the Covid-19 pandemic, Pfizer Inc. was the first company to introduce its vaccine, bringing the multinational pharmaceutical leader $37.8 billion in sales. Pfizer has a long history of heritage; founded by Henry Pfizer in 1849 and, since then, has become a leading player in the pharmaceutical industry. The company has a mission to discover and develop innovative medicines, and its strive for constant growth is prominent in its numerous pharmaceutical discoveries.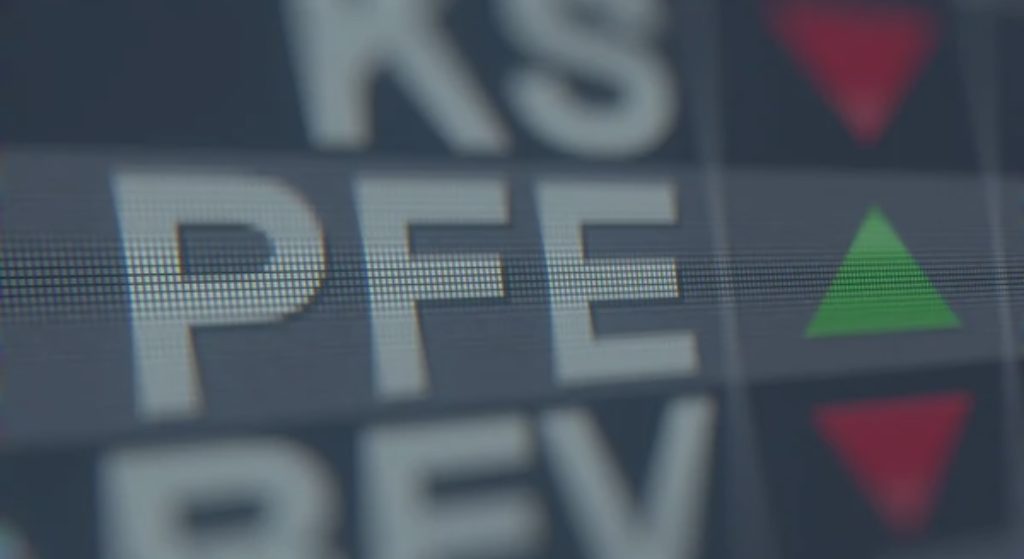 Pfizer's stock became available for investors back in 1942, and shares from the company are now traded for $38.36 per share. The asset has been determined to be one of the best healthcare stocks in June 2023, according to InvestorPlace. The company's long lineage and desire for innovation have caught the interest of many retail investors. Traders looking to diversify their portfolio with an intriguing healthcare stock will find our guide practical, as you will learn how to quickly and efficiently invest in Pfizer.
How much does it cost to buy Pfizer stocks
Decide How Much to Invest In Pfizer Shares
When one starts investing in stocks, budgeting is the foremost and most crucial factor in determining an investment strategy. Before you decide that you are going to invest in Pfizer stock, you will need to determine how much money you are willing to invest. Are you going to set aside a percentage of your income to buy stocks every month, are you going to use Dollar-Cost averaging, or jump into the market with a lump sum? In any case, settling your overall financial situation and tailoring it to your investment strategy is essential.
The value of the Pfizer stock as of writing the article stands around 38.36, and the average cost for the last 52 weeks is 45.58. Now that you've set your budgeting plan, you should move on to determine your investment strategy. Most investors adopt the Buy and Hold approach, which looks for assets expected to grow long-term. It is highly recommended that beginner investors consult a financial specialist and do thorough research. That way, they will determine which strategy best suits their tolerated risk and investment needs.
How to Buy Pfizer Stocks With eToro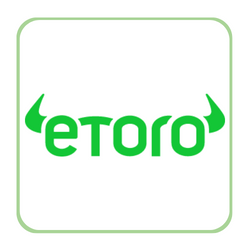 Once having a budgeting plan and an investment strategy in place, investors need to consider which broker they will entrust their finances to. One of the most reliable online brokers on the market right now is eToro. The team behind eToro has created a community of like-minded investors who can learn, share and invest together. Those who want to experience the advanced trading platform's features and be part of the community can follow our short five-step guide:
Step 1: Open an Account
Start your interactive investment journey by visiting eToro's official webpage. From there, navigate to one of the following buttons: "Join Now" or "Trade Now." You have now started the account registration process. Therefore, the broker will ask you to provide your data, including a typical registration form with your name, phone, and email.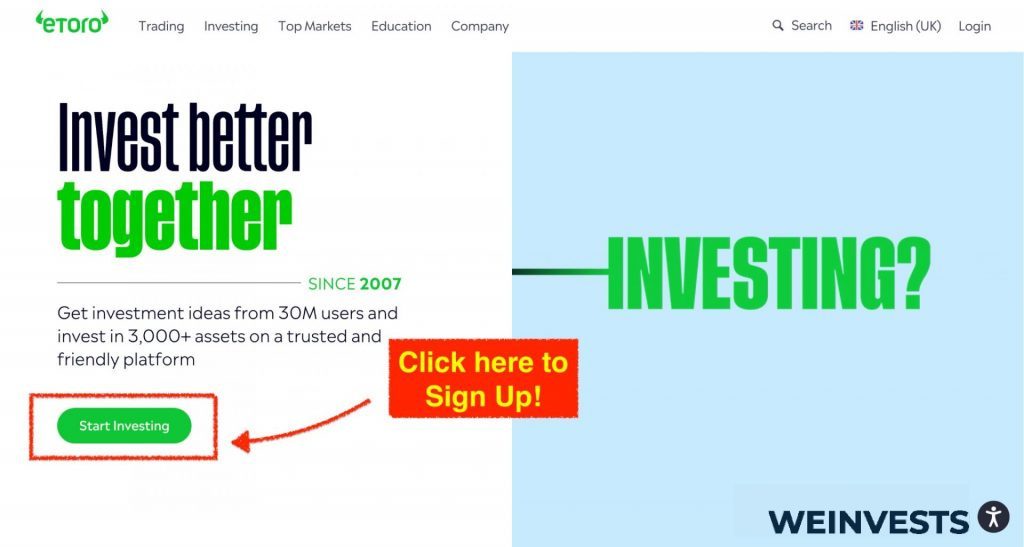 Step 2: Upload ID
The second part of the process will guide you through the necessary KYC verification. This step is set in place to protect customers' personal data and preserve eToro as a secure platform for traders. Prepare the following documents: PoI document (ID card, passport, or driver's license) and PoA document (Could be a utility bill, bank statement, etc.) Ensure that your proof of address is not over three months, and send eToro's KYC team clear pictures of the document to verify your account.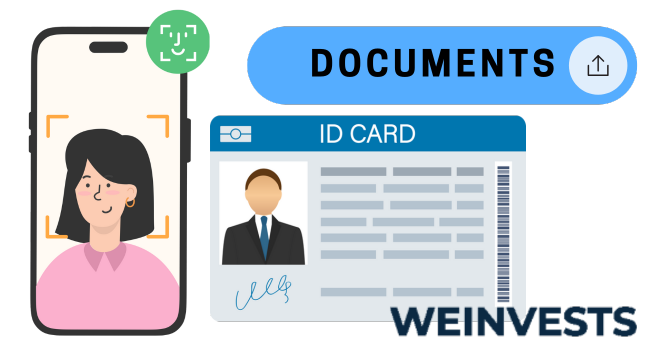 Step 3: Make a Deposit
The exciting thing about eToro is that it allows investors on a budget to trade fractional shares, starting from $10, the minimum deposit amount. To complete this step, click your account's "Deposit Funds" button and pick how much money you want to invest and with what payment method. You can fund your account using twelve payment methods: card and bank transfers, PayPal, Skrill, eToro Money, and more.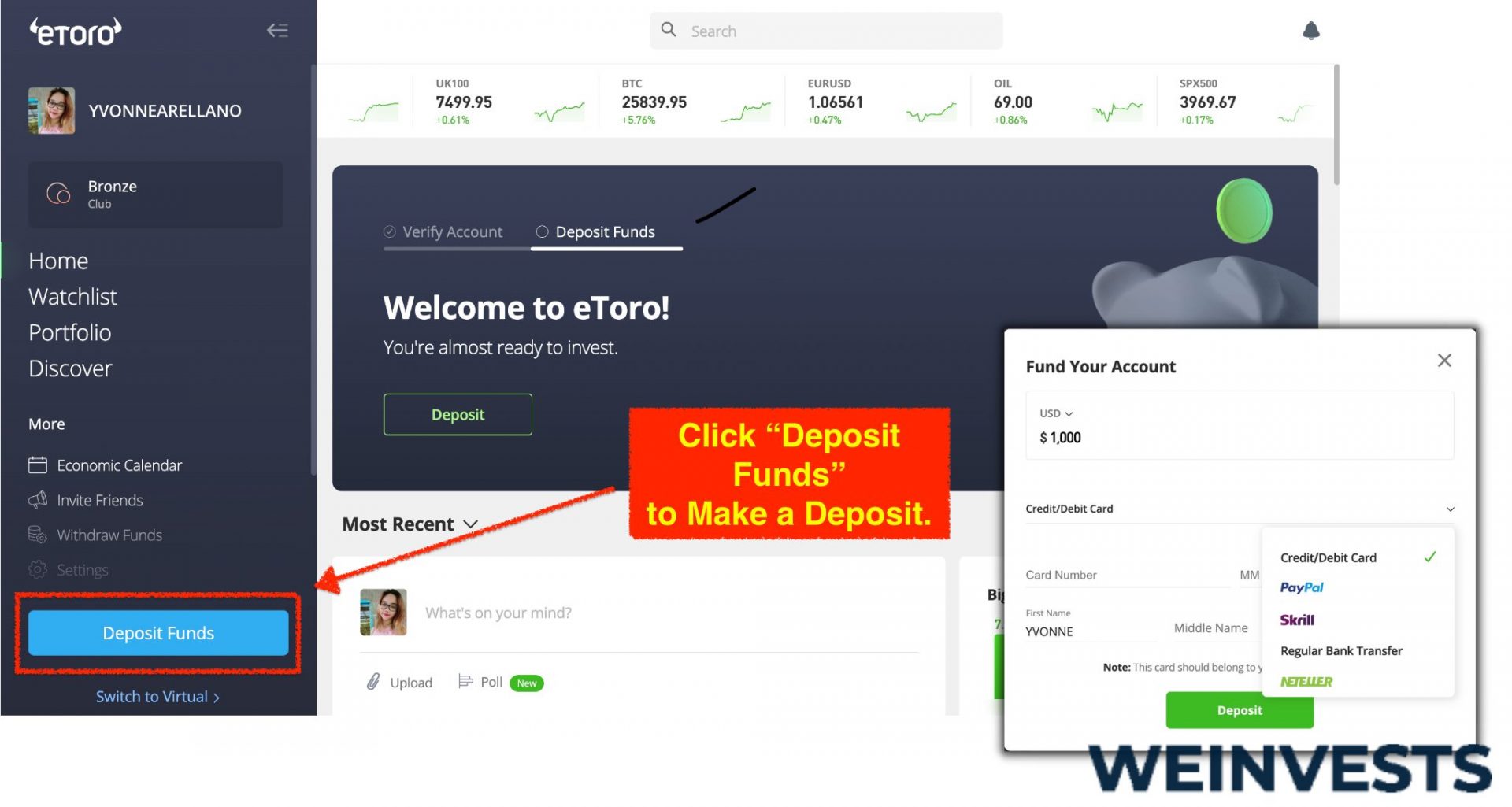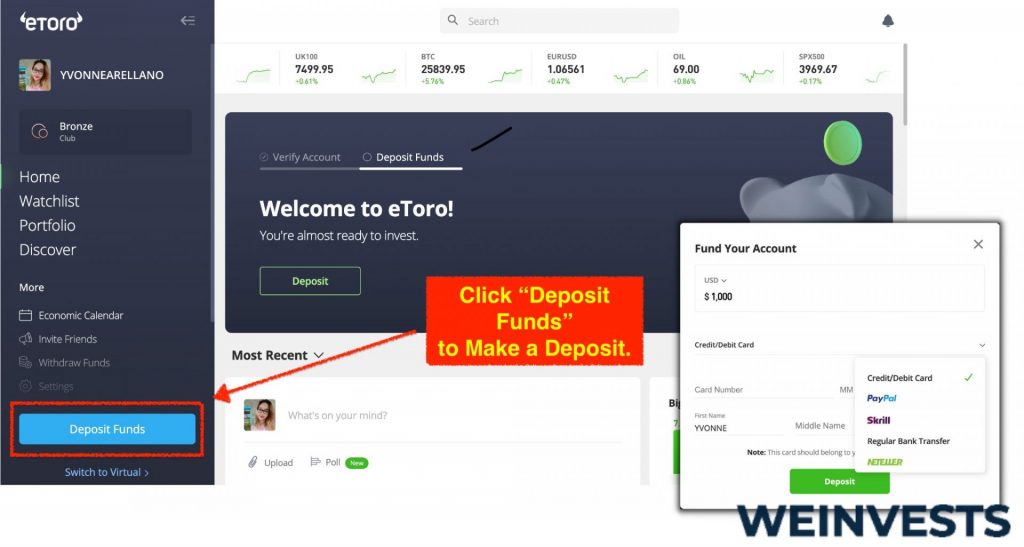 Step 4: Search for Pfizer
On the top of eToro's webpage, you will find a practical search bar, which finds instruments and data in no time. Type in Pfizer or PFE, and the broker will locate your asset immediately. Once the provider sends you to the trading interface of Pfizer's stock, proceed to the last step of the investment process.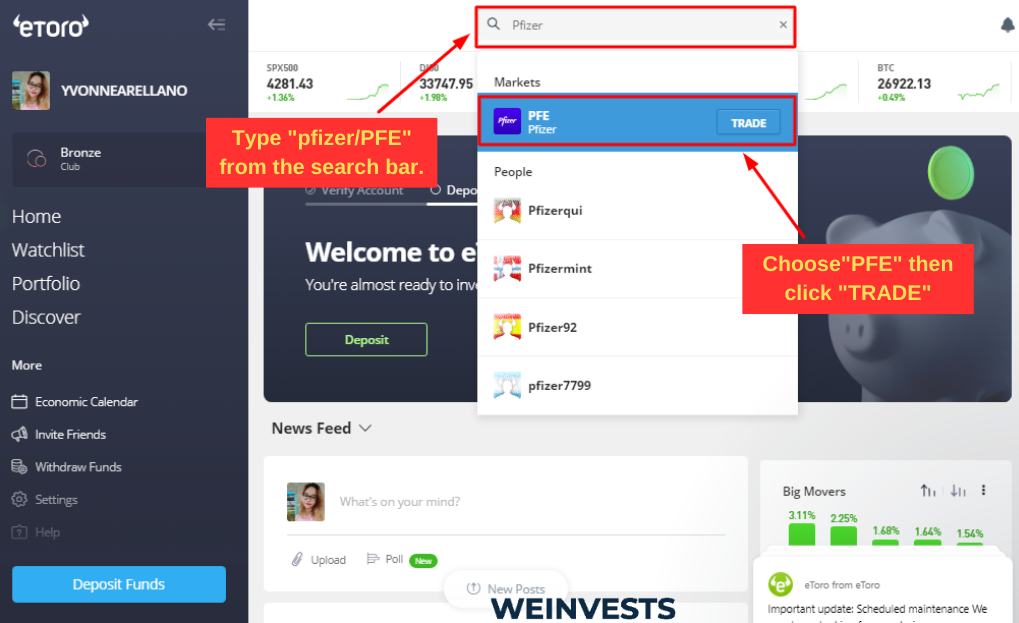 Step 5: Buy/Sell Pfizer
Now that you are on the trading page of Pfizer double-check the current price and decide how many shares you are willing to buy. Set the amount, set any specific technical indicators, and review your order. When satisfied, click the trade button and constantly monitor your investment for the best results.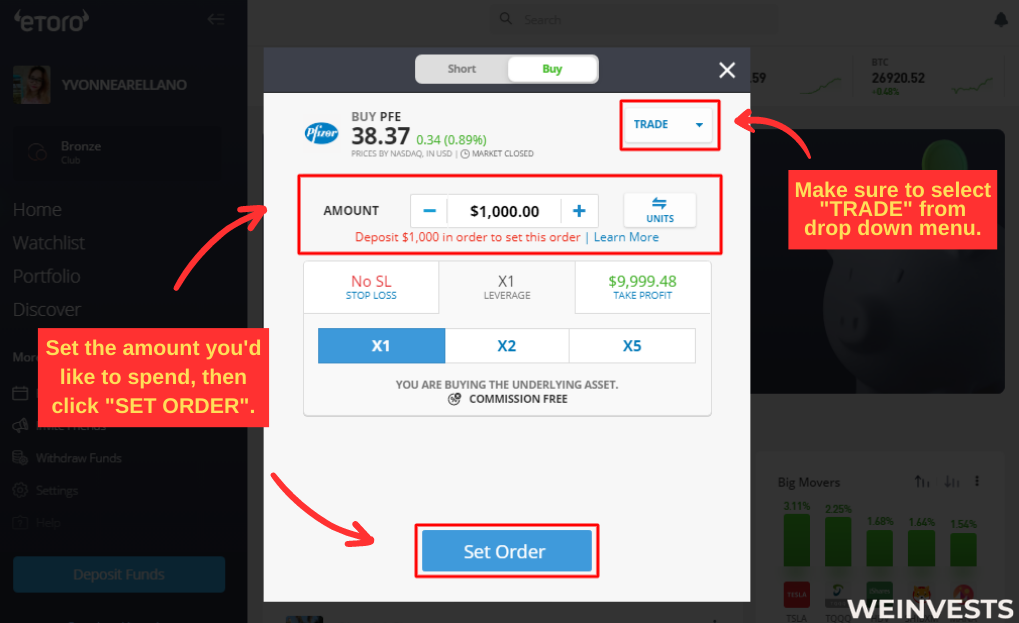 While eToro provides exciting opportunities, it's crucial to acknowledge the inherent risks associated with investing. Investors should cautiously approach their decisions, conduct thorough research, and consider their financial circumstances.
Choosing the Right Brokerage
Picking from the numerous types of brokerages is a bit of a headache, especially for investors looking to make their first investment. When buying Pfizer stocks, choosing from online or full-service brokers may be the most fitting for most investors. The difference between the two is the autonomy level, commission rates, and taxes. While online trading platforms leave the trading to the individual investor and are more budget-friendly, full-service brokers take on the entire investment process but charge higher rates.
Opening a brokerage account
Creating a brokerage account is easier than ever; however, depending on the type of broker you choose, you may need to prepare different documents. Online brokers have a seamless registration process, usually requiring documents like PoI, PoA, and the standard account application form. On the other hand, full-service brokers may require additional documents like tax IDs, financial statements, risk assessment questionnaires, and more.
Placing an order to buy Pfizer stock
Financing your brokerage account nowadays is straightforward, as investors have numerous payment options. However, having funds for trading is essential for placing an order, but deciding on a market or limit order is also significant. Picking between the two entirely depends on your investment preferences. Adopting a dollar-cost averaging strategy may also come in handy here, as it will make the investment process much more automated.
Monitoring and managing your investment in Pfizer stock
Now that you own Pfizer shares, you must control your portfolio by staying informed and tracking the stock performance. Some good strategies include staying current on company news, following their earnings reports, and regularly checking the PFE's movement.
Analysing Pfizer's Financial Performance Before Buying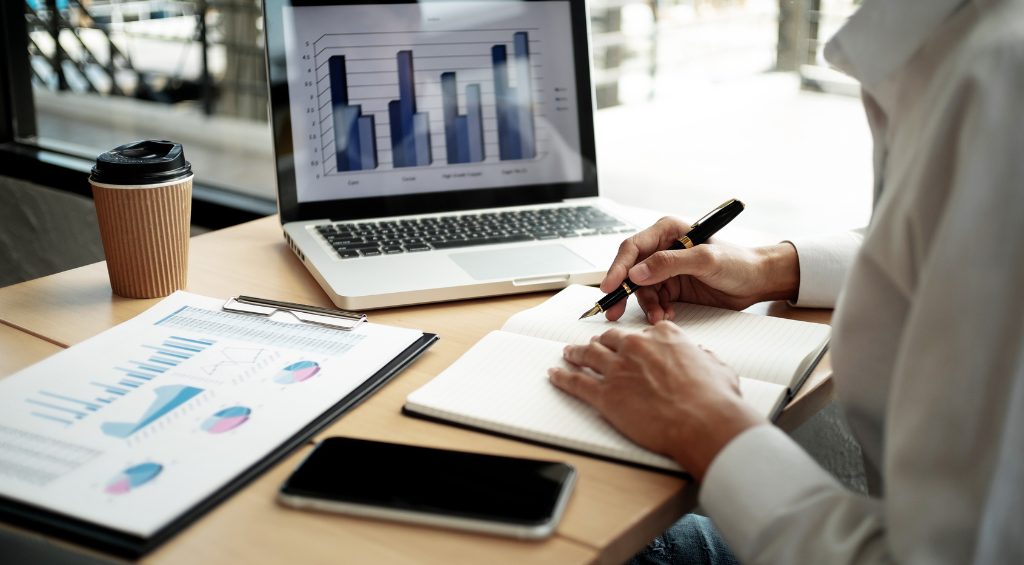 By looking at Pfizer's earnings report for Q1 2023, investors can get valuable financial insights before buying the PFE stock. Although the company experienced a drop in earnings revenue compared to the Covid-19 period, it still exceeded analysts' expectations. Revenue and net income are down over 28% yearly due to lower demand for Covid vaccines, but revenue surpassed estimated by 10.88%. The same goes for Pfizer's EPS, which was $1.23, a surprise of 24.68% The company's Price-to-earnings (P/E) ratio sits around 11.45 according to NASDAQ.
Competitive landscape
Pfizer's market capitalization for 2022, according to Statista, was estimated at around $240 billion. This dominant position makes Pfizer one of the top five leading pharmaceutical companies in the United States.
With that being said, the company faces noteworthy competition from Johnson & Johnson (J&J), AstraZeneca, Eli Lilly and Company, and more. The pharmaceutical industry is dynamic, and the landscape has lately set Pfizer behind competitors, as PFE surged by 0.71% for the past five days, while JNJ increased by 1.39%. The company still has many innovative projects to come, including an oral antiviral treatment for Covid-19, which can potentially increase the demand for the company's products.
Assessing risks and potential rewards of investing in Pfizer
Investing in individual stocks like Pfizer carries inherent risks, some of which may include the regulatory environment, competition, and the success of their upcoming projects. On the other hand, potential rewards have a high-dividend payout, a history of strong financial performance, and plans for global expansion.
Alternative Ways to Invest in Pfizer
If you are looking to invest in Pfizer in an alternative way, there are three methods that most investors prefer. The first is through ETFs or exchange-traded funds, including the famous trading company. Another way to diversify your portfolio with Pfizer is by trading stock options and futures of the company. Last but not least, buying fractional shares may serve your strategy best if you are investing on a budget. Popular online brokers like eToro offer investors the opportunity to invest in the partial stock of the leading pharmaceutical company with a minimum deposit of just $10.
Conclusion
Pfizer's stock can be an intriguing opportunity for investors. The company's long history, mission for innovation, and success in developing a COVID-19 vaccine have attracted the interest of many. Understanding your financial situation, determining an investment strategy, and choosing a reliable brokerage like eToro are essential steps to start. Start your journey by carefully evaluating the potential rewards and risks of investing in Pfizer and making informed decisions aligned with your investment goals.

FAQs
How much is Pfizer worth?
Today, the company's market cap is valued at $216.55 billion. The company's PFE stock is traded for $38.36 per share with a relative P/E ratio of 7.56.
Who owns Pfizer?
Pfizer was founded back in 1849 by Henry Pfizer and became public in 1942. As a publicly traded company, Pfizer's ownership is distributed among its shareholders, including Frank A. D'Amelio, Mikael Dolsten, and Vanguard Group Inc., to name a few.
Why should I invest in Pfizer's stock?
Your financial strategy and goals should determine whether buying Pfizer stocks is a good investment. Still, the global presence, high-dividend payout, and strong company financial performance are potential reasons investors may consider.
Risk Disclaimer
WeInvests is a financial portal-based research agency. We do our utmost best to offer reliable and unbiased information about crypto, finance, trading and stocks. However, we do not offer financial advice and users should always carry out their own research.
Read More