This content represents the writer's opinions and research and is not intended to be taken as financial advice. The information presented is general in nature and may not meet the specific needs of any individual or entity. It is not intended to be relied upon as a professional or financial decision-making tool.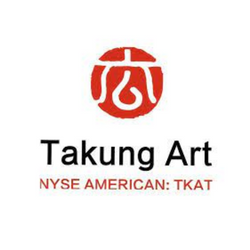 The rise of the blockchain and digital assets has thrust certain asset classes into the limelight, and fine art is one of them. Companies that are able to harness their position in creative markets like fine art into the digital collectibles space can go from zero to hero overnight. However, there is a great deal of volatilty associated with stocks that operate in the blockchain and digital collectible markets given the nascent nature of the space and regulatory uncertainty.
Hong Kong-based Takung Art (TKAT) is a company that is dedicated to Asian fine art. It has an electronic platform that lets digital items be
listed while investors and collectors can purchase shared ownership in those assets. As a result, they share in the potential rise in value of those assets. The company got started with a focus on China's middle class in the fine art world through its trio of platforms:
The Takung Unit, which supports the trading and shared ownership of fine art
Unit+, which supports the trading and shared ownership of collectibles
Takung Online, which is an e-commerce platform where artists can market their artwork to buyers without any other outside parties.
However, Takung Art is evolving and has come to be known more as an NFT stock. This has been a positive and a negative for the stock, resulting in highs and lows along the way. In 2021, Takung went full-throttle on the blockchain, with an NFT trading platform and consulting business. Digital fine art is at the center of this platform.
The company's new NFT trading platform is called NFTOEO, and it's a platform where artists can engage with investors. It is designed to give investors the opportunity to invest in fine art that they would otherwise not be able to afford thanks to shared ownership.
However, China regulators clamped down on the business. This resulted in the company making a decision to diversify its revenue streams as of 2022, including geographically. Takung Art is seeking to transition its business from the People's Republic of China to a more international focus with a particular emphasis on the U.S. market, across its business units. They are at the early stages of this shift.
Takung Art trades on the New York Stock Exchange (NYSE) under the symbol TKAT. With a market capitalization of $22.7 million as of Dec. 19, 2022, the stock has traded in a range of $0.64 to $5.48 over the past 52-week period.
Takung Art Co Ltd (TKAT) Stock Forecast 2023
Takung Art is coming off of a painful 2022 in which its stock price was battered. However, the company's fresh focus on being an international play with a focus on the U.S. market suggests that it could have a fresh start ahead. Its stock price is heavily dependent not only on the state of the economy but also the NFT market.
The cryptocurrency market experienced a downturn in 2022 as well, and this weighed heavily on the popularity of digital collectibles. All of this was a perfect storm for TKAT stock in 2022, and its performance in 2023 will depend on the pace of recovery in both the economy and the NFT market.
The "crypto winter," as it's known, is predicted to persist into 2023 as long as the global economy remains in a slowdown. However, with the eventual thawing of the crypto winter, blockchain-related stocks should benefit, including NFT stocks. This is where Takung Art shines and the stock should recover alongside any turnaround in sentiment around crypto.
Something that Takung Art has going for it is that its digital assets are real art. As the NFT space evolves, this is going to be increasingly relevant. A more mature NFT space is expected to focus more on quality than gimmicks and digital ownership on the blockchain over jpegs, all of which should work in TKAT's favor.
Takung Art Co Ltd (TKAT) Stock 2022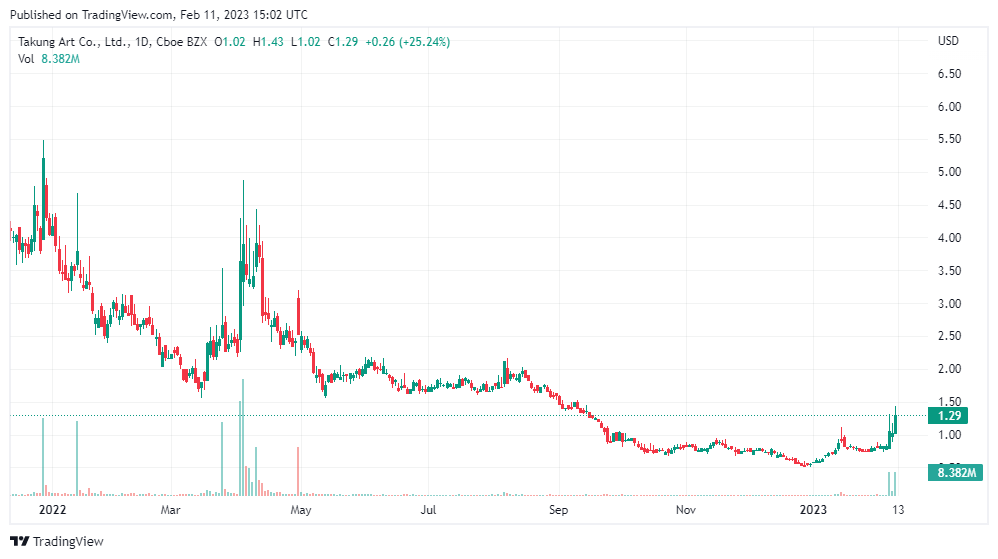 There were many dips in the TKAT stock price in 2022. The company was the target of a regulatory crackdown by the PRC, in response to which it announced a pivot in its business model to one that is more focused on the U.S.-market.
In addition, the NFT market, which is a major focus of the company, lost its momentum throughout the year as cryptocurrency market was stuck in the doldrums. Combine this with the economic downturn, and investors decided to flee TKAT's stock.
On Jan. 7, 2022, the company named Kuangtao Wang as its Co-CEO with the specific goal to support its strategies in NFT-related endeavors. The stock price increased over the coming days to reach a high of $4.67 on Jan. 13.
On April 29, 2022, Takung announced the launch of its new NFT trading platform. The stock climbed higher from $2.53 on April 29 to $2.58 on April 30, 2022.
Shares of TKAT sunk 6% from $0.67 on Dec. 16 to $0.63 on Dec. 19. The sell-off might have been triggered by the latest U.S. SEC filing. Taking Art announced the postponement of its annual meeting where shareholders will vote on the proposed merger between Takung Art and NFT Limited, originally announced on Nov. 1, 2022.
TKAT stock rose in early November 2022 in response to the announced merger with Cayman Islands-based NFT Limited, increasing from $0.8160 on Nov. 1 to as high as $0.88 in intra-day trading on that day. According to the filing, NFT Limited will be the surviving entity.
TKAT Stock 2021
Before Takung Art Co expanded into the NFT space, speculation already took hold around the stock about the company's plans. The TKAT stock price rallied on the rumors even before the company confirmed its plans.
On May 26, 2021, the stock soared 22% on NFT hopes. And as of June 15, 2021, TKAT shares had already gained 1,200% year-to-date based on speculation that Takung Art would enter the NFT fray. Takung Art wouldn't actually announce its NFT platform until 2022.
Also in 2021, Takung Art completed a private placement in the capital markets through which it raised $5 million in proceeds. The capital injection did little to help the stock, with shares falling from $9.55 on July 12 of that year to $8.03 on July 13, when the private placement was completed.
On Aug. 25, 2021, TKAT shares rallied 57% but not on any of its own developments. The stock benefit from related news when Visa announced it was purchasing CryptoPunk, a popular NFT collection. This sent other NFT-related stocks soaring in celebration, including TKAT, given the validation that Visa brings to the industry. TKAT shares went from $7 on Aug. 24 to $11 on Aug. 25.
TKAT Stock 2020
In mid-January 2020, Ma Hui Ngai, who was gifted 3 million shares of TKAT, decreased their holdings to 2.2 million shares. The stock fell from $0.74 on Jan. 15 to $0.66 on Jan. 16.
There was a rally in the stock starting on Jan. 22 that saw shares rise as high as $1.52 on March 4, 2020.
TKAT Stock 2019
The company reported earnings on Nov. 14, 2019. The company narrowed its operating loss while revenue increased. The stock went from $0.50 on Nov. 14 to a high of $0.52 on Nov. 15.
On Aug. 1, the stock was trading at $0.57. By Aug. 12, it was trading at $0.35. Then the stock rallied from $0.39 to $0.47 between Aug. 19-22. The catalyst for the gains is unclear.
TKAT Stock 2018
On Aug. 14, 2018, Takung Art reported its second quarter earnings results. The stock fell from $1.39 on the day before earnings to $1.07 on the day of the earnings results. The company swung to a loss in the quarter compared to a profit in Q1.
From Sept. 12-13, 2018, the TKAT stock price rose from $0.75 to $0.97.
On Aug. 13, 2018, the company announced the suspension of new art on its trading platform for two months. The stock fell from $1.39 to $1.07 in response.
The company reported earnings on Nov. 19, 2018. In response, the stock price fell from $0.77 to $0.64 by Nov. 21. The company experienced a wider-than-expected quarterly loss and revenue came in below expectations.
Conclusion
Takung Art's electronic online platform and its NFT ambitions make it an interesting company. However, even if Takung Art has great potential in the NFT market, its valuation is not yet reflecting this promise.

The stock has been consistently losing ground year after year, despite some pockets of strength in between. Investors in TKAT must be willing to go on a roller coaster ride with the extreme highs and lows that the company experiences.

Takung Art's decision to focus on the U.S. market should be a positive development, considering the regulatory scrutiny that it experienced in China. The company is admittledly in the early stages of this transformation, and it is not the first transition that it has gone through.

In the meantime, Takung Art is aligning its management team for the challenge, with the appointment of Mr. Kuangtao Wang as Co-CEO to lead the company's NFT ambitions. As the Takung Art brand becomes more recognizable, it could benefit the stock.

TKAT stock needs a turnaround in sentiment around cryptocurrencies and NFTs. It is betting on this happening, considering its recent combination with NFT LLC.

Takung Art has an advantage over some other NFT platforms given its dedication to the fine art world. Many other NFT projects until now offer little more than silly jpegs. By proving shared ownership on the blockchain, investors become part owners in pieces of actual art whose value could appreciate over time, allowing them to share in the profits. Takung Art is well positioned for a maturing NFT market, as long as demand returns.
FAQ
Is TKAT a good stock to own in 2023?
Takung Art was in a downtrend in 2022. However, the technical signals suggest the stock is oversold. This suggests that the stock could embark on an uptrend int he near future. In this case, and if there are positive catalysts in the cryptocurrency and NFT markets in 2023, TKAT could be a good stock to own in 2023. 
Who does Takung Art compete with?
Takung Art's key competitors are blockchain-based platforms that operate in the NFT space. These include: OpenSea, Rarible, Coinbase, and SuperRare.
Is Takung Art a U.S. or China-based stock?
Taking Art has many subsidiaries and its headquarters are still listed as being located in Asia Pacific – Hong Kong in particular. The stock also trades in the United States on the NYSE.
Risk Disclaimer
WeInvests is a financial portal-based research agency. We do our utmost best to offer reliable and unbiased information about crypto, finance, trading and stocks. However, we do not offer financial advice and users should always carry out their own research.
Read More