This content represents the writer's opinions and research and is not intended to be taken as financial advice. The information presented is general in nature and may not meet the specific needs of any individual or entity. It is not intended to be relied upon as a professional or financial decision-making tool.
The innovative use of technology in combination with financial services has formed an exciting new movement known as fintech. By leveraging APIs and advanced software and tools, fintech has disrupted traditional business models, making financial services more accessible, efficient, and user-centric. Stripe has been considered one of the pioneers in the fintech industry thanks to its introduction of a modern, API-based payment processing platform. The Irish-American tech giant revolutionized how businesses handled online transactions with advanced financial services and SaaS (Software as a service) solutions.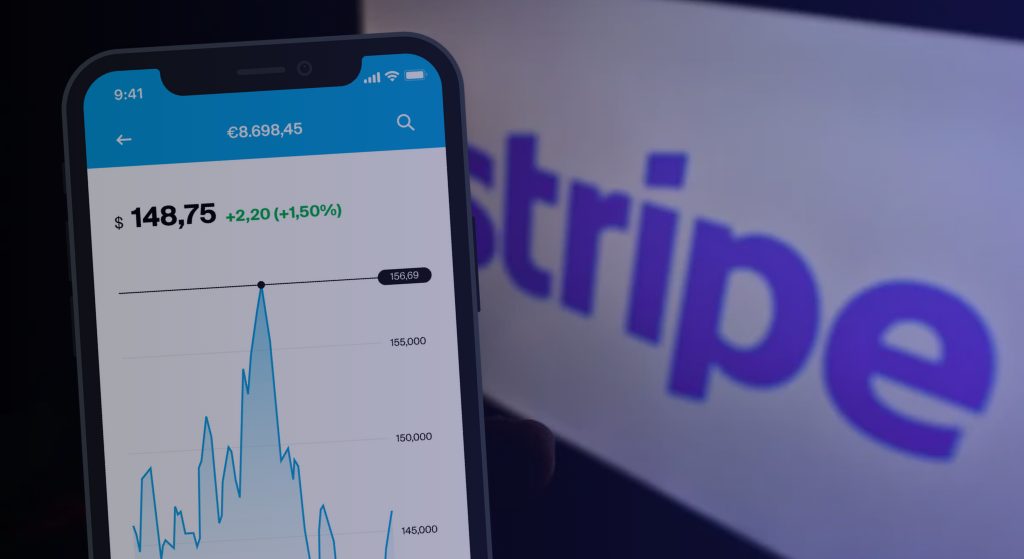 Stripe, Inc. was founded in 2009 by Irish brothers John and Patrick Collison. With more than 1 million websites using Stripe, according to FinMasters, the platform has quickly become one of the most famous names in the financial industry. Furthermore, at the time of writing this article, Stripe is valued at around $50 billion and holds a whopping 24.53% market share in the payment management market, according to 6sense.
However, we are afraid that we will leave some investors looking to invest in the compelling idea of Stripe and its business a bit disappointed. This is because Stripe is still a private company, meaning shares are unavailable to the broad public. Although, at the moment, traders cannot invest in the company directly, the founder brothers announced they are planning an IPO in the near future. Investing in tech stocks has been the trend of 2021 and has continued to bring investors profits in 2023. Keep reading our how-to-buy guide and learn how to invest in Stripe stocks once the company becomes publicly traded.
Decide How Much to Invest In Stripe Shares
The Stripe stock is still unavailable for retail investors, and there is still no official IPO date; however, this does not mean you shouldn't develop an investment plan for the future. To get the upper hand over other investors, consider creating your personal budgeting and investment strategy for the highly anticipated tech stock.
As Stripe is currently a private company, there is not too much public information regarding their financial performance and earnings. However, on its official website, the company posts annual letters which present its outlook on the economic environment and industry-related trends and changes. Moreover, you can learn what the revolutionary payments platform plans for the future as they describe its goals and prospects. This can give you a perspective on growth-potential and potential risks the company may face.
Another piece of advice that may serve your plans to invest in Stripe is to follow press and company releases. For example, recently, the company downgraded its market cap from 94 billion to 50 billion, a drop of almost 50%.
The factors mentioned above could all play a crucial role in determining the value of Stripe's stock. Since no relevant financial results have been disclosed at the time of writing, adopting a research and fundamental analysis strategy may be the best fit for retail investors.
Choosing the Right Brokerage
When it comes to investing in Stripe or any other stock, picking the right brokerage is crucial to ensure a smooth and successful investment experience. Here's why selecting the right broker matters and what factors to consider when investing in Stripe's IPO.
Online Brokerages vs. Full-Service Brokers
There are two main types of brokers: online brokerages and full-service brokers. Online brokerages, like eToro, provide a self-directed platform where investors can manage their investments independently and come at lower fees. On the other hand, full-service brokers offer personalized investment advice and additional services, but they usually come with higher fees.
Opening a Brokerage Account
To invest in Stripe's IPO, you'll need to open a brokerage account with a reputable online brokerage that offers access to IPOs. The account opening process typically involves providing personal information, such as your name, contact details, and identification documents. Some brokerages may require additional information or verification steps to comply with regulatory requirements.
Placing an Order to Buy Stripe Stock
When Stripe's IPO becomes available, you'll need to place an order to buy its stock. Make sure that you have followed the provider's rules to fund your account. Then, decide on what order you want to place, is it a market order or a limit order? A market order buys the stock at the current market price, while a limit order allows you to set a specific price at which you're willing to buy the stock.
Monitoring and Managing Your Investment in Stripe Stock
Lastly, after purchasing Stripe stock, it's important to actively monitor and manage your investment. Keep an eye on market trends, news, and company updates that may affect the stock's performance.
Analyzing Stripe's Financial Performance Before Buying
As Stripe is still a private company and has not disclosed any financial results, it would be impossible to analyse the company's key financial metrics. An alternative approach investors could take is to adopt a research and fundamental analysis strategy, which will help them analyse the company's prospects, the market conditions and the payment industry as a whole. Furthermore, this will help them make a more informed decision and better understand the value of the Stripe stock and how it may perform.
Competitive landscape
One of the critical aspects of the research and fundamental strategy is researching the competitive landscape of Stripe's industry. While the fintech pioneer has made significant strides in the industry, it faces competition from companies that target similar markets and cater to similar customer needs. PayPal, Square, Adyen, Braintree, Amazon Pay, and Shopify Payments are some key players that shape the competitive landscape of Stripe. As we already mentioned, Stripe takes 24.53% of the payment processing market, making it a strong player with growth prospects.
Assessing risks and potential rewards of investing in Stripe
As a private company, Stripe shares cannot be purchased by retail investors; however, knowing the risks and benefits of Stripe's future IPO could help you make a more informed decision. On the one hand, market volatility and uncertainty in laws and regulations might affect Stripe and the unknown trajectory of its value. On the other hand, investing in the IPO of a company usually generates significant interest among investors; thus, the opportunity for capital appreciation is higher.
Alternative Ways to Invest in Stripe
For investors interested in alternative methods of investing in Stripe, there are a few options to consider. One approach is to explore venture capital funds or private equity firms that have invested in Stripe. These firms often provide opportunities for individual investors to participate in their funds and gain exposure to companies like Stripe. Another option is to invest in ETFs or mutual funds that focus on fintech or technology companies. Investing in partial funds is another method that allows for better budgeting strategies, as it does not require buying the full stock, but rather parts of it.
Conclusion
In conclusion, investing in Stripe stock once it becomes public offers an exciting opportunity in the fintech industry. Thorough research and due diligence are crucial before making any investment decisions. Choosing the right brokerage and staying informed about Stripe's financial performance and industry trends will maximize your chances of success. Start your journey by preparing and when the time comes, seize the opportunity to invest in the pioneering fintech company.
FAQs
How can I buy Stripe stocks?
Currently, Stripe stocks are not available for public trading, as the company is still private. Once Stripe goes public, you can buy its stocks through a reputable brokerage platform following the steps from our guide.
When is Stripe expected to become a publicly traded company?
The exact date for Stripe's IPO has not been announced yet, but the founders have expressed plans to take the company public in the near future.
What does Stripe do?
Stripe provides a modern, API-based payment processing platform that revolutionizes online transactions and offers advanced financial services and SaaS solutions for businesses.
Risk Disclaimer
WeInvests is a financial portal-based research agency. We do our utmost best to offer reliable and unbiased information about crypto, finance, trading and stocks. However, we do not offer financial advice and users should always carry out their own research.
Read More