This content represents the writer's opinions and research and is not intended to be taken as financial advice. The information presented is general in nature and may not meet the specific needs of any individual or entity. It is not intended to be relied upon as a professional or financial decision-making tool.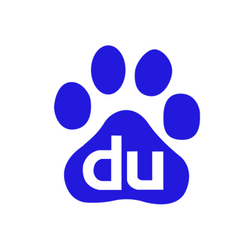 BAIDU Inc. is one of the world's leading tech giants, having started as a search engine platform in 2000 to provide information for the Chinese. The Beijing-based company focused mainly on two segments – Baidu Core and iQIYI. The former focuses mainly on search, online marketing, and its unique Artificial Intelligence services. The products under the Baidu Core have been classified into three growth engines – Baidu AI Cloud, Mobile Ecosystem, and Intelligent Driving or Growth Services. On the other hand, the latter is the company's online entertainment service.
The leading AI company since 2010 has made life easier with a series of products and services. It has a mobile app thriving successfully and enjoying the number-one spot in China. According to reports, in December 2020, the search-plus-feed app hit a target of 544M MAUs. This achievement has helped BAIDU Inc. capitalize on and strengthen its business platform. In fact, the BAIDU Core is said to have raised revenue of up to 70% for the company.
BAIDU Inc. launched its initial public offering (IPO) for BIDU on August 5, 2005, at $27 per American depository share (ADS). Over the next five years after the IPO launch, the stock experienced a 10-for-1 split putting the IPO price at $2.70. It wasn't this leading search engine provider's best, but it maintained an amount of volatility and stability over a decade later. Today, there are forecasts based on the previous year's data on BIDU stocks.
Baidu (BIDU) Stock Price Prediction 2023
The 12-month average price target for BIDU stocks in 2023 is predicted to be $148.06, a lot lower than the forecasted median price target for last year which was $208.90. This is because the stocks did poorer than they were forecasted last year.
However, the high forecast is still above the 200 mark at $217.00 while the low forecast is $85.00. Wall Street analysts are hopeful that Baidu's share price could jump to $194.33 by Nov 23, 2023, which is a potential upside of 63.09% from the current stock price of $119.16.
Historical DATA
Understanding the historical price of a specific stock is crucial for both investors and financial analysts. This data provides a comprehensive overview of a company's financial performance over time, offering valuable insights into its stability and growth potential.
Historical stock prices are a reflection of a company's past economic decisions, market conditions, and overall industry trends. They serve as a benchmark for evaluating current stock prices, helping investors make informed decisions about buying, holding, or selling a stock.
Moreover, historical data is a fundamental component in various financial analysis methods. For instance, it's used in technical analysis to identify price patterns and trends, which can predict future price movements. In fundamental analysis, it's used to assess a company's intrinsic value by comparing its current price to past performance.
In essence, the historical price of a stock is a valuable tool that can guide investment strategies, minimize financial risks, and maximize returns. Including this data on your website will not only enhance its informational value but also empower your users to make more informed investment decisions.
Baidu (BIDU) Stock 2022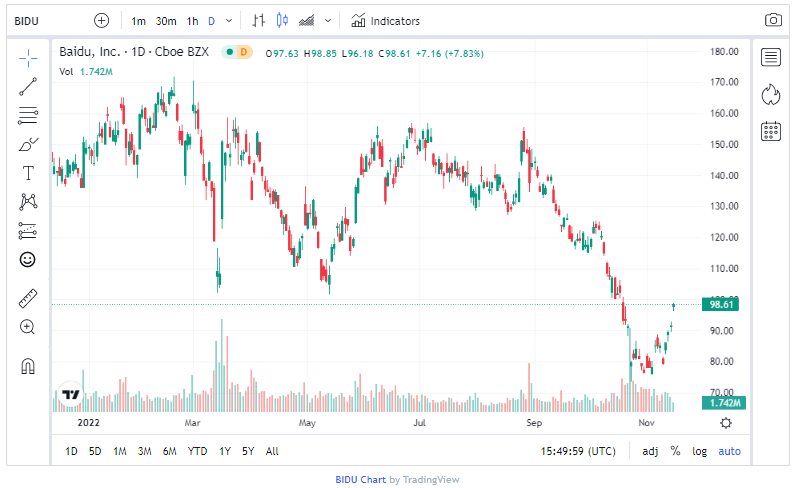 The 12-month median price target for BIDU stocks in 2022 was $208.90. This forecast was in hopes of the stocks doing well based on the previous year's performance. The highest and lowest BIDU stock price forecasts were $285 and $139, respectively. It looked promising because BAIDU Inc. was experiencing excellent growth in its non-advertising business (AI Cloud). It also improved leadership and other sectors like intelligent driving, mobile ecosystem, and growth initiatives.

BIDU opened in January at a stock price of $148.91 and did even better until the end of Q1 2022, even as it experienced slight fluctuations. It opened Q2 at $144 and remained consistent until it ended in June. Q3 2022 was looking good until it reached an all-time low of $91.80 on October 19 2022. Many say that this fall resulted from the trade wars between the United States and China. The price kept falling and rising for the latter part of the time until it closed at $89.46 in November. It witnessed a rise in December and as at now, BIDU is at $119.16. It is expected to remain relatively stable for the remaining days of the year.

Even though so little can be assured of this stock price over the next two years, analysts say that by 2024, the return on equity should be 112.6% of its IPO.
BIDU Stock 2021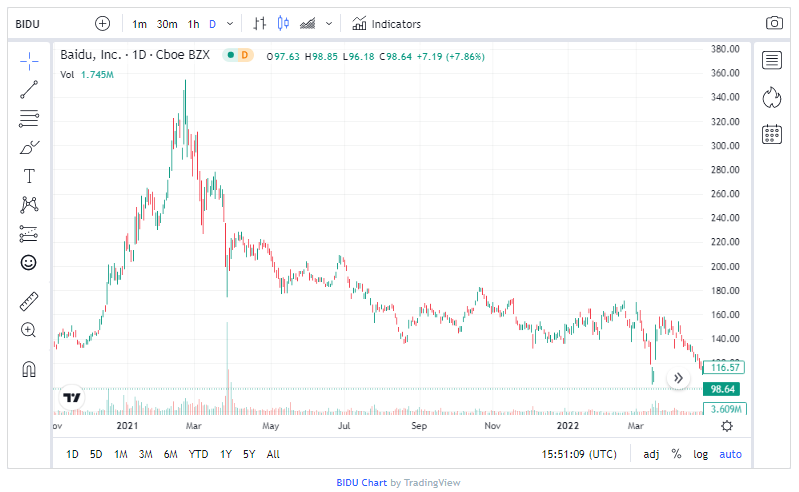 BAIDU opened in 2021 at a stock price of $219.51. It was forecasted to have a pretty good run till the end of the year due to the effect of the BAIDU AI Cloud introduced into Chinese industries. Even though there were a few challenges with the introduction of this initiative, identified by minimal quarterly fluctuations, the company still kept a strong front. It experienced an all-time low on March 26 with the price at $174.05 but picked up a few days later. By the start of the final Q2 month, the price had dropped below $200 again and fell throughout Q3 and Q4. BIDU stocks ended the year at $150.61.
BIDU Stock 2020
BIDU Stock opened in January 2020 at $129.49 and was forecasted to hit $200 and above by the end of the year. It looked promising for some days in Q1 until COVID-19 struck in February 2020, and many countries had global lockdowns. During this period, it was expected that people would rely on the internet and remote jobs; unfortunately, it wasn't so for this Chinese giant. The tech company faced other challenges, such as the intense trade war between the U.S. and China, that kept it stagnant between Q2 to Q3. It reached an all-time low of $97.01 on April 29. Luckily, the price started increasing in November, and BIDU ended the year at $219.63.
BIDU Stock 2019
In January 2019, BIDU opened the market at a price of $156.18. It was one of the good years for this leading AI company's stocks because of the previous year's success. This stock price experienced exponential increase throughout Q1 until an economic downturn caused a fall to $121.12 in May. The price experienced fluctuations as it kept rising and falling for the latter parts of the year. It ended the year at $126.29.
BIDU Stock 2018
According to BAIDU Inc. 2018 report, BIDU stocks had a pleasant year as the price remained high and consistent for many months. It opened the year at $236.49 and remained stable around the price (with fluctuations) until October 10, 2018. The price dropped the day after below $200 and ended the year at $160.60.
BIDU Stock 2017
BIDU Stock had one of the best years in 2017. The chart shows how it maintained a level of consistency throughout Q1 and Q2 until the price started increasing in Q3 and ended the year on an even better note. During the entire period, the trade wars between China and the United States was only at their embryo stage. The stocks opened the year at $166.30 and ended by December 29 2017, at $234.21. It was a 29% increase from the year-to-date.
BIDU Stock 2016
BIDU Stocks opened on January 4 2016, at $181.29 and maintained a level of consistency over the next few days. However, in the latter months, the stocks struggled to return or exceed their starting price. It fluctuated around $166.58 until early October, when it struggled to return. The price dropped a few days after, and the stocks closed at $164.41 in December.
Conclusion
BAIDU Inc. has solved major problems the Chinese audience has faced for many years. It currently offers several products and services, from its BAIDU Core and iQIYI. The BAIDU Core has generated the most revenue, providing people with cloud computing, internet, and search engine services.
In 2005, the tech giant invited people to become shareholders in the company by offering BIDU stocks at a price. Today, the stock is doing good in the finance market. So far, there have been fluctuations in its price, making it important for investors to decide when to go for it. The forecast and historical stock performance have been explained in this article so that it becomes easy to make wise investment decisions.
FAQ
How Far Has BAIDU Stock Gone?
Baidu stocks launched its first IPO 15 years ago at $25 per share. Until now, the stocks have had rough and great phases. Today, it is 50x its IPO price, which shows progress. Indeed, it has gone far.
Does BAIDU Have a Future?
BAIDU was listed in 2005, and today, it is being traded on various exchange platforms. Its relevance after such a period shows that it has potential. It has a future, and the price is forecasted to increase to $500 by 2033.
How Does BAIDU Inc. Generate Revenue?
BAIDU Inc. generates revenue through several means. It has an online marketing service, a video and entertainment platform, and transaction services such as Takeout Delivery and Nuomi.
Risk Disclaimer
WeInvests is a financial portal-based research agency. We do our utmost best to offer reliable and unbiased information about crypto, finance, trading and stocks. However, we do not offer financial advice and users should always carry out their own research.
Read More