This content represents the writer's opinions and research and is not intended to be taken as financial advice. The information presented is general in nature and may not meet the specific needs of any individual or entity. It is not intended to be relied upon as a professional or financial decision-making tool.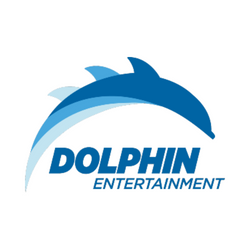 The entertainment industry is not immune to economic downturns, and can also exhibit wild price swings. This is because companies that operate in this sector are dependent on consumer spending and the state of the economy to generate their profits. During economic cycles of high inflation and rising interest rates, as has been the case in 2023, entertainment-related stocks got caught up in selling pressure.
One of the stocks to operate in this market segment is Dolphin Entertainment. The Coral Gables, Florida-based company considers itself an independent entertainment marketing play that also develops media content. Dolphin Entertainment is also known for its subsidiaries, including 42West, The Door, Shore Fire Media, and B/HI.
Dolphin Entertainment also has a knack for striking strategic partnerships with high-profile influencers and celebrities, including famous chefs.
In addition, the company is also active in the burgeoning non-fungible token (NFT) space. Its flagship digital collectible set, Creature Chronicles, inspired by Marvel Studios' artist Anthony Francisco, sold out in October 2022 even when the cryptocurrency market was experiencing a downturn.
Dolphin even boasts its own NFT division, dubbed Dolphin Digital Studios, which is a testament to its confidence in the potential for this market. Dolphin uses its existing prowess in the NFT market to support other companies with creating and launching their own NFT collections on the blockchain.
One flaw here is that DLPN chose to partner with cryptocurrency exchange FTX, which is currently in bankruptcy proceedings and responsible for losing billions of dollars in customer funds. Exposure to potential scams has proven to be one of the risks associated with crypto-related investments.
Dolphin Entertainment, which trades on the NASDAQ under the symbol (DLPN), was founded in 1996 as Dolphin Digital Media Inc. In 2017, it changed its name to Dolphin Entertainment. As a media, digital, and entertainment business, Dolphin Entertainment has had successful equity raises in the capital markets, where it has raised $9 million across two post-IPO rounds.
Through its Entertainment Publicity and Marketing arm, Dolphin Entertainment provides PR, digital marketing, communications, social media, branding, and more. The company offers marketing and publicity services to corporate clients across related sectors including entertainment, hospitality, music segments, and also specializes in media strategies for eSports and the broader gaming industry. On the Content Production side, Dolphin Entertainment makes and distributes feature films and digital content.
Dolphin Entertainment Inc Stock Forecast 2023
DLPN is a stock that is susceptible to the broader economy and consumer spending. It is dependent on the consumer's ability to spend money on entertainment for its revenue. Fortunately for Dolphin Entertainment, the consumer has been resilient throughout the 2023 economic downturn despite high inflation and rising interest rates. This bodes well for DLPN's performance in 2023, considering that the economy is starting to show signs of a recovery.
While there is no crystal ball that can foresee where DLPN shares are headed, consider that the stock has traded in a range of $1.94-$9.68 over the past 52-weeks leading up to December 2023. As long as there are no additional major economic headwinds to speak of, and Dolphin Entertainment manages to steer clear of any more crypto-related scandals, it is possible that the stock will revisit its 52-week high level of 9.68, particularly if it has any NFT-related announcements.
Dolphin Entertainment Inc Stock 2022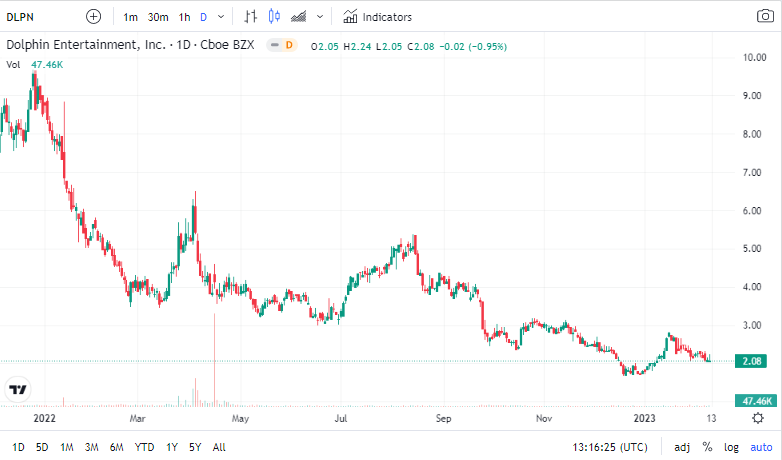 On Oct. 2, 2022, Dolphin Entertainment celebrated the complete sell-out of its flagship NFT collection dubbed Creature Chronicles. These digital collectibles were sold-out in 90 minutes and are among the leading NFT projects that exist on the Solana blockchain.
Dolphin's digital collectibles are an ongoing revenue driver. In addition to the initial sales, the company receives royalty revenue on all secondary sales. Investors celebrated the NFT sales too, sending shares of DLPN from $2.65 in the trading session prior to the launch to as high as $3.04 in the first week of October.
Also in this year, Dolphin Entertainment expanded its U.S. footprint. The company inked a partnership deal with famous chef Nina Compton. Dolphin announced the deal on Oct. 24, igniting yet another rally in the stock that saw shares rise from $3 to as high as $3.19 on Oct. 25.
On the NFT front, Dolphin chose to partner with cryptocurrency exchange FTX in 2021. However, in November 2022, FTX went bankrupt and was accused of being a crypto Ponzi scheme after losing billions of dollars in customers' funds.
DLPN Stock 2021
Dolphin Entertainment reported record revenue in 2021 of $35.8 million, a 49% increase vs. the previous year. The company reported this performance in mid-April 2022, at which time the stock rallied from $3.86 prior to the results to as high as $4.61 on the day of the announcement.
In August 2021, investment strategists observed bullish patterns in the stock combined with a short squeeze and undervaluation of shares. Shares of DLPN climbed 24% on Aug. 2, 2021, in response to a new NFT partnership.
DLPN Stock 2020
For all of 2020, the pandemic year, DLPN shares started at around the $3.50 level and finished the year at $3.40.
Between April 19-23, 2022, Dolphin Entertainment and its subsidiaries were the recipients of $2.8 million in PPP loan funds under the U.S. Paycheck Protection Program during the height of the pandemic. During this stretch, DLPN stock climbed from $8.15 to $11.83.
DLPN announced a one-for-five stock split on Nov. 27, 2020. Shares rose from $3.45 as high as $3.56 in response.
DLPN Stock 2019
In November, the stock climbed from $3.40 on Nov. 12 to as high as $3.75 on Nov. 13 in response to the company's quarterly earnings. Dolphin exceeded consensus estimates for both revenue (up 4% to nearly $6 million) in the period to Sept. 30, 2019.
DLPN Stock 2018
In 2018, Dolphin Entertainment Director Allan Mayer was actively buying shares of the company. He was particularly busy buying shares in May of that year, during which time the stock price surpassed $17 per share in the middle of the month. In the month, Dolphin reported its Q1 earnings results and also announced new celebrity partnerships.
DLPN Stock 2017
It was in 2017 that the company changed its name from Dolphin Digital Media to Dolphin Entertainment. Dolphin Entertainment also acquired PR 42West in the year in a $28 million deal.
Conclusion
Dolphin Entertainment has proven to be a resilient company that has been around for more than two decades. It continues to evolve with the changing entertainment and media industry, embracing technology innovation and thrusting itself into the conversation for top picks. With the worst of the pandemic in the rear-view mirror, Dolphin Entertainment has much to look forward to on the digital entertainment front.
Keep in mind that there are also risks associated with investing in an entertainment and cryptocurrency-related stock. Dolphin Entertainment is active in the NFT space and was among the companies to team up with fraudulent cryptocurrency exchange FTX. While the fallout from the FTX failure is still being assessed, this deal exposes some of the risks in dealing with an emerging market like crypto.
However, on the plus side, Dolphin Entertainment has not skipped a beat and continues to plow ahead. It has continued to mint new NFT collections and even sold out of its latest set in late 2022. Investors are waiting to see what Dolphin Entertainment might have on the horizon for its NFT business.
Dolphin Entertainment also has a more diversified business model than just NFTs, which works in its favor. It continues to strengthen its balance sheet by growing revenue and decreasing its debt. Also, the company is forming new alliances with high-profile celebrities, the most recent of which has been famous chef Nina Compton. As a stock that is somewhat vulnerable to consumer spending and the overall state of the economy, Dolphin Entertainment has remained resilient.
FAQ
How much capital has DLPN raised in the public markets since its IPO? 
Dolphin Entertainment has managed to attract $9 million to its coffers in the post-IPO market. Its most recent funding round was in 2018.
Is DLPN a good stock to own in 2023?
Dolphin Entertainment could potentially be a good stock to own in 2023, now that the worst is over from the pandemic and as long as the economy continues to improve. There is risk with any investment, and DLPN is no different. If it fits your risk/reward profile, DLPN could have some upside potential in its shares if investors continue to reward the stock for its endeavors. 
Who does the company compete with?
Possible rivals to Dolphin Entertainment include Live Nation Entertainment, Claxson, Carbon Media Group, and RLJ Entertainment, among others.
Risk Disclaimer
WeInvests is a financial portal-based research agency. We do our utmost best to offer reliable and unbiased information about crypto, finance, trading and stocks. However, we do not offer financial advice and users should always carry out their own research.
Read More