This content represents the writer's opinions and research and is not intended to be taken as financial advice. The information presented is general in nature and may not meet the specific needs of any individual or entity. It is not intended to be relied upon as a professional or financial decision-making tool.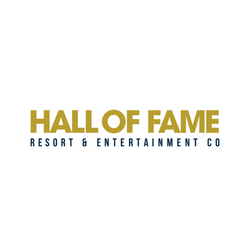 Sports-related stocks have their ups and downs, just like any team. The industry suffered during the pandemic when venues closed their doors, and live events were put on hold. After rebounding with the reopening of the economy, sporting companies showed positive trends.
Nevertheless, the stock market bears gained control once again due to other economic headwinds, not least of which is a looming recession. While people have returned to live events, the threat of a recession remains, which took a toll on sports-related stocks, erasing most gains in the JohnWallStreet Sports Stock Index, which has been posting double-digit percentage declines in 2023.
Canton, Ohio-based Hall of Fame Resort & Entertainment (HOFV) is a holding company that operates in the sports, entertainment, and media sector. The company is active in several verticals, combining sports with entertainment and tourist attractions comprising hotels, a waterpark, a convention center, and more. It is dependent on the continued popularity of professional football and athletes with legendary status for its performance.
Fortunately for HOFV, football is considered the most popular sports brand in the United States, based on league revenue and the number of fans. HOFV is looking to harness that culture and profit from it. HOFV has a slew of partnerships that help to validate the brand among consumers, including Johnson Controls, Constellation NewEnergy, Fiserv, and Cleveland Clinic, among others.
Among its most notable projects, HOFV is constructing a football-themed resort based on the Pro Football Hall of Fame (PFHOF). The company also owns the Hall of Fame Village, a multi-use sports and entertainment facility around the PFHOF campus. HOFV seeks to harness demand for professional football to fuel its future revenue across a trio of primary streams, including:
Developing themed attractions
Entertainment programming
Sponsorships
HOFV was formed in 2020 as a result of a business combination between HOF Village and Gordon Pointe Acquisition Corp (GPAQ). For its part, HOF Village is a partnership between the Pro Football Hall of Fame and the Industrial Realty Group.
HOFV is considered an early-stage company with a limited operating history, which is one of the risks of investing in the stock. Also, the company is vulnerable to consumer spending habits, while its performance is directly tied to the success of the partnerships that it secures around the PFHOF brand. Overall, the sports sector is a competitive field that HOFV hopes to dominate in the years to come.
Hall of Fame Resort & Entertainment (HOFV) Stock Forecast 2023
Things are looking up for HOFV stock in 2023. According to CNN Business, two Wall Street analysts are covering HOFV stock, both of which have a "buy" rating on shares. The median price target is $2.15, ranging from $3 per share at the high end and $1.30 at the low end.
Maxim Group analyst Michael Diana reiterated his "buy" rating on the stock with a price target of $3. This compares to the company's stock price of $0.60 as of December 2022, which suggests there is more runway for gains. Based on Diana's price target, the stock has 400% upside potential.
However, in early 2023, Diana's price target on HOFV shares was cut in half from a more bullish forecast of $6. At that time, Diana raised the target from $5 to $6, but that was before the economy took a turn for the worse. HOFV shares have traded at a high of $2.28 and a low of $0.52 in 2023.
Corporate insiders are bullish on HOFV stock and have been buying up shares. As of Q3 2022, company executives were increasing their HOFV holdings, suggesting they are bullish on the stock's future performance.
Several catalysts are ahead for 2023, not least of which involve sports-betting licenses (discussed below), which could potentially move the stock higher as investors anticipate more profit growth. In addition, HOFV is getting in on the non-fungible token (NFT) craze in the blockchain industry, which gives it the potential to reach a wider audience and generate more revenue.
Phase III of the company's Village around the Pro Football Hall of Fame is set to begin in 2023, which could be a catalyst for gains in the stock as HOFV accomplishes its roadmap.
Hall of Fame Resort & Entertainment (HOFV) Stock 2022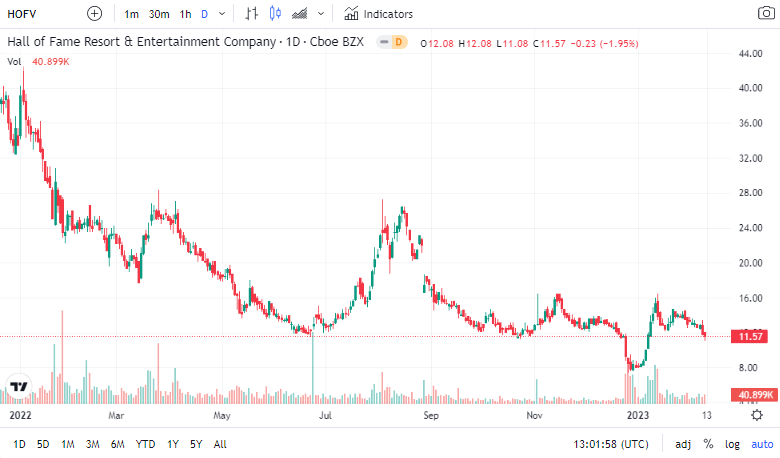 2022 has been a roller-coaster year for HOFV stock. As of mid-December, shares were down close to 70% year-to-date. However, several catalysts throughout the year caused the stock to rally.
In early 2022, HOFV strengthened its NFT push. The Hall of Fame partnered with HOFV, and a company called I Got It to deliver football player digital collectibles to fans. The stock reacted to the development, rising 6% from $1.14 to $1.21 on Feb. 11 as the blockchain has a tendency to drum up excitement.
In the month of August, the stock traded in a narrow range around $1 per share. This was right at the time HOFV announced a decade-long sports-betting agreement with Betr, a micro-betting company, to be its mobile sports-betting partner. The companies are developing a micro-betting app in the state of Ohio. On Aug. 11, the day the deal was announced, shares traded near their best levels of the month at $1.24 but ended the month at just under $0.80 per share.
In early November 2022, the company scored conditional sports-betting licenses for its guests at the Hall of Fame Village and mobile platforms, effective Jan. 1, 2023. This licensing has the potential to enhance the value of HOFV for shareholders, as the company moves closer to live sports betting. In response to this win, HOFV's stock began inching higher from the $0.54 level in October to over $0.60 in the first week of November. HOFV traded as high as $0.75 in mid-November but couldn't hold those levels.
HOFV Stock 2021
In March 2021, HOFV stock saw a nice bump after the company The highlight of the year came in March 2021 when HOFV inked a partnership deal with Dolphin Entertainment to make blockchain-based NFTs. HOFV said expanding into NFTs was a way to diversify its revenue streams for its media business.
HOFV stock rose from $4 per share to $7.64 on March 24, 2021 in response to the news that the sports company would use its sports memorabilia property for the white-hot NFT market. For the entire month of March, HOFV shares skyrocketed over 100% on bullish expectations for its Pro Football Hall of Fame/NFT offering.
In April 2021, the stock lost nearly one-fifth of its value. The declines came on the heels of the hype surrounding its NFT expansion. However, timing is everything and as it so happens, excitement around the broader NFT market eased a bit. As a result, companies with exposure to the market also took a hit, including HOFV. The month of May was not any better, with shares continuing their slide to ultimately end the month flat.
In October, HOFV refinanced its expensive debt and sold equity shares in the AIM market to raise capital, ultimately securing $25 million for Phase II of Hall of Fame Village, its $300 million construction project. Ultimately, HOFV started trading in the year at $1.54 and ended the year almost unchanged at $1.52.
HOFV Stock 2020
HOFV made its public market debut in July 2020 when it started trading on the Nasdaq. Executives were initially considering a private placement but changed their minds due to the access to liquidity and the ability to tell the story that the public markets provide. HOFV went public via a merger with the company that owned Hall of Fame Village and special purpose acquisition company (SPAC) Gordon Pointe Acquisition.
The stock got off to a bumpy start on Wall Street. In November of its IPO year, shares of HOFV sunk more than 50% after the company priced a big public offering at a major discount to where shares had recently been trading. The company offered close to 18 million units comprising common stock and warrants at $1.40 per unit, nearly a 44% discount to where shares were trading at in the previous session – at $2.42.
But a fresh partnership would soon turn things around. In early November, HOFV unveiled a new partnership with Sports Illustrated Studios, which sent shares of the company soaring. On Nov. 5, HOFV stock saw trading volume of over 73 million shares, placing it at the top of the Nasdaq's actively traded list. The stock soared in value by over 100% to $1.03.
This was welcome news to investors after the stock had gotten beaten up for much of its stock market debut year, having lost over one-quarter of its value in the three-month period leading up to November 2020 even as the S&P 500 gained modest ground.
Conclusion
HOFV is a stock with a limited operating history but one that analysts are optimistic about and rate a buy. According to Wall Street, the stock has upside potential and could rise as high as $3 per share compared to where it was trading at year-end 2023, at $0.60. There are several catalysts in the pipeline.
The company is nearing the final development phase of its Village around the Pro Football Hall of Fame. In November 2023, HOFV secured $78 million in financing to complete Phase II of its project, which will allow it to open several of its sports-themed assets at the Hall of Fame Village campus. This, in turn, should lead to bookings and more revenue for its businesses. Phase II includes a football-themed waterpark, water slide, lazy river, outdoor entertainment area, hotel, and more.
Located in the birthplace of pro football, Canton, Ohio, HOFV is looking to further capitalize on sports-related demand by expanding its revenue streams into e-gaming, fantasy sports, and sports betting. However, HOFV also remains subject to the whims of regulation around sports-betting activities in individual states, which could serve as both a potential tailwind and headwind for the stock.
FAQ
Why is HOFV trading off its highs?
HOFV is a stock that is sensitive to the economy and consumer sentiment. As long as inflation remains high and interest rates are rising, HOFV stock could remain under pressure. When those headwinds lift, the stock has several catalysts for potential gains.
 What are the biggest risks to investing in HOFV?
 The biggest risk is that the sport of football will go out of style in the U.S., which based on the size of the industry is not likely to happen. Another risk is the company's plans to participate in online sports betting will not materialize due to any regulatory roadblocks. But so far, HOFV has received conditional approval for its sports-betting license. 
Who are HOFV's competitors?
Hall of Fame Resort & Entertainment Company is not the only stock that trades in this niche. HOFV competes with the likes of  Drive Shack (DS), Parks! America (PRKA), and F45 Training (FXLV).
Risk Disclaimer
WeInvests is a financial portal-based research agency. We do our utmost best to offer reliable and unbiased information about crypto, finance, trading and stocks. However, we do not offer financial advice and users should always carry out their own research.
Read More