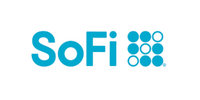 Fintech is an industry that evolves rapidly, as innovative and practical features are constantly being introduced to the broad public. The global market has been underperforming lately, and many companies stocks are currently being traded at all-time lows. This leaves an open door for many investors to get involved before the prices spike.
One of the businesses with high potential is the American values-driven company SoFi technologies. The firm was founded in 2011 and has since offered financial products and services of the highest standards, with over 5 million members worldwide.
SoFi's IPO was held in the last quarter of 2020, and it immediately brought success to the company, with its price going from 11$ to around 22$ in just a couple of months. Many investors believe that the price of SoFi stock has the potential to skyrocket in a couple of months, considering it is being traded at a substantial discount. You can browse through our detailed review of SOFI stock and its price fluctuations over the years to determine whether the fintech company can bring you high ROI in 2023 and beyond.
SoFi Stock Forecast 2023
There are many reasons to believe 2023 will be a strong year for SoFi. First, the fears of a recession are starting to vanish. The strong upcoming market will drive attention to high-potential niches like the financial and technological industries, which will be the most beneficial in the upcoming bull run. Secondly, for a relatively new company, SoFi has accumulated surprisingly high numbers, with over 5 million members, 34 billion in debt paid off, and 73 billion in funded loans.
The numbers are growing for SoFi, and the company has remained consistent for many years, which shows investment potential in the long run, which buy-and-hold investors might find appealing. In this highly competitive industry, SoFi has managed to help people borrow, save, spend, invest, and protect their money better in a practical way, which will be a determining factor for the company's growth in 2023.
The average stock price for SoFi in the last 52 weeks was $6.48 by the time of writing this article. This price is more than three times lower than the all-time high of $25.78, which many investors believe can be reached this year. Moreover, the SoFi stock price has long-term growth potential even beyond 2023. Considering the company's values and standards, SoFi may even have the potential to become an industry leader by 2030.
SoFi Stock Performance and Quarterly Review in 2022
The year 2022 has been harsh for the stock market, and fintech stocks have not been an exception. SoFi ended 2021 with a price of around $16. Fast forward to December 2022, when the SoFi stock reached its all-time low of $4.24 after a 12-month bull run. The prices are in unison with The Global X Fintech ETF, which fell over 50% in just one year. Although SOFI's stocks have experienced a sharp downturn in 2021, the light in the tunnel is their Q4 report, which accentuates the strong recovery potential of the valuable asset.
Compared to the previous year, the stock price has fallen over 70%, as the average trade volume of SOFI in 2021 was around the $18 mark. The underperformance of SoFi's shares has nothing to do with the company itself but is instead a result of the post-covid world economy.
Since December 2021, the stock market has been moving downward, and the bear market has reflected in the stock prices in many industries. The rising inflation rates have kept many from risky investments like commodities and cryptocurrencies. The fear of an upcoming recession negatively impacts the financial markets, which, combined with rising unemployment rates, creates uncertainty in many investors.
With an average stock price of $7.3643, a year open price at $15.6800, and a year close at $4.610, the annual percentage change for SoFi for 2022 rounds up at -70.84%. However, we took from the Q4 report published at the beginning of February 2023 that the company has solid projections regarding its overall customer acquisition. Their ambitions and new customers may lead to increased overall revenue, more earnings per share, and positive reflection on their finances, which may increase their share price.


SoFi Stock 2021
SoFi technologies, inc. has come a long way since 2011 when it started as a company offering student loan refinancing. Since then, they have provided numerous excellent financial services, including investment opportunities, credit cards, insurance, personal loans, an innovative mobile app, and basically everything related to money. The consistency and drive of SoFi's team to "Help people get their money right" has led to its highly anticipated public IPO on 1 June 2021.
The year 2021 was wild for the stock market, with its overall solid performance leading to an increase of around 27% for the largest index fund, the S&P500. The year of all-time highs and speculations has benefited SoFi, with an average stock price running at $18.0557, an astonishing year high at $25.7800, and a positive annual year change of 27.09%. The overall net book value of the company experienced a sequential growth of 48% just a couple of months after its IPO. What is more, the overall value of SoFi climbed by over 12% after becoming public.
SoFi merged with SPAC and got valued at around $9 billion at the end of the first quarter of 2021. In the second quarter of 2021, the company underwent a 43% drop in liabilities, and a 10.74% drop in assets, which was supposedly a result of the funding that SoFi got whenever their stock went public. The Q2 announcement of the company caused a rise in the price at the beginning of July, with the value rounding up around $15.06.
A short squeeze in October brought the price to $23.290 on 4 November, as traders took advantage of the low-interest rates to invest in companies with values. The slowly rising interest rates and fears of a recession have led to a decline in the stock price due to e sell-off, which drove the year-close price of SOFI to $15.8100. Overall, this year has brought SoFi to the map, and the company established itself as a strong player in the financial market.
Conclusion
While the fintech industry has been underperforming lately, SoFi Technologies, Inc. remains a promising investment opportunity in the long run. SoFi's 2022 Q4 report accentuates its strong recovery potential, which may lead to increased overall revenue, more earnings per share, and a positive financial reflection. The year 2023 is expected to be a strong year for the company due to the recovering global economy and the rising attention to high-potential niches like the financial and technological industries. With a current average stock price that is substantially lower than its all-time high, investors may find SoFi an appealing buy-and-hold investment opportunity that may have the potential to become an industry leader by 2030.
FAQ
Is SoFi a legitimate company?
SoFi technologies, inc. has been operating for over 10+ years, providing high-quality banking services to more than 5 million clients worldwide. Based on the positive client reviews and the highest security standards that the company complies with, it is safe to say that SoFi is a legitimate online bank.
What does SoFi do?
SoFi is a digital finance company that aims to help its customers get their money right and reach financial independence to realize their ambitions. In SoFi, you will find numerous practical financial services, including Personal Loans, Banking, Credit Score & Insights, Private Students Loans, Insurance, Mortgage Loans, and many more.
Is it worth it to invest in SoFi stocks now?
Considering the economy is slowly but surely recovering. The stock market still hides high risks, so always remember to trade with caution.
Risk Disclaimer
WeInvests is a financial portal-based research agency. We do our utmost best to offer reliable and unbiased information about crypto, finance, trading and stocks. However, we do not offer financial advice and users should always carry out their own research.
Read More