As the world gears up for a greener future, investors are revving their portfolios, seeking out the companies at the forefront of the revolution in the automotive industry.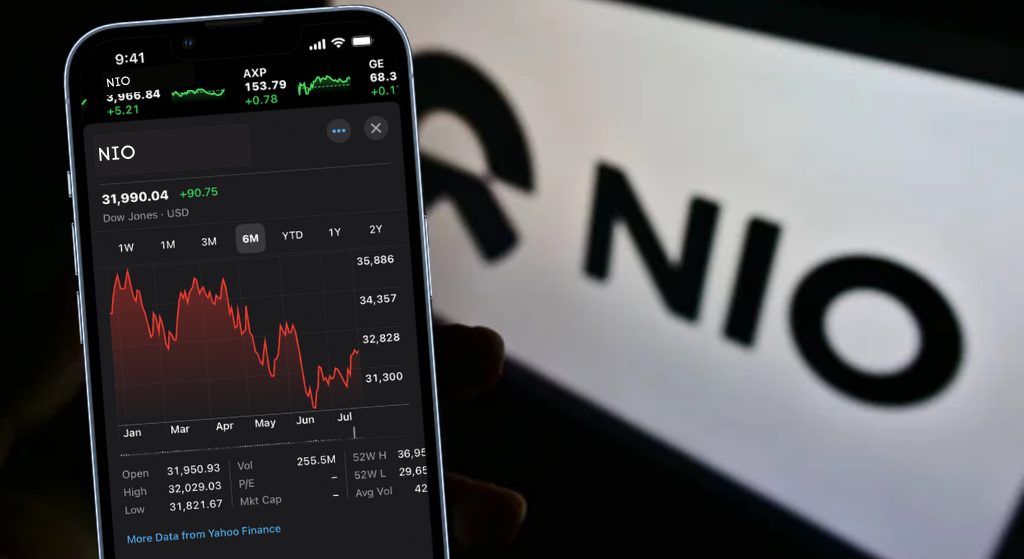 Tesla's stock has surged by almost 100% since the beginning of the year, but another competitor in the face of Nio is trying to even up the playing field. By bringing more innovation into the EV niche, the Chinese multinational automotive manufacturer Nio Inc.
is a company with prospects for growth. The company aims to expand in global EV markets and reshape the industry with NIO Power, an innovative battery-swapping system.
NIO became publicly traded in 2018, and its stock's IPO was filed on the NYSE. Since then, the company has accumulated more than $5 billion, and investors are wondering whether it has the opportunity to become the next key player in the EV market. With rising inflation rates, traders turn to the stock market to maintain the value of their wealth. Our comprehensive guide will assist your investment efforts by showing the main steps to buy NIO stocks.
How much does it cost to buy Nio stock?
Decide How Much to Invest In Nio Shares
A budgeting and investment strategy benefits investors by creating goal clarity and allowing for better monitoring and adjusting of one's assets and finances. Let's look at Nio's stock price to bring more transparency to your investment strategy. Although shares are down 60% over the past year due to the uncertainty and regulations in the industry, analysts from CNN believe that the stock has long-term potential. Nio showed that it has what it takes to become a value stock, as the automotive asset grew by more than 500% of its IPO price, reaching an all-time high of $62.84 in February 2021. At the time of writing, you can invest in the company for $7.56 per share.
Now that you have familiarized yourself with the latest value of the stock, you can determine your budgeting strategy. An investment strategy will also greatly benefit you when it comes to buying Nio stocks. Research and fundamental analysis are practical approaches that help create the most informed decisions concerning investing in the stock market. Lastly, consider how NIO will fit into your diversification system by considering your other investments. Remember that all these strategies should be based on your personal goals, needs, and financial situation.
How to Buy Nio Stocks With eToro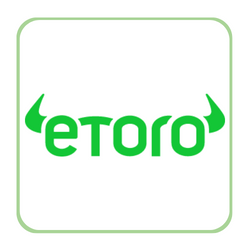 Investing in NIO stock through eToro is one of the most convenient options for traders who value the flexibility of online brokers. The renowned trading platform has acquired more than 30 million active users from all over the globe. The brokerage's services are excellent for traders from any skill level, as it offers advanced tools, features, and detailed educational resources. You can go through our short guide to find out how to invest in NIO through eToro in less than 10 minutes:
Step 1: Open an Account
To open a trading account on eToro, visit the provider's official website and find the relevant registration button. From then, you will be asked to fill out a form containing your first and last name, email address, phone number, and a strong password. Alternatively, you can register via Google or Facebook. Submit your information by agreeing to the Terms & Conditions and clicking "Create Account."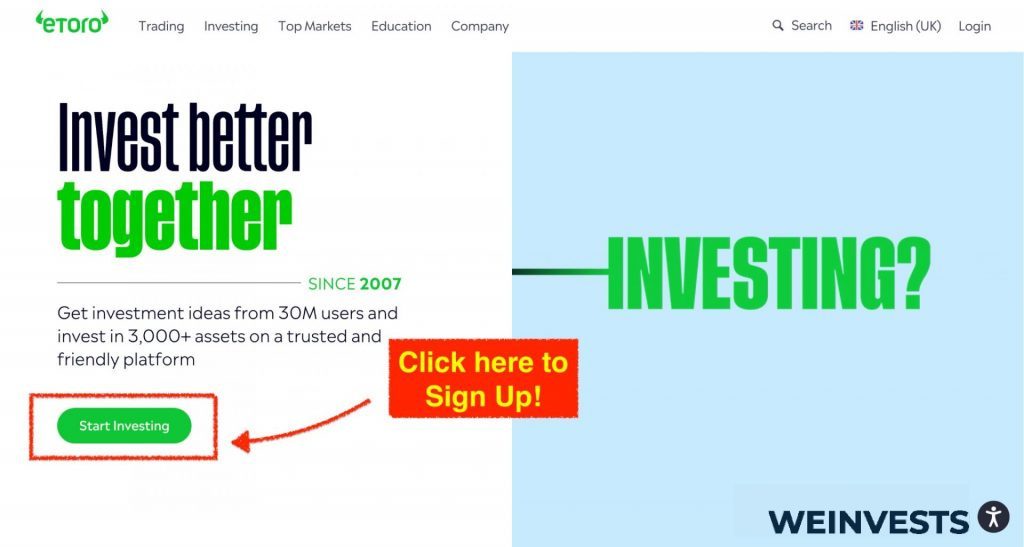 Step 2: Upload ID
eToro complies with all relevant regulations of the European Parliament; thus, all new users need to undergo a quick KYC process. This practice is set to ensure customers' safety, establish AML procedures, and prevent terrorist financing. To complete the process, you must send the relevant team a picture of a personal ID and a PoA document. Ensure all corners of the documents are visible and the proof of address is at most three months old.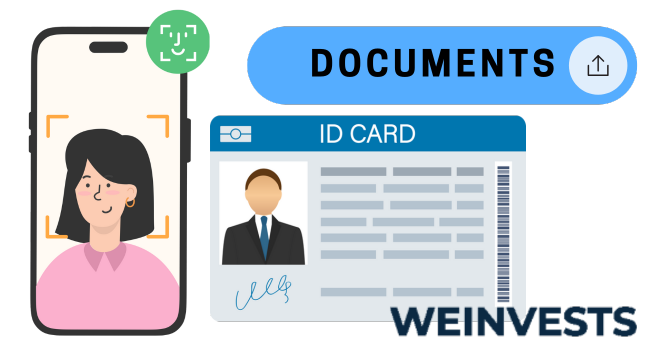 Step 3: Make a Deposit
Before buying NIO stocks, you must fill your account with funds. To do so, log into your eToro profile and go to the deposits page. Choose a preferred payment method among PayPal, cash/debit card, bank transfer, and many more, and then select the amount you wish to deposit. Follow the relevant instructions and wait a few seconds for the transaction to be processed.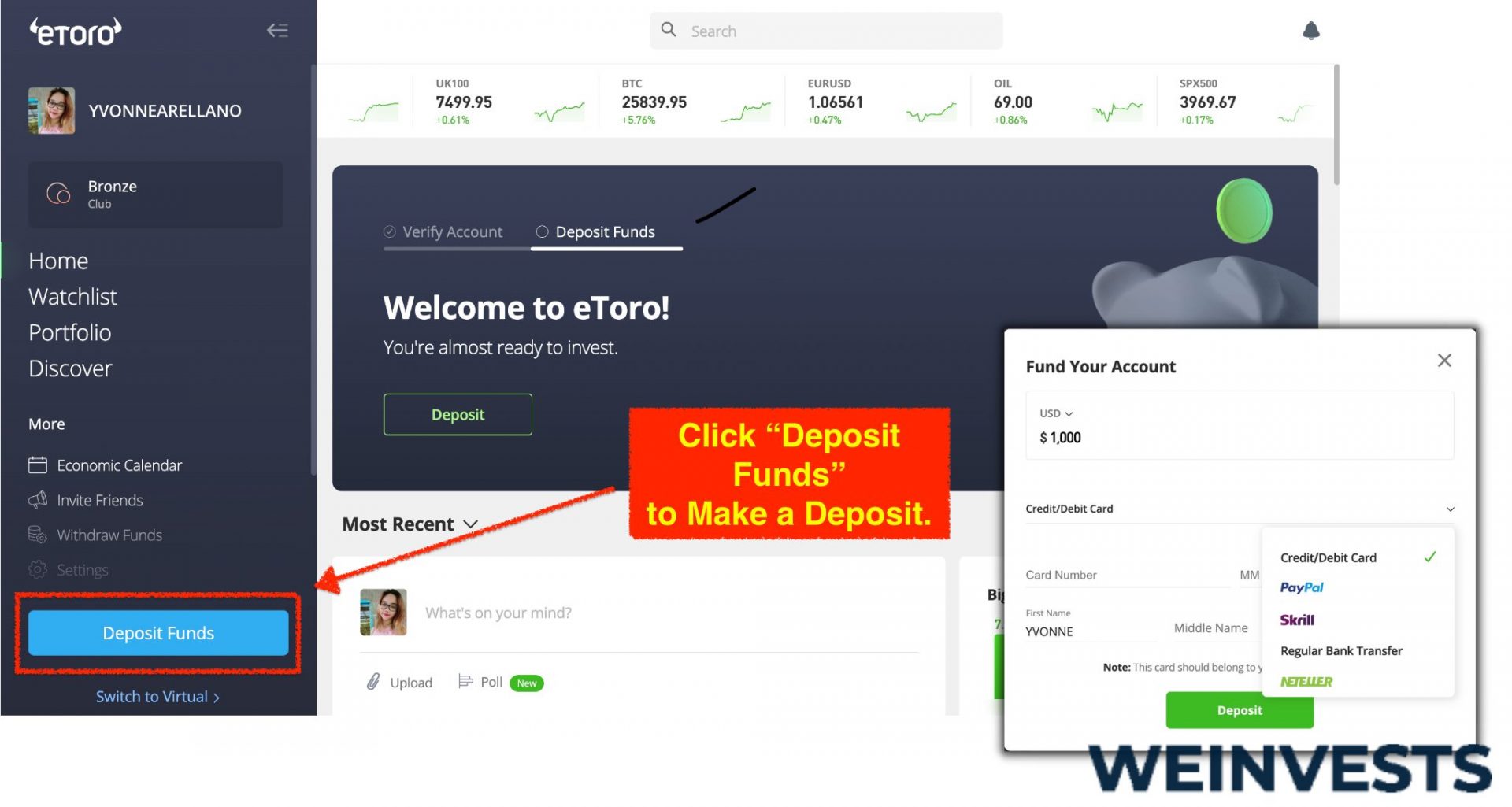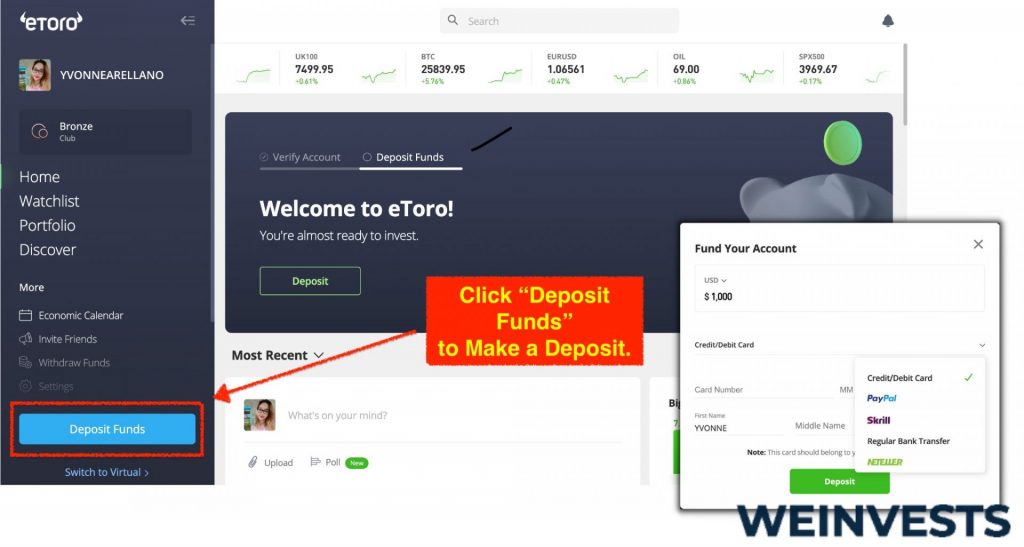 Step 4: Search for Nio
The time for buying NIO stocks has come. First, you need to find the asset, and you can do so by using the search bar in the top right corner of eToro's website. Type in NIO and select the applicable stock from the drop-down menu to proceed to the final step.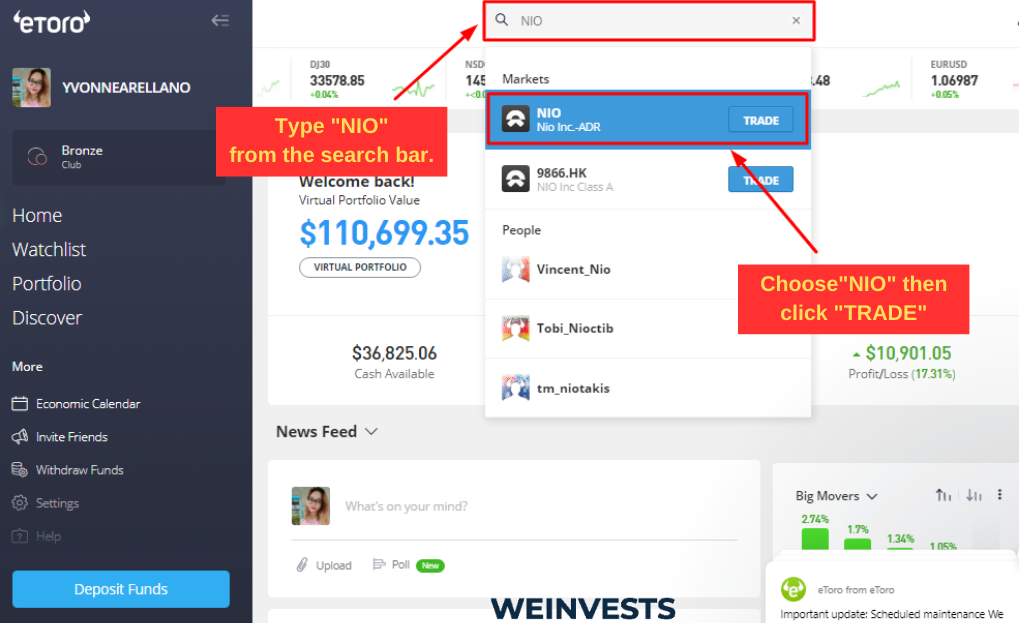 Step 5: Buy/Sell Nio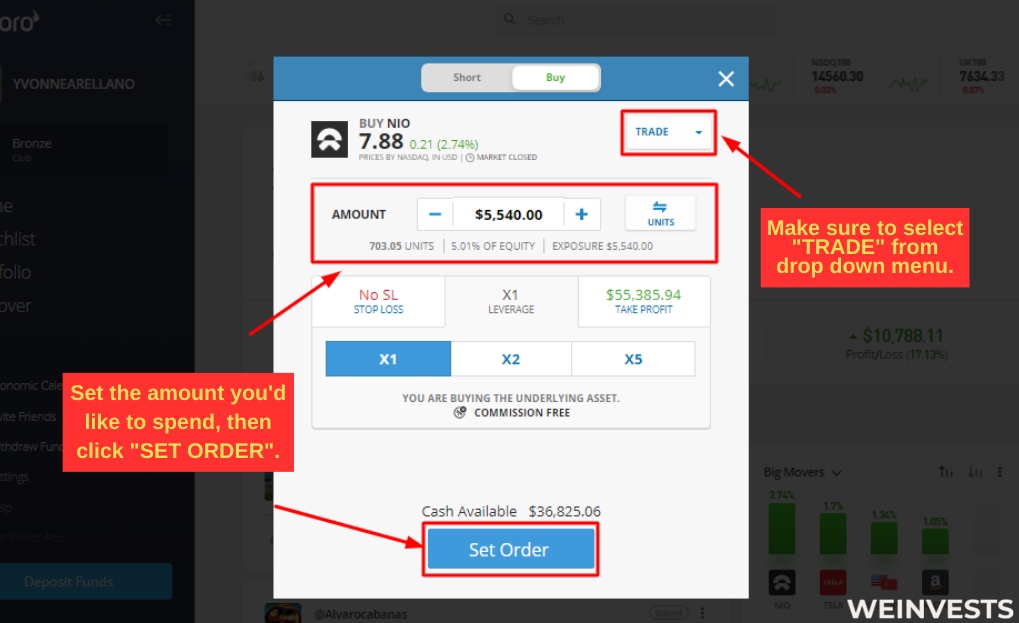 The screen you will see after clicking on NIO from the search bar is the asset's trading page. From here, you can personalise your investment based on your strategies and preferences. Select the type of order, any technical instruments you need to include, and the amount you are willing to invest. To finalize the process, click "Open Trade" and wait a few minutes for the trade to settle.
Investing in NIO is quick and straightforward, but you must monitor your investment regularly and follow market trends and news. Remember that the stock market hides risks and is highly volatile, so conducting due diligence is essential for better risk management.
Choosing the Right Brokerage
The most significant advantage of choosing the right trading platform for your NIO investment is the reliable execution of trades. Therefore, you must understand the different broker types and processes to ensure effortless investment and monitor your NIO shares.
Online brokerages vs. full-service brokers
To begin your decision-making journey, there are two types of brokers: online and full-service. The end goal is similar, diversifying an investor's portfolio with NIO stocks. However, several vital factors differentiate the two types of services. Online brokers offer a wide range of trading tools and are more cost-effective, but traders get limited to no personalized guidance. On the contrary, self-service brokerages propose more tailored advice and comprehensive services but charge higher commissions and fees.
Opening a brokerage account and placing an order to buy Nio stocks
Most online brokers have identical procedures for opening an account and placing market orders, similar to those outlined in our eToro guide. Therefore, when applying for an online trading platform, preparing your personal information and documents needed for KYC verification may be helpful beforehand. Furthermore, arming yourself with knowledge about market orders and limit orders and implementing an investment strategy will enhance your trading process even more.
Monitoring and managing your investment
The dynamics of the electric vehicle industry are fast-paced, and staying up to date with your investment in NIO will be crucial for your investment. By monitoring the industry trends and developments, you can stay informed about factors that may impact NIO's performance and decide whether you should buy more, hold, or sell shares.
Analyzing Nio's Financial Performance Before Buying
Before considering investing in NIO stocks, it's crucial to analyse the company's financial performance. Looking at NIO's latest earnings report for Q4 2022 provides valuable insights. During this period, NIO reported a remarkable revenue of $16.06 billion, representing a significant 62.25% year-over-year increase. However, the company faced a net income decline of 168.31% YoY, with a figure of -5.85 billion.
On the bright side, NIO's deliveries for Q4 2022 reached an impressive 40,052, surpassing the previous year's fourth quarter by 14,284 units. It's worth noting that NIO is expected to release its Q1 2023 earnings report on June 8, 2023, with an anticipated EPS of -2.90 and expected revenue of $11.61 billion.
The market for electric vehicles is overgrowing, which is why it will continuously face new competition. Currently, some of the major competitors of the automotive manufacturer include Tesla, Xpeng Motors, Li Auto, and traditional automakers like Volkswagen, BMW, etc. Despite the fierce competition, Nio has a stable position in the Chinese market. According to CEO William Bin Li, "NIO has established itself as the most competitive premium brand in the smart electric vehicle market in China," holding 75.8% market share in its category.
Additionally, investors should consider the risks and potential rewards of investing in NIO: market volatility, competition, rules and regulations, and the company's growth prospects.
Alternative Ways to Invest in Nio
If the traditional approach of buying shares of Nio through a reputable brokerage company doesn't seem to be your cup of tea, you can look for alternative ways that better fit your style. Investing in Nio through EV ETFs is a preferred diversification method, as it includes other companies from the industry but requires more monitoring of its performance. Alternatively, investing in stock options and futures of NIO involves trading financial instruments that derive their value from the underlying NIO stock. Lastly, you can partly invest in the company through fractional shares, an opportunity that eToro offers its users.
Conclusion
Investing in NIO stock presents an opportunity to be part of the revolution in the automotive industry and the growth of the electric vehicle market. However, it is vital to approach it with thorough research, due diligence, and a clear understanding of your goals and risk tolerance. Begin your investment journey today and stay informed to maximize the opportunities that Nio and the evolving EV industry present.
FAQs
What is the current price of the NIO stock?
On the 6th of June, 2023, NIO shares traded at $7.56 a piece. This presents an 87.97% drop compared to its all-time high. Many investors eagerly await the release of the company's earnings report on the 9th of June, 2023.
Does NIO plan to expand outside the Chinese Market?
In its European Launch event, the automotive EV behemoth shared plans to expand to markets outside China. NIO has set a target to establish 1,000 Power Swap Stations (PSS) outside of China by 2025, with most planned for Europe.
What are NIO's most innovative developments?
NIO's most innovative developments include their advanced battery-swapping technology known as NIO Power. Additionally, NIO's autonomous driving capabilities, such as their NIO Pilot system, showcase their cutting-edge approach to self-driving technology.
Risk Disclaimer
WeInvests is a financial portal-based research agency. We do our utmost best to offer reliable and unbiased information about crypto, finance, trading and stocks. However, we do not offer financial advice and users should always carry out their own research.
Read More