This content represents the writer's opinions and research and is not intended to be taken as financial advice. The information presented is general in nature and may not meet the specific needs of any individual or entity. It is not intended to be relied upon as a professional or financial decision-making tool.
Tron is a cryptocurrency and a project designed for the development of the decentralization of the internet. It started in 2017 and has since displayed remarkable tenacity in terms of price. It also offers a unique value proposition. In this article, we will investigate these factors alongside historical price performance to provide a glimpse of what the future of the token may have to offer.
Tron Historical Price Performance
Tron (TRX) was launched in September 2017 alongside the Tron Network. The network was established to help carry forward the decentralization of the internet. After a few months of little movement, TRX reached its first price peak of $0.2245 on January 6th of 2018.
This peak occurred during the cryptocurrency bull market of the time, which saw Bitcoin reach over $19,000. Following the rally, Tron prices fell back down to as low as $0.03016 in the early spring of 2018. Prices rose slowly and remained very stable for the next few months, with relatively little news coming out at the time.
When Tron launched Mainnet a few months later in May 2018, Tron saw its next rally, with its price briefly rising to $0.09276. The rally was followed by a far less severe dip, after which Tron's price performance has continued to remain strong.
Tron's price stability has since been bolstered by several strategic decisions. Starting with Tron's acquisition of BitTorrent, a decentralized services company with over 100 million users at the time, Tron's price saw a strong performance followed by a dip and a prolonged period of little growth.
Tron surpassed USDT on Ethereum in April 2021. Since then, Tron has possessed the largest circulating supply of stablecoins. In December of the same year, the Tron Network achieved full decentralization. It became a community-governed DAO.
Through 2021, Tron ranged between its top price of $0.1573 and a low of $0.05051. This price performance greatly exceeded previous years. It has continued through 2022 so far, during which the price recently only barely dipped below the low of the previous year.
The recent cryptocurrency bear market has so far had a much smaller effect on Tron than it has on the other top cryptocurrencies (by market cap).
Tron Price Prediction 2023
It is fair to say that 2021 was a very important year for Tron. It laid the foundations by which Tron has weathered the storms of 2022 relatively well.
Tron Founder Justin Sun just announced the building of his Web3 Legacy, set to be located in the Caribbean. Tron's background in stablecoins has so far seemed to keep its price sheltered.
Tron is now involved in many projects increasing global crypto adoption, including Singapore's oBike and others such as Bitmain, Samsung's Blockchain Keystore, and more.
There seem to be few reasons to be anything but bullish on Tron for the remainder of 2022. Tron may very well fall once again as low as even $0.045, as it briefly almost did mid-November. However, it's quite possible it could finish the year much closer to $0.065.
Tron Price Prediction 2024
Looking further into the future, we must consider Tron's placement as a direct challenge to the multimedia industry. The project's slogan "Decentralize the Web" implies removing, wherever possible, "middlemen" from the process of consuming media.
Predictions based on these potential developments must necessarily be far wider. A lot depends on the quality and reception of the programming made available.
Regardless, Tron's unique value proposition as a safe haven for content creators around the world and a lack of transaction fees are major benefits. Its leadership position in Web 3.0 development bakes in more real-world value. It began as an Ethereum-based ERC-20 token and its smart contract technology and fundamentals are solid. Tron's ability to support 2,000 transactions per section bolsters its liquidity even further, making the whole project conceptually valuable.
The question for 2024 is whether TRX can break through the $0.15 mark. Bearish analyses place the minimum as low as $0.1120. The maximum predictions are as high as $0.19, though it's unlikely that TRX would be priced so high for an extended period.
Tron Price Prediction 2025
By 2025, Tron's placement as the 3rd largest decentralized finance space (after Ethereum and Binance Smart Chain) may maintain sustained bullish sentiment.
In large part, for this reason, average trading price predictions for 2025 stand at $0.18. By December, technical analysis points to an average of $0.22.
We can comfortably point out other, more bearish predictions that point to an average price of just under $0.17 for 2025. The reasons cited are purely technical; market-driven and based on historical performances. With some effort, we have failed to discover more bearish estimates.
As with the future beyond 2025, Tron's fundamentals (read below) point towards slow but sustained growth through 2025 and beyond.
Long Term Forecast 2030
Unlike many cryptocurrencies that are performing well right now. The network was not launched as a meme (although it is not our intention to knock other cryptocurrencies, it's necessary to point this out). With Tron, we have quite the opposite case: Tron was launched thoughtfully, with a long-term vision in mind. Since then, it has been working actively to achieve and expand upon that vision (read "Fundamental Tron Price Analysis" for more detail).
The prediction for Tron for 2030 stands at a lowest average of $1.16 of and a highest average of $1.41.
You may find far more optimistic estimates based on predicted bullish sentiment pushing prices up through the decade. As always, it's difficult to confirm this, but based on historical patterns, we can more safely predict more moderate growth.
When compared to the current Tron price, the lowest estimates for 2030 represent an ROI of over 3,000%.
Fundamental Tron Price Analysis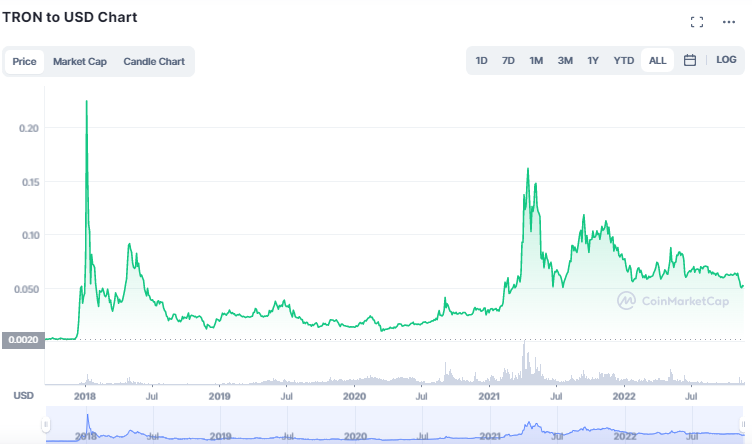 Tron's fundamental value lies in its facilitation of the decentralized sharing of content. Specifically, it's the elimination of middlemen and the complex processes they demand from entertainment media. To that end, one of the most significant shifts was the purchase of BitTorrent in 2018.
Tron's price performance has increased since then, but its market cap is worth mentioning. It is now the 15th coin on CoinMarketCap by market cap (USD).
Relative to other cryptocurrencies, including those which also began as ERC-20 tokens, Tron offers great liquidity and a unique and strong underlying value. For that reason, it's more accessible, and with such a bullish outlook, attracts new investors steadily over time. It's risen from 32nd to 15th by market cap in just over a year.
Tron uses the inherent features of the blockchain, P2P network technology, and smart contracts to decentralize media. Trading TRX for the sake of trading it does not incur transaction fees. Content creators on the network do not have to pay any fees either.
As the industry has progressed, Tron's value proposition has increased in value and relevance. The trends continue to support Tron's progression. Simplified distribution and sharing of files has been in demand before cryptocurrencies entered the mainstream consciousness. The additional feature of content creators launching their own tokens also rides upon the back of an existing trend.
Tron is, by design, an inflationary token with its issuance fixed and set to a schedule. The TRX ICO sold over 55 billion TRX, from a mix of private and public sales. Messari.io estimates an approximate annual issuance rate of 0.50%.
TRX is mined, with each block producing a reward of 32 TRX. The nodes receive 16 TRX. The Tron Network comes with a built-in fee-burning mechanism where fees are paid directly.
Tron Prediction Conclusion
Tron is a cryptocurrency project that started off well and has maintained strong price growth over time. Interestingly, its position has sheltered it from many of the worst collapses that many other cryptos experienced. Its fundamentals are strong and its role in both the cryptocurrency exchange and DeFi environments provides a stable framework for future growth.
Right now, it appears that Tron is set to maintain one of the better success stories in crypto. Its growth in the digital entertainment space has grown steadily. Its mining process, extremely similar to that of Bitcoin, has already proven its efficacy.
Given all these facts, we hope that the context of Tron's historical patterns and predictions for the future makes more sense to you.
FAQs
Will Tron Reach $10?
This is one of the most searched questions on Google regarding Tron. We must say that while it's possible it could happen soon (most likely very briefly), we don't have a strong reason to say that it will. However, should the Tron project continue to progress as it has, it could reach $10 at some point in the future.
Is it worth it to Invest in Tron?
As always, we cannot give you definitive advice or push you to make any decision. We also must recommend further research before you make any investment decision with Tron or any other asset. What we can tell you is that the current outlook for Tron is quite strong and that its fundamentals paint a promising picture regarding both its price and its broader mission.
What is Tron?
Tron is a cryptocurrency and decentralized autonomous network.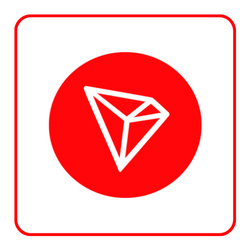 How to Buy Tron (TRX)
In this article, we examine Justin Sun's Tron. We also present stats to show Tron's current standing. In addition, we discuss it's tokenomics, trading price, storage wallets, how to buy Tron and more. Lastly, we try to make an informed prediction of Tron's future price.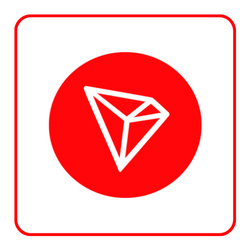 Staking Tron
One of the most effective ways to earn passive income from your crypto holdings is by
staking
TRON (TRX). Although Tron is one of the most popular cryptocurrencies for staking, it is important to understand how this process works. By staking Tron, an individual can increase their voting power on the blockchain.
Risk Disclaimer
WeInvests is a financial portal-based research agency. We do our utmost best to offer reliable and unbiased information about crypto, finance, trading and stocks. However, we do not offer financial advice and users should always carry out their own research.
Read More