This content represents the writer's opinions and research and is not intended to be taken as financial advice. The information presented is general in nature and may not meet the specific needs of any individual or entity. It is not intended to be relied upon as a professional or financial decision-making tool.
In the crypto space, TRX, or TRON as it's popularly known, needs no introduction. According to Coinmarketcap, Tron is the 14th largest crypto with a market cap of $4,825,148,233 and a trading volume of 6,050,394,283 TRX.
This is quite impressive for a crypto that was launched in 2017. Led by the founder and CEO, Justin Sun – a renowned blockchain entrepreneur – Tron runs on a public blockchain network with a considerable social presence across the West and East.
The Tron blockchain ecosystem is dedicated to building out Web3, the decentralized Internet. Its infrastructure supports the building of dApps, tokens issuance, smart contracts, and NFTs. Tron is powered by a proof-of-stake consensus mechanism.
This mechanism helps guarantee peak performance without sacrificing core crypto ideals like censorship resistance and decentralization. Tron is controlled by the Tron foundation and it also supports distributed computing through the BitTorrent protocol which was bought in 2018.
Tron Tokenomics
As it stands, the total supply of Tron is pegged at a sizeable 100 billion. Approximately 40 billion Tron was issued to ICO investors, while private sale investors got 15.75 billion. In addition, The Tron Foundation got 34 billion Tron, and Justin Sun's company, Peiwo Huanle, got 10 billion TRX.
Tron only takes 3 seconds to generate a block with block producers getting a reward of 32 TRX per block while nodes get 16 TRX. The TRON Network has an estimated $6.06 billion in total value locked in smart contracts. What makes this impressive is that Ethereum only surpasses it in TVL.
Initially, the Tron Foundation didn't have lock-up restrictions until January 01, 2020, when they locked up all their holdings upon the launch of mainnet.
TRX stands out in various ways, making it unique compared to other cryptocurrencies.
Here are some unique features:
Fast transaction speed: Tron is considered to be among the fastest blockchains in the industry. It has a transaction speed of 2,000 TPS with a transaction finality of less than three seconds. This makes it more user-friendly than Bitcoin and Ethereum Blockchains.
Distinctive Use Case: Tron is a highly versatile blockchain and is used for sending crypto, like swapping different tokens and DeFi functionality. However, the primary use case is decentralized content distribution and entertainment.
Comprehensive Development Roadmap: Tron offers an in-depth plan for the future when compared to other blockchains with a vague roadmap, and in some cases, they offer none. After successfully deploying its early development phases, Tron is currently working on becoming the industry's leading content-hosting and entertainment blockchain ecosystem.
Where to Buy Tron?
Buying Tron isn't too difficult, but for a newbie, there are several factors you have to consider. First, you must choose a crypto trading service or platform that offers crypto trading, especially Tron. After that, you can buy Tron from cryptocurrency exchanges, brokerages, payment services, and more.
For each crypto, CoinMarketCap offers an exhaustive list of options (which is sometimes called market pairs). Navigate to CoinMarketCap, search for TRON and tap the "Market" button (you can find this near the price chart).
This view lets you see a detailed list of platforms you can buy TRON from together with the available currencies you can use to purchase it.
Under "Pairs," you will see TRON's shorthand, "TRX," with a second currency. The currency pair is what you will use to buy TRON.
How to buy Tron on eToro
That being said, we know some people would still want our opinion on the best platform to buy Tron from. Not to worry, we've got you covered. We've conducted extensive tests on several platforms and had great results.
Each platform has a different ways of transacting crypto. Some platforms are pretty easy to use, and others not so much.
Here's how to go about it
Step 1: Open an Account
Navigate to eToro.com.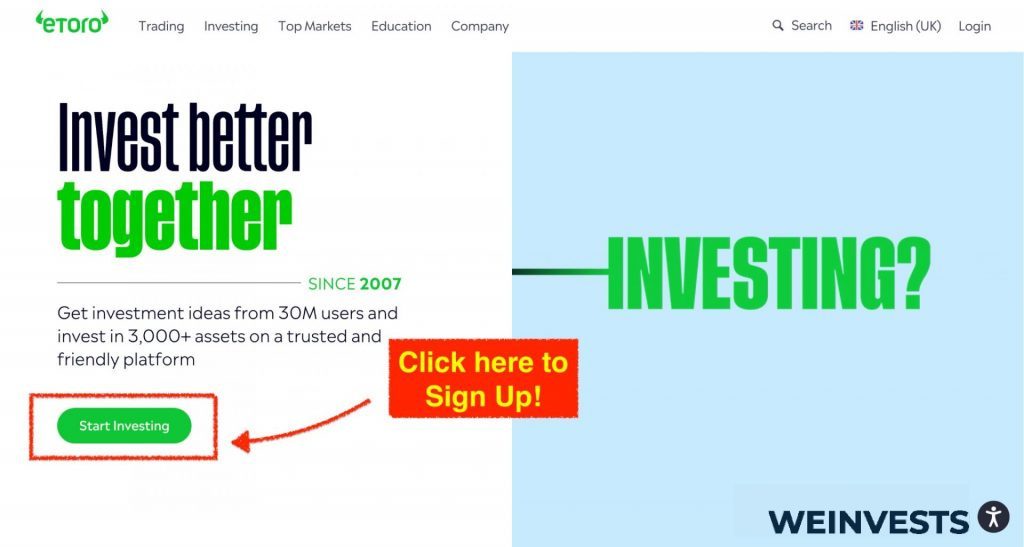 Step 2: Upload ID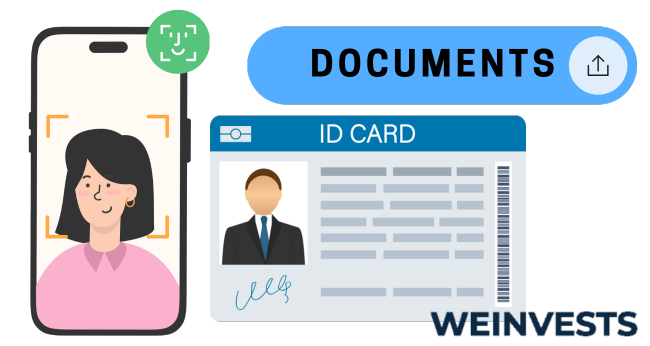 Step 3: Make a Deposit
Make a deposit by linking the account connected to your debit card and transfer the funds to the platform.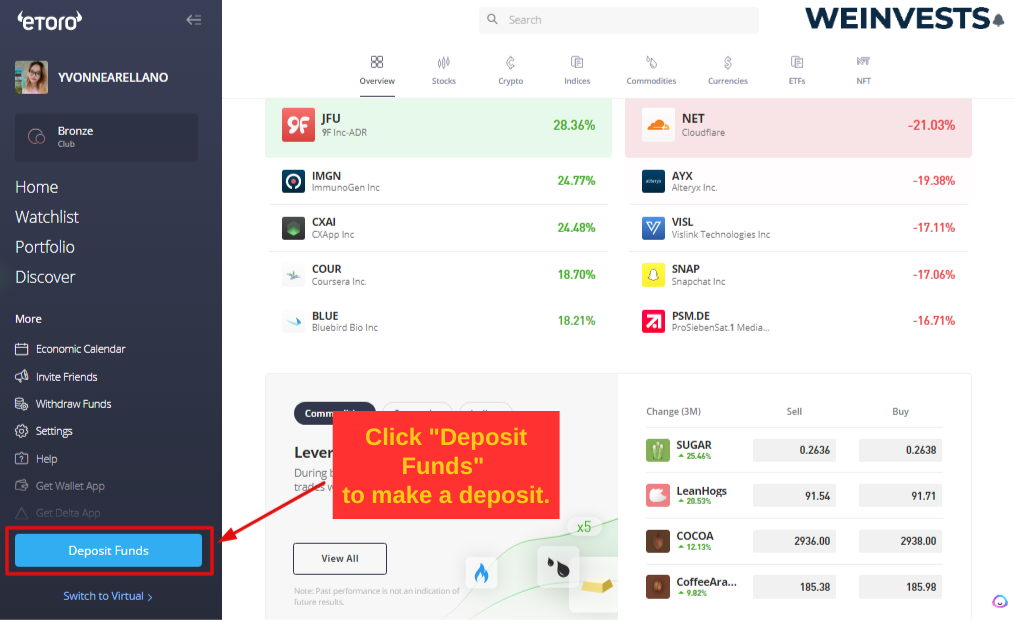 Step 4: Search for Tron
how to search for Tron on the eToro platform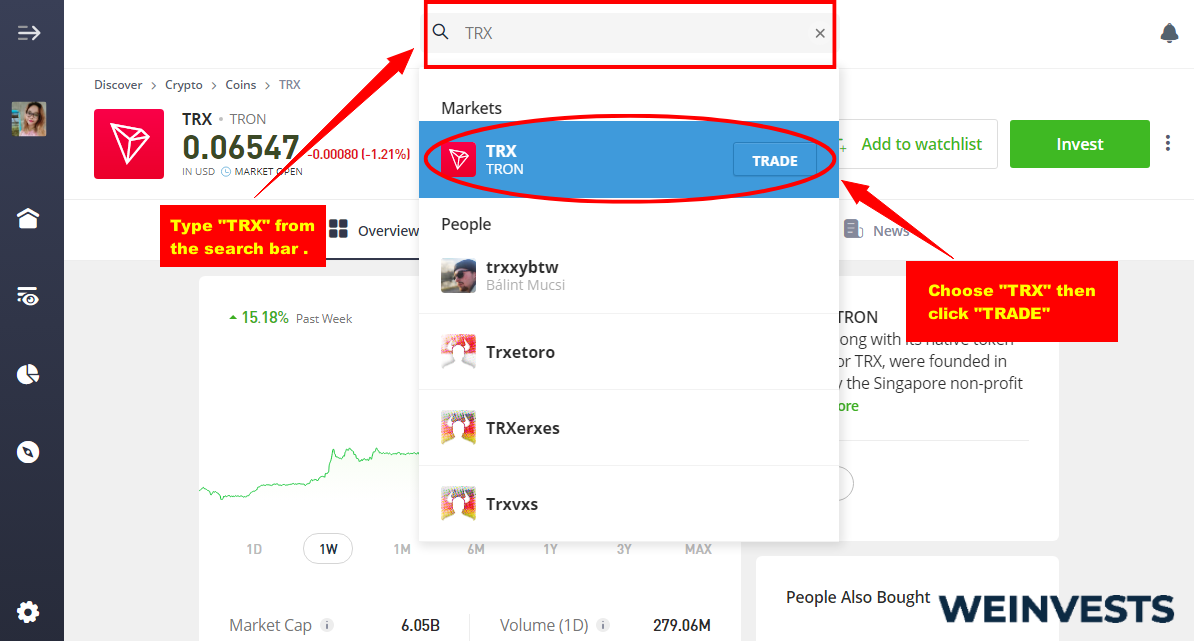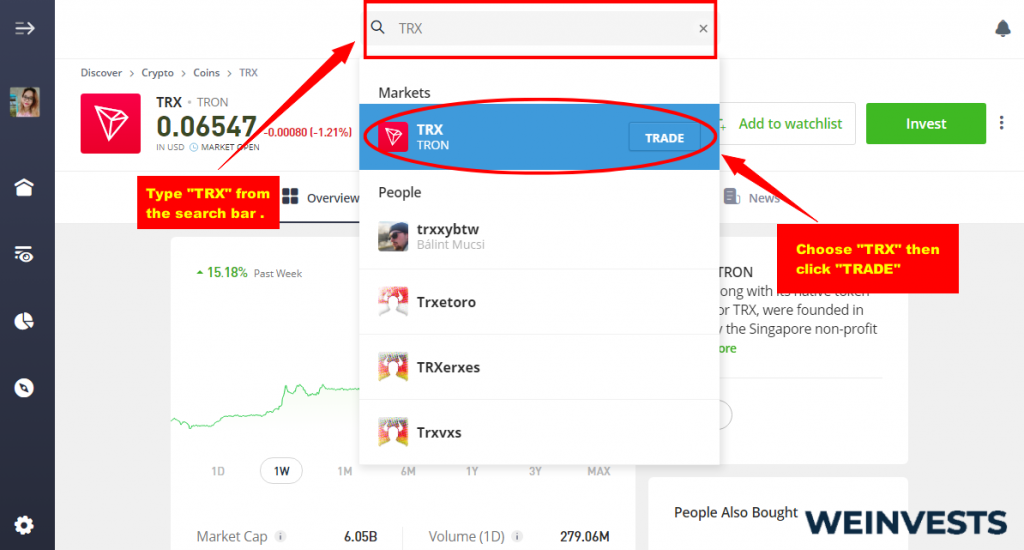 Step 5: Trade Tron
After your deposit is confirmed, you can use it to buy and sell TRX.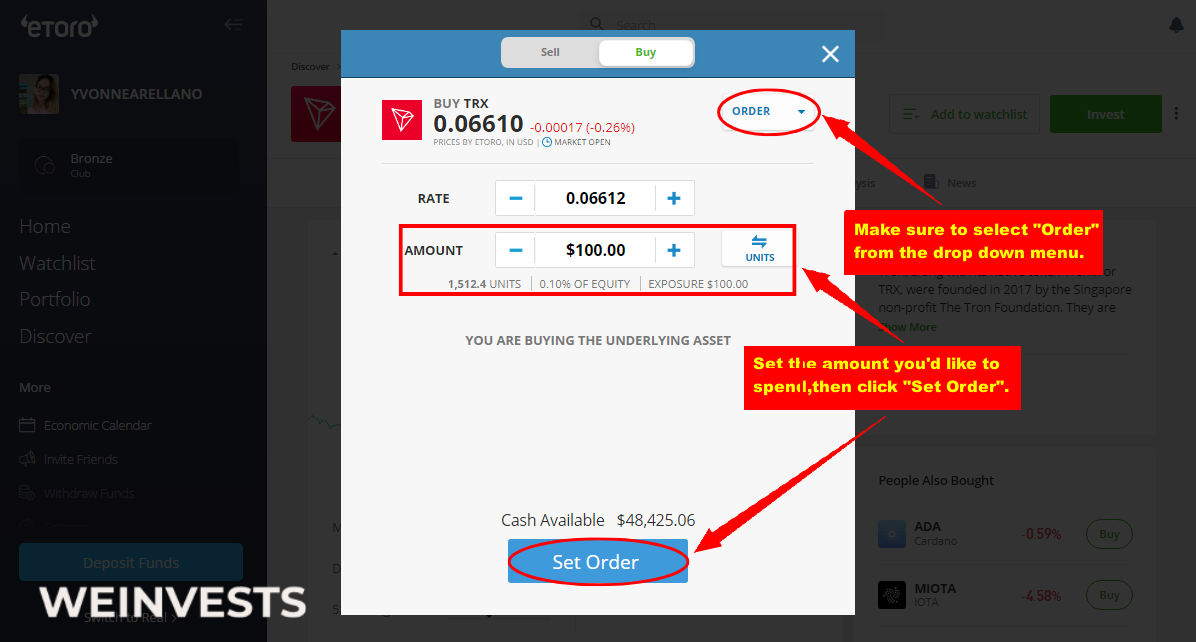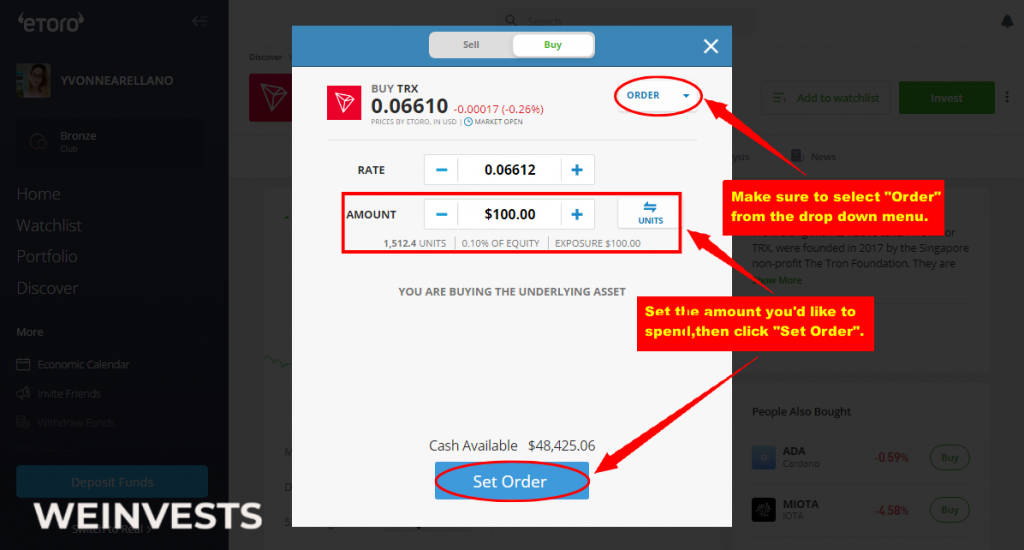 How to Buy Tron with PayPal?
At the time of compiling this article, there's no direct way to buy Tron with PayPal. Nevertheless, several platforms offer PayPal as a payment method.
However, we'll show you other ways to get TRX using Paypal. First, you have to get BTC or ETH, which you can exchange for Tron. After that, buying Tron via PayPal is as easy as using your credit or debit card.
After buying BTC or ETH with your PayPal balance, you can send it to the trading platform of your preference and then exchange it for TRX.
On the other hand, you can simply log in to your eToro account, then buy Tron with the PayPal option on the platform.
You can also withdraw TRX into eToro Wallet app if you don't want to leave it on the Trading platform.
How to buy Tron with Credit Card?
Before proceeding, ensure you've signed up and verified your eToro account for extra security. After doing this, you need to deposit funds from your credit card into your account. Here's how to go about it;
On the eToro platform, click on the blue button that says "Deposit Funds" on your screen's bottom left-hand corner.
Select the currency of your choice and the amount you wish to deposit.
Select Credit card as your payment method.
You'll need to enter details like your credit card number, its expiry date and the CVV code (these are the numbers at the back of the card), and the name on the credit card.
Ensure you input all these details correctly, and tap' Deposit' when you're done.
Your eToro account will be credited with the chosen funds in a few minutes. However, if your deposit isn't approved for a particular reason, you'll get an email notification.
Now that your account is funded, you can buy Tron, which would be sent to your wallet.
Safe Storage
One of the vital things you have to consider when owning crypto is the privacy and security of your asset. As you might have discovered, crypto does not have the same protection as fiat in a regular bank account or broker-made investments. Keep in mind that the safe storage of your crypto is your responsibility.
The truth is if you lose access to your crypto – in this case, Tron – there's every chance it's gone forever. To avoid this, you have to explore various options for safe storage for your assets, like hardware devices, apps, or even a piece of paper.
We'll show you some safe storage options you can explore to keep your TRON safe.
Custodial wallets: this storage option is usually the go-to option to store crypto. Here, a third party stores your Tron via cold (offline) or hot (online) storage. Sometimes is a combination of both; it all depends on the platform.
This option is quite convenient, and if you decide to stick to it, ensure the platform has high-security standards with a track record to prove it.
Cold wallets: This is usually an offline crypto wallet, and there are various types of cold crypto storage, including making your own paper wallet. However, most people often prefer a hardware wallet, which is the most common.
These are little devices connected to your PC and can be used to store your Tron. Ideally, they send and receive crypto via the Internet, but your funds are usually kept offline.
Hot wallets: this is an app that stores your crypto online. They are often available as mobile or desktop apps. There are also hot wallets that are web-based that you can explore.
Physical wallet: This can also be referred to as a paper wallet, but basically, it's just another kind of cold storage. It's a printout of private and public keys with a string of characters and a QR code you can scan.
You can make TRON transactions with these keys, and you can receive them too with a paper wallet by making use of the public keys.
Alternate Ways to Buy Tron
There are alternative ways to buy TRON apart from the regular credit/debit card, PayPal, or bank deposit methods. You can explore buying TRX via P2P (Peer to Peer) and other third-party payment channels.
To buy Tron via P2P, you have to choose your preferred crypto exchange, and in this case, we're using Binance.
Select the crypto you'd like to buy – which is TRON.
Select the amount of TRON you'd like to buy and choose your preferred payment method.
You'll be given different ads from verified sellers on the platform.
Choose the ad with the rate you think is best.
Transfer the funds to the seller, and the crypto will be added to escrow immediately.
Once the seller confirms the transfer, your TRON will immediately be released to your wallet.
Tron ATMs
As you've seen above, there are other methods with which you can buy crypto, but due to the amount of risk involved, we do not recommend them. But for education purposes, we'll list them here; one of them is a crypto ATM.
The same way you can withdraw cash via your traditional ATM, you can also buy, and withdraw crypto via a physical crypto ATM. According to Statista, there are thousands of crypto ATMs in 84 countries worldwide.
However, you have to carry out your due diligence to know if this method of buying crypto is allowed in your country as it's illegal to use them in some regions.
P2P exchanges
For those that don't want to purchase Tron via the regular channels and would prefer to explore other avenues, using P2P just as we stated earlier is another great option.
On this digital asset platform, users exchange crypto with each other privately without using an intermediary like a bank.
On the P2P crypto exchanges, verified users are allowed to carry out asset trading without difficulty. They don't use an order book to buy, sell neither does the platform control their assets.
Mainstream Brokerages
Traditional or mainstream brokers have an edge as they offer a vast array of investible securities. Typically, you are not allowed to trade digital assets on these platforms directly, you can only futures.
Opening an account with these mainstream brokers allows you to buy crypto with ease.
How to invest in Tron?
Traditionally, one of the best ways to invest in TRON is the age-old HODL method while you accumulate the asset via dollar cost averaging. With time, the value of your assets will rise, and your portfolio will become valuable.
There are other ways to invest in this asset like:
Crypto ETP: This exchange-traded product (also called ETP) is used to track the price of a digital currency (TRON). These ETPs are often physically backed (100 percent) by holding the digital asset in custody provided by the exchange itself.
Crypto ETF: just like stocks, Exchange Traded Funds are a type of security for tracking assets like TRX and can be traded on a crypto exchange.
Futures trading: Crypto futures trading mimics futures trading in traditional markets. It uses futures contracts, and legal agreements to trade TRON in the future at a determined price.
Tron Price Prediction
The crypto market has been in a lot of turmoil of late. Apart from the rising inflation worldwide that has negatively affected markets, investor confidence in the crypto market is at an all-time low. In that regard, we're still bearish about the price of TRON as we are not out of the woods yet.
Conclusion
We consider hodling TRON in the long run as a profitable asset, thanks to the ecosystem, utility and community that backs the project. Looking at the project's roadmap, we can say that the future looks bright for this asset, and we believe the project has more to offer down the line, but like always, you would have to come to this conclusion yourself. Most importantly, the bear market is the best time to improve one's portfolio by stacking as much as possible. However, don't forget to do your due diligence.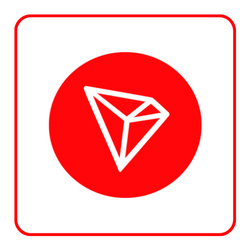 Tron (TRX) Price Prediction 2023, 2024, 2025 – 2030
Tron price analysis and predictions for 2023, 2024, 2025, and 2030 and beyond. Starting with a brief overview then moving onto the historical price performance with a simplified explanation of the major causes of price movements. Finishing with the consistent price fundamentals for a deeper understanding of what investors should look for when considering the changing environment over time. Lastly, some frequently asked questions based on what people tend to ask Google more often.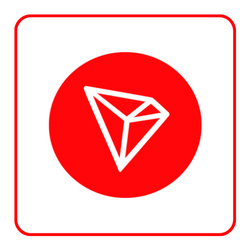 Staking Tron
One of the most effective ways to earn passive income from your crypto holdings is by
staking
TRON (TRX). Although Tron is one of the most popular cryptocurrencies for staking, it is important to understand how this process works. By staking Tron, an individual can increase their voting power on the blockchain.
Risk Disclaimer
WeInvests is a financial portal-based research agency. We do our utmost best to offer reliable and unbiased information about crypto, finance, trading and stocks. However, we do not offer financial advice and users should always carry out their own research.
Read More