This content represents the writer's opinions and research and is not intended to be taken as financial advice. The information presented is general in nature and may not meet the specific needs of any individual or entity. It is not intended to be relied upon as a professional or financial decision-making tool.
Theta coin is not one of your usual coins; it derives its value from being used as an incentive for the economy of a decentralized video sharing platform.
Theta network has had a busy 2020 recording partnership with various enterprise validators like Google, Binance.
Together with the subsequent launches of Theta 2.0 and 3.0 finally paying off. Theta coin got some action going in 2021 but stalled in 2022.
The rate of video streaming in the world is skyrocketing every day, increasing resolution, more bandwidth demands; people need more effective ways of streaming videos.
Theta makes it possible to share your extra bandwidth and streaming resources with other users and earn the native Theta as a result.
Read on to find out if Theta is worth your time.
In this article, you'd be learning:
Theta news fundamental analysis
Theta price forecast ( 2023, 2024, and 2025)
Theta charts
Read on to learn more about when to invest and how much will be your ideal Theta investment.
Theta Overview
Theta 2023 and Beyond
Now we ask, what next will Theta do? We can only assess that by leveraging how it has behaved so far.
The development of various initiatives and upgrades in 2023 will have a positive impact on THETA's price. This could push it to its maximum target of around $2.662. However, a potential market crash could cause it to drop to $1.479, which is its lowest level. Taking into account its bullish and bearish targets, the average price could be at around $2.250.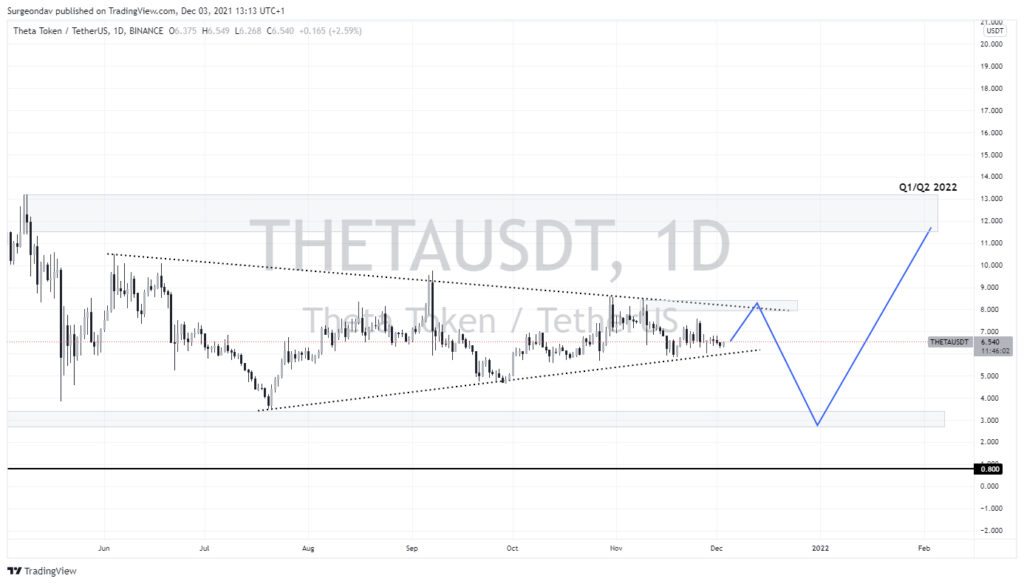 The team behind the Theta project is expected to collaborate and adopt crucial initiatives in order to maintain its momentum. This could lead to its emergence as a promising new asset. On the other hand, the price of Theta could go up to around $4.388 by 2024 due to the increasing number of investors.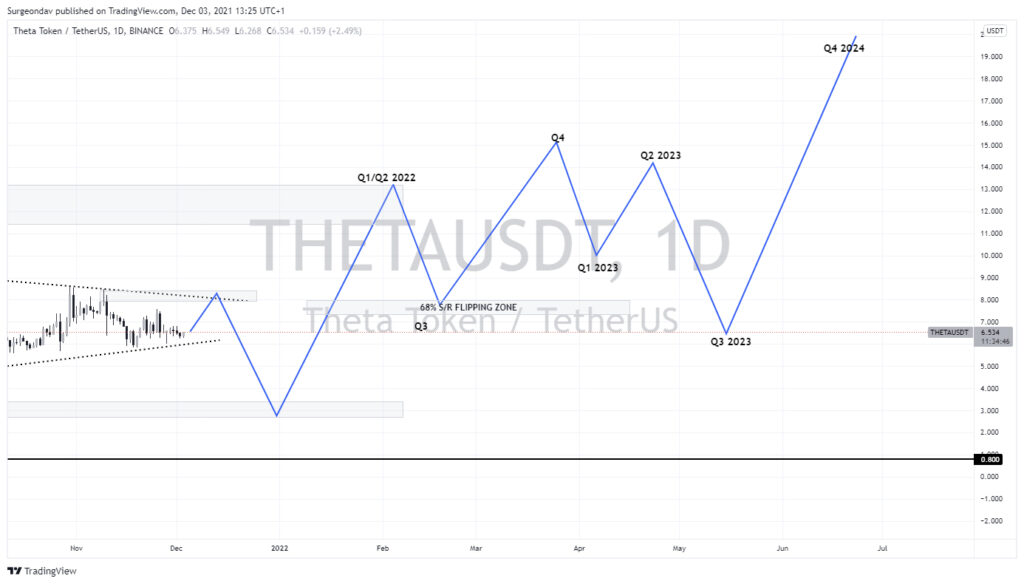 The lack of events could cause THETA to go through liquidations. As a result, its support at $2.341 could be insufficient to sustain its operations.
If the team behind the project launches new partnerships and collaborations with prominent organizations, the price of THETA could significantly increase in the next three years.
If the project continues to improve its operations and continuously update its features, then the price of Theta could go up to around $5.865.
The private and centralized nature of the ICO of the Theta network is negatively affecting its operations. If it does not improve its structure and adopt a more efficient exchange mechanism, it could lose significant potential.
Conclusively, Theta's network diversifies in two tokens and also NFT.
In its recently launched Theta 3.0 network, in addition, its tokens uniquely and cleverly designed tokenomics makes Theta very liable to explode in the nearest future upon broader adoption of the network, taking into account the increasing need for a more effective video streaming alternative.
Technical Analysis
The technical analysis of THETA is quite interesting. For the past two years, THETA price movement has been purely technical-driven.
Experts are bursting their necks and technical tools, trying to predict a Theta stable pattern in years ahead.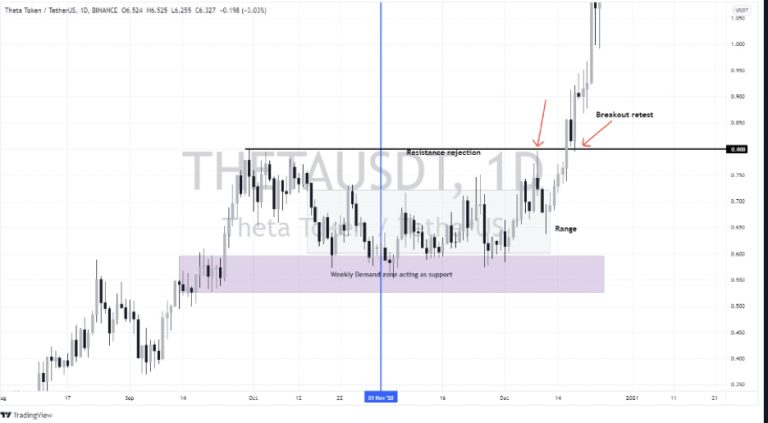 Taking our analysis coordinates from November 1, 2020, the price made a significant low at the recently formed support initiated by the weekly demand zone.
The demand zone pushed the price up to the 0.8 price level, after which it got rejected, and ended up forming a resistance zone which the price would later accumulate strength to break out of in the coming days.
Right from mid-October, the price, after encountering resistance, started to create a range that got broken with an engulfing candle on December 8 to retest the already made resistance.
It got rejected again to retest into the range zone where it gathered demand strength to push higher and got the resistance zone broken with engulfing candles indicating the bulls have vigorously taken charge of the market orders. Theta's price had a 30+% increase from the support zone to the resistance zone before breaking out.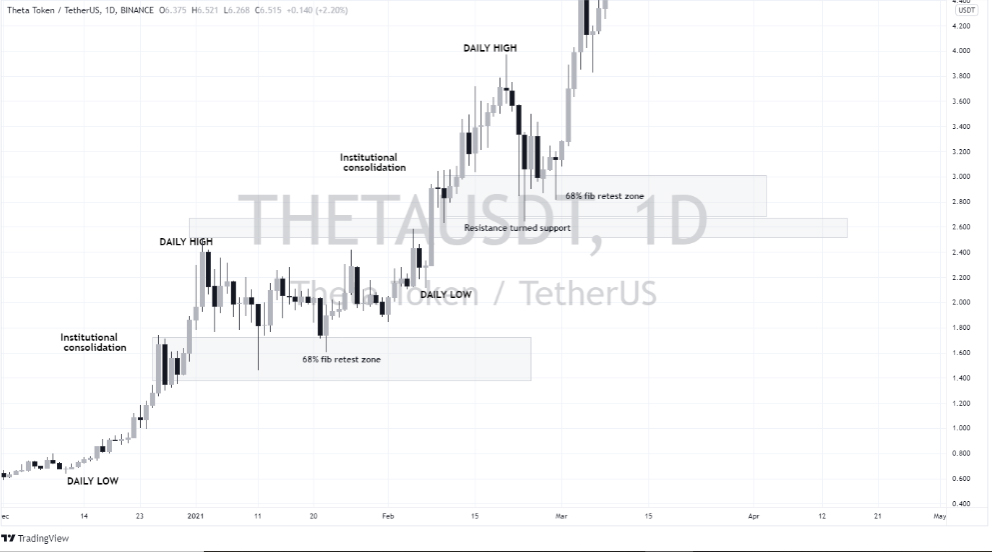 Q1 2021
Since the December 8 breakout, the price has maintained a bullish structure of higher highs and lows. The bullish price had an algorithmic movement considering how its bearish retest ended at the 68% fib zone at two different instances. And the zones had similar price history in that there was an institutional consolidation at the zone price to resume to the buy-side.
Theta proves its movement is algorithmic-driven, just like many other financial instruments. Past the first break of the daily high creating a higher high, the price retested to the downside and had a confluence with S/R flipping, that is a scenario where a past resistance acts as a support or vice-versa. But in this case, the resistance acted as support and held to push the price upward.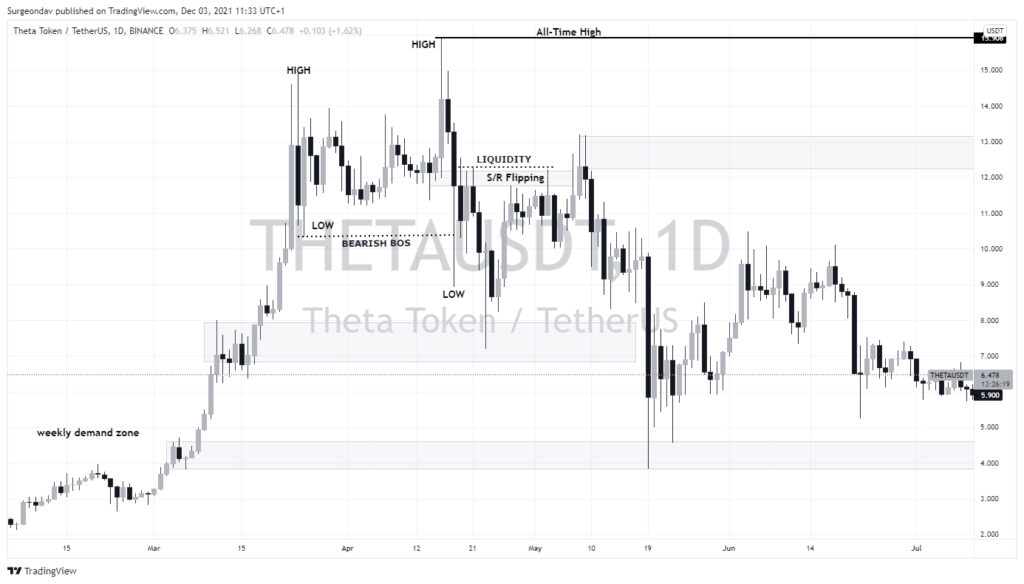 Price continued its rally; without question, the bulls were still very much in action; they gave no significant recognition to the bears.
In March, the bears managed to put the bulls to a short nap.
Hence, the weekly demand zone gave buyers more strength to progress in their journey to the upside.
They had another stopover until March's second week but couldn't last long to reverse the price movement to the downside.
Upon surviving the short consolidation, the price managed to pull higher, realizing about a 90% increase, taking the ATH from $8 to $15 for Q1. This debut was a record-breaker for holders of THETA considering its unprecedented move since the beginning of Q1, in that price was still playing around $1-2 in January. But in just three months, it realized about a 900% increase catapulting its price from $2 to $15.
Q2 2021
Price started at Q2 with a range pattern, sort of an accumulation indicating preparation for a buying movement, which certainly played out after mitigating Q1 ATH, pushing price further to around $15.9 recorded as the latest ATH.
Upon hitting this ATH, price experienced a bearish wick rejection. It sponsored the momentous downward movement of the price that broke the last low structure to make a lower low at the price value of $9 confluence with one of the past demand zones indicating that the overall daily market structure is now bearish.
The volume indicator showed a bearish strength, and the RSI was above 68; that is an overbought zone indicating an upcoming bears season.
After the daily BOS, the price managed to long but got rejected at the usual 68% fib zone level, also confluence with S/R flipping, but in this case, it was a support that turned resistance.
Price rejection created liquidity which got mitigated by a short upward price to $13 on May 10 2022, with a mitigating order block that hopefully might react to price movement in the future.
The market maintained its newly achieved bearish structure, making lower highs and lower lows to another formerly created demand zone of $3.5-$4. The demand zone held and was able to push the price back to the upside.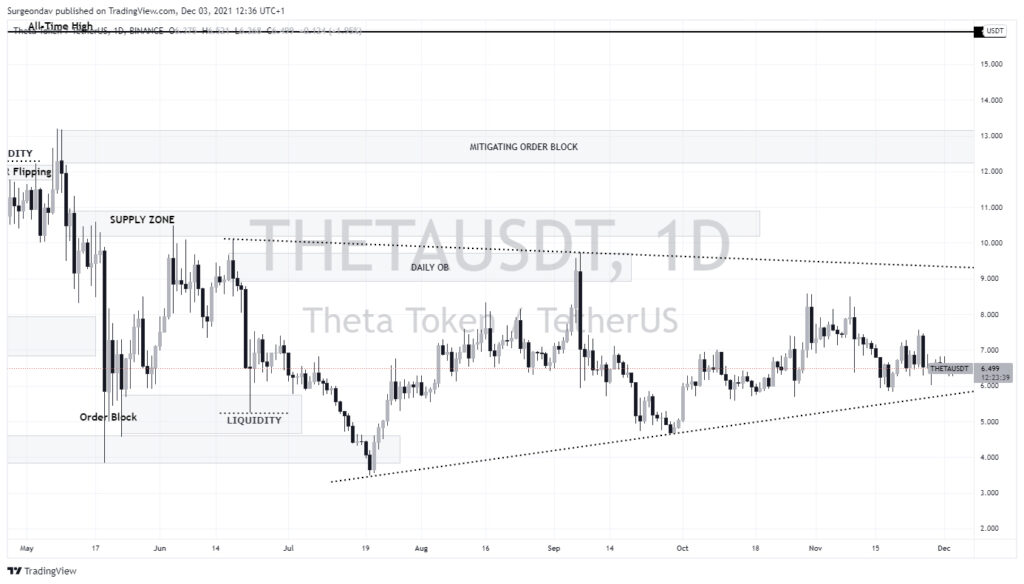 Q3 2021
The demand zone left a B2S candle or an order block candle later be tested. Price bought back to the already created supply zone on June 4, which resisted the price a little, got retested again, yet couldn't be broken, leaving a daily OB behind. This supply zone has since been controlling the current price state.
Price sold to the May 23 order block pushed the cost to the upside a little, forming liquidity that was later mitigated to the demand zone below not later than it was created.
Q4 2021
The demand zone was able to sponsor the buy to the last daily order block on September 1, the start of the last quarter of the year. And since then, the price has been ranging with no significant daily market structure.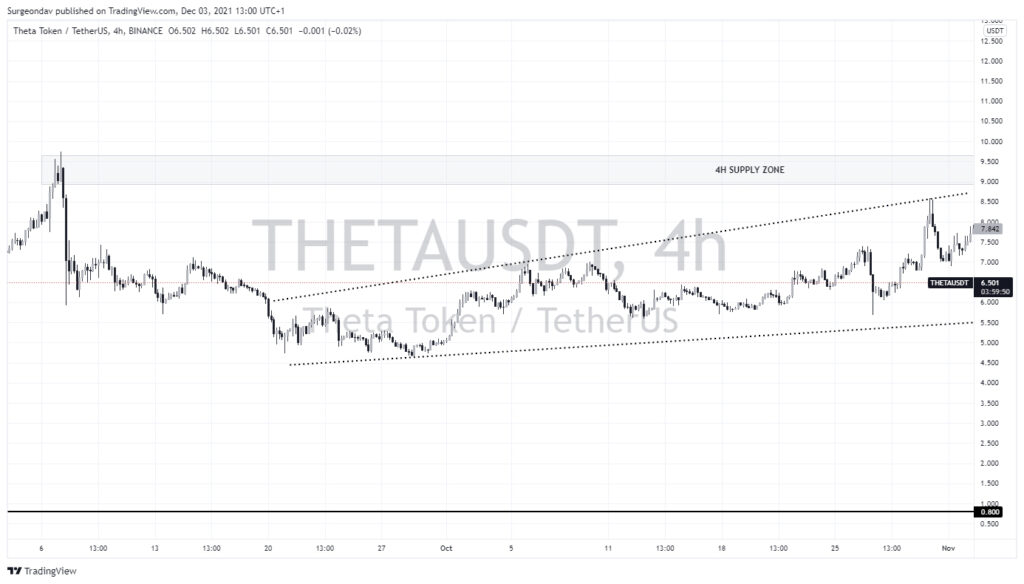 Theta price history
February 7 to February 22
Theta fell slightly in a bearish trend from January to $0.13 between Feb 7th and 22nd.
February 22 to March 24
The $0.13 support was held, and by 8 pm of February 22, Theta appreciated the trade at the price it started in January 2018.
Theta kept this bullish trend until March 24 2018.
March 24 to April 8
By March 24th the Theta price dipped by about 20% to trade at barely 0.1 dollars.
April 9 to May 8
Theta appreciated once again and hit its 2018 year-highest price of $0.21 within that period.
May 9 to July 23
Theta enjoyed moderate growth and bearish trends, one consolidation after the next, but nonmoving the market upward or downward for long.
September to December
Even Theta wasn't immune to 2018's Q4 massive cryptocurrency dump. Theta's price fell below $0.05 at some point in December 2018.
2019
Q1
Theta had a bullish consolidation in 2019 first quarter, which saw its price rise over 60% in the first three months.
Q2
There was a struggle between the bears and bulls in 2019 second quarter with no statistically significant market changes.
Q3
There was a short bullish trend in the early Q3 followed by two short bearish market movements seeing Theta price hit two $0.11 supports between August and September.
Q4
After a slight pause at $0.13, Theta price dipped to a new quarter low of $0.08, with which it ended 2019.
2020
Theta made major improvements to its network, Partnered with Google, Samsung, Binance, Sony, and launched its official Mainnet Theta 2.0.
These are attributed to the Theta token's immense bullishness seen in most of 2020.
What is Theta?
Theta is a smart-contract supportive network that improves streaming experience and CDN by using decentralized blockchain-enabled streaming technology.
People can earn the Theta native token by sharing extra bandwidth and streaming resources.
The Theta network has two primary tokens:
Theta and T-fuel (we're focusing on Theta token)
Theta: Use cases; Securing the network, Governance, and Staking. 1 billion total supply.
T-Fuel: Use cases; Segment transaction and smart contract (used as gas).
Theta coin:
Tokenomics:
One billion total supply; about 900 million circulation supply.
Use cases:
Securing the network
Governance
Staking
incentivize users to subscribe to the network.
Theta Features
Consists of a network of local nodes which cache video and relay broadcast.
Staking threshold is set at 1,000 Theta tokens.
Over 3000 Theta holders stake more than 50% of the total token supply to support the network.
PBFT consensus mechanism; validators and guardian nodes.
Transaction time = 3 seconds
Performs 3,000 transactions per second (considerable faster than Bitcoin and Ethereum)
Supports Smart contracts to enable content creators to create specialized pay-as-you-go subscription methods.
Cuts bandwidth expenses by over 80%
Partners with major brands like Google, Coindesk, Samsung, which serves as enterprise validators.
Theta Smart Contract will be interoperable with ETH smart contract is interoperable with Ethereum Smart Contract.
The protocol involves the ability of viewers to earn tokens from engaging, gift tokens to their favourite content creator and much more.
The protocol is built using various concepts:
Multi-BFT Consensus: Allow nodes to participate in the process and offers high TPS throughput (Validators and Guidance for multi-layer of security):
Aggregated Signature Gossip Scheme: Reduce messaging and communication complexity within the network. Guardian.
Resource-Oriented Micropayment Pool: Improve scalability
Validators: Quickly put the blocks together (10 to 20)
Guardian: Completes the blocks: (can be thousands)
Delivery network
Tracker server: Records the location of every node that joins the network to connect users to the best possible node. (All aware of all active nodes)
Intelligent player client: Using information gathered from the tracker server
Provide high-level guidance and filtering algorithm
How to Buy Theta on eToro
Streaming services like Twitch and YouTube have become extremely popular over the last couple of years, so it is no surprise that people purchase cryptocurrencies that look to address any problems with these services. Theta is one of the coins people can buy from eToro, so their streaming service runs smoothly.
Theta is becoming so well-respected that big companies like Sony, Samsung, and Google use the validators. If purchasing a Theta coin is what you want to do, the following information will be helpful. Many people use eToro, so the following information will show you how to create an account, so you can start buying.
Step 1: Open an Account
Like with any platform, the first thing that needs to be completed is creating an account. You can go onto the etoro website.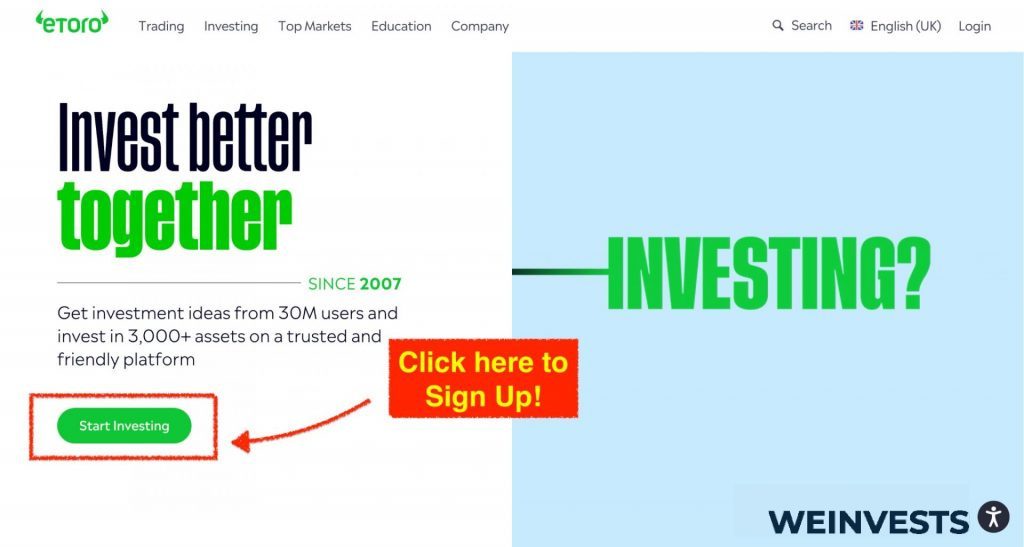 It will require you to fill in only the basic information, which only takes a couple of minutes.
You should check out eToro's terms, conditions, and policies before proceeding to the next step. Additionally, rereading your information to make sure it doesn't have any errors is also a good idea.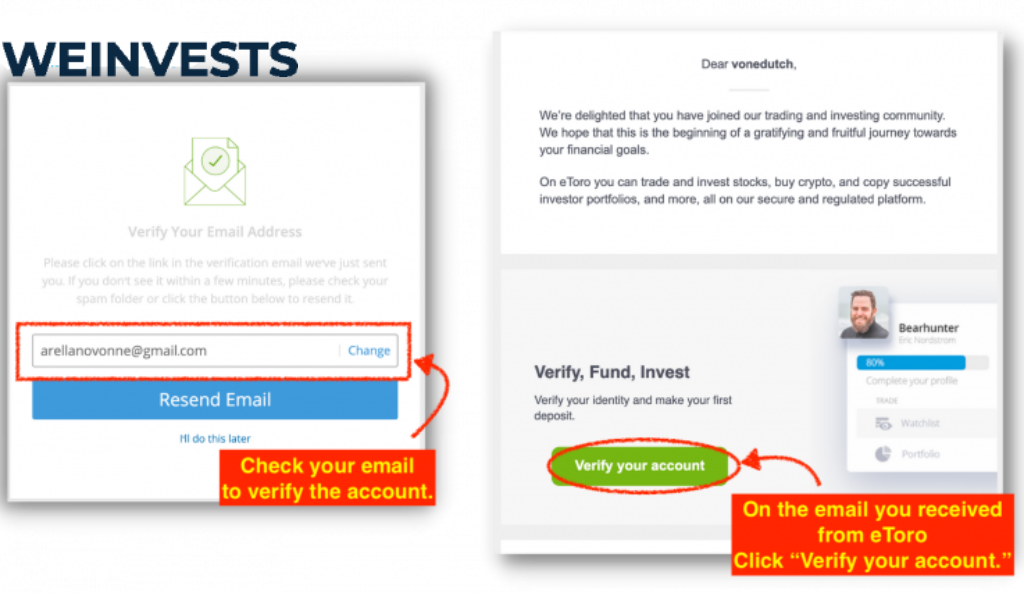 Step 2: Upload ID
Since there are so many scam platforms out there, you need to guarantee that the one you're trusting is safe. Otherwise, there is no way to make sure that your assets are secure.
In this case, eToro wants to ensure the safety of the users' cryptos and money. Therefore, everyone needs to go through a verification process, and if you don't complete it, you're not able to access the features that the platform offers.
Verifying your identity is not very challenging. You have to upload an ID picture and prove your residence by adding a photo of any utility bill that's less than three months old.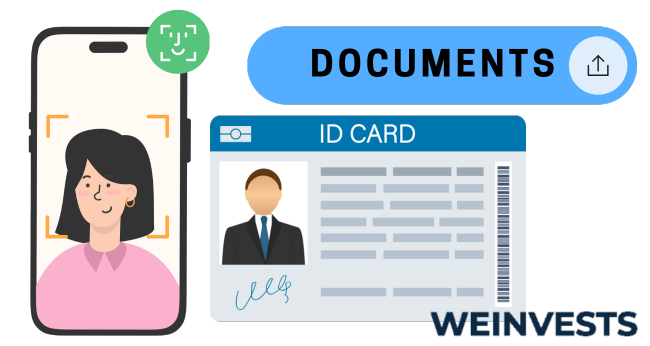 Step 3: Make a Deposit
Once the ID has been confirmed and verified by the platform, they can put a deposit in to start trading. Users will need to go to their account and click on the 'Deposit Funds' button.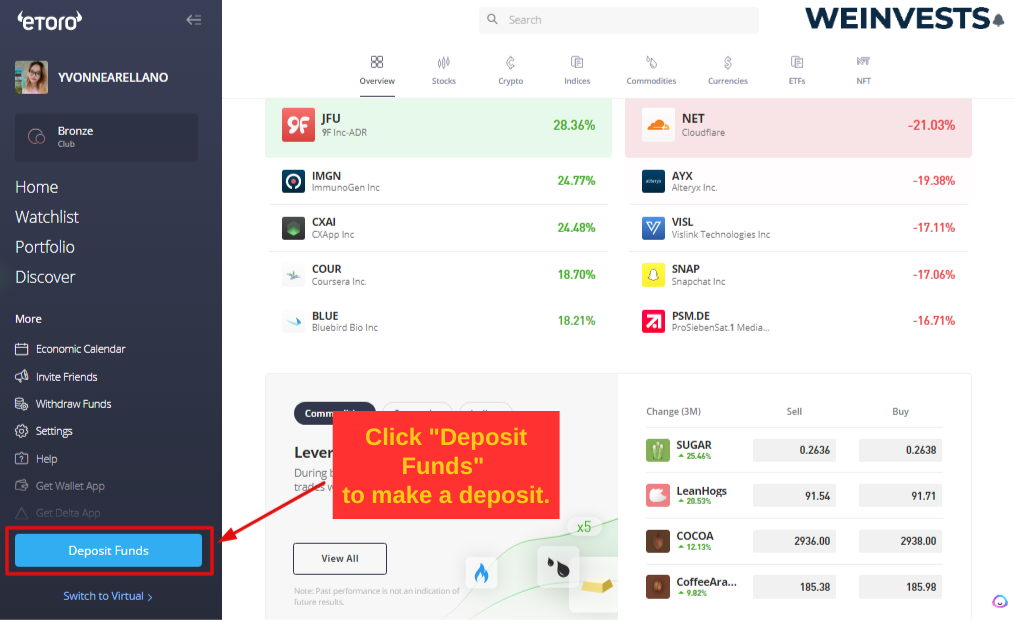 Then, they will need to decide what payment method they want to use to deposit their money. Remember, you need to pick your currency, so eToro converts everything correctly.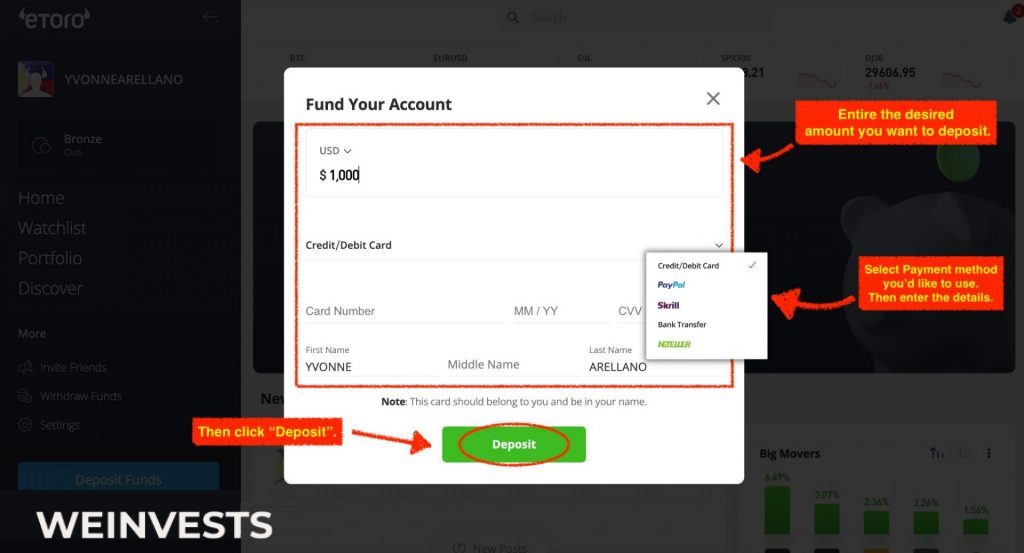 There are many payment methods available that people will be able to use to make their deposits. Some of the options available are PayPal, Skrill, eToro Money, and Neteller. There are other payment methods available, but users will need to look at their accounts.
Step 4: Search for Theta
The next step is to find Theta so that the user can buy it. This can be done either one of two ways – searching or by a filter. Searching means that the user can search for the coin itself, which may be the easiest thing to do, but the filter option provides the most detail to the user.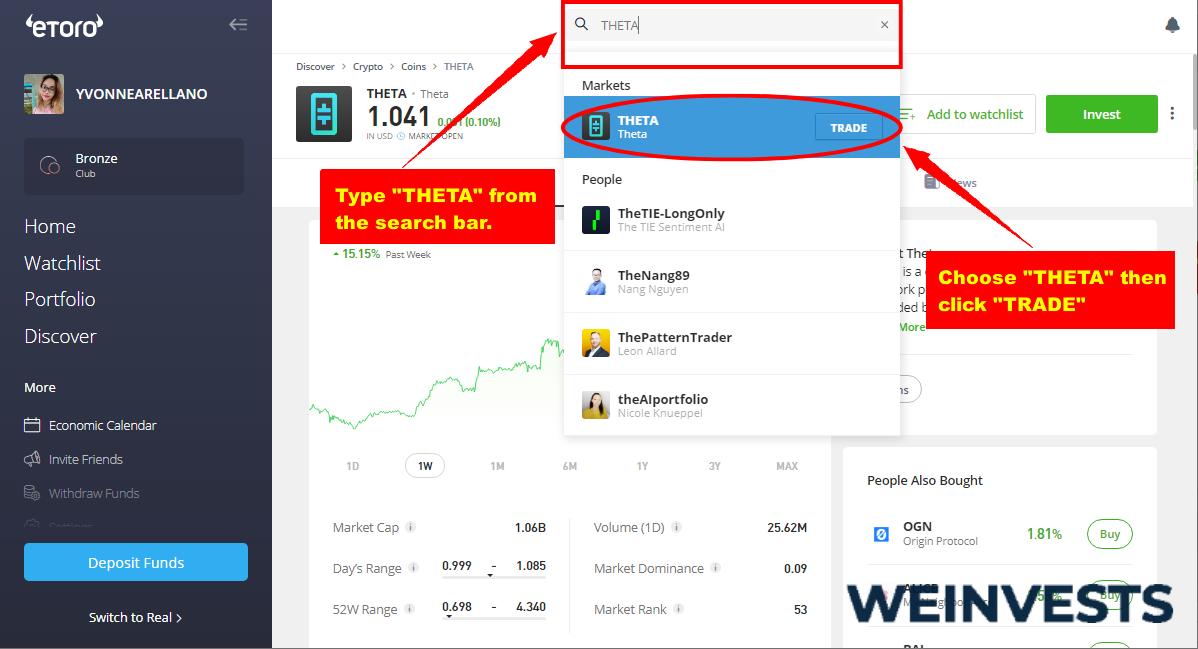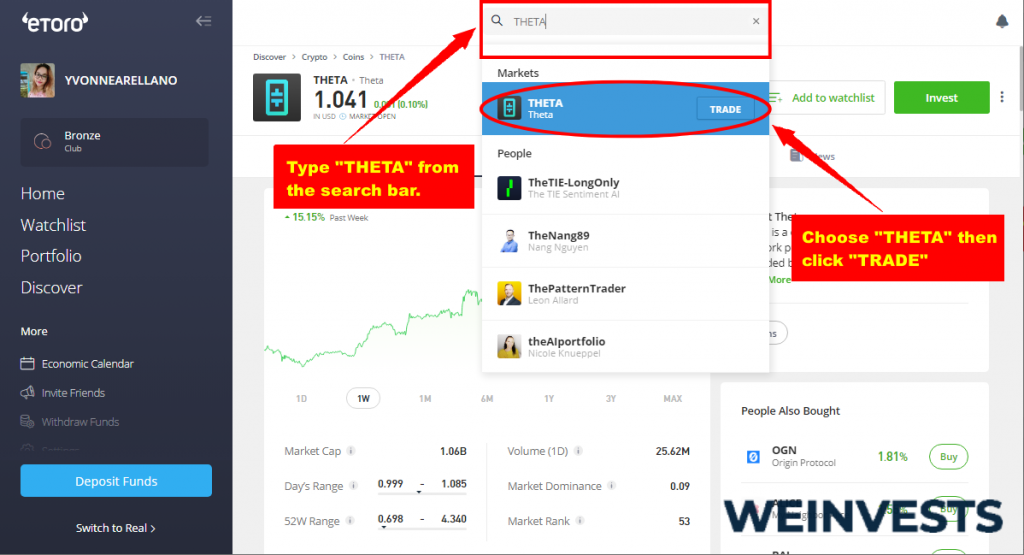 People use the filter option because they can see how Theta is doing amongst the other coins. Two numbers will appear beside each currency, showing how it is doing in the market. These live updates are helpful for those who know how they work.
Step 5: Trade Theta
Once the Theta coin has been found, it is time to purchase it. Users can click on the cryptocurrency and have the option of buying a whole coin or part of a coin. This all depends on the person and their needs at that moment.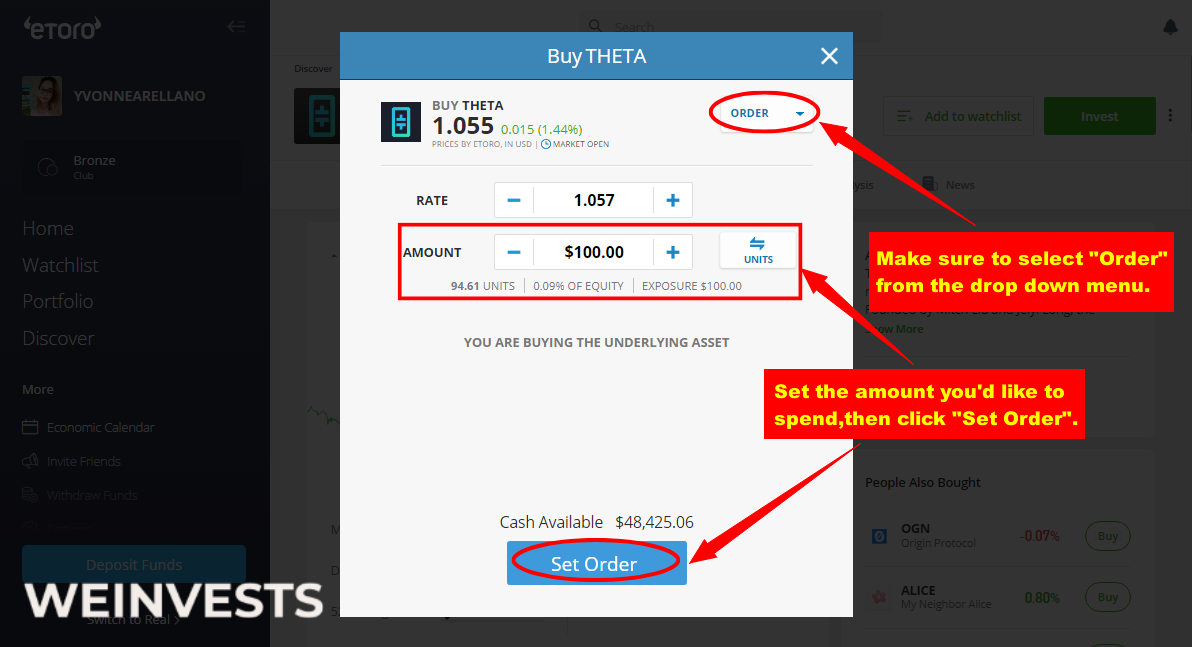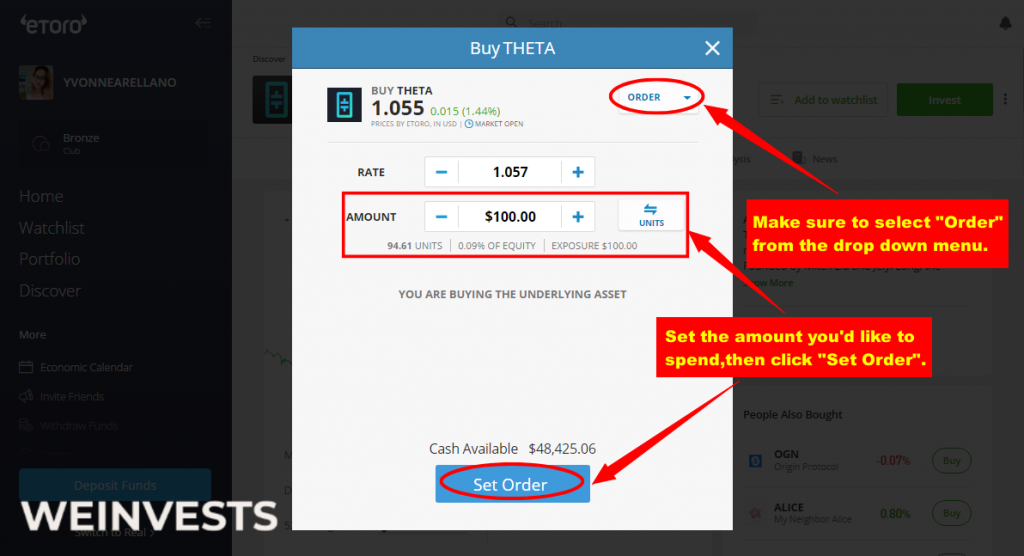 FAQs
Can I transact on Theta without the Theta token?
Theoretically, Yes, you can.
You can perform some transactions on the Theta Mainnet without having Theta in your exodus wallet as T-fuel is Theta's network gas, not Theta token.
Can swap Theta on an Ethereum exchange?
Yes.
Theta token is supported by both the Theta Mainnet and Ethereum's Network. You can swap, stake and farm Theta tokens on any Ethereum-based DEX or CEX.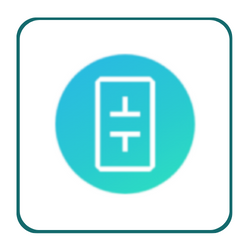 How to Buy Theta (THETA)
Theta's existence aims to address various issues with streaming services, such as Twitch and YouTube. The idea is…
Risk Disclaimer
WeInvests is a financial portal-based research agency. We do our utmost best to offer reliable and unbiased information about crypto, finance, trading and stocks. However, we do not offer financial advice and users should always carry out their own research.
Read More