This content represents the writer's opinions and research and is not intended to be taken as financial advice. The information presented is general in nature and may not meet the specific needs of any individual or entity. It is not intended to be relied upon as a professional or financial decision-making tool.
In this article, we review Fantom, a new token created to rival the Ethereum network. We review its tokenomics, where to buy the token, the exchanges that offer investment opportunities, how to buy and we also give a price prediction.
The Fantom project was specifically created to resolve the blockchain difficulties experienced by users and developers on the Ethereum network. Many users were priced out of using Ethereum due to the hefty gas fees on the network.
To address this, the Fantom foundation was launched in 2018 to correct these problems and directly compete with Ethereum. It aims to achieve this through its innovative architecture, the Lachesis Protocol, which offers faster, low-cost transactions and greater scalability than Ethereum.
After some delays, the network went live in December 2019. Since then, it has gained many users and has become one of the leading blockchain platforms for DeFi transactions. That is the history of Fantom in a nutshell.
Fantom Tokenomics
Fantom is a secure, scalable, and customizable smart contract platform that provides decentralized financial (DeFi) services. It is an open-source layer-1 blockchain designed to serve as an alternative for the low speeds and high costs most Ethereum users complain about.
It uses an asynchronous Byzantine Fault Tolerant (aBFT) and Proof-of-Stake (PoS) consensus mechanism known as Lachesis. The Lachesis Protocol is compatible with the Ethereum Virtual Machine (EVM) – the computation engine that manages smart contracts and other operations on the Ethereum blockchain.
The Lachesis architecture is Fantom's version of Ethereum's EVM. The technology uses the Directed Acyclic Graph (DAG) software to combat one basic limitation – the slow transaction speeds troubling older PoS blockchain networks running smart contracts.
The Fantom mainnet is called the Opera, and it can conduct more complicated operations faster than the EVM. The Opera is the home of Fantom's blockchain DeFi network and it is fully supported by the Ethereum Virtual Machine.
This compatibility enables developers to efficiently build, deploy, and run solidity smart contracts on the Fantom blockchain – similar to how they would on the Ethereum blockchain. Fantom's interoperability and integration with Ethereum allow programmers to move apps easily between the two networks with little changes to the core technology.
FTM is the principal currency used for Fantom transactions. On the blockchain, transactions are confirmed in 1 to 2 seconds, as there is no need for confirmation from the blockchain. The peer-to-peer networking and DAG-aBFT mechanism links the Lachesis nodes to one another and ensure that commands are processed in the right order.
As stated earlier, Fantom has a proprietary protocol – Lachesis – which allows it to achieve faster and higher output while simultaneously maintaining better security and scalability on the network. Lachesis has a two-thirds fault tolerance which means that approximately 67% of network nodes have to validate a single node before it can be settled.
The blockchain also has a transactional finality of 1 second. This allows it to operate faster and in a more scalable manner than Ethereum, whose near-instant finality is between 12 to 14 seconds.
Where to Buy Fantom (FTM)?
There are several options available for people who want to purchase Fantom (FTM). They range from cryptocurrency exchanges to brokerages and P2P platforms. Of the three categories, the most popular platform is the crypto exchanges.
Exchanges: The companies allow investors to buy and sell their FTM currencies. The major difference between brokerages and crypto exchanges is that while brokerages offer traders other investment vehicles, exchanges don't.
Some of the standard exchanges to buy Fantom are Kraken, Binance, Bitstamp, Nexo, KuCoin, and Huobi Global.
How to Buy Fantom (FTM) on eToro
The truth is there are several fantastic places to buy FTM. However, the best platform varies for each depending on what features matter most to them. So, for those looking for an ideal place to buy FTM, here are the top factors to consider.
Fees: Fees are critical when deciding what platform to use as they can quickly add up and cut into profits. The best trading platform will let users buy, deposit, sell, and withdraw at minimal costs.
Security: This is another crucial factor to consider. For most small crypto holders, it is not unusual for their holdings to be kept online with their crypto exchange or broker. So, when deciding what exchange to use, look at the platform's security features and its hacking history.
Find out how many of their assets are stored offline and whether they have private insurance. Does the platform have an active bug bounty community where ethical hackers report weaknesses in the system?
Ease of Use: With new technological advances, many trading apps are becoming chock-full with features that have made them more complicated to use. If user-friendliness is a top priority for a buyer or seller, then they need to look for a trading app that offers this functionality.
Not only does the platform offer some of the cheapest fees in the crypto trading niche, but it also has the most user-friendly interface.
Relating to security, eToro has a strong bug bounty program that has made the platform one of the most secure trading platforms in the industry.
Here is the step-by-step guide on how to buy Fantom with eToro, please write a small phrase explaining the steps, please have a look below at the images I will have for those steps, you should explain what you see in those screenshots:
Step 1: Create a FREE eToro Account
eToro accounts are completely free and take only a few moments to create. Register via the eToro app or website.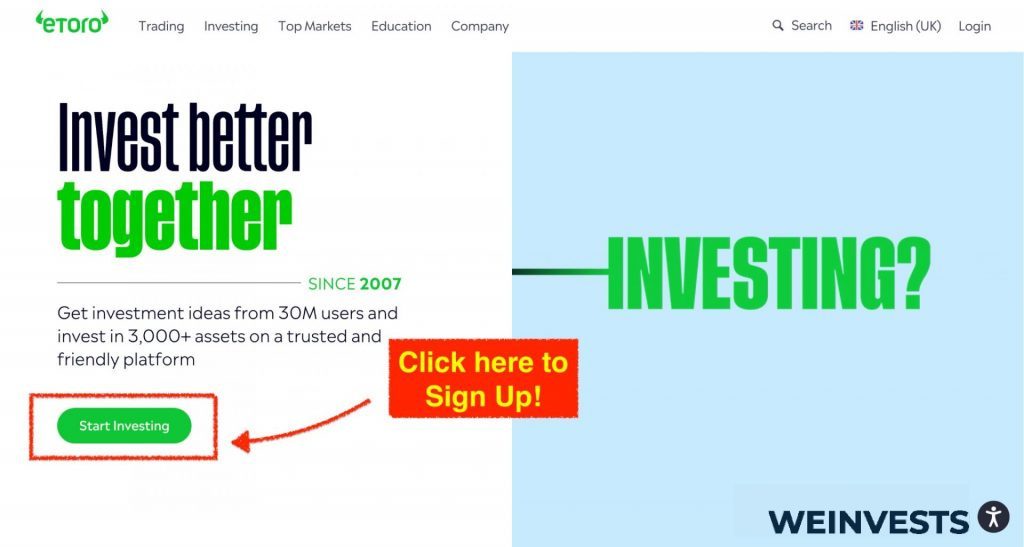 Step 2: Upload ID
Before a user can buy Fantom, they must verify the account first. While eToro lets users buy anonymously, without account verification, there is a cap to the maximum amount of funds a person can put into their account. Unverified accounts cannot deposit more than $2,250 into their account.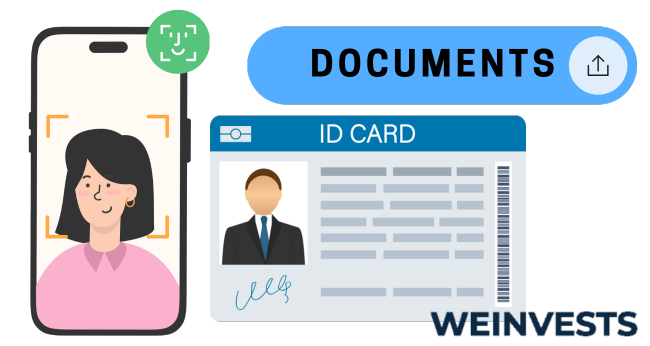 Step 3: Make a Deposit
FTM traders can fund their accounts via a credit or debit card. For new users, buying through a credit card is the easiest option. Users can also deposit cash into their eToro account by transferring fiat currency from their bank account to eToro.
To fund your account, just go to "Deposit" option and choose the specific features of how you want to invest your money, for example, the amount and payment method.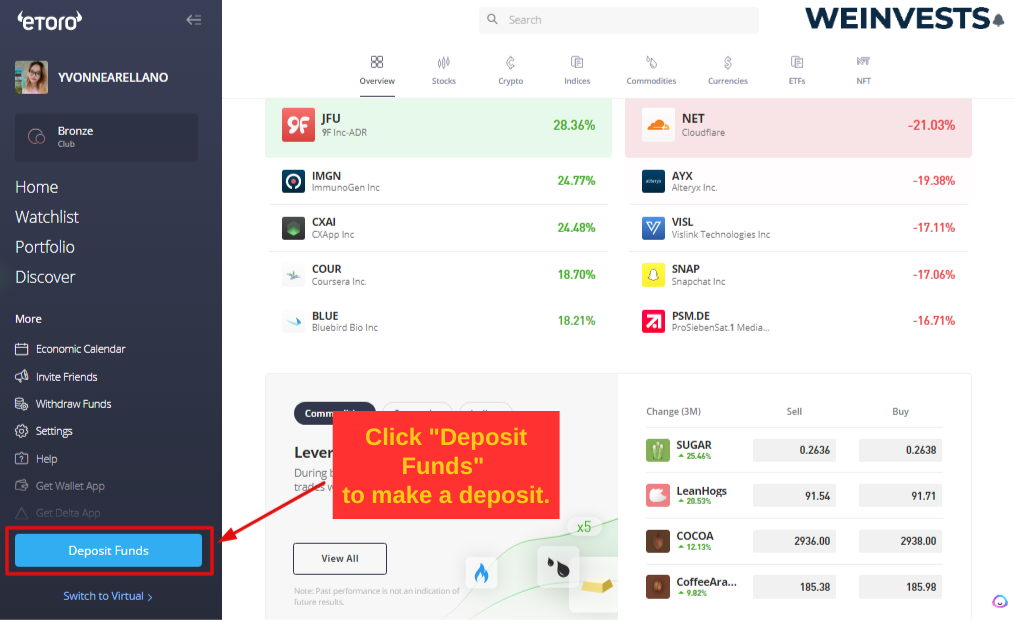 Step 4: Search for Fantom
how to search for Fantom on the eToro platform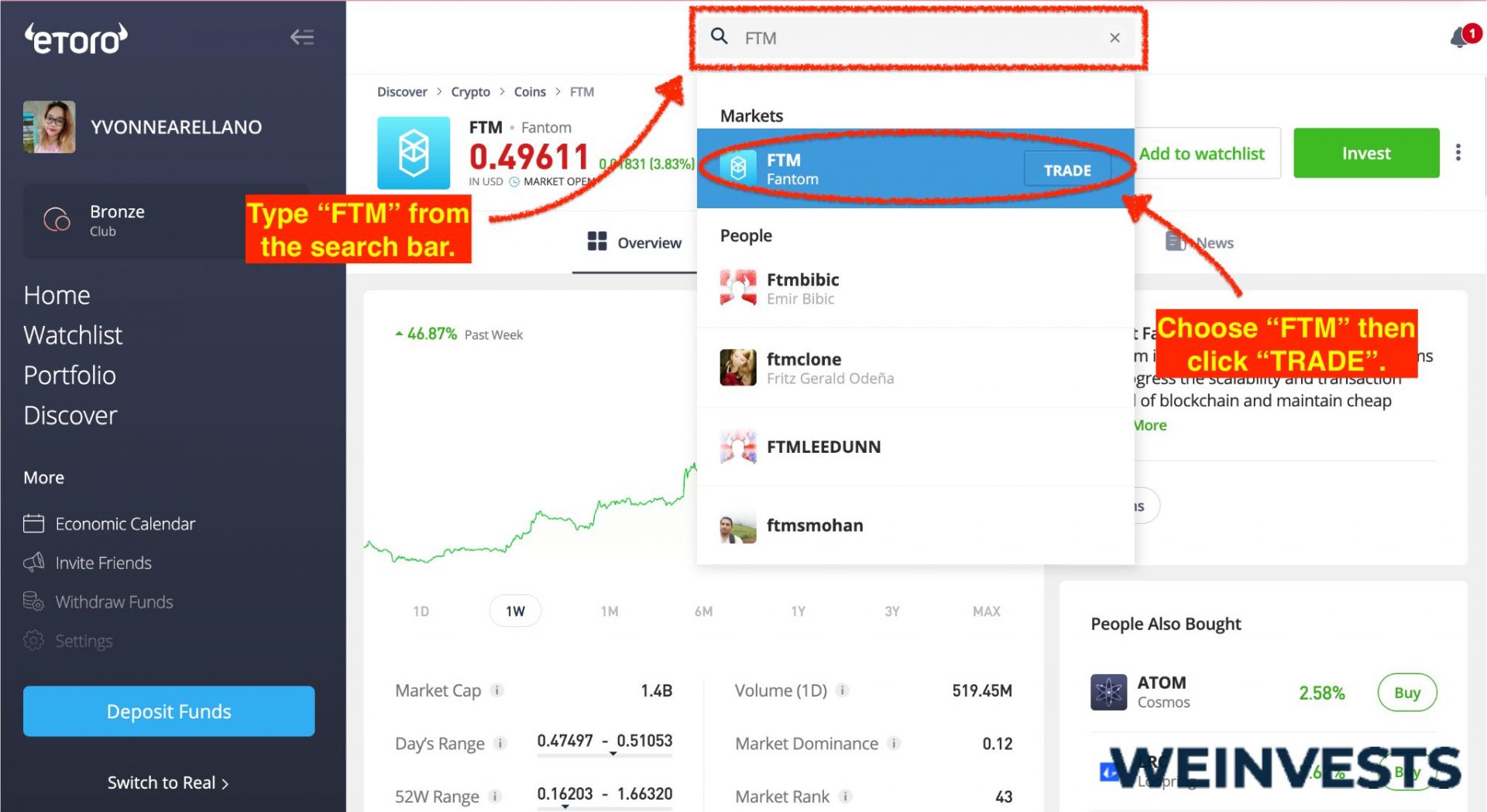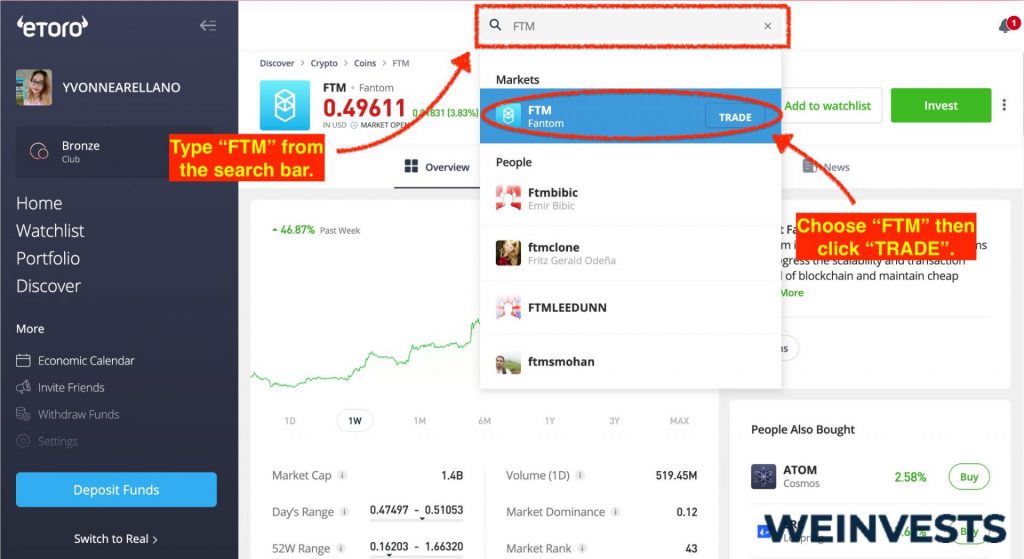 Step 5: Buy Fantom
The last two steps involve buying the FTM currency and storing in a personal crypto wallet or holding it in the eToro account.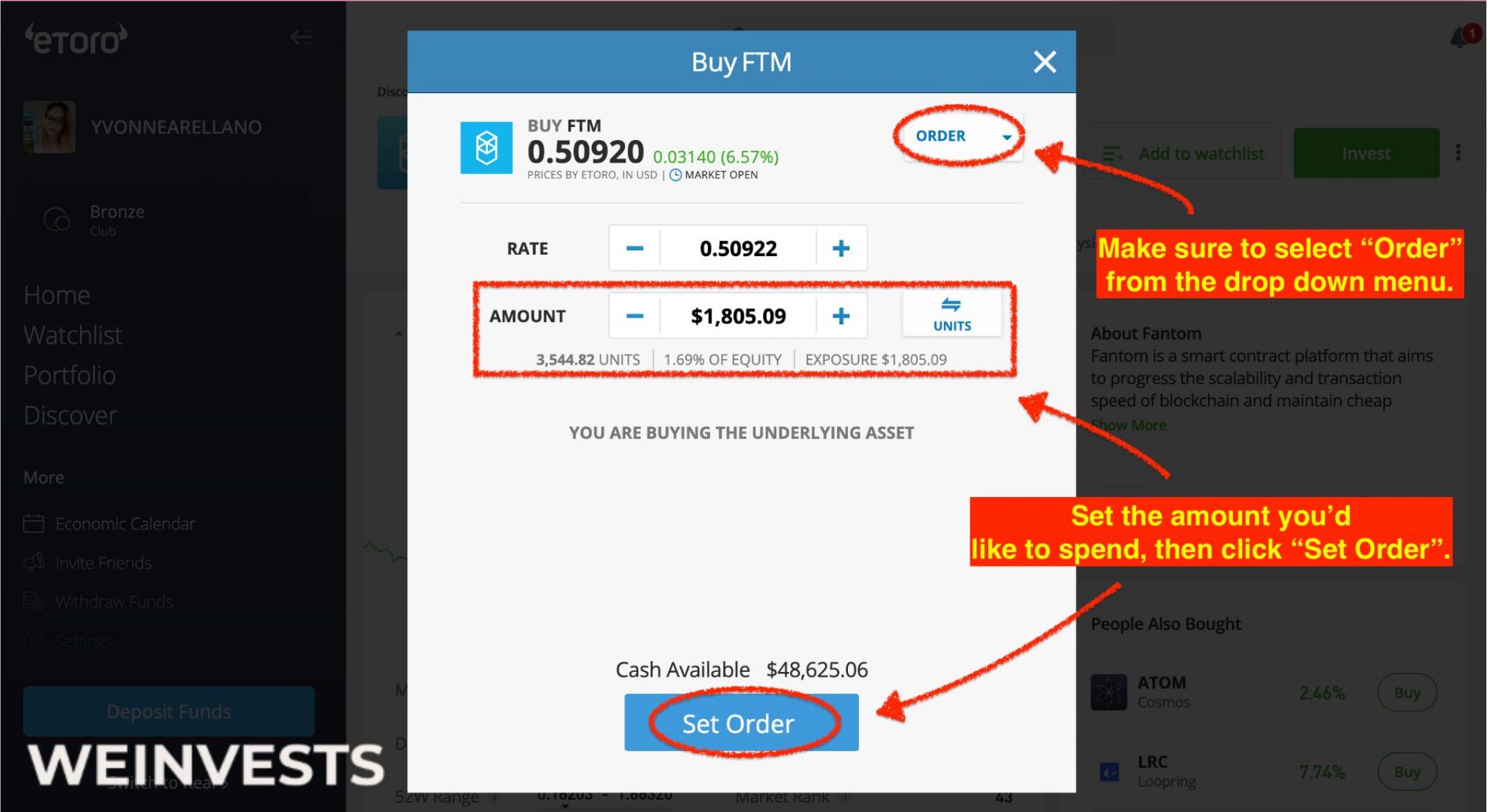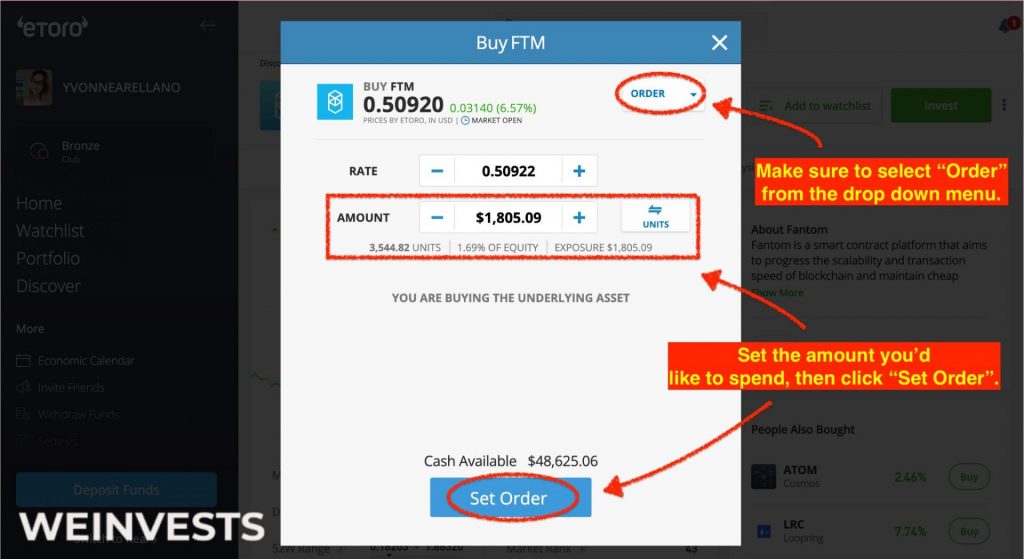 How to Buy Fantom (FTM) with PayPal?
Log into your eToro account
Navigate to the cryptocurrency page and select FTM from the list of tokens.
Choose a buying option. Select the "Trade" option to buy Fantom at the current price. Pick "Order" to set a price target. The eToro system will execute the selected order when the price reaches the chosen target.
Click on the desired amount of FTM and press the deposit icon.
Choose the PayPal deposit option. Note: this channel can only be used by those who stay in countries where PayPal is available.
How to Buy Fantom (FTM) With Credit Card?
However, remember that eToro only accepts credit and debit payments from Visa, Maestro, and Mastercard. Here's how to go about it;
To buy Fantom with a credit card on eToro, follow these simple steps:
Click the blue "Deposit" button located at the bottom left corner of the screen.
Select the currency type and amount.
Pick Credit/Debit card from the payment options list.
Click "Deposit."
Safe Storage
Cryptocurrency wallets provide a safe place to store Fantom coins. When a person makes a purchase, they are given a set of public and private keys which gives them ownership and control of their digital assets.
These keys (which are a long string of numbers) can be compared to a bank account number or PIN. So, crypto wallets are a safe place to keep Fantom's encrypted keys.
The two types of wallet for storing FTM include:
Cold wallet: This is essentially a piece of hardware that is used to hold tokens offline, making it very hard to hack. This type of wallet – although more expensive than other wallet types – prevent hackers from accessing investors' holdings through nonconventional means. Due to their cost, they are more suited to people with large amounts of crypto.
A well-known example of such wallet is the Ledger Nano X. This device is compatible with Mac, Windows and Linux, as well as iOS and Android devices. They can be used across several of desktop computers through the USB portal and on mobile devices via USB or Bluetooth.
Hot wallet: Hot wallets are based on the internet, so they are not suited for long-term storage or large crypto holdings. They are convenient for keeping small amounts of tokens for immediate transactions.
An example of this type of wallet is the Fantom wallet (fWallet) which is the official wallet of the FTM blockchain. Also, there is the eToro Money Wallet which allows users to store multiple types of tokens all in one place.
MetaMask is another popular hot wallet that operates on the FTM blockchain. There is also Coinbase Wallet which can be downloaded on Android, iOS, and as an extension on Google browser.
Alternate Ways to Buy Fantom (FTM)
Fantom (FTM) ATMs
A cryptocurrency ATM allows people to buy virtual assets using cash or their bank credit card. In appearance, the machines differ from one another. While some are built into a wall, other stand-alone, are made to look like the regular ATM out there. As of now, there are an estimated 39,000 crypto ATMs across the world, with the majority residing in the United States.
While buying FTM from some crypto ATMs is possible, the process is less convenient and costlier than an online platform. There is also the added risk of the security of hackers compromising the machine. In the UK, the lack of regulation and potential security risks associated with these channels made the government declare their activity illegal. This is the reason we don't recommend this method.
Mainstream Brokerages
Companies in this category will help facilitate the sale and purchase of FTM. In addition, users are also allowed to buy and sell other types of cryptocurrencies, stocks, mutual funds, bonds, and other investments vehicles on these platforms.
The platforms can be app-based, desktop-based, or a combination of both. There are over 50 brokers that sell Fantom tokens and the leading ones include eToro, Coinmama, Gemini, Webull, TradeStation, Binance.US, and Coinbase.
P2P Exchanges
A third option where to buy FTM is directly from one peer to another i.e. (P2P) exchanges. In this place, users buy directly from other verified users who want to sell their Fantom tokens.
Whether a person decides to buy from an exchange or a broker, they must ensure the platform has the functionalities they need. Another feature to look out for when choosing a P2P platform is to ensure it has the escrow feature and no fees.
How to Invest in Fantom (FTM)?
There is a wide range of trading strategies for investing in Fantom (FTM). However, the buy-and-hold method remains the most powerful of them all.
Under buy-and-hold, some short-term traders hold their asset for a short time – sometimes as a short for an hour or less. Investing this way requires a lot of market expertise and it is not for novice investors. It is also not for the faint of heart due to how unpredictable and volatile the market is.
The second and more favoured buy-and-hold strategy among crypto investors is buying and holding for a longer time. In this scenario, an investor can hold the digital asset for as long as 5 years. The idea behind this is for the asset to increase significantly in price so they can yield higher profits.
Fantom (FTM) Price Prediction
According to CoinMarketCap, Fantom's price at the time of this writing is at $0.203695. The total circulating supply was $2541152731.01, and it had a market cap of $517,659,490. Current sentiments show the coin is on a slightly bearish trend. However, long-term sentiment remains bullish as the coin is predicted to hit $4.21 by 2023.
Ambcrypto FTM forecasts for 2023 reveal the token's value will rise to $0.16 (a worst-case scenario). Similarly, going by technical indicators, the Fear & Greed Index for FTM shows 29 (Fear) – an extremely high level of fear.
Conclusion
In the past decade, no other asset class has experienced magnificent gains and rewarded investors better than cryptocurrencies. Although, investing in these assets has the potential to generate huge returns, investors need to keep their investing knowledge and skills current.
A second critical factor is choosing an exchange that is secure, easy to understand and use with fair, and transparent fees.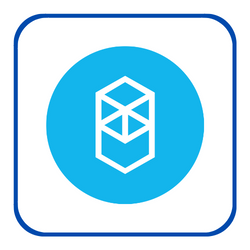 Fantom (FTM) Price Prediction 2023, 2024, 2025 – 2030
Fantom (FTM) dropped drastically in the first half of 2022 before stabilizing. Its price of $0.2075 on December 18 might be far from its value of $3.3043 on January 17, but it is stable. The question now is how long it will remain stable.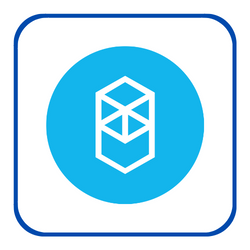 Staking Fantom (FTM)
Staking
Fantom (FTM) is a process that requires due diligence before one jumps right in to the pool that is Fantom. Fantom is well known for its speed, inexpensive nature, and high scalability. Fantom, which has been dubbed as an "Ethereum killer" alongside staunch competitors such as
Solana
(SOL) and
Cardano
(ADA), is a top blockchain in terms of total value locked (TVL). With a TVL of $1.3 billion and an EVM-compatible platform, FTM is establishing itself as one to watch out for.
Risk Disclaimer
WeInvests is a financial portal-based research agency. We do our utmost best to offer reliable and unbiased information about crypto, finance, trading and stocks. However, we do not offer financial advice and users should always carry out their own research.
Read More