Low fees & commissions
Educational resources
Customer service 24/7
Pros
Different types of accounts – IRA and individual account
Up to 12 free fractional shares for new users
Different trading platforms available to fit different devices
Fractional shares and recurring investments available
Cons
Limited number of features
Webull doesn't have a global vocation. Currently, available markets are limited to United States, some Asian countries and Australia
You need at least $2,000 to open a margin account
Webull Highlights

| | |
| --- | --- |
| 💻 Trading Platforms | Webull Desktop, Webull App, and Webull Web platforms with access to various markets and instruments |
| 📞 Customer Service | 24/7 support via phone, email, or online chat; help center with FAQs |
| 🎁 Promotions/Bonuses | Free stocks for new users and referrals; IRA bonus for opening an IRA account |
| 🛡 Regulation | Regulated by SEC and FINRA in the US; also a member of SIPC |
| 💵 Deposit/Withdrawal Methods | Bank transfer, wire transfer, ACH transfer |
| 📊 Spreads/Commissions | No spreads or commissions for online stocks, ETFs and options trades |
| 🔒 Security | Segregated funds; SSL encryption; firewalls; anti-virus software |
| 📚 Education/Resources | Webinars, videos, articles, etc.; economic calendar, market news, market analysis, etc. |
| 📱 Mobile Trading | iOS and Android app with all Webull platform features and functions |
| ⚡ Execution Speed | Fast and reliable execution with low latency and minimal slippage; various order types |
| 🔧 Trading Tools/Indicators | 60+ technical indicators, 12 charting tools, customizable screeners and alerts |
| 🌍 Country/Region Availability | US residents only |
| 💰 Account Minimum | No minimum deposit to open an account |
| ⚖ Leverage/Margin Requirements | Up to 4:1 intraday leverage and 2:1 overnight leverage on marginable stocks |
| 📈 Asset Selection/Market Access | Over 5,000 instruments across stocks, ETFs, options, ADRs, cryptocurrencies, etc. |
What is Webull? To provide you with a comprehensive review of Webull, let's start by analysing what this company does. Webull is a trading application that offers brokerage services as a part of Webull Financial LLC.
The company is based in New York, and was founded in 2017. Owned by the Chinese fintech Fumi Technology, Webull was born with a focus on mobile trading, but it can also be used on desktop thanks to the introduction of dedicated platforms.
Webull offers different trading products, among which we can find cryptocurrencies, stocks, options and ETFs – Exchange-Traded Funds.
To better understand who Webull is, it's important to mention that this broker also focuses on offering trading services at low cost – most products are offered without trading fees, as you will see in a while.
Is Webull a Good Option for you?
If you're considering Webull as a possible broker for your trading activity, the first question to answer is Can you trust Webull?
Traders and investors should always choose mainly according to their needs, and in the case of Webull, the features of the platforms fit the needs of beginners.
Webull has an intuitive design and offers different trading platforms to adapt to different devices.
Low fees can fit different budgets, and the different types of financial products offered can help traders to diversify their trading activity.
More advanced users might consider the types of orders offered as a limitation, as well as a volume analysis that is offered in a different table – not included in the main price charts shown by the broker.
On the other hand, Webull provides screeners as a feature to filter possible investments according to the metrics chosen by the trader.
Moreover, you should consider that the regions that can be selected for trading are the United States and Chinese Mainland.
For what concerns trust, we want to clarify that Webull is a regulated and insured broker.
Is Webull regulated?
Yes, as we mentioned at the end of the previous paragraph. But let's dive into this pivotal topic.
As a US-based broker, Webull is registered with the main US institutions:
The Securities and Exchange Commission – SEC;
The Financial Industry Regulatory Authority – FINRA.
Moreover, Webull is a member of many institutions:
The Securities Investor Protection Corporation – SIPC. This membership allows customers' funds to be insured up to $500,000;
The New York Stock Exchange – NYSE;
The Nasdaq;
The Cboe EDGX Exchange, Inc. – CBOE EDGX, which is the US equities exchange operated by what was formerly known as the Chicago Board Options Exchange.
For what concerns insurance, Webull also benefits from the services of its clearing firm, Apex. As we said, the SIPC membership allows the broker to insure the funds of each customer up to $500,000 – a limit that includes $250,000 insurance for cash funds. But thanks to the services of Apex Clearing Corp, Webull is covered by an additional insurance that manages to cover securities of each customer up to $37.5 million – $900,000 for cash funds.
Moreover, Apex Crypto LLC offers crypto custody services.
Who Is Webull Recommended For?
Webull fits the needs of beginners, especially because of its intuitive design. For what concerns order types, they are limited to the most essential types – Limit, Market, Stop and Stop Limit.
Moreover, the indicators included in the platform are among the most common – like moving averages, RSI and common candlestick patterns.
In general, Webull favours active traders – also thanks to features like extended trading hours.
Webull Trade Experience
Webull offers three trading platforms: desktop platform, online platform and mobile platform.
Desktop and online platforms are similar – the main difference is that the desktop version is downloadable, and available for Mac, Windows PCs, Linux.
The desktop and online version of Webull trading platform includes four types of orders. Traders can insert the quantity they want to trade, as well as choosing whether they want to trade extended hours.
Price charts provided don't include volume, which is included in a different board.
Users can also find news and technical indicators to set specific screeners and filter possible investments.
The mobile trading platform is similar, in the sense that it presents the same features, but it is designed to fit mobile devices.
What all Webull trading platforms have in common is intuitiveness and extensive informational resources. The possibility to set screeners according to technical indicators and to set recurring investments can help traders to automate their trading activity – functionality that might be appreciated also by more experienced traders.
The trading experience with Webull fits the needs of active traders, who will find a good number of assets to trade.
Webull doesn't charge any fee or commission to offer its services. But for what concerns short selling, since you need to borrow funds from the platform, you'll need to pay a margin rate according to your debit balance. The minimum balance required for this type of trading is $2,000.
Moreover, there are some regulatory fees that don't depend on Webull, and that range from $0.01 to $7.27.
Webull doesn't offer the opportunity to trade CFDs.
Webull charges fees for index options – $0.55 per contract.
Traders on Webull have to pay withdrawal and deposit fees. For ACH deposits and withdrawals, the platform doesn't charge any fee. But transactions via wire transfers imply fees – charged by Apex – that amount to $8 for deposits and $25 for withdrawals.
For what concerns wire transfers via non-US bank accounts, fees amount to $12.5 for deposits and $45 for withdrawals – always charged by Apex.
How to open an account with Webull?
Step 1: Visit the official website
To open an account with Webull, traders need to visit the official website of the broker and click "Sign up".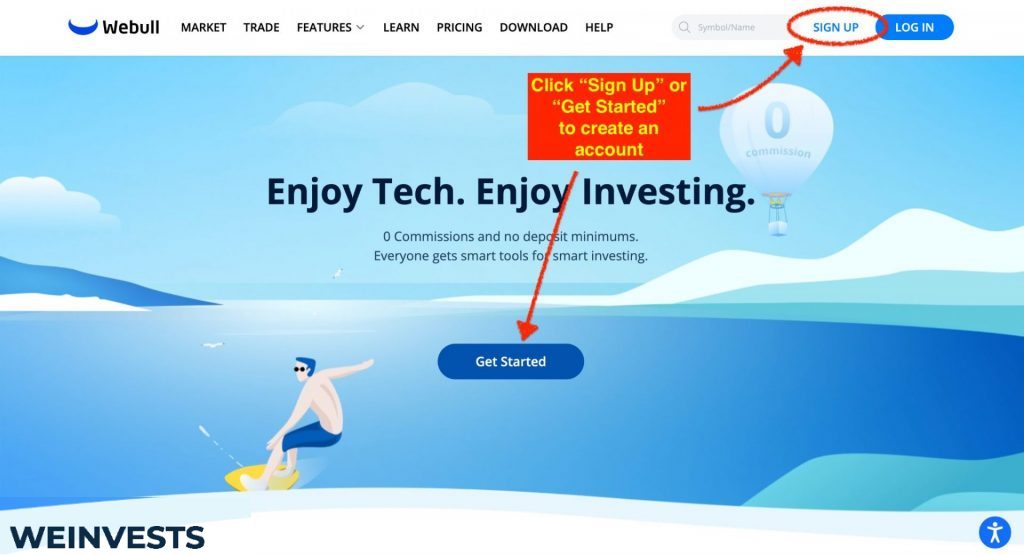 Step 2: Use your phone number or email
Users will be redirected to a page where it is possible to add a phone number, paying attention to selecting the correct code according to the country.
Once users share their phone numbers, they can click "Send code". Once they receive the message from Webull, they can communicate the verification code received.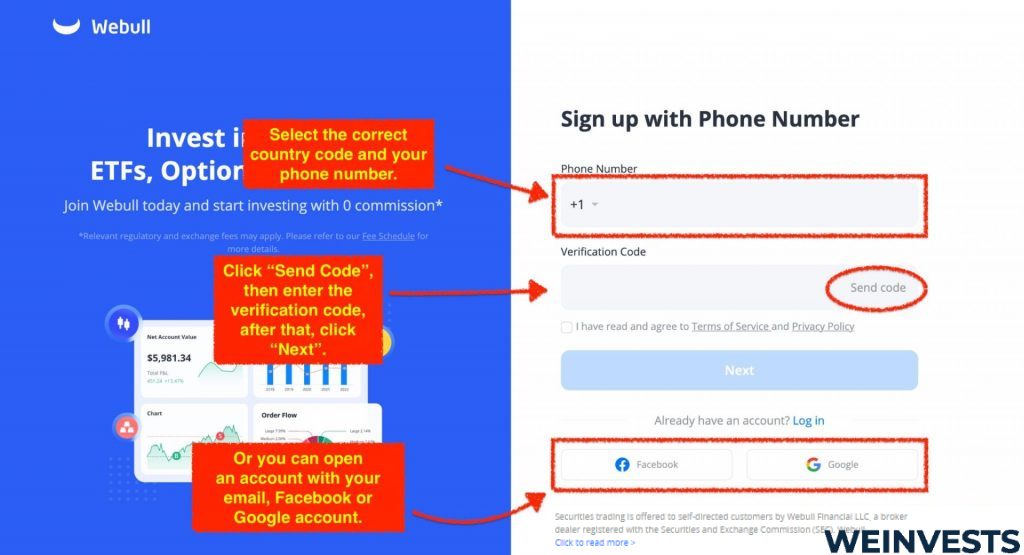 Alternatively, it is possible to open an account with your email, your Google account or Facebook.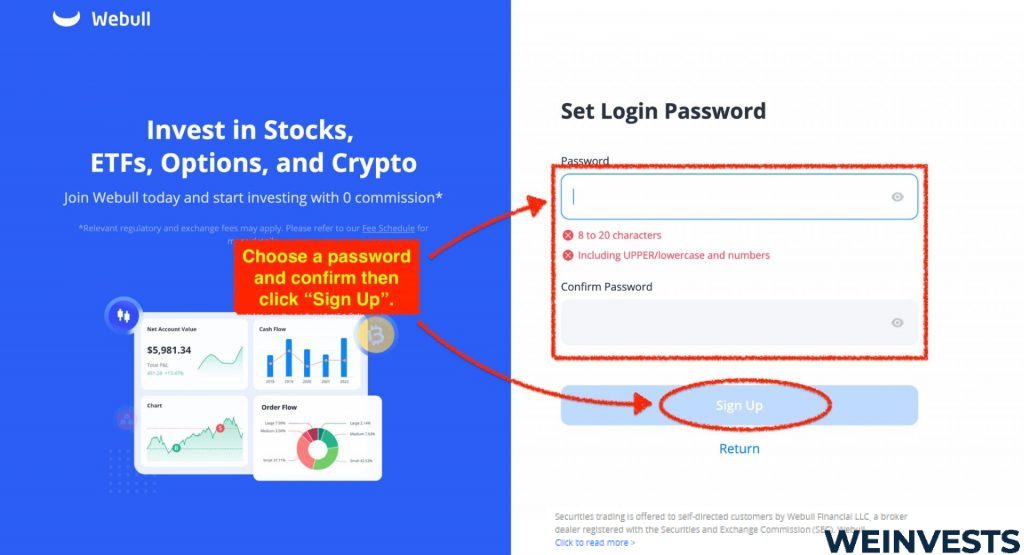 Now, they need to confirm that they accept the terms and conditions of the broker, as well as its privacy policy.
Step 3: Log in
Once users create an account, they'll be able to log in by using their credentials or scanning the QR code provided.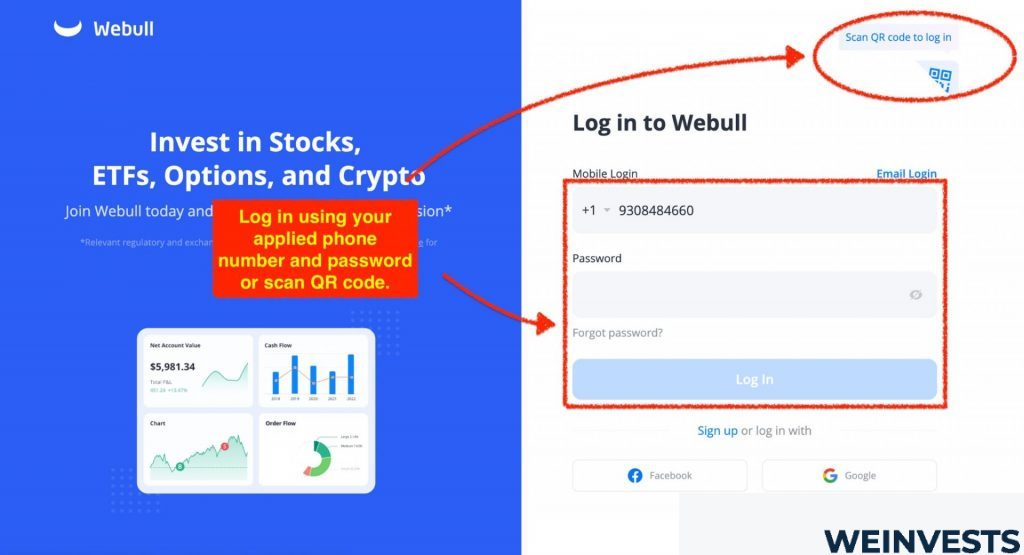 Webull demo account
Webull offers a demo account in the form of paper trading: users can test their trading strategies without using their own real funds. Users will be provided with $1,000,000 – a sort of virtual currency – and the functionalities they'll find on the paper trading platform are the same as the features of the platform that uses real money, to give users a real trading experience.
Webull Education
Webull offers extensive educational tools in the form of videos and articles.
The educational content is interactive, and you can track your progress directly on the website.
Educational content is focused on explaining the different services offered by the platform, as well as more general financial topics.
The educational section can help traders to better understand the markets they want to trade, macroeconomic conditions, and the functioning of the broker.
Webull Customer Service
Webull organized its website to allow people to find all the information they need autonomously, thanks to the comprehensive help section.
But if customers need additional help, the broker offers two ways to contact the support team – via phone or email, available 24/7.
Webull Crypto Wallet
Webull offers over 40 cryptocurrencies to trade. The minimum amount required to trade digital assets amounts to $1.
Custody services are offered by Apex. For what concerns the trading tools available for cryptocurrencies, there is no difference with other assets offered by the broker: people can check charts, news, set screeners. All this is available also on the mobile trading platform.
Webull also uses two-factor authentication to guarantee additional security.
Conclusion
After analyzing and testing Webull, there are some conclusions we can draw.
Webull focused on intuitiveness and low-cost trading, offering trading platforms that can fit different devices and competitive commissions and fees – for financial products like stocks, there are no fees.
The introduction of features that can allow crypto transfers signals that this broker wants to meet the needs of traders who want to differentiate their portfolios.
At the same time, Webull doesn't allow trading globally, something that can represent a limitation for those traders who want to benefit from different markets all over the world.
Features are not complex, but active traders can find the tools they need to make fast decisions and trades.
Webull also pays attention to its customer service – even if we want to mention that it doesn't offer a live chat – and information, thanks to a comprehensive help centre where users can find answers to questions that involve trading platforms, the services and products offered by the broker.
Also, the educational tools and availability of news related to markets represent an advantage, since traders can find the information they need without leaving the platform.
In general, Webull is a valid, regulated and secure broker able to offer automation tools and fit the needs of most active traders who look for an inexpensive trading platform.
FAQ
How do I get free stocks on Webull?
Webull offers up to 12 fractional shares to new users. Users will receive two free stocks when they open an account, and up to ten stocks after the first deposit.
Is it possible to send cryptos from Webull?
Yes. To transfer cryptos, users need to select the digital asset they want to transfer, click the withdraw button, select the quantity and the address they want to send cryptos to.
What is a Webull cash account?
Webull offers cash and margin accounts. With a cash account, you can use your cash funds to trade – that is, you can't borrow money from the platform to have additional funds.
What's the difference between Webull cash and margin accounts?
With a cash account, you can only use your funds, and you don't have limits regarding the amount of funds or the number of day trades. With a margin account, you can borrow money from Webull to increase your positions. In this case, you're allowed to short assets and use margin trading, but only if you've at least $2000 in your account. Day trades are limited to 3 every 5 business days if your funds are less than $25,000.
Risk Disclaimer
WeInvests is a financial portal-based research agency. We do our utmost best to offer reliable and unbiased information about crypto, finance, trading and stocks. However, we do not offer financial advice and users should always carry out their own research.
Read More