This content represents the writer's opinions and research and is not intended to be taken as financial advice. The information presented is general in nature and may not meet the specific needs of any individual or entity. It is not intended to be relied upon as a professional or financial decision-making tool.
In this article, we extensively look into Fetch.ai, the crypto with 3 Web 3.0 tech fused into it. We discuss its tokenomics, the best exchange to buy, where to buy, the best safe storage options, price predictions, and more.
Bitcoin, Ethereum, and Tether may be ahead of the cryptocurrency pack, but other digital coins are steadily gaining mainstream adoption. Fetch.ai is one of the newly launched virtual currencies that promises to become a profitable investment due to its interoperability. In this beginner's guide, we go over the key steps to investing in Fetch.ai.
FETCH.AI Tokenomics
Fetch.ai (or FET) is an open-access decentralized platform that is a fusion of three technologies – data sharing, blockchain, and artificial intelligence (AI). Considering the increasing commercial and individual use of AI, the FET team aims to decentralize AI-based operations to prevent large market players from monopolizing power the industry.
The Fetch project aims to make the digital economy operate without human interference. In addition, they further aim to automate the transactions of many marketplaces to make them operate with little to no friction.
The platform achieves this through advanced cryptographic technologies, machine learning, collective learning, and a network of autonomous software agents. Fetch.ai and other multi-agent systems are designed to represent the labour economy digitally. These systems work through efficient forecasts and introduction and users pay for these services using the FET token.
Fetch.ai was launched in 2019 through IEO as a system on the Binance Launchpad. Some potential applications of the technology include: energy consumption, supply chain, transportation, smart parking, traffic congestion management, e-mobility, electric vehicle infrastructure, and many more.
Where to Buy FET?
The Fetch token is sold on all major crypto exchanges, such as Binance, eToro, Kraken, HitBTC, Bitfinex, BiKi, and Coinex.
Potential clients can also find it on BitAsset, Hotbit, BiONE, Kucoin, LATOKEN, WazirX, Bitstamp, Coinone, OMGFIN, Bitrue, MEXC Global, Bitmart, Bitbns, and Bitget. Not only can people buy FET from these exchanges, but they can also sell and trade with FET tokens on the platforms.
How to buy FET on eToro
As mentioned in the section above, many top crypto exchanges sell Fetch tokens. Also, seasoned investors who want a straightforward process when buying and selling FET will prefer this broker.
There are many pros to trading on eToro. For one, the company has been in the crypto-exchange business for several years, and its trading interface is the most beginner-friendly in the industry. In addition, the eToro platform also offers tools like CopyTrader, which allows new investors to copy the trading strategies of professional traders.
This means the beginner can replicate the trading strategy of seasoned investors in real-time on their portfolio. This feature is handy for inexperienced investors or those with little time to create their own strategy.
Step 1: Open an Account
The first step is to open an account on eToro. Visit the company's website and sign up for a free trading account. New users must enter their email address, choose a username, and create a strong password to secure their account.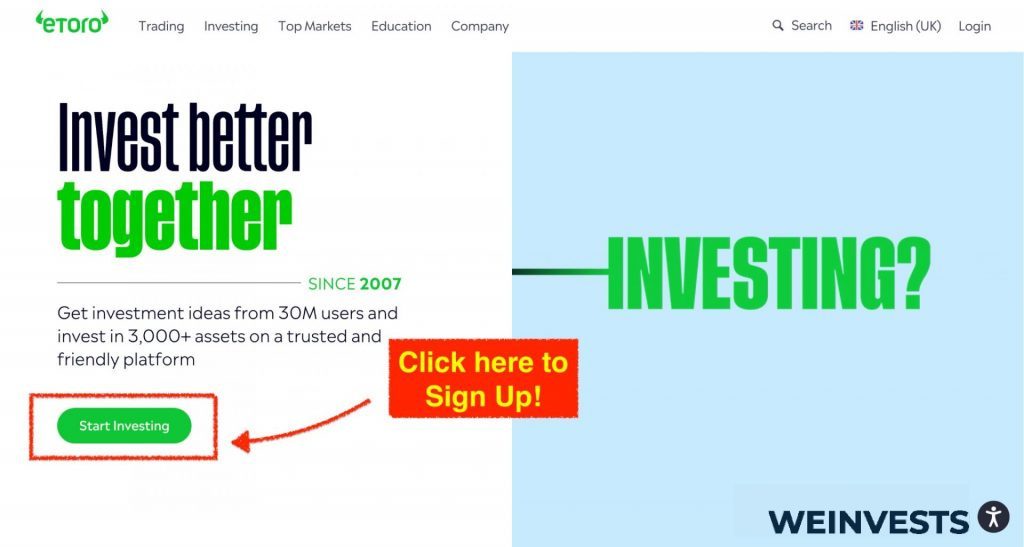 Step 2: Upload ID
To verify a new account, the user needs to provide their personal information like their name, phone number, date of birth, and country of residence. They may also need to submit some documents for verification, like a government-approved ID card.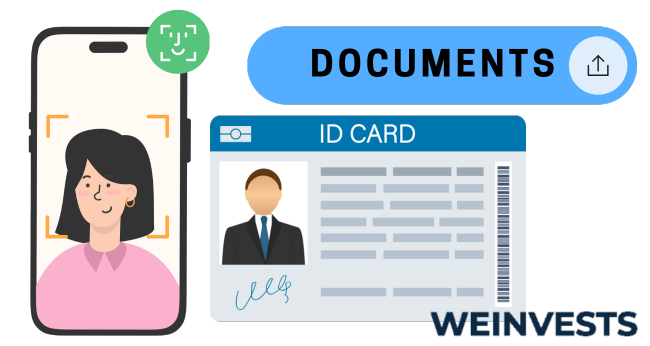 Step 3: Make a Deposit
The next step is to deposit funds into the account. The platform offers various payment methods, but the minimum deposit a user is expected to make is $10. However, the payment options available depend on the user's preference and most importantly, their jurisdiction.
To fund your account, just go to "Deposit" option and choose the specific features of how you want to invest your money, for example, the amount and payment method.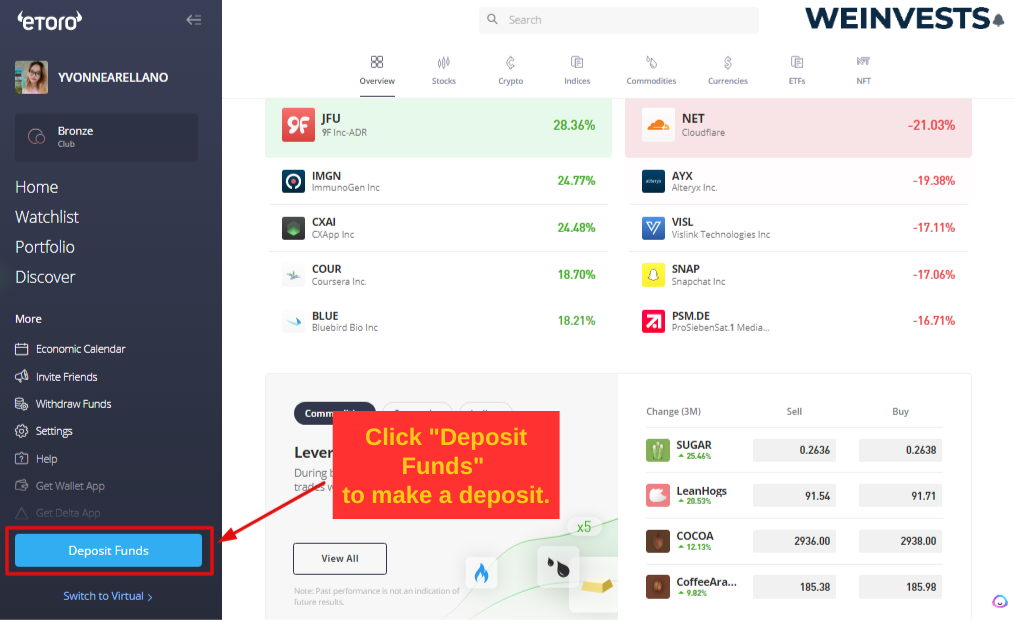 Step 4: Search for FET
Search for FET and tap "Trade" when the crypto shows up.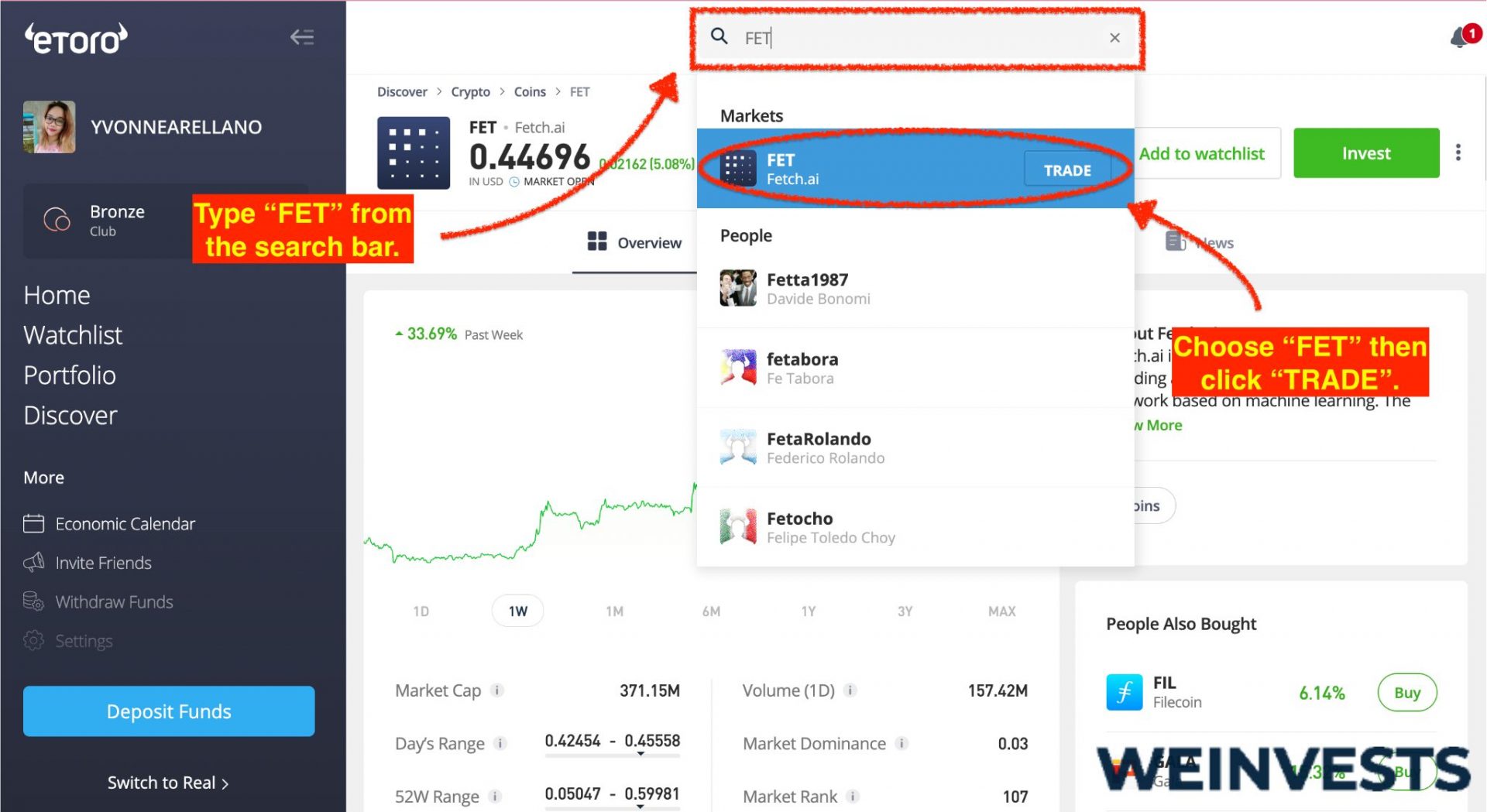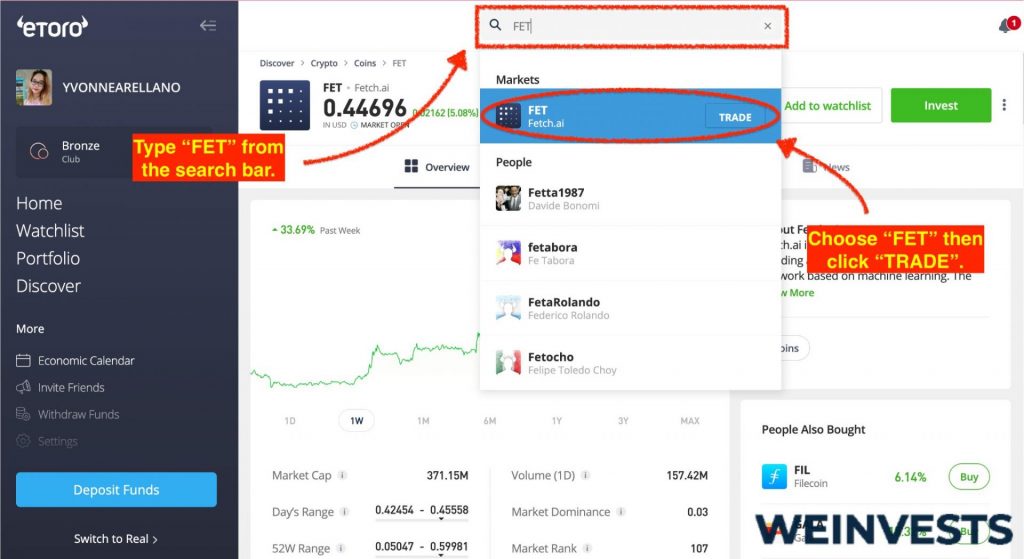 Step 5: Buy FET
Lastly, place an order to buy the preferred amount of FET. Once this is done, the crypto will be sent to the user's wallet.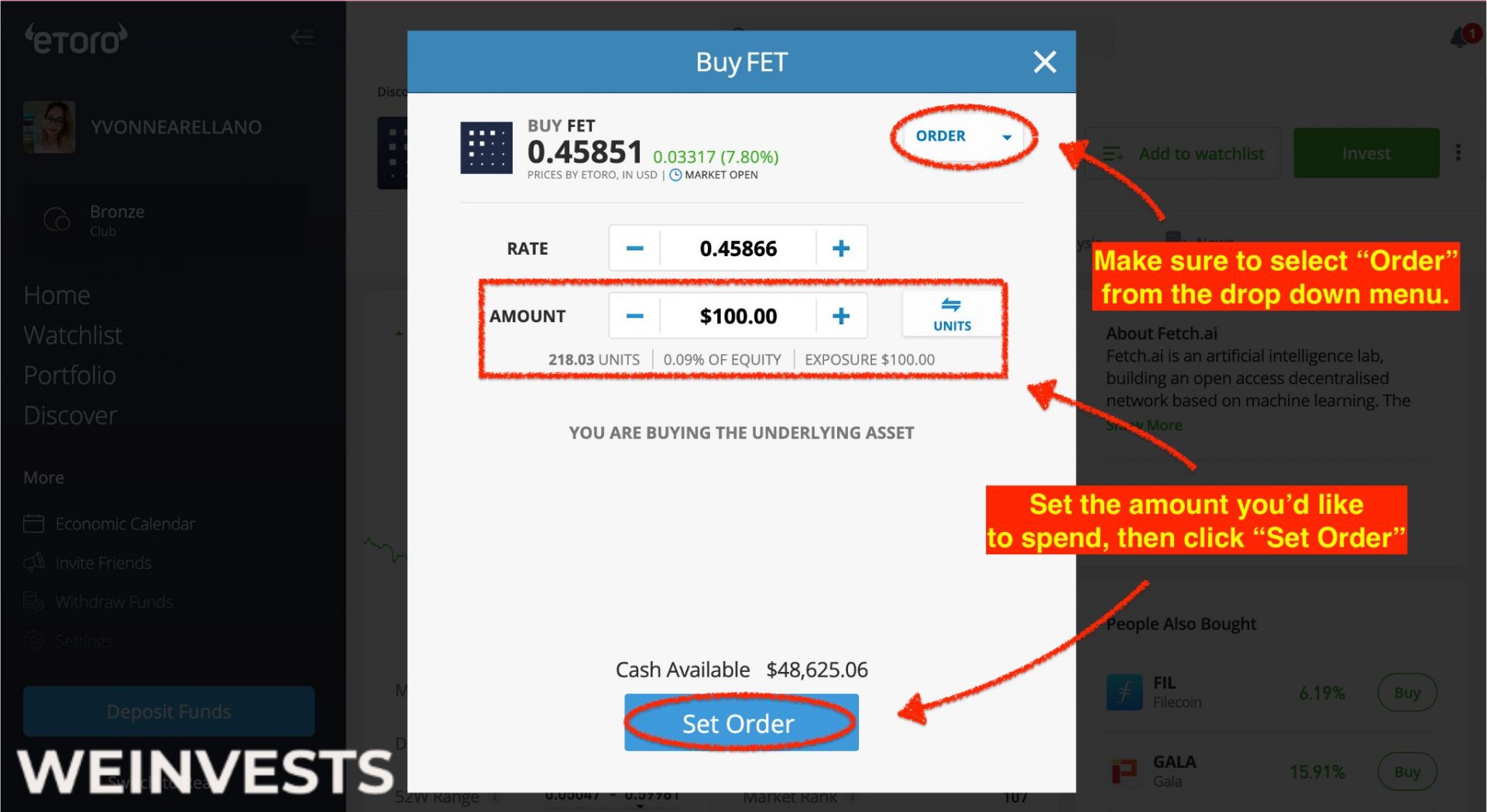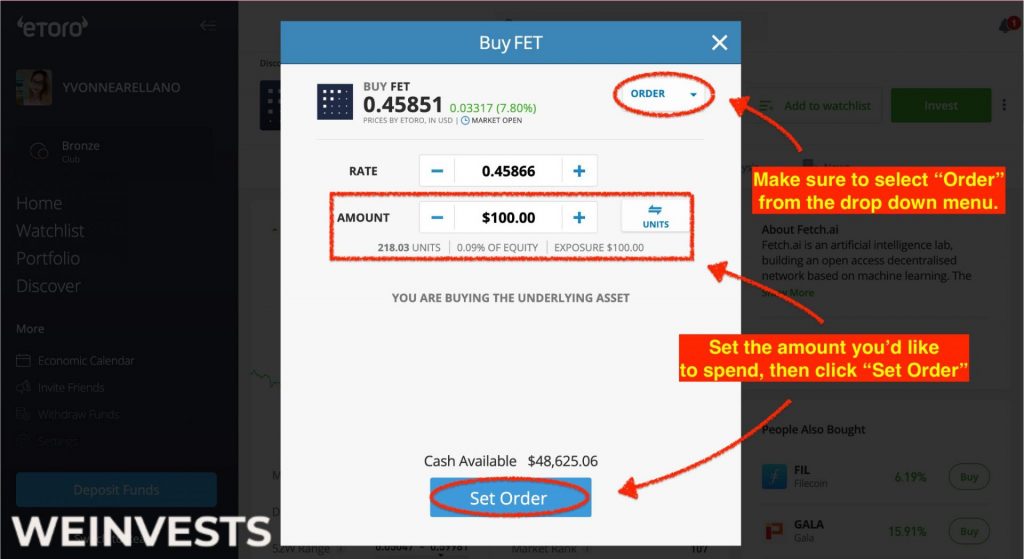 How to Buy FET with PayPal
To buy FET with PayPal is quite easy. Here's how to go about it;
Login to PayPal and enter the required details.
Keep in mind that Paypal is also accessible on the eToro platform, so a user can deposit funds using this payment processor.
Within minutes, the funds will appear in the eToro account, and they can proceed to buy FET.
Note that this comes with a 1 percent charge and a 1 percent commission when selling crypto too. This fee is lesser when compared to other brokers, which is one of the reasons eToro is the first choice of most investors.
eToro takes ease of use a step further as they also allow users to monitor their portfolio on the go. The platform has apps that are available on Apple's app store, and Google's Playstore for users to download. The app also has a wallet feature that allows users to stake their FET tokens and earn rewards on it.
How to Buy FET with a Credit Card?
eToro offers the option of buying FET with a debit or credit card, but it comes with a 1 percent commission. There's also a conversion fee of 0.1 percent when buying with any currency other than the USD. Conversion rates vary, but it largely depends on current market rates.
Before buying FET with a credit card, the first thing to do is to check if the credit card allows crypto-related purchases and the fees involved.
Secondly, fund the eToro account by linking the credit card to the platform and before buying FET.
Storage
There are several wallet options to choose from to store FET. Additionally, the company is regulated by an international financial service agency – the Gibraltar Financial Services Commission.
There are three types of storage options, and each offers unique features. When choosing a wallet type, users have to consider several things like the number of assets they want to store, the cost of storage, and what they want to use their assets for.
Here are some safe storage options to consider;
Hardware Wallets or Cold Wallets: Hardware wallets are also called cold wallets and offer the safest option for storing cryptocurrencies. They operate offline and provide storage and backup for crypto tokens without needing internet access. However, this option requires in-depth technical knowledge to operate and it is costlier when compared to other storage options. However, users can store a large volume of assets without the fear of being hacked.
Software Wallets: This storage option stores its asset on a desktop or a smartphone and is often easy and free to use. Software wallets are downloaded as apps on a mobile device or desktop computer.
It can be a custodial wallet where a third-party holds the private keys of the stored coins. The third-party has complete control of the funds, but the only concession is that the user can give permission on who to receive or send payments to. Most custodial wallets are web-based and are built on the crypto exchange that offers the wallet service.
Non-custodial wallets: this type of wallet allows users to control their private keys. Here, users can buy, swap, convert, and store crypto tokens by themselves without the interference of a third party. The funds earned during trading are directly transferred to the "key" holder. A non-custodial wallet can be a mobile app or a browser extension on browsers like Google Chrome, Opera, Firefox, and Brave.
Although they are more convenient to use for transfers, software wallets are less secure as they are based online. In addition, if the private keys are lost, there's no chance of recovery, which means the assets are lost forever. This storage option is better suited for storing smaller amounts of Fetch.
As their name implies, online or web wallets can only be used on the web. They are free, easy to use, and can be accessed from several devices that use a web browser. However, they are considered less secure because it won't function without internet access. As a result, they are dubbed "hot wallets."
Online wallets are managed mainly by the exchange backing them. However, taking into account the constant threat online wallets face, many exchanges have put several measures in place to protect customers' assets. For this reason, when choosing an online wallet, go for a reputable broker with solid track record in security.
Alternate Ways to Buy FET
FET ATMs
Several companies have set up cryptocurrency ATMs in various parts of the world, and it's beginning to gain widespread acceptance. However, it's essential to carry out adequate research before choosing this method of purchasing crypto. In the UK, for example, using a crypto ATM is illegal, and for that reason, we do not recommend this method for buying FET.
P2P Exchanges
P2P exchanges have been around for quite sometime and a lot of people choose this method because there are no hidden fees involved. Here, the transaction occurs between peers that either want to exchange crypto for crypto or crypto for fiat. Some top P2P exchanges to consider when buying FET are; eToro, Binance, Coinbase Pro, 1inch, AscendEX, Bitfinex, and Binance, BITCOIVA.
Mainstream Brokerages
Traditional investors that are used to mainstream brokerages may find crypto exchanges somewhat overwhelming. In the past, this has been an impediment to investing in the crypto market, but as luck would have it, mainstream brokerages have started offering several crypto services. Now, users can purchase crypto and other investibles that are not available on conventional crypto exchanges.
Here are some mainstream brokerages that offer FET; eToro, Swissquote, interactive Brokers, Fightcap, Saxo Bank, and eToro.
How to Invest In FET?
Since cryptocurrencies tends to be a long-term play, the most common way people invest is by holding and selling when the price doubles. When investing in FET, it is recommended that don't see it as a get-rich-quick scheme. Keep in mind that compared to other investment instruments, FET (as well as other cryptocurrencies) are still very nascent.
Also, since the usage of the FET token is still novel, it might take time before appreciable gains are seen. To invest in FET, investors have to understand the fundamentals of the token like accessibility, community, mining technique, and most importantly, it's intrinsic value.
Prospective investors can also consider crypto staking, ETPs and ETFs if they don't want to hold the token but would rather track the price and leverage on that.
FET Price Prediction
At the time of compiling this article, the price of the FET token is $0.087405 USD while the total circulating is 818,912,300 FET. The 247 ranked token has a marketcap value of $71,576,910 USD with a maximum supply of 3,409,064,989 FET.
Although market analysts have divergent opinions of FET, most predict a rise in the coin's value. The price is expected to rise in 2023 but it's majorly affected by the direction Bitcoin goes.
Currently, technical indicators show the coin is still on a bearish trend with a Fear & Greed Index of 28 which means investors are predominantly cautious.
Overall, experts predict an upturn in the FET's value as the project offers utility and it solves real-world problems, unlike many crypto projects.
As mentioned earlier, the AI-Blockchain platform has real-life use cases in many sectors, including transport, smart homes, smart parking, smart cities, and supply chains. It also helps ease operational challenges faced by organizations, developers, and even individuals.
As demand for machine learning technologies continues to rise, experts believe the AI market will reach $500 billion by 2023. If the positive trend continues, the sector is expected to reach a size of $1, 597 by 2030. Considering how the FET team is working to make the technology a leader in the AI field, experts predict exponential growth in the price FET tokens. Also, this is why the token has appreciated by nearly 4500% since it is launch in 2019.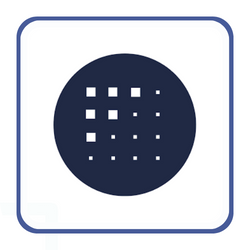 Fetch.ai (FET) Price Prediction 2023, 2024, 2025 – 2030
The FET token is headed back to its previous price range of around $0.01235 in March 2020. Even its starting price on March 3, 2019, is much higher than its current trading value of $0.08647 as of December 20, 2022. It is hard to pinpoint a single incident responsible for this price decline.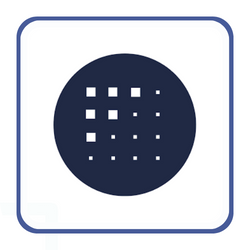 Staking Fetch.ai (FET)
Staking Fetch.ai (FET) is not so easy to stake and can be considered complex as it requires the use of several platforms and applications. This article breaks down those complexities and guides readers on how to properly stake their FET tokens and the pros and cons of staking these tokens. It also contains some random information about FET and Mainnet 2.0.
Conclusion
In conclusion, potential investors should keep in mind that the crypto industry is extremely volatile and due diligence should always be observed. However, it is critical to understand that investing in FET comes with a lot of ramifications. It's not just about investing alone, but investors should also consider that choosing the right platform and the right investment vehicle will play a huge role in the success of the foray.
Risk Disclaimer
WeInvests is a financial portal-based research agency. We do our utmost best to offer reliable and unbiased information about crypto, finance, trading and stocks. However, we do not offer financial advice and users should always carry out their own research.
Read More