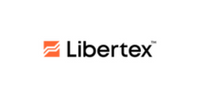 Demo account
Tight spreads
100€ Minimum deposit
Pros
Excellent design
Tremendous customer service
Years of experience and developments
Great technical analysis tools
Cons
Lack of educational tools
Libertex Highlights

| | |
| --- | --- |
| 💻 Trading Platforms | Libertex, MetaTrader 4, and MetaTrader 5 platforms with access to various markets and instruments |
| 📞 Customer Service | 24/5 support via phone, email, or online chat; help center with FAQs |
| 🎁 Promotions/Bonuses | Welcome bonus, cashback program, loyalty program, etc. |
| 🛡 Regulation | Regulated by CySEC in Cyprus; also registered with FCA in the UK |
| 💵 Deposit/Withdrawal Methods | Various payment methods; minimum deposit $10; no withdrawal fee |
| 📊 Spreads/Commissions | No spreads; commissions from 0% (cryptos) to 0.5% (forex) |
| 🔒 Security | Segregated funds; SSL encryption; firewalls; anti-virus software |
| 📚 Education/Resources | Webinars, videos, articles, etc.; economic calendar, market news, market analysis, etc. |
| 📱 Mobile Trading | iOS and Android app with all Libertex platform features and functions |
| ⚡ Execution Speed | Fast and reliable execution with low latency and minimal slippage; various order types |
| 🔧 Trading Tools/Indicators | Moving averages, Bollinger bands, Fibonacci retracement, etc.; custom indicators and alerts |
| 🌍 Country/Region Availability | Over 190 countries and regions |
| 💰 Account Minimum | $10 for live account; free demo account with $50,000 virtual funds |
| ⚖ Leverage/Margin Requirements | Up to 30:1 leverage on forex and CFDs |
| 📈 Asset Selection/Market Access | Over 250 instruments across forex, stocks, indices, commodities, cryptocurrencies, ETFs, etc. |
What is Libertex? Well, it's probably a good idea to start with the legal name of the company, which is Indication Investments Ltd. and is incorporated in Cyprus. What you get here is a well-regarded CFD trading platform capitalizing on underlying assets such as CFDs on cryptocurrencies, ETFs, forex, and commodities. Beyond this, the platform also offers investments in real stocks that are commission-free, where only market spreads apply.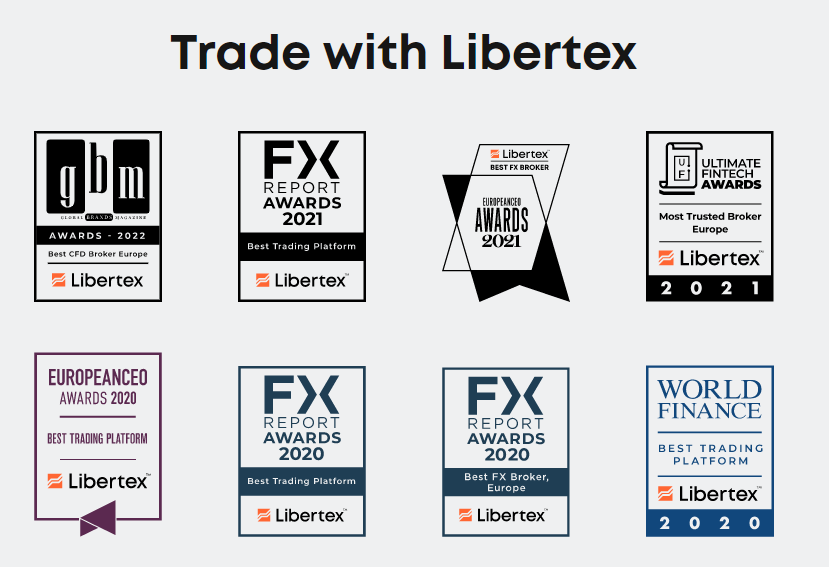 Is Libertex a Good Option for You?
As alluded to above, The question is, is Libertex reputable? First, the awards would not be given to a platform that users do not know. Beyond that, Libertex is subject to regulation, as you are going to see below.
Apart from the reputation metric, the features and workflow built into the platform also contribute to deciding if it's a good fit for you or not. For example, some traders prefer to have greater access to technical analysis tools, which may help them in their ultimate decision-making process.
Being able to arrange data into a pictorial form is great for review before any final trading decisions are made.
More specifically, there are nine timeframes to choose from, as well as 43 indicators. As far as the time frames are concerned, you can go anywhere between a minute and a month. On the side of the indicators, there are 22 trend indicators, 13 oscillators, and eight volatility indicators.
Those who may not be too familiar with the technical tools may not immediately wrap their heads around all this, but those who prefer to have these kinds of views and insights at their fingertips should enjoy the Libertex platform.
Is Libertex Regulated?
Libertex is incorporated in Cyprus and is regulated by the Cyprus Securities and Exchange Commission (CySEC). For reference, its license number is 164/12.
Its role is to ensure that companies engaged in trading offerings are doing so fairly. Therefore, if the awards mentioned above are not enough to go by, this should certainly give you the confirmation you are looking for that Libertex is a reputable and regulated entity.
Who Is Libertex Recommended for?
Libertex can be used by just about anyone from beginners to professional users. While there are various education materials present for those who are just getting into the trading world, the presence of a demo account makes for an excellent learning tool.
Of course, as far as intermediate users go, they would have already gotten their feet wet in the trading world, meaning that any platform should be enough to get them going. Libertex meets this need, offering a user-friendly design.
Finally, some lie on the more professional end of the spectrum. Typically, these kinds of users have a vested interest in analytical tools beyond the ability to trade. Of course, the technical provisions made by Libertex would have been discussed at length above, and they represent quite an interesting prospect to those who have been in the industry a bit longer than others.
Libertex Trade Experience
Libertex is a web-based platform, meaning that pretty much any Internet-enabled device that has access to browsing capabilities can use it. Of course, this also means that there is no need to worry about downloading applications on your device. Nevertheless, there is a mobile application variation available if you find it to be more convenient.
The web page is well optimized, so don't expect to run into any challenges with slowness. Generally, things run pretty smoothly, and the aforementioned user-friendly interface eliminates much of the challenge that is often associated with navigating these kinds of pages.
Don't expect to find the use of existing platforms lying around, since Libertex has taken the time to design its own, which offers customization options to its users. Nevertheless, there is an integration with MetaTrader 4 (MT4) and MetaTrader 5 (MT5), so you can use one of these established options or take advantage of Libertex's bespoke platform.
Commissions and Fees
The fee structure of Libertex is straightforward to understand. Concerns are typically raised about withdrawal or deposit fees, which can put a damper on the experience.
CFD Fees
Commission starts from 0.0003%.
Crypto CFDs may be traded commission free actually. Tight spreads apply, go to Libertex.com for more details.
Non-trading fees
If you're going to use the Libertex platform, there is one fee type you must keep in mind, but depending on your use case, you may never encounter it. This is what is known as the inactivity fee. It applies to clients who have accounts that have been inactive for 180 calendar days.
*If the Client's Account is inactive for 180 calendar days (i.e. there is no trading, no open positions, no withdrawals or deposits), the Company reserves the right to charge an account maintenance fee of 10 EUR (10 GBP, 10 CHF, 50 PLN respectively) per month. (Applies to clients with a total account balance less than 5000 euros ( 4500 GBP, 5300 CHF, 22500 PLN respectively).
Deposit and withdrawal fees
Deposits are commission-free.
As for withdrawals you can opt for commission free methods – such as PayPal and Skrill. See the details at https://libertex.com/payment-methods.
How to Open an Account with Libertex?
If you're interested in getting started with Libertex, you're first going to need to open an account. Guest trading is not facilitated here, which is a standard design choice for regulated entities. Thankfully, the account setup process is nothing particularly difficult.
It begins with a straightforward form requesting an email address, password, and telephone number. You also must indicate that you agree to the processing of your personal data, as well as the terms and conditions associated with using the Libertex service.
Note that the verbiage for the data processing and the terms and conditions have hyperlinks embedded, which allows you to open them and see what the details are. You are highly encouraged to do so, especially since you're dealing with a trading platform where finances get involved.
There's a disclaimer on the form as well indicating that trading is risky, and this is a good time to reiterate that point. Many variables form a part of the trading landscape, which means that guarantees are impossible. Understand that if you choose to engage in trading, the likelihood of loss exists just as there is the likelihood of gain.
Once you're satisfied with the information you've entered and comfortable with the data processing, as well as the terms and conditions, you can click on the "open account" button to complete the electronic sign-up portion.
Libertex has a KYC procedure, which again, is typical of regulated entities. The company must execute its due diligence checks. While it would be preferable for the KYC process to be completed before your initial deposit, you do have a 15-day window thereafter to submit the required documentation after your initial deposit has been made.
As you would imagine, this is a measure that helps to prove your identity and residency, allowing the Libertex platform to maintain an accurate record of its user base.
Libertex Demo account
Libertex users are provided access to a demonstration account, which is particularly useful for those who are not yet at the proficient level in the trading world. It's a great way for beginners and even intermediate users to sharpen their skills.
Beyond that, you can use it to learn more about how the platform operates. Demo accounts are funded with 50,000 euros. Be reminded that this is not real currency, and it cannot be accessed. Similarly, any trading done under the demo account, while it affects the virtual balance, has no real implication whether positive or negative.
Therefore, while you cannot lose anything from using the demo account, you also cannot financially gain from it. If you have an existing trading style and want to see if Libertex is conducive to it, the demo account can do that for you too. Alternatively, you may want to use it to develop the said trading style for the first time.
Another element of the user-friendly design is the ability to switch between your real and demo accounts at will. Trading insights and market forces that have been cataloged are responsible for how the learning environment operates. Therefore, you can use the account to learn more about changing market situations without any real-world implications.
Libertex Education
The demo account mentioned above is the premier learning tool that Libertex offers.
Beyond that, there is https://libertex.com/education where you can find webinars and other educational materials about CFD trading.
Libertex Customer Service
Earlier, you were given a rundown of the different countries that Libertex serves. One of the biggest testaments to the company's commitment to serving its customers effectively is the provision of localized customer support options.
To this end, customers can access support in English, German, Italian, Spanish, French, Dutch, Polish, and Portuguese. Language barriers often create challenges for those who need support, and Libertex wanted to avoid that in any way possible.
You have three convenient methods to choose from as you can submit your support requests by email, phone, or live chat. This is not a 24-hour service, operating only Mondays to Fridays, between 8:00 AM and 6:00 PM CET. Of course, you can always send in an email outside of those time slots, but you are likely not going to see any traction on your request until after 8:00 AM CET on the next business day.
Libertex Crypto
Libertex does not have a proprietary crypto wallet for you to use. Libertex has come out with a new product cryptocurrency CFDs that looks interesting with Zero commission: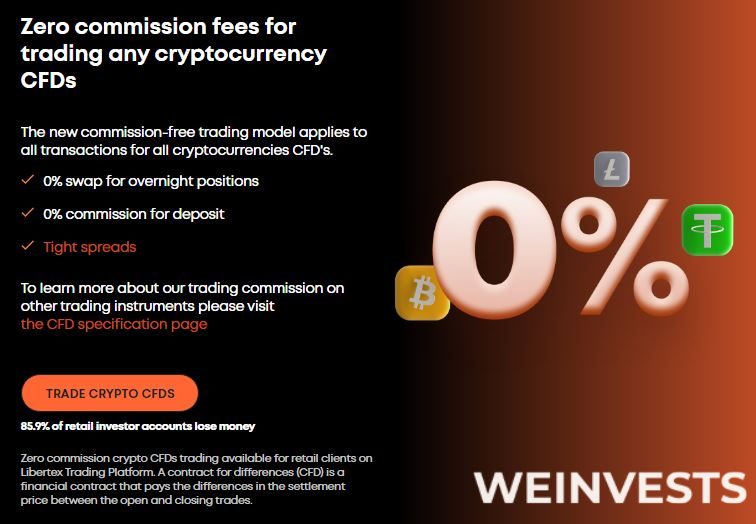 Conclusion
Libertex's standing as a regulated entity that has received several prestigious awards makes it a competitive broker. Anyone from beginners to pros can take advantage of the user-friendly design to execute their trades.
Note that while there is a demo account, there are almost no other traditional educational resources, which could potentially be a deterrent for users that are interested in that kind of functionality, for example, the YouTube channel last video is 8 months ago, the Webinars on https://libertex.com/education is from December 7, 2020 and the Trading option CFDs section has 3 guides from February 1, 2021: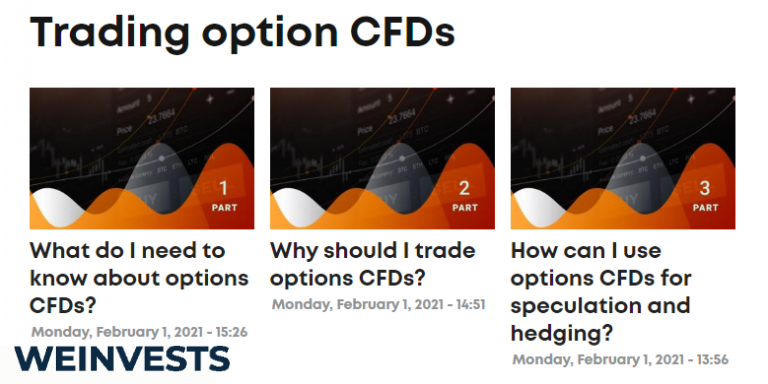 Nevertheless, the verdict of this Libertex review is a thumbs up. It comes highly recommended.
Risk Disclaimer
WeInvests is a financial portal-based research agency. We do our utmost best to offer reliable and unbiased information about crypto, finance, trading and stocks. However, we do not offer financial advice and users should always carry out their own research.
Read More