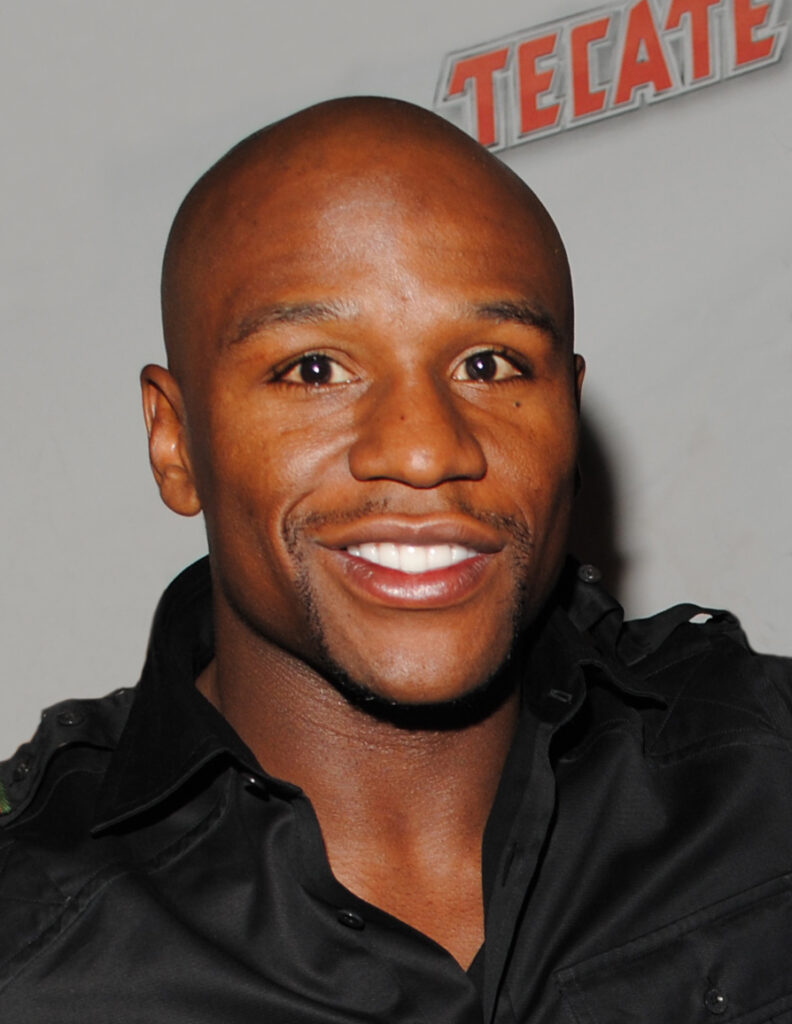 Aside from being one of the most popular boxers of all time, Floyd Mayweather is known for making several investments in real estate, and most recently, crypto and NFT projects.
Unfortunately, not everything is great news for Mayweather as some of these projects the former boxer endorsed weren't as reliable as he claimed them to be. While he's a rather successful boxer, his history with cryptos and NFTs has led to lawsuits, bad comments on social media, and scam complaints.
Today, we'll take a look at Floyd Mayweather and his crypto investments in general. There's certainly a lot of ground to cover here, so make sure you read to the end to know what happened with this celebrity and his investments over the past few years.
Who Is Floyd Mayweather?
Floyd Mayweather, who was born "Floyd Joy Sinclair" on February 24th, 1977, is a former professional boxer and an American boxing promoter. In his boxing days, he competed between 1996 and 2017 and retired with an undefeated record, which is outstanding in the boxing world.
Mayweather has won several titles and awards for his boxing career, such as the "Fighter of the Decade" title by the Boxing Writers Association of America. Other sporting portals also rank Mayweather as one of the best boxers in the world over the past 10 years.
Aside from being ranked as one of the best boxers of all time, he's also known for being a person who likes to make money, and that shows in his real estate investments. Currently, his net worth is estimated to be between $450 and $560 million. However, he recently claimed that his net worth was $1.2 billion, making him one of the richest men in the world.
Mayweather has invested millions of dollars in commercial real estate, including nine skyscrapers and important buildings in New York City, such as the One Vanderbilt.
Floyd Mayweather's Net Worth
Floyd Mayweather, in addition to being one of the most successful boxers of all time and a savvy businessman, has also become involved in cryptocurrency and NFTs (non-fungible tokens) in recent years. In this section, we will provide a detailed table of Floyd Mayweather's net worth, including information on his earnings, investments, and other assets, including his involvement in cryptocurrency and NFTs.
Table: Floyd Mayweather's Net Worth
| Category | Amount |
| --- | --- |
| Earnings (Boxing) | $1.1 billion (estimated) |
| Earnings (Endorsements and Sponsorships) | $300 million (estimated) |
| Investments | $150 million (estimated) |
| Crypto Investments | $50 million (estimated) |
| NFT Investments | $15 million (estimated) |
| Real Estate | $100 million (estimated) |
| Cars | $20 million (estimated) |
| Total Net Worth | $1.735 billion (estimated) |
Updated Mar. 2023
Earnings
Floyd Mayweather's estimated net worth is $1.735 billion, according to various sources. As one of the most successful boxers of all time, the bulk of his earnings come from his career as a professional boxer, where he reportedly earned over $1.1 billion throughout his career. Mayweather has also earned an estimated $300 million from endorsements and sponsorships, including partnerships with brands like Hublot, Burger King, and Beats by Dre.
Investments
Mayweather has made significant investments in various businesses and startups, including Uber, JetSmarter, and the Vegas strip club, Girl Collection. He has also launched his own businesses, including Mayweather Promotions and The Money Team. According to estimates, Mayweather's investments are worth around $150 million.
Crypto Investments
Mayweather has become involved in cryptocurrency in recent years and has reportedly made significant investments in various digital currencies, including Bitcoin and Ethereum. According to reports, his crypto investments are worth around $50 million.
NFT Investments
Mayweather has also become involved in NFTs (non-fungible tokens), a type of digital asset that is unique and can be bought and sold like any other asset. He has launched his own NFT collection, which includes items like digital art pieces and other unique items. According to reports, Mayweather's NFT investments are worth around $15 million.
Real Estate
Mayweather owns several properties around the world, including a $10 million home in Las Vegas, a $25 million mansion in Beverly Hills, and a $60 million skyscraper in New York City. He also reportedly owns a $15 million private island in the Caribbean. In total, his real estate holdings are estimated to be worth around $100 million.
Cars
Mayweather is known for his love of luxury cars and reportedly owns a collection worth over $20 million. His collection includes rare and exotic vehicles, such as a Bugatti Veyron, a Koenigsegg CCXR Trevita, and a Pagani Huayra. He also reportedly owns several Rolls-Royces, Ferraris, and Lamborghinis.
Floyd Mayweather is a successful boxer, businessman, and investor with an estimated net worth of $1.735 billion. His earnings come primarily from his career in boxing and endorsements, but he has also made significant investments in various businesses, as well as in cryptocurrency and NFTs. His real estate holdings and car collection add to his overall net worth, making him one of the wealthiest athletes in the world.
Floyd Mayweather Cryptocurrency Investments
As mentioned before, Mayweather's history with cryptocurrencies is rather dark. While there's not much information about particular investments he's made, there are some news portals that have talked about his promotion of EthereumMax.
Mayweather promoted EthereumMax through social media advertisements and by putting the token's name in his boxing trunks during his fight with Logan Paul. Overall, EthereumMax was primarily endorsed by celebrities, which made the public interest in them get much higher.
However, not long after the project received all of that support, its value dropped at least 97%, which has rendered the token practically useless for all holders. Currently, Mayweather is facing a lawsuit alongside Kim Kardashian and Paul Pierce for misleading investors to purchase the EMAX token.
Today, the EthereumMax team has disappeared from the public view, and many holders of this token are angry at these celebrities for promoting a "worthless" crypto token.
However, this is not the first time Mayweather has gotten into a problem with the crypto world. Back in 2018, Mayweather got a fine of $614,000 from the federal government. This was because he didn't disclose payments he received when promoting three ICOs, including the Centra Tech one.
Overall, it was discovered that the Centra Tech ICO was fake, which has caused the founder of Centra Tech to face an eight-year sentence. The primary problem in all of these cases is that Mayweather helped promote these tokens and ICOs to get their value high; then, he left them when their value dropped significantly.
It's safe to say that Mayweather hasn't had a nice experience with cryptocurrencies so far. Today, Mayweather is currently looking at NFT investments, which we'll cover in the next session. In this particular case, it seems like Mayweather isn't exactly a trustworthy person when it comes to promoting a crypto token, which has angered several holders.
Floyd Mayweather NFTs Investments
Unfortunately, Mayweather's story with NFTs isn't much different from the one with his cryptos. First, he was known for promoting projects like the aforementioned EthereumMax, Bored Bunny NFT, Real Floyd NFT, Moonshot, and more.
The thing about all of the projects mentioned is that their value has currently dropped to near zero, leaving holders with little to no earnings from their investments. Recently, Mayweather launched his own NFT project, which was called the "Mayweverse." Overall, the goal of this project was to offer fans the opportunity to mint over 5,000 NFTs at the price of 0.3 ETH.
Moreover, Mayweverse holders can apparently join Mayweather in the Metaverse through exclusive events and items. Before the Mayweverse came to life, he had his Floyd NFT Project, which allowed him to sell 11,111 NFTs for 0.15 ETH each. All of those NFTs currently add up to a sum of five million dollars.
Unfortunately, Mayweather abandoned this project, which made the value of all of those NFTs plummet. Moreover, Mayweather deleted any mention of the Floyd NFTs from his personal accounts.
Those who may still want to invest in the Mayweverse can still do it. Although it's recommended to wait until the value of these assets drops down. Considering all of the times that Mayweather has given up on previous crypto and NFT projects, it shouldn't come as a surprise if he leaves this one out too.
Floyd Mayweather Investments in Companies and Stocks
As mentioned before, Floyd Mayweather is known for having invested in several different real estate properties and promoting crypto and NFT projects. In 2006, he first invested in his boxing firm "Mayweather Promotions," which has been successful and has earned Mayweather millions in his bank account.
Currently, Mayweather Promotions has a wide roster of professional fighters like Gervonta Davis, Andrew Tabiti, Badou Jack, and more.
On the other hand, Mayweather invested in a team in the NASCAR Cup Series, which is called "The Money Team Racing;" though more information about this recent investment remains to be seen, this team has currently qualified for the Daytona 500.
Mayweather also owns a boxing club called "Mayweather Boxing Fitness." Here, he uses his training techniques for fitness sessions for people. Currently, this club has over 6,000 franchise applications.
Thanks to the Floyd Mayweather Jr. Foundation, Floyd promotes health, education, and wellness for the black community and the youth.
More recently, Mayweather and Alex Rodriguez have invested in CGI's $650 million opportunity fund. The portfolio for CGI currently includes the Gabriel Downtown Hotel, Gabriel South Beach Hotel, and more.
Overall, Mayweather owns several commercial real estate properties. Another building that he owns is the "The Girl Collection" adult club in Las Vegas. He has been seen promoting this club via his social media accounts.
Regarding Las Vegas, Mayweather has also purchased a roller skate park in the area, which is located at 4680 Boulder HWY. In this case, Mayweather uses a separate social media account for the area to reveal everything that can be done in that area.
Mayweather, allegedly, also holds several stock investments, although we couldn't find any information to back up these claims.
Are the Claims About Floyd Mayweather True?
There have been some claims about Floyd Mayweather investing in cryptocurrencies online. While we've seen that Mayweather has endorsed some crypto projects like EthereumMax, there's no information telling us that he uses any trading platforms to get any cryptos like Bitcoin, Ethereum, or others.
As far as the public knows, Floyd Mayweather has tried over and over again to promote certain crypto projects, only for them to plummet in value after a short while, which has caused people to lose credibility in what Mayweather has to offer.
Those who want to invest in Mayweather's NFT project, Mayweverse, must be careful that they're not holding too much money on these assets since you never know if the famous boxer is going to pull the rug on that project too.
Overall, there's no exact information regarding Floyd Mayweather's investments in cryptos, but he has certainly promoted some projects poorly, causing several legal problems with him and other celebrities in the past.
Final Thoughts
Floyd Mayweather is certainly popular in mainstream media, and he didn't gain his "Money" nickname for no reason. Overall, he's been smart with his investments, which has allowed him to increase his fortune over the past few years.
Even after retiring from professional boxing, he's still profiting from his boxing firm, real estate investments, and other projects.
The bad thing about Floyd Mayweather's portfolio is his promotions of cryptos and his own NFT project. Currently, not many people trust the ex-boxer's promotion criteria, so they prefer not to invest in those endorsed projects.
On the other hand, die-hard fans are still using projects like the Mayweverse to get exclusive access to tickets, items, and many more things.
We hope this brief article has helped you understand Floyd Mayweather's investment career in more detail, as well as what happened with his most recent crypto and NFT endorsements.
Risk Disclaimer
WeInvests is a financial portal-based research agency. We do our utmost best to offer reliable and unbiased information about crypto, finance, trading and stocks. However, we do not offer financial advice and users should always carry out their own research.
Read More