This content represents the writer's opinions and research and is not intended to be taken as financial advice. The information presented is general in nature and may not meet the specific needs of any individual or entity. It is not intended to be relied upon as a professional or financial decision-making tool.
The Stellar network is a blockchain-based, open-source distributed ledger that aims to reduce fees while storing and moving funds across currency values. Additionally, the fundamental purpose of the Stellar network is to connect payment systems, banks, and users at faster rates and without many of the normal transfer costs that are associated with conventional banking.
Moreover, the native cryptocurrency of Stellar is called "lumens," while many investors and traders use the names "Stellar," "lumens," and the crypto's ticker "XLM" interchangeably. sometime confused with "XML".
Our guide shows you how to create a crypto trading account, buy coins, and store them safely. We also guide you on how to use some of our favorite cryptocurrency trading platforms and wallets to start investing right now
What are your options?
Stellar can be purchased in numerous ways; you must choose a cryptocurrency trading service or a venue that best meets your needs. Payment services, crypto exchanges, and mainstream brokers are the most common places to purchase digital currencies in general.
The simplest way to get your hands on Stellar is through the use of a cryptocurrency exchange. Make sure to compare numerous options before making a final decision.
To make buying Stellar easier, look for an exchange that accepts cryptocurrency and fiat.
Compare XLM-supporting crypto exchanges. Security, fees, and payment methods vary among crypto exchanges, so you have to do some research to figure out which is the best fit for you. You do not need a wide selection of features as a novice, and you may always change platforms later.
Create a trading account on your chosen platform. By clicking the Go to website button, you can create an account. This leads you to the account setup page, where you can fill out your personal information, beginning with your email address and name.
Make a deposit into the account. To buy Stellar, fund your account using a bank transfer, a debit or credit card, or Bitcoin from a crypto wallet.
Purchase Stellar. After you've completed your Stellar purchase, look for the finest wallet to safely store your XLM.
Where to Buy Stellar?
Stellar has become a very popular cryptocurrency that people want to purchase. This is because they believe that it will become profitable in the future, and it is an excellent way to help diversify portfolios. However, many people wonder where they can buy Stellar. Luckily, this is possible by going to the eToro website.
Below is an outline of how to buy Stellar on the eToro platform after opening an account.
Step 1: Open an Account
It is no surprise that the first thing that needs to be done is to open an account.
Before you even start considering Stellar as your ideal crypto, you have to open an account with eToro. Otherwise, you might not be able to purchase the coins you want. Go to eToro's website. fill out to open your account.
It will require you to fill in only the basic information, which only takes a couple of minutes.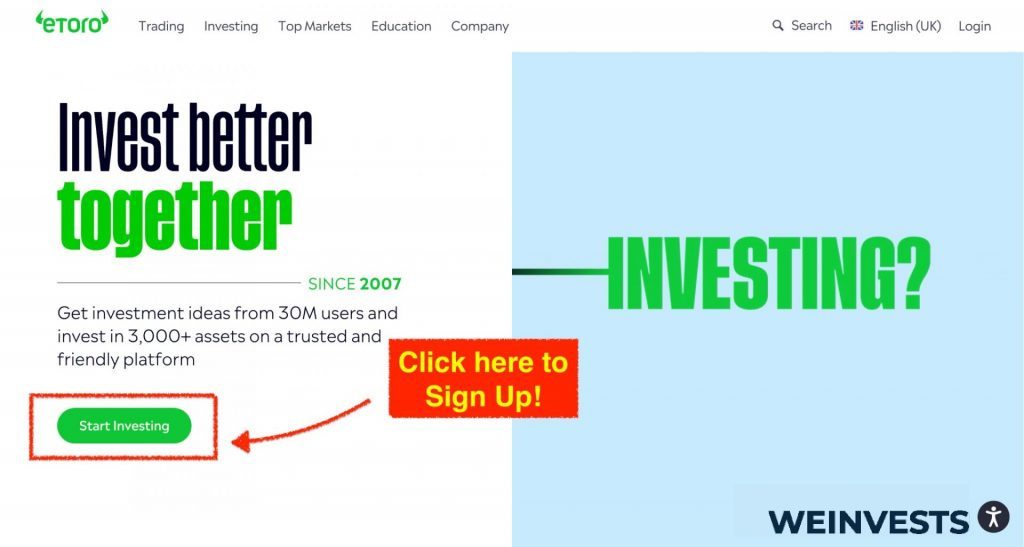 Step 2: Upload ID
Since the user gave the correct email to eToro, they will receive a confirmation email where they need will be prompted to add additional information about themselves. This is because eToro wants to make sure that the people investing with the platform are real, so they will need to provide a vail piece of residence like a bill and a government-issued ID.
Lastly, there is a questionnaire that people will need to fill out. This KYC process is there to help individualize the experience for all users.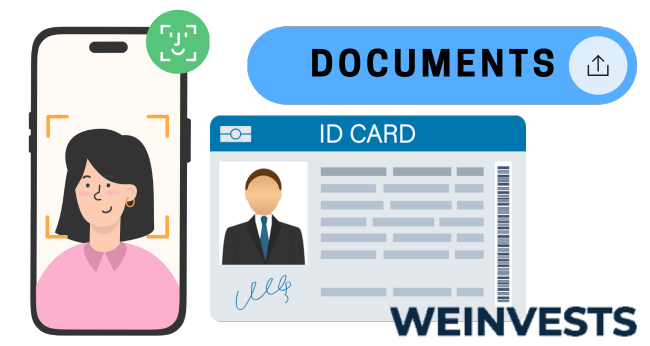 Step 3: Make a Deposit
Once the account has been created and finalized, the user will need to place their deposit money into their account. This can be done by logging in and clicking on the 'Deposit Funds' button.
To fund your account, just go to the 'Deposit' option and choose the specific features of how you want to invest your money, for example, the amount and payment method.
There are many different payment methods that eToro accepts, like credit or debit cards, eToro Monday, Neteller, PayPal, Skrill, and more. However, the user needs to remember that they should only deposit the amount of money that they can afford to lose.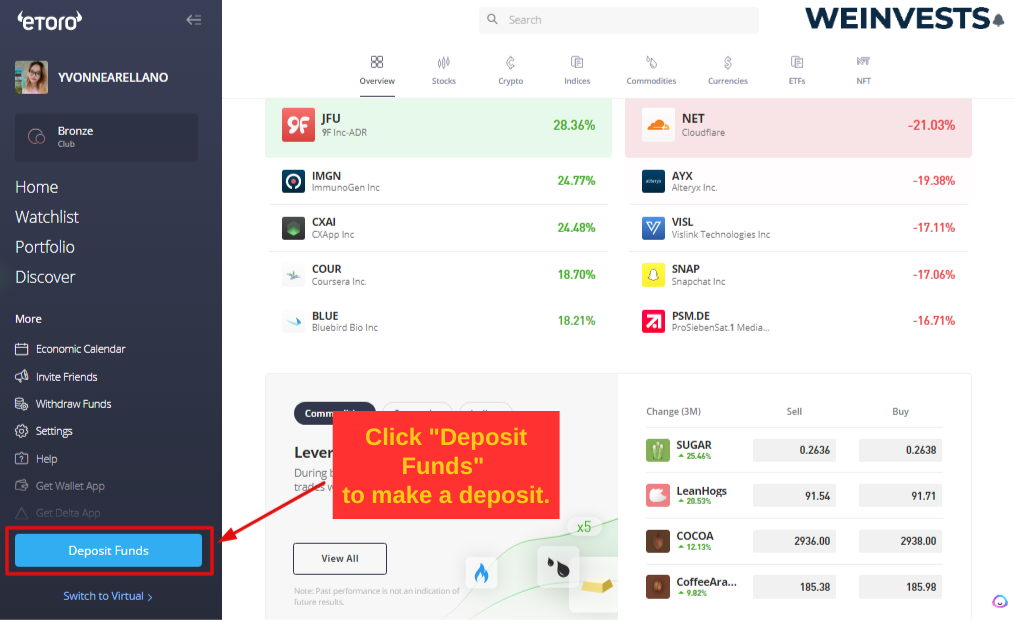 Step 4: Search for XLM
There are a few ways to find Stellar on eToro. Both methods can be done on the web browser version or the app, so people will be able to find Stellar if they need to. Users can either search for the coin itself or use the filter system on the main page.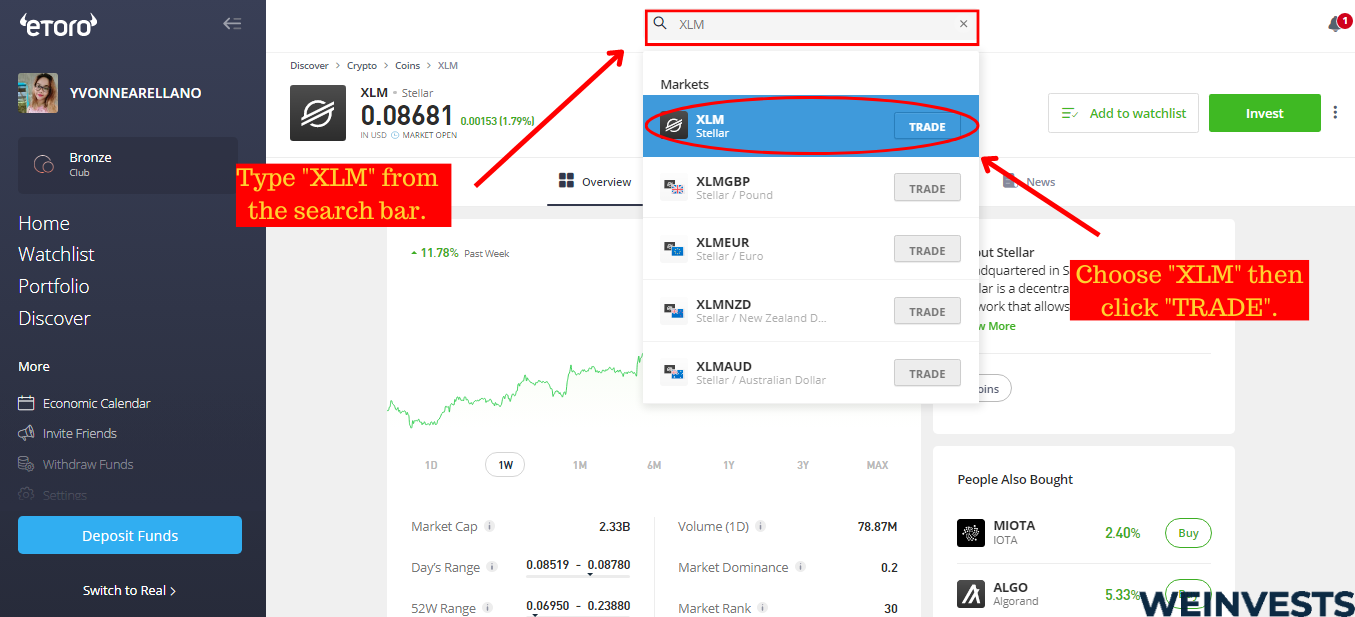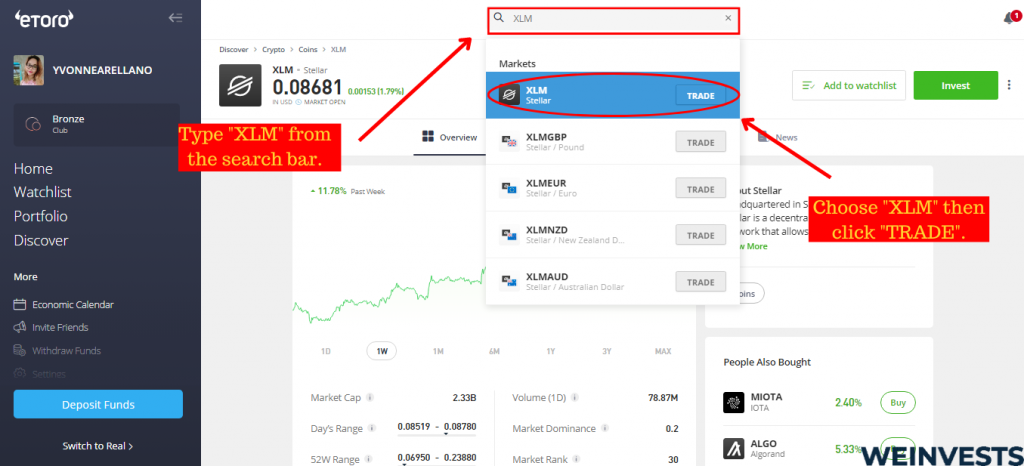 Many people enjoy the filter system more because they can see how Stellar is performing at that moment by itself and up against other coins. This is a quick way to check the live updates before purchasing.
Step 5: Trade XLM
Once a user has figured out that they want to invest in Stellar, they need to purchase it. This is the easy part because the user would already have the money in their account from the previous steps, so they can either buy a whole coin or a piece of one.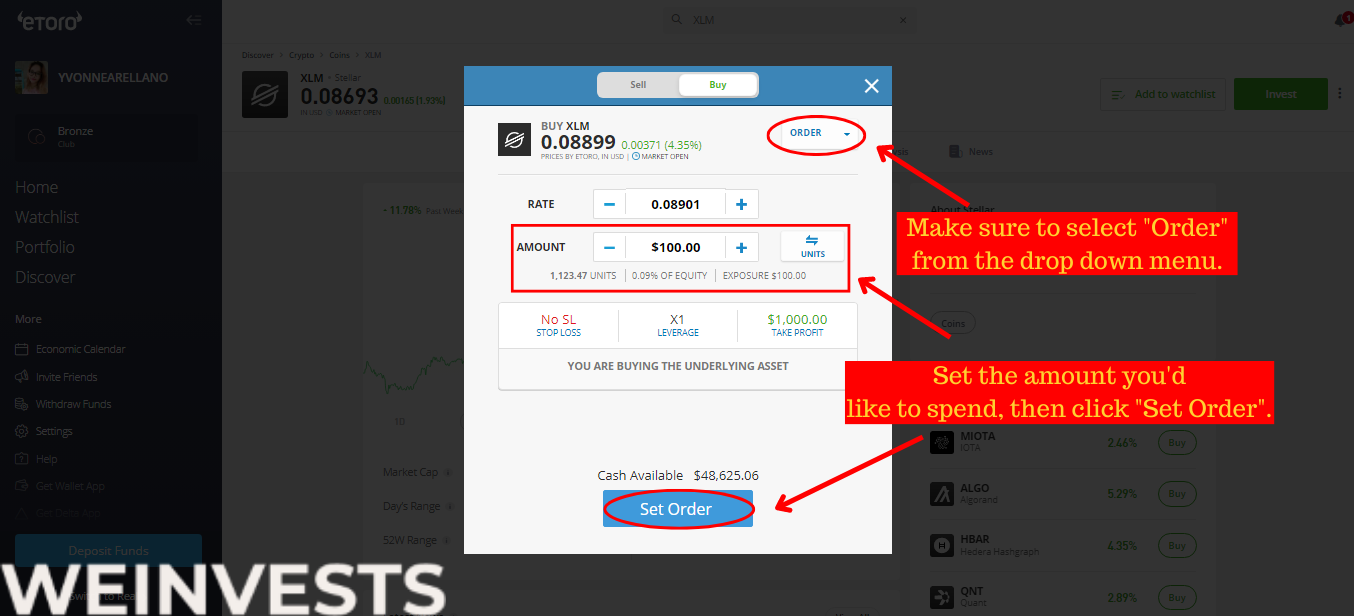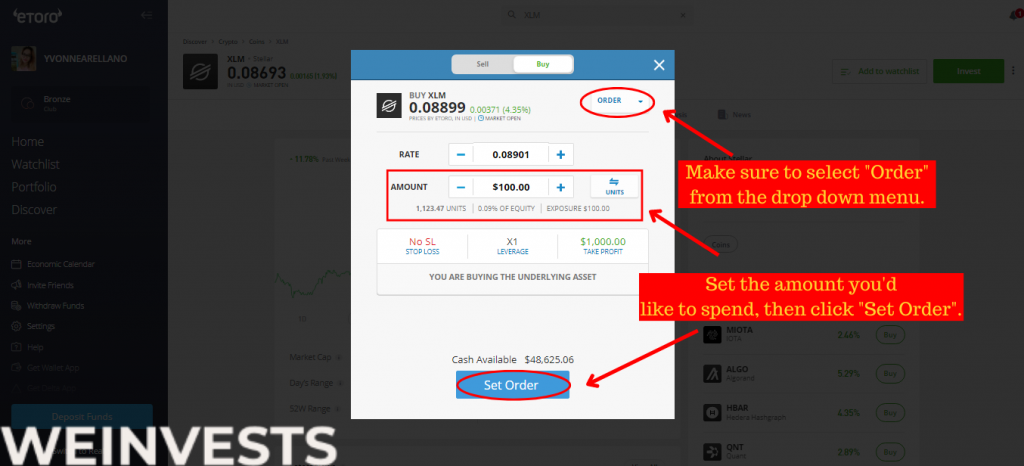 How to Buy Stellar with PayPal?
When it comes to purchasing Stellar, PayPal is a common option. While you can't buy Stellar directly through PayPal, you can buy it using PayPal in combination with a trading platform or a peer-to-peer (P2P) market exchange such as Kraken.
How to Buy Stellar with a Credit Card?
You can buy Stellar (XLM) using your debit or credit card through various crypto partners. Your newly acquired crypto is transmitted to the security of your hardware wallet right away. Exchanges such as eToro and Coinbase have made the procedure simple and quick, but you need a Stellar wallet first because certain exchanges require it.
Safe Storage
A Stellar wallet, rather than retaining your coins, helps you safeguard your private key. If you're new to cryptocurrencies, the concept of a private key and why it is so vital may seem perplexing. Perhaps you first became interested in cryptocurrencies by purchasing coins on an exchange platform without understanding that they also own your asset's private keys.
When you purchase cryptocurrencies, you are actually buying a private key, which is a piece of data that is used to verify incoming and outbound transactions on the blockchain network. Having your private keys enables you access to your cryptocurrencies, identical to having your credit card pin number; in other words, it gives you authority over your cash.
As a cryptocurrency investor, you must take security seriously, and having power over your private keys gives you a lot of influence and control. Hardware wallets are designed to keep your private keys apart from your easily hacked computer or phone. You are the only one you can entrust with your digital assets.
Alternate Ways to Buy Stellar
If you want to trade your Stellar on a regular basis, you should keep it in your exchange wallet so you can acquire liquidity immediately. This is a danger because exchange wallets are less private than cold storage. Cryptocurrency prices are extremely volatile, especially over short periods of time. When you trade, you are also subject to price volatility concerns.
If you wish to trade Stellar coins and cash out, you have a few options. Crypto ATMs, P2P exchanges, mainstream brokerages, and asset swaps are all ways that you can make use of to buy XLM tokens. Let's look at these in further detail.
As per the CEO and co-founder, Daniel Polotsky, cryptocurrency ATM startup CoinFlip now allows consumers to buy Stellar Lumens (XLM) via its network of ATMs.
According to Polotsky, the listing expands XLM's availability in physical stores. Customers can buy a number of digital currencies with credit cards at CoinFlip ATMs, which are located in petrol stations and convenience stores across the USA.
It's vital to consider how regulated your broker is while purchasing Stellar. In this scenario, specific brokerages are subject to limits, although they are not all-inclusive. On the other hand, cryptocurrency exchanges like Binance and eToro have millions of active users.
Remember that Stellar can be kept in a crypto wallet. A wallet with private keys and strong security measures would be ideal. Distribute the private keys you use to access your Stelar wallet with caution, as you would with any cryptography.
You can buy Stellar from a crypto exchange broker. Because Stellar isn't as well-known as other prominent cryptos, it may be more challenging to find XLM tokens on social trading sites. The spreads vary for each crypto trading platform; for instance, Binance charges a 0.1 percent spot trading fee and a 0.5 percent Instant Buy or Sell fee.
It is possible that other websites that offer similar services to Binance charge different fees. Depending on the cryptocurrency exchange and features, they could be a lot more or much less costly.
The bulk of US-based regulated cryptocurrency exchanges, such as Kraken and others, do not allow the purchase or selling of XLM. You can still buy and store Stellar by exchanging it for another coin on other P2P exchanges.
Moreover, you can now buy a specific asset on your crypto exchange, such as USDC stable coin, if you don't want to switch your assets. After that, transmit it to an XLM-buying platform, such as Binance, and make your Stellar purchase there.
Conclusion
To keep your Lumens safe, you need a crypto wallet that can hold them. Although many wallets support Stellar, only a few reliable wallets support Stellar XLM and other cryptocurrencies.
Purchasing XLM is a little more complicated than purchasing most other popular cryptocurrencies, but with the number of exchanges available today, the procedure shouldn't take too long.
The company has made significant progress since being launched. Since its inception in 2014, nevertheless, it's unclear whether investing in XLM is a good idea, given that it's not directly used in the Stellar network.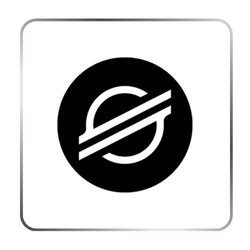 Stellar (XLM) Price Prediction 2023
According to sources, the XLM cryptocurrency is expected to reach 90 cents by the end of 2022. It does, however, say that XLM pricing might get to 95 cents. However, it does not estimate the peak for the following year to be higher than 62 cents. This model predicts that prices will not rise above 75 cents in 2024 and that they may fall as low as 57 cents.
Risk Disclaimer
WeInvests is a financial portal-based research agency. We do our utmost best to offer reliable and unbiased information about crypto, finance, trading and stocks. However, we do not offer financial advice and users should always carry out their own research.
Read More