This content represents the writer's opinions and research and is not intended to be taken as financial advice. The information presented is general in nature and may not meet the specific needs of any individual or entity. It is not intended to be relied upon as a professional or financial decision-making tool.
Sia is a platform for decentralized storage. Siacoin is the native cryptocurrency of the Sia platform. Sia is based on a proof-of-work (POW) consensus algorithm, which Bitcoin uses, not proof-of-stake (POS). This means that similar to Bitcoin, Siacoin tokens are mined, not staked.
The cryptocurrency should be built on the POS model to stake coins in the usual way. Therefore, Siacoin does not provide staking in the typical sense. However, thanks to one popular exchange and some token ingenuity, investors can still reap the rewards of staking Siacoin and earn passive income in other ways.
Leading cryptocurrency exchange Binance is behind a service known as Binance Earn. This is where the platform lets investors and traders generate passive income at a specific APR for select cryptocurrencies. Among the coins that Binance Earn supports is Siacoin for staking. The interest rate attached to Siacoin staking is currently 0.50%, which token holders receive in exchange for placing their tokens on the exchange and providing liquidity to traders.
The Sia project is also behind a second cryptocurrency called Siafunds (SF). The Siafunds coin is designed to incentivize people to use the Sia platform for decentralized cloud storage instead of flocking to centralized platforms like Amazon or Google for storage. Here is how the Sia storage platform works: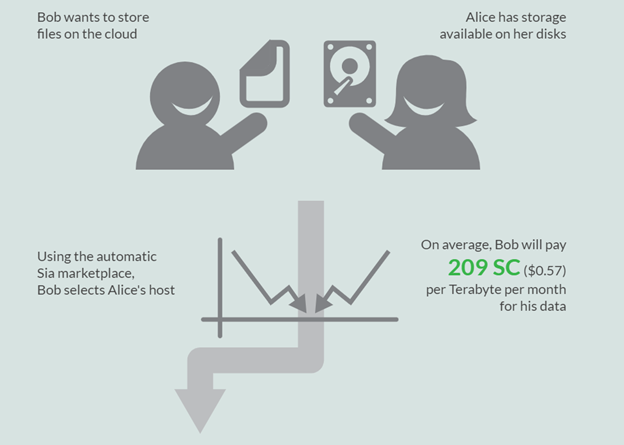 Pros
Earn returns of 0.50% if you keep your tokens on Binance Earn for the entire 12-month period.
If you're holding Siacoin anyway, put your coins to work for you and capture more returns than you otherwise would by just letting the coins sit idle.
Binance is one of the largest cryptocurrency exchanges in the industry.
Siafunds offers investors a second option for generating passive income from the Sia project. Revenue is 3.9% of fees collected on the Sia platform spread across all SF token holders.
Cons
Your options for staking Siacoin are limited compared to other staking cryptocurrencies. Therefore, you can't compare it to many platforms and choose the one that works best for you.
You must trust your coins with a centralized platform (Binance) to reap the rewards of staking Siacoin.
What is Siacoin Staking?
Staking in the cryptocurrency industry involves market participants placing their coins on a platform for a period of time, whether months or years, to provide liquidity to traders. You must first own the coins to stake them. In the case of Siacoin staking, you are providing liquidity to traders on cryptocurrency exchange Binance.
Staking Siacoin can be done in one of two ways. The most common way to stake Siacoin is to place a given amount of your SC tokens on Binance Earn. Binance offers staking to investors as a way to generate returns on their crypto holdings, especially if the 0.05% return offered by some banks on savings accounts is not enough.
You can think of Binance Earn as a crypto savings account in which your Siacoin holdings will work for you 24/7. If you are holding SC in your "spot wallet" on Binance anyway, it is a way to bolster your returns for this coin. By staking Siacoin on Binance Earn, you are providing liquidity to traders on the Binance platform so that they can buy and sell the coin more easily.
One trader, MoneZG, explained on YouTube how he participates in staking on Binance Earn to support dollar cost averaging, a trading strategy involving buying crypto in small amounts spread over time instead of buying in one fell swoop. This increases the chances of buying when the price is low.
Siafunds is a revenue-sharing coin that spreads out earnings to holders of the SF coin when contracts are completed on Sia's decentralized storage platform. Sia reserves 3.9% of these fees, which originate from:
Fees renters pay for storage
Bandwidth costs renters pay
Host collateral
Those fees are then spread among all SF token holders. SiaFunds supply is limited to 10,000 tokens, most of which are held by participants in the project. However, you may be able to pick some up on decentralized exchange Bisq.
How to Stake Siacoin?
Binance Earn is one of the platforms offered by cryptocurrency exchange Binance. It comprises a suite of products to help users bolster their cryptocurrency holdings.
This includes staking Siacoin. Below is a step-by-step tutorial on how to stake Siacoin on Binance Earn.
Step 1: Sign Up and Verify your Account
If you want to stake Siacoin, the first thing you must do is create an account on Binance.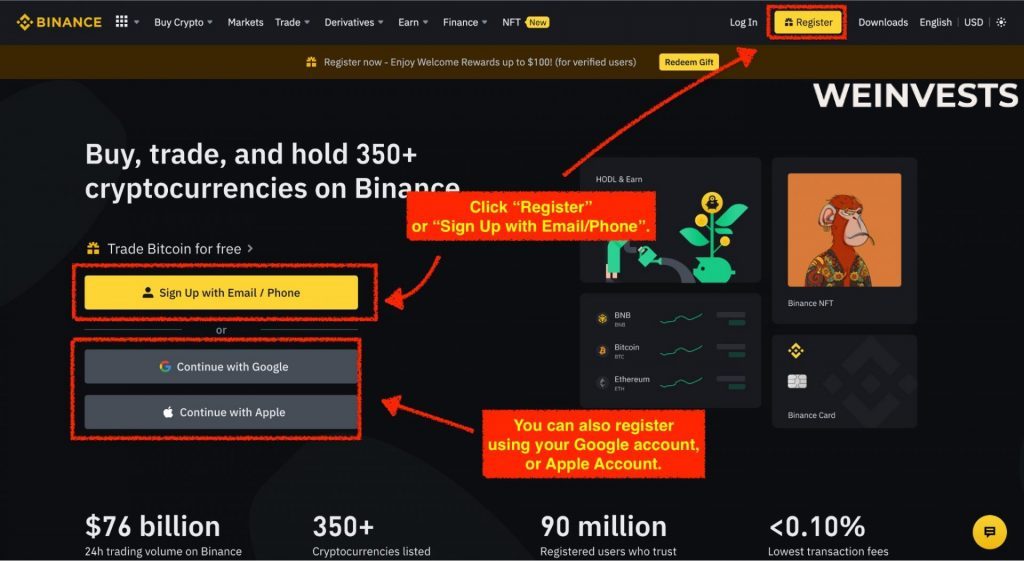 Then go through the verification steps to provide Binance with proof of identity.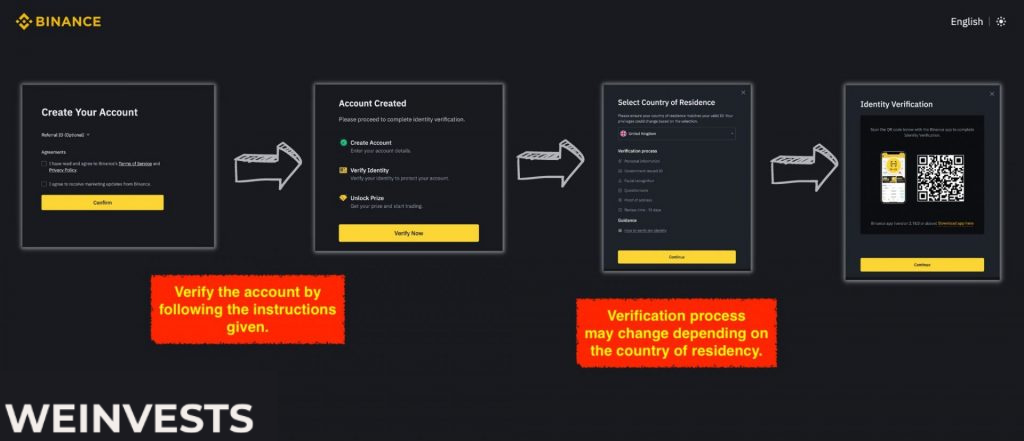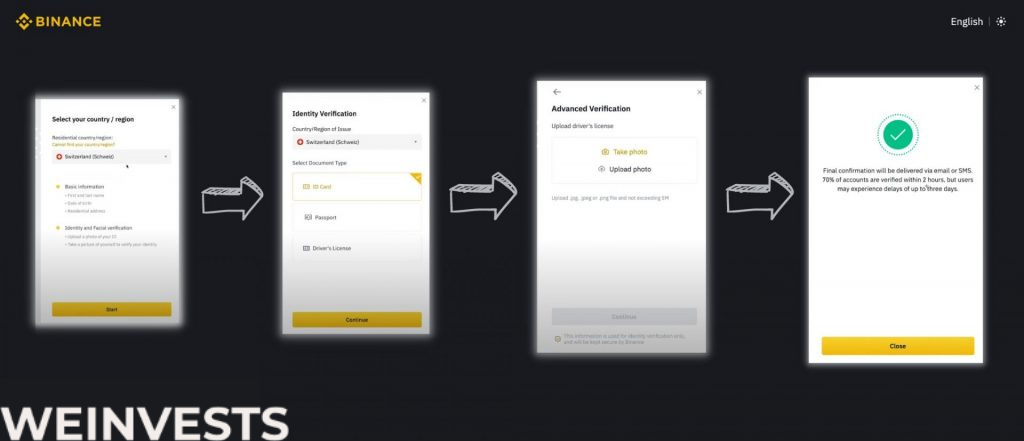 Step 2: Fund your Account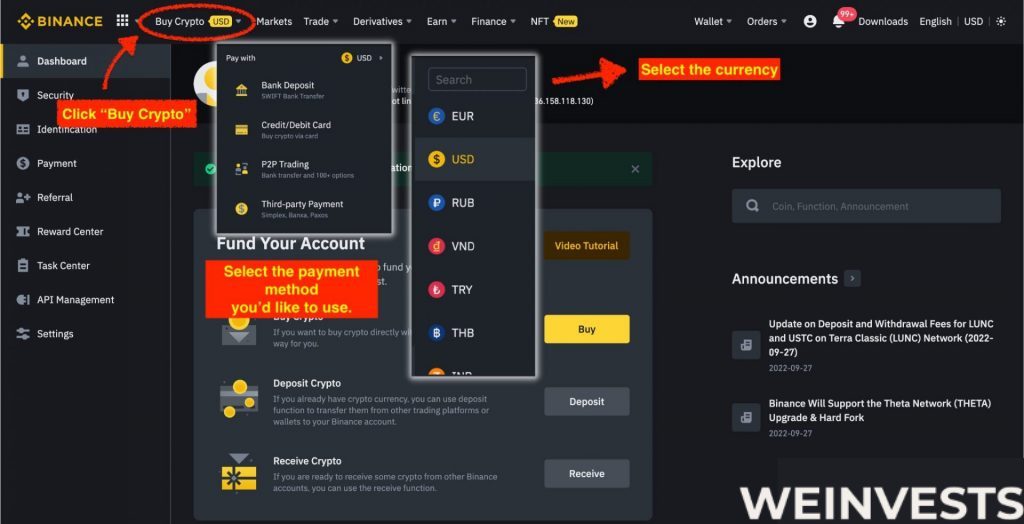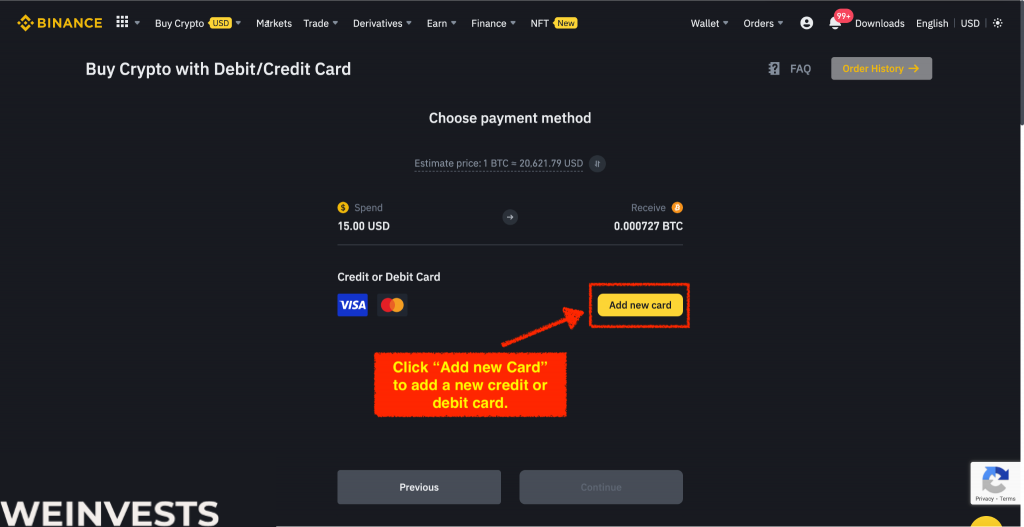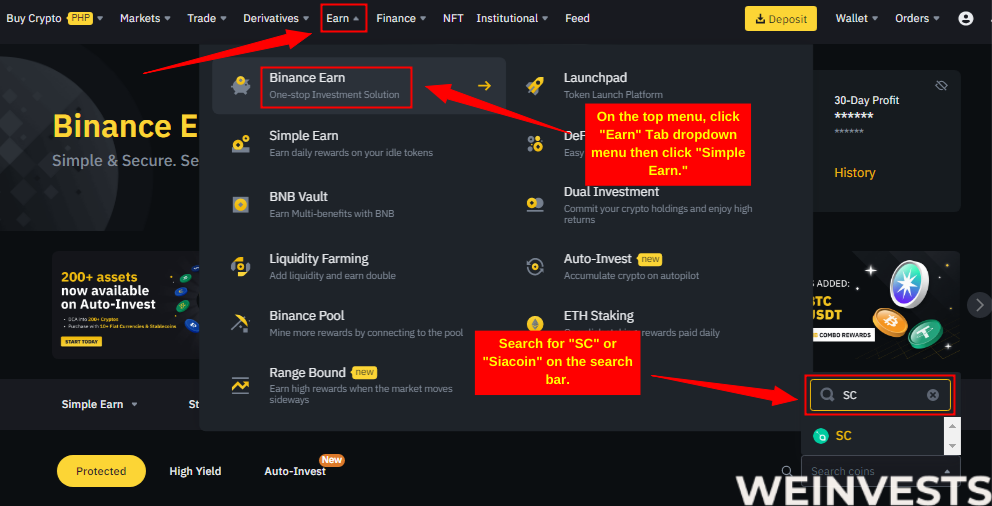 Go to the drop-down menu labeled 'Earn.' Here, you will have multiple options. Click on 'Binance Earn' and then search for 'SC'.
Step 4: Analyze the Staking Parameters and Stake
Here, you can analyze Siacoin using the 'Calculate your crypto earnings' feature. You can input the amount you want to invest and see the projected earnings for 1 year, 2 years, 3 years, or 5 years. Simply click on the desired number of years to invest in 'SC'.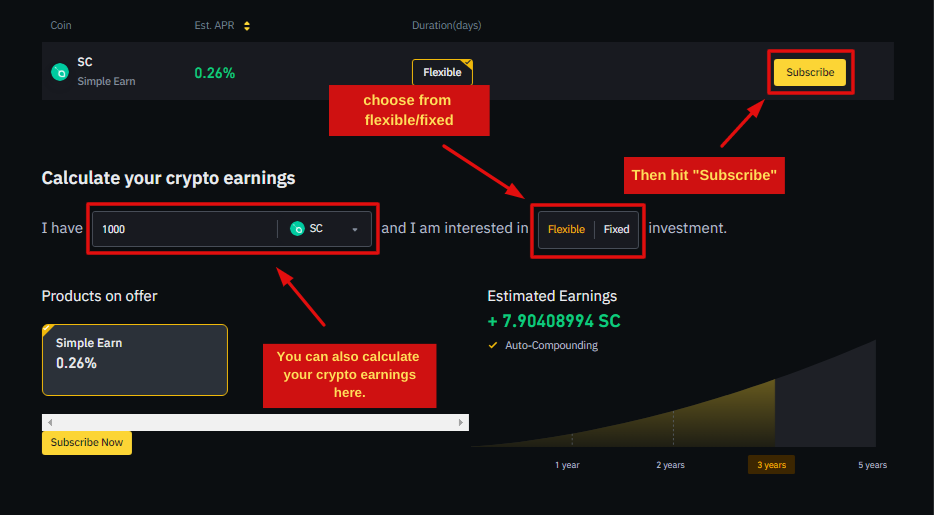 If you want to earn rewards with your Siacoin (SC) on Binance.com, you can go to the "Products on Offer" section and then click "Simple Earn".

"Simple Earn" lets you deposit your SC in flexible or locked products and earn daily rewards. You can subscribe or redeem at any time, so you can maintain your assets' flexibility and liquidity. The rewards are sourced from Binance's own funds and are based on the market conditions.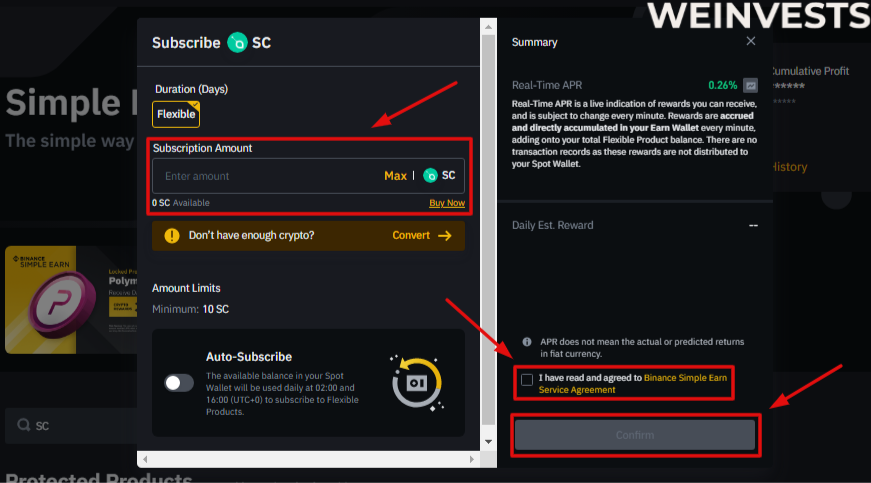 Siacoin Staking Tax
Even though the regulatory landscape in crypto is still being crafted, one thing is clear — you've got to pay your taxes on the earnings you receive from Siacoin staking. In the U.K., this means following the guidance regulators have provided so far. In doing so, you'll find that you are covering your bases for paying taxes on passive income earned from staking Siacoin.
The HM Revenue and Customs, the U.K.'s tax office, categorizes rewards you earn from staking Siacoin in the U.K. under the decentralized finance, or DeFi umbrella. This means that the earnings you generate from staking Siacoin are treated as miscellaneous income, which in turn means they are subject to income tax. This is in addition to any capital gains tax you will have to pay if and when you sell the crypto asset for a profit.
The U.K.'s tax guidance requires that investors report the fair market value of their crypto as determined when they receive the funds as income. So, let's say you staked GBP 1,000 worth of SC, and when the coins arrived in your wallet, they were each worth GBP 1. You should then report GBP 1,000 as miscellaneous income.
Why do people like Staking Siacoin?
There are many reasons why people like staking Siacoin, not least because of the passive income it generates. If they already own SC in their portfolio, they find it easy to move those coins over to a staking mechanism and let them capture more earnings. Plus, Binance Earn offers a flexible option on Siacoin staking, so investors can withdraw their funds anytime and don't have to adhere to lengthy lock-up periods.
Also, Siacoin is a popular cryptocurrency and is ranked No. 150 on CoinMarketCap based on the crypto's market capitalization, which at last check was USD 138 million. However, Siacoin has not been left unscathed from the crypto winter.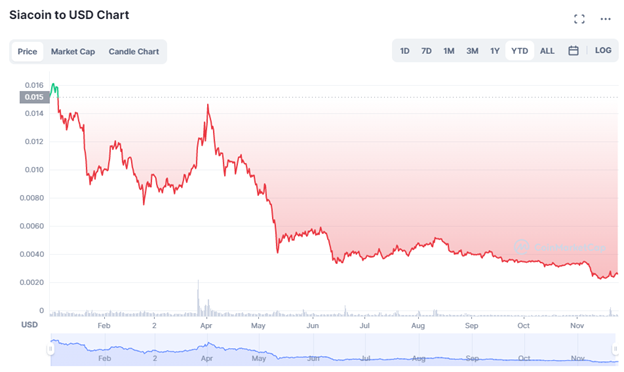 Image by CoinMarketCap
Sia is an evolving project that continues to expand its use cases. As demand for Siacoin increases, it could result in a higher Siaccoin price. Holding more SC tokens would be beneficial in this case. The Sia Foundation has recently unveiled plans to develop credit card integration for a blockchain-fueled decentralized storage network dubbed Sia Satellite. As demand for the network potentially increases, so too would the fees paid in Siacoin.
Conclusion
So, there you have it. Siacoin staking is possible, even if your options are somewhat limited. If you are willing to become a customer on cryptocurrency exchange Binance, you stake Siacoin by directing your coins over to the Binance Earn platform. You can earn a 0.50% interest rate from doing this, though these rates are subject to change.
For example, if you stake GBP 1,000 in Siacoin on Binance Earn, you will earn the equivalent of approximately 2.5 SC per year at the current APR (at the time of writing this article). Don't forget to pay taxes on any staked coins you earn each year, which you can treat as miscellaneous income based on the latest guidance.


As another option for engaging with staking in the Sia project, you can buy Siafunds coins. This is the second cryptocurrency offered by the decentralized storage project, and it is meant to attract users to the Sia platform. Siafunds earmarks 3.9% of the revenue earned from user fees and distributes that amount to holders of the SF token in yet another form of passive income.
Siacoin Staking FAQs
How much can I earn from staking Siacoin?
The current interest rate for staking Siacoin on Binance Earn is 0.50%. How much you earn depends on how much you stake and how long you leave it there. If you stake 1,000 SC at the current rate, you'll make about 5 SC in one year, 10 SC in two years, 15 SC in three years, and 25 SC in five years. If the price of SC increases, so too will the value of your holdings.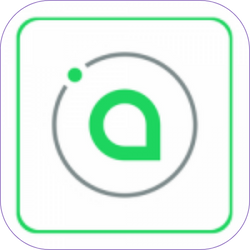 How to Buy Siacoin (SC)
This article is a go to guide to help users when they want to buy Siacoin. We go into detail about Siacoin's tokenomics and discuss important things a user has to know before making a purchase decision. We also show how they can buy, store their asset, platforms to use and more.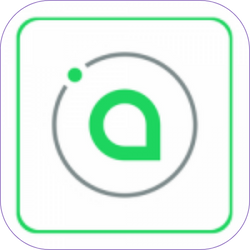 Risk Disclaimer
WeInvests is a financial portal-based research agency. We do our utmost best to offer reliable and unbiased information about crypto, finance, trading and stocks. However, we do not offer financial advice and users should always carry out their own research.
Read More