This content represents the writer's opinions and research and is not intended to be taken as financial advice. The information presented is general in nature and may not meet the specific needs of any individual or entity. It is not intended to be relied upon as a professional or financial decision-making tool.
Shiba Inu seems to be on the rise more than many of its compatriots. It's certainly one of the more sought-after Ethereum-based altcoin options.
It's so popular, that its supporters label it as the Dogecoin killer. Today, it's all about helping you learn how to buy Shiba Inu. So, why not jump into the good stuff?
What are your option?
You have quite a few choices when considering where to buy Shiba Inu. First, as with other assets, you can buy Shiba Inu in a few different places. The first and most common, are the cryptocurrency exchanges.
These are simply online marketplaces where crypto stakeholders come together to buy, sell, and trade various cryptocurrencies. You can liken these to other exchanges often used for different assets, such as stocks.
Payment services, often referred to as payment gateways, provide another option. Here, you have an intermediary designed to allow for compatibility and inclusivity. PayPal is an example of one of the most common, as it's almost universally accepted.
You can look at a brokerage as something that lies between the two. It's an intermediary that facilitates buying and selling on a crypto market on your behalf.
There's no objectively best way to buy Shiba Inu. Base your choice on the payment methods applicable to you and your location, as well as your level of comfort.
For example, you may not have an internet transaction-enabled credit or debit card. This would rule out the possibility of using these methods. However, you may have alternate means of loading a PayPal wallet (bank transfer, for example), making PayPal the most suitable choice for you.
How to Buy Shiba Inu (SHIB) on eToro
Although Shiba Inu coin has only been around for a few years, it has piqued the interest of many cryptocurrency investors. It's unique and intriguing. The coin was launched as an alternative cryptocurrency, and it has earned the nickname 'Dogecoin Killer' after surpassing Dogecoin in terms of market worth.
This coin is available as a crypto asset called Shiba (in millions) and can be exchanged on the eToro online investment platform, so keep reading if you want to learn more about how to invest in this new crypto.
Step 1: Open an Account
To purchase Shiba Inu coins, you must first register for an account with a cryptocurrency exchange provider that supports the fund's exchange. You can use the eToro app to keep track of the coin's market value fluctuations and sell a variety of cryptocurrencies. Go to eToro homepage.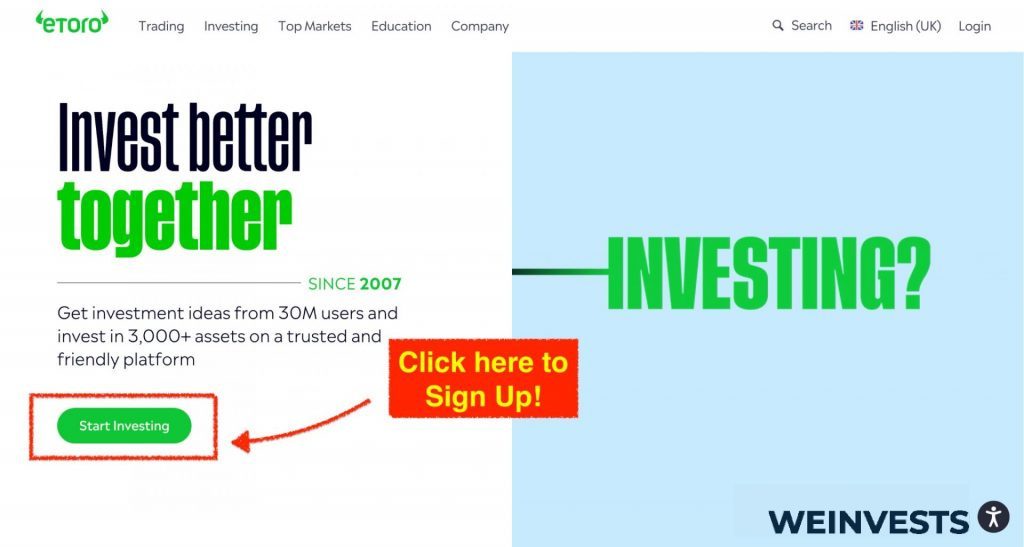 It will require you to fill in only the basic information, which only takes a couple of minutes.
You should check out eToro's terms, conditions, and policies before proceeding to the next step. Additionally, rereading your information to make sure it doesn't have any errors is also a good idea.
Step 2: Upload ID
Since there are so many swindle platforms out there, you need to guarantee that the one you're trusting is safe. Otherwise, there is no way to make sure that your assets are secure.
In this case, eToro wants to ensure the safety of the users' cryptos and money. Therefore, everyone needs to go through a verification process, and if you don't complete it, you're not able to access the features that the platform offers.
Verifying your identity is not very challenging. You have to upload an ID picture and prove your residence by adding a photo of any utility bill that's less than three months old.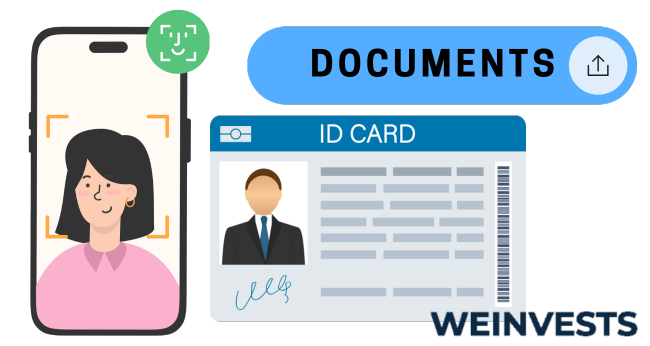 Step 3: Make a Deposit
If you already verified your account, it's fantastic! It means you're ready to fund it and get started with examining all of its features.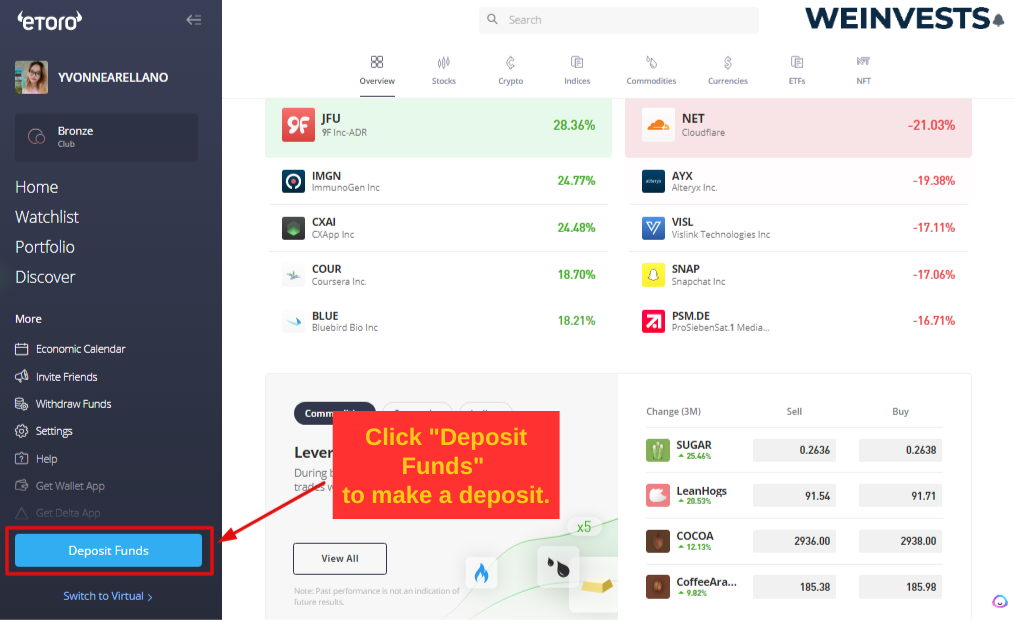 To purchase Shiba Inu, you must first determine the appropriate currency pair based on your preferences. If you wish to buy crypto with USD, for example, you should choose the SHIB/USD combination.
eToro's minimum deposits vary depending on the region from which a user logs in. If you're registering from the United States, though, the minimum deposit is simply $50. You can deposit via a bank wire transfer, an international bank transfer, a credit/debit card, PayPal, Skrill, Neteller, Trustly, Sofort, and a variety of other methods.
Step 4: Search for Shiba Inu
With an account that has some money, you're able to go through eToro and examine all the options that it gives you. Search for Shiba Inu and explore everything that this platform offers you!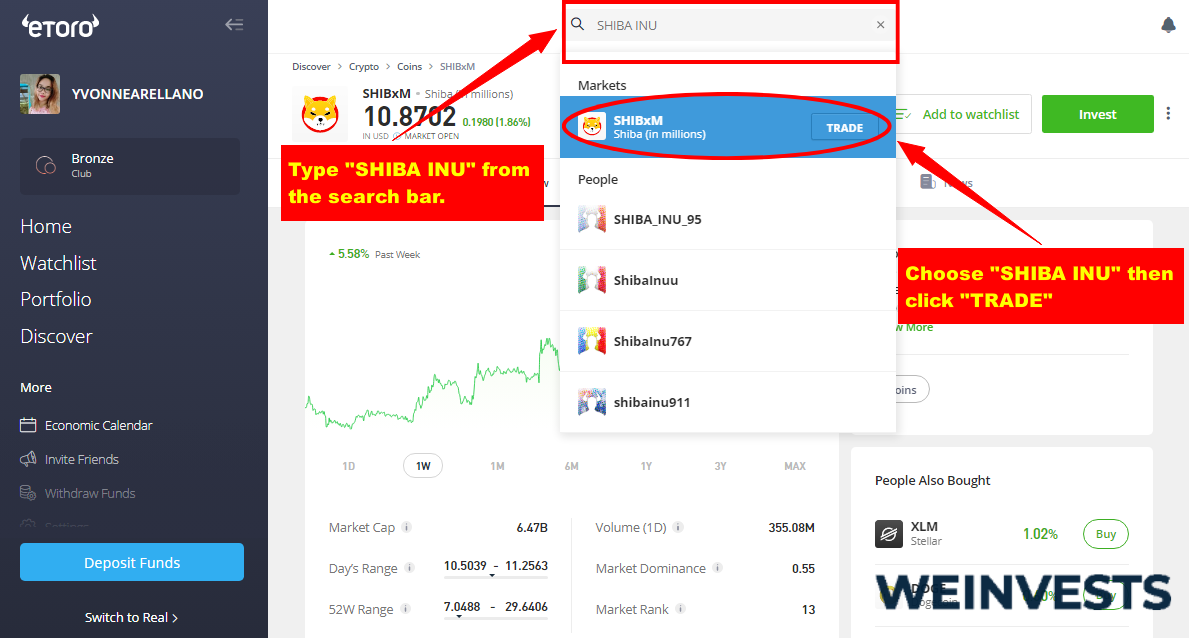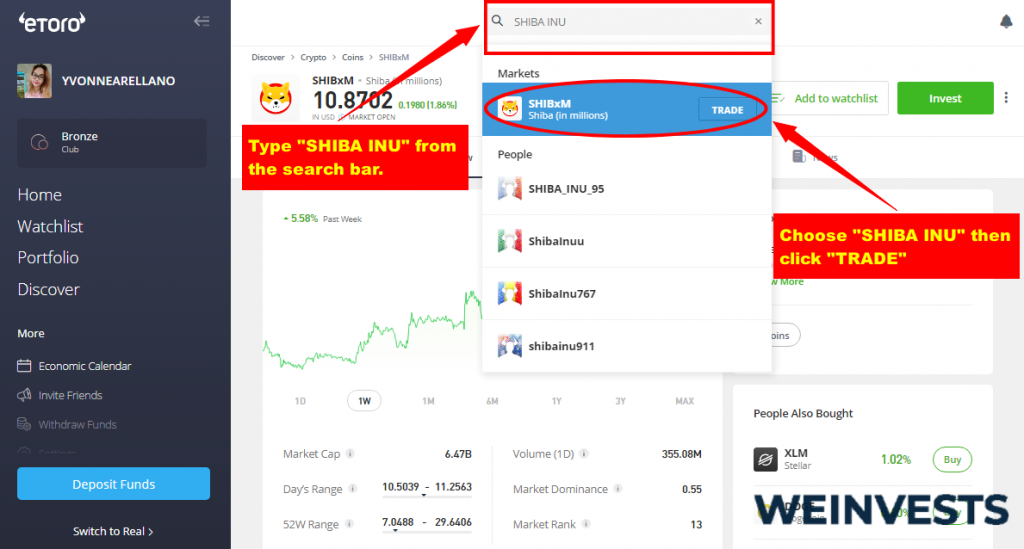 Step 5: Buy/Sell Shiba Inu
You can buy Shiba Inu as a limit order or a market order just like stocks. Market orders buy your Shiba Inu tokens at the current market price, which is decided by the highest bid and lowest request in the order book of an exchange.
Also, you can place a limit order to purchase Shiba Inu. Limit orders purchase Shiba Inu at a specific price that you choose when you place your order. If the market price falls below the price you specify, the order will purchase Shiba Inu at that price.
One of eToro's most popular features is its crypto wallet, which makes trading cryptocurrencies simple. It's a multi-cryptocurrency digital wallet that's safe, accessible, and simple to use for holding over 120 different cryptocurrencies, including SHIB. You can easily buy, hold, receive, and transfer all of your cryptocurrencies with this wallet.
Regardless of what token you're planning on purchasing, it's always vital to keep track of market trends if you don't want to risk your hard-earned money. Shiba Inu is rather promising for investors today, so if you want to go for this token, using a reputable platform like eToro is the best way to go.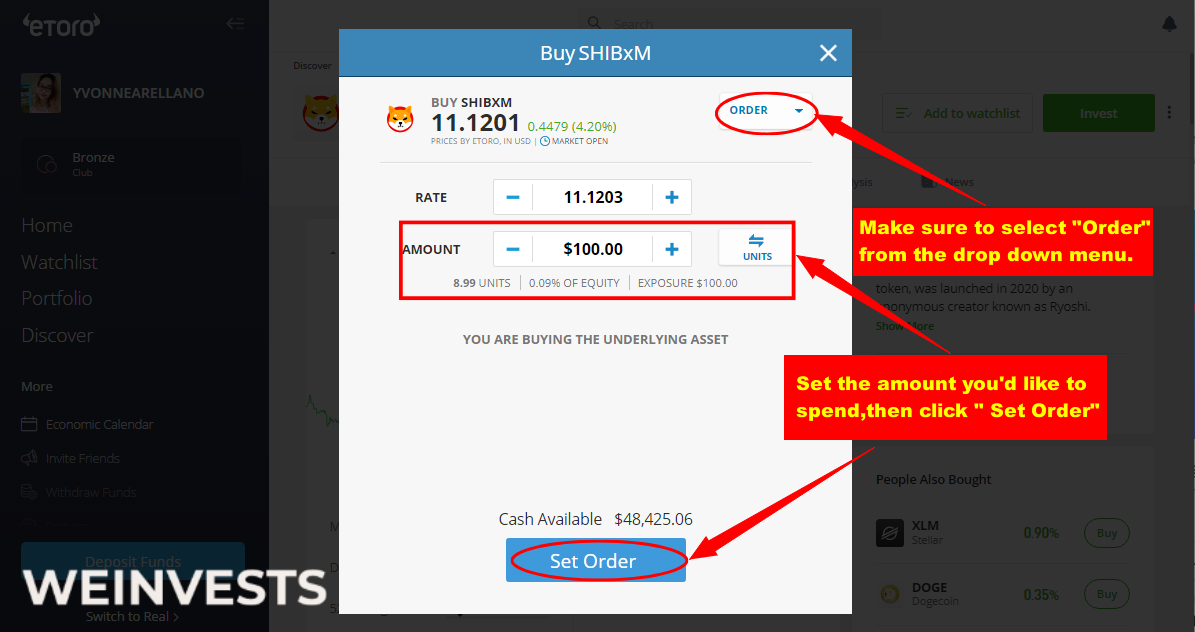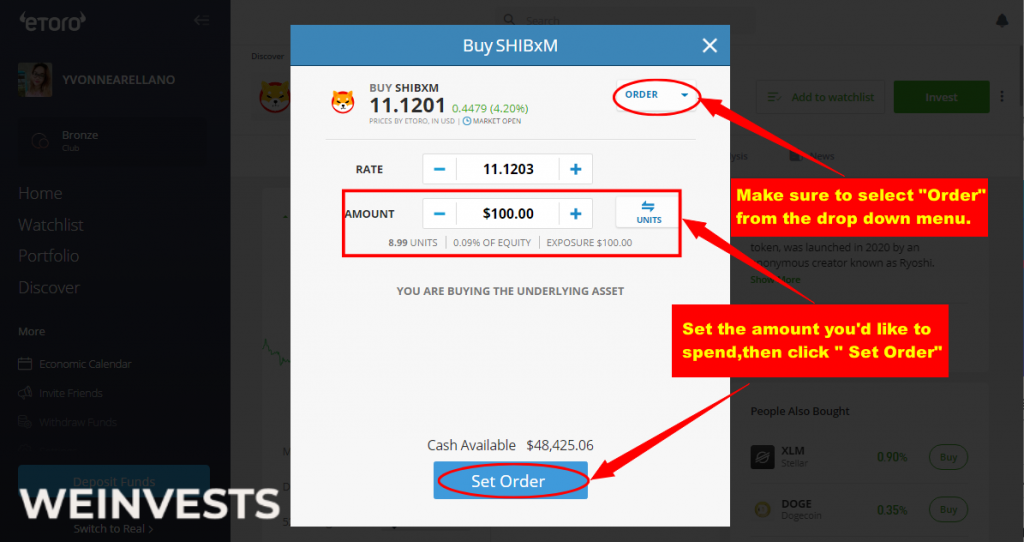 How to Buy Shiba Inu with PayPal?
Many of the other top competitors allow you to buy Shiba Inu with other methods, PayPal is not a common assault.
To execute this process, you need to first create your eToro account. Registration is simple, only requiring a username, email address, and password. Note that the password must contain uppercase and lowercase letters, alongside at least a single special character and digit, as the idea is to maximize security.
Once in, you deposit within your eToro profile. While you could do this with a bank transfer or credit card, PayPal is also a listed option. One of the advantages of PayPal is that this is a real-time transfer, which means the funds are available almost immediately.
From there, you can simply search for Shiba Inu and purchase in two different ways. eToro either allows you to specify the number of coins you want to buy or the amount that you want to invest in Shiba Inu. The former calculates the cost on your behalf, while the latter calculates the number of coins you can get instead.
How to Buy Shiba Inu with a Credit Card?
The basic workflow on eToro, Plus500 (CFD broker, "Availability subject to regulation"), or another platform that supports Shiba Inu and credit card purchases, is not that far removed from the PayPal method.
You tend to find that major credit and debit cards, such as Visa and MasterCard are supported. Depending on the platform you choose, prepaid debit cards are accepted too!
You would connect your card to your account and make a deposit using standard Fiat currencies. Following the deposit, you can then search for Shiba Inu on your selected platform and proceed to make your desired purchases.
Safe Storage
Safe purchasing is not the only essential in Shiba Inu transactions. You also need to concern yourself with safe storage. First, considering that you are dealing with an Ethereum-based token, you must find that cryptocurrency wallet that supports the ERC-20 token standard.
On-exchange wallets offer a high level of convenience, but while secure, do not offer the best possible form of protection. Instead, you may want to prepare a personal wallet to store your coins.
Remember that your private key is akin to a password, and you should never share it with anyone else, as you compromise the integrity and privacy of your wallet and any funds it contains.
It's long documented that hardware wallets provide the best security, primarily because they can be taken offline which puts them out of the range of attack while they're not being used.
The general rule of thumb is that the further removed from the purchase platform the wallet is, the greater the level of security that it offers.
All these considerations are meant to prevent you from being hacked, as malicious entities are simply waiting for a single slip-up to capitalize and run off with your Shiba Inu coins.
Place as much emphasis on storage safety as you do on purchasing safety, ensuring to take relevant precautions in either context.
Alternate Ways to Buy Shiba Inu
This is a step in quite a futuristic direction. There was speculation for some time that Shiba Inu may be going in this direction, but Coin Cloud ATMs are now confirmed to support Shiba Inu transactions. Coin Cloud is a Las Vegas-based entity with over 4,000 machines that make crypto trading that much easier.
Interested parties need only find a Coin Cloud ATM, put cash in, and have it converted to a Shiba Inu coin. Alternatively, coin holders can also withdraw cash against their holdings, making usability more of a reality than ever before.
As indicated before, a broker is simply an intermediary. Therefore, if you are going this route, you would do your deposit to the broker's platform, and the value you get comes in the form of the various products and services that the broker offers.
You wouldn't be trading your Fiat currency or deposited crypto, allowing you to leverage an independent trading pair. If you have a greater requirement for liquidity, then you may want to go with a mainstream brokerage.
Note, however, that you are going to almost always have to submit some form of identification and verification before any form of transaction processing begins.
A P2P exchange facilitates buying and selling of cryptocurrency directly between users, without the involvement or influence of any central authority. It's considered one of the most secure ways to trade cryptocurrency, which is why its use for Shiba Inu is so appropriate.
The process here is not too far removed from your online marketplaces, as you would create your account, and select a payment method appropriate to you. Once you've done that, you need only identify the number of coins you want to buy and directly purchase them.
The real kicker here though is that many of these platforms allow you to send and receive cryptocurrencies without the need for any identity verification. It's not hard to see why this is often hailed as the most straightforward way to make these kinds of purchases.
Conclusion
It's not so easy to find information on how to invest in Shiba Inu, which may be valuable insight, considering the surge of popularity that the altcoin has been seeing. The information above was meant to capture some of the most essential elements to help you through this process.
Following this, you should now have a fundamental grasp of the best way to make your Shiba Inu purchases. Just in case you missed it, these include brokerages, exchanges, and payment services.
Platforms, such as eToro and Plus500 (CFD broker, "Availability subject to regulation"), offer you convenience, functionality, and a high level of security.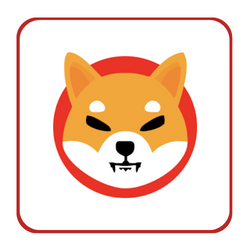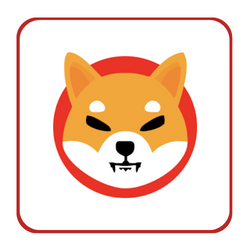 Shiba Inu Price Prediction for 2023, 2024, 2025 – 2030
Shiba Inu has seen several price fluctuations, with one of its most notable being a 1000% increase from $0.000007 to $0.0008 in less than a month. It fell nearly 50% since then. It's expected to potentially reach $0.0001 by 2023. By the end of 2022, the price should be hovering somewhere around the $0.000088 mark.
Risk Disclaimer
WeInvests is a financial portal-based research agency. We do our utmost best to offer reliable and unbiased information about crypto, finance, trading and stocks. However, we do not offer financial advice and users should always carry out their own research.
Read More