This content represents the writer's opinions and research and is not intended to be taken as financial advice. The information presented is general in nature and may not meet the specific needs of any individual or entity. It is not intended to be relied upon as a professional or financial decision-making tool.
Staking Polkadot is possible, because the platform uses a novel mechanism to select the members of its consensus protocol. The NPoS allows users to nominate others who are involved in the project. In order to earn rewards, you must nominate your tokens using a certain type of security token known as a "validator." These are used to support the creation of new blocks and provide a secure environment for the network.
Potential candidates for the role of validators can declare their intention to be a part of the blockchain. The network will then distribute their shares in an efficient manner to maximize the economic security of the organization. All of the nominators will be notified of their candidacies and will provide a list of up to 16 candidates that they support. A certain number of these will be elected and become active in the future.
The quantity of nominations that have to be greater than the minimum active one is considered a dynamic value. Their actual number depends on the number of staking units being made. If you want to start staking with a small amount of DOT, you can join a nomination pool.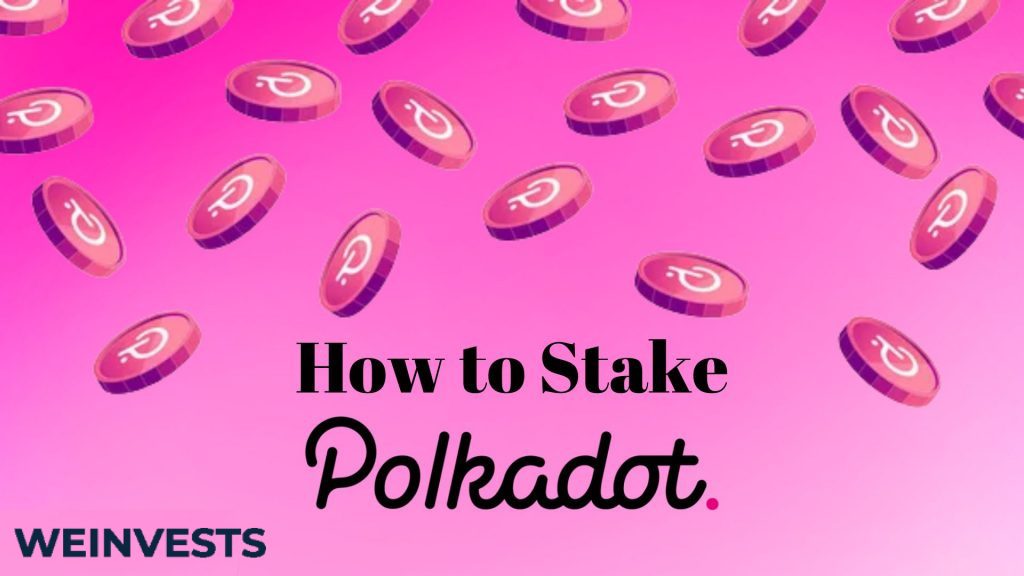 Pros & Cons of Staking Polkadot
Pros
You can secure greater staking gains by using staked Polkadot derivatives or lock your stake into liquidity pools.
Staking Polkadot helps protect your investment from DOT inflation while giving you a return on your investment.
The return on your staked Polkadot coins may be anywhere between 8% and 17%.
Cons
Similar to other networks, the platform uses slashing as a way to prevent improper behavior by the members of the network. When you stake your tokens on the platform, some of them may be forfeit.
In order to stake, you need to provide a minimum of 120 DOT for some providers. Failing to regularly withdraw rewards can result in them disappearing after a certain amount of time.
If you try to redeem your staked Polkadot early, you might lose your rewards and end up paying punishing fees.
What is Polkadot Staking?
Since the Polkadot coin has been minted 1.1 billion times, DOT is considered to be an inflationary asset. The inflation rate can vary from 6% to 10%. It is not the best crypto to store value.
If you hold onto the token you may expect to lose 6% to 10% annually due to inflation. To avoid that, you should consider a long-term investment such as staking Polkadot.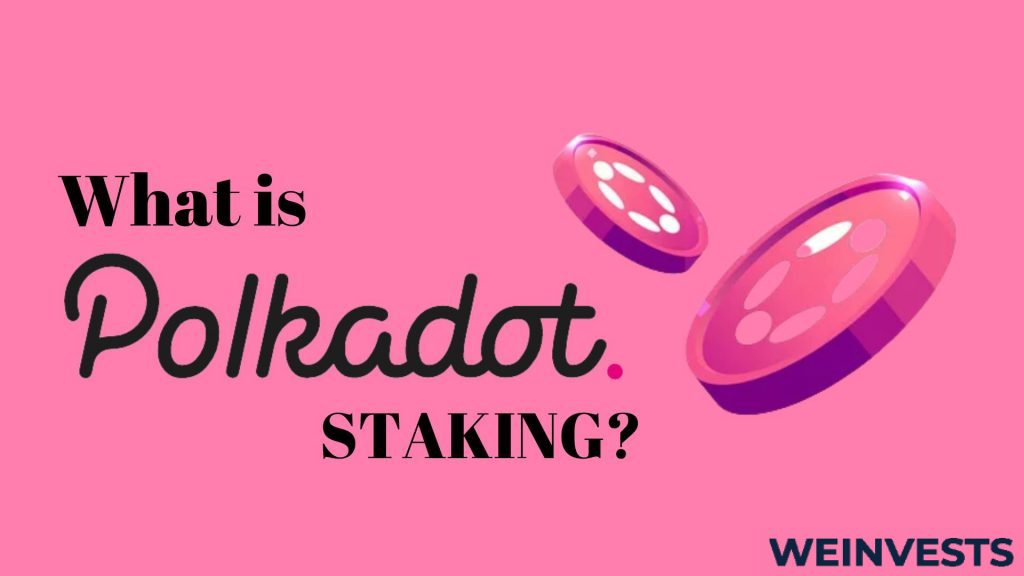 How to Stake Polkadot?
The decisions made during the creation of the Polkadot platform have helped make it a more efficient and effective ecosystem. One of the most significant factors that has changed the way the system works is the wide variety of available pool options. This eliminates the high barriers that prevent users from participating in the staking process.

The goal of the platform is to ensure that all networks can communicate with one another. It features a customizable infrastructure that can be used to establish Layer 1 blockchains. This ensures that they won't be isolated from the ecosystem. The network's central hub is composed of multiple organizations that are responsible for ensuring that the various "parachains" are secure and operational.
The minimum number of DOT required to participate in the staking process is 10. Any less than this will prevent you from being able to participate. In addition, a small amount of DOT is required for the transaction fee.
Getting started with staking can be a complex process, especially if you're a new user. Setting up and maintaining a node can be very technical. Most users staking Polkadot usually do it as nominators, so we'll cover the various steps involved in staking.
The best way to stake Polkadot is through crypto exchanges. They have the necessary resources to run complex DeFi software such as nodes and wallets so staking for the end user is easily accessible. This is also beneficial for those who are new to the process. In addition, the exchanges can provide staking as a service.
Among the leading platforms where you can stake Polkadot are Binance, Bitfinex, and Kraken. Before you start staking, make sure that you have a verified account on one of these exchanges.

On Binance.com
Step 1: Sign Up and Verify your Account
Go to: www.binance.com, sign up, or just log in to your account.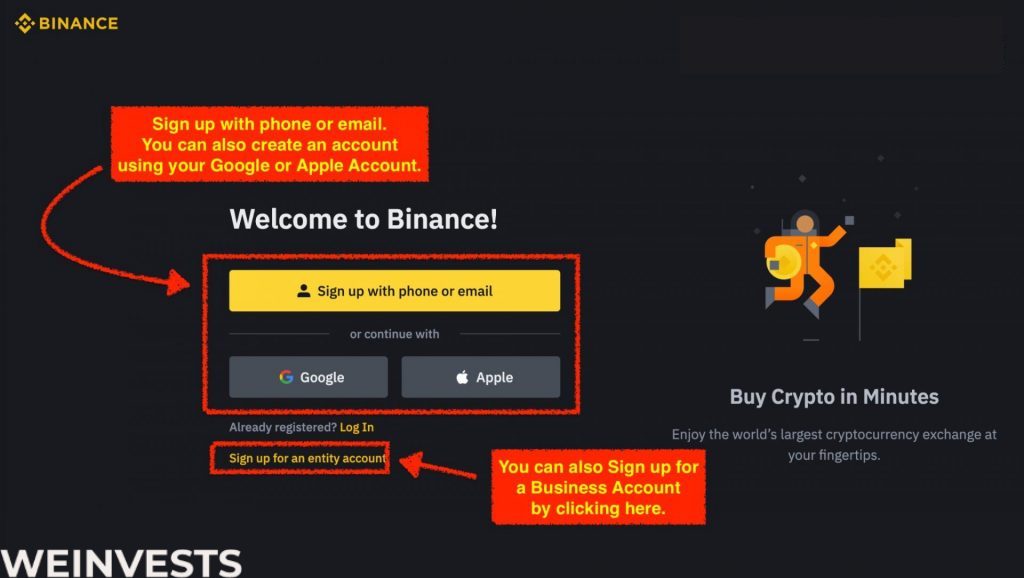 And then get fully verified by filling up your details and uploading your proof of identity.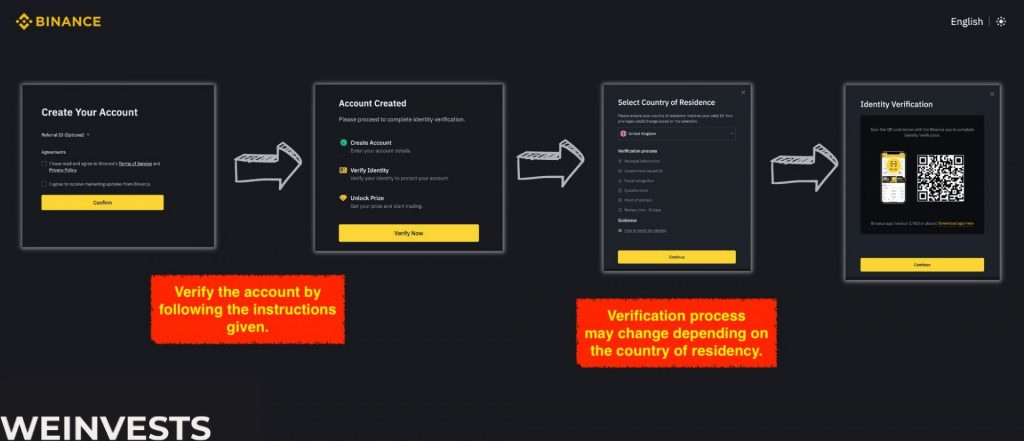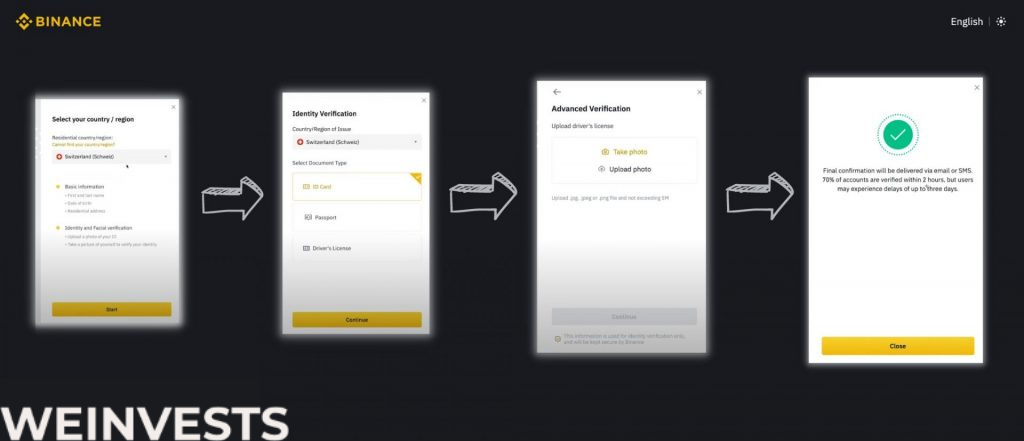 Step 2: Fund your Account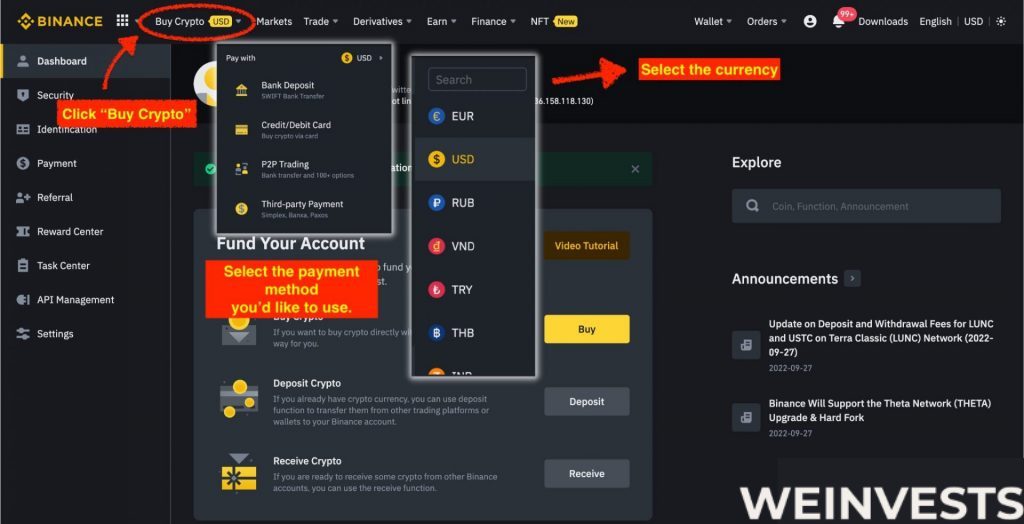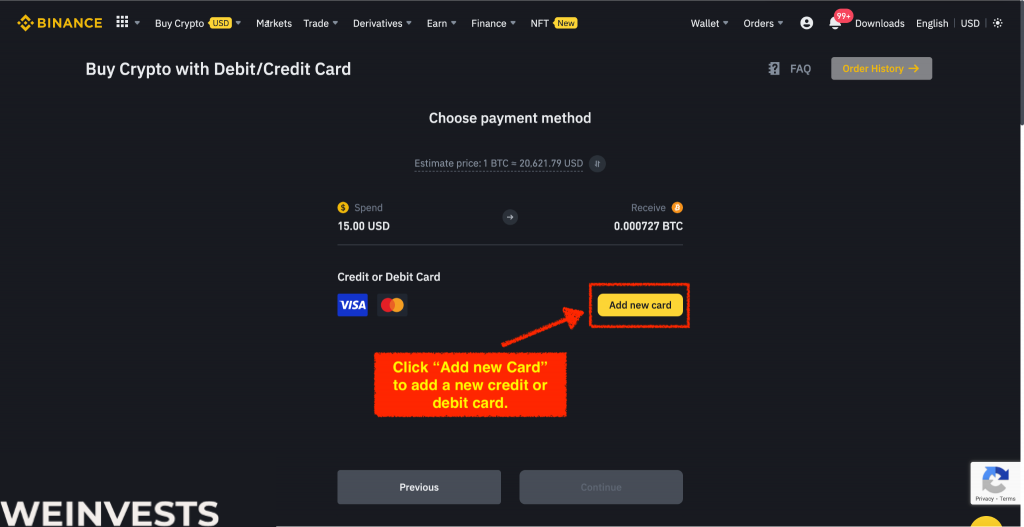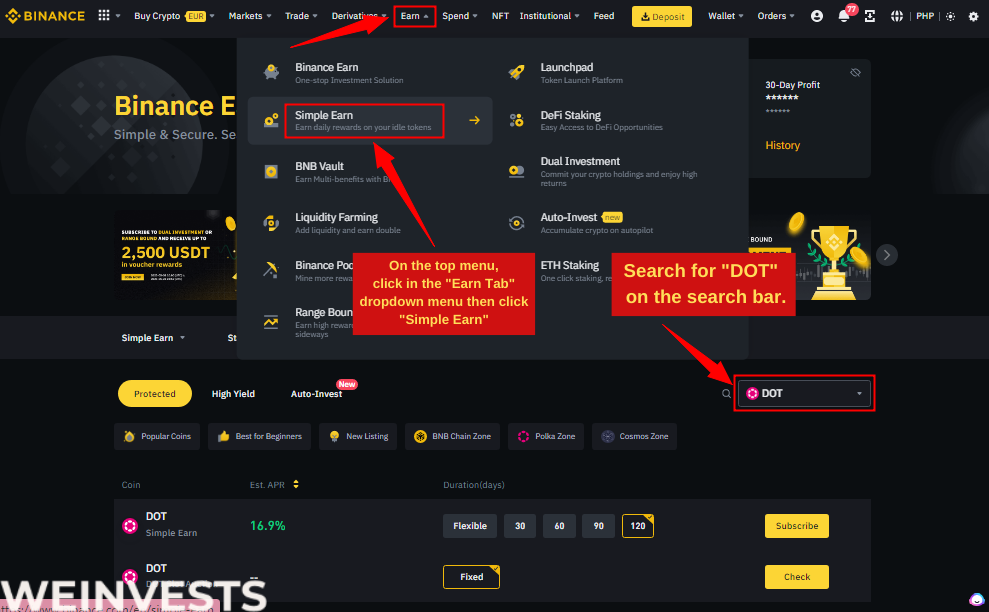 Go to the drop-down menu labeled 'Earn.' Here, you will have multiple options. Click on 'Binance Earn' and then search for 'DOT'.
Step 4: Analyze the Staking Parameters and Stake
Here, you can analyze Polkadot using the 'Calculate your crypto earnings' feature. You can input the amount you want to invest and see the projected earnings for 1 year, 2 years, 3 years, or 5 years. Simply click on the desired number of years to invest in 'DOT'.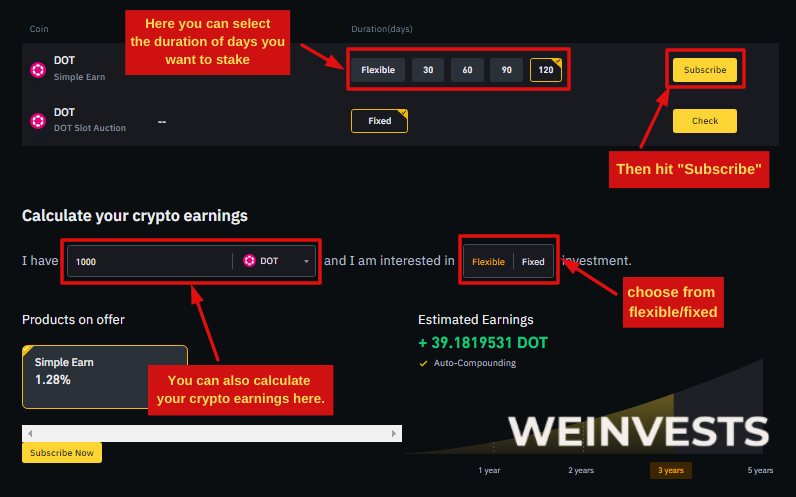 If you want to earn rewards with your Polkadot on Binance.com, you can go to the "Products on Offer" section under "Earn" and choose between two options: "Simple Earn" and "Flexible DeFi Staking".

"Simple Earn" lets you deposit your DOT in flexible or locked products and earn daily rewards. You can subscribe or redeem at any time, so you can maintain your assets' flexibility and liquidity. The rewards are sourced from Binance's own funds and are based on the market conditions.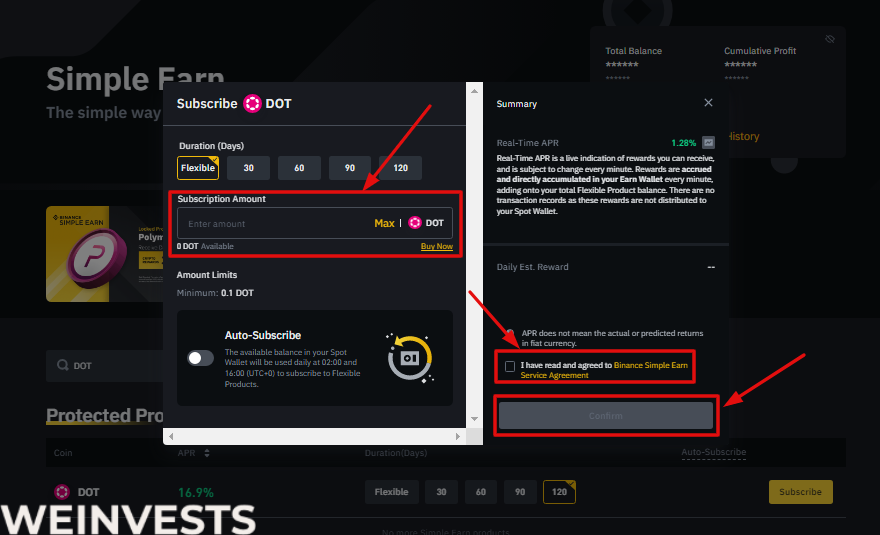 You can check the different rewards rates and durations for LINK and select the one that suits your needs and preferences. You can find the details of each product on the Binance Earn page.
Polkadot Staking Tax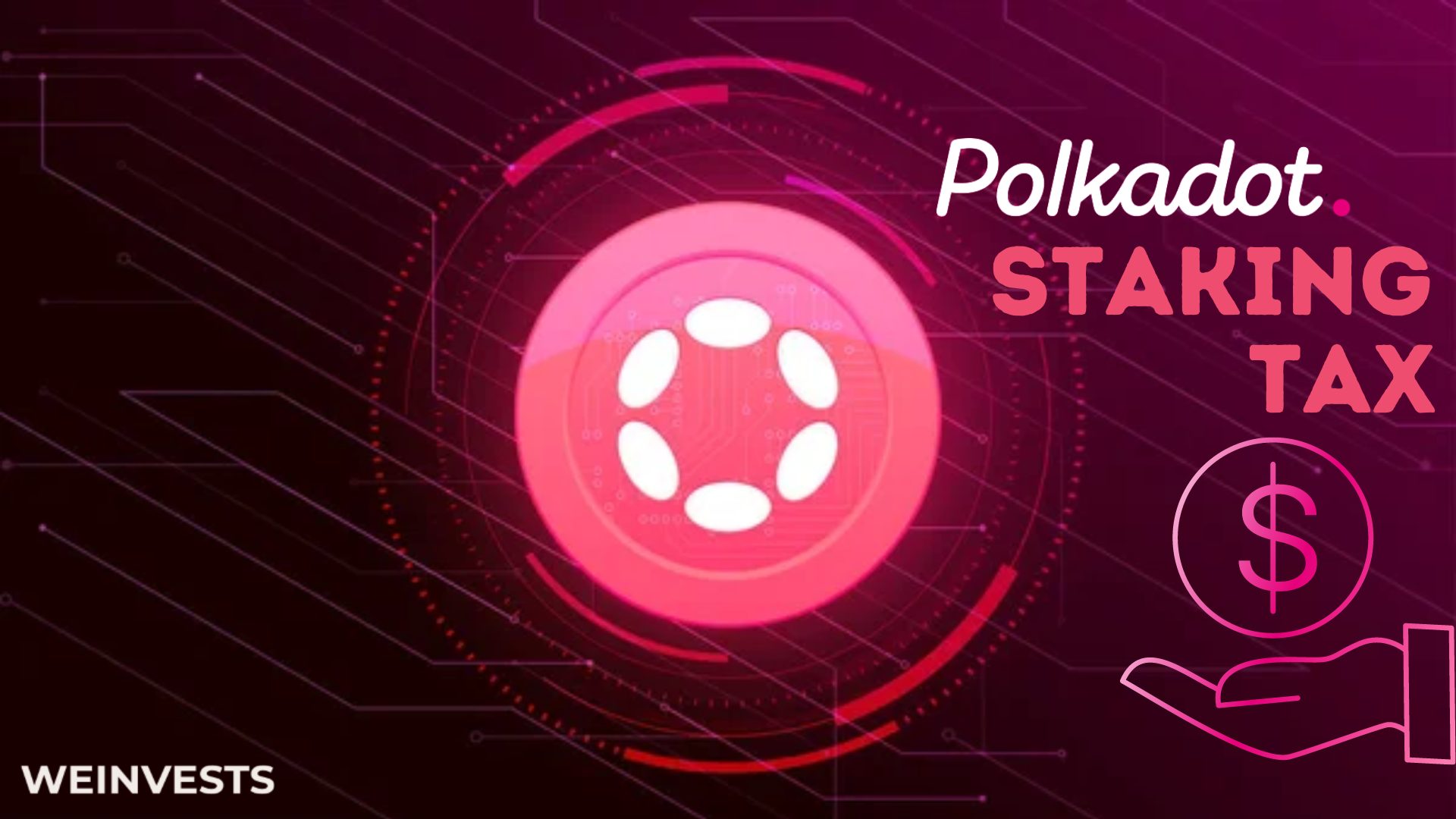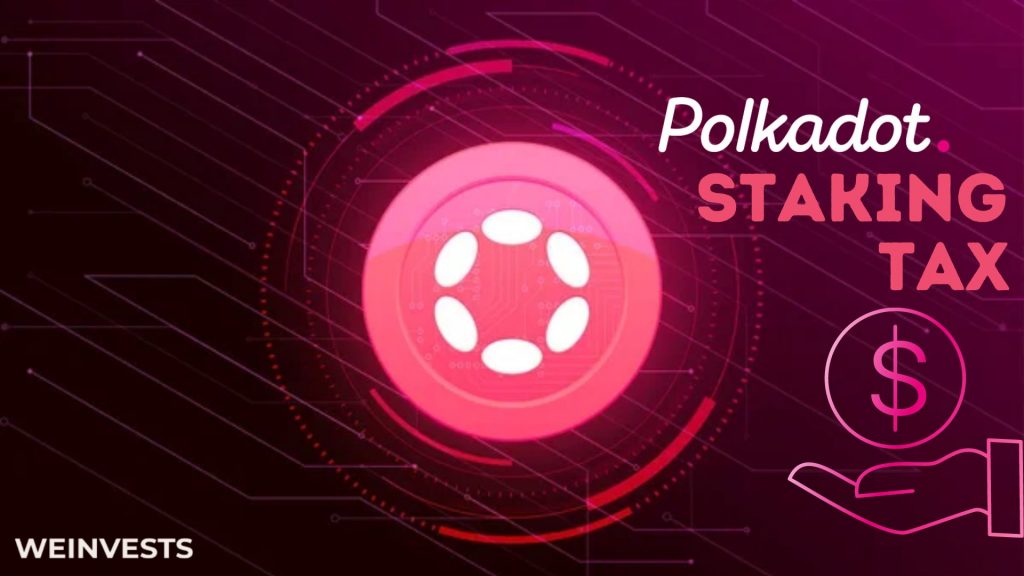 According to the UK's tax authority, HM Revenue & Customs, cryptocurrency is taxable. It can be subject to both Capital Gains Tax and Income Tax depending on the transaction. For instance, if you make capital gains from trading crypto using the £12,300 allowance, then you'll have to pay 20% or 10% tax.
If you earn additional income from cryptocurrency, then you'll face a 45% tax rate. The exact amount will depend on the type of transactions that you've done and your tax band. It was also revealed that the HMRC was working with exchanges to collect customer data.
In early 2023, some exchanges contacted their customers who have more than £3,000 in cryptocurrency to inform them about the government's intention to collect information about them. As a result, they'll be required to pay capital gains tax on the sale or transfer of crypto.
There are different types of transactions that involve crypto. You can sell it for the British pound, trade it for other currencies, spend it on goods and services, or give it to your partner or spouse. If you give crypto, then you'll be liable for Capital Gain Tax. Unlike other countries with a short or long-term capital gain tax rate, the UK doesn't have one. All of your capital gains are taxable at the same rates. The exact amount of tax that you'll pay depends on your income. Please consult your tax advisor.
Why do people like Staking Polkadot?
Users like staking Polkadot for a number of different reasons. The main one being that staking is a great alternative to trading, as it offers a predictable financial return with minimal risk of loss. Depending on the number of nominators and the transaction fees, Polkadot staking compensation may vary.
Conclusion
The new concept of blockchain technology known as Polkadot promises to provide various advantages, such as scalability, privacy, and decentralized democracy. Instead of being a single blockchain, it's composed of multiple parachains, which can be used for different purposes. The platform aims to bring together different cryptocurrencies and blockchains, allowing them to operate seamlessly across multiple networks.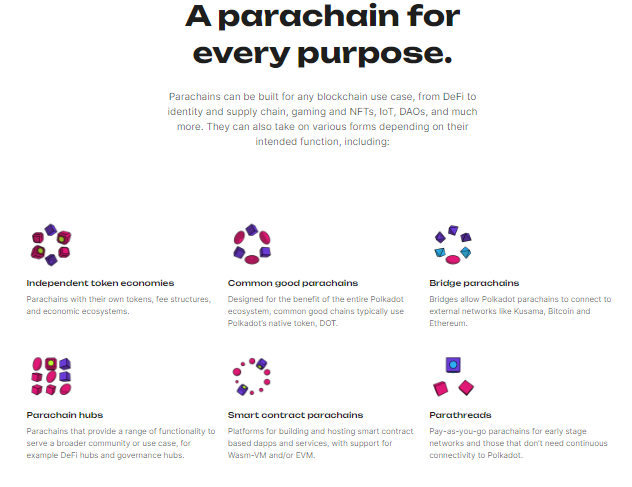 The network token, known as DOT, allows users to vote on blockchain proposals and grant parachain slots. It also rewards those who stake it to help validate transactions. Before you start staking, it's important to understand the various factors that affect its value.
Polkadot Staking FAQs
Why should I stake my Polkadot tokens?
Unlike most cryptocurrencies Polkadot is vulnerable to inflationary pressure, which could result in a partial net loss of assets that are not staked. Staking solves the issue and provides an opportunity for your assets to grow.
Am I required to use the native Polkadot Wallet, polkadot.js?
No. The native version of the Polkadot wallet, which is called "Polkadot.js," is more complex than traditional crypto wallets when it comes to staking for DOT rewards. This is due to security reasons.
It requires a pair of wallets be created: a controller and a stash. The idea is to only expose the controller to attacks and keep the stash protected.
What is a drawback of staking Polkadot?
The existence of minimum reward thresholds to get staking rewards from the Polkadot platform.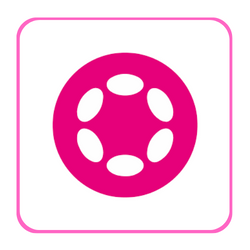 How to Buy Polkadot Token
Polkadot connects blockchains so that data may be shared and a decentralized network can be formed. It can…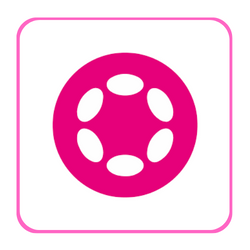 Polkadot (DOT) Price Prediction 2023, 2024, 2025 – 2030
(DOT) Polkadot is expected to trade at an average price of $64 by 2028, according to DigitalCoin. Also, according to Price Prediction's Polkadot crypto estimate, the coin will average $25.25 in 2022, $37.4 in 2023, and $84 in 2025. If you would like to see a full forecast of Polkadot, you can follow the link provided.
Risk Disclaimer
WeInvests is a financial portal-based research agency. We do our utmost best to offer reliable and unbiased information about crypto, finance, trading and stocks. However, we do not offer financial advice and users should always carry out their own research.
Read More