This content represents the writer's opinions and research and is not intended to be taken as financial advice. The information presented is general in nature and may not meet the specific needs of any individual or entity. It is not intended to be relied upon as a professional or financial decision-making tool.
NEO is a Chinese cryptocurrency that was launched in 2014. The NEO network offers users the ability to create smart contracts and digital assets. This virtual currency was designed to generate a smart economy system based on a distributed network. If you are wondering how to buy NEO, here is everything you need to know.
There are several ways to purchase NEO. These include purchasing the cryptocurrency via a trading platform, such as eToro. Other options include bank wire or using a brokerage service. Before you buy the currency, you will need first to choose one of these methods.
In the section below, we give you a little more detail about the different options you have to buy NEO, as well as how to choose the right platform or service for the job.
Trading Platforms or Exchanges
The most convenient way to buy NEO is on an exchange like eToro. However, you cannot withdraw the cryptocurrency if you use eToro, which means you may only purchase and sell NEO in fiat currency. However, there are several cryptocurrency exchanges on the market, so it is helpful to consider the following before you choose an exchange:
Payment Methods
You can finance your trading account on an exchange with a variety of payment methods in order to purchase Neo. Each trader, though, has a preference that offers them greater convenience. Therefore, you should look for an exchange that accepts your preferred method for making payments and withdrawals.
Associated Fees
The costs for transactions differ from one platform to another. Some even incorporate additional fees, so it's critical to compare prices across sites before making your choice.
However, your choice should not be based entirely on transactional costs because some exchanges charge higher rates in exchange for exceptional security, so be sure to look at the platform holistically.
Ease of Use
The perfect platform should be simple and easy to use, even for newcomers. Determine whether the platform's operations are simple and that help is available when needed. Customer reviews can assist you in determining whether a platform is suitable for your level of expertise or not.
Reputation in the Industry
Frauds using cryptocurrency are not uncommon, and you could be a target. Every trader should look for a reliable cryptocurrency exchange that is entirely transparent in all aspects. To make sure everything is legal, double-check the platform's registration and regulatory information, as well as the proprietors and platform addresses.
How to Buy NEO on eToro
NEO is a blockchain-based technology for constructing investment instruments that compete directly with Ethereum. The NEO Center is known as the "Chinese Ethereum" due to its location in China. NEO's exchanges are less expensive than Ethereum's, and the platform includes a resource to assist future growth.
Furthermore, NEO is an atheist as a result of this. NEO would appeal to buyers who believe that another coin will eventually replace Ethereum as a platform for developing distributed software.
Step 1: Open an Account
To purchase NEO coins, you must first register for an account with a cryptocurrency exchange provider that supports the fund's exchange. You can use the eToro app to keep track of the coin's market value fluctuations and sell a variety of cryptocurrencies. Go to eToro homepage.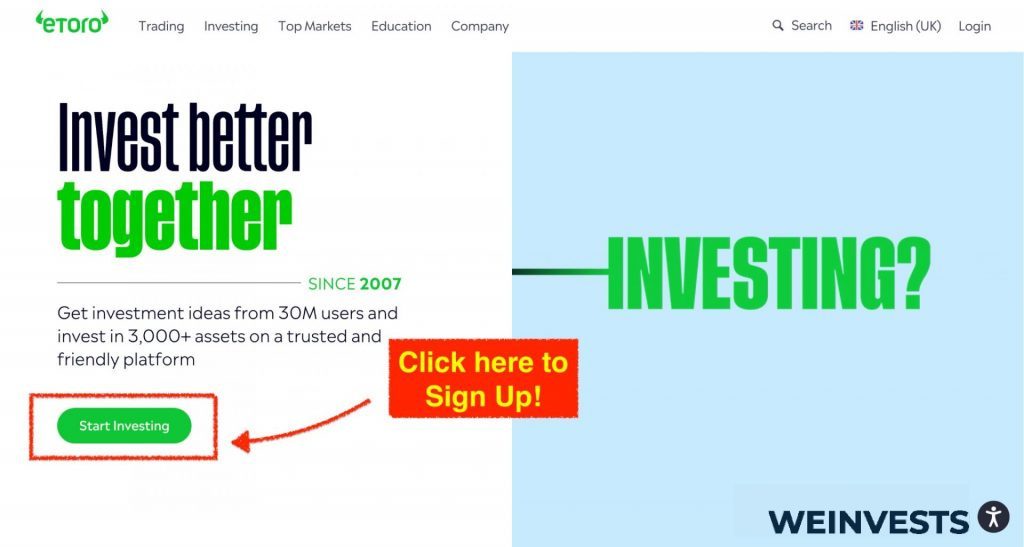 It will require you to fill in only the basic information, which only takes a couple of minutes.
You should check out eToro's terms, conditions, and policies before proceeding to the next step. Additionally, rereading your information to make sure it doesn't have any errors is also a good idea.
Step 2: Upload ID
Since there are so many scam platforms out there, you need to guarantee that the one you're trusting is safe. Otherwise, there is no way to make sure that your assets are secure.
In this case, eToro wants to ensure the safety of the users' cryptos and money. Therefore, everyone needs to go through a verification process, and if you don't complete it, you're not able to access the features that the platform offers.
Verifying your identity is not very challenging. You have to upload an ID picture and prove your residence by adding a photo of any utility bill that's less than three months old.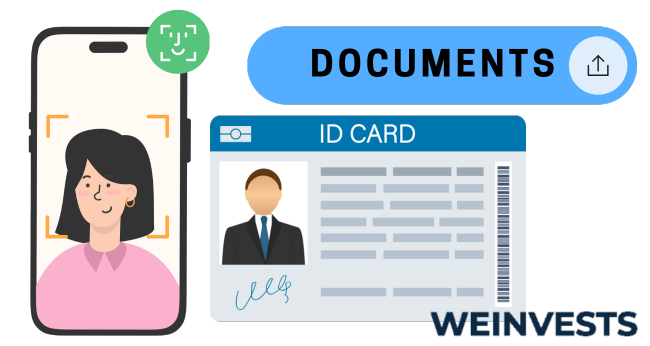 Step 3: Make a Deposit
If you already verified your account, it's fantastic! It means you're ready to fund it and get started with examining all of its features.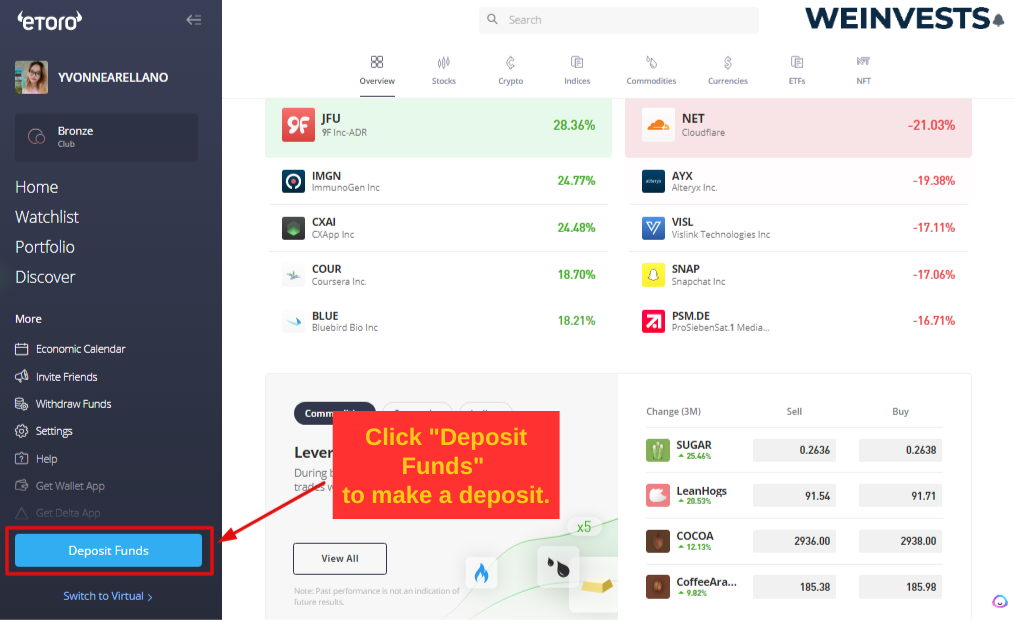 To fund your account, just go to the 'Deposit' option and choose the specific features of how you want to invest your money, for example, the amount and payment method.
Step 4: Search for NEO
With an account that has some money, you're able to go through eToro and examine all the options that it gives you. Search for NEO and explore everything that this platform offers you!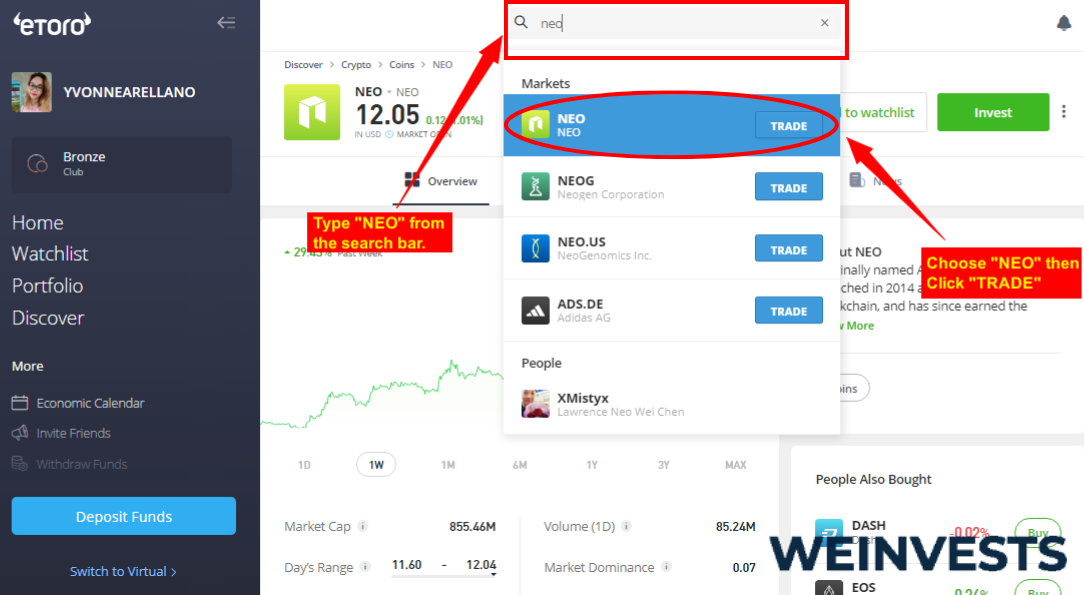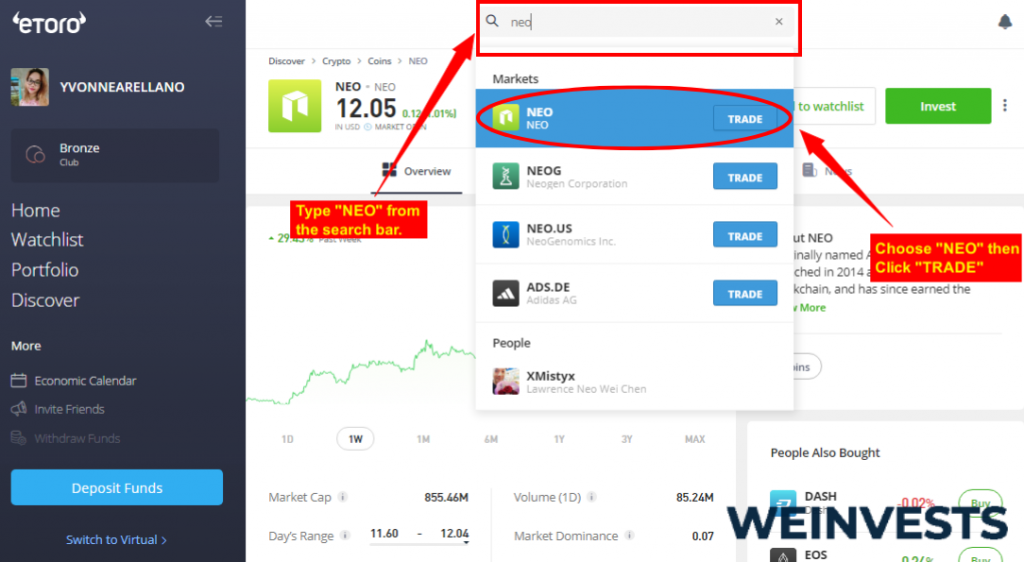 Step 5: Buy NEO
You can buy NEO as a limit order or a market order just like stocks. Market orders buy your NEO tokens at the current market price, which is decided by the highest bid and lowest request in the order book of an exchange.
Also, you can place a limit order to purchase NEO. Limit orders purchase NEO at a specific price that you choose when you place your order. If the market price falls below the price you specify, the order will purchase NEO at that price.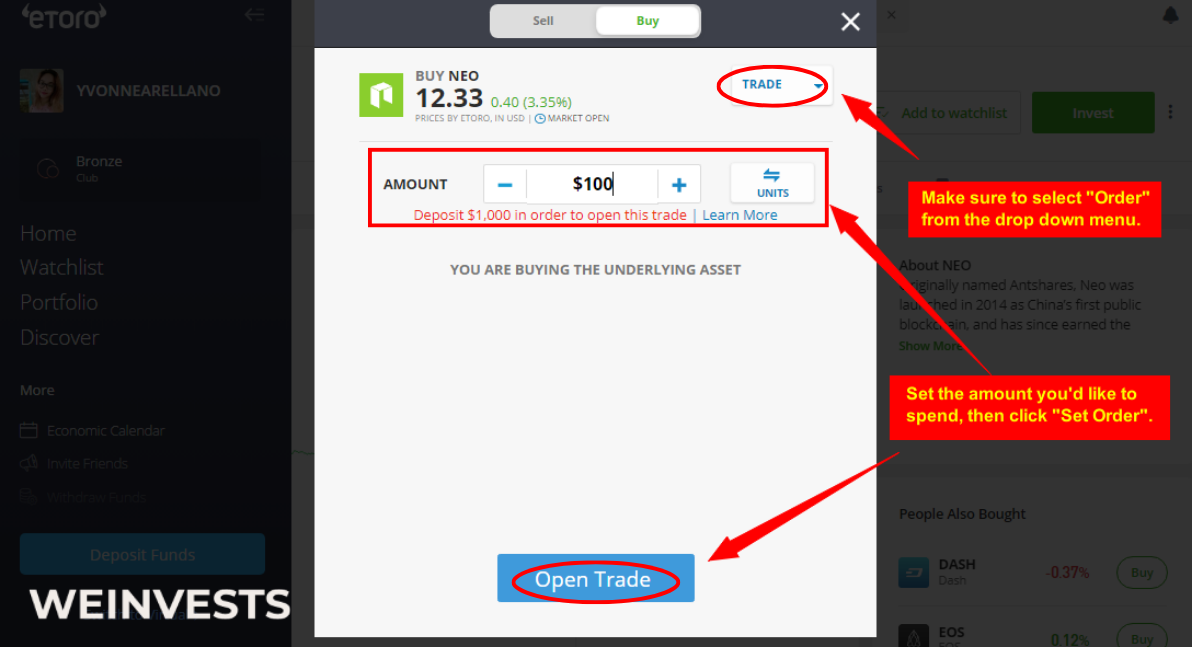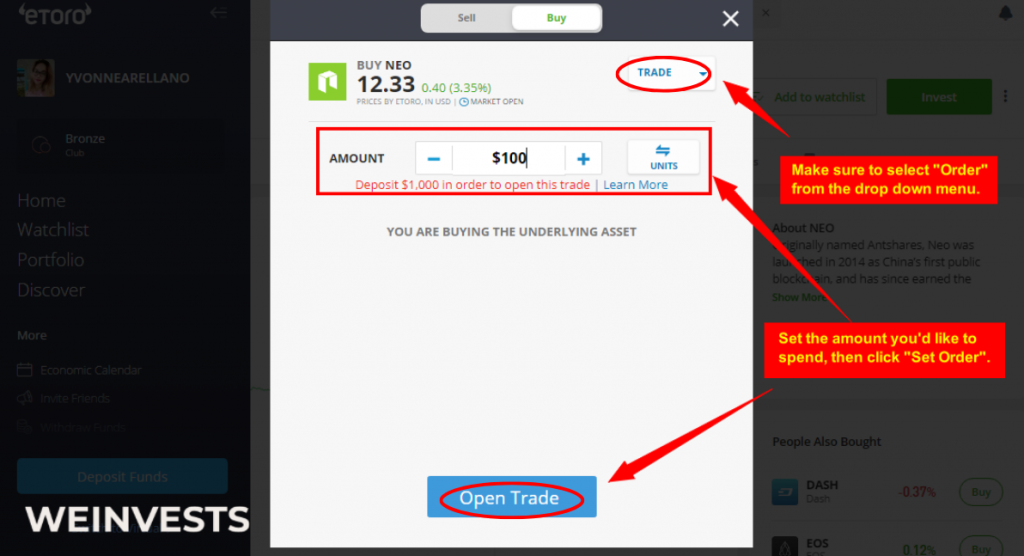 However, if you do not intend to actively trade your cryptocurrency, you should keep it in a separate crypto wallet. Because hackers may be able to compromise the exchange's security, storing your assets on an exchange puts your crypto in danger of being stolen. Hardware and software wallets are the two most common forms of cryptocurrency wallets.
Software wallets are computer systems that can be installed on a computer or a mobile device. These programs are often free to use and are more secure than putting your money in exchanges. Hardware wallets, which are real devices that keep your crypto offline, are the safest way to store your NEO tokens.
The best cryptocurrency exchanges to use for buying/Selling NEO are:
eToro
To purchase NEO with an exchange, simply register, complete the verification process, fund the account by choosing a preferred payment method, and complete the purchase.
If the exchange is permitted in your location, Bank Wire is another good option to make deposits on eToro. Making a deposit is free, although there is a $500 minimum amount for deposits, which is considerably higher than eWallets and credit cards.
The advantage of using a bank wire to finance your eToro trading account is that there is no limitation to the amount of money you may send in. However, a major disadvantage is that payments often take longer to reflect, and you may find yourself waiting up to seven business days for the money to appear in your account.
After much research, we have determined that the best places to buy/sell NEO are eToro and Plus500 (CFD broker, "Availability subject to regulation"). These platforms have advanced security features and a good range of payment methods, so you are sure to find one that works best for you.
Brokers are essentially third parties that facilitate cryptocurrency exchanges. You can find several brokerage platforms online to help you acquire NEO assets, including Avatrade and Markets.com.
Because several cybercriminals use the façade of brokerage platforms to lure victims, you should always check that the broker is regulated before choosing to use their services. We recommend using brokers that are leaders in the industry.
How to Buy NEO with PayPal?
PayPal is a globally trusted payment service that provides tremendous convenience at a reasonable price.
Unfortunately, finding an exchange that accepts this payment method may not be easy. Because international authorities more frequently license crypto brokers, they are more likely to offer PayPal as a payment option.
Fortunately, platforms such as eToro accept PayPal payments, so you may use your PayPal account to purchase NEO directly through these platforms.
A benefit of purchasing Neo using PayPal on sites such as eToro is that transactions are processed almost instantaneously, and transaction fees are minimal. Furthermore, there is no deposit fee for PayPal transactions at eToro. The minimum deposit amount using PayPal is $200, or $50 for users in the United States, with a $10,000 maximum limit.
How to Buy NEO with Your Credit Card?
If you wish to trade NEO using your credit card, you can do so by creating an account with CEX.IO. After successfully registering, you can link your credit card by following the prompts. The platform allows you to deposit your fiat currency and convert it to NEO. Supported currencies include the US dollar, the Euro, the Russian Ruble, and the British pound.
Alternatively, you can use Changelly to purchase NEO directly using your credit card. However, the cheapest way to obtain NEO using your credit card is to Buy/Sell Bitcoin using your credit card and then exchange it for NEO on Changelly or Atomic Wallet. Other exchanges that you can use to Buy/Sell NEO with a credit card include Binance, Bitfinex, eToro, and Crypto.com.
Safe Storage
Whether you purchase your cryptocurrency via an exchange or a broker, storing it safely is your responsibility. If you do not intend to trade your cryptocurrency actively, you should keep it in a separate crypto wallet. Because cybercriminals may breach the exchange's security, keeping your coins in a trading account on an exchange exposes you to a greater risk of losing your assets.
Here are a few other tips to help you store your crypto assets safely:
Keep a physical record of your crypto wallet passwords. If you lose your private key or password, your crypto assets may be lost forever
Save your recovery words in a safe place that only you have access to
Never give out your private keys or recovery phrases to anyone, and do not store them on your computer, as a hacker could gain access to them
Alternate Ways to Buy NEO
Suppose you are looking for a more convenient way to purchase NEO than those already mentioned. In that case, we have three alternative ways that you can use to buy NEO. These include crypto ATMs, P2P Exchanges, and mainstream brokerages.
NEO ATM
Cryptocurrency ATMs are internet kiosks that allow users to deposit fiat currency and exchange it for cryptocurrencies. Unfortunately, NEO does not have a network of ATMs yet. However, you may be able to purchase NEO using some Bitcoin ATMs.
Mainstream Brokerage
When you create an account with a broker, you will have the option of buying NEO. If you are looking for a NEO broker to help you buy the cryptocurrency, here are some of the best brokerage platforms you can use:
eToro
Avatrade
Plus500
XTB
Admiral Markets
Markets.com
Tradex
P2P Exchange
The interchange or sharing of assets, information, or data, between parties on a platform in the absence of a regulatory or authoritative body such as a bank or government entity is referred to as peer-to-peer (P2P) exchange.
Some of the best P2P exchanges you can use to buy NEO include eToro, Plus500, Binance, Bitfinex, Bittrex, and HitBTC.
Conclusion
If you are new to the world of cryptocurrency, you may not know how to go about buying/selling these virtual assets. While there are several well-known options for buying/selling major cryptocurrencies, such as Bitcoin and Ethereum, other lesser-known digital assets may be harder to obtain.
NEO has been described as the Chinese Ethereum because of its focus on smart contracts and digital assets. However, since its inception in 2014, it has grown in value and popularity, challenging the Chinese view of digital currencies.
Should you wish to purchase NEO, you have several options at your disposal. However, we recommend buying/selling this digital asset via exchanges and brokerage platforms.
The number one platform for buying/selling NEO, according to our research, is eToro. It supports a plethora of payment methods and employs a high level of security measures, which has earned it such an excellent reputation in the industry.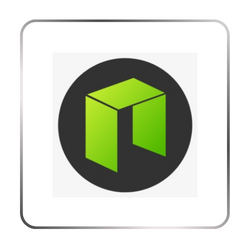 NEO (NEO) Price Prediction 2023, 2025, 2030
This cryptocurrency has already shown much growth since its inception. It is expected to continue to show similar growth in the future. Many experts have seen much promise in this Chinese cryptocurrency, with predictions indicating that the value of a single NEO coin is expected to rise from $32.7 to $156.3 in five years. You can find a full NEO price prediction here.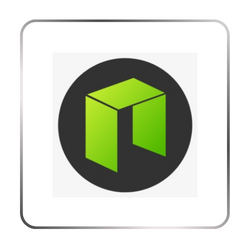 How to Stake NEO
The Neo network uses a sophisticated Proof of Stake consensus mechanism based on two tokens that allows users to earn passive crypto income thanks to
staking
rewards. Users should be aware of benefits and disadvantages involved in staking NEO, and a deeper understanding of this protocol can help you to assess what NEO staking is and how it works. In this article, we will take into consideration all these points, along with more details on how staking rewards taxation works in the UK and answering some useful questions.
Risk Disclaimer
WeInvests is a financial portal-based research agency. We do our utmost best to offer reliable and unbiased information about crypto, finance, trading and stocks. However, we do not offer financial advice and users should always carry out their own research.
Read More