This content represents the writer's opinions and research and is not intended to be taken as financial advice. The information presented is general in nature and may not meet the specific needs of any individual or entity. It is not intended to be relied upon as a professional or financial decision-making tool.
Filecoin (FIL) is an open-source, peer-to-peer public crypto network and digital payment system that acts as a data retrieval method and online digital storage. The way it's designed, everybody involved in the network gets a reward which makes reinforces the trustworthiness of the stored files. This digital asset allows everybody to participate in open markets for recovering and storing data.
Filecoin Tokenomics
The Filecoin ecosystem is made up of the main network, miners, nodes, proofs, deals, actors, gas fees, and addresses. Launched in 2017 the initial price of $0.75/token, it's the 31st crypto with a market cap of $1,430,075,874 and a trading volume of 17,834,139 FIL.
The total supply of FIL tokens is currently fixed at 2 billion FIL, and there are 223 million tokens in circulation. At this time, 70 percent of FIL tokens have been allocated to storage providers and miners, while the 600 million remaining tokens were pre-allocated with different vesting periods.
In the next 20 years, about 770 million tokens will be released, and 97 percent of 330 million tokens will be in circulation in 30 years. But that's not all, here is how the entire ecosystem works and what makes it unique:
Filecoin's users pay the network to store their data on storage miners – computers that store files. Over time, they have to prove that the files were stored correctly. Filecoin is open to anyone that wants to store files or store other people's files and get paid for it.
This implies that no central authority controls the amount of available storage or its pricing. As an alternative, Filecoin allows everyone to participate in open markets for recovering and storing data.
Filecoin's blockchain stores transactions for receiving and sending FIL, along with the verification of storage miners that store their files correctly. This crypto allows users to store their data at extremely low fees and goes the extra mile to confirm that these files are stored correctly.
Users can trade off redundancy, cost, or performance by choosing the miner that gives them the most suitable storage offer. Filecoin-enabled apps can negotiate storage miners on the network. In addition, there's no need to create a new API for each provider, which is quite different from centralized storage systems. By checking the evidence present on the Filecoin blockchain, users can verify if their files are being stored securely.
Where to Buy Filecoin?
Buying Filecoin is quite easy, but first, you have to choose a crypto trading service or platform. The most popular options are crypto exchanges, payment services, and brokerages.
Some users prefer to buy Filecoin from crypto exchanges because of its easy purchase. However, centralized crypto exchanges like Binance, Gemini, BlockFi etc, are often a target of hackers, so you have to ensure the platform has top-notch security.
Also, you can use payment services like PayPal, Coinbase, CoinsBank, Coingate, Shopify, AlfaCoins, GoCoin, BitPay and BitcoinPay. If you want more flexibility or you want to explore other options, you can try crypto brokerages like Robinhood, eToro, Interactive BrokersTradeStation, Binance.US, Webull, Coinbase, and Kraken.
How to buy Filecoin on eToro
Step 1: Open an Account
Go to eToro on your browser or download the app from Playstore or App store if you're using a mobile phone.
Filecoin is a well-known and established cryptocurrency project with a strong community and utility. In this regard, the digital asset is easily accessible on major crypto exchanges worldwide, and eToro is one of them. Note that you have to complete the verification process (KYC/AML) to ascertain your identity and for you to start trading.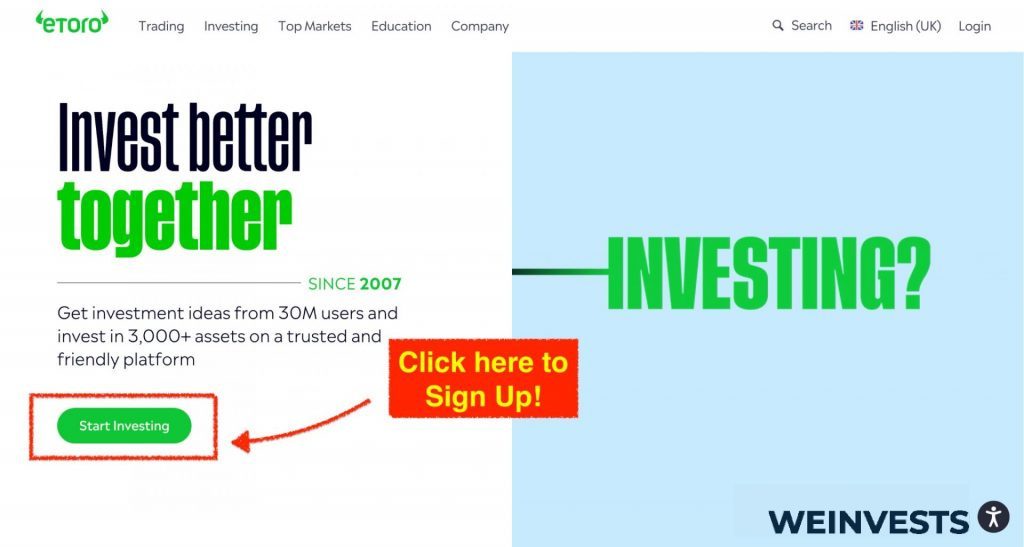 Step 2: Upload ID
Few words on what you see in the image below, for example: After completing the first step, you have to upload your identification documents to comply with the KYC and AML regulations. eToro will verify the documents and open your account to trade on the stock market. Here are the documents that you need to submit for verification:
Utility bill
Driver's license or a valid passport
Bank account statement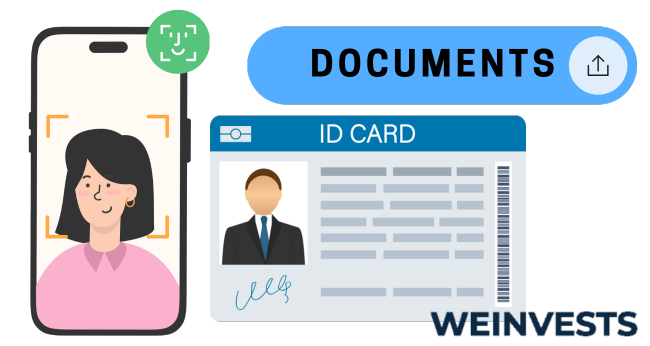 Step 3: Make a Deposit
Next, deposit funds into your wallet.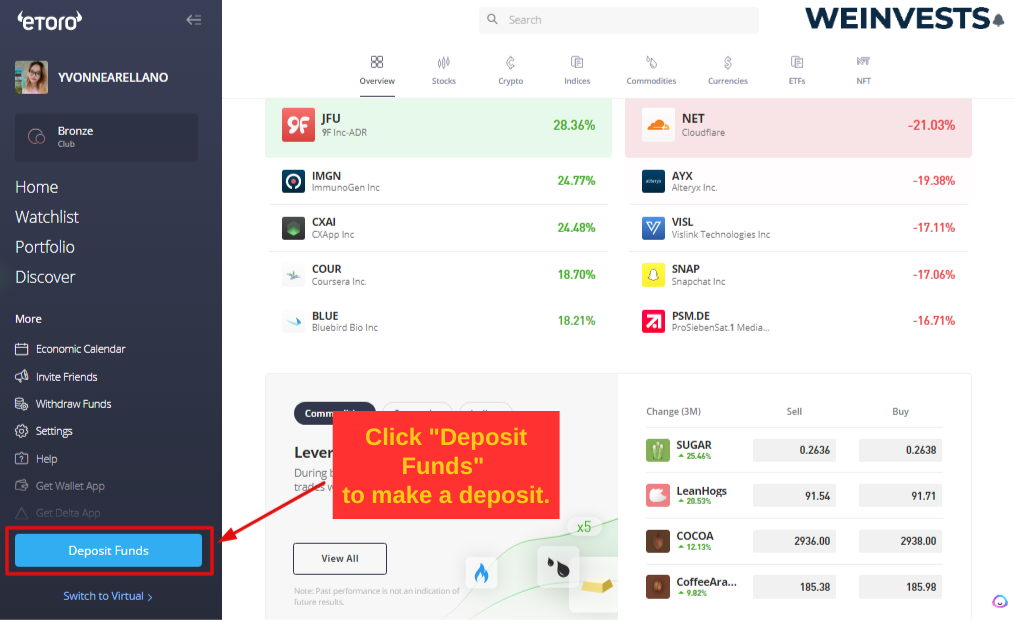 To fund your account, just go to "Deposit" option and choose the specific features of how you want to invest your money, for example, the amount and payment method.
Step 4: Search for Filecoin
Navigate to the Markets page, and choose crypto to see all the crypto assets on the platform.
Search and select Filecoin, then tap Trade.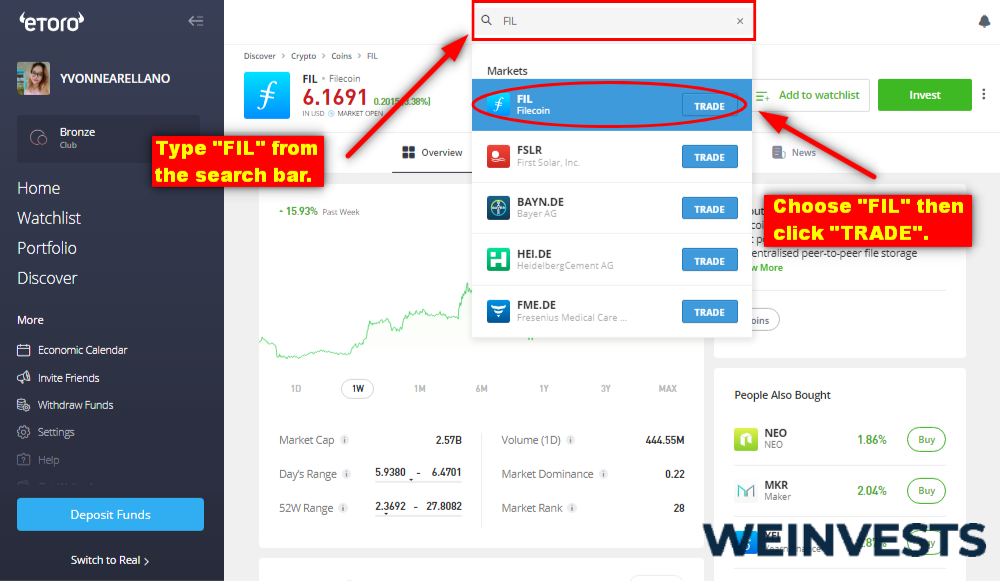 Step 5: Buy Filecoin
Tap "Buy" and your wallet will be credited FIL.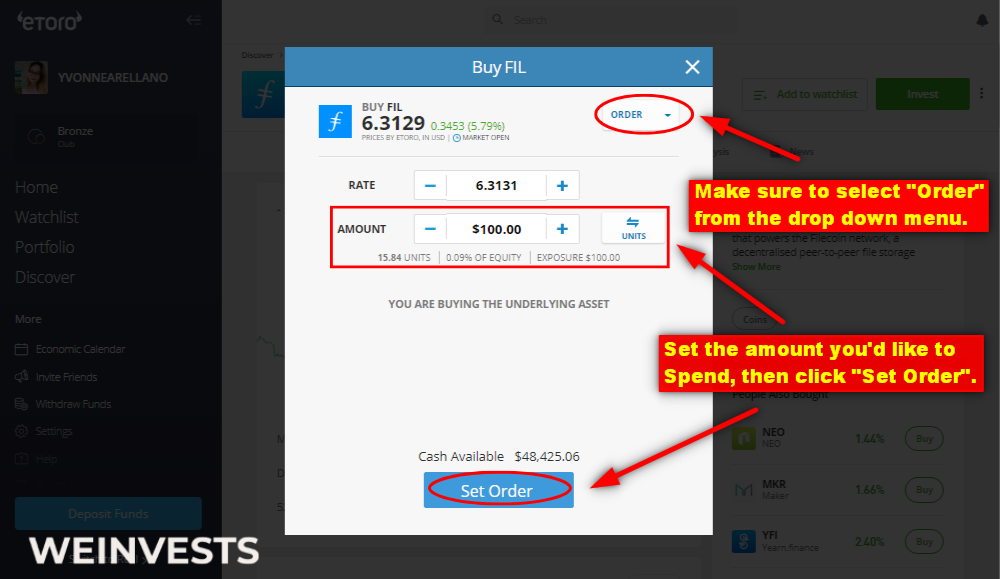 How to buy Filecoin with PayPal?
The beauty of eToro is that there are several options available to you with which you can use to buy Filecoin. And as luck would have it, PayPal is among them. Right now, you can't buy Filecoin directly on PayPal except you buy Bitcoin first then transfer it to your eToro wallet before converting it to Filecoin.
If this process is too cumbersome for you, here's another option;
Login to your eToro account, then go to the Deposits page.
Login to your e-wallet.
Enter your login details and tap on review transaction.
Once the details have been verified, tap "Pay."
Your account will be credited within minutes. Next, use the funds to purchase FIlecoin.
How to Buy Filecoin with Credit Card?
For those that prefer to purchase their Filecoin with credit cards alone, you're also covered. Here's how to go about it;
At this point, we believe you must have completed signing and verification. If you haven't, this is a critical step for the safety of your data and assets.
Next, link your debit/credit card to your account
When this is successful, transfer the required funds, and you'll still have to pass another mandatory verification.
Next, use the funds in your account to buy FIlecoin.
Safe Storage
It's no news that there are several actors with malicious intents in the crypto space; hence, you need to prioritize security. For this reason, you need to consider safe storage options suitable for your Filecoin.
Regardless of the crypto platform you choose, we advise that you take your privacy a notch further. For example, activate two-factor authentication to make it harder to hack your account.
Also, it would be best to keep your crypto assets off exchanges sometimes. Crypto exchanges operate by safeguarding investor funds, which makes them a prime target for hackers. However, several crypto trading platforms have either been hacked or rebuffed such attempts in the past. To be on the safe side, ensure your FIlecoin has an added layer of security by using a software or hardware crypto wallet.
You can download software wallets on your smartphone or personal computer, which are often free and open source. With these apps, you can securely store and encrypt your crypto.
On the other hand, hardware wallets take it a notch further. They are physical devices that store crypto offline in the safest way possible. This way, it's almost impossible for online hackers to steal it.
By using a hardware wallet, your crypto transactions are signed in digitally on the device with a private key. These are then uploaded securely to the blockchain through a crypto bridge.
Remember that your assets are not stored on the hardware wallet itself. Instead, they're live on the public blockchain. So what the hardware wallet does is that wallet it helps you store your private key, which makes it difficult for hackers to access.
Alternate Ways to Buy Filecoin
Thanks to advancements in technology and how mainstream crypto has gone, it is easy for anyone to purchase crypto. There are several ways you can buy Filecoin e.g. peer-to-peer networks, crypto ATMs, brokerages, etc.
Here are some P2P networks you should consider Binance, Bybit, WazirX, Paxful, Huobi, OKX, LocalBitcoins, and KuCoin.
Filecoin ATMs
It would be a disservice to mention the ways to buy Filecoin without mentioning crypto ATMs. Although they're not as popular as other platforms, there's no denying it's gaining mainstream acceptance among the crypto community.
As it stands, the United States has the highest concentration of crypto ATMs worldwide, with more than 86 countries adopting this technology. However, we don't recommend this mode of purchasing Filecoin because it's not legal in the United Kingdom.
There are specific websites that show the locations of crypto ATMs worldwide but to be on the safe side, consider other methods of buying Filecoin.
P2P exchanges
Peer-to-peer platforms allow you to buy cryptocurrencies like Filecoin on their exchanges. Before choosing your preferred P2P platform, look for features like ease of use, low transaction fees, and 24/7 customer support.
That's not all, make sure the crypto exchange is somewhat regulated by FINRA (the Financial Industry Regulatory Authority). Although crypto regulation goes against some of the industry's core values, it's important at this time due to the massive misappropriation of user funds that occcured in the past few weeks.
Lastly, ensure that the P2P exchange allows buying Filecoin with several payment methods, like debit or credit, another crypto, or a bank transfer.
Mainstream Brokerages
Traditional or mainstream brokers offer a vast array of investible securities, although you can't directly trade Bitcoin, just futures alone. On the other hand, conventional crypto exchanges are limited to cryptocurrencies alone, but mainstream brokerages give you additional options.
The major difference is that you own the asset and can buy several cryptos of your choice, rather than Bitcoin or its futures. Now, services like PayPal and Cash App have joined the fray, allowing more users to trade cryptocurrencies.
We've compiled some of the best brokerages to help you choose from. Also, check out the broker that offers amazing bonuses, especially when you open an account with them.
Here are some of the brokers you should consider;
Robinhood
Webull
TradeStation
Binance.US
Coinbase
eToro
Kraken
Charles Schwab
How to invest in Filecoin?
Investing for the long term is quite important, especially when you're just getting the hang of the crypto market. However, we recommend going through the trusted and tested process of HODLing (hold on for dear life i.e. keeping the asset until the price rises significantly).
This way, you set aside a certain sum to invest in Filecoin every month, regardless of the price. Over time, your average entry price will reduce, and you'd have accumulated a significant sum in your portfolio.
Filecoin Price Prediction
It is no news that the crypto industry is going through a tough bear season, with several cryptos taking massive hits. Although volatility has always been a feature of the industry, however, this time, it's a bit different.
Surprisingly, we're not out of the woods yet, and we may still see a downward swing in Filecoin's price until we start seeing a correction. That being said, we're still bearish about Filecoin's price, and you can read a more detailed forecast here.
Conclusion
Filecoin is one crypto project that will stand the test of time thanks to its vibrant community, use case, utility and security. So with this, the future is very bright for this crypto, and it may even break into the top ten cryptos when the market experiences an upward swing.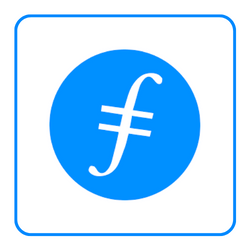 Filecoin (FIL) Price Prediction, 2023, 2024, 2025 – 2030
FileCoin (FIL) price analysis and predictions for 2022, 2023, 2024, 2025, and 2030 and beyond. Starting with a brief overview then moving onto the historical price performance with a simplified explanation of the major causes of price movements. Finishing with the consistent price fundamentals for a deeper understanding of what investors should look for when considering the changing environment over time. Lastly, some frequently asked questions based on what people tend to ask Google more often.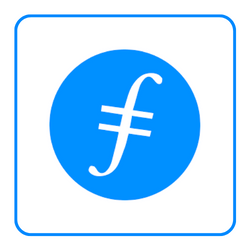 Staking Filecoin
Filecoin is based on a hybrid validation system comprising proof-of-replication (PoREP) and proof-of-spacetime (PoSt) models. Therefore, Filecoin is mined, not staked. Investors still have a couple of ways to generate passive income from Filecoin. They can
stake
Filecoin on cryptocurrency exchanges that support this feature, including Binance's rewards platform Binance Earn or DEX BakerSwap. Also, they can participate in
mining
Filecoin, providing storage space and bandwidth to clients on the centralized platform and earning more FIL crypto in the process.
Risk Disclaimer
WeInvests is a financial portal-based research agency. We do our utmost best to offer reliable and unbiased information about crypto, finance, trading and stocks. However, we do not offer financial advice and users should always carry out their own research.
Read More