This content represents the writer's opinions and research and is not intended to be taken as financial advice. The information presented is general in nature and may not meet the specific needs of any individual or entity. It is not intended to be relied upon as a professional or financial decision-making tool.
Investors continue to look at new lucrative investment opportunities to enjoy optimal returns. Therefore, many have turned their eyes toward crypto coins. Consequently, the value of various coins has seen a rapid rise in the last few years. Not just Bitcoin and Ether, but coins like Chia, have also become increasingly popular.
But before you dive into the world of cryptocurrencies, you need to understand it is a highly volatile market. Though stocks are also risky investments, they still have some financials or reports that justify the changes in their value. That is not the case with crypto coins.
So, if you want to invest in Chia Network, you need to look at the historical price analysis and future price predictions to make an educated decision. We will discuss the future price predictions of the Chia Network. Let's get an overview of the Chia coin first.
Chia Network Overview
Chia is a cryptocurrency that you can buy, sell, trade, and stake on various platforms. It has an open-source model, and the Chia coin allows you to mine this currency according to the amount of hard disk storage space available. Bram Cohen is the developer behind the Chia Network.
He started the company in 2017 and raised an investment of $61 million at a valuation of $500 million. Though the company announced it would go public in 2021, they have yet to release an IPO as of now. Let's look at the statistical overview of the Chia coin to get insight into its performance.
Many consider Chia's coin one of the most highly valuable coins. Its price reached an all-time high level of $1,645.12 on May 15, 2021, but its growth was short-lived. The coin's value continued to plummet, and since then, it's trading below the $1000 mark. Currently, the coin price has a value of around $32.
While the coin is seeing a downward trajectory, it holds great potential ahead. Many experts believe the coin can see an increase in its value in the long run. However, the volatile crypto market makes it difficult to get an accurate value of the Chia coin. Nevertheless, let's go over the future price prediction for 2023, 2024, 2025, and 2030.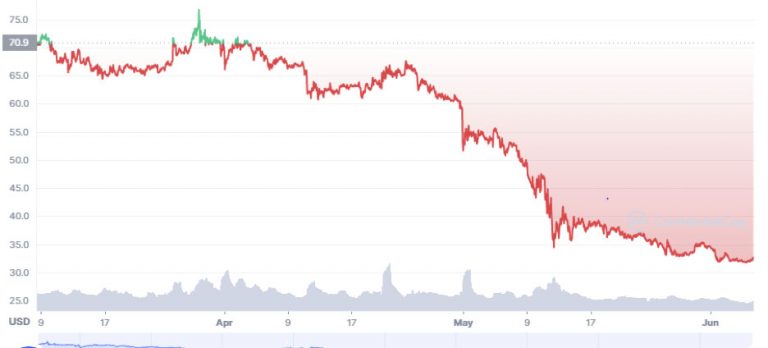 2022 was not a good year so far for Chia's coin. The coin's price has continued to plummet, and it has lost its value by more than 70% in the first six months of 2022. Chia's coin was trading a $103 on the first day of 2022. However, its value has gradually fallen in the last couple of months to $32.
Many experts believe that the fall in the coin's value is due to the massive sell-off of cryptocurrencies. Popular coins, such as Bitcoin, Ether, etc., are also feeling the heat as they see a significant drop in their value. Furthermore, investors in the stock market are pulling out their investments in tech companies.
Although it did not have a significant impact, it still contributed, to some extent, to the latest bearish trend in the crypto market. Therefore, the coin value continued to decrease in the first six months of 2022. Furthermore, the comments by Elon Musk lead to a further drop in Chia's prices.
Nevertheless, experts still believe that the coin has the potential to bounce back and regain its value. Many believe that the coin can reach an average value of $110 by 2023. Experts are optimistic about its growth and predict the coin's value to go as high as $124 to $125 next year.
However, these price ranges can significantly vary because of the ever-changing crypto market dynamics. So, it is better to decide after looking at all the factors. It will help you make the right judgment, and you can buy the coin at the right time at the best possible value. Let's look at future price predictions of Chia's coin for 2023, 2024, 2025, and 2030.
Chia Network Price Prediction 2023
Analysts and crypto experts have a positive outlook in 2023 and ahead for XCH, despite its downward trend in 2022. The developers and the team is working on bringing greater innovations. Consequently, we can expect to see the number of users of XCH increase in the long run. It will impact the coin's value and cause it to go up by a significant margin in the next year.
Experts believe that the average price of the Chia coin stays around the $150 to $151 mark. If the crypto market sees a Bull Run, experts believe the price can go as high as $185. However, if we see a bearish trend in 2023, the lowest price of the coin's value can go down to the $145 to $146 mark.
The Q2 2022 was bearish for the entire crypto market, and it caused Chia's coin to fall. However, there is a chance that the market will regain investors' confidence. They will probably get their hands on some top crypto coins, including Chia's coin.
However, one thing to keep in mind is that XCH is currently witnessing a heavy downtrend. There is minimal chance of its recovery.
The Chia's coin did cross the $1500 value, which shows that it has the potential to grow. So, investors can look to hold it for the next couple of years to yield good returns on their investment. Let's go over the price prediction for 2024, 2025, and 2030 to know if it is worth investing in Chia's coin or not.
Chia's Network Price Prediction 2024
While 2022 might not have been the year for Chia's Coin, experts predict it will see an upward trend in Q3 or Q4 of 2023. And it will likely continue to experience the same growth in 2024. Experts believe the coin can increase its value by a significant margin, going as high as $262 or $263.
On the flip side, experts believe that the lowest possible value for Chia's coin can be around $225 to $226. The average price can stay anywhere from $232 to $233. However, there are various developments that we can expect to see in the next few years.
Investors should keep a close eye on the changing crypto market. Any change will directly impact Chia's coin value, influencing their buying or selling decisions. Most importantly, it will help them identify trends and when to buy low and sell high.
Since there are no company financials or statistics to determine the coin's value, the changing dynamics are the only way to assess the possible price of the cryptocurrencies.
Chia's Network Price Prediction 2025
As the world continues to adopt blockchain, we can expect more people to accept crypto coins and other digital assets. Therefore, it can cause the crypto market value to increase in 2025 and beyond.
Experts believe that the DAPPs (Decentralized apps) will become more popular by 2025. They will play a bigger role in payments, and it will cause the prices of Chia's coin to increase by a significant margin. So, the average price value can go around $340 to $345 by the end of 2025.
If 2025 turns out to be a good year for crypto investors, the prices of Chia's coins will go up from $380 to $385. However, experts believe the price can stay around $325 to $330 if the market is bearish in 2025. Nevertheless, these values can change as the crypto market is highly volatile.
Chia's Network Long term forecast 2030
The Crypto market is highly volatile, and it is difficult to tell what will happen in the next few minutes. Therefore, it is a challenge to make an accurate forecast for 2030. Nevertheless, analysts have a positive outlook for the future of crypto coins, and they expect to see an increase at the beginning of the next decade.
Chia's coin can trade at an average price of $2,160 to $ 2,170 by 2030. You can expect the prices to go as high as $2,430 to $2,440. The minimum value that investors believe it will reach is $2,090.
Chia's Network Price Analysis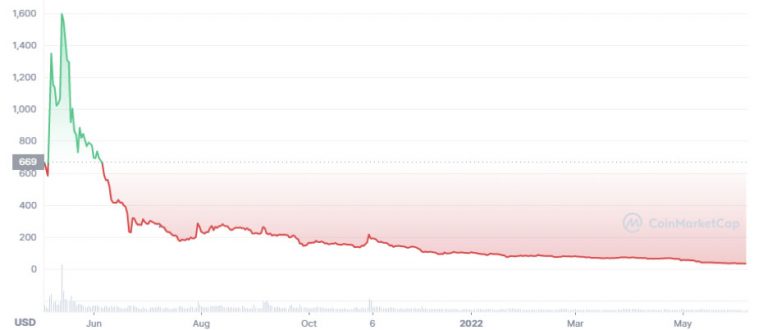 After the announcement by Chia's Network regarding its new coin XCH, many investors jumped at the opportunity to buy its coin. As a result, it spiked the demand for Chia's coin, and its value reached $1,595 on Dec 14, 2021.
However, it only retained that value for a short while before plummeting. Since then, the coin's value has continued to go down and is currently trading at $32. The factor behind its steep fall is still not clear, and it points out the volatility that the crypto market has.
The live Chia price is currently at $36.25 USD, and it has a 24-hour trading volume of more than $4,783,545. It is up 0.49% over the last 24 hours. The CoinMarketCap ranking is 141. It has a live market cap of approximately $180,539,979 and a circulating supply of almost 5,000,865 XCH coins.
Chia's Network Prediction Conclusion
These predictions will help you make an optimal decision in the short and long run. Since the crypto market keeps fluctuating, it is challenging to estimate an accurate price range for Chia's coin.
Nevertheless, experts believe that the Chia coin will reach the price range of $2,200 to $2,300 by the end of this decade. Staying up-to-date about the new changes in the crypto market will help you with your decision-making process to invest at the right time.
FAQs
Now that you have the predicted prices for Chia's coin, you might have some questions on your mind. Therefore, here are a few most frequently asked questions and their answers.
What is the expected trading value of Chia's coin in 2023?
In 2023, the Chia network price prediction indicates that the digital asset will go up to $150.28 and reach a minimum of $122.65. It also suggests that the coin could go as high as $126.26 during that period.
Can Chia's coin reach a $1,000 value?
Experts believe that the Chia coin has the potential to reach the $1000 mark by 2027-28. The coin's value did go to $1,500 in the past. Thus, there is a possibility that it can reach that value again.
Will Chia's coin price increase or decrease in the coming years?
Many experts and algorithm-based platforms suggest that the price of Chia's coin will likely increase in the coming years. They believe it can reach the $500 mark by 2025. However, there is no guarantee that it will reach this value due to the higher volatility.
What is the present value of Chia's coin in the crypto market?
Currently, the value of Chia's coin in the crypto market is around $32.
Is Chia's coin a good investment in 2023?
Though the currency is currently experiencing a downward trend, experts believe it is an investment that will yield fruitful returns in the future. So, it is better to have a long-term strategy in mind when you plan to invest in Chia's coin.
What will Chia's coin value be by the end of 2030?
The expected value of Chia's coin by the end of 2030 is anywhere from $2,000 to $2,500. Bear in mind that these estimates are subject to change at any time.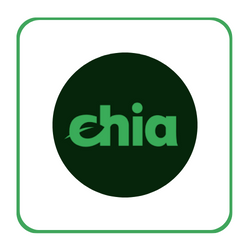 How to Buy (XCH) Chia Network
Obtaining some cryptocurrencies is more difficult than others. Chia is a cryptocurrency that is mined using hard drive…
Risk Disclaimer
WeInvests is a financial portal-based research agency. We do our utmost best to offer reliable and unbiased information about crypto, finance, trading and stocks. However, we do not offer financial advice and users should always carry out their own research.
Read More