This content represents the writer's opinions and research and is not intended to be taken as financial advice. The information presented is general in nature and may not meet the specific needs of any individual or entity. It is not intended to be relied upon as a professional or financial decision-making tool.
Binance coin, also called BNB is a cryptocurrency that is accepted on Binance as payment trading fees. BNB was formed in 2017 when Binance held its Initial Coin Offer (ICO). At the time, Binance issued 200,000,000 coins.
Today, to preserve the value of the coins, Binance occasionally repurchases its cryptocurrency and burns them. Presently, more and more individuals are adopting this cryptocurrency as a new form of money. However, many popular exchanges that people know about, for instance, Coinbase do not have Binance coins, so where does one buy these Binance coins?
Where to Buy Binance Coin?
Binance Coin is not available on most of the popular trading platforms.
One can purchase Binance coin on Binance, either directly with a wire transfer or credit card using the 'buy crypto' tab on the platform or by swapping it with a different cryptocurrency on the trade tab.
Here is a beginner's guide that will walk you through the process of buying this token with eToro.
Step 1: Open an Account
Visit the eToro website to sign up and create an account.
It will require you to fill in only the basic information, which only takes a couple of minutes.
You'll fill out the required field here, then review the terms and conditions before clicking the "Create Account" button.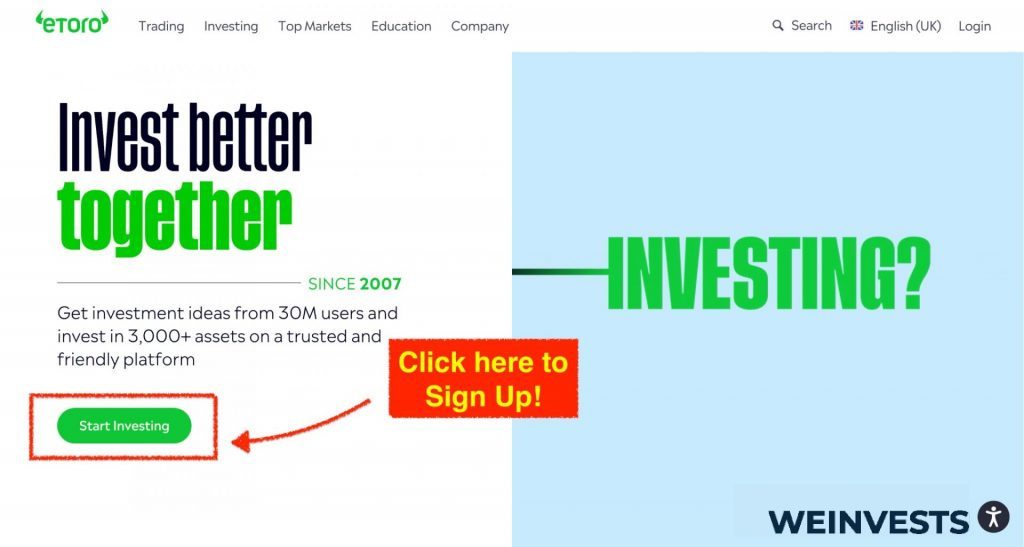 Step 2: Upload ID
The eToro trading platform works based on KYC regulations. Therefore, account holders must verify their identity. You can do this by proof of identity and address. Upload your ID or passport to prove your identity, while evidence of address requires you to upload your bank statement.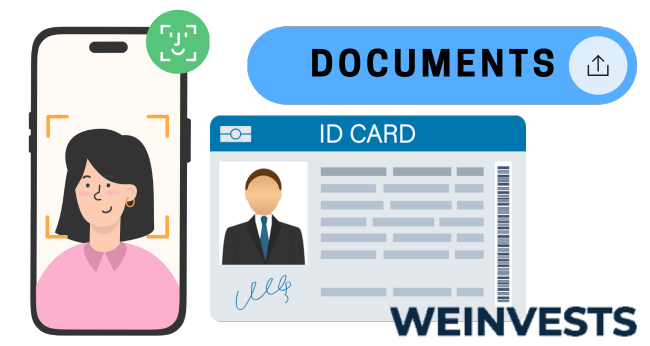 Step 3: Make a Deposit
After creating an eToro trading platform account, you must fund it to buy Binance Coin. There are many payment options like PayPal, debit or credit card, bank transfer, and eToro money. Using eToro money allows you to have zero fees in conversions on USD.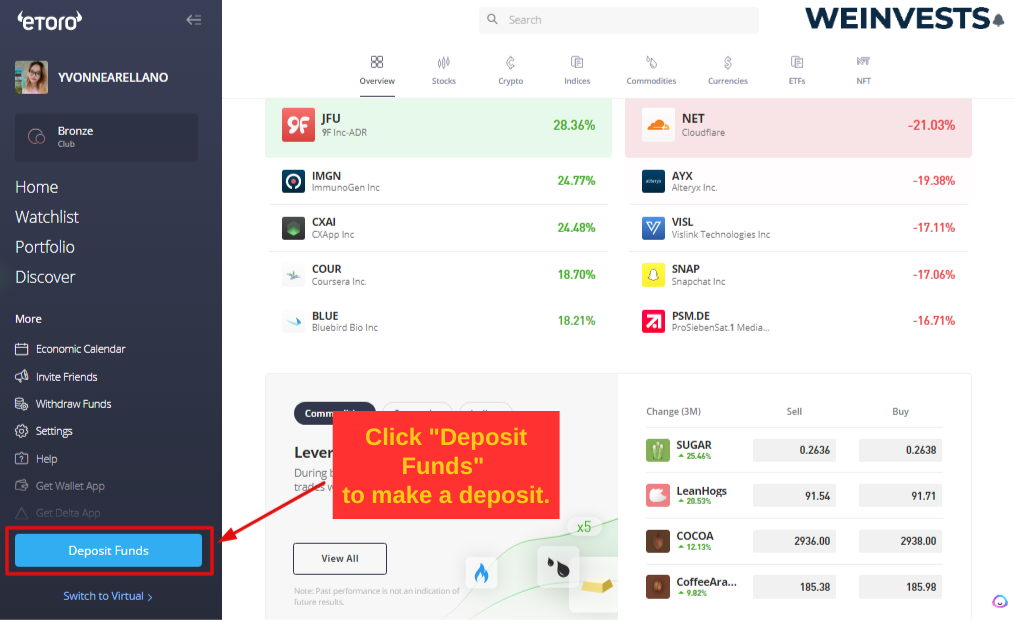 After selecting your preferred payment method, you'll log into your eToro account, click on deposit funds, add the amount and currency, and choose your preferred deposit method.
Step 4: Search for BNB
Once you've set up your account, you can go to the eToro marketplace and look for a Binance Coin to buy. Don't rush here; you have to understand the market to make the right decision.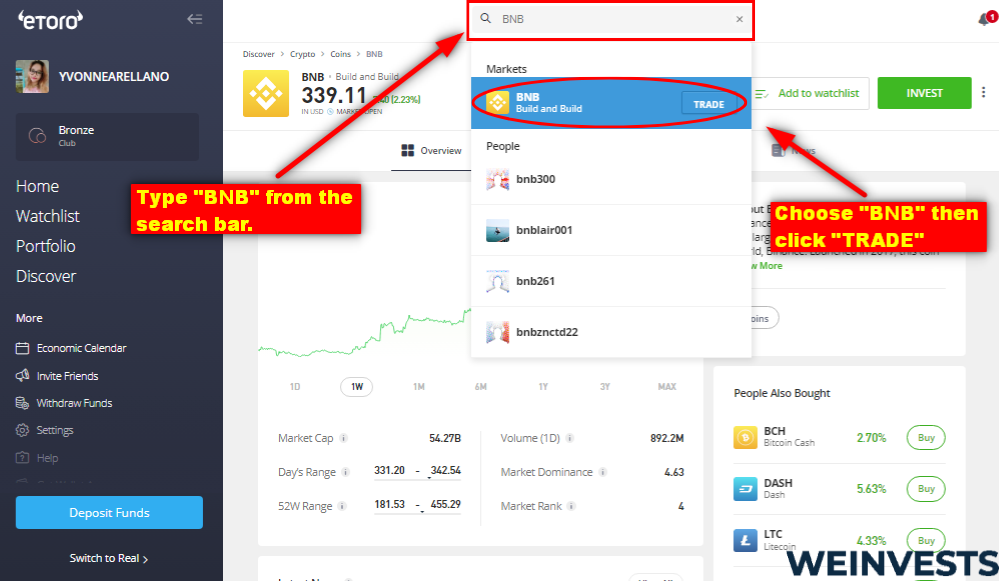 Step 5: Trade BNB
Conduct an extensive search on market trends and price prediction. This will help you know when to buy a Binance Coin at a lower price, hold it, and then sell the coin at a profit. When you're ready to buy, you'll enter the amount you're ready to invest in the amount section and confirm your order by clicking open trade. This ensures you purchase Binance Coins on a spread-only basis.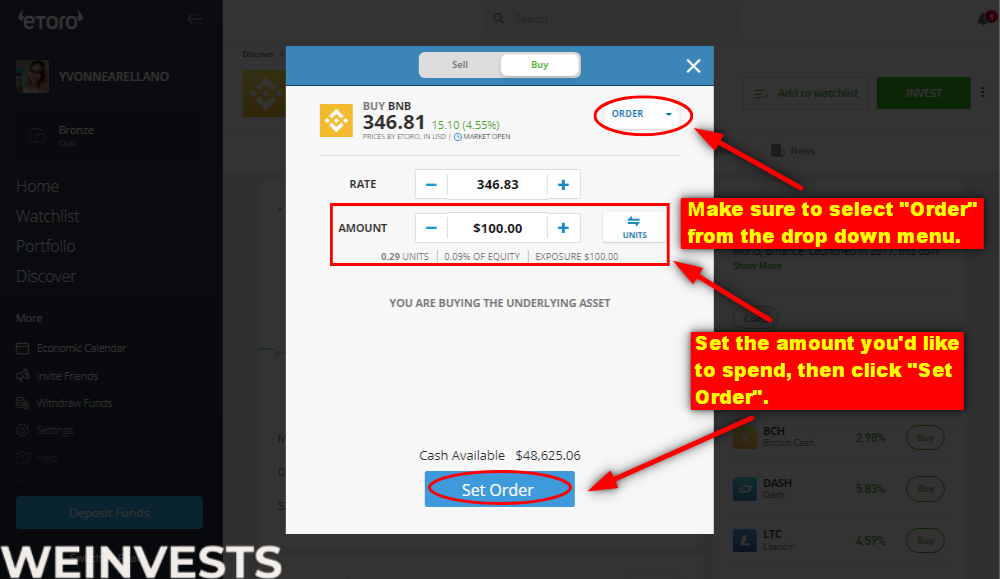 Where to Store Binance Coin
After buying a Binance Coin, it's important to store it in a place where it is safe and accessible to you in the future. Here are ways you can effectively store your BNB:
Hardware Wallets
Hardware wallets like cold storage wallets are encrypted devices that store Binance Coin assets offline. It provides a layer of security against internet breaches. They include Ledger Nano S and Ledger Nano X, among others.
Software Wallets
These are digital BNB storing wallets, including Coinomi, Trust Wallet, and Guarda Wallet. They're, however, not safe for keeping vast amounts of Binance Coins.
Pros
Low fees compared to other exchanges
Uses a unique burndown policy to ensure growth and stability
Fast transactions
Cons
Binance Coin is heavily centralized
A major target for cyber-attacks
Buying Binance Coin via Credit Card or Wire Transfer
These are a few steps you have to take before purchasing a Binance coin using your credit card or bank transfer.
Trade Some Binance Coin
You could either use a credit card or deposit fiat money through a bank account. If you're choosing to deposit fiat money through a bank account, find the wallet button on the top right corner of the site, then go to fiat and spot wallet. Click on deposit and choose your preferred currency. After this, select your payment method. Enter the amount you want to pay and hit the 'continue' button. Here you can find all the relevant information you need for your bank transfer. At this stage, you get a referral code for the bank transfer. Don't forget to use the code while making the transfer.
After making the transfer, you have to wait for one to two days for the money to show up in your account. Check the status of your payment by clicking on the wallet, fiat, and spot wallet. Once you have the money in your Binance account, click on 'buy crypto' and go to 'cash balance.' Wire transfers could come with expensive bank fees, so always confirm this before starting the process.
If you are paying with a credit card, you don't have to go through the steps above but can go straight to buying cryptocurrency using your credit card. To do that, find the 'buy crypto' button, then click on credit/debit card. From there, you are taken to a page where you get a list of options on cryptocurrency to buy. Type in BNB in the search button on this page and select 'Binance Coin'.
After this, you can select the currency you want to use for payment, type in the amount you want to spend (check the BNB equivalent of whatever amount you plan to spend) and click on buy BNB. A page comes up where you have to enter your card details and confirm the purchase. This completes the purchase.
Buying Binance by Trading Other Crypto Currency for BNB
If you already have some cryptocurrency on Binance, all you have to do is log into your account. Go to your wallet, and then find your spot wallet. Look for the cryptocurrency you want to trade. Go to trade, and then choose the cryptocurrency you want to convert to BNB. Choose the amount you want to convert and set a price limit. Click on buy BNB. That completes your purchase order.
How to Store Binance Coin
Depending on how much Binance coin you plan to buy, you can store it either in hardware or software wallets. If you buy BNB in a small amount, you can either keep it on a free soft wallet or a Binance exchange account.
Software Wallets
Software wallets, for instance, Exodus, and Coinomi, though free to use, are less secure. This is the reason one should only store small amounts of BNB coins in them.
Hardware Wallets
If you intend to accumulate large amounts of BNB, it's safer to store it in a hardware wallet. Hardware wallets cost money but can store more than a thousand cryptocurrencies including BNB and are reputable. The Model T can connect to mobile phones.
If you are storing huge amounts of BNB in a software wallet for a long time, it's better to transfer these over to a hardware wallet. To do this, find your BNB address. Each BNB address is a lengthy combination of numbers and letters that often begin with either a zero, X, or BNB.
Once you've got the address, send your BNB there. That way, you get absolute control of your coins.
How to Spend Your Binance Coins
At the time of its creation in 2017, Binance was a utility token for discounted trading fees. Today, however, it's used on various platforms for multiple purposes. If you purchase Binance coins today, you can use them for the following applications on different platforms
To Pay Transaction Fees
One can use BNB to pay their transaction fees on platforms such as Binance chain, Binance DEX, and Binance.com

To Make Payments
One could also use BNB to make payments for goods and services purchased on certain platforms. They can be used to make payments for lottery tickets, travel, gift cards, etc. You can also donate BNB to charity or send them as a gift to someone else.

Loan Collateral
Some businesses let you use your BNB as collateral to take out a loan.

To make Investments
You can use BNB coins to take part in some ICOs that you can find on Binance's Launchpad program.
FAQs on How to Buy Binance Coins
These are a few questions people ask when buying Binance coins
What is the Binance coin ICO?
An ICO, which means Initial Coin Offering, is a type of capital raising activity in the cryptocurrency and blockchain world. It is similar to an IPO in the stock market. Start-ups primarily use an ICO to raise capital and Binance was no different with their release of BNB. The Binance ICO was held in 2017. During the ICO, Binance distributed BNB tokens among different participants. These included the Binance founding team and angel investors. A total of 200 million BNB were distributed between the founding team, angel investors, and public sales. This was given as 40%, 10%, and 50% respectively.
What are the Common Mistakes to Make when Buying Binance Coins?
People often repeat the same common mistakes when buying Binance coins. One is buying the coins before they know what the investment is all about. They commit their money based on bogus 'get-rich-quick' stories told over the internet. Another common mistake is buying Binance coins on the wrong platform.
What is Binance Coin Burning?
Although 200 million BNB were initially offered in 2017, the coin in circulation today is significantly less. Originally, in their whitepaper, Binance committed itself to using 20 percent of its profits to repurchase BNB and permanently destroy them by burning them. However, this was changed to now be based on the volume of trading down in the last quarter. Binance has done about 16 of these burns with its last quarterly burn taking place in July 2021. They destroyed 1,296,728 BNB.
What's the future of Binance coin (BNB)?
Read our article to find out. >> Binance coin (BNB) Price Prediction 2023, 2024, 2025 – 2030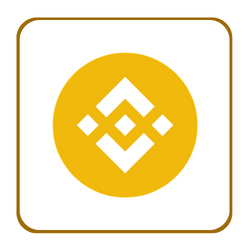 Binance coin (BNB) Price Prediction 2023, 2024, 2025 – 2030
In the coming years, Binance Coin is predicted to surge significantly in price as the world's largest cryptocurrency exchange continues to expand its services and widen its user base. As the world moves away from traditional finance and towards digital currencies, Binance Coin is expected to become increasingly popular among investors, traders, and everyday users. By 2023, the Binance Coin is estimated to reach up to $500. Some analysts even believe it could reach as high as $10,000 by the end of 2030, with quite a few seeing it reaching $1,000 by 2025. Consequently, this could serve as a major boost for Binance's already successful business, acting as an engine for further growth.
Risk Disclaimer
WeInvests is a financial portal-based research agency. We do our utmost best to offer reliable and unbiased information about crypto, finance, trading and stocks. However, we do not offer financial advice and users should always carry out their own research.
Read More