This content represents the writer's opinions and research and is not intended to be taken as financial advice. The information presented is general in nature and may not meet the specific needs of any individual or entity. It is not intended to be relied upon as a professional or financial decision-making tool.
DASH is a popular cryptocurrency that was first launched as Xcoin in 2014. However, it has kept growing in popularity throughout the years. Although many people compare it to Bitcoin, it has excellent technological advancements to ensure users' privacy, making it a unique coin with tremendous growth potential.
DASH Tokenomics
Several aspects of this coin make it an extremely appealing asset, so many crypto collectors and enthusiasts have been highly interested in acquiring it in the past years. One of these aspects is its unique X1 algorithm, which allows users to exchange coins through master nodes, making its transactions much faster and more effective.
Another reason why several users have opted for this cryptocurrency is due to its high scalability potential. One of the primary purposes of this coin is allowing people to use it in day-to-day transactions, which is going to eventually turn it into a much better option than fiat currencies that must go through a centralized entity.
Moreover, Dash has a fantastic perk that attracts several crypto traders. It has rock-solid end-to-end encryption that allows users to remain anonymous during their trading activities.
Where to Buy DASH?
You can buy DASH through several platforms. The most common places you can get it are cryptocurrency exchanges, payment services, and brokerage platforms. However, hundreds of platforms out there offer these services, and we know it isn't easy to choose the right one, especially if you're an inexperienced trader.
Therefore, you can check out our in-depth guide on the best places to buy DASH.
How to Buy DASH on eToro
We carefully tested several crypto trading platforms and discovered several ones that are fantastic for buying DASH.
After creating an account and using this platform, we confirmed it is the fastest and safest place for buying any cryptocurrency, including DASH. Therefore, we want to walk you through the following steps that explain how to open an account and start trading with it.
Also, it is important to note that – From 6:00AM ET on Wednesday July 12th, 2023, US customers will no longer be able to open new positions in Dash (DASH) on eToro. US Based eToro customers can continue to hold and sell existing positions in Dash (DASH).
Step 1: Open an Account
The first step you must follow is to open an account. In order to do this, you must go to eToro's website and find the registration form. It is going to ask you to type in your username, email, and password. However, please make sure to go through eToro's client agreement and privacy policy, as it is going to help you understand better how the platform works and all the parameters that need to be followed to be entirely safe when using it.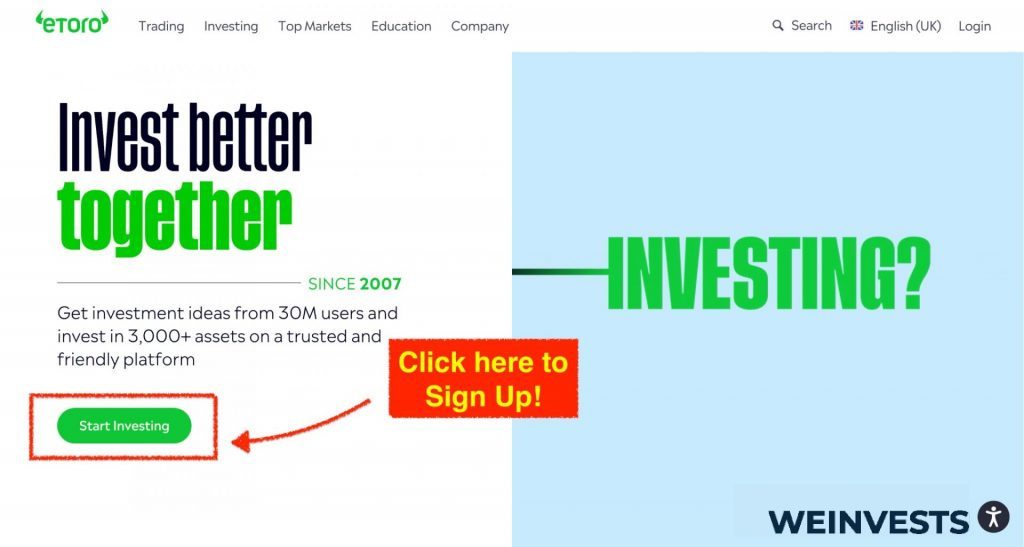 Once you've read all the information and agree with it, you can check the two boxes at the bottom of the form and submit it.
Step 2: Upload ID
Now you need to verify your identity. Most crypto exchanging platforms demand you to submit some legal document, as this is going to help them make sure you're a real person, which prevents hackers and scammers from creating several fake accounts and taking advantage of inexperienced traders.
Therefore, eToro asks you to upload your ID or passport, which can be done in a few clicks. Then, all you have to do is wait for it to be manually verified, and then you can start enjoying the platform.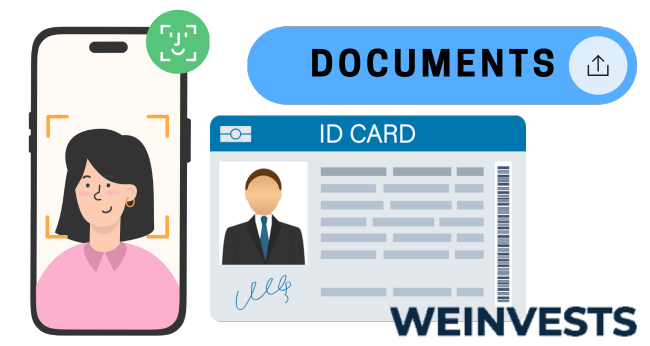 Step 3: Make a Deposit
Once you confirm that eToro's team approved your ID, you must fund your account to start using it for your trading activities. You can simply choose your preferred payment method from a series of available methods and select how much money you want to invest.
However, please keep in mind that trading is a risky business, so you must only invest the money you can afford to lose. Moreover, please make sure to thoroughly plan all your investments and don't let your emotions get the best of you when making financial choices.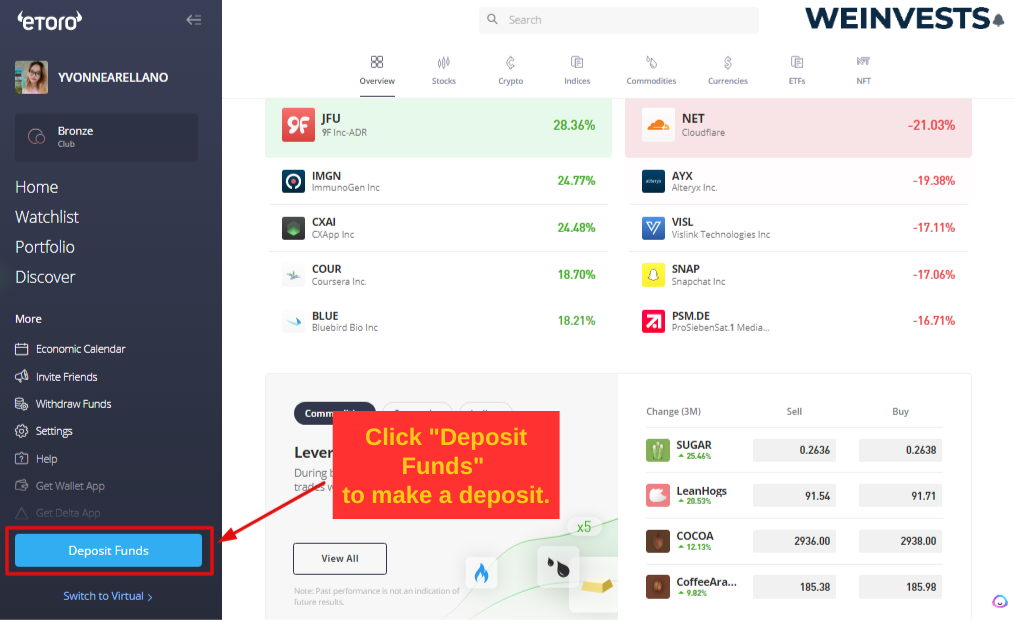 To fund your account, just go to "Deposit" option and choose the specific features of how you want to invest your money, for example, the amount and payment method.
Step 4: Search for DASH
Now you can go to eToro's live trading section, where you are going to see all the available cryptocurrencies, as well as all the trades that are being executed at the moment and each currency's current market behavior.
If you can't see DASH at first glance, you can go to the search bar and type in its name. Then, all that's left to do is click on its name, and it will take you to the purchase section for you to follow the next step.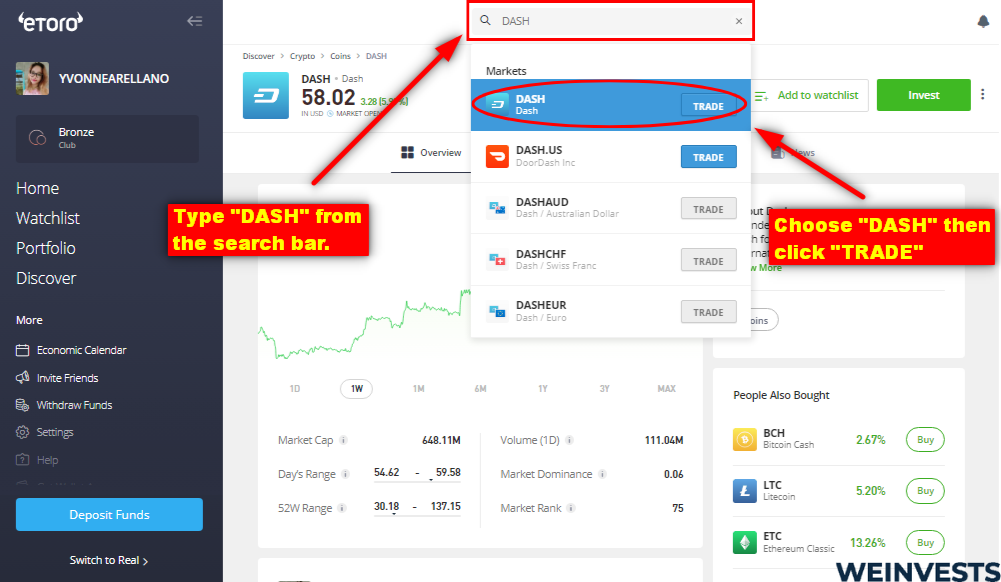 Step 5: Trade DASH
The final step is pretty simple, as you only need to select how many DASH coins you want to buy and execute the purchase. Once you press the purchase button, your coins are going to be automatically transferred to your account, and you can choose to either keep them there or move them to a digital wallet to keep them safe from cyber thieves and hackers.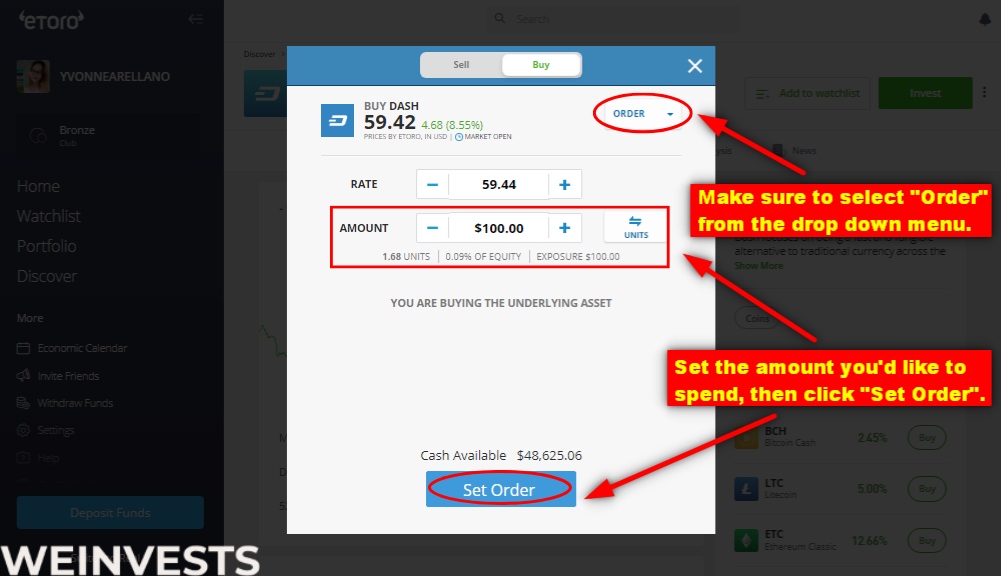 How to Buy DASH with PayPal?
One common way of buying cryptocurrencies is with PayPal, but it can sometimes be difficult to find a crypto trading platform that's compatible with PayPal. Luckily for you, eToro is compatible with this platform, and you can easily use your PayPal account to fund your crypto investments. Check out the following quick guide on how to do this.
The first step is to create and verify your account by following the previously mentioned steps.
Then, once you're about to fund your account, you must select PayPal as your chosen payment method, but please keep in mind this option isn't available in all countries.
Finally, you must select how much you want to buy and execute the purchase.
How to Buy DASH with Credit Card?
Another common way of buying DASH is with credit cards, as virtually anyone in the world has access to one, and it is one of the most straightforward ways of funding crypto trading accounts. Moreover, most platforms are compatible with credit and debit cards, including eToro. Therefore, to buy DASH with your credit card, you only need to follow these simple steps.
Follow the previously mentioned steps to register to the platform and verify your account.
Then, you must link your credit card to your account by submitting your card's information and verifying it. Remember that you must be the account's owner, as eToro may not let you use another person's credit card.
Finally, you must go to the live trading section, choose DASH, and select your credit card as your preferred payment method.
Safe Storage
Whenever you're investing in crypto, you need to follow specific security measures to prevent losing your money. Using a safe platform with strong security protocols is only the first step, as you need to also take care of your money by yourself.
One of the main ways you can do this is by activating a two-factor authentication in all your crypto platforms, as this is going to make it more difficult for hackers to crack into your account. Moreover, you should always keep your crypto assets in safe digital wallets, and you must be the only person to know your private passwords and keys.
Remember that no reliable platform is going to ask you for your keys through a third-party medium, and if you receive an email asking you to submit your private keys, you must ignore it as it is likely from someone who's trying to defraud you.
Alternative Ways to Buy DASH
Although the previously mentioned methods are the most popular for buying DASH, you can also acquire this coin in several other ways. Some of them are the following.
DASH ATMs
Buying DASH on physical ATMs isn't advisable, as it can be very dangerous, and in some countries, such as the U.K., these ATMs are illegal. However, a couple of hundreds of DASH ATMs are scattered around each continent, so you're free to try them out if you insist on doing it
P2P Exchanges
Peer-to-peer exchanges allow you to trade cryptocurrencies directly with another trader without needing a third-party platform. In the following table, you are going to see some of the best P2P exchanges we could find and how they compare to each other.
How to Invest in DASH?
If you've made it this far into the article, you're probably interested in investing in this fantastic cryptocurrency. Although the most straightforward way of doing it is by buying DASH coins, there are other great ways to invest in it.
One of them is staking, which allows you to commit your DASH coins to the blockchain and earn interest rates by confirming transactions. You can check out this article to know more about it.
Another way is crypto ETFs, which allow you to track the current price of a particular cryptocurrency and all the trades that are currently being executed. This helps you buy coins at lower rates without the risk of directly owning them.
Conclusion
DASH is a great asset that aims to become one of the first cryptocurrencies to be used in day-to-day transactions, and now you know everything you need to safely invest in it. However, please feel free to do your own research and make sure you're 100% aware of the risks before investing in it.
Remember that the best way of discovering whether a platform is good for you or not is by trying it out.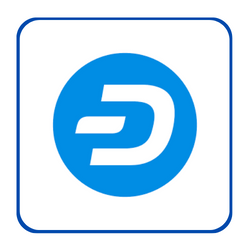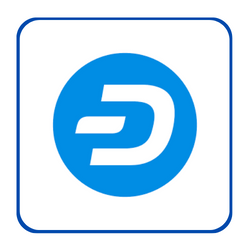 Staking Dash
Staking a crypto asset for a stipulated time is one way to invest in your chosen asset and partake in the Blockchain economy while "hodling." You can gain incredible interests on staked DASH and participate in the Decentralised Autonomous Organisation (DAO) voting, either by setting up your Masternode or pooling your coins into a staking pool with other investors. In this article, you will learn all about staking DASH; find out
how to stake
DASH, pros and cons of staking DASH, and taxation on staking DASH.
Risk Disclaimer
WeInvests is a financial portal-based research agency. We do our utmost best to offer reliable and unbiased information about crypto, finance, trading and stocks. However, we do not offer financial advice and users should always carry out their own research.
Read More