This content represents the writer's opinions and research and is not intended to be taken as financial advice. The information presented is general in nature and may not meet the specific needs of any individual or entity. It is not intended to be relied upon as a professional or financial decision-making tool.
Staking basically means locking up your crypto in a pool to earn rewards or interest after a specific period of time. When your crypto asset is staked, it is used for validating transactions in the network.
The technique of validating transactions is known as "proof of stake" (POS). Whenever you stake your crypto token, you are basically saying that you are expecting the validating server to function properly.
Staking has the benefit of allowing you to get AVAX tokens in exchange for your assistance in verifying transactions. It's a risk-reward exchange that aids in maintaining the network operators' integrity.
The pitfall of staking tokens is always present, but it might not be as high with Avalanche (AVAX) as it is with conventional blockchains. This is due to the fact that AVAX has no danger of cutting, which is one of the primary issues with staking.
A mechanism known as "slashing" purges a portion of staked tokens from problematic validation servers. As a result, once the dust settles, you will have fewer tokens if you had staked tokens to the validator that was cut.
With Avalanche, you have two stake possibilities. You have two options for staking with AVAX: either you can stake as a delegator, which is a much simpler procedure, or you may stake as a validator, which is both a more expensive and more involved alternative. The majority of AVAX investors who decide to stake will select the first option and delegate to a skilled validator.
Pros
Stakers get access to good and competitive Annual Percentage Yield.
You can access your tokens when you are offline if you choose to stake with an Avalanche wallet.
When you stake AVAX, you help secure and support the AVAX blockchain.
Anyone can become a validator on the AVAX network with very little hardware.
Cons
There is a possibility of losing your interest if your validator misbehaves.
Locked assets on the AVAX network are not tradable, meaning users can use their locked tokens.
Users can lose their AVAX when they lose their seed phrase or wallet password.
What is AVAX Staking?
AVAX is staked when it is placed in a staking pool so that the asset can generate some income. Staking is the method used to take part in network consensus in the majority of Proof-of-Stake blockchains. The Defi system that employs PoS as its primary consensus algorithm does not necessitate individuals to put up computing resources at risk in order to confirm the network's transactions in contrast to Proof-of-Work (PoW) blockchain systems.
In Proof-of-Work, miners, who are in charge of approving network transactions, must carry out challenging mathematical operations in order to take part in the consensus processes. It is nearly impossible to manually determine the "unknown" random figure that is being computed by the specialised hardware. The basic workings of Proof-of-Work are this strategy. The corresponding provided the transaction is verified and placed on the block whenever the computer locates the number. Individuals who are able to buy this expensive gear, or more specifically, who already have access to it, may engage in the network consensus and benefit from it.
Delegators do not require any technology in Proof-of-stake chains, however, in order to verify network transactions. They are only obliged to keep their money inside the network. Your ability to confirm transactions, take part in polls on important issues, etc., begins with a certain number of tokens that are locked in the blockchain.
How to Stake AVAX?
There are two main ways people stake AVAX. It could be by using the official website or by staking on Binance.
Binance Earn is one of the platforms offered by the cryptocurrency exchange Binance. It comprises a suite of products to help users bolster their cryptocurrency holdings.
This includes staking Avalanche. Below is a step-by-step tutorial on how to stake Avalanche on Binance Earn.
Step 1: Sign Up and Verify your Account
If you want to stake Avalanche, the first thing you must do is create an account on Binance.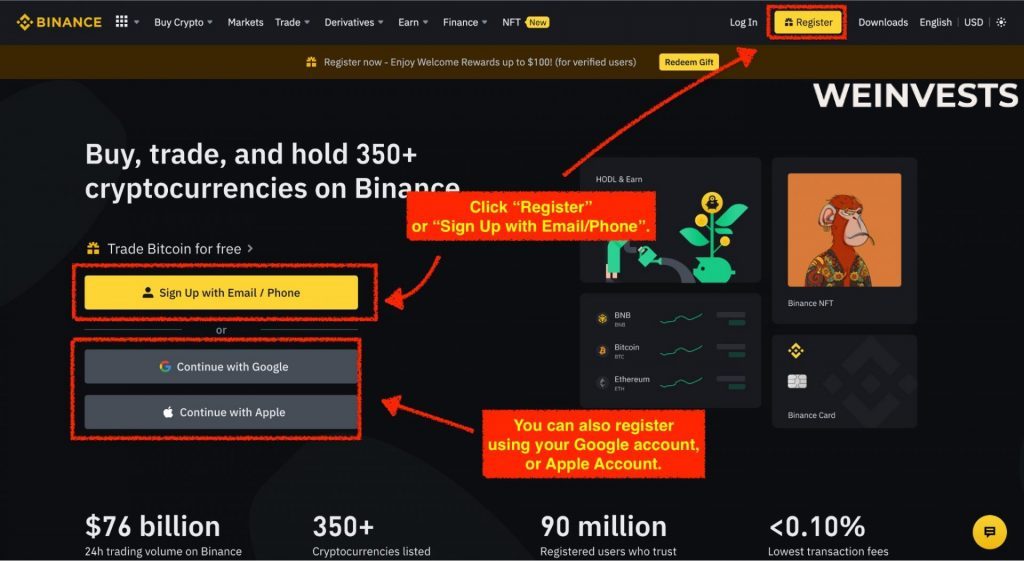 Then go through the verification steps to provide Binance with proof of identity.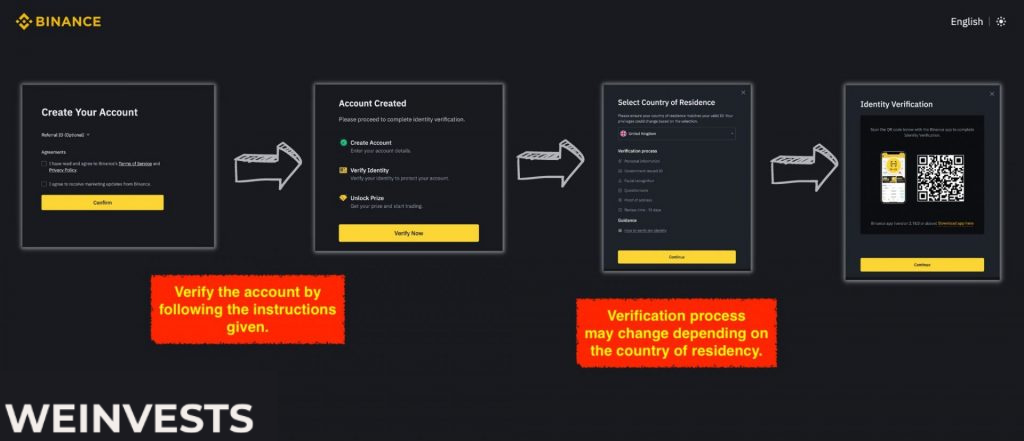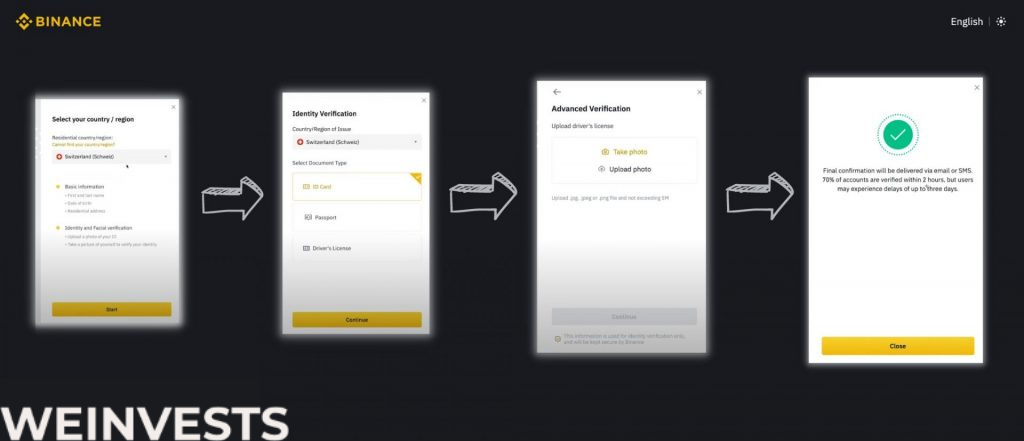 Step 2: Fund your Account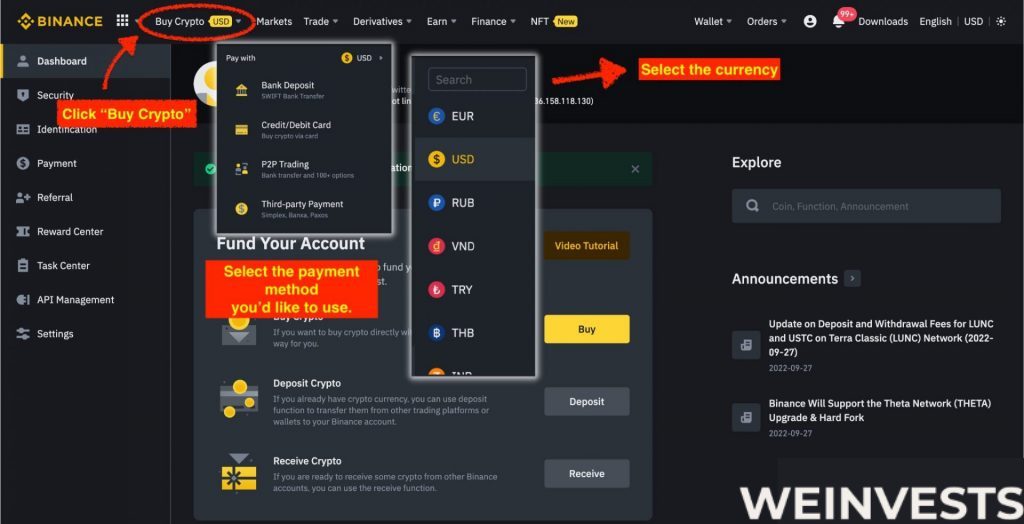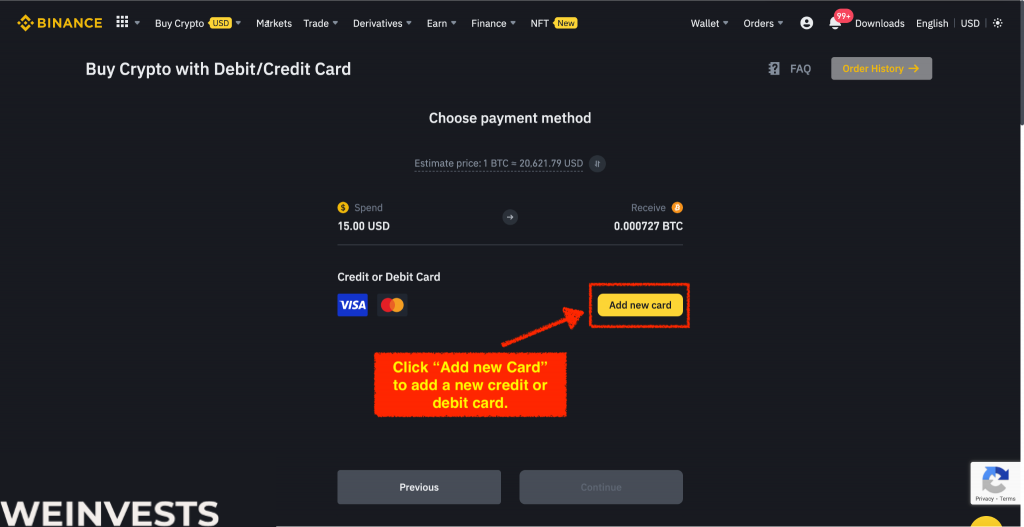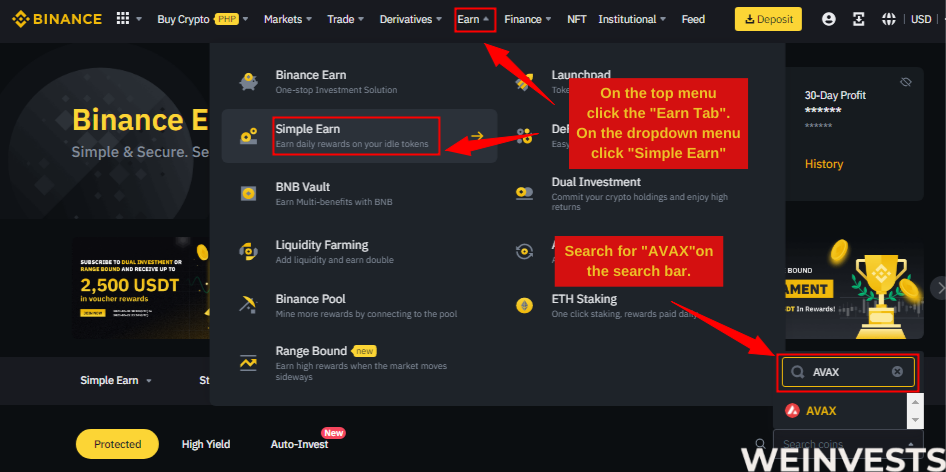 Go to the drop-down menu labeled 'Earn.' Here, you will have multiple options. Click on 'Binance Earn' and then search for 'AVAX'.
Step 4: Analyze the Staking Parameters and Stake
Here, you can analyze Avalanche using the 'Calculate your crypto earnings' feature. You can input the amount you want to invest and see the projected earnings for 1 year, 2 years, 3 years, or 5 years. Simply click on the desired number of years to invest in 'AVAX'.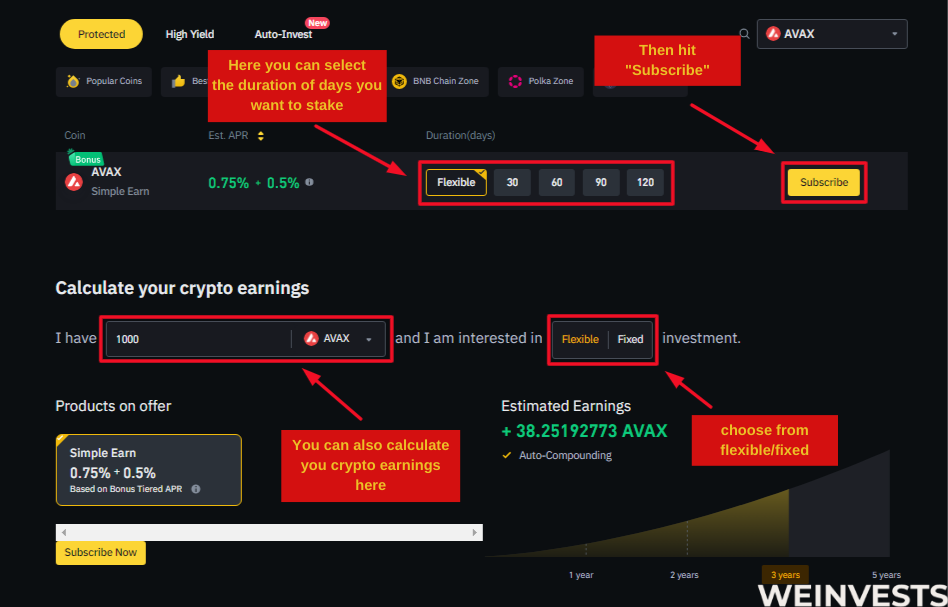 If you want to earn rewards with your AVAX on Binance.com, you can go to the "Products on Offer" section under "Earn" and choose between two options: "Simple Earn" and "Flexible DeFi Staking".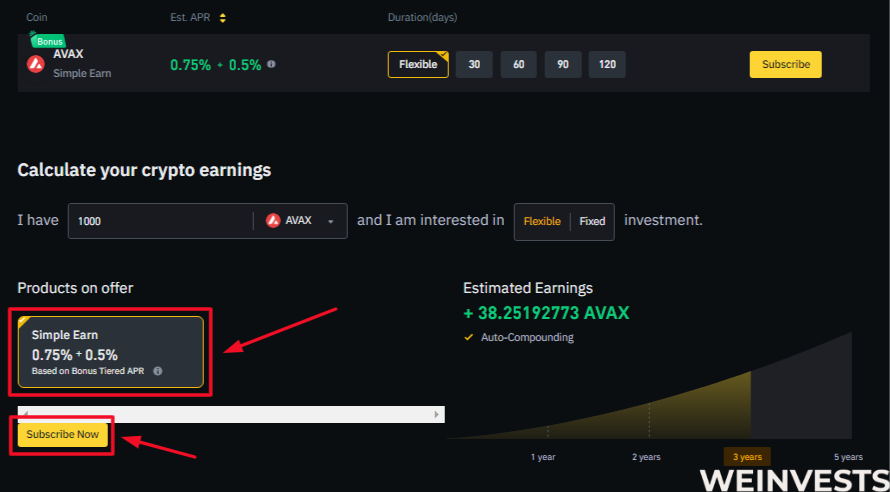 "Simple Earn" lets you deposit your AVAX in flexible or locked products and earn daily rewards. You can subscribe or redeem at any time, so you can maintain your assets' flexibility and liquidity. The rewards are sourced from Binance's own funds and are based on the market conditions.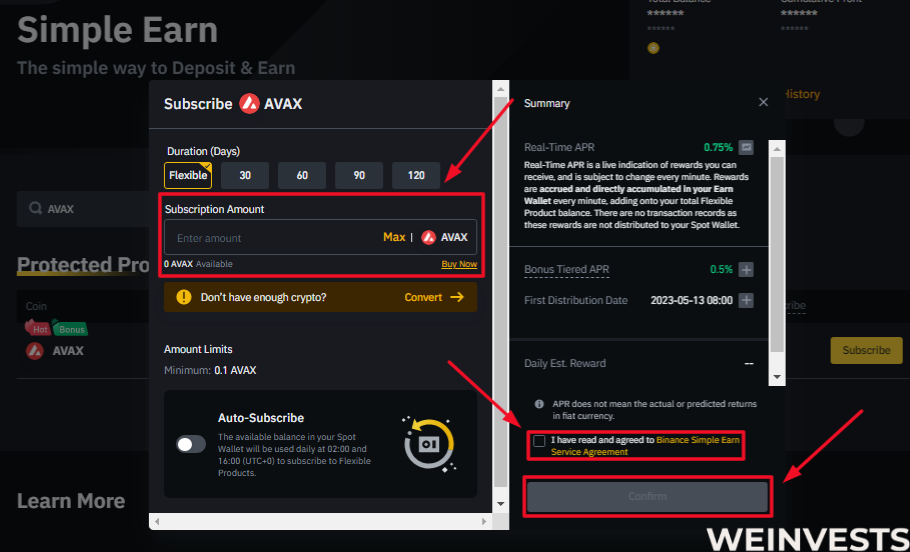 Staking on AVAX website
One of the most common ways to stake avalanche is by using the official website. Their official website clearly states everything you need to know about staking AVAX. Below is a step-by-step guide on how to stake avalanche.
Create a wallet
Create an account on their website if you do not already have an account. This can be done from the homepage. You will need a 24 word keyphrase, a hard wallet, a private key, or a keystone file to be able to gain access to an account that already exists.
Fund your wallet
To fund your wallet, you will need to buy AVAX for an exchange. To be able to transfer the AVAX, you will have to make use of your X-chain address. The x-chain address can be found on your dashboard. Other AVAX chains (p-chain and c-chain) do not support transfer. The x-chain address can be located at the very top of your dashboard wallet with a QR code, just like with other wallets.
Your P-chain (platform chain) is in charge of metadata on the AVAX network, which in turn is used for staking. Decentralized apps can use smart contracts thanks to the contract chain known as C-Chain. The C-Chain is not engaged in the staking process, but the P-Chains and X-chains are.
The primary asset chain on the AVAX network for the development of other asset classes is called X-Chain. An X address is a new address that is formed in this chain. Your assets stay liquid while you retain them at your X address, which means you can move them to certain other P addresses or X addresses at any time.
Transfer AVAX to P-Chain from X-Chain
To move Avalanche to the P-Chain for staking, select "Cross Chain" from the left side of the menu. When transferring to your P chain address from your x chain address, there will be a charge of 0.001 AVAX. Make careful to factor in this sum to guarantee that when the charge is paid out, you will still have a minimum of 25 AVAX in your P-Chain wallet.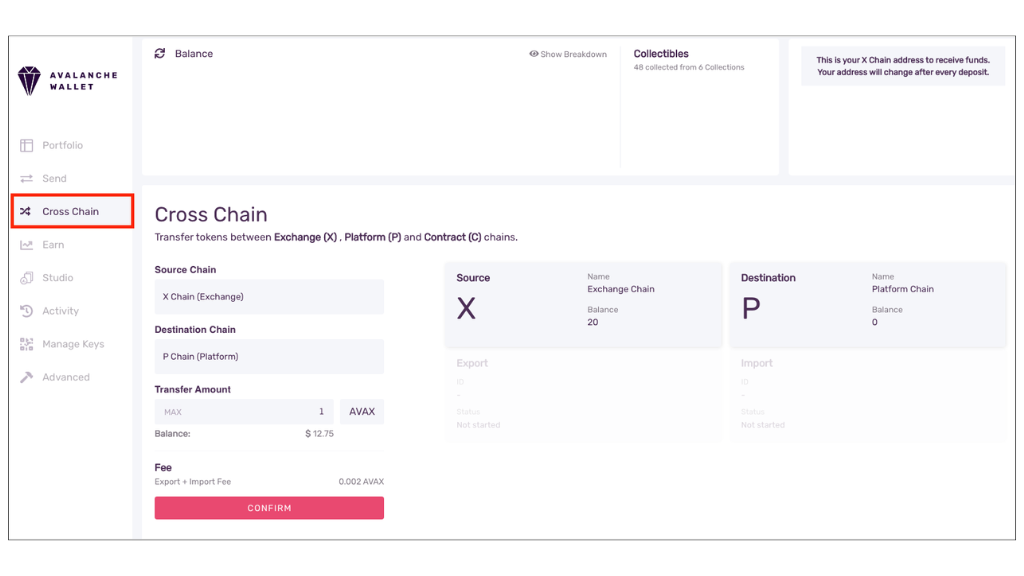 Delegate to a validator
Your money is now in your P-wallet, and you are prepared to stake your AVAX tokens. Go to the "Earn" tab and choose "ADD DELEGATOR." A roster of validators arranged by the full sum staked will appear on the next page. By selecting the "SELECT" button, pick a validator. The delegate page will be displayed to you, where you need to select your staking duration, the quantity you intend to delegate, and the address to which you want to have your rewards transferred. You are limited to the validator node you select in terms of stake duration.
Submit
Hit "CONFIRM" when you've input the data, and afterwards press "SUBMIT" to carry out the delegation. You have now started delegation and are currently receiving stake incentives.
Staking on Binance
You can stake your Avalanche instantly on Binance if you don't want to move it to your Avalanche wallet beforehand. Simply buy as many AVAX coins as you desire on Binance.
One advantage of staking on Binance is that all of your assets are kept in one spot, making it easy to monitor their progress. For individuals who do not wish to set up several DeFi wallets. Move your cursor over the Earn portion (the top of the homepage) of the Binance page to start staking.
You may access the list of currencies you are able to stake on binance by clicking Staking, which will send you to a new page. Choose AVAX from the options, then select the time frame (90 to 21 days). Your stake will be locked for the duration of this time. You may stake a lot less money because you are using an exchange, and you aren't actually delegating to the validator. Just choose "Stake Now" and carry out the ensuing procedures after deciding how many tokens you possess.
It's important to bear in mind that when you stake on Binance, the APY may also alter depending on how much money the exchange chooses to hold in its liquidity reserve.
AVAX Staking Tax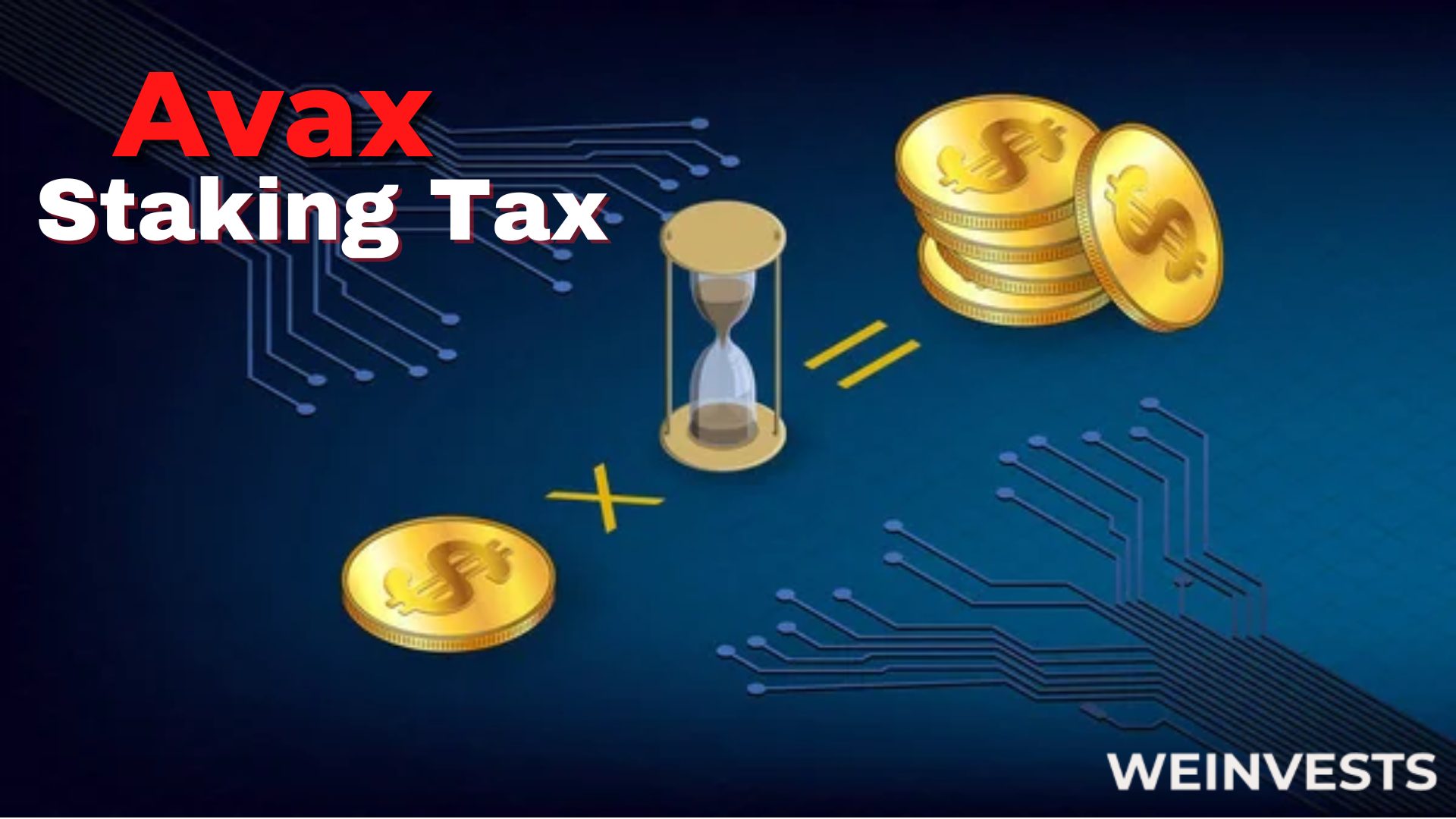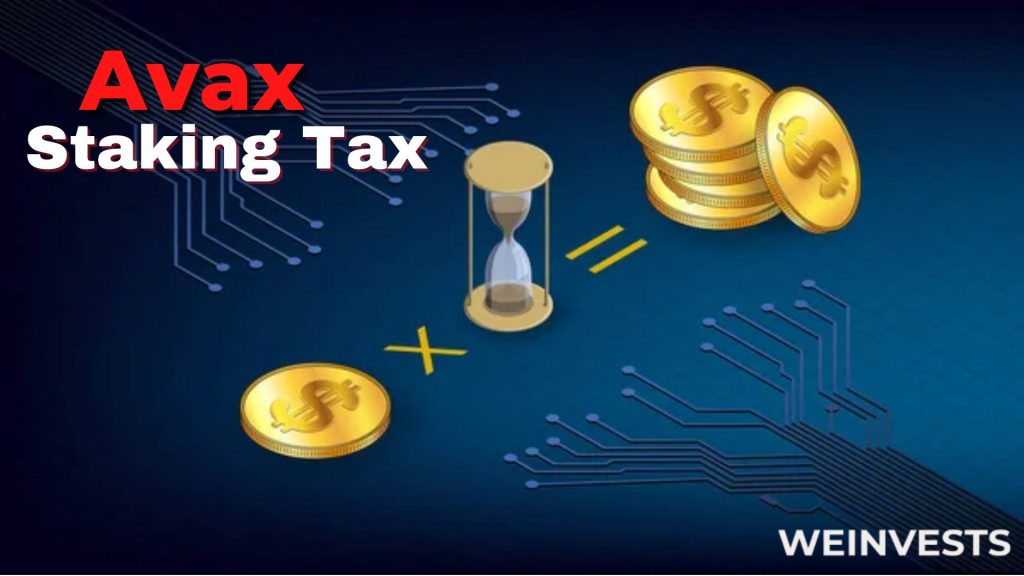 According to HMRC, when a proof of stake action does not constitute a trade, any tokens acquired in exchange for staking will be taxed at their current pound value as income from other sources and liable to income tax, with any permitted costs decreasing the amount owed.
Lending incentives, including those resulting from staking, may not necessarily constitute income benefits, according to the new HMRC DeFi guidelines on staking and lending. It is important to think about whether the incentives are in the form of income or capital.
Token staking income incentives are taxed as miscellaneous income and are therefore taxable as income. The amount of the deductible miscellaneous income will be equal to the pound value of the prize coins at the time they are received. Capital rewards are also not recognised as miscellaneous income subject to taxable income and are instead taxable as capital gains.
Lending incentives, including those derived from staking, may not necessarily constitute income rewards, according to the new HMRC DeFi guidelines on staking and lending. It is important to think about whether the incentives are in the form of money or income.
Capital gains tax must be paid on capital rewards; they are not considered other income subjected to income tax.
At the point of staking the token, a capital gain is generated on the capital reward. This gain on admission is then revised depending on the reward's value at the time of receipt (often upon leave) of the capital reward.
A "Marren v. Ingles right" to acquire the extra capital reward is obtained when joining the stake, whenever the capital reward is subject to capital gains tax. The projected current value of the anticipated capital gain at the time the stake was placed represents the purchase price of this "Marren v. Ingles right."
Why do people like Staking AVAX?
Crypto lovers frequently use staking AVAX to get passive money with no risk. Simple staking works on the principle that every AVAX coin staked creates new ones. Additionally, the AVAX token is a growing asset in terms of valuation, so keeping it might have significant long-term effects.
Instead of merely hoarding it, you must stake it. In essence, you provide it to the network to support for a predetermined period of time, after which you get the difference.
Conclusion
You just need 25 AVAX in your wallet to begin delegation because of the wallet integration. Binance allows users to stake a smaller amount if they like.
Staking is becoming more popular as we head into the future of PoS chains. Staking rewards will be a major factor in producing network yields. Staking incentives will improve sustainability and dependability as PoS networks become more durable as a means of earning yield in Defi.
AVAX Staking FAQ's
How can I stake my AVAX?
You have two options for stakes with AVAX: either operate your individual validator, which is both expensive and difficult, or delegate to an already existing validator, which is considerably simpler. The majority of AVAX investors will pick the latter option and delegate to a certified validator.
Can I stake Avalanche on C-chain?
The X- and P-Chains participate in the staking processes, but not the C-Chain. If your assets are still in your X wallet, you should first move them to the P address before transferring the quantity of AVAX you desire to stake there.
Is it safe to use Metamask for staking?
Considering MetaMask is really a hardware wallet, it is secure to use for storing and sending large amounts of Cryptocurrency or ERC 20 tokens. However, since utilising MetaMask and other cryptocurrency wallets is always unreliable, experts still suggest keeping only small sums on hand to prevent mistakes.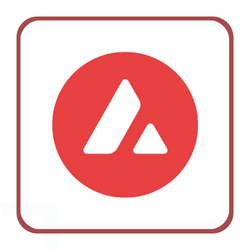 How to Buy Avalanche (AVAX)
Avalanche (AVAX) is a blockchain platform that aims to provide fast and secure transactions. If you're interested in investing in AVAX, you'll need to know how to buy it. In this guide, we'll walk you through the steps to buy AVAX.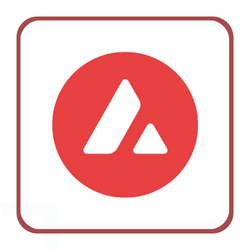 Avalanche (AVAX) Price Prediction 2023, 2024, 2025 – 2030
Wallet Investor has a positive outlook on the future. The website projects that the price of AVAX will be somewhere in the range of $48.93 and $48.94 in one year's time. They project the coin's value will be $165.59 in five years' time. Avalanche projected to have a price of $24.30 in 2023, according to DigitalCoinPrice. They expected the coin's price will reach $28.08 in 2023 before falling to $25.34 in 2024. According to this site's AVAX price forecast for 2025, the cryptocurrency should make a strong comeback and reach $37.00 before falling to $33.11 the following year. The website forecasts that the price of the currency will reach $43.02 in 2027. It should then rise to $59.45 the following year, before settling at $74.99 by the end of the decade. According to the data shown on the website, AVAX should hit $86.59 in the year 2030 and then $95.53 in the year 2031.
Risk Disclaimer
WeInvests is a financial portal-based research agency. We do our utmost best to offer reliable and unbiased information about crypto, finance, trading and stocks. However, we do not offer financial advice and users should always carry out their own research.
Read More