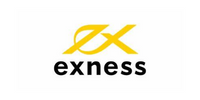 Leverage up to 1:500
Minimum deposit of $250
Wide range of spreads
Pros
Various cryptocurrencies to trade
Its desktop and mobile version are functional
Intuitive and straightforward app
Cons
Some people have restrictions to its features
Fees may change depending on the currency
Exness Highlights

| | |
| --- | --- |
| 💻 Trading Platforms | MetaTrader 4, MetaTrader 5, WebTerminal, Exness Trade app, Mobile App |
| 📞 Customer Service | ive chat, email, phone, WhatsApp, Telegram |
| 🎁 Promotions/Bonuses | Loyalty program, cashback, deposit bonus |
| 🛡 Regulation | Regulated by FCA in the UK; also regulated by CySEC in Cyprus and FSA in Seychelles |
| 💵 Deposit/Withdrawal Methods | Various payment methods; no minimum deposit to open an account; instant withdrawals with no fee |
| 📊 Spreads/Commissions | Variable or fixed spreads depending on account type, commissions for professional accounts |
| 🔒 Security | Segregated funds; SSL encryption; firewalls; anti-virus software |
| 📚 Education/Resources | Webinars, videos, articles, etc.; economic calendar, market news, market analysis, etc. |
| 📱 Mobile Trading | iOS and Android app with all MetaTrader and Exness Trader platform features and functions |
| ⚡ Execution Speed | Fast and reliable execution with free VPS hosting |
| 🔧 Trading Tools/Indicators | Over 50 built-in indicators and tools on MT4 and MT5 platforms |
| 🌍 Country/Region Availability | Available in over 150 countries |
| 💰 Account Minimum | $1 for standard accounts, $200 for professional accounts |
| ⚖ Leverage/Margin Requirements | Up to 1:2000 for standard accounts, up to 1:1000 for professional |
| 📈 Asset Selection/Market Access | Over 120 instruments across forex, metals, energies, indices, cryptocurrencies, etc. |
Exness started years ago and it has become one of the most important brokers for traders who want to change their investment journey.
Since it's a user-friendly platform that has numerous options, it's many people's favorite. This company is registered in Seychelles, and it works with legal authorization.
However, just because it has numerous qualities doesn't mean it's the perfect broker for everyone. To know if this platform is for you, this guide delves deep into its features. You'll learn what makes it unique and why it could be the right broker for you.
Is Exness a Good Option for you?
There are many brokers nowadays, and sometimes it's hard to differentiate between the ones that are legit and the fraudulent platforms. Thus, you might be thinking 'Can I trust Exness?' Overall, wondering whether or not a new broker is legit is normal, and it's the first question you should ask when you're considering it as your new trading tool.
Firstly, Exness has various positive reviews and it's a well-known broker. It has a visually appealing website that offers the essential information you need to understand the basics of the platform.
Additionally, after researching, the results show that no users have reported Exness being a fraud robot. On the contrary, people say it's a legit platform that can help you with your trades.
Considering all the previously mentioned aspects, it's fair to say that Exness is a completely legit robot for trading. You can safely use it without any issues and enjoy all the benefits that it offers you.
Is Exness Regulated?
When you're reviewing a trading bot, identifying if it's regulated or not is essential to determine if it's a legit platform.
However, you don't need to worry about that when reviewing Exness because all major organizations regulate this robot. Here are the entities that are in charge of regulating the platform:
Financial Services Authority (in Seychelles)
Central Bank of Curacao and Sint Maarten (supervising Curacao and Sint Maarten)
Financial Services Commission (regulating the BVI)
Financial Services Commission in Mauritius (regulating in Mauritius)
Financial Sector Conduct Authority (in South Africa)
Cyprus Securities and Exchange Commission (regulating investment services in Cyprus)
Financial Conduct Authority (supervising financial services in the United Kingdom)
Although you now have a list of the organizations that regulate Exness, you might not know what that means. There's nothing to fear – it happens to most people. What you need to know is that these legal entities are in charge of providing guidelines for the robot.
Since Exness complies with the organizations' guidelines, it's allowed to operate in the countries under the entities' jurisdictions. Consequently, having this information is a fantastic way to know if a broker is legit or not. Furthermore, there are other reasons why understanding this can help traders.
On the one hand, when you know the organizations in charge of regulating bots like Exness, you understand that the robot has rules to comply with in order to be able to operate in specific areas. Therefore, this grants transparency to the whole process, helping you trust the platform more easily.
When organizations regulate robots, the platforms must inform users about fees, charges, potential risks, and so on. Thus, you have to know everything you're getting into even before you open your account. Overall, it's a safer way to start using a trading app because you're not going in blind – on the contrary, you know the risks and it's your decision whether to take them or not.
Additionally, there is a limit to leverage when bots work under the supervision of different organizations. As a consequence, you get to protect your capital, which is immensely convenient.
Lastly, if a broker works with specific organizations, the robot requires you to verify your identity and address when you first open an account. Many people believe that this is not much, but it's actually helpful if you want to prevent issues such as fraud and money laundering.
Who Is Exness Recommended for?
There are many trading bots out there, so when you're looking for the ideal one for you, you might wonder if Exness is the perfect app to fit your needs. One of the most frequent questions to ask is who this program is for, particularly because in many cases, robots work fantastically for some people but not others.
On this occasion, you should keep in mind that Exness is ideal for anyone who wants to invest in Forex and cryptocurrencies. Therefore, even though many advanced traders enjoy its benefits, beginners can take advantage of them as well.
The platform is immensely intuitive and straightforward to understand, which is one of the reasons why it's ideal for you if you're getting started.
At the same time, Exness offers various tools and alternatives for you to choose from, so you can evaluate all your options and pick the one that's best for you.
Unfortunately, just because it's an app that beginners can use doesn't mean that your trading journey is necessarily going to be easy. When you're getting started, you're prone to make some mistakes, and if you don't have basic knowledge (such as how to conduct a market analysis), the risk of choosing the wrong thing might be higher.
Consequently, if you're thinking about using Exness, you should remember that in the end, the decision is up to you. The platform offers a fantastic balance between functionality across devices, a variety of features, and user-friendliness. However, the decision is still all yours.
Exness Trade Experience
If there's something that customers love about Exness is the fantastic trading experience, they go through from the moment they open and set up their new account. Unlike other trading apps, this one cares a lot about being user-friendly, which is why all of its functions are right there in front of your face.
When traders are getting started or have never used an app before, they might feel lost, even if the robot is straightforward. However, this never happens with Exness because its features are intuitive, and you can quickly find your way around the app as soon as you start using it.
In terms of trading volume, Exness is one of the platforms with the most users out there, which says a lot about the overall quality of this robot.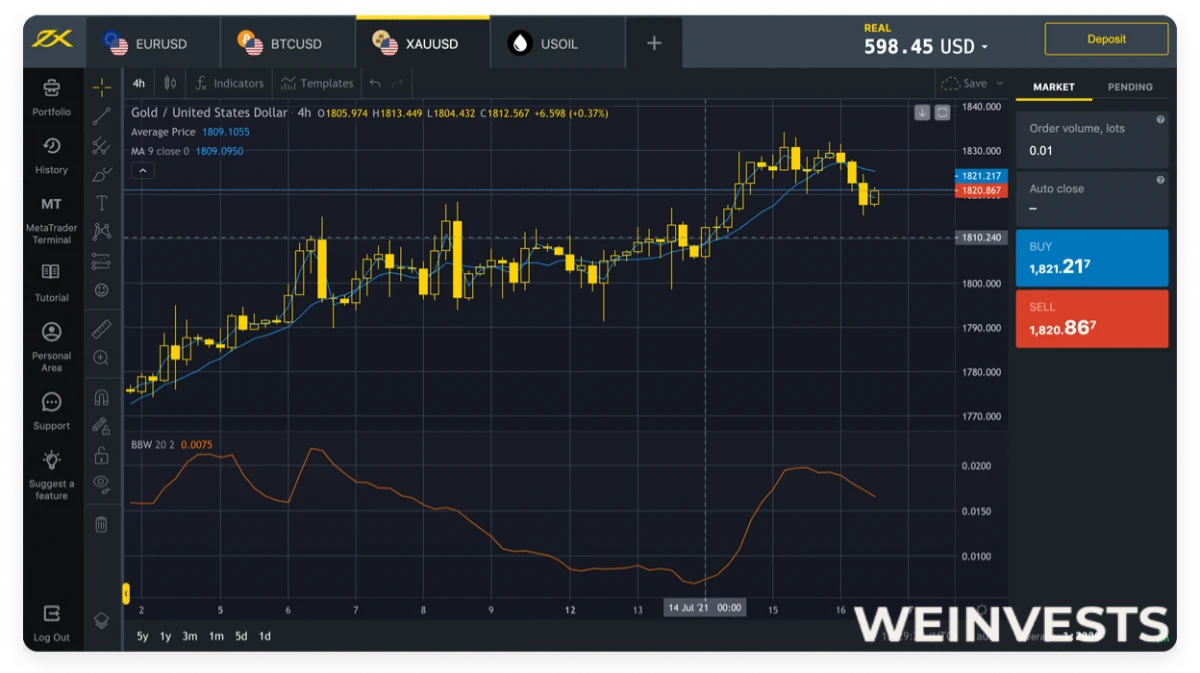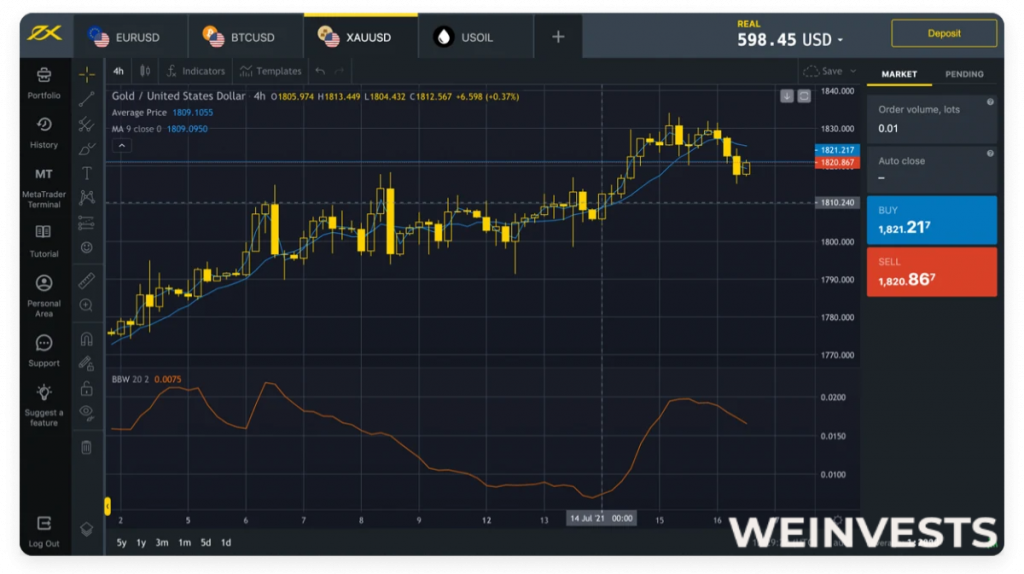 Since you get a variety of trading options, you always get more than one path to go to since you get your account. At the same time, the website and the app both offer essential information that any trader should know.
Traders must know all they can about the industry, and this is something you have access to when you use Exness. On the contrary, with other platforms, you might not be able to read this information. With this robot, you get the latest news and the most innovative updates about the trading world.
Another immensely convenient feature that Exness offers its traders is its automatic zero balance feature. If your account is suddenly on red numbers, the app sets your account back to zero to help you from closing a position with negative features.
Commissions and Fees
In comparison to other apps, Exness' fees and commissions are very low. Once you open your account, you can fund it with a minimum deposit of $200, which is lower than average.
CFD Fees
Although a lot of trading apps charge high CFD fees, with Exness, you don't have to lose as much money in this process.
Non-trading Fees
There are no withdrawal or inactivity fees with Exness, and this is one of the best advantages of using this app. You never need to lose money when you have to retire funds, and if you're inactive, you don't have to worry about your assets either.
Forex Fees
Forex fees are also low with Exness. Overall, the app is very convenient when it comes to allowing traders to save some money.
How to Open an Account with Exness
Opening an account with Exness is a straightforward process. You have to register first, which is not very different from registering to any other app or subscription service online – you must fill out specific information about yourself before getting started and make sure that it's accurate. Remember – the app verifies it, so you have to guarantee that the information you're putting in is legit.
Step 1: Click on the "Open Account" button
Step 2: Fill out the registration form with your information. Note: For regulatory reasons, Exness do not accept citizens or residents of the United States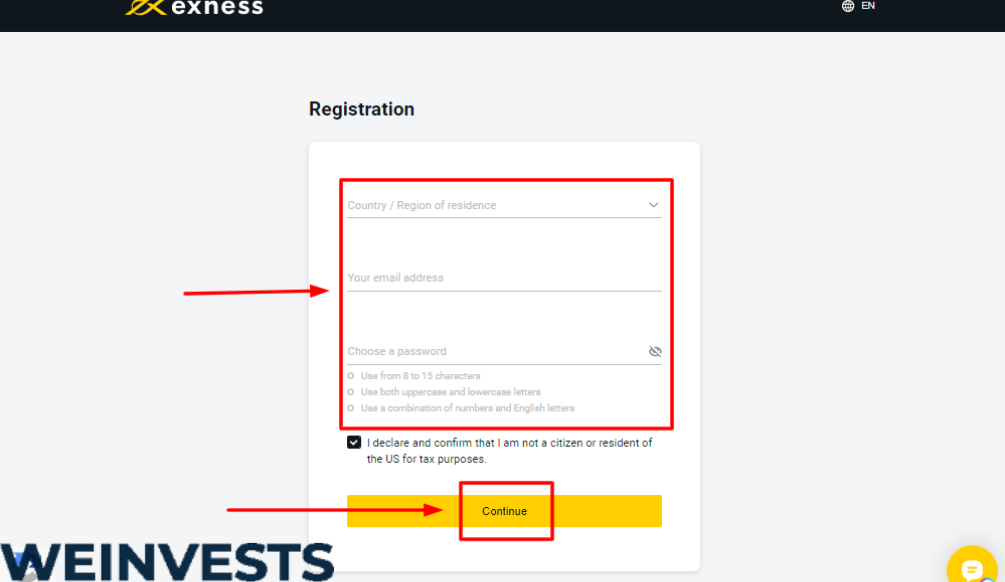 Step 3: Continue by Answering the questions.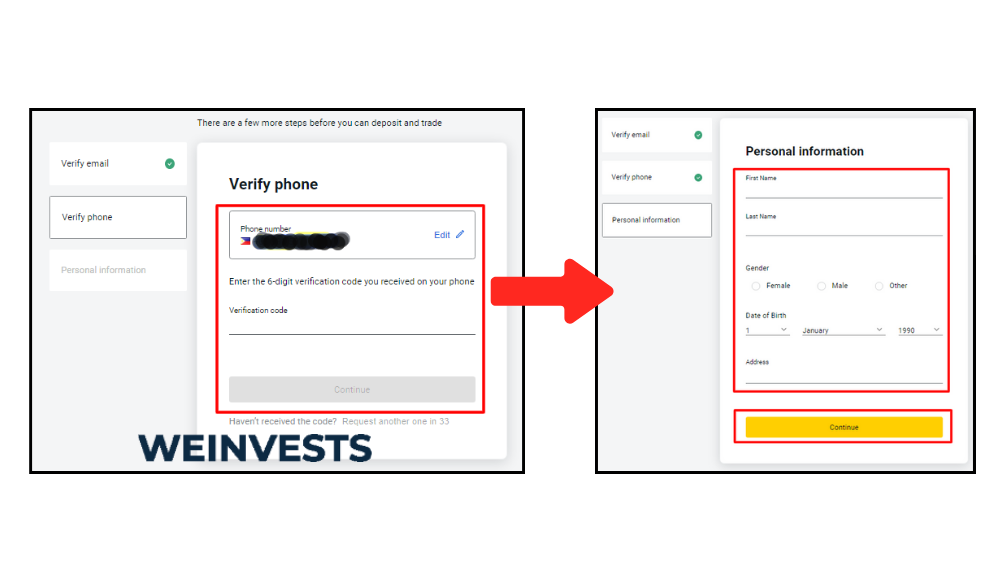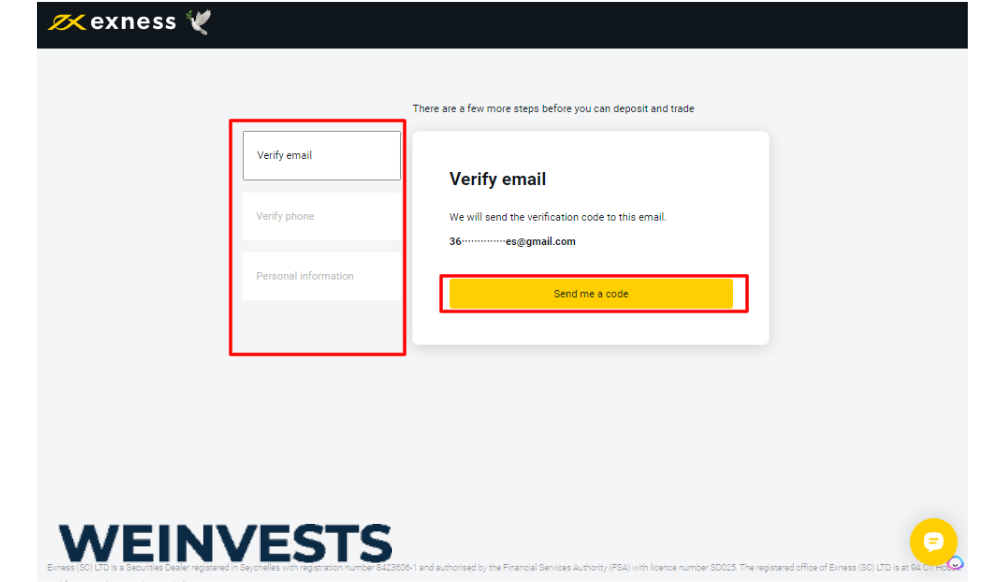 Once you verify your account, you can choose the specific features you want to access and start trading. Exness offers numerous options, so you must make sure that the first step in your registering process is as accurate as you can. Even small details can hold your account back, so be careful!
Just follow the process and upload documents.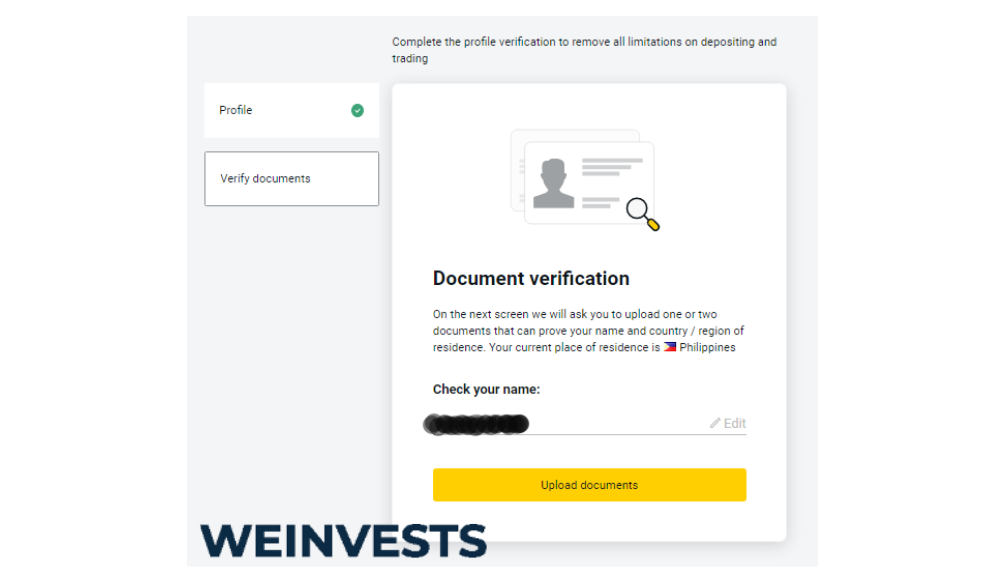 Exness Terminal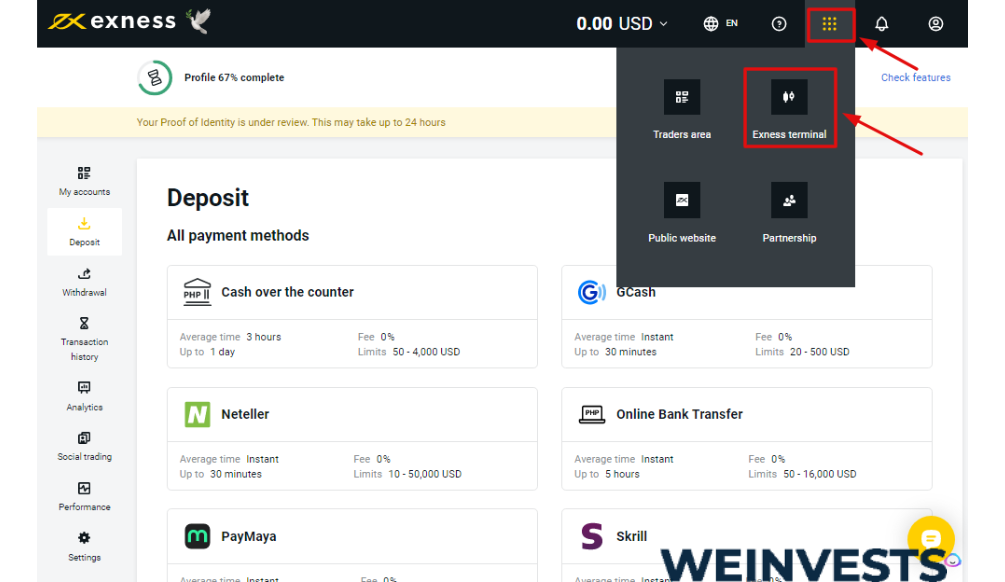 Analytics
Technical analysis is crucial to find patterns in prices. Generally, history repeats itself, so what happened in the past might occur in the future. Why is this important?
When trading cryptocurrency through a broker like Exness, you guess the price of the crypto. Is it likely to be higher or lower at a given time? The best way to determine that is through analytics.
The photo below shows you a typical analytical chart for various cryptocurrencies. This is just an example, but it gives you an idea. You see that Cardano/Dollar was down and could continue falling. Therefore, if you had made a trade at that time, you are likely to guess that it drops in price.
The top brokers, like Exness, offer analytical charts to help you. It's a way for you to understand the patterns of different cryptocurrencies and make a more educated guess about what they might do in the coming minutes.
While nothing is guaranteed, you have an edge because you know what that cryptocurrency did before to judge what it might do now. The graph in the chart below shows that Cardano/Dollar has had a bumpy ride. However, it's projected to continue dropping from where it's at now. You may use that to make your trade more effective.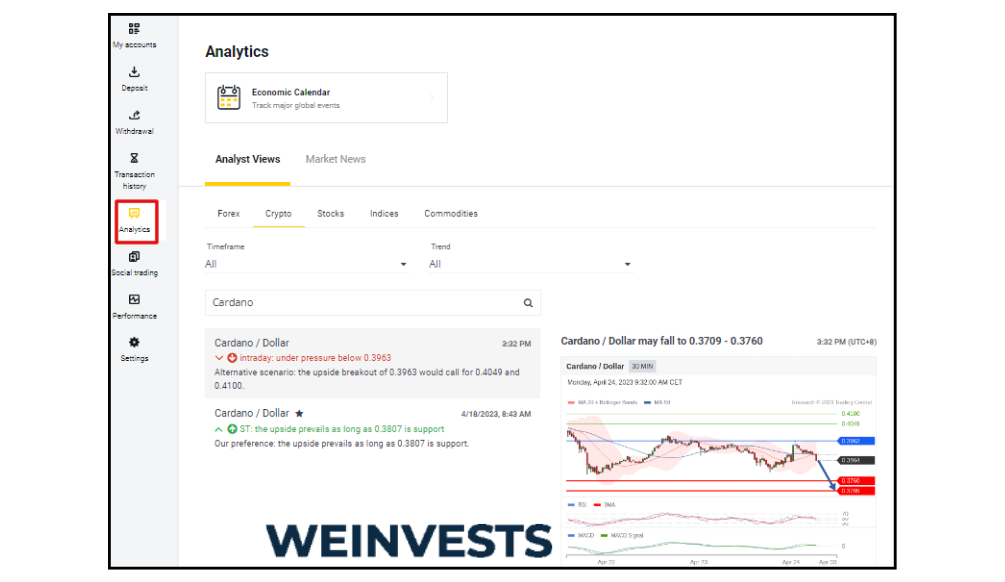 Demo Account
Exness gives you a fantastic opportunity as well – you can open a demo account for free. If you're a beginner trader and don't know if this app is the best one for you, this might be the ideal solution because you can quickly try it without risking your funds.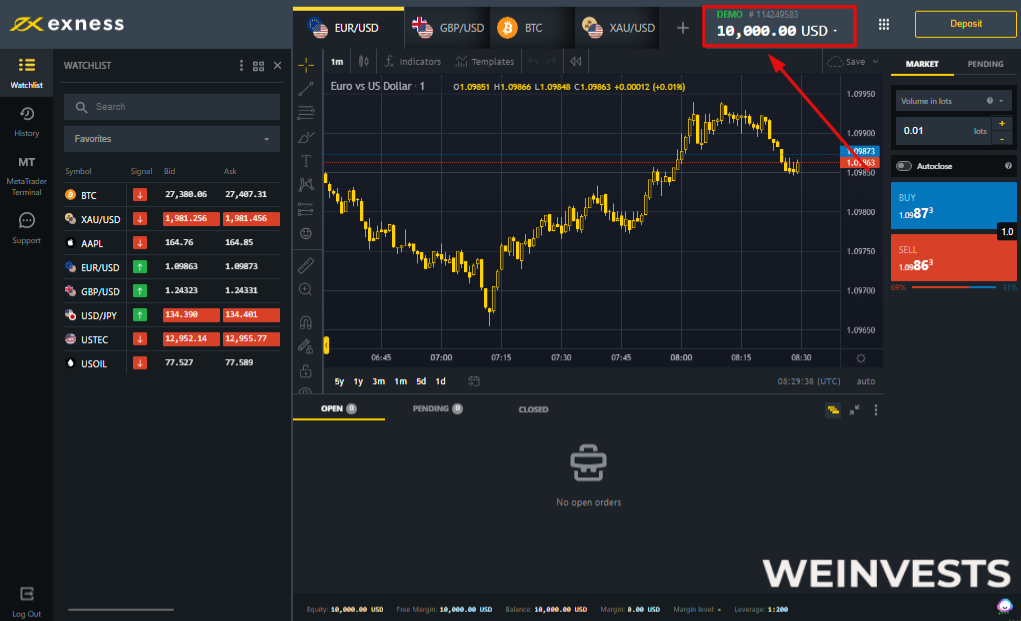 Demo accounts act as a way to rehearse what it would be like if you had a real account with Exness. Therefore, they're good enough for you to determine if this app is the correct one for your needs and goals.
Exness Education
With Exness, you get access to a lot of resources. On the one hand, you can quickly read news and the latest updates about the trading industry, which is a crucial advantage compared to other apps.
When you're able to know what's happening in the trading industry, you can quickly determine some things you must do to refine your strategy and make more intelligent decisions. Therefore, having this information is essential, and it's not something you can get with all robots.
At the same time, Exness' website is straightforward, and its information is concrete. It's impossible for you to feel lost because you can quickly find your way around it as soon as you start scrolling through it for the first time.
Since this platform has existed for so many years, you can also go to its social media accounts to get the information you need.
Exness Customer Service
The last essential aspect to review about Exness is its customer service. This is one of the most crucial factors you should keep in mind when evaluating a trading app because it's what can make the difference between using a specific robot and a different one.
Exness takes pride in having a team of experts that work behind the brand. When you open an account with this robot, you can quickly rely on its team to give you all the answers to any questions you have.
There are multiple ways to contact Exness customer service if you need it, and the company has a reputation for offering quick answers to its clients. You can chat or email, and the professional team still gives you the answers you're looking for.
Conclusion
There are many competitors, but few robots can offer you the variety of features that this one does. At the same time, it offers numerous features and its fees are very low, which is convenient if you're a beginner because you don't need to worry about spending so much money at first.
Although there are many robot options out there, the overall conclusion about. Therefore, now that you know more about it, determine if it's the one for you depending on your needs!
Risk Disclaimer
WeInvests is a financial portal-based research agency. We do our utmost best to offer reliable and unbiased information about crypto, finance, trading and stocks. However, we do not offer financial advice and users should always carry out their own research.
Read More