Getting access to the crypto world can become an exciting journey for those who want to dive into the digital assets space. The asset we're going to cover is Terra Luna Classic (LUNC): discover how to buy LUNC, the digital asset of the Terra ecosystem, with this step-by-step guide.
LUNC Tokenomics
Crypto traders and investors know that understanding the tokenomics of digital assets is a pivotal step to evaluate the reliability of a crypto project.
Let's see how LUNC works.
LUNC works according to a delegated proof-of-stake (dPoS) consensus mechanism that allows to improve the efficiency of the network and guarantee decentralization.
Validators run nodes to confirm transactions that occur in the network, and delegators can work by simply staking LUNC – without running full nodes.
Basically, delegators add weight and importance to validators, and receive rewards consisting in parts of the fees of the transactions confirmed by the related validators.
To further guarantee the security of the network, the project uses slashing mechanisms – that can affect both validators and delegators – that punish incorrect behaviors by decreasing the capital of the users involved in the slash.
These validators can also lose access to the consensus mechanism for a certain period of time. LUNC is the crypto used by the Terra network for governance – and we should consider that now the project is in full control of the community.
The Parity upgrade proposed by the community put an additional focus on the community, setting a minimum reward for the activity of validators corresponding to 5% of the amount involved in transactions.
Now that we have a more complete overview of the project, let's see how traders and investors interested in Terra can buy LUNC.
Where to Buy Luna Classic (LUNC)?
There are many methods and platforms to buy LUNC in 2023: from DEXes (decentralized exchanges), to centralized exchanges and brokers.
When a trader or an investors choose a platform, they consider many aspects – always according to their specific needs:
Security: is the platform you want to use centralized? In this case, you should make sure that it has the necessary licenses that allow it to be compliant and completely safe. Compliant brokers need to respect the strict safety regulations imposed by countries when it comes to financial services. Moreover, make sure that the online platform of the broker uses the necessary protocols to protect your data.
User interfaces: for those who don't know the technicalities involved in DEXes, like wallets and private keys, it's better to choose a centralized broker or crypto exchange. They usually provide user-friendly interfaces and applications that can simplify the purchase of LUNC.
Customer service: a good customer service will help you if you have issues with the platform you're using, or if you simply need more information. For these reasons, customer services play an important role if you want to have an experience as smooth as possible.
Transaction fees: high fees mean that you use a significant part of your capital not to invest, but to pay for services. Since today there are many options available to buy LUNC, it is always more profitable to choose platforms that offer low commissions and fees.
Best Place to Buy Luna Classic
Considering the points we analyzed previously, there is a platform we tested that includes security, low costs, compliancy, user-friendly interfaces and more – like several payment methods, wide variety of assets and a demo account. This platform is eToro, one of the online brokers currently available that allow you to buy LUNC.
Let's see a short guide to open an account if you're interested in testing this online broker.
Step 1: Click "Sign Up" to create a new account
From the main page of the official website of eToro – or from its application – you can create a new account by inserting the personal details required by the broker or by using one of your social accounts.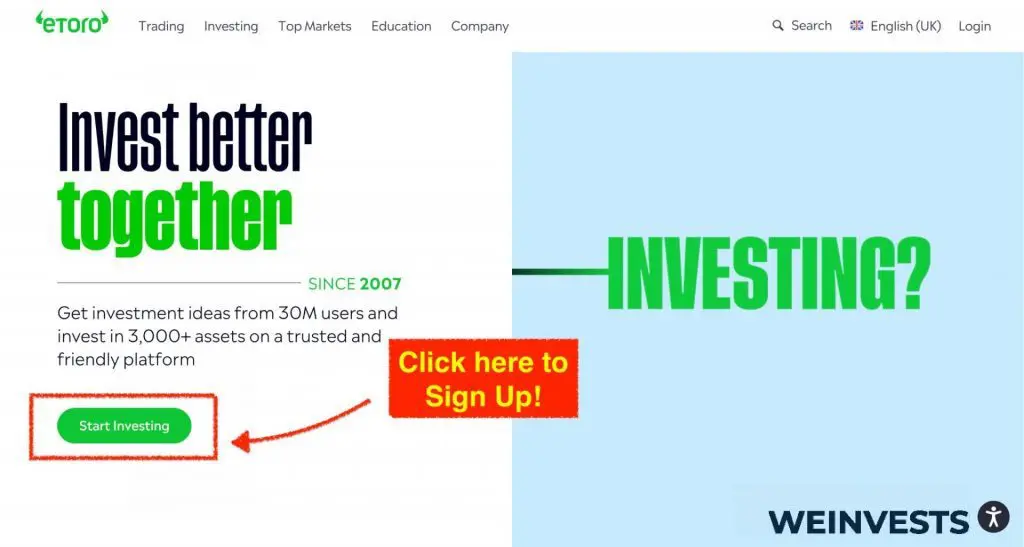 Step 2: Upload ID to be compliant
This step is pivotal for the platform to continue being compliant with regulatory frameworks and offer you a safe environment. You'll be required to upload an ID and a proof of address – these documents can be a utility bill, a bank statement, your passport or driver's license.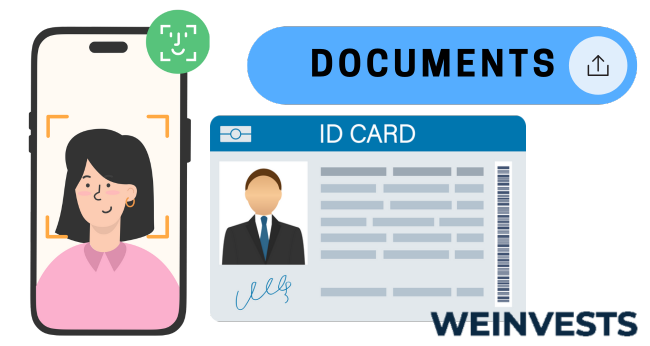 Step 3: Your first deposit
Once your account is verified, you can choose one of the deposit methods available – you'll find them by clicking the "Deposit Funds" button.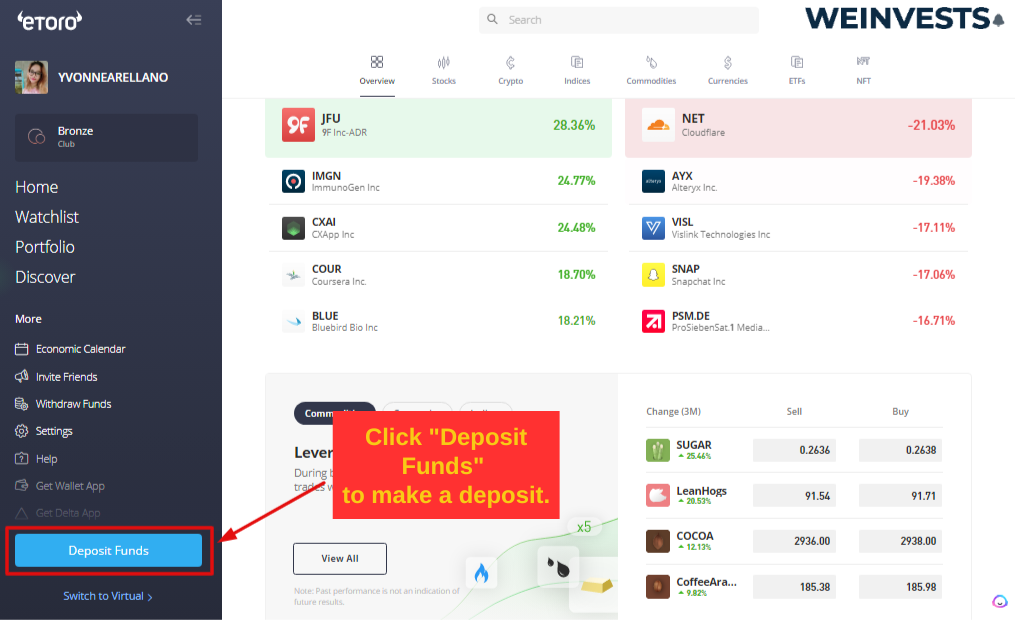 Step 4: Search for Luna Classic
The fact that eToro offers user-friendly interfaces is evident also when we consider the integrated search tab, which allows you to immediately find the asset you're interested in.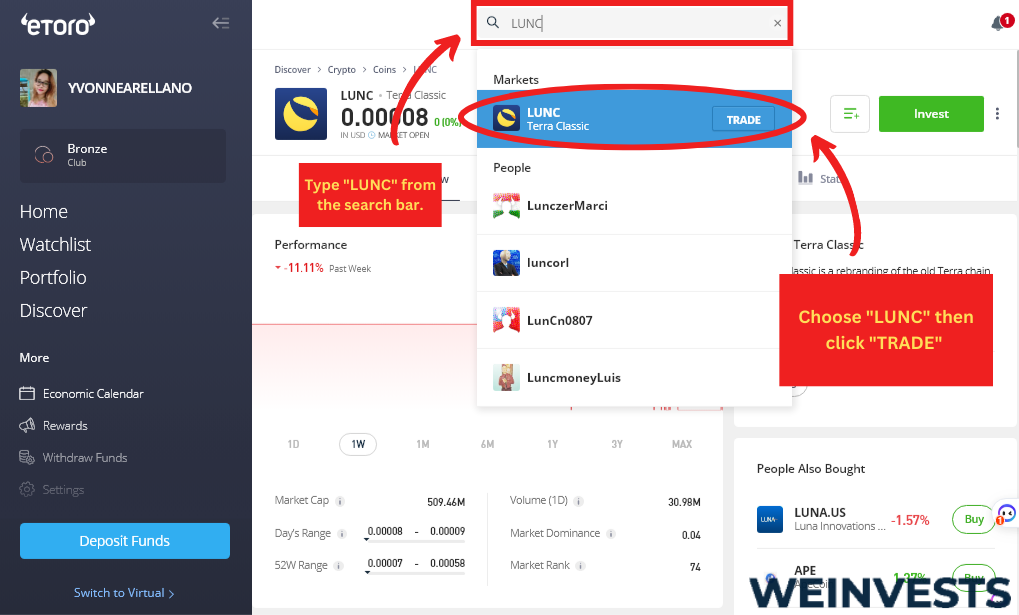 Step 6: Buy Luna Classic
Once you locate the page dedicated to Luna Classic, you can buy the token. You can do that by opening a new order – you can choose the type of order, amount to invest, and even place orders that will automatically close your positions according to the parameters you set.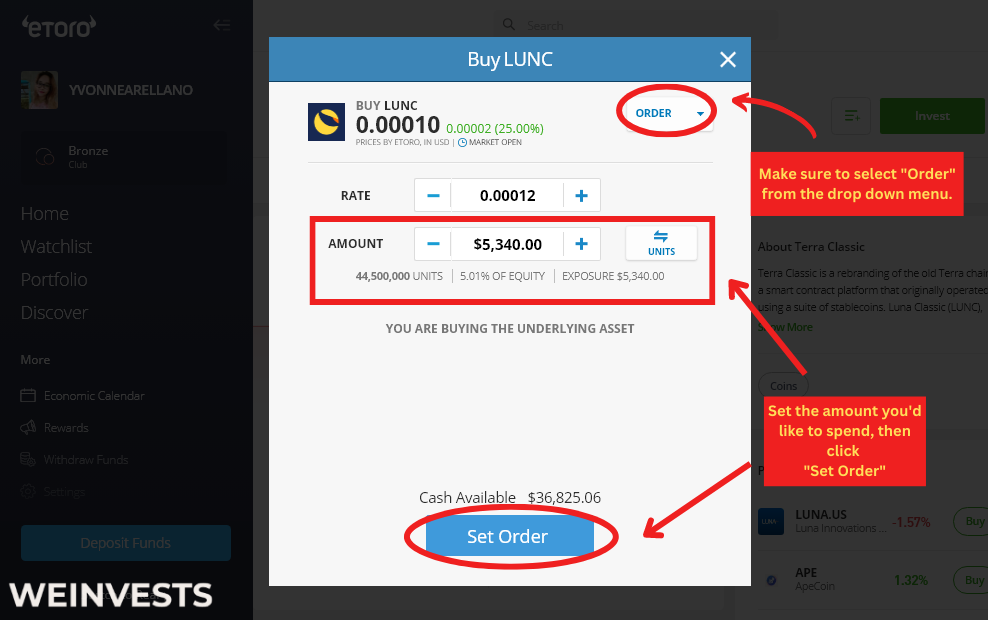 How to Buy Luna Classic with PayPal?
PayPal is for sure one of the most popular alternative payment methods currently available online. It is popular also because it adds a level of security to your purchases online, working as a sort of buffer between your cards and accounts and the platforms you want to use. Another advantage of this payment method is that deposits are immediate.
That's why many online platforms integrate PayPal: usually, once you choose the amount you want to invest and PayPal as a payment method, you'll be redirected to the PayPal accounts page – so you'll be able to confirm the transaction by accessing your personal account. eToro offers PayPal as a deposit method.
How to Buy Luna Classic with Credit Card?
Another popular method is buying LUNC with credit cards. Also in this case, online platforms include them as a payment method and deposit option by working with third-party payment processors that can guarantee the safety of the transaction.
Despite this, always make sure to follow best practices to avoid frauds – for instance, never click links included in emails that ask you for your personal credit card information, use private internet connections, and don't use unsecure websites.
Safe Storage
Especially when it comes to cryptocurrencies, storage is a fundamental topic. Being assets that live exclusively in the digital environment, there is the need for highly secured and encrypted tools to store these assets in the safest way possible.
This is something you should consider when you use a centralized platform and when you prefer to choose a different wallet to store your cryptos.
There are mainly two types of crypto storage: hot and cold storage.
Hot storage is associated with hot wallets, which are crypto wallets that work online.
Cold storage is associated with cold wallets, digital crypto wallets that can work offline.
The key element to consider when it comes to crypto wallets is your private key, a sort of password that gives total control to crypto assets – since it's also used to confirm transactions and to recover crypto wallet accounts.
When it comes to centralized exchanges and brokers, they store your crypto assets and manage your keys on your behalf. A safe broker and exchange should keep most of the assets of its users in cold storage, in order to avoid external attacks.
For what concerns users, if they own their private keys or want to store their assets in personal wallets, they should always use some security measures:
Do not use public wifi;
Do not save your keys in your electronic devices, but keep them offline and in safe place;
Use only reliable platforms, applications and wallets for your crypto assets.
Alternate Ways to Buy Luna Classic
Crypto centralized exchanges and brokers are not the only ways to buy LUNC.
There are alternative methods and tools that can give you access to the crypto market.
We've already mentioned decentralized exchanges. Compared to centralized exchanges (CEX), DEXes require more expertise related to the more technical aspects of blockchain technology and cryptocurrencies.
That's why it might not be the better option for beginners or for crypto traders and investors who prefer a more intuitive user experience. On the other hand, decentralized exchanges give you full control over your assets – since you manage your assets autonomously.
Among the other methods used to buy cryptocurrencies, we can find ATMs (Automated Teller Machines) and P2P exchanges. Let's see how they work.
Crypto ATMs
Crypto ATMs are physical kiosks that allow people to exchange crypto for cash – and sometimes they are sophisticated enough to integrate an exchange that allows people to exchange money for cryptocurrencies.
ATMs are usually designed for Bitcoin or other major cryptocurrencies like ETH.
Even if this might seem a useful alternative method to buy cryptocurrencies, it is not the best option for those who want to get exposure to crypto markets, for a few reasons:
First off, they're more expensive than dedicated exchanges and brokers. In fact, you don't only have to pay the fees associated with transactions that occur on-chain, but also the fees and commissions charged to maintain the service. You might also incur costs related to exchange services.
P2P Exchanges
This type of crypto exchange allows traders and investors to directly exchange crypto assets with other users.
For this reason, you might find slightly different prices when compared to market prices. This can be considered a pro of P2P exchanges. But it is also important to consider that these exchanges should be used cautiously, since users need to avoid scammers that might not complete transactions if they receive early payments.
This is the advice given by Binance, which includes a specific section for P2P exchange.
Other exchanges that allow peer-to-peer transactions are Bybut and KuCoin.
Mainstream Brokerages & Crypto Exchanges
The most user-friendly and secure way to buy LUNC is using regulated online brokers and exchanges.
eToro is one of those brokers that offers the possibility to buy LUNC with several deposit methods, a demo account to test your strategies without risking real money, and an intuitive mobile application that has the same functionalities of the official website of the broker.
Binance is another platform that offers the opportunity to buy LUNC – and it's also the largest crypto exchange currently available.
Coinbase, which is one of the most popular exchanges in the United States, offers LUNC as one of the crypto assets available on the platform.
How to Invest in Luna Classic?
For those who are interested in long term or alternative types of investments, there are other financial products and services that allow exposure to Luna Classic.
Some of those products and services are staking and crypto ETFs – that we covered in detail in some of our articles.
Staking consists in holding a cryptocurrency to earn interest, while ETF (exchange traded funds) are funds that involve more crypto assets and whose price depends on the underlying assets.
Conclusion
As we said throughout this article, there are several ways to buy LUNC (Luna Classic) and invest in this crypto coin.
Traders and investors interested in this Terra project should be aware of the features of this crypto project, which involves a particular consensus mechanism based on staking, a strong focus on communities and developers, security measures to avoid incorrect behaviors from validators and delegates that form the network, and upgrades that should lead to an increase in the price of LUNC.
We also covered some specific platforms to buy LUNC – and choosing the platform according to certain parameters can be as important as choosing a valuable financial asset.
There are several tools, platforms and financial instruments useful to buy or invest in LUNC, but each trader and investor should choose according to their financial goals and tolerance to risk.
Risk Disclaimer
WeInvests is a financial portal-based research agency. We do our utmost best to offer reliable and unbiased information about crypto, finance, trading and stocks. However, we do not offer financial advice and users should always carry out their own research.
Read More