This content represents the writer's opinions and research and is not intended to be taken as financial advice. The information presented is general in nature and may not meet the specific needs of any individual or entity. It is not intended to be relied upon as a professional or financial decision-making tool.
In the current crypto landscape, it can be confusing and overwhelming for new investors to bet on the right cryptocurrencies. But like Ethereum and Bitcoin, EOS may come across as complicated emerging asset to investors. The blockchain-based crypto asset continues to be dominant in the crypto landscape.
Investors and traders often get caught in the complexities and nuances of the crypto market. If you want to formulate your own crypto strategy, develop a detailed approach to make investment decisions.
In this article, you will learn about EOs fundamentals, EOs technical analysis, EOS price targets, short-term and long-term EOS outlook, and whether EOS makes up a great investment.
EOS Fundamentals
EOS coin falls under the umbrella of the decentralized application platform. The price of the digital asset is currently at $1.65. It is ranked 38th in the crypto ecosystem and has a circulation supply of 1,078,268,038. With a market capitalization of $1,444,786,386.25, the altcoin has experienced a slight decrease in price during the last 24 hours.
The price of the digital asset known as the EOS has experienced a significant decrease in the last seven days. Despite its positive fundamentals, the altcoin is still showing signs of potential weakness.
The price of the digital asset has increased by 8.82% during the last month. This impressive increase has increased the value of the coin by over $0.13. It is clear that the cryptocurrency can become a valuable asset if it continues to rise.
EOS: Brief Background
Dan Larimer is the creator and founder of EOS along with Brendan Blumer. Since its inception, EOS has had a consistent attraction in the crypto market and still enjoys increasing demand from investors. One of the hallmark attributes of EOS is that it carves its path through its user base that extends overall liquidity potential for years to come.
Conceptually and strategically, EOs is a tech upgrade that has had an incredible response. The first ICO of EOS took place in June 2017 with significant gains that collected over $185 million within 5 days. During this time, EOS managed to issue around 200 million tokens, which accounted for 20% of the EOS collection.
EOS Statistical Overview
EOS Coin Governance
The official EOSIO whitepaper highlights that EOS.IO works as software with blockchain architecture and allows horizontal and vertical scaling of DApps. With blockchain-based architecture, you can scale a multitude of transactions in a second and cut out user fees altogether.
This mechanism makes it possible for easy and fast deployment as well as maintenance of dApps through blockchain governance. It is vital to understand that EOSIO is an integral part of the EOS governance network.
Instead of a centralized approach, this public network is managed through collaborative efforts by token holders. Since EOS acts as a native token within the network, developers can own EOS tokens. This allows developers to access network resources and develop dApps.
EOS Price: Historical Analysis
In the 2017 listing, the Initial Coin Offering of EOS managed to collect over $4 billion. At the time, the token price of EOS was $1.20. During this time, EOS several dramatic falls and jumps in the price. But by the end of 2017, EOS price continued in an upward direction and reached as high as $12.50.
The significant increase of 2160% in EOS token price made it clear that the future potential of the cryptocurrency is brighter than the market had anticipated. In the bull-run, EOS saw its coin price jump to a whopping $23. In mid-2019, EOS started to stabilize and retreated to the $8.50 token price. Just before the pandemic, however, the token price of EOs fell to $2.65.
In 2020, the coin price of EOS rose to $3 by 2020 April. By August, most buyers broke the price resistance level of $3 and EOS ultimately reached $3.90. In terms of the trading range, EOS hit the bottom during the pullback. In the first half of 2021, the EOS token price has had consistent growth.
In fact, the EOS hit the record high price of $14.99 in Ma 2021. But during the second half of 2021, EOS saw a gradual decline and could not maintain the growth standard of previous years. Fortunately, Block.one, responsible for developing the EOSIO platform, managed to secure the funding of $10 billion. As a result, the token price of EOS rose to 100% and reached the equivalent of May's all-time price of $14.88.
EOS Price: Technical Analysis
It is no secret that the crypto market continues to be extremely volatile. Still, favorable aspects like the advanced algorithm and robust blockchain-based security protocols influence the long-term growth of EOS. One of the main goals of the EOS team is to maintain a high level of privacy, confidentiality, and transparency.
But when it comes to price predictions of the EOS coin, most expert opinions often have subtle or minor differences. With price predictions of the EOS token, a lot depends on "how" the current and future blockchain projects perform in the crypto market.
The most optimistic market prediction highlights that the EOS coin value will reach $106 by the end of 2025. But this forecast is based on the success of upcoming blockchain projects and how they positively influence the token price of the EOS.
Tech experts concur that EOS has become an adventurous and exciting project in the crypto market with gradual increase and stagnant decline in the past. But most of the market segments hint at a bull rather than a bear growth. It means you can expect the average price of the EOS token to reach over $14 by 2025.
Another price prediction model of EOS suggests that it may trade at $6.9 in the coming five years. The most experienced crypto experts indicate that the EOS forecast may take investors by reach and has the potential to reach $11.10 by 2023.
In terms of logical algorithm, the technical analysis of EOS token price offers short-term and long-term benefits. Come December 2022, you can expect the trading price of EOS to be $3.938. Most EOS price forecasts highlight that the digital asset will have to maintain a competitive edge in the market to thrive.
If the bullish trend comes back, the forecasts indicate that the EOS token price can reach $16 by 2025. When it comes to the economic forecast of the EOS price, the data hints at a value of $36 in 2024. On the bright side, EOS managed to achieve many key milestones that may influence its future coin price.
Whether it's the roll out ultra-blockchain initiative for game developers, AdNote improvement for digital advertisers, or LACChain partnership for blockchain development, each initiative will have a positive impact on the EOE token price in the foreseeable future.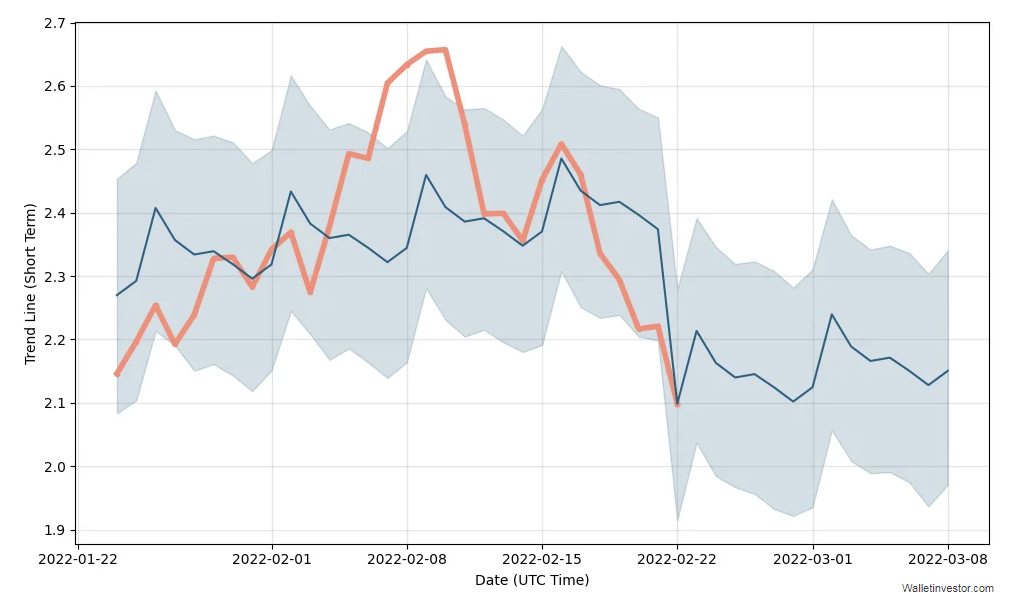 EOS Forecasted Price Prediction in 2023
When it comes to the 2023 EOS price prediction, the coin gain and profit margins would reach new highs. On average, there is a good chance EOS token price will reach $4.3 in 2023. You can expect to see the maximum and minimum price of the EOS token as $4.8 and $3.9 in 2023. If the bullish market continues until the end of 2023, EOS price prediction may experience a significant shift.

EOS Forecasted Price Prediction in 2024
In the crypto space, market speculations are often blown out of proportion. Still, moving forward in 2024, the price forecasts of EOS token price hint at a maximum level of $6.2. In 2024, you will notice an increase in EOS price due to EOS tech announcements. Most case scenarios indicate that the token price of EOS will further escalate in 2024. You can expect to see the minimum EOS token price of $5.2 in 2024.
The average minimum price of the token is anticipated to be around $4.5, an increase of 56% from its current market price. Scalability and security features associated with Delegated PoS blockchains would pave the way for attractive promotional opportunities that may further increase the coin price of EOS.
EOS Forecasted Price Prediction in 2025
In 2025, you will start to see more EOS initiatives centered on education, innovation, and outreach programs to maximize its value in the crypto market. On average, our price forecasts hint at the price of $6.8 per coin. The long-term price prediction model of EOS hints at a much faster growth that would make the cryptocurrency one of the most valuable digital assets in the crypto market. By mid-2025, you can expect the minimum token price of EOS to be around $5.2. Our EOS price prediction model shows more growth and fame in the crypto market.
EOS Forecasted Price Prediction 2030
According to our price prediction model for the EOS token, the trading price range will pick up more momentum in 2026. Although there have been several EOS price falls, the coin is famous for its swift recovery and usually regains its market value in a short time.
If the crypto market is favorable and stable, the token price of EOS will reach $10 by 2026. Experts point out that 2016 may become "the" year for EOS to break traditional price barriers and reach peak performance in the market.
With the support of smart contracts, the average price of an EOS coin will still be $6.01 in 2026. The most realistic minimum and maximum price prediction of the EOS coin hint at $5.8 and $6.8. EOS price forecast also suggests that the token value can reach $7.3 by 2027. Other sources highlight that the value of the EOS token may retain an average price of $11.5 by the end of 2030.
EOS Price Prediction: Final Thoughts
It is normal for investors to wonder whether the EOS token price will stand the test of time. Although it boils down to specific risk tolerance and circumstances, the EOS token can prove to be a solid fit for most investment portfolios. Still, the objective of investors should be to estimate the current risk level before making a long-term investment decision.
Where to Buy EOS?
EOS is one of the most convenient altcoins some investors consider. With its unique architecture, innovative characteristics, and one-of-a-kind interface, it might be the ideal option for you.
However, you can't purchase EOS without a trustworthy platform that allows you to make your purchase. Therefore, you have to find the perfect one, which might help you register and buy the coins you want.
Considering the previously mentioned aspects, eToro could be the platform you're looking for. This guide focuses on describing what you must do if you want to use it to buy EOS, so make sure you read carefully if you're interested in purchasing this coin.
Step 1: Open an Account
Before you even start considering EOS as your ideal crypto, you have to open an account with eToro. Otherwise, you might not be able to purchase the coins you want.
Go to eToro's homepage. fill out to open your account.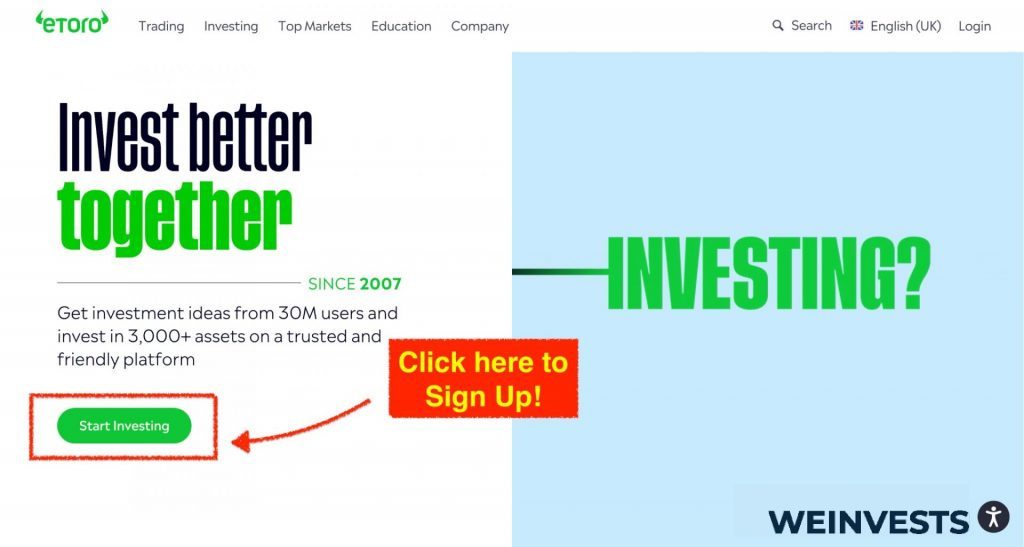 It will require you to fill in only the basic information, which only takes a couple of minutes.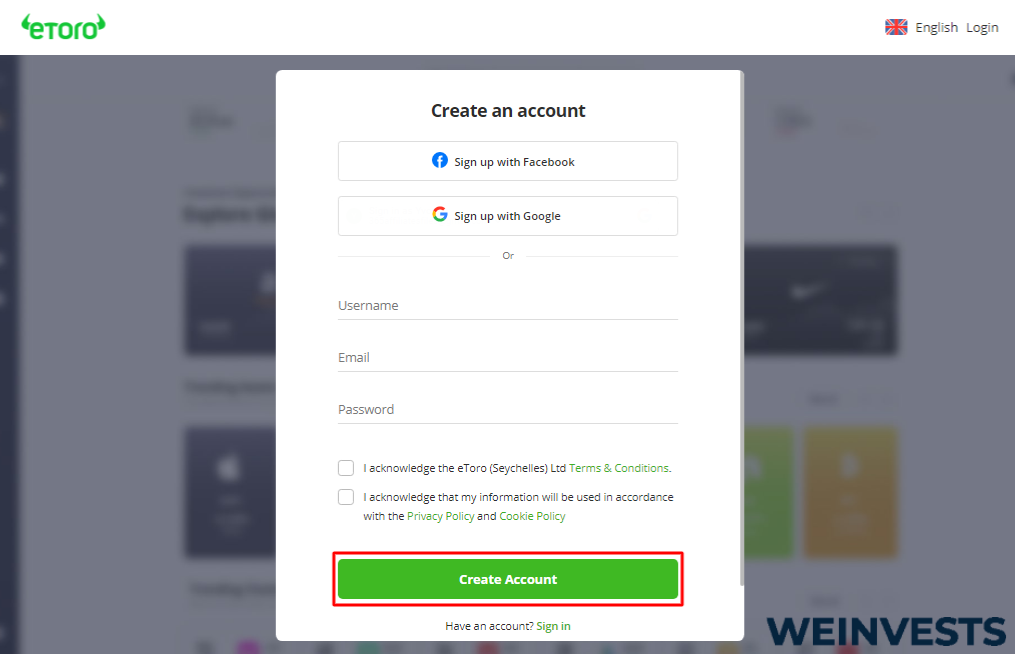 During this step, you must provide personal information, but this might not be new for you – you've probably registered for other sites before. Once you're done, go to the next stage of the process.
You should check out eToro's terms, conditions, and policies before proceeding to the next step. Additionally, rereading your information to make sure it doesn't have any errors is also a good idea.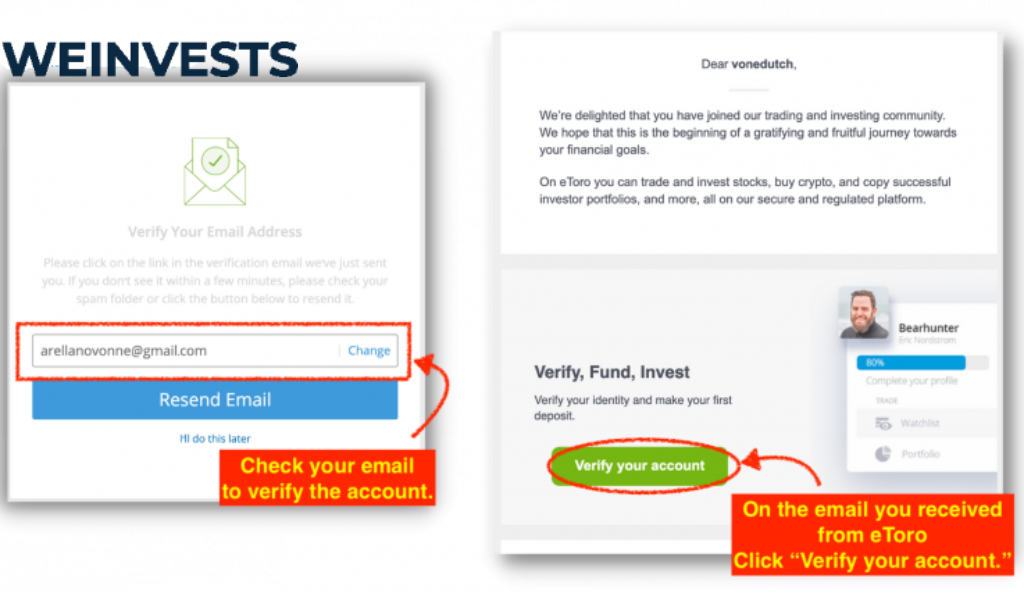 Step 2: Upload ID
Many people automatically click on 'Sign Up' before actually reviewing what they wrote, and this is the cause for numerous accounts getting rejected. Instead of doing this, read what you wrote and make sure that all the details are correct.
After this, you will have to go through a verification process. Since it's a legit platform, eToro considers security something essential, so all new investors must verify their identity before buying cryptos.
During this stage, you have to upload a valid ID picture. Any legal ID card or detailed passport picture might work. At the same time, you have to give eToro proof of residence, and for this, you probably need to add a photo of some recent utility bill (no more than three months old).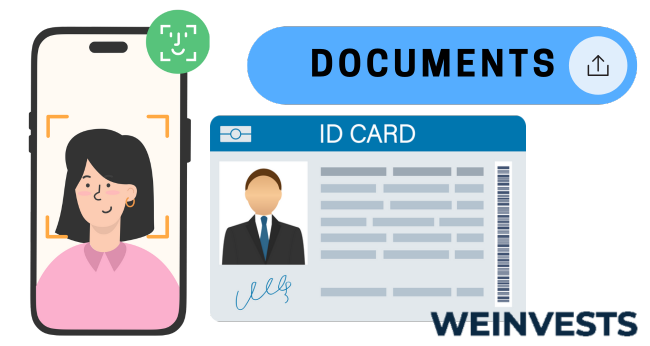 Step 3: Make a Deposit
Opening your account is essential to buy EOS, but you can't proceed with your purchase until you fund it.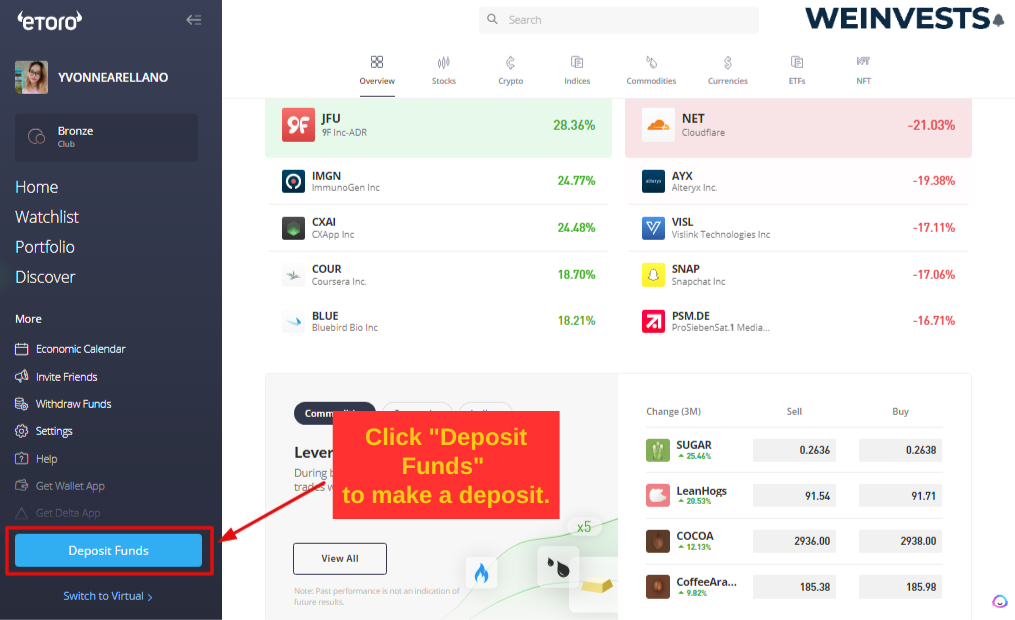 Funding your eToro account is immensely straightforward. Go into your profile, look for the 'Deposit' button, and click it.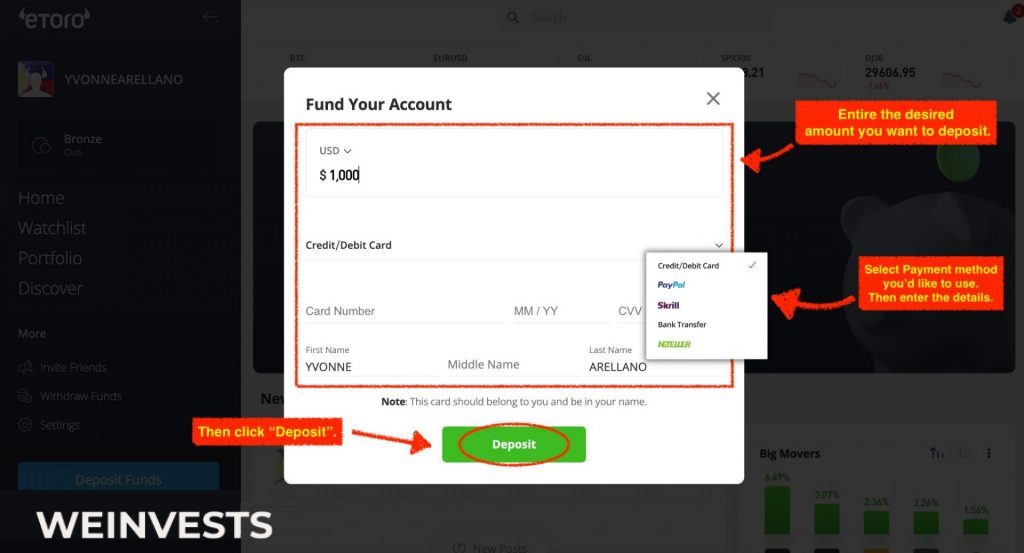 After doing that, choose how much money you want to deposit in your account and the currency you'd like to use. Finally, click on the payment method you prefer.
Step 4: Search for EOS
You already opened and funded your account, so now you can explore eToro and search for EOS. Since the platform's layout is straightforward, locating the crypto you want is not very challenging, even if you're a beginner.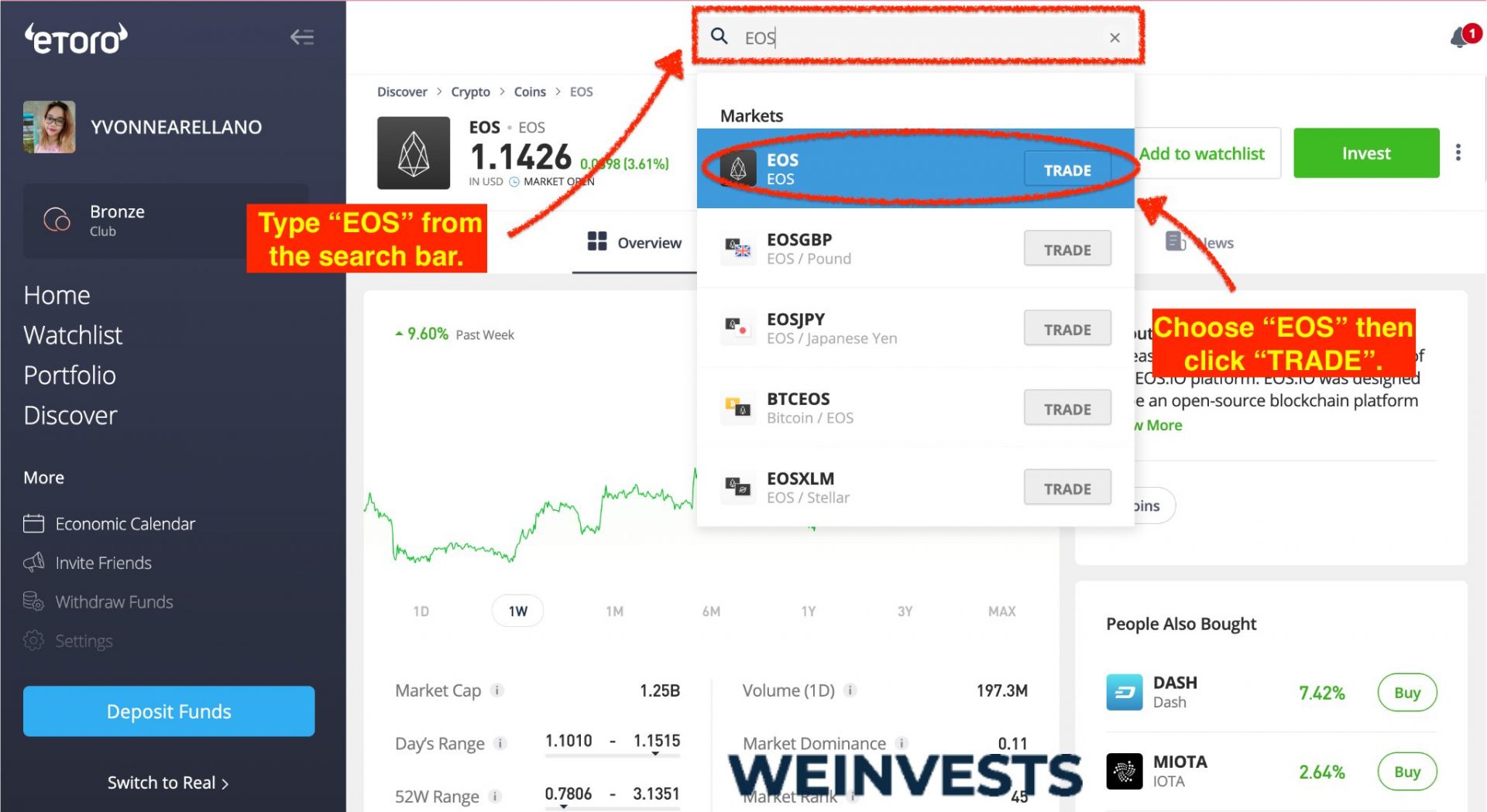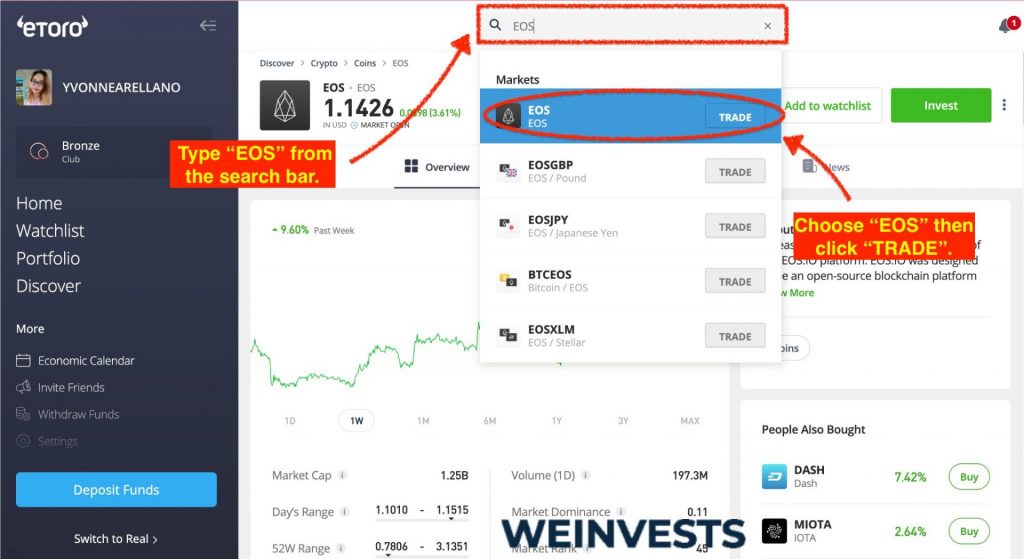 Step 5: Buy EOS
The last step in the process is to choose how much you want to spend on buying EOS and proceed with your purchase. Now you're ready to see if this crypto is the right investment choice for your goals.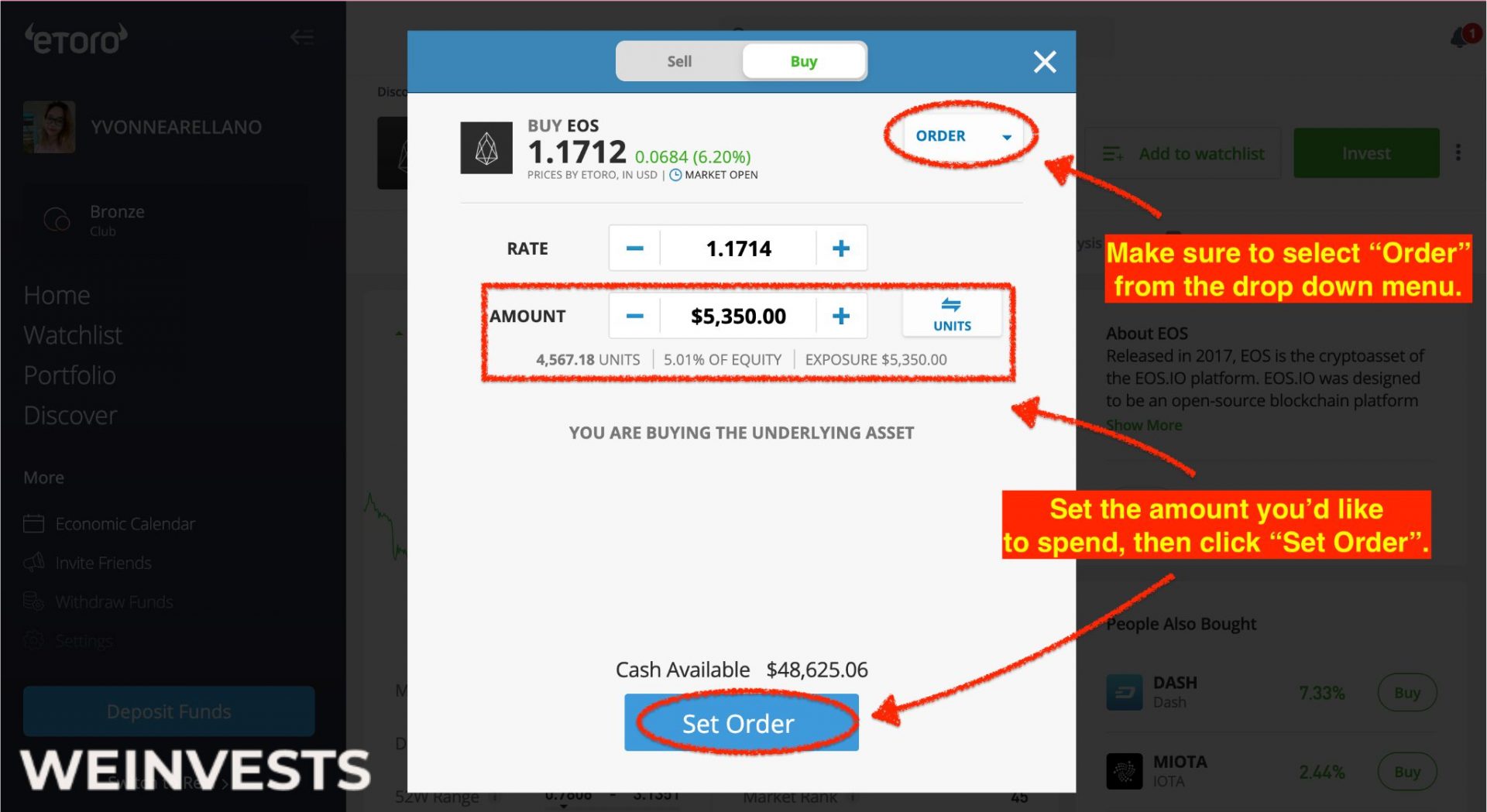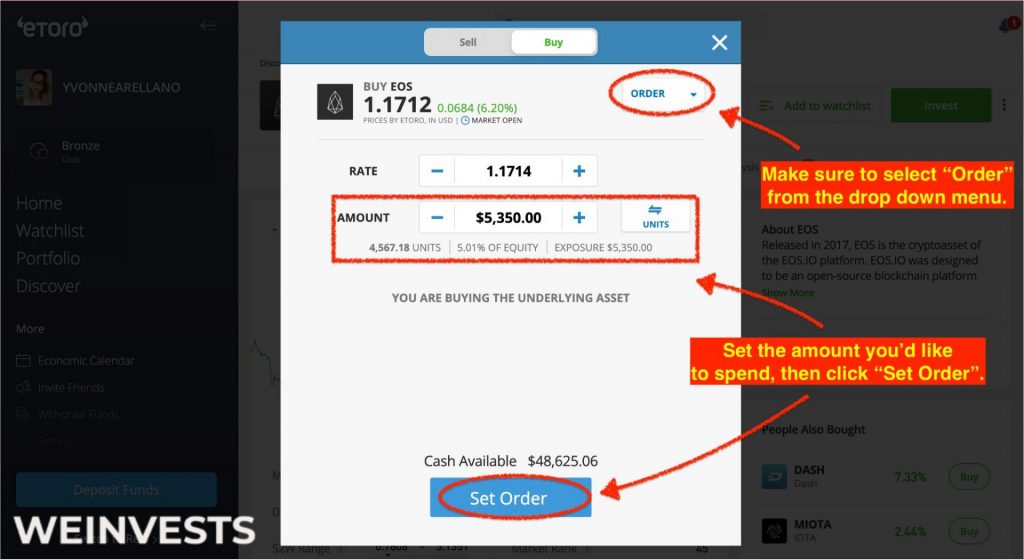 Frequently Asked Questions
Can EOS token price hit $50?
Our forecasted data suggests that the price prediction model of the EOS token will continue to render significant gains. In terms of price estimation, you can expect the EOS token to cross $50 by 2029.
Is EOS serves as a solid investment?
Crypto market predictions support the earning potential of EOS tokens in the long run. In 2023, the EOS token price will witness a maximum increase of $4, whereas the trading price of EOS will be $5.2 by 2025. When it comes to making investment decisions, investors should review the past performance of the EOS token and make a comparative analysis to make the right call.
Why EOS did experience a dramatic decline in the price?
Mostly, the competitive drive paired with internal disagreements in the Block.One's network had an impact on the image of EOS for months. Ultimately, a combination of internal as well as external factors contributed to the price decline of EOS.
Will EOS token price gradually increase?
Our price prediction model suggests that EOS will, in fact, see a gradual increase in its price performance. At the moment, the future price results showcase a bullish trend for the next five years. Ultimately, you can expect high value from EOS token that is bound to work in favor of investors. On average, the estimated EOS price will reach $3.85 in 2023.
What investors should expect from EOS prices in the coming years?
Our forecasts indicate that the future token price of EOS will reach a $3.85 average by the end of 2022 and $4.3 in late 2023. By 2025, the EOS token price is expected to reach $6.3. In the coming five years, you can expect the EOS token price to reach $7 in the market.
What will be the highest possible EOS token price?
As of February 2022, the price forecast of EOS suggests it would reach $106 by the end of 2031.
What will be the value of the EOS token price by 2030?
Our long-term forecasts of EOS token price highlight that the minimum anticipated price of the token will reach $79 by 2030. In comparison, this token price of 2356% is higher than the current EOS market price. In the bullish momentum, the price of EOs is expected to hit $92 by 2030.
Is EOS token price on the rise?
The authentication and speed of transactions have become swift and instant. It is one of the main reasons the EOS will continue its upward price streak and garner more attraction in the crypto space.
Is the privacy standard of EOS better than other cryptocurrencies?
Since the main attributes of EOS are instilled in its lending value that hard-earned money, it is unlikely for investors to experience privacy issues. One of the distinct qualities of EOS is that it comes with dedicated transparency and privacy protection features.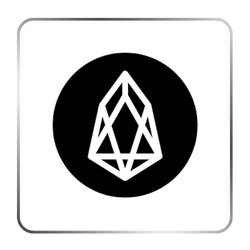 How to Buy (EOS) EOS
When it comes to business programmers, EOS is focused on making decentralized applications easy to comprehend and more…
Risk Disclaimer
WeInvests is a financial portal-based research agency. We do our utmost best to offer reliable and unbiased information about crypto, finance, trading and stocks. However, we do not offer financial advice and users should always carry out their own research.
Read More