This content represents the writer's opinions and research and is not intended to be taken as financial advice. The information presented is general in nature and may not meet the specific needs of any individual or entity. It is not intended to be relied upon as a professional or financial decision-making tool.
In this article, we look at Cartesi, a token built with Linux on the blockchain to create dApps. We examine its tokenomics, where to buy the token, the best platform to buy, safe storage options, how to buy and invest. Also, we discuss it's price prediction and other ways to purchase the token outside of the regular exchanges.
Cartesi (CTSI) Tokenomics
The Cartesi project is one of the first operating systems built solely on the blockchain. The project fuses Linux with programming languages together with blockchain technology supporting it. As a result, it gives developers a virtual machine to create digital applications more flexibly.
According to the project's whitepaper, Cartesi is on a mission to assist dApp developers in creating more exciting products for everyone.
At the time of writing this article, Cartesi or CTSI is trading at $0.1041. The token has a 604 million circulating supply with a market cap of $98m with a maximum supply of one billion CTSI tokens. The Cartesi team holds about 15 percent of the token's supply, while the Cartesi foundation holds 40.22 percent.
Thanks to this remarkable project, developers can now build scalable smart contracts with a wide array of libraries, software, and services they're familiar with. The Cartesi project has successfully bridged the gap between blockchain and mainstream software.
Now, millions of budding startups and developers use Cartesi to integrate Linux apps for everyone to use. With optimistic rollups, an innovative virtual machine, side-chains, and more, Cartesi gives different types of developers the leverage to build blockchain apps of the next generation.
Where to Buy CTSI?
With a ground-breaking project like Cartesi, it's no surprise that several people want to be part of or have a stake in the project. One such way is to buy "CTSI" the project's native token.
The best way to go about this is to choose a crypto trading service or exchange. There are several crypto exchanges out there where users can purchase Cartesi. In addition, conventional payment services and brokerages also offer crypto trading of different kinds. However, the most important thing users should look out for is to choose a platform that offers excellent services, low fees and top-notch security.
Let's take a look at a trusted platform that is certified to be the best place to buy CTSI.
How to buy CTSI on eToro
As stated earlier, it's important to choose a platform that offers great services and more. As luck would have it, eToro ticks the essential boxes as we've tested the platform using industry-standard parameters.
For starters, eToro offers free commissions when a user trades with them. The major difference between eToro and other commission-free brokers in the industry is that eToro gives its clients more options. They can invest in crypto, ETPs, and ETFs with zero commission.
Step 1: Open an Account
Few words on what you see in the image below, for example: You can go to the main page and click on 'create account' to fill out the main application form. It will require you to fill in only the basic information, which only takes a couple of minutes.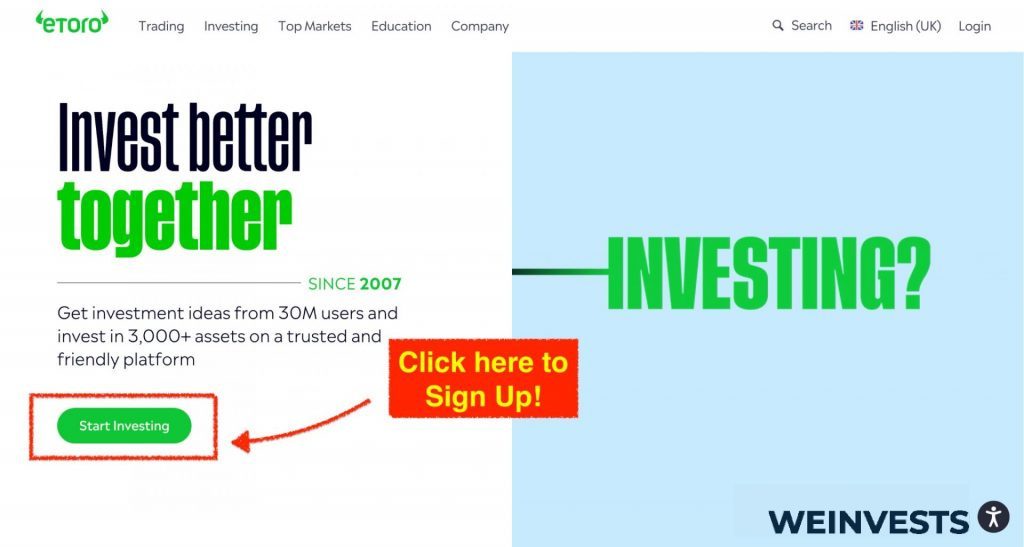 Step 2: Upload ID
Once that is done, new users have to create an account and pass the necessary KYC verifications. This would require submitting government-recognized identification.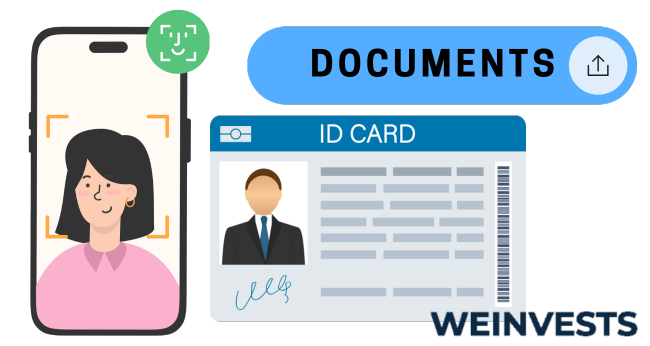 Step 3: Make a Deposit
The next step is to deposit funds into the crypto wallet to buy CTSI. There are several options like bank transfer, PayPal, credit cards and more.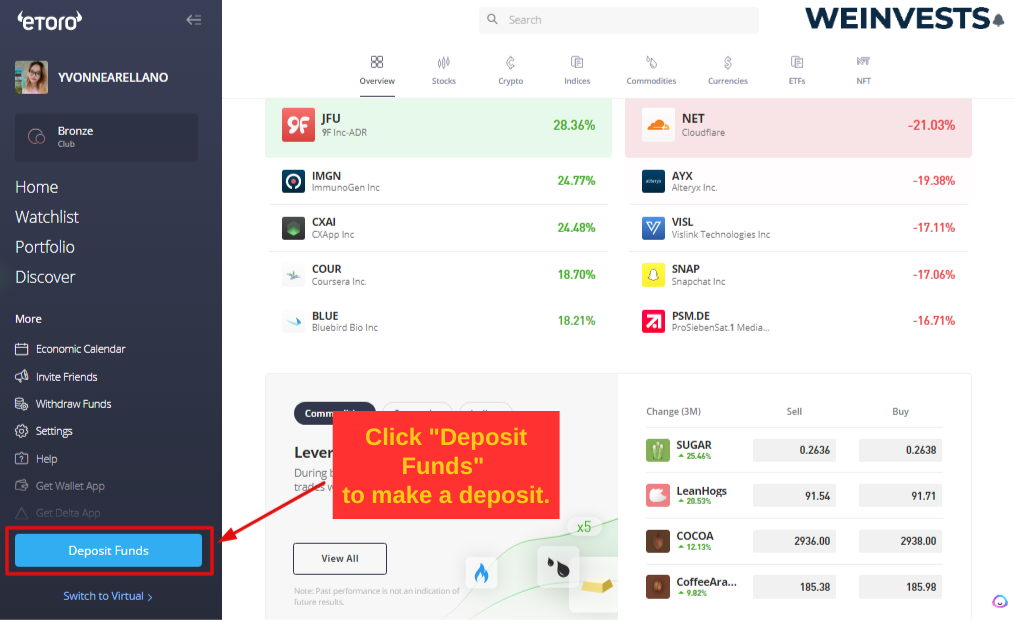 To fund your account, just go to "Deposit" option and choose the specific features of how you want to invest your money, for example, the amount and payment method.
Step 4: Search for CTSI
After depositing funds, tap the search bar and search for Cartesi/CTSI. Tap the token, then tap "Trade"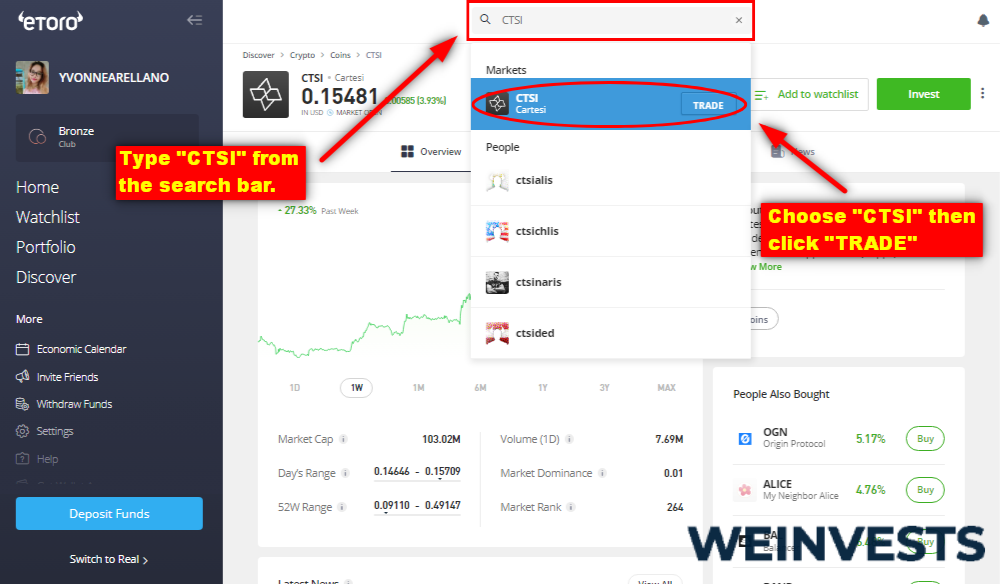 Step 5: Buy CTSI
A popup box will appear asking for the amount of CTSI tokens the user wishes to buy. Tap "Open Trade" to confirm the order.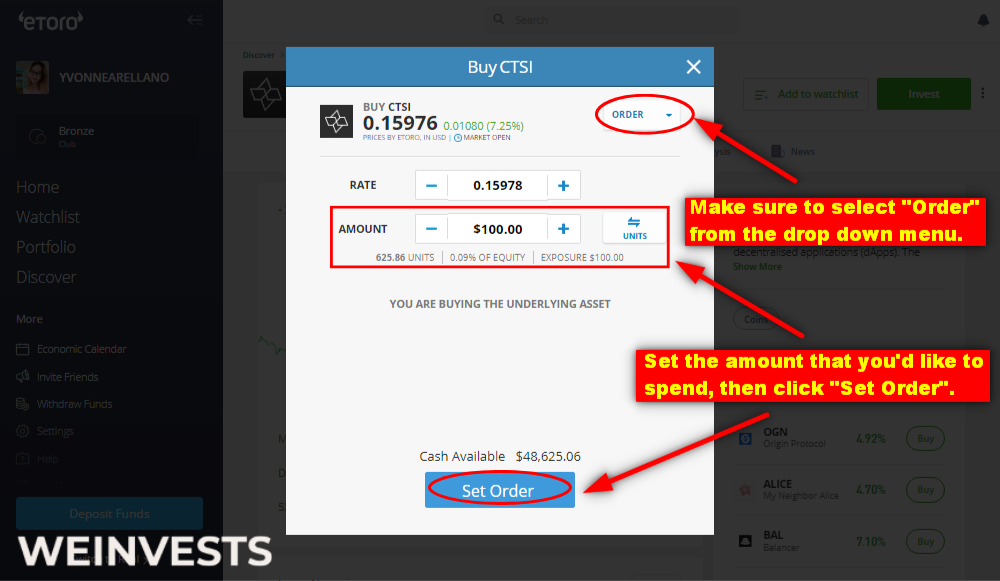 Once the order is confirmed, the Cartesi tokens will be saved in the user's wallet.
How to buy CTSI with PayPal?
In truth, Paypal's easy to use interface and faster transactions make it one of the preferred methods for investors to buy Cartesi with. As luck would have it, PayPal is one of the payment systems on eToro, so users can use the payment processor to purchase CTSI.
Here's how to go about it.
Open an account on eToro, if that's been done, simply log in.
Navigate to the crypto page and search for Cartesi using the search bar.
Two options will appear, Trade or Order.
Trade allows the user to buy a specific amount of crypto at its current price while order sets a target price and the number of crypto to purchase. The order is carried out the moment the fixed price hits the target.
Choose the amount of CTSI to buy and tap "Deposit."
Lastly, choose PayPal as the preferred deposit method.
How to buy CTSI with Credit Card?
Card payments are one of the easiest ways to purchase crypto on eToro. Here's how to buy Cartesi on eToro using a credit card;
Login to eToro and enter the required details. (Note that it's important for users to complete KYC on the platform as it's impossible to proceed without it)
The next step is to connect the card to the account and fund the account as needed. Keep in mind that this step also requires a mandatory verification process.
The next step is to buy Cartesi/CTSI. Tap the search icon and enter the amount of Cartesi to be purchased.
As luck would have it, eToro does not charge clearance fees when a user funds their account, which makes it one of the most preferred methods.
Safe Storage
Investing in Cartesi is important but safely storing the tokens is more important. The result of not doing this may lead to losing all the assets to malicious hackers.
Here are some safe storage options to explore;
this is often the default option for storing crypto. Here, a third party holds the crypto assets via a cold storage (offline), hot storage (online), or a mix of the two options.
this is an offline digital wallet. There are several methods of cold wallets, like creating a free paper wallet. This storage type is a printout of private and public keys, and it's a string of characters that the user can scan as QR codes. These keys are used to make cryptocurrency transactions. However, a hardware wallet is the most common cold wallet.
these are tiny devices that connect to a computer and are used to store digital assets. They need an active internet connection when sending or receiving crypto, but majorly, they keep the assets offline. From a security viewpoint, an offline storage is the best option as the assets cannot be stolen by hackers.
this an app used to store digital assets online. They are typically available as mobile and desktop and there are also hot wallets that are solely web-based.
Alternate Ways to Buy Cartesi (CTSI)
The payment options to purchase Cartesi aren't limited to PayPal, credit card, and exchanges alone. There are myriad other options a user can explore, like P2P platforms, crypto ATMs, and traditional brokerages.
We'll discuss each in detail together with their pros and cons.
Cartesi (CTSI) ATMs
This is like your regular ATM terminal but it's not run by traditional banks. Instead, users can buy BTC, ETH, and several other cryptos using cash or a standard bank credit card. Visually, crypto ATMs differ from each other. Some look like regular ATMs, while others are built into a wall, or they just stand alone.
Although crypto ATMs have been around since 2013, it hasn't gained widespread acceptance yet. Currently, there are about 40,000 crypto ATMs scattered across 77 countries worldwide. These ATMs perform a variety of functions, like buying any crypto of your choice and withdrawing your earnings in fiat.
For this reason, a lot of people prefer the flexibility it offers, but it's important to note that it's not legal in all countries. In the United Kingdom, using a crypto ATM is illegal according to the financial regulator governing the region.
According to them, the companies backing them are not approved to offer such services because they aren't registered with the FCA (the Financial Conduct Authority). This is the primary reason why we don't recommend this as an alternative to buy Cartesi.
P2P exchanges
Peer-to-peer exchanges, or P2P as it's sometimes called, is a great way to buy and invest in Cartesi. By trading with a peer, users avoid transaction fees associated with most crypto exchanges. In addition, a user can trade crypto directly with a peer without the interference of a third party. That's not all, users have the option to swap one crypto for another or crypto for fiat.
In addition, some P2P platforms offer escrow services which gives an added layer of security for the transaction. There are several P2P platforms out there. However, here are some top platforms to consider; Binance, Bybit, Huobi, Gemini, Paxful, WazirX, LocalBitcoins, KuCoin, OKX, and HODL HODL.
Mainstream Brokerages
Buying crypto isn't just within the purview of traditional crypto exchanges alone, as mainstream brokerages now offer similar services and more. Traditional brokers have an added advantage when compared to crypto exchanges. They offer more investible securities, although users can't trade Bitcoin directly, as they only offer Bitcoin futures.
Other brokers take it a notch further by offering a service called social trading platform. Here, new investors can copy the trading strategies of seasoned investors on their account. One thing to note about mainstream brokerages is that they are often regulated and are subject to the laws governing the region.
Here are some mainstream brokers and their unique offerings;
How to invest in Cartesi?
Without doubt, the most recognized way of investing in Cartesi is to invest for profit. Here, an investor buys the token at a specific price and holds it until it rises significantly before selling. As luck would have it, there are other ways to invest without having to buy the token in itself. This is where crypto ETF, staking, and ETPs come in.
This crypto investment strategy involves earning passive income from an asset without selling it. Here, the investor puts the asset in a high-yield savings plan to yield profits. It is important that investors carry out adequate research before committing to any plan.
also called Exchange-traded products, ETPs are an investment vehicle backed by a tangible asset like gold, a crypto token, or a commodity. Some popular examples are FBTC (the Fidelity Physical Bitcoin) and 21Shares Bitcoin.
On the other hand, ETF or exchange traded funds track the crypto assets value, and it's traded on a mainstream brokerage. ETFs give investors the leverage to invest in the digital asset without holding it.
CTSI Price Prediction
Although the crypto market has experienced a lot of turbulence in the past few months, it's surprising that CTSI has been holding its own. Although trading volume is down by 16.86 percent at $4,547,391, the token 259 ranked token has increased 0.54 percent in market cap at a decent $67,513,811. Although most cryptos often sway in the direction of Bitcoin's price, there's every chance that CTSI will bring the bulls back.
Conclusion
Cartesi is a token designed with the future of the blockchain in mind. It's a token backed by millions of smart contract developers, and with the rise of dApps, Cartesi will slowly get lots of mainstream acceptance.
Also, with pay payment options like Paypal, credit cards, and P2P exchanges, investing, staking, or tracking Cartesi's price shouldn't be a problem for prospective investors. Finally, it's important to take note of the best safe storage options available, so the acquired digital assets don't fall into the hands of hackers.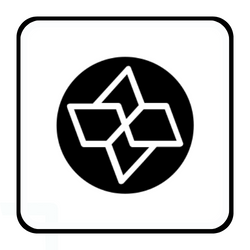 Cartesi (CTSI) Price Prediction 2023, 2024, 2025 – 2030
Cartesi price analysis and predictions for 2023, 2024, 2025, and 2030 and beyond. Starting with a brief overview then moving onto the historical price performance with a simplified explanation of the major causes of price movements. Finishing with the consistent price fundamentals for a deeper understanding of what investors should look for when considering the changing environment over time. Lastly, some frequently asked questions based on what people tend to ask Google more often.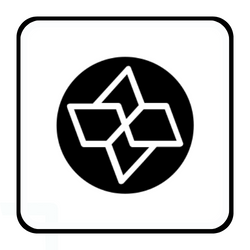 How to Stake Cartesi (CTSI)
Cartesi staking can be a valuable method to earn passive income stream by holding CTSI. Cartesi offers you three alternatives to stake: they differ because of different levels of complexity and for being permissioned or permissionless. So, you can easily choose the alternative that better fits your expertise, your attitude towards risk, and your financial goals. Cartesi is even more interesting if we consider its main use case – blockchain OS – that can help improve the more common operating systems and allow developers to create new applications and models.
Risk Disclaimer
WeInvests is a financial portal-based research agency. We do our utmost best to offer reliable and unbiased information about crypto, finance, trading and stocks. However, we do not offer financial advice and users should always carry out their own research.
Read More