This content represents the writer's opinions and research and is not intended to be taken as financial advice. The information presented is general in nature and may not meet the specific needs of any individual or entity. It is not intended to be relied upon as a professional or financial decision-making tool.
ApeCoin (APE), a crypto adopted as the native token of Bored Ape Yacht Club (BAYC) and created by Yuga Labs, was the subject of much discussion during the first quarter of 2022. Since April 2021, when the ApeCoin DAO was set up, the BAYC has been one of the most popular and active NFT collections.
The BAYC collection features apes that appear bored. Depending on your mood and preferences, you can customize every aspect of these monkeys. Investors from all over the world, including Justin Bieber, have bought these works of art.
The History of the Yuga Labs and the BoredApe Yacht Club
Yuga Labs was formed in 2021, and its first NFT collection was Bored Ape Yacht Club. The minting of the Bored Ape Yacht Club started on April 23, 2021, and it sold out within 24 hours. Each ape was sold on the open market for 0.08 ether, or around $200 USD. The floor price of Bored Ape Yacht Club is now well into the six digits. It is also the world's most culturally significant NFT collection.
Yuga Labs has aggressively grown its community by throwing events and airdropping additional NFTs and now tokens worth tens of thousands of dollars to members of the Bored Ape Yacht Club. Mutant Apes, CryptoPunks, Bored Ape Kennel Club, and Meebits are among the other collections housed at Yuga Labs. However, the Bored Ape Yacht Club benefits only Mutant Apes and Bored Apes.
APE Tokenomics
The APE asset is really a digital token created in accordance with the Ethereum ERC-20 tokenization standard, despite the fact that its name may allude to Bitcoin. The multifunctional, highly fungible tokens prevalent across the Ethereum blockchain ecosystem are created using the well-liked ERC-20 token architecture. One billion APE tokens were the hard-capped supply of APE at launch. This token's supply is anticipated to stay constant since there is presently no mechanism in place to mint (make) or burn (destroy) more of them. About 30% of the APE supply was in use upon launch, with the remaining 70% to be distributed over the following years. On different controlled exchanges (CEXs) and decentralized exchanges, you can easily purchase or sell APE (DEXs).
How to buy ApeCoin on eToro
The easiest way to get APE is to put in an "immediate buy" order at a set price on eToro, but not all cryptocurrency exchanges have this feature.
You may also initiate a deal on the spot market, which lets you select your own price; this is the most frequent method of purchasing bitcoin. Using the immediate purchase function is simple, but it is often more costly than using the spot market.
You should verify the market circumstances before purchasing APE.
Step 1: Open an Account
When attempting to purchase APE, the first step is to open an account with a broker or exchange. Open an account with your preferred broker or exchange. You should choose one of the brokers and exchanges listed in the rest of this post.
Before creating an account with a broker or exchange, make sure it is regulated and go through the KYC procedure to validate your account. This procedure will take just a few minutes of your time.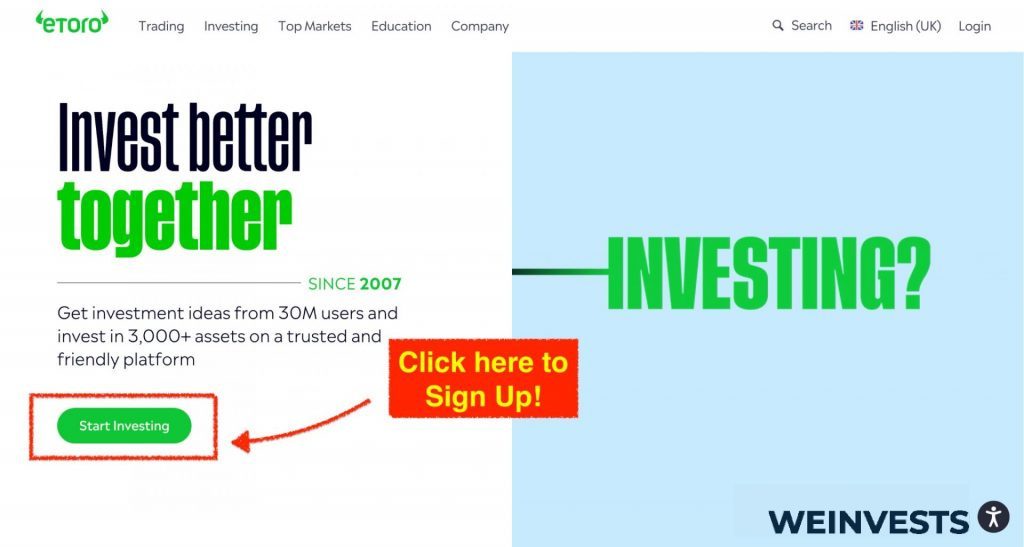 Step 2: Upload ID
The next step before funding your account is uploading your identity card.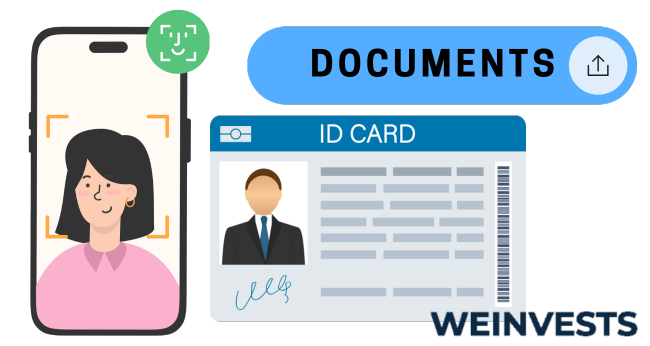 Step 3: Make a Deposit
Following the creation of your account, the next step is to finance it. The funds deposited will be used to purchase APE. Depending on your place of residency, brokers and exchanges offer various financing possibilities.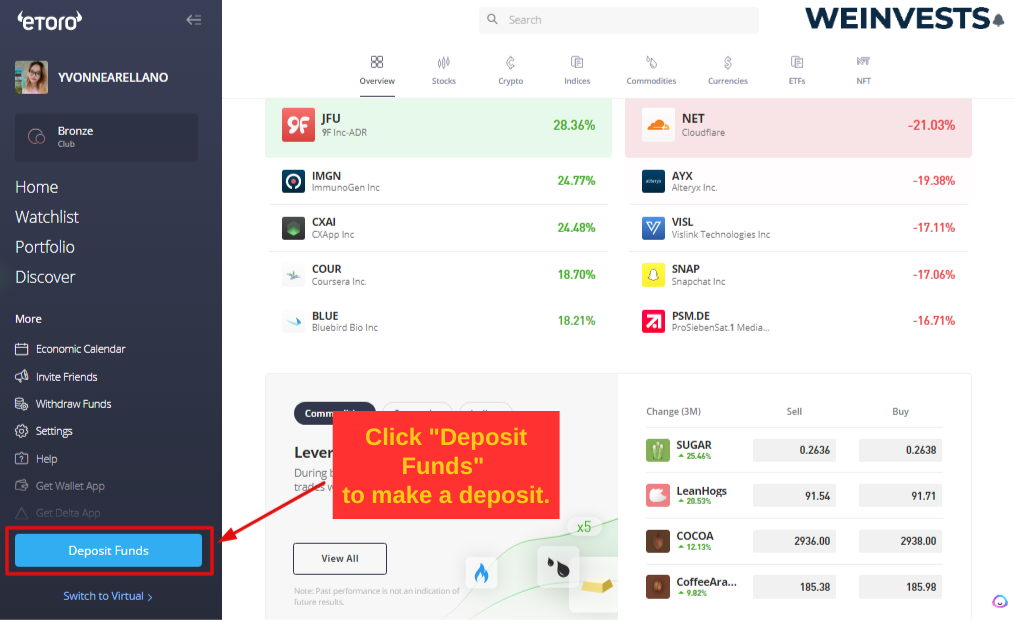 Credit cards, debit cards, PayPal, bank transfers, Skrill, and Neteller are the most common ways to pay.
Step 4: Search for APE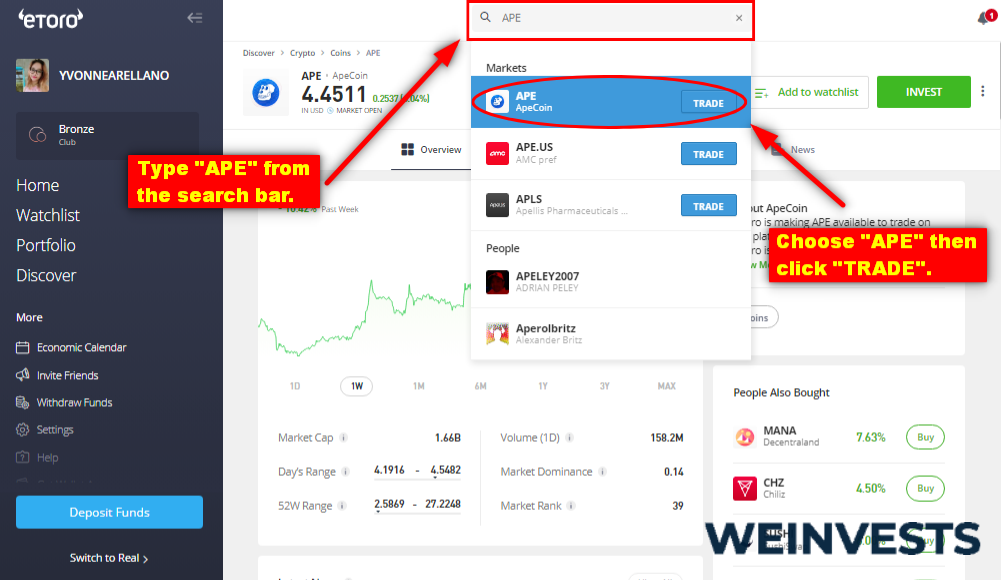 Step 5: Trade APE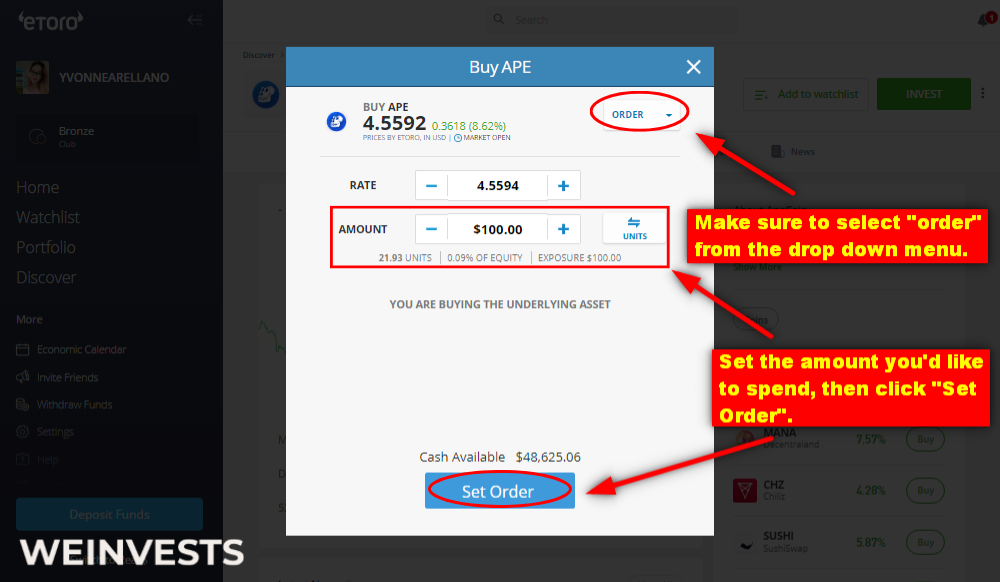 How to buy APE with PayPal?
APE may also be acquired via the use of the online payment system known as PayPal. In addition to being widely recognized, it is also simple to use, and transactions may be finished immediately. Despite this, the use of it is prohibited in many nations.
To buy APE with PayPal, you have to first sign up for a PayPal account and connect either a credit card or a debit card to it before you can purchase APE using the service.
How to buy APE with a credit card?
Credit and debit cards are well-known for their ability to perform transactions quickly and conveniently. They are the payment options most crypto brokers and exchanges accept. But there is always a limit to how much you can do with them depending on where you are.
Once your transaction is complete, you may use the deposited funds to purchase ApeCoin. Depending on the broker or exchange, you may either purchase the coin as an asset or trade its CFDs.
Safe Storage
After you acquire ApeCoin tokens, you will need a safe wallet to hold them. Most cryptocurrency exchanges provide a custodial wallet where you may retain your tokens. If you want to keep your tokens for a long time, it is best to keep them in a hardware wallet. Cold storage is also available if you wish to keep your tokens for a long time.
Alternate Ways to Buy Ape Coin (APE)
ApeCoin can be traded on both decentralized exchanges like SushiSwap and large centralized exchanges.
APE has been listed on a number of cryptocurrency exchanges, but unlike other major cryptocurrencies, it cannot be bought directly with fiat money. However, you may still simply get this currency by first purchasing Bitcoin from any fiat-to-crypto exchange and then transferring it to an exchange that trades this coin. In this guide post, we will take you through the procedures to purchase APE in detail.
Ape Coin (APE) ATMs
ApeCoin is offered via many brokers and trading platforms. Some notable crypto marketplaces where you can purchase APE are eToro, Binance, Coinbase, and Kraken.
How to Purchase Ape Coin at an ATM?
ATMs may now be used to purchase cryptocurrency. And, like other cryptocurrencies, APE may be purchased at compatible ATMs. Here's how to go about it:
Get an ApeCoin Wallet: If you want to purchase APE from an ATM, you'll need an ERC-20 wallet. Make sure you bring your QR code to the ATM.
Go to the Nearest ATM: You may use Google to find ATMs that provide APE in your neighborhood or nearby locations. Make sure you have enough cash, a credit card, or a debit card.
Scan Your ApeCoin QR Code: After you touch it, carefully follow the instructions on the screen. You will be prompted to choose your preferred cryptocurrency, ApeCoin. Show the QR code of your wallet address to the ATM's camera to scan it.
Purchase and Receive ApeCoin: Once the ATM has successfully read your wallet's QR code, deposit the cash equivalent of the amount of ApeCoin you want to purchase. Confirm the total and complete the transaction. In a few minutes, the coin will be sent to your wallet. However, keep in mind that a service fee may be levied.
P2P exchanges
Customers can now rely on APE trading thanks to the introduction of peer-to-peer trading. Binance is an example of a peer-to-peer platform. It is more of a crypto ecosystem than a cryptocurrency exchange. It has a daily trading volume of more than $2 billion USD.
Mainstream Brokerages
ApeCoin is already available on several crypto exchange sites. With that in mind, we were able to narrow down the top exchanges for purchasing ApeCoin. These include eToro, the crypto.com, Coinbase, and Binance.
We've put up a simple tutorial on how to purchase APE fast and easily on eToro. In terms of the other brokerages, you need to know where to purchase ApeCoin before you put your money in danger.
How to invest in Ape Coin (APE)?
Purchasing and Holding
Buy and hold is an ancient yet extremely efficient investment strategy. It is mostly utilized to make long-term investments. It requires you to believe that the value of a certain asset will rise over time. It might take months, years, or decades. Because the market cannot be timed, buying and holding is a safe way to invest in ApeCoin for the long term.
Trading APE CFDs
Another approach to investing in Apecoin is to trade it as a CFD. You will be speculating on the price of Apecoin CFDs utilizing leverage and at least the minimum amount of money needed in your account. Depending on how well you understand price activity, you either purchase or sell its CFDs.
Day Trading Apecoin
Apecoin may also be exchanged on a daily basis. This is accomplished by betting on the token's price change within a single day. You can either buy the token at a low price if you believe the price will rise for the day or sell it at a high price if you believe the price will fall for the day.
Stacking APE
Crypto staking is the process of temporarily "locking up" a part of your coin to support a blockchain network. In exchange, the holder can get benefits, which usually come in the form of more cash or tokens.
Ape Coin's future potential
APE is undeniably popular in the NFT and metaverse spheres. While it has fallen dramatically from its all-time high, the popularity of the NFTs to which it is related may lead to even greater growth in the future. But the way NFTs are used can be unpredictable, and people need to see successful use cases with quick benefits before they can fully trust the asset.
APE has considerable promise, particularly given its linked projects are well-known. However, how such initiatives stay interesting and valuable as they go is critical. ApeCoin's performance is inextricably linked to those, so it is important to keep an eye on this ecosystem in order to make better decisions.
Conclusion
APE is a decentralized project that strives to move the culture forward into the cosmos by leading community projects. It facilitates the development of decentralized communities at the forefront of web3. In the world of crypto, it is often referred to as a meme coin. The APE token is a kind of Ethereum-based ERC-20 token that was developed on the Ethereum network. In the context of the APE ecosystem, it performs the functions of a utility token and a governance token. The APE DAO is in charge of governing the APE ecosystem. On web3, the token will be required in order to get access to games, events, services, and items. There is a total quantity of one billion tokens, which are all produced at the same time by the mint.
FAQs
Is APE a worthwhile investment?
APE may or may not be a viable investment, depending on the requirements and risk tolerance of the particular investor. Current market circumstances and the possibility of future returns are two aspects to examine. You should always speak with a financial adviser before making any investing choices.
Can anybody purchase APE?
APE can be purchased by anyone. The procedure is straightforward. Following the creation of an account, you will be able to acquire APE using sites such as those indicated above. Make sure to look them up.
Is there a future for APE?
APE has a bright future! It is a promising cryptocurrency with the potential to transform online payments. APE is ideally positioned to become a major player in the digital currency field, thanks to its cheap fees, rapid transactions, and unique features. So APE certainly does have a bright future!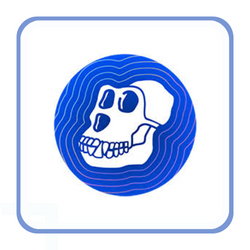 Risk Disclaimer
WeInvests is a financial portal-based research agency. We do our utmost best to offer reliable and unbiased information about crypto, finance, trading and stocks. However, we do not offer financial advice and users should always carry out their own research.
Read More