The world of Crypto was shaken earlier this month after a damning report from CoinDesk questioned the stability and liquidity of FTX and Bankman-Fried's enterprise and the events that spiraled out of their findings.
Back on November 2, CoinDesk published an article that took a deeper look into Sam Bankman-Fried's Crypto Empire. Bankman-Fried has been a darling of the crypto scene since he launched his crypto trading firm Alameda Research back in 2017, followed by the launch of the crypto exchange platform FTX.
Both companies quickly became powerhouses in their own right, with FTX netting $350 million in profits and Alameda Research accruing $1 billion (both in 2020). And yet the house of cards came tumbling down when Coindesk discovered things were not as they seemed.
According to CoinDesk, while the two businesses are separate, their finances are very much tied together in one key aspect: Alameda's balance sheet was seemingly mostly tied up in FTT, a coin invented by its sister company, FTX. This revelation, while concerning, wasn't necessarily untoward or wrong in itself, but it brought into question the strength and stability of Alameda, given that its foundation wasn't tied to an independent asset.
The real problem came five days later when the CEO of Binance, Changpeng Zhao, decided to act on this revelation. Whether out of concern or because he smelled blood in the water for its main rival, Zhao decided to liquidate the entirety of Binance's FTT holdings, about $530 million. This action, in turn, caused customers to race to liquidate their own holdings in the FTX platform. Over 72 hours, FTX was hit with around $6 billion in withdrawals, which it was struggling to fulfill given its own liquidity issues.
Then for a moment, it looked like things might come around for Bankman-Fried and FTX, with the revelation that Binance and FTX had signed a non-binding letter of intent where Binance would take over the FTX platform.
But the relief would be short-lived. Less than a day into Binance's review of FTX's books and loan commitments, they were already wary of the deal. According to Bloomberg, Binance found a massive gap between liabilities and assets that could be higher than $6 billion.
On top of that, On November 9, Bloomberg revealed that FTX was facing several federal probes (from the SEC and CFTC) that predated this entire conundrum. The continued investigations were focused on FTX US and its lending activities, its potential handling of clients' funds and assets, its liquidity situation, and its relationship with Alameda Research.
This caused Binance to ultimately drop out of the deal, and the dominos quickly started falling for Bankman-Fried's empire at that point.
Bankman-Fried's network took a nosedive, with 94% being wiped in a single day, and while he tried to reach out to other industry rivals for assistance, nobody listened. Then finally, on Friday, Both FTX US and Alameda Research filed for Chapter 11 bankruptcy, and Bankman-Fried resigned as CEO.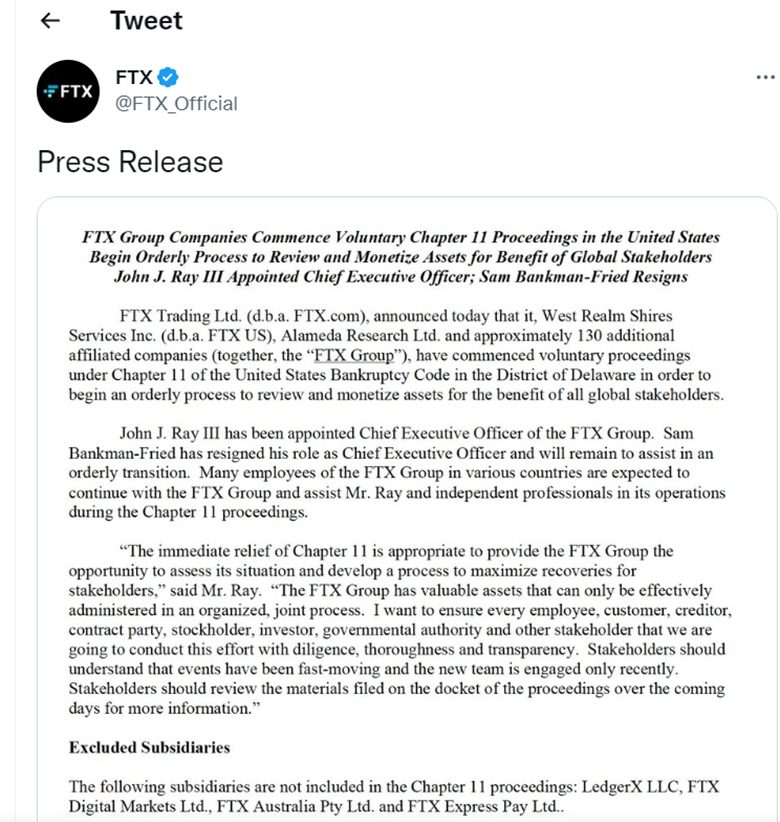 John Ray III, a restructuring lawyer who previously worked on high-profile cases like the liquidation of Enron, took over as CEO following Bankman-Fried's departure.
But apparently, this crisis is far from over.
For starters, the event has shaken the confidence in the crypto market. Bitcoin has fallen about 65% during this year, with analysts projecting it going under $10,000 as a fallout of FTX's collapse, and Ether sunk 20% over the last week alone.
And things kept getting worse for FTX and Bankman-Fried. On Saturday, FTX started an investigation to determine if crypto assets had been stolen. According to Elliptic, a crypto risk management firm, over $600 million in crypto assets seemed to have been taken from FTX after a possible hack. However, the facts are still unclear, and the investigation is ongoing.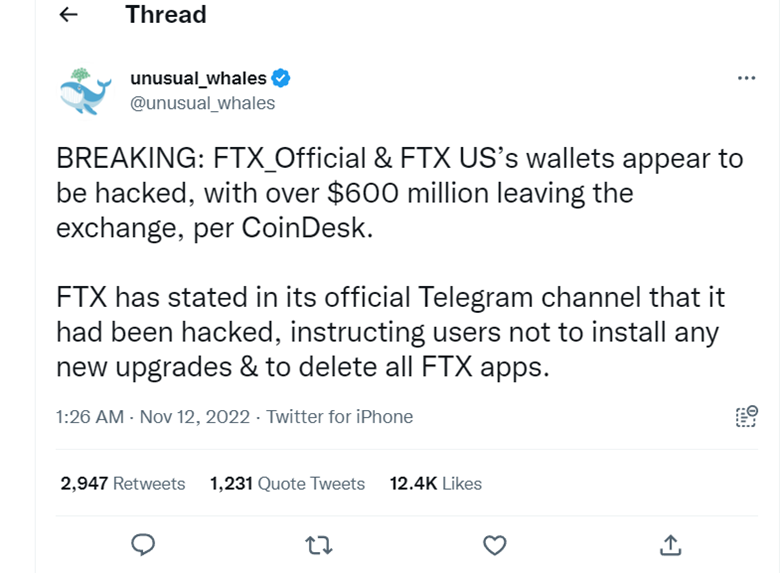 Then on Sunday, the authorities in The Bahamas, where FTX's headquarters are located, launched their own investigation into FTX for the possibility of criminal misconduct.
Following this, it was revealed that another industry giant, Crypto.com, had its own scandal brewing. Kris Marszalek, Crypto.com's CEO, revealed that the company had mistakenly sent $400 million worth of Ether to another crypto exchange, Gate.io, back in October. As a result of this revelation, the native token of the platform fell by over 20%.
While he reassured everyone that the company had a "tremendously strong balance sheet," people are still concerned given the downfall of FTX.
Risk Disclaimer
WeInvests is a financial portal-based research agency. We do our utmost best to offer reliable and unbiased information about crypto, finance, trading and stocks. However, we do not offer financial advice and users should always carry out their own research.
Read More