At the time of writing, Safemoon's price is $0.00025326. The coin's price has fluctuated heavily throughout December, but other than its recent November spike, it continues to trend down.
While many analysts position the coin growing during 2023, and closing 2022 around $0.00026, we feel it might actually end lower. Here are our conclusions:
Technical Analysis
This token has an incomprehensibly large supply and vanishingly low price. However, that's not necessarily a deal breaker.
SAFEMOON tokenomics is largely based on burning tokens to create deflation. Each transaction is deducted 10%. Each holder receives 5%, 2.5% is automatically burned, and 2.5% is sent to the liquidity pool.
And yet, SafeMoon's token price has only trended downwards during the year, save for a few spikes, and spiked wildly during December.
Throughout December, Safemoon has oscillated between $0.0028 at its peak, and $0.0023 at its lowest point. Its current price is a middle ground between both, but a far cry from its peak last month.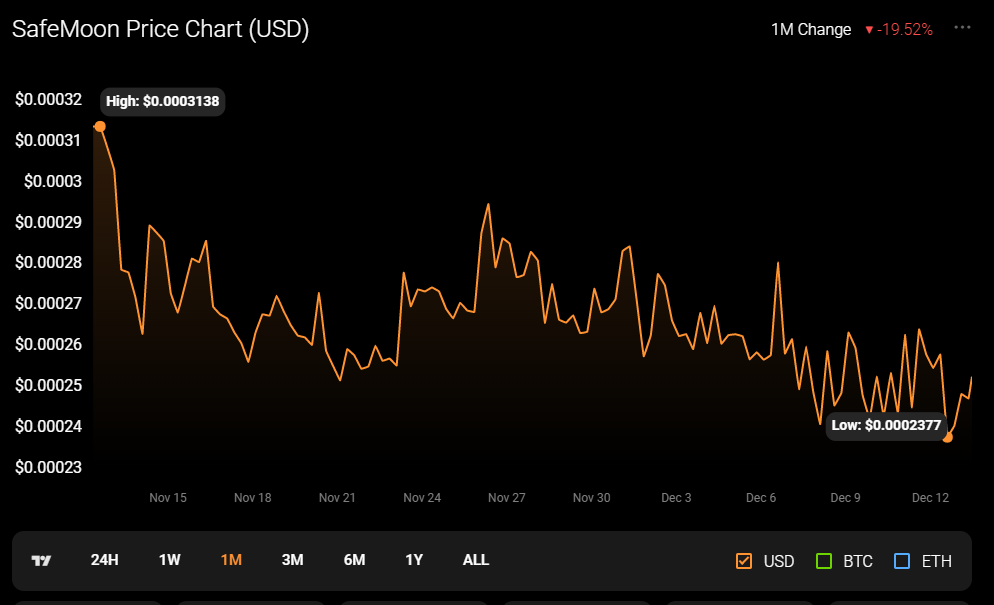 Even at its highest point in December, SafeMoon's price has never quite recovered from the October dip. This month has only helped to reinforce the notion that the coin has a high volatility among its peers.
While most analysis out there would point at SafeMoon growing for the end of December, and during 2023, the data and current crypto market doesn't support that vision.
It's more likely that SafeMoon remains in this $0.0002 price range at least until March, at which point it might break higher if the market conditions are more favorable, or if any events help boost the perception of crypto.
The truth of the matter is, the FTX collapse hurt the industry in general, and continues to do so.
Safemoon Analysis Conclusion
SafeMoon has consistently underperformed during 2022, although that's not a problem unique to this altcoin. Its high volatility makes it difficult to establish a specific direction, but everything points to it moving further down the line. Unless there's major shakeups to the Crypto environment, or SafeMoon receives a boon in the form of more crypto exchange acceptance, we don't see the coin growing in the near future.
FAQs
Risk Disclaimer
WeInvests is a financial portal-based research agency. We do our utmost best to offer reliable and unbiased information about crypto, finance, trading and stocks. However, we do not offer financial advice and users should always carry out their own research.
Read More