Pros
It's available for both desktop and mobile devices.
It has a wide range of educational tools.
It has an intuitive dashboard and platform.
You can trade in a wide variety of markets.
Cons
It isn't available in all countries.
It doesn't operate on MT4 for those who prefer it.
Tixee.com Highlights

| | |
| --- | --- |
| 💻 Trading Platforms | MT5, WebTrader, and Mobile Trader |
| 📞 Customer Service | Tixee.com has a dedicated customer support team that is available 24/5 via phone, email, or live chat |
| 🎁 Promotions/Bonuses | Welcome bonus, loyalty bonus, refer a friend bonus, trading contests, and more |
| 🛡 Regulation | Cyprus Securities and Exchange Commission (CySEC) and the Financial Sector Conduct Authority (FSCA) |
| 💵 Deposit/Withdrawal Methods | credit/debit cards, bank wire transfer, and e-wallets like Skrill, Neteller, and VLoad |
| 📊 Spreads/Commissions | The spreads start from 0.0 pips on major forex pairs, indices, metals, energies, and commodities |
| 🔒 Security | Tixee.com uses advanced security measures to protect its clients' funds and data. |
| 📚 Education/Resources | Webinars, videos, e-books, articles, glossary, economic calendar, market news, market analysis, and more. |
| 📱 Mobile Trading | Tixee.com offers a mobile trading app that allows you to trade CFDs on forex, stocks, indices, commodities, cryptocurrencies, metals, energies, and more from your smartphone or tablet |
| ⚡ Execution Speed | Tixee.com claims to offer fast and reliable execution speed on its CFD trading markets. The broker uses advanced technology and infrastructure to ensure low latency and minimal slippage on its platforms |
| 🔧 Trading Tools/Indicators | Moving averages, Bollinger bands, Fibonacci retracement, pivot points, relative strength index (RSI), stochastic oscillator, MACD, Ichimoku and cloud. |
| 🌍 Country/Region Availability | Tixee.com accepts clients from various countries and regions around the world, except for those where CFD trading is prohibited or restricted by law. Some of these countries include USA, Canada, Japan, Iran, North Korea, Syria, Cuba, and Sudan. |
| 💰 Account Minimum | Tixee.com requires a minimum deposit of $100 for all payment methods to open a live trading account. |
| ⚖ Leverage/Margin Requirements | Tixee.com offers flexible leverage options on its CFD trading markets. The leverage ratio depends on the account type and the trading instrument. For example, the maximum leverage for forex trading is 1:500 for the Standard account and 1:200 for the Pro account |
| 📈 Asset Selection/Market Access | Tixee.com offers access to over 300 CFDs on various asset classes and markets. These include forex, stocks, indices, commodities, cryptocurrencies, metals, energies and etc. |
What to do instead?
Most likely, after reading all we have said so far, you are probably ready to give up on the world of trading entirely. However, you mustn't forget that not every broker is anything like Tixee. Legitimate options are out there, and we highly recommend using them.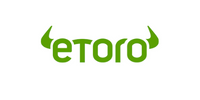 0% commission
CopyTrader™ Systems
More than 60 Crypto
Finding the right broker for your trading sessions can be exhausting considering all the options out there. Some of these options may not be available in your country, and some of them may offer absurd fees that may not apply to your budget.
Today, we're going to take a look at Tixee's brokerage platform. It's been around for quite some time, and it offers quite an attractive interface for traders to exchange in different markets and assets.
What does Tixee have in store for us? That's what we're going to find out in this review. Keep reading for a full overview of everything the Tixee broker has to offer
What Is Tixee?
Tixee is, in essence, a brokerage platform. It was first launched in February 2021, and it has become a fairly decent option for both beginners and professionals in the trading world.
The Tixee team is comprised of people in Cyprus. Moreover, this brokerage platform is international, so it's available in most countries worldwide (with a few exceptions that we're going to outline further into this review.
Overall, Tixee offers you a wide range of tools to work with CFDs, leverage, and even optional spread options in different account types made for each kind of trader. One of the best features about Tixee is that it works with the MetaTrader 5 platform.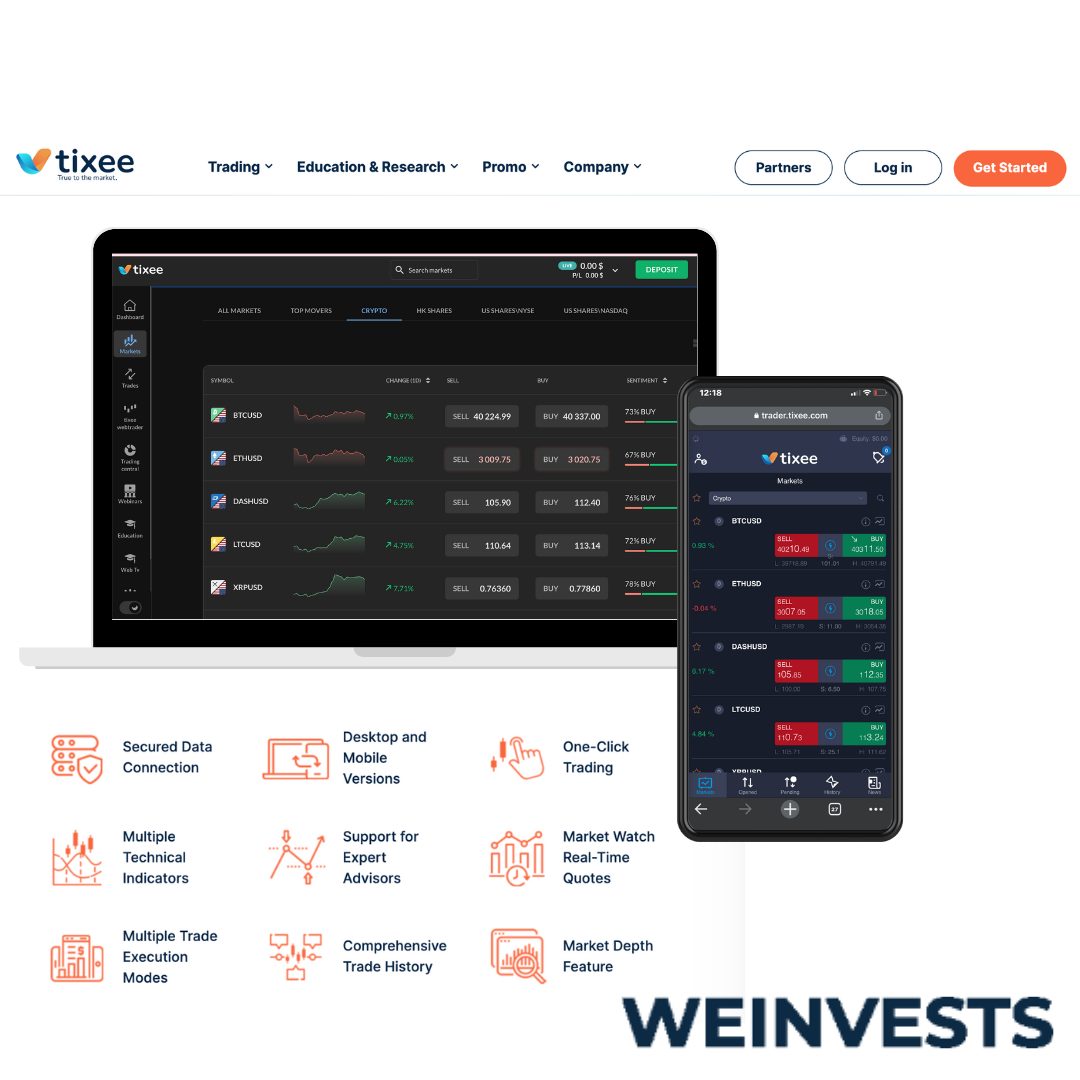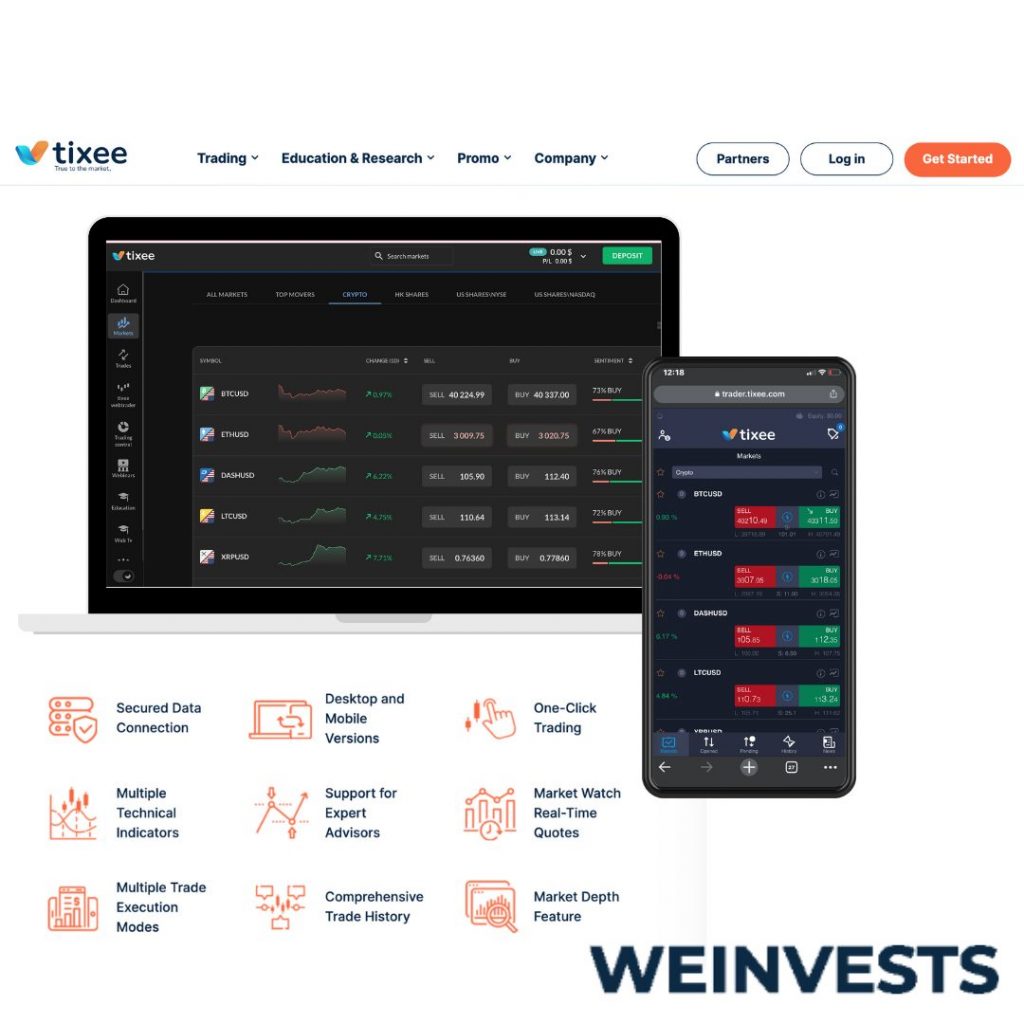 MetaTrader 5 is the primary successor to MetaTrader 4, and it was designed to take your trading experience to the next level. This platform is used by many successful traders worldwide for a variety of tasks, including Forex, CFD, Exchange Instruments, Crypto, and even Futures trading.
Moreover, MetaTrader 5 also comes with support for automated trading tools and professional advisors, which is something we also got with the MT4 platform.
However, what makes MetaTrader 5 different is that it comes with extra Market Depth features, which allows traders to access further information regarding market liquidity on a particular market/asset.
As for analysis tools, MetaTrader 5 takes the experience one step further than MetaTrader 4. It gives traders optimized, pre-loaded tools for analysis so that you don't spend too much unnecessary time figuring out what to do.
Even while Tixee is powered up by the MetaTrader 5 platform, this platform is also available in its desktop version, web platform for mobile, and a minimalistic trading platform for beginners.
Is Tixee Legit?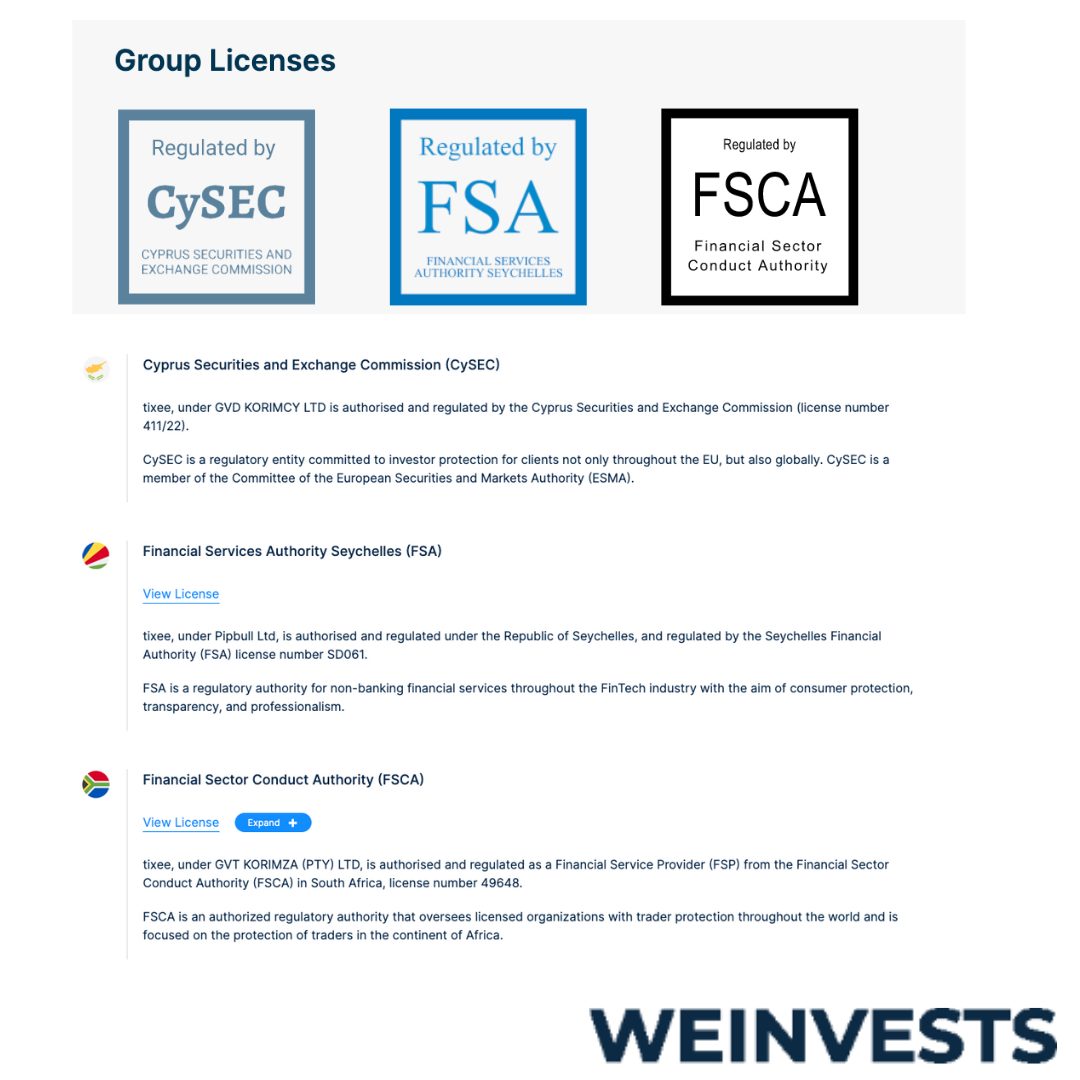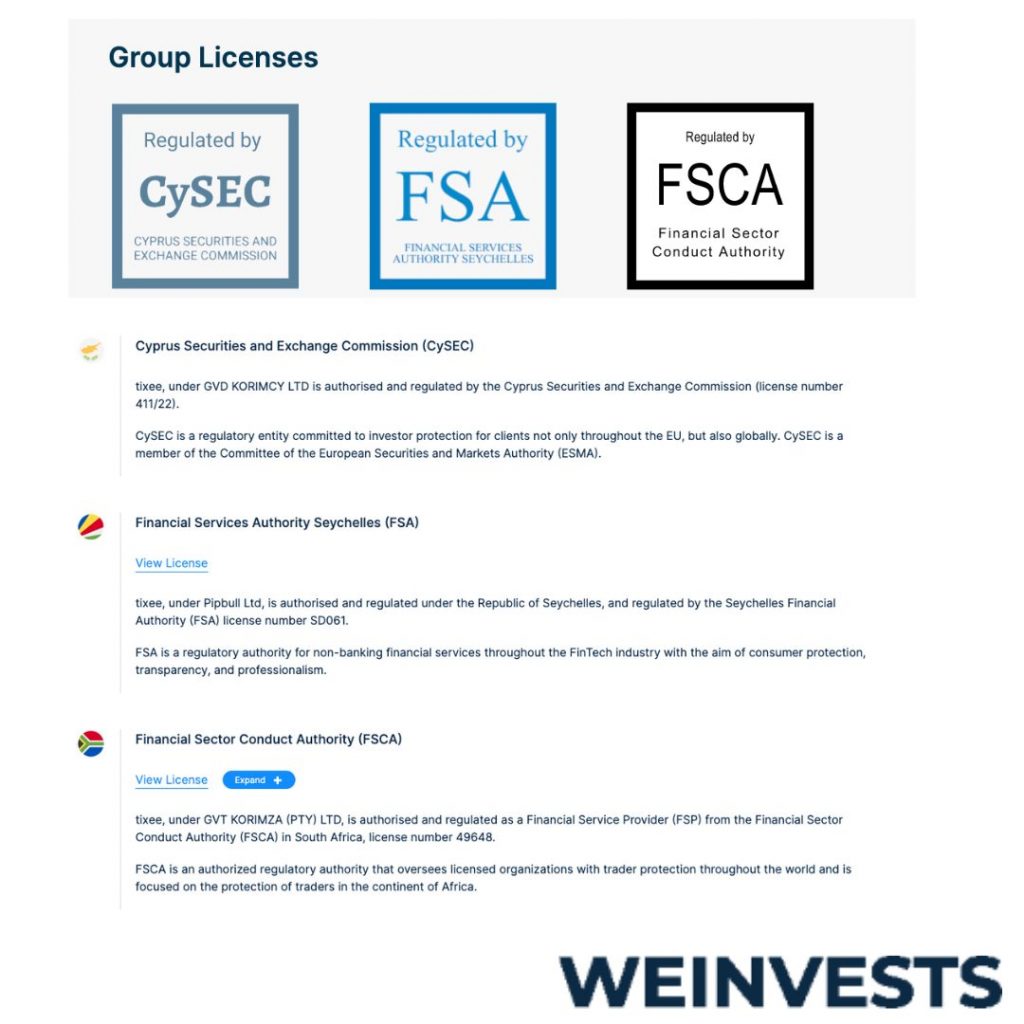 As mentioned before, finding the right broker can be complicated, which is why the primary question people ask when looking for this broker is "Can you trust Tixee?"
Fortunately, we're happy to say that Tixee is a legitimate trading platform for all traders. It's currently regulated by three different organizations, which adds up to its relevancy as a platform.
Moreover, the company has laid out every piece of necessary information regarding security on the website. Whether you want to know where the app came from or what the regulators are, the information is right there for you to see.
As for the trading platform, we believe it's one of the most intuitive ones we've used. The dashboard is clean and minimalistic, so you're not going to have any trouble figuring out how it works.
While Tixee is still a new platform (it only has one year on the market), it has gained the trust of several users worldwide. The customer support team is ready to answer any questions you may have, so if you ever run into any problems (which is unlikely), you're likely to get the issue sorted out soon.
Is Tixee Regulated?
As mentioned before, Tixee is regulated by three organizations. Keep in mind that licensing and regulations play a huge role in a trading platform's legitimacy, and the fact that this one is regulated by three makes it a fairly decent option for those who want to rest assured that their money is in a safe place.
Overall, Tixee is regulated by the following organizations:
Financial Services Authority Seychelles (FSA) – Tixee works under the company name of "Pipbull LTD" and is regulated under the FSA and the Republic of Seychelles with the license number SD061.
Cyprus Securities and Exchange Commission (CySEC) – Here, Tixee works under the company name "GVD KORIMCY LTD" and is regulated by the CySEC under the license number 411/22. CySEC is one of the most reputable regulatory entities for trading worldwide, and it's also a member of the Committee of the European Securities and Markets Authority (ESMA).
Financial Sector Conduct Authority (FSCA) – In this case, Tixee works under "GVT KORIMZA (PTY) LTD" and is regulated as a Financial Service Provider from the FSCA in South Africa under the license number 49648.
As you can see, there's nothing to worry about regarding regulation. While -unfortunately- Tixee isn't available in all countries worldwide, it's still an excellent option for those who can access its platform and tools.
Who Is Tixee Recommended for?
Considering the number of educational resources Tixee has in store for its users. Some user reviews online have claimed that Tixee is an ideal option for a beginner since there's a lot of information on the basics of trading for those who don't know much about it yet.
Still, if you're a professional, you can use all of Tixee's recommended tools for trading in the market of your preference. Whether you want to trade Forex, Crypto, or dive straight into Futures trading, there's an option for you to work as comfortably as possible.
Tixee Trade Experience
As mentioned before on this page, you can trade with Tixee's web trader platform and the MT5 platform. Those who want a complete trading experience may have a better time with the MetaTrader 5 platform since it offers different options like: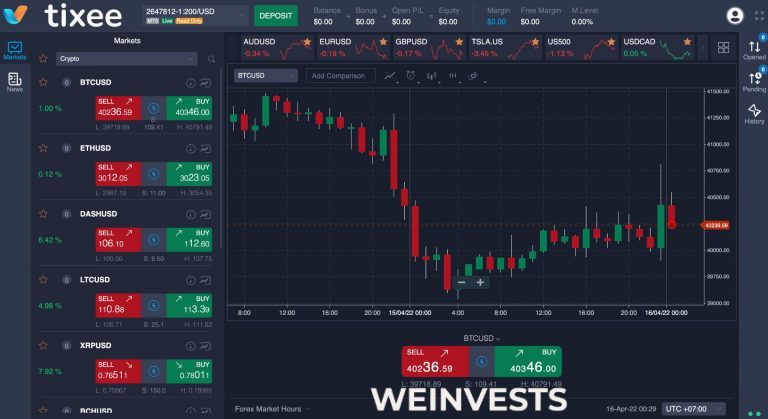 One-Click Trading
Multiple Trade Execution Modes and Technical Indicators
Charting Capabilities
Support for Expert Advisors
Market Depth Features
Trade History
Secure Data Connections
And much more
While Tixee's mobile version has enough tools for you to work, we recommend you go for the desktop version to get the full trading experience.
There's an extra trading platform specifically made for beginners called "Simple Trader." Here, the platform is as simple as it can be so that it helps new traders get the hang of trading much faster. However, the Simple Trader platform is still powerful enough as the other ones, so you may use the one that best suits your needs.
Keep in mind you can get full access to all the markets of your preference, including those with the highest-traded instruments depending on the asset class. Those assets include Stocks, Forex, Commodities, and more.
To be more specific, here are all the instruments you can trade with the Tixee platform:
Forex
Stocks
Indices
Metals
Energies
Commodities
Cryptos
In this particular case, Tixee is mostly used for Forex and Crypto trading. Regardless of the asset you choose, there is a wide range of options and tools to choose from. Regarding Cryptos, for example, you have access to over 220 CFD assets to trade, as well as free trading signals.
Even if there's something you don't know how to do, there are a plethora of different educational resources you can access for free and make the most out of your trading experience.
Commissions and Fees
The commissions and fees for Tixee depend on the trading account you choose. Overall, here's a list of some of the most common fees you can expect from this platform:
Entry Account
Minimum Deposit: $250
Minimum Leverage: 1:500
Minimum Spread: 1.5 Pips
Standard Account
Minimum Deposit: $2,500
Minimum Leverage: 1:500
Minimum Spread: 1.2 Pips
Premium Account
Minimum Deposit: $10,000
Minimum Leverage: 1:400
Minimum Spread: 0.8 Pips
VIP Account
Minimum Deposit: $50,000
Minimum Leverage: 1:200
Minimum Spread: 0 Pips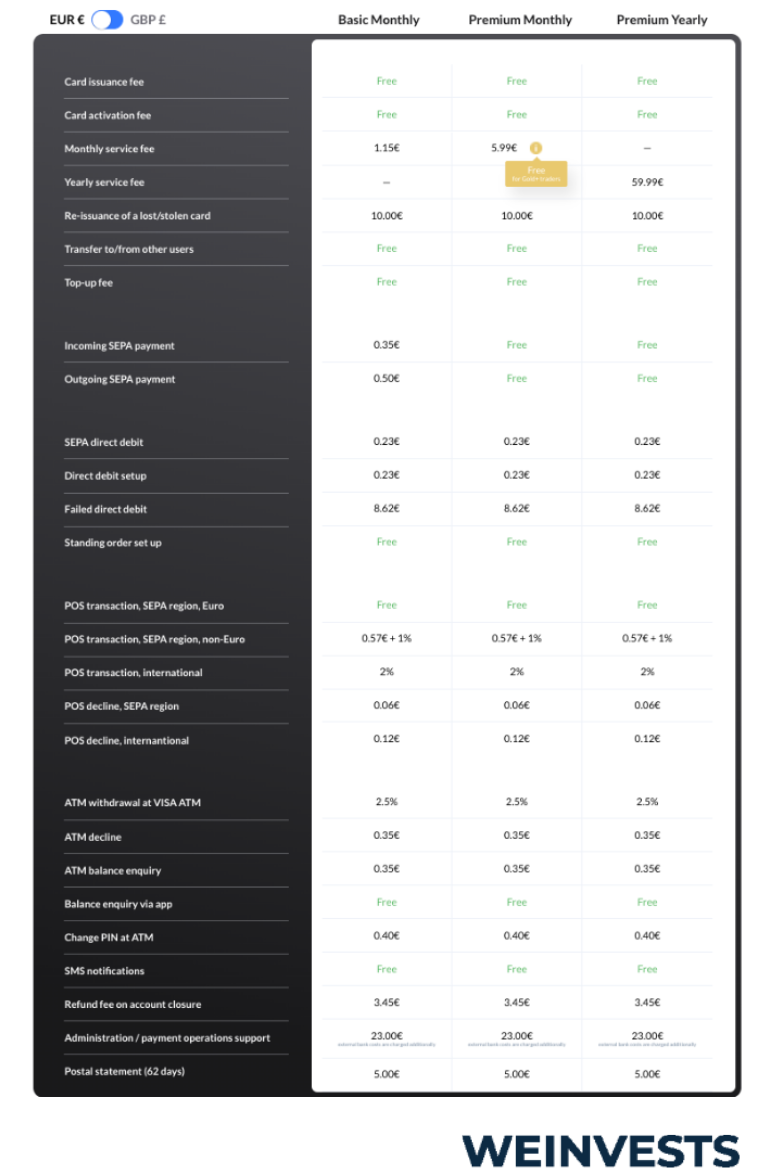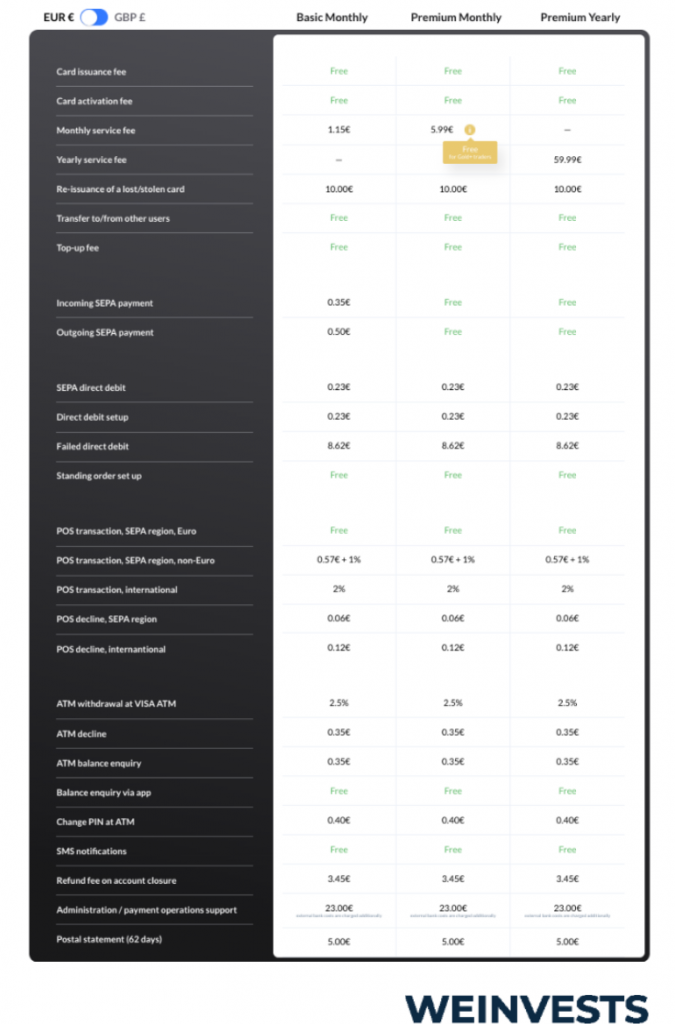 As you can see, the most popular account type is the Premium one. Regardless of the one you choose, you can choose from USD, EUR, and GBP currency accounts.
How to Open an Account with Tixee?
Tixee markets its sign-up process as one of the simplest ones on the market Overall, it offers a three-step signup process:
Step One –Click on the "Get Started" or "Start Trading" button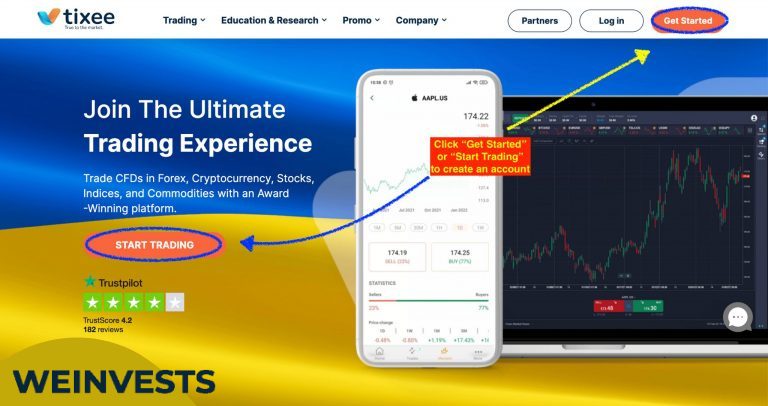 Step Two -Go through the registration process, providing the necessary information.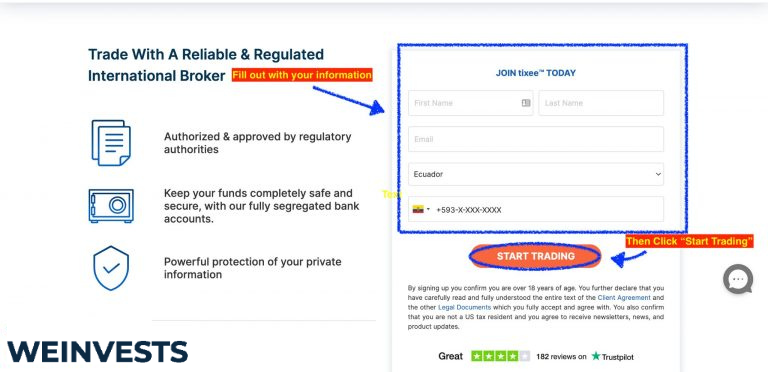 Click "Access My Account" to access your account, Or Request a call to get your account information.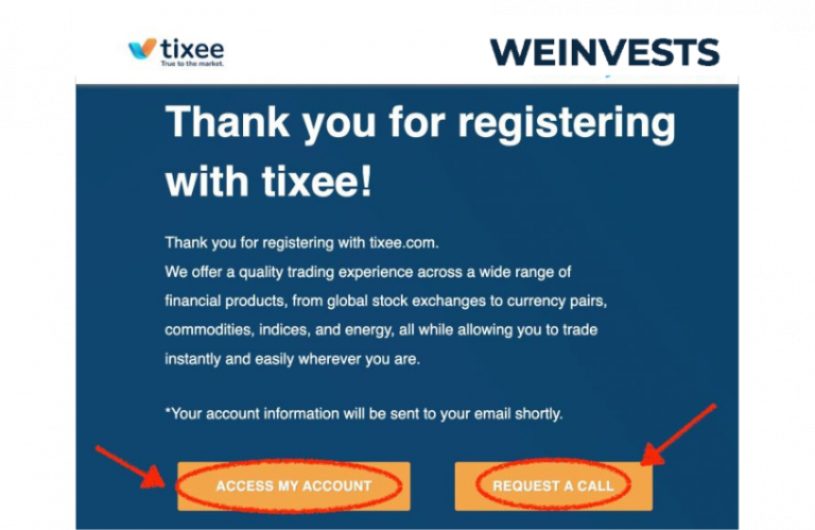 Step Three – Once the registration is completed, verify your account and start trading.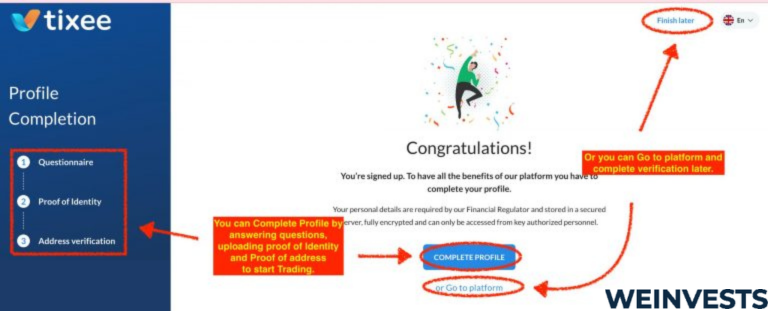 Opening an account with Tixee requires the following documents as part of the identity verification process:
Proof of Identity
A clear, colored copy of either a valid government-issued identification
document such as:
Passport
Driver's license
ID card
Please ensure that Your name, Date of birth and Picture are clearly visible
on the copy
Proof of Residency
In order to verify your place of residence, you will need to provide one of
the following:
A utility bill, such as water, electricity, gas, local authority waste
disposal or land-line phone
Bank Statement
Tax Bill
Please make sure that copy of your Proof of Residency contains Your name,
Address and Date of issue (the document must be issued within the last six
months)
Please note that the information on your documentation must match the
information you have used to register your account.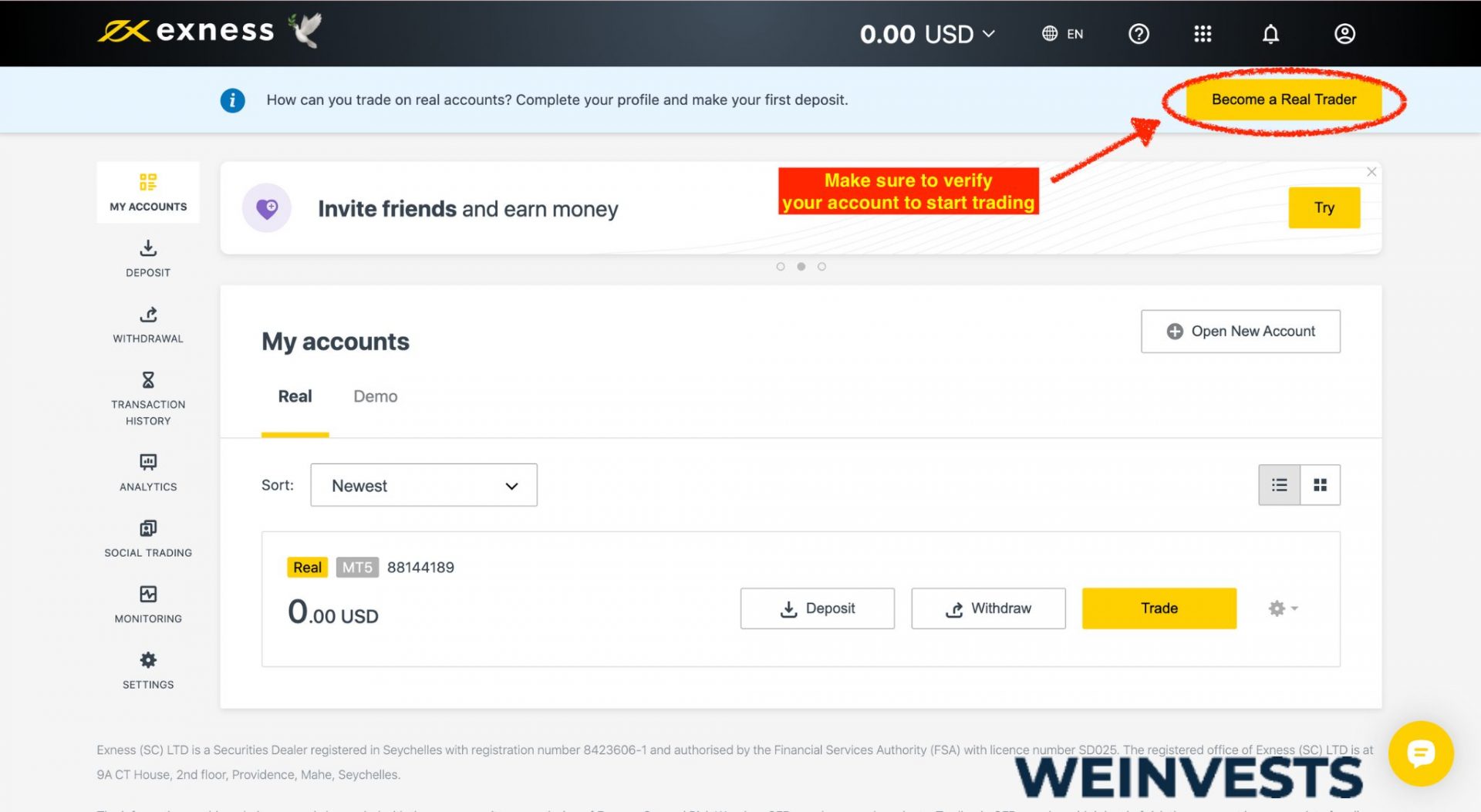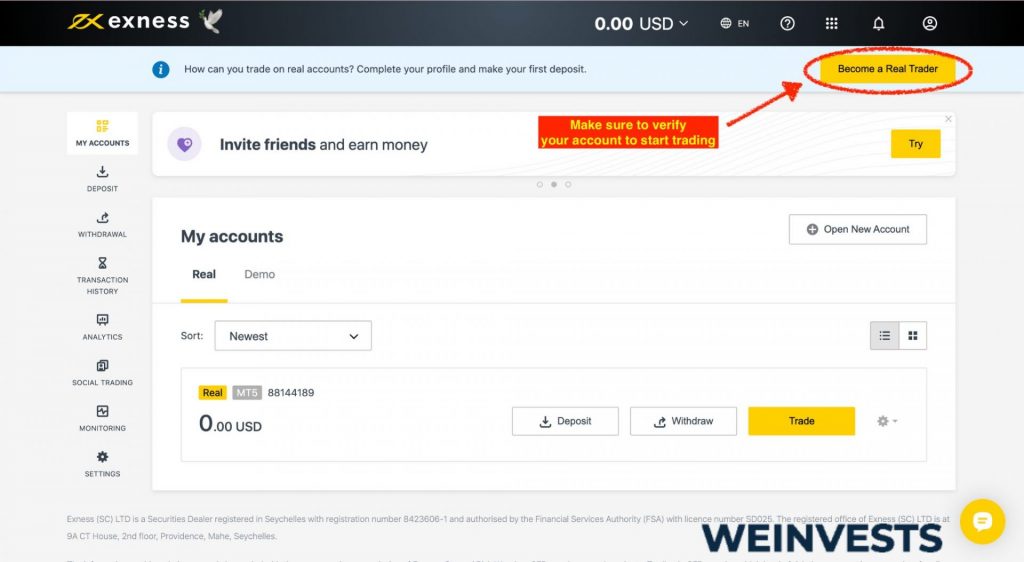 Registering truly takes a few minutes, and you will be ready to use Tixee's platform as you please.
Tixee Demo Account
One of traders' primary concerns is whether the platform has a Demo account or not. Demo accounts are important since they let the trader test their strategies without risking their money right away.
Thankfully, Tixee does have a Demo trading account for those who want to use it. We recommend you take a shot at the Demo account whether you're a beginner or a professional since that will let you have a better idea of how that particular platform works, especially if you're changing among the MetaTrader 5, the Simple Trader, or the web-based platform.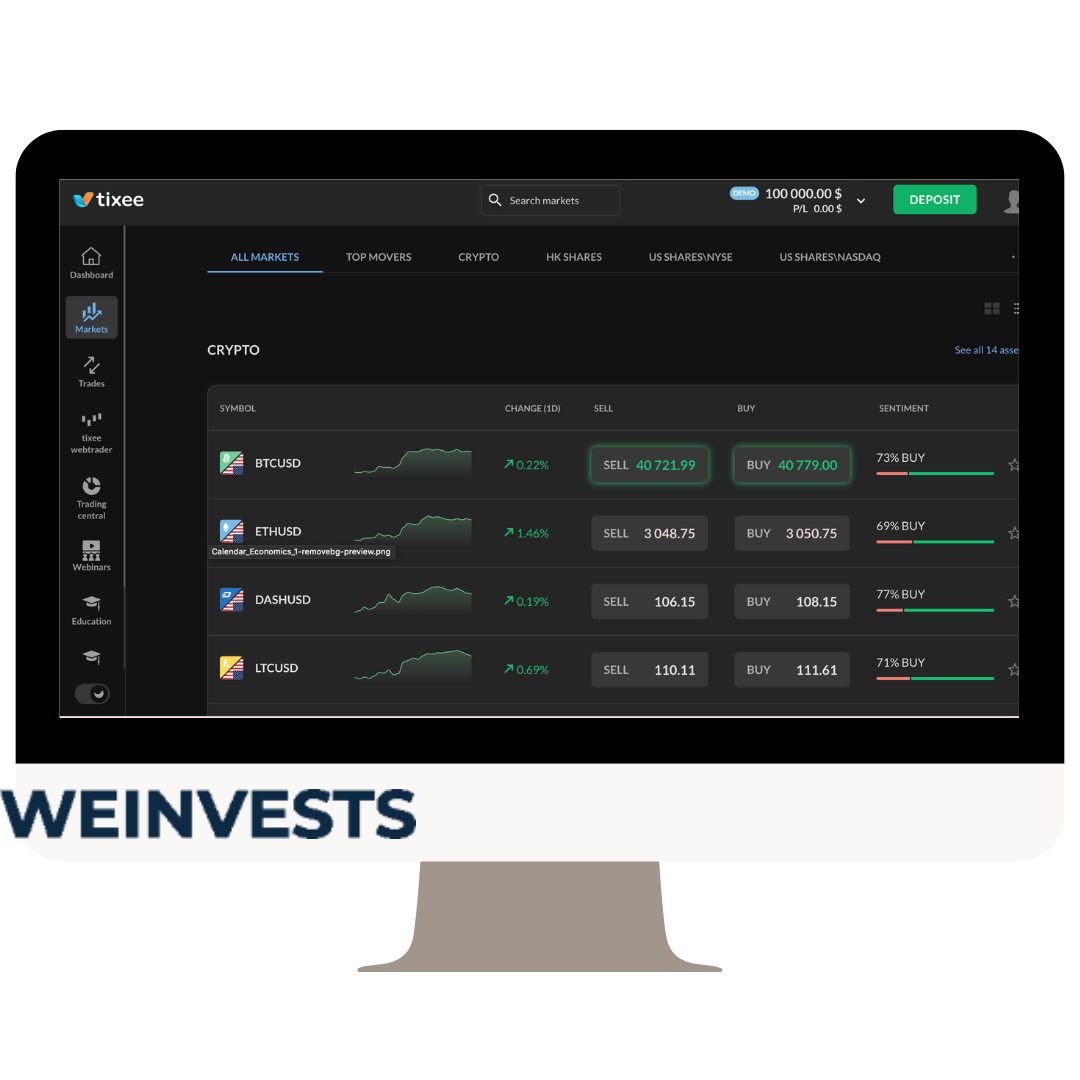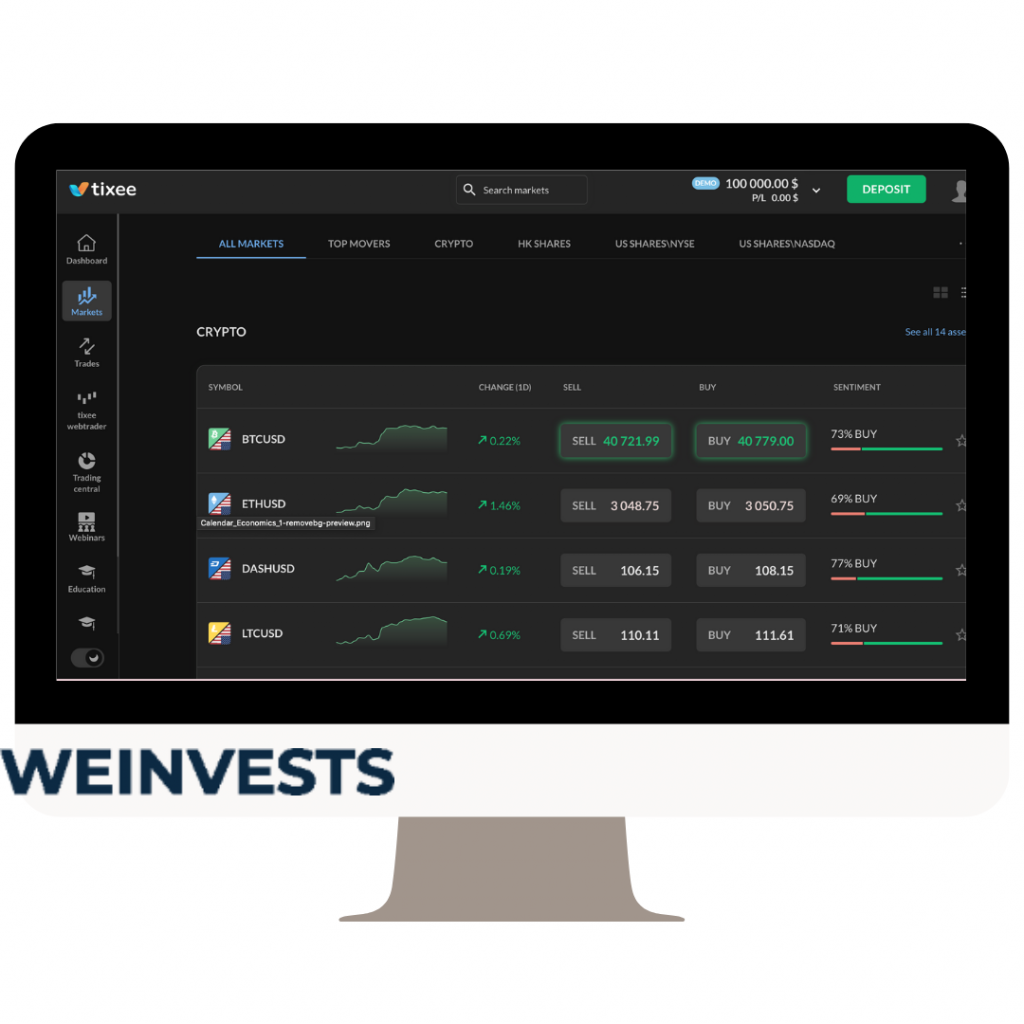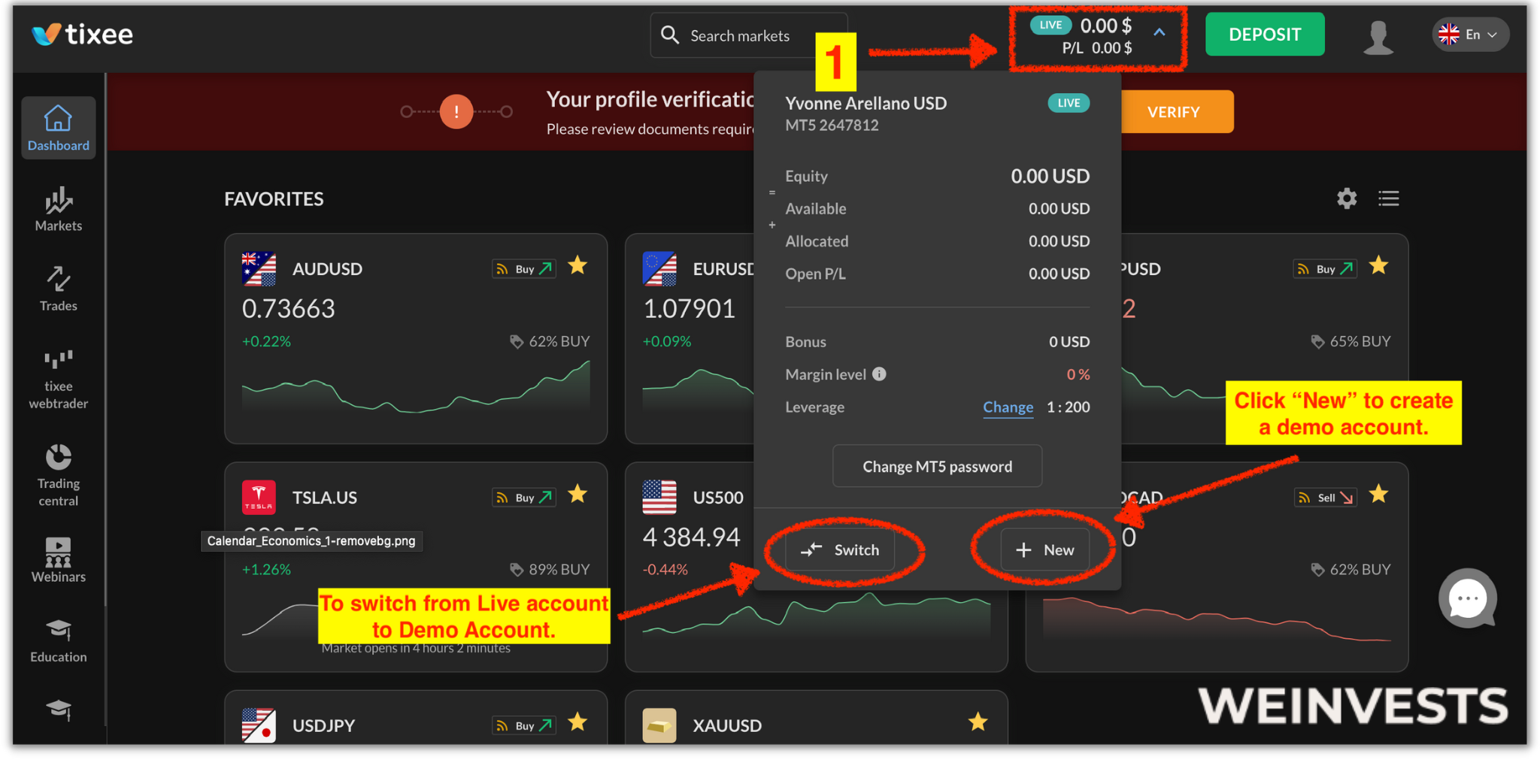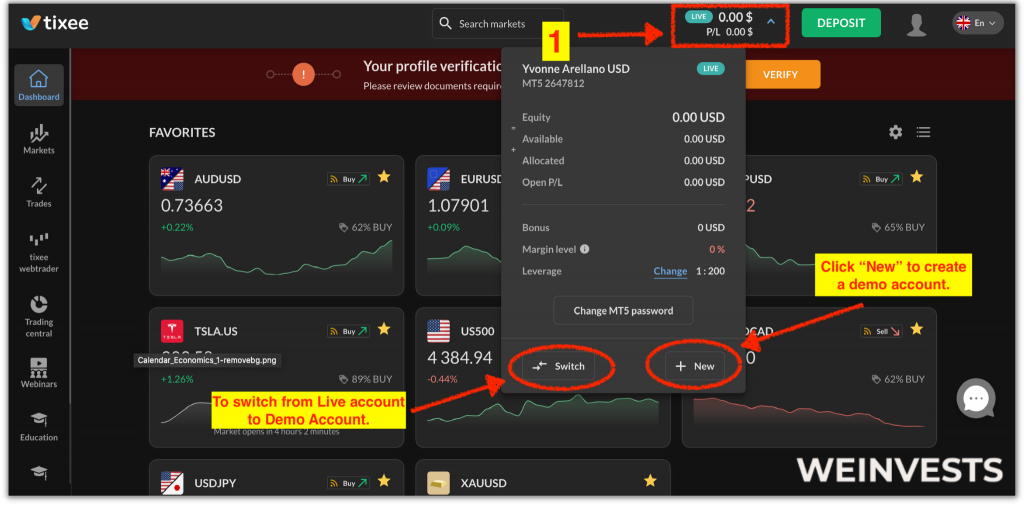 Tixee Education
Tixee offers one of the broadest educational sections we've seen for a trading platform. Overall, the company offers an "Education & Research" section on its website with the following resources:

Trading Central Analysis
Live Market Reports
Economic Calendar
Financial Market News
Insights
The "Insights" section is one of our favorites since it offers a lot of blog posts regarding the different market and trading news, which are vital for those who want to stay up to date with the latest trends.
Finally, Tixee has a FAQ section where you can answer some basic queries if you're a beginner, such as which is the best account to open.
Tixee Customer Service
Tixee truly committed to the customer service department since it offers several options for you to choose from.
First, you have the FAQ section, which answers some basic questions you may have regarding the service, the deposits, or the withdrawals. However, if that information isn't enough for you, you also have the following customer service departments: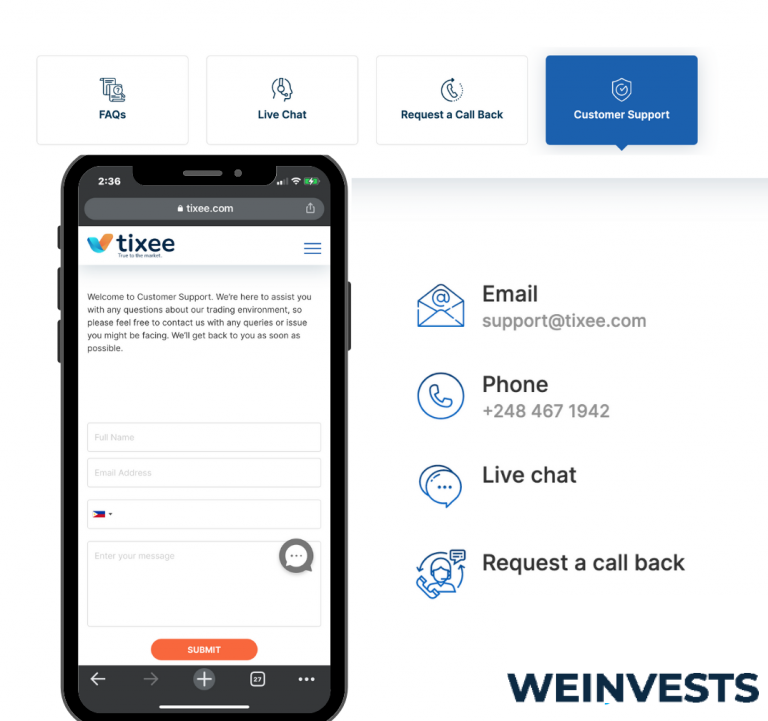 Live Chat – Tixee has a dedicated team of customer support agents that work 24 hours a day, five days a week. You can simply go into the website and send a message; an agent will contact you shortly.
Call Backs – If you prefer having your questions answered by phone, you can fill out a customer call-back form. The form asks for information such as your full name, email address, phone number, and even your preferred time of the call. If you have an urgent matter to resolve, you can check on a box that says "Call as soon as possible," and an agent will get back to you as soon as possible.
Email and Phone – Finally, you can contact Tixee's team by email at [email protected] and by phone at +248-467-1942.
Conclusion
Overall, Tixee is a fairly reputable trading platform despite its short age. There are a lot of tools and options to choose from, and regardless of the asset you want to trade, there are a plethora of market tools to use.
Even if you're unsure of what to do yet with Tixee's tools, you can access the free Demo account and test everything until you feel comfortable with the platform. Remember there are also several research and education resources available for those who may want to expand their knowledge while they trade.
We hope this Tixee review has helped you have a deeper insight into how this platform works!
Risk Disclaimer
WeInvests is a financial portal-based research agency. We do our utmost best to offer reliable and unbiased information about crypto, finance, trading and stocks. However, we do not offer financial advice and users should always carry out their own research.
Read More