82% of retail investor accounts lose money when trading CFDs with this provider. You should consider whether you can afford to take the high risk of losing your money.
Maximum leverage of up to 1:30
CFDs Only
Crypto leverage of up to 1:2
Pros
Supervised by numerous financial institutions and worldwide regulators.
Highly intuitive platform.
No commissions or deposit/withdrawal fees.
Customer support through live chat, email and WhatsApp in 16 languages.
Cons
U.S. and Canadian residents cannot open an account.
Inactivity fees.
Potentially limited product portfolio for more advanced traders.
No fixed spread accounts.
Plus500 highlights

| | |
| --- | --- |
| 💻 Trading Platforms | WebTrader and mobile app with CFDs on various markets and instruments |
| 📞 Customer Service | 24/7 support via online chat or email |
| 🎁 Promotions/Bonuses | No deposit bonus |
| 🛡 Regulation | Multi-regulated by FCA, CySEC, ASIC, FMA, MAS, etc. |
| 💵 Deposit/Withdrawal Methods | Various payment methods; minimum deposit $100; no withdrawal fee |
| 📊 Spreads/Commissions | Variable spreads depending on the instrument and market conditions; no commissions |
| 🔒 Security | SSL encryption; firewalls; anti-virus software |
| 📚 Education/Resources | Risk management tools, economic calendar, market news, etc. |
| 📱 Mobile Trading | iOS and Android app with all WebTrader features and functions |
| ⚡ Execution Speed | Fast and reliable execution with low latency and minimal slippage; various order types |
| 🔧 Trading Tools/Indicators | Moving averages, Bollinger bands, Fibonacci retracement, etc.; custom indicators and alerts |
| 🌍 Country/Region Availability | Over 50 countries and regions; some restrictions apply |
| 💰 Account Minimum | The minimum deposit required to open an account with Plus500 is $100 or the equivalent in another currency. |
| ⚖ Leverage/Margin Requirements | $100 for live account; free demo account with $40,000 virtual funds Leverage/Margin Requirements: Flexible leverage options depending on instrument and jurisdiction; margin calculator available |
| 📈 Asset Selection/Market Access | Plus500 has a broad range of assets available for trading, such as forex, commodities, indices, stocks, cryptocurrencies, etc. However, the availability of these assets may differ depending on the trader's country. |
Since its launch in 2008, Plus500 has grown into a notable trading platform trusted by traders worldwide. Through continuous development, it boasts a remarkably user-friendly interface, making it attractive to a diverse range of market enthusiasts. Additionally, the platform's regulatory compliance and listing on the London Stock Exchange (LSE: PLUS) further solidify its standing.
However, it's essential to recognize that Plus500 might not suit everyone. For example, research suggests that its product portfolio may be narrower than some competitors, which could be a potential drawback for individuals seeking a more diversified landscape. Moreover, Plus500's focus on contracts for difference (CFDs) is better suited for experienced traders. CFDs are intricate, high-risk financial products unsuitable for beginners or inexperienced individuals.
Therefore, this article will closely examine Plus500's unique attributes, explain its operations in greater detail, and compare them to other prominent brokers.
Is Plus500 Legit?
Over a decade in operation, Plus500 has cemented its position as a popular broker worldwide. Its long-standing presence, however, is just one of its many strengths.
Regulated by top financial authorities across the globe and employing SSL security, Plus500 demonstrates its commitment to safeguarding users' interests. Moreover, as a publicly-traded company on the London Stock Exchange (LSE: PLUS) and the FTSE 250 Index, the platform maintains a high degree of transparency.
Despite Plus500's reputation for reliability and money protection, trading risks persist. For instance, the platform specializes in high-risk CFD trading and is tailored for experienced traders only. While user-friendly, high-risk CDF trading poses significant risks to beginners.
Is Plus500 Regulated?
Plus500 operates under the supervision of numerous financial institutions and regulators worldwide, which include:
Plus500UK Ltd authorized & regulated by the FCA (#509909).
Plus500CY Ltd authorized & regulated by CySEC (#250/14).
Plus500SG Pte Ltd, licensed by the MAS (#CMS100648-1).
Plus500AU Pty Ltd (ACN 153301681), licensed by ASIC in Australia (AFSL #417727), FMA in New Zealand (FSP #486026), and as an Authorized Financial Services Provider in South Africa (FSP #47546)
Plus500SEY Ltd, authorized & regulated by the Seychelles Financial Services Authority (#SD039)
Plus500's multiple regulators guarantee high transparency and professionalism on the platform. As a regulated broker, Plus500 must periodically report transactions, preventing suspicious activities concerning your funds. Moreover, they provide risk warnings before account creation, assisting individuals potentially unaware of trading risks.
There's a reason why Plus500 requires you to present proof of residence and ID for identity verification during the initial account setup.
Who Is Plus500 Recommended For?
Despite its intuitive and user-friendly interface, Plus500 primarily targets experienced traders. Therefore, it's essential to remember that some trading features on Plus500 may be confusing for novices, potentially increasing their risk compared to seasoned users.
A solid understanding of trading fundamentals can help users navigate the platform more effectively. So although it might be tempting for new traders to dive right into trading with a real account immediately, attaining the necessary skills is crucial before taking that step.
Understanding this, Plus500 offers a free, unlimited demo account for beginners and inexperienced traders to practice and familiarize themselves with the platform.
The demo account is a valuable resource for users to explore the software's options and features at their own pace. Moreover, there's no expiration date, which means users can practice and build confidence as long as necessary before transitioning to a real account.
Plus500 Trade Experience
Plus500 boasts a clean and intuitive user interface that simplifies navigation and access to vital settings. For example, the trading window lets users easily switch between pairs or assets while setting take-profit and stop-loss margins. Meanwhile, a handy sidebar menu includes essential features like account details, deposits, withdrawals, open and closed positions, and various charting types.
The platform also offers a mobile trading app for Windows Phone, Android, and iOS devices, enabling trades from any device. In addition, with the mobile app encompassing most features from the web version, users can stay updated on their trades by opting for push notifications.
However, one limitation is that Plus500's web trader lacks customization options and professional charting tools.
Popular Features of Plus500 Include:
Below are some of the most popular features of Plus500 that cater to diverse trading needs while ensuring a seamless experience:
Economic Calendar:
Plus500's Economic Calendar utilizes Dow Jones data to update users on upcoming market events. In addition, users can customize the calendar by filtering events according to preferred countries, ensuring access to the most relevant information for trading needs.
Order Types:
Plus500 provides extensive order types and risk-management tools to reduce errors and miscalculations. The platform offers various order types, such as limit, market, stop, and trailing-stop orders. Nevertheless, it's impossible to guarantee a risk-free experience completely. To minimize potential issues, users should conduct thorough research before initiating trades.
Support Team:
Plus500, available in over 50 countries and supporting 32 languages, strongly emphasizes customer support by providing assistance in 16 languages. This commitment demonstrates the platform's efficiency in maintaining effective client communication. Customers can reach their support team through live chat, email, and WhatsApp, which is available 24/7.
Assets:
Plus500 has earned a reputation for its extensive CFD trading options, encompassing currencies, cryptocurrencies, commodities, ETFs, and more. Moreover, it continuously expands its range of assets and now boasts over 2,200 unique offerings.
Users can expect a comfortable and secure experience whether they access the platform via the web or mobile. However, it is essential to remember to carefully evaluate CFD trading before participating in activities due to the inherent risks.
Commissions and Fees

One notable aspect of Plus500 is that there are no hidden fees for users. Instead of relying on commissions or fees, Plus500 primarily generates revenue through market spreads.
Although Plus500 generally doesn't impose fees for trading or account creation, it's important to be aware of certain fees to prevent unwelcome surprises. In the next section, we will explore these specific fees in greater detail:
CFD Forex Fees
A key feature that sets Plus500 apart in the brokerage industry is its commission-free approach to CFD trades. Rather than imposing a commission fee, the platform earns its revenue through spreads. The spread is the gap between a trading instrument's bid (buy) and ask (sell) prices. Furthermore, in comparison to other platforms, Plus500's spreads appear competitive.
Thus, when opening a position on Plus500, traders only face the spread cost without any hidden or extra fees. To view the specific spread for an instrument on Plus500, simply navigate to its "Details" section.
Non-Trading Fees
While Plus500 is known for its commission-free trading structure, users must know they could incur non-trading fees. These fees are separate from the trading process and can accumulate over time.
Conversion Fees:
Plus500 levies conversion fees when account holders withdraw funds in a currency different from their account's set currency or trade an asset priced in another currency. For example, if an account's primary currency is Euros and the user trades a CFD based on CAD or USD, conversion fees of up to 0.7% and an exchange rate may apply.
Guaranteed Stop Order:
If you prefer to close your position at a specific rate, prepare for the possibility of a higher spread. Because wider spreads are common in guaranteed stop orders, they may incur increased charges.
Overnight Funding:
Holding a position overnight on Plus500 may result in a small fee. This fee is either added to or subtracted from your trading account, depending on the leverage associated with the position. The fee will be displayed next to the asset's final price.
Inactivity Fees:
Plus500 implements a $10 monthly fee for account holders who do not log in for at least three months. The company justifies this fee to cover the trading service costs, even when the account holder is inactive. To avoid this fee, users should periodically log in.
Deposits/Withdrawals:
On the Plus500 platform, deposit fees are generally not charged, except for international transactions made using a non-supported currency or debit/credit card. Users have multiple deposit methods, such as bank transfers, debit/credit cards, and e-wallets like Skrill or PayPal. Keep in mind that using e-wallets might result in extra fees.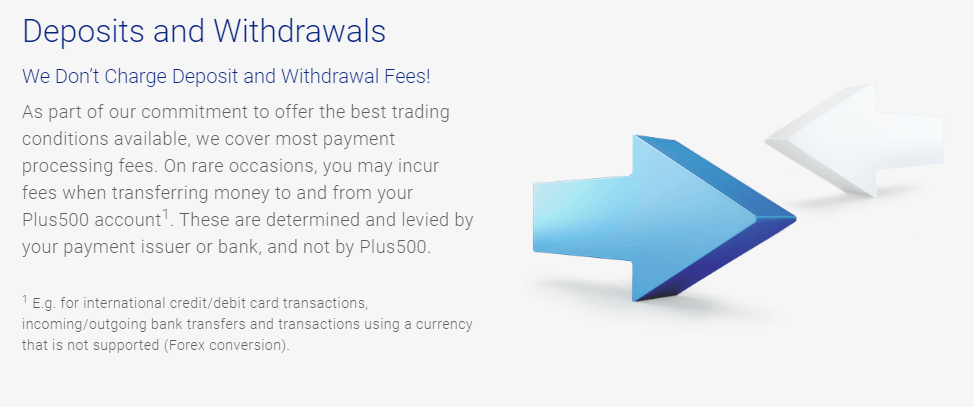 Withdrawals on Plus500 are uncomplicated and typically free if conducted in the account's local currency or through a standard bank transfer. As a platform designed for experienced traders, Plus500 allows for seamless deposit and withdrawal processes while catering to the unique needs of users familiar with the intricacies of CFD trading.
How to Open an Account with Plus500?
Opening an account with Plus500 is an easy, straightforward process, as the platform is available in over 50 countries. However, it's worth noting that Plus500 is not available to U.S. or Canadian residents due to restrictions on the sale of CFDs.

For those residing in approved countries, follow these steps to open an account:
 "82% of retail CFD accounts lose money."
Step One: Visit the Plus500 website and complete the online registration form.
Step Two: Submit proof of residency and proof of identity. For residency verification, a bank statement or utility bill is acceptable. You can use an ID, passport, driving license, or other related documents for identity verification.
Step Three: After Plus500 verifies and approves your account, you can fund it and start trading.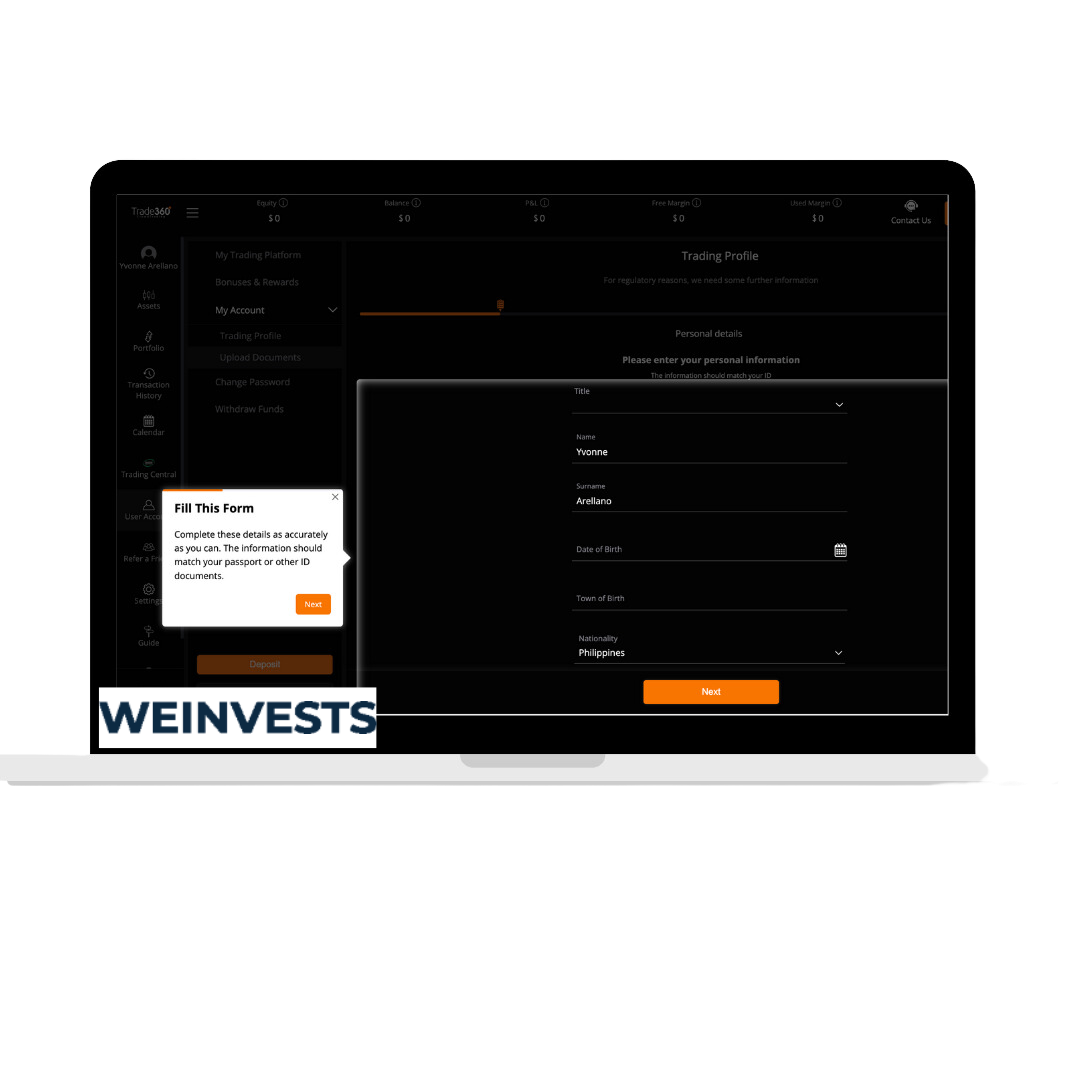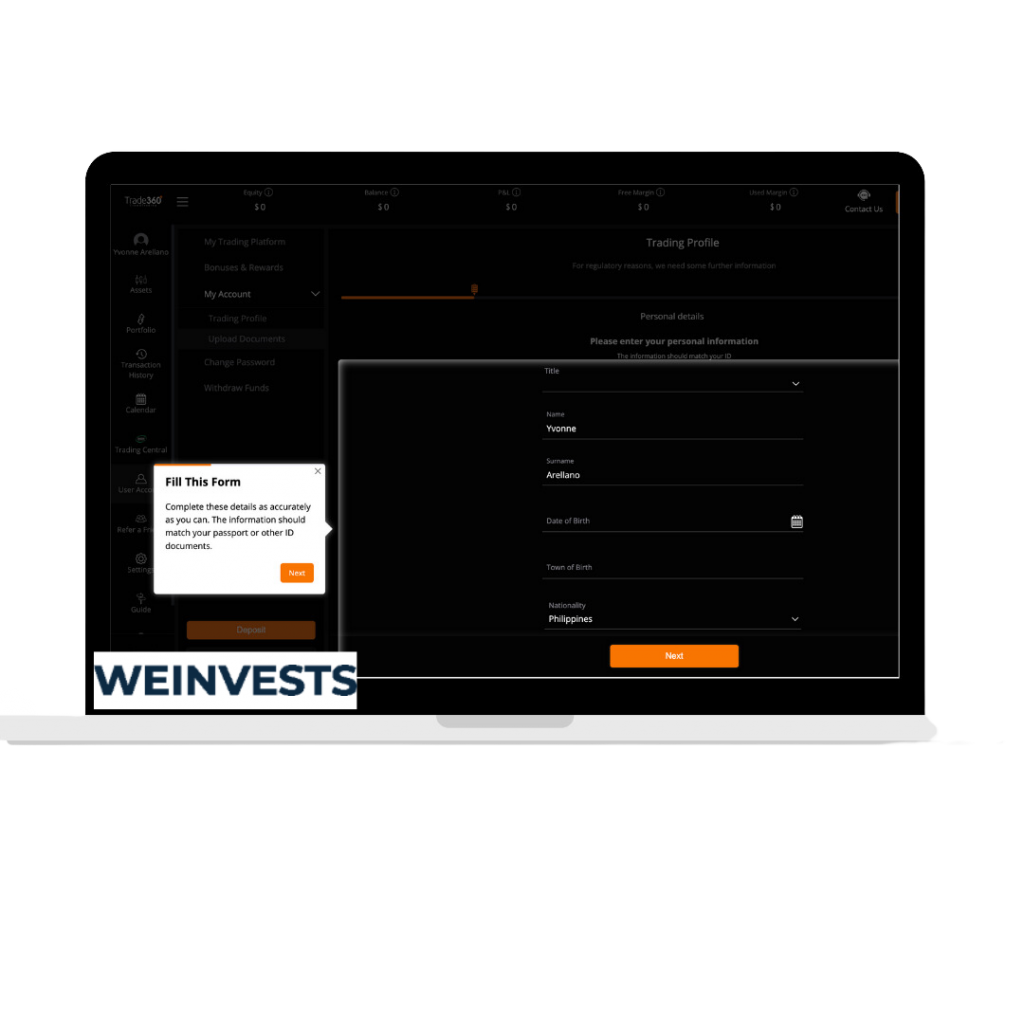 "82% of retail CFD accounts lose money."
Once you follow these steps, you can decide on one of two account types: Standard or Professional.

The Standard account, generally used by most people, requires a minimum deposit of $100 and provides access to all of Plus500's features. Alternatively, the Professional account has more features and targets select traders meeting criteria like sufficient trading activity in the last 12 months, a Financial instrument portfolio of over €500,000 (including cash savings and financial instruments) and Relevant experience in the financial services sector.
Plus500 Demo Account
For those looking to familiarize themselves with the Plus500 platform before committing to a live trading account, the demo account serves as an ideal option. This risk-free environment allows users to explore the platform's features without jeopardizing their funds.
The demo account is particularly valuable for beginners, providing an opportunity to navigate the platform and learn the ropes without financial consequences. However, even experienced traders can benefit from the demo account, using it to assess whether Plus500 meets their trading needs.
A standout feature of Plus500's demo account is its unlimited duration, allowing users to take advantage of the platform for as long as necessary.
Plus500 Education
Plus500 may have limited educational resources for beginners seeking comprehensive trading insights. However, the platform still has some educational channels to explore:
Trader's Guide: Plus500's primary educational resource comprises nine videos covering basic trading concepts.
Risk Management: While not a traditional educational resource, the risk management section explains the available order types and their role in mitigating trading risks. However, the information is quite basic.
Frequently Asked Questions Section: If you're unclear about any of Plus500's features or terms, the FAQ section can help clarify them. Remember that this resource aims to guide users through the platform rather than enhance their trading skills.
YouTube Videos: Plus500's official YouTube channel hosts the "Trader's Guide" videos and promotional content. You may find unofficial trading guides elsewhere, but be aware that their accuracy is not guaranteed as they are not associated with the company.
Plus500 Customer Service
Customer reviews often rank Plus500's customer service among the best in the market. The platform provides direct support, available 24/7 through live chat, email, and WhatsApp. In most instances, Plus500 has a faster response time than competitors.
A notable aspect of Plus500's customer service is its availability in over 16 languages, making it highly accessible to diverse customers. In addition, if you only need answers to basic questions, the company's FAQ section covers many fundamental topics.
Although most users typically use live chat and email support channels, Plus500 does not offer dedicated account support, which may be a drawback for professional traders. In addition, it's important to note that Plus500 does not provide phone support in any country.
Final Thoughts on Plus500
Plus500 provides a reliable trading platform featuring an appealing interface and competitive fees. Catering mainly to experienced traders, it attracts users from various backgrounds. However, its suitability for beginners is limited.
Although Plus500 is dependable for those seeking a reputable trading experience, it lacks comprehensive educational resources. Consequently, beginners and inexperienced traders may face challenges if diving head-first into the platform.
It's essential to remember that Plus500 primarily targets experienced traders due to the complex nature of CFDs. While the platform's free, unlimited demo account is helpful, its purpose is not to function as an all-encompassing learning resource.
 "82% of retail CFD accounts lose money."
Risk Disclaimer
WeInvests is a financial portal-based research agency. We do our utmost best to offer reliable and unbiased information about crypto, finance, trading and stocks. However, we do not offer financial advice and users should always carry out their own research.
Read More